Ho Ho Ho!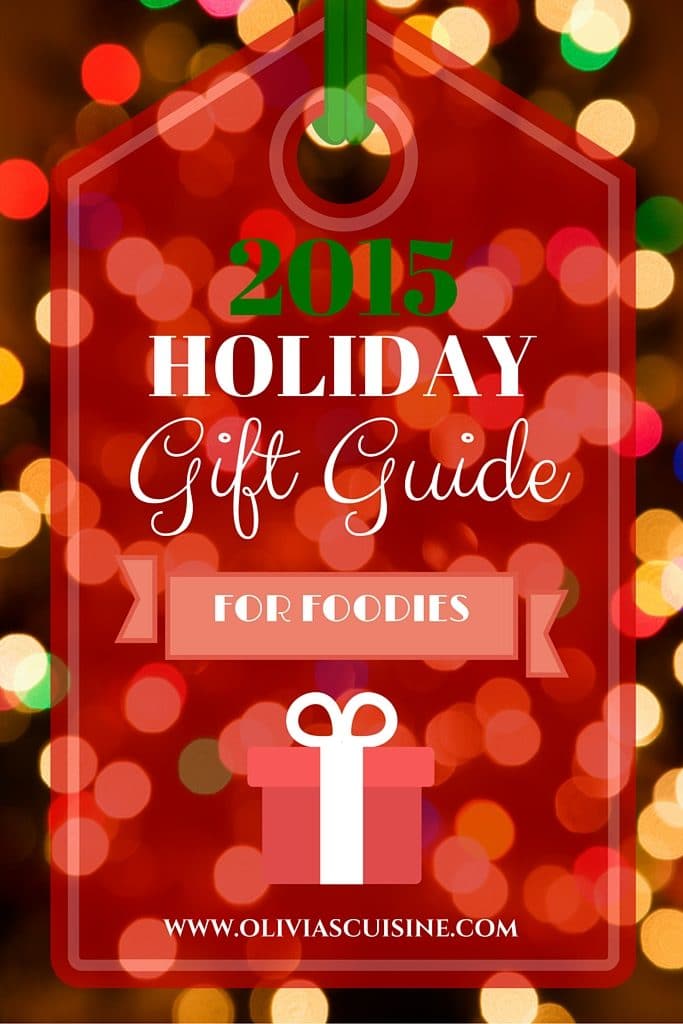 The holidays are here, and with that comes… roll the drums… Black Friday and Cyber Monday! ???
Yep, that's right. There is no shame in liking a good sale, so I thought I would put together a Holiday gift guide with a variety of options to help you choose the perfect gift for the foodie in your life!
If the foodie in your life is yourself, even better. Just send this to your significant other with the subject: Hint hint! (That's what I do! ?)
So let's get to it, shall we?

Nutri Ninja Auto IQ Compact System

– I absolutely adore this blender. In fact, ever since I got my Ninja I haven't even touched my food processor. This high performance blender does it all: smoothies, shakes, soups, juices and I also use to grind nuts and make dough. Better than that only if it sang me to sleep and drove me to work! :P

Mixing Bowl Set

– Every foodie needs a good set of mixing bowls. Kitchen prep is the secret of every good chef! Plus, this set is so gorgeous and colorful, isn't it? ❤️

Kitchen Aid Mixer

– There's no way around it. Every foodie gotta have a Kitchen Aid mixer! If your foodie friend doesn't have one yet, you gotta fix that immediately! It comes in lots of different colors, so you can pick the best one to match her/his personality. :)

Slow Cooker

– My life is divided in two periods. Pre slow cooker and post slow cooker! Seriously, how great is it to throw some ingredients in a machine and then come home from work, 8 hours later, for a lovely meal? If your foodie friend happens to be a mom or a busy businesswoman/man, this is the gift for them!

Chef's Knife

–

I can't stress enough the importance of having a good chef's knife. Not only it is safer to work with a good, sharp knife, but also makes the whole cooking process way more enjoyable!

Cast Iron Skillet

– Best purchase of my life. And it only cost me around 20 dollars! Nothing beats grilling a steak or a burger in a cast iron skillet. Plus, it is oven proof, so the sky is the limit for the recipes you could make with this baby. (Recommended: Beer & Honey Roasted Chicken Thighs!)

Dutch Oven

– I use my dutch oven almost every day. It is so versatile and there are so many things that benefit from this pot. For example, this no-knead Mediterranean Black Olive Bread that I posted the other day. I mean, what could be better than making bakery quality loaves at home?

Wooden Spoon Set

– Wooden spoons are like socks. They often disappear into the wonderland of the dishwasher! So you can always insert a new set into your foodie's Christmas stocking as they are pretty inexpensive.

Wine

– You can't go wrong with wine. Either as a holiday gift or a host/hostess gift, we all need some more wine in our lives! ?Cheers!

Kitchen Scale

– So your foodie friend is a baker? Then he/she definitely needs a kitchen scale! Maybe they will thank you by baking you some delicious cupcakes.

Microplane Grater

– Chances are the foodie of your life loves cheese. So he/she absolutely needs a good grater, and the microplane is the best grater out there. Lactose intolerant? Don't worry! This grater is also great for lemon zest! ;-)

Measuring Cup Set

– Even if your friend already has a measuring cup set, I am sure she/he will LOVE this ceramic owl set. It's so cute that I'm ordering a set for myself!

A Good Cookbook

– Can't spend too much? A good cookbook will please even the snobbiest foodies out there!

Mandoline Slicer

– I love my mandolin slicer! It gets the job done and it comes with a safety handle for clumsy foodies like me!

Measuring Spoon Set

– Life in the kitchen is definitely easier when you have the right tools. A measuring spoon set is very helpful. A cute ceramic measuring spoon set is necessary!
And that's it for today, folks!
I hope I inspired you to choose something nice for your special foodie someone. :-)
Happy Holidays! ?
Disclosure: This post contains affiliate links and, if you buy anything from these links, I'll receive a small percentage of the sale. It will not cost you extra!
Also, I've received a Nutri Ninja Auto IQ Compact System to review. No compensation was received and all opinions are my own.