Brazilian Pineapple Dessert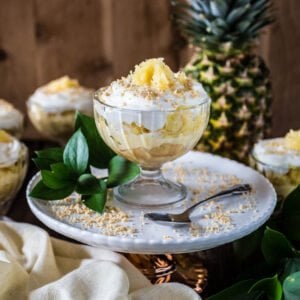 3 egg yolks
1½ tablespoons corn starch
1 can sweet condensed milk
1 cup whole milk
1 (20 ounces) can pineapples chunks
1 tablespoon rum (optional)
12 ladyfinger cookies, halved
2 cups heavy cream, cold
1 tablespoon vanilla extract
¼ cup sugar
Garnish: ¼ cup crushed cashews
In a medium bowl, combine the egg yolks and the corn starch, whisking until smooth and pale. Reserve.
In a saucepan, combine the milk and sweet condensed milk and cook, over medium heat, until it starts to simmer. Remove from heat and slowly pour over the egg mixture, whisking constantly, to temper the eggs. Then, strain everything back into the saucepan and cook over medium low heat, stirring constantly with a wooden spoon, until it thickens into a cream, about 5 to 8 minutes. Reserve to cool.
While cream is cooling, separate the pineapple chunks from its juices. In a medium bowl, combine the pineapple juice with the rum, if using. Then, quickly soak the ladyfingers cookies into this liquid and transfer to individual dessert dishes (or a large serving dish or bowl), creating the first layer.
Top with the cooled cream and the pineapple chunks, reserving some to garnish. Reserve.
To make the whipped cream, combine the cold heavy cream, sugar and vanilla extract and, using a hand mixer, beat until soft peak forms.
Top the dessert dishes with the whipped cream and garnish with pineapple chunks and crushed cashews.
Serve or refrigerate for up to a day.
Recipe by
Olivia's Cuisine
at http://www.oliviascuisine.com/brazilian-pineapple-dessert/