Brigadeiro Ice Cream
A fun frozen twist on a favorite Brazilian dessert: brigadeiro. (Don't forget to check out an awesome giveaway at the end of this post!)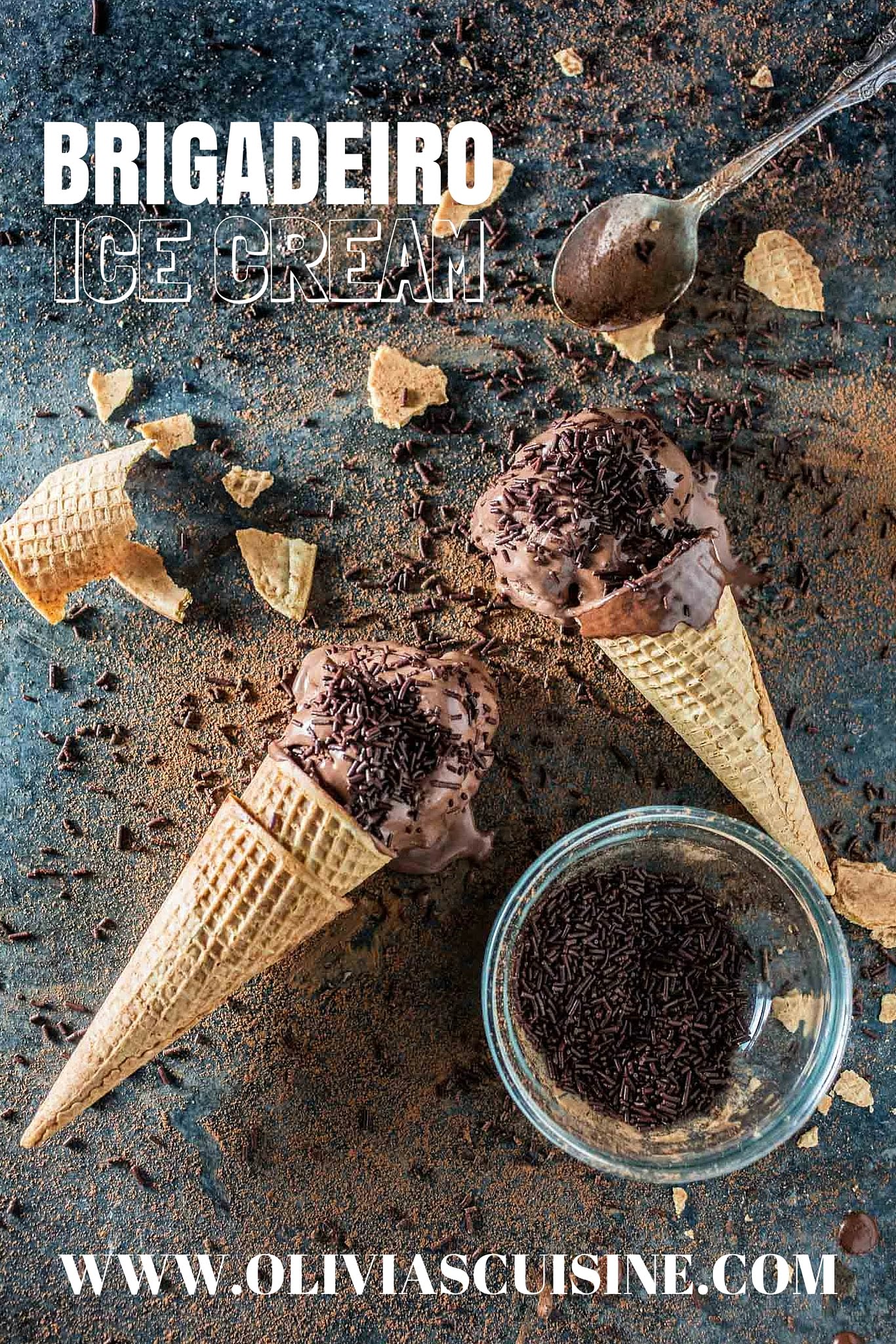 Happy #IceCreamWeek, everybody!
Me and some of my blogger friends decided that we should take a whole week to celebrate frozen deliciouness, so I'm gonna post 3 ice cream recipes this week! Woohoo! ???
But before we get to that, I want to start this post by getting something out of the way: I absolutely suck at scooping perfect ice cream balls. I consequently suck even further at photographing it and it ends up melting everywhere and I end up snacking on all the meltyness and when I realize I have no ice cream left to try and fix the situation. ?
So, yeah… First world struggles, I guess!
The good news? This is the most delicious ice cream I've ever made! And possibly eaten. But you will have to trust me because the photos do it no justice. 
I really wanted to capture all the swirls of gooey brigadeiro that are part of this luscious ice cream. But the laws of physics didn't seem to want to cooperate! Damn you, Lavoisier! 
"In nature nothing is created, nothing is lost, everything changes." Meaning: beautiful ice cream transforms into melted mess.
Delicious nonetheless! ?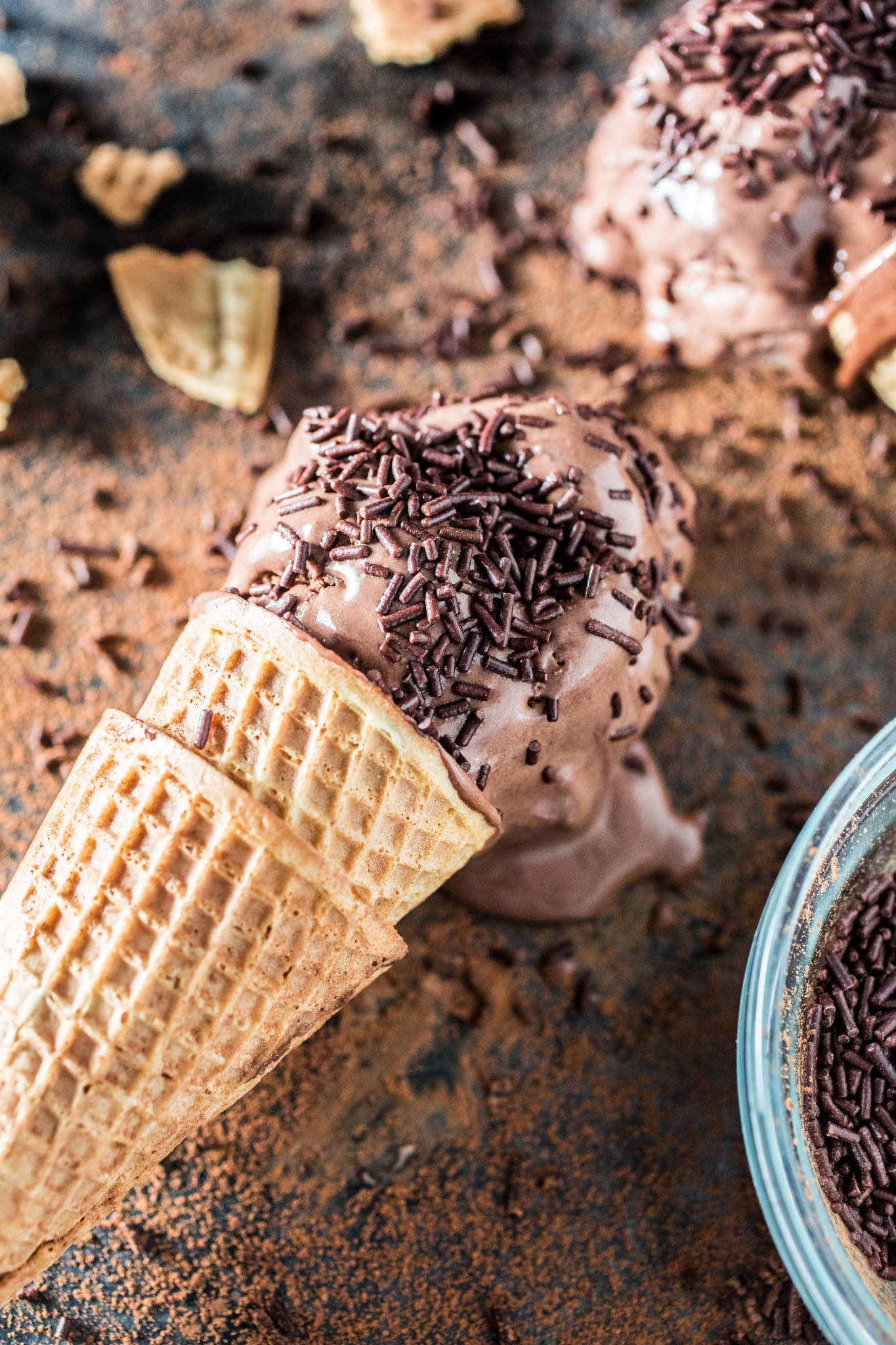 Brazilians are crazy for their brigadeiro and I am no different. I have the willpower to resist many things, but brigadeiro is not one of them!
Made with sweet condensed milk, chocolate and butter, this fudge-like sweet ball will have your heart in one bite, I guarantee.
And it's even better in ice cream form!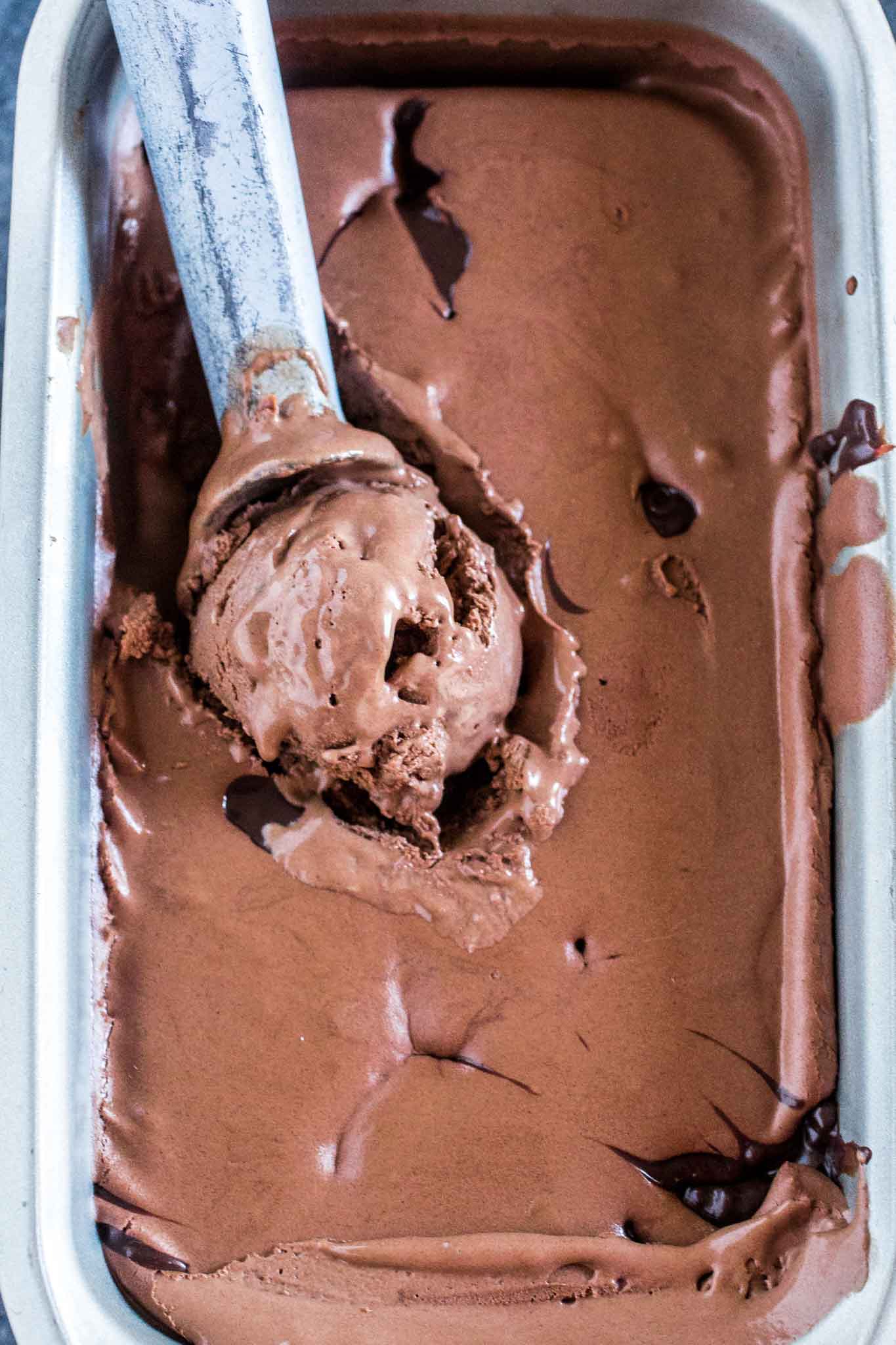 The best thing about this recipe is that you won't need an ice cream machine!
That's right. No churn, no fuss, nada! And you only need 5 ingredients.
"How is that even possible?", I'm sure you're thinking, since most homemade ice cream recipes you've encountered ask for a lot of ingredients, one of them being eggs.
I explain: in this no-churn ice cream, the sweet condensed milk takes the place of the custard and the whipped cream brings the airy, creamy texture that regular ice cream gets from churning in an ice cream machine.
The results? An unbelievable creamy and smooth ice cream that melts on your tongue and has fun swirls of surprise inside.
The surprise? You know it! Brigadeiro, of course.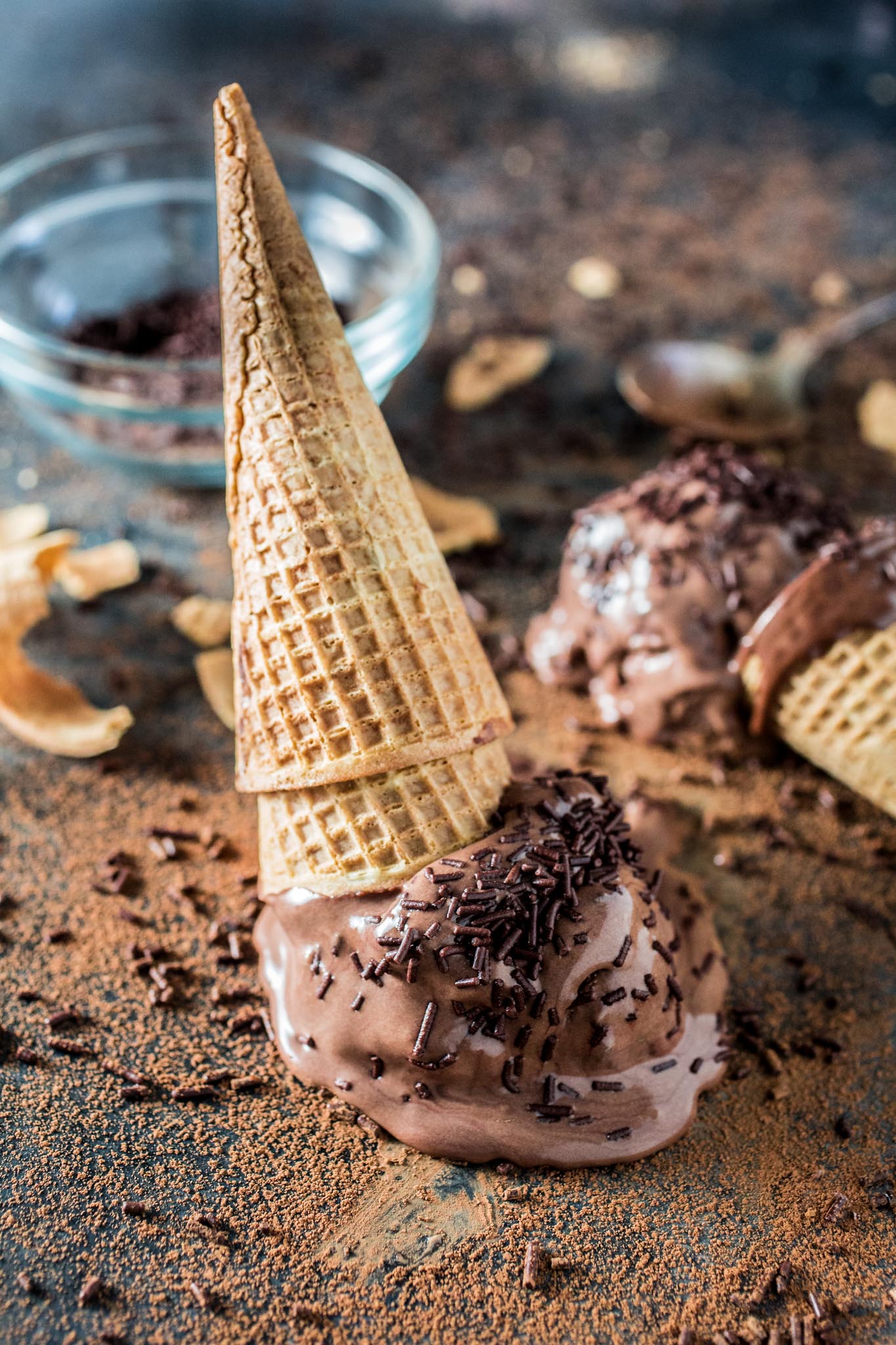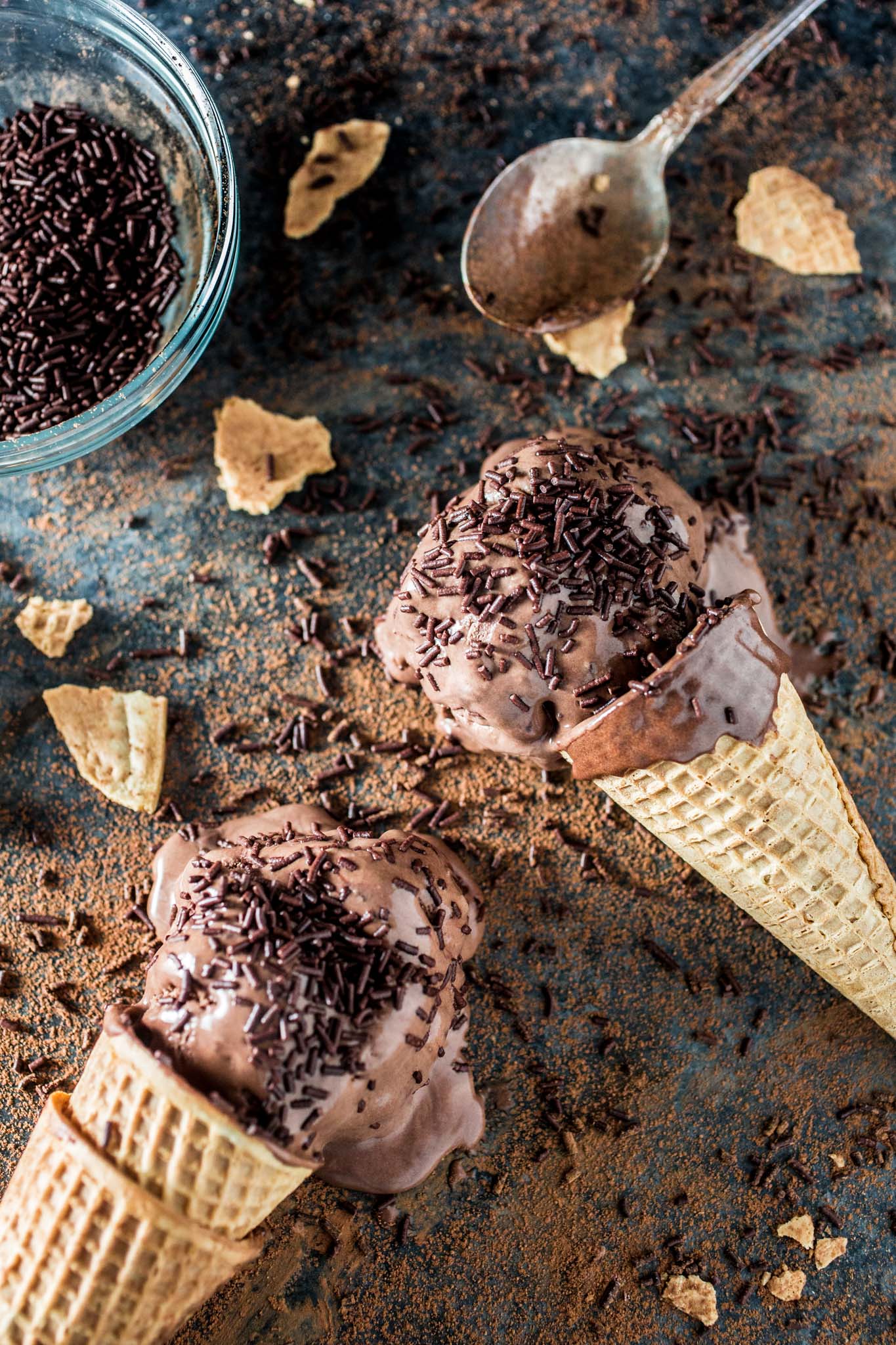 I definitely see myself making this ice cream on a weekly basis from now on! I am seriously addicted. Why would someone buy the store stuff when you can make something like this at home?
I hope you guys give it a try! If you do, I would love if you snapped a photo and posted it on Instagram with the hashtag #oliviascuisine (and #icecreamweek too, why not?), so I can be super proud of you. And – who knows? – maybe you are a better ice cream scooper than me! ?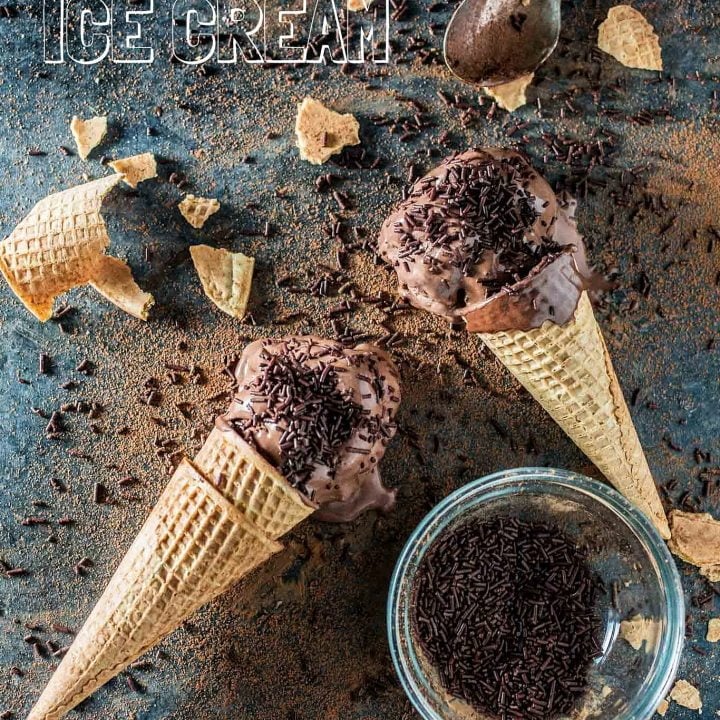 Brigadeiro Ice Cream
Yield: about 2 pints
Prep Time: 5 minutes
Cook Time: 10 minutes
Total Time: 15 minutes
Ingredients
2 (15 ounces) cans sweet condensed milk
1 cup good quality cocoa powder + 1/3 cup
2 tablespoons butter
2 1/4 cups heavy cream, very cold
Pinch of salt
Garnish: chocolate sprinkles (optional)
Instructions
Start by putting your heavy cream in the freezer for 10 to 20 minutes, so it can be super cold!
In a heavy bottomed pot, mix the sweet condensed milk, 1 cup cocoa powder and butter. Bring it to the stove, over medium low heat, and cook, stirring constantly, until it thickens and you can see the bottom of the pot (about 10 minutes). Remove from heat, stir in 1/4 cup heavy cream and reserve to cool.
Using a hand or stand mixer, whip the remaining cream until it holds stiff, billowy peaks, about 3 minutes. Turn the speed to low and slowly add 3/4 of the brigadeiro mixture (room temperature). Then, add the salt and remaining cocoa powder and continue mixing until smooth and creamy.
Transfer 1/3 of the ice cream mixture to a freezer safe container and, with the aid of a spoon, add a few swirls of the remaining brigadeiro. Add a second layer of ice cream and repeat the swirling. Finish off with the third and last layer and swirl what's left of the brigadeiro.
Cover with a piece of wax paper, pressing it against the surface to prevent ice crystals from forming.
Freeze for at least six hours, or up to 2 weeks: The ice cream will become more firm the longer you let it freeze.
When ready to serve, garnish with chocolate sprinkles to resemble a brigadeiro ball! :)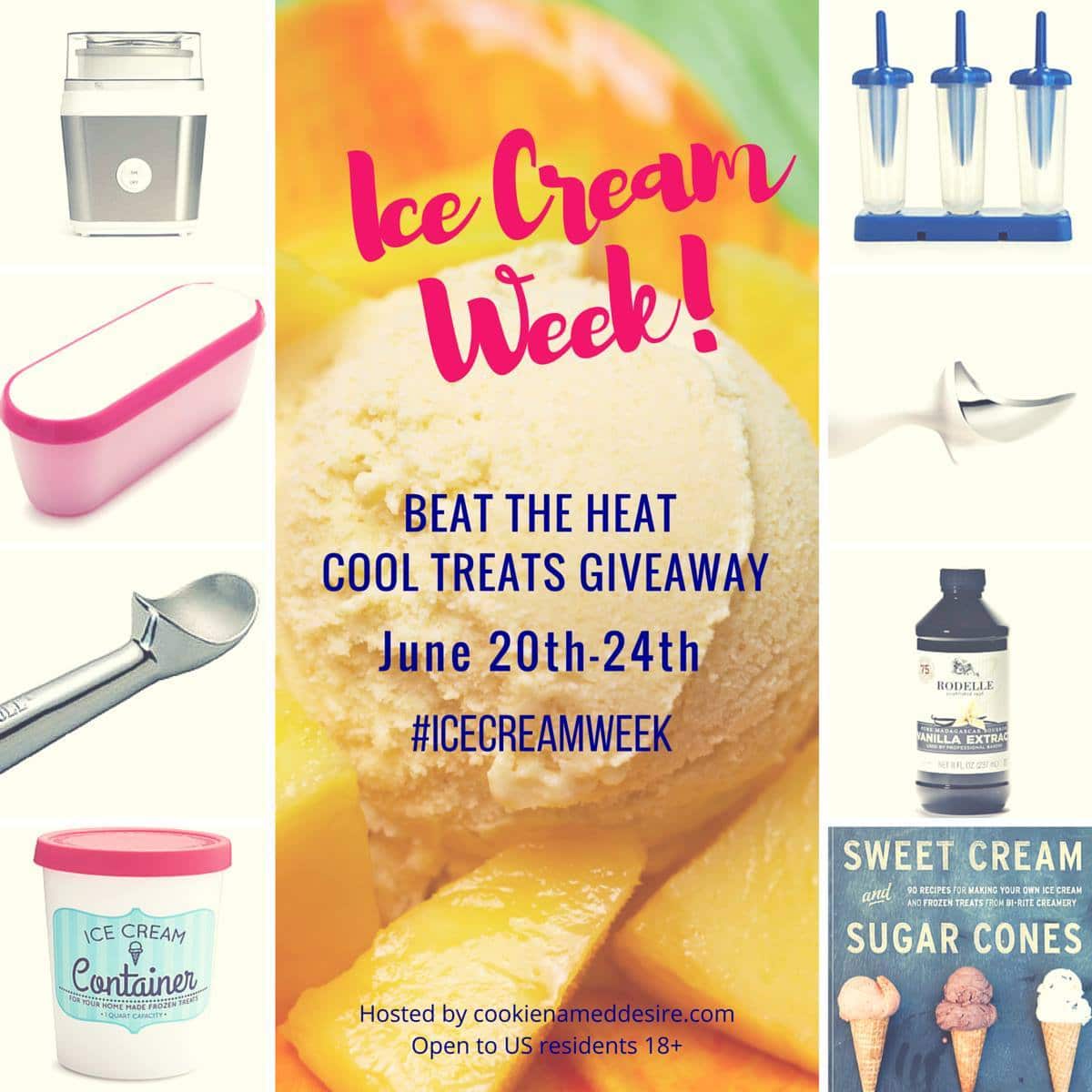 Beat The Heat Giveaway
The giveaway prize includes vanilla from Rodelle, a Fruit Scoop Dessert Maker from Cuisinart (it works for freezing fresh fruit into sorbet and making ice cream), an ice cream scoop from Zeroll, and a bunch of fun things from Tovolo including ice cream containers, ice pop molds, and an ice cream scoop. There's also the Sweet Cream and Sugar Cones Cookbook, plus a few extra goodies.
You can enter by using the rafflecopter below! Good luck!
Need more ice cream? Check out these delicious recipes from my blogger friends:
S'mores Ice Cream via A Cookie Named Desire
Coffee Chocolate Ripple Ice Cream via An Italian in my Kitchen
Unicorn Ice Cream via The Tip Toe Fairy
Tahini Ice Cream with Chocolate Chip Cookies via The Floating Kitchen
No Churn Honey Nut Ice Cream via Honey and Birch
Vegan Peanut Butter Chocolate Praline Crunch Ice Cream via Heart of a Baker
Peanut Butter Lovers Ice Cream via Cookie Dough and Oven Mitt
Cotton Candy Ice Cream via Homemade Hooplah
Butter Pecan Ice Cream via Zagleft
Bourbon Vanilla Bean Ice Cream via Vanilla and Bean
Mint Mojito Coffee Ice Cream via The Little Epicurean
Strawberry Banana Ice Cream via The Bitter Side of Sweet
Peanut Butter Ice Cream via Pretty Simple Sweet
Vanilla Rainbow Ice Cream via Go Go Go Gourmet
Lychee and Cherry Swirl Ice Cream via My Food Story
Brigadeiro Ice Cream via Olivia's Cuisine
Salted Pretzel Ice Cream with Chocolate and Peanut Butter via Cake Over Steak
Strawberry Black Sesame Ice Cream via Madeline Marie Blog
No Churn Caramel Chip Ice Cream via Fearless Dining