Korean Beef Bowls
This is a sponsored post written by me on behalf of ACME Markets. All opinions are 100% mine.
These Korean Beef Bowls are about to become your favorite busy weeknight meal! Packed with flavor and ready in less than 30 minutes, this healthy ground beef recipe is definitely a keeper.
For more Asian cuisines recipes, make sure to visit my Asian collection! From a delicious Asian salad to Bibimbap and Short Rib Ramen Soup, there are a lot of tasty recipes waiting for you there.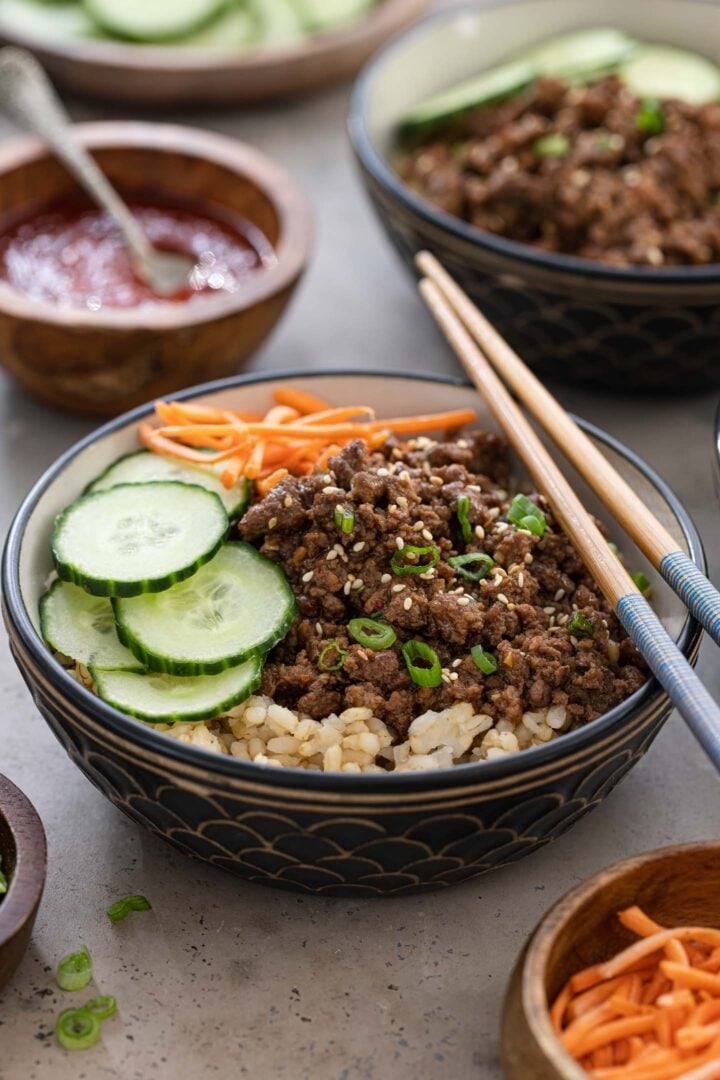 We've all been there: It's 6pm and you realize that you haven't prepared dinner. You debate ordering pizza, again, but a voice inside you – let's call it "the wise old you" – warns you that it can't possibly be healthy to feed your kids pizza every day!
And then you remember that recipe from that awesome blogger you love (ahem, moi) that you saved thinking it'd be handy in the future. Well, here we are! The future is now. Right now!
Put that phone away, because we are going to cook something amazing today.
And before you give me all the excuses, let me tell you that a pound of ground beef and a few pantry staples are all you need to get dinner on the table tonight.
But don't be fooled! The fact that this meal is ready in less than 30 minutes doesn't make it any less delicious. On the contrary, it is mouthwatering, juicy, saucy and bursting with flavors that we all love and crave!
Inspired by Beef Bulgogi, but easier! No marinating, no thinly slicing meat, no grating pears. Just ingredients that you probably already have at home (if you cook Asian food every now and then) and a wok or skillet.
I hope you love this recipe as much as I do! ♥️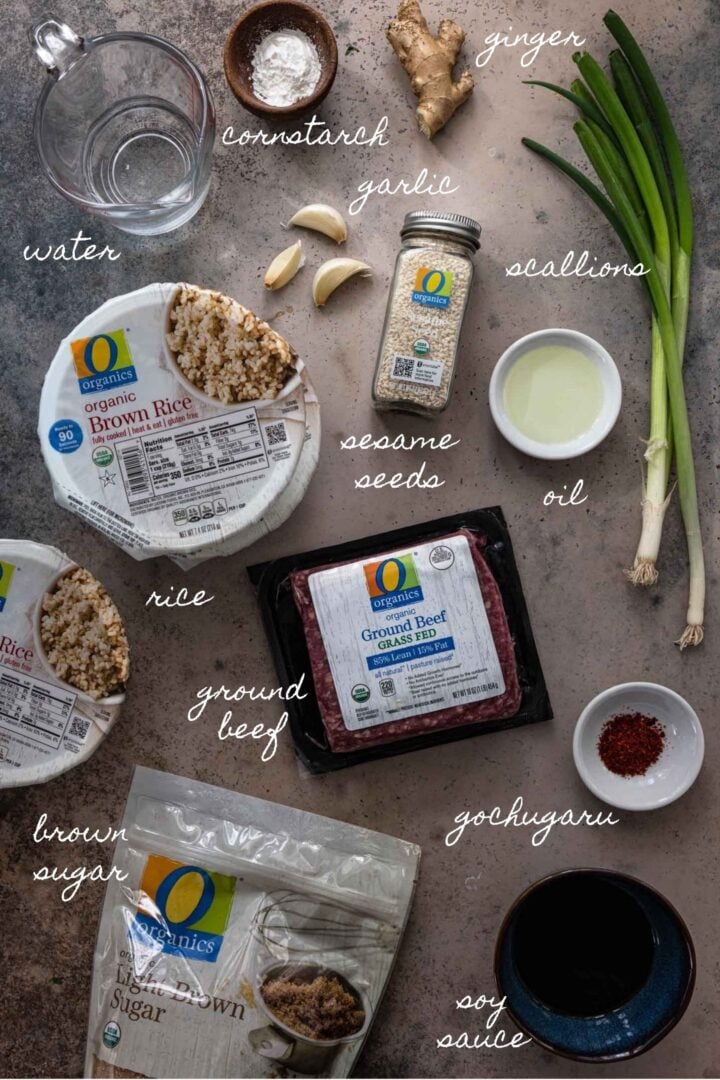 Ingredients
To make Korean Beef Bowls, you will need:
Ground Beef – The star of the show here, so try to splurge on good quality ground beef. I used O Organics® Ground Beef which is certified organic and meets the highest standards for no added growth hormones and no added antibiotics.
Soy Sauce – For this recipe, we will be using low sodium soy sauce. That is important, otherwise your beef bowls will taste super salty! If all you have on hand is regular soy sauce, make sure to dilute with more water.
Brown Sugar – A little bit of brown sugar balances out the saltiness from the soy sauce. I use only a tablespoon, but you can increase if you'd like!
Sesame Oil – Gives the dish that delicious nutty aroma and taste that you'd expect from Asian food. (And yes, I forgot to add it to the ingredients photo. 🙃)
Garlic – Because garlic makes everything better!
Ginger – Another flavor that I strongly associate with Asian cuisines. I prefer using fresh ginger, but, if you don't have any on hand, you can use 1/4 teaspoon of ground ginger instead.
Gochugaru – For a little heat. Gochugaru is a coarsely ground Korean chili powder, similar to crushed red pepper flakes in texture but not as hot. If you can't find it, you can use 1/4 teaspoon of red pepper flakes instead.
Cornstarch – Will thicken the sauce slightly to give it some body.
Water – I like to water down the sauce so the final dish is saucier and not as salty.
Oil – We'll use vegetable (or canola) oil for browning the beef.
Rice – You can use white, jasmine or brown rice. I used O Organics Brown Rice, which is fully cooked and requires only 90 seconds in the microwave to warm up! That alone saves me at least 30 minutes of cooking.
Scallions and Sesame Seeds – For garnishing.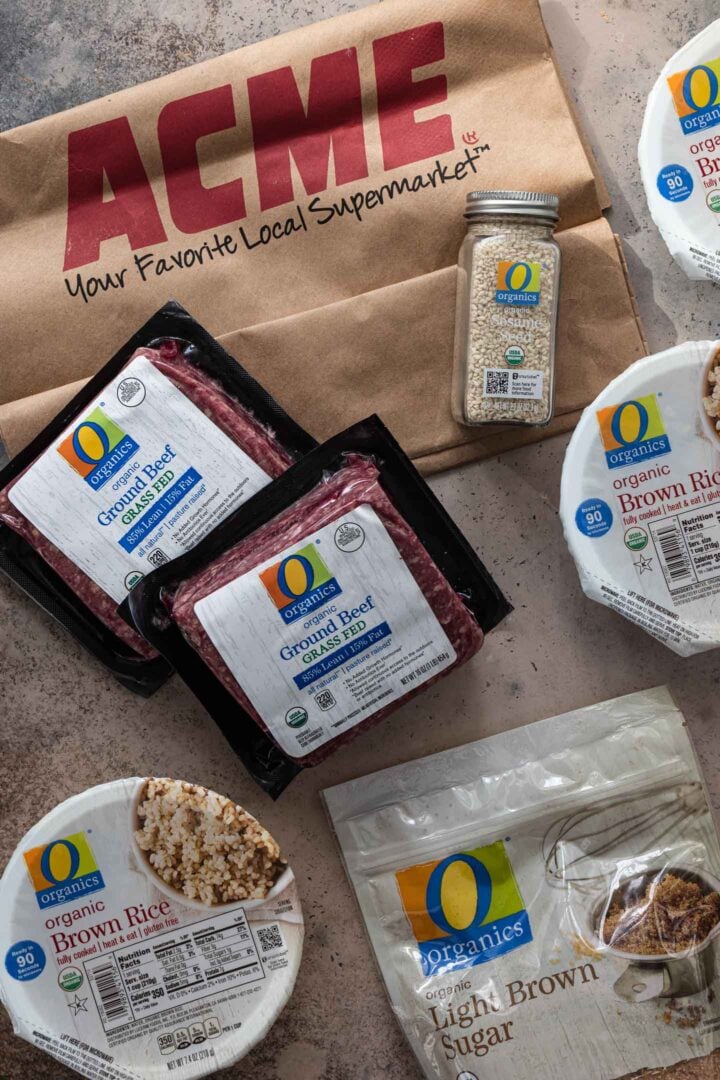 All the ingredients for these delicious (and healthy) Korean Beef Bowls were purchased at ACME Markets, and almost all of them are from O Organics®.
O Organics offers high-quality, 100% USDA-certified organic products in every aisle of the store! Their products are also non-GMO and made responsibly, sustainably and safely.
Exclusively sold at the Albertsons Companies family of stores across the country, O Organics products are a must if you're trying to keep up with your health goals this year!
From organic fresh fruits and vegetables to wholesome organic dairy and meats, organic cage-free certified eggs, organic cereals, organic snacks, organic baby food, organic salad, and more – it's easy to stay on track when food tastes this delicious! 😊
As I mentioned, I shopped at ACME Markets in my local area, but you can also find O Organics at the Albertsons Companies family of stores, including Albertsons, Safeway, Jewel-Osco, Vons, Randalls, Shaw's Supermarket, Star Market and Tom Thumb.
ACME also offers Grocery Delivery and DriveUp & Go™ for convenient ways to shop!
How to Make Korean Beef Bowls
This is one of the easiest meals you will ever make! There's very little prepping involved and it cooks very quickly.
Funny enough, this recipe took me quite a few attempts of testing. Somehow it just didn't taste right! It was too dry, too salty, too sweet.
But I eventually came up with the combination of flavors that tasted like something I would like to eat over and over again! The beef was juicy, there was enough sauce so the rice could soak up some of it and it was umami-y without being too salty or too sweet.
The recipe can easily be doubled or tripled, if you need to feed a crowd! You can also customize the ingredients, to make it sweeter, spicier and/or saltier.
But I have a feeling you are going to like it just the way it is! 😊 😊 😊
Recommended tools and equipments: whisk, wok or skillet.
Here's how I make this Korean Rice Bowl recipe. As always, you will find the printable (and more complete) version of the recipe at the end of this post!
Step 1: Prepare the sauce.
Dissolve the cornstarch in the water, making a slurry.
In a bowl, whisk together the soy sauce, cornstarch slurry, brown sugar, sesame oil, Gochugaru (or red pepper flakes), ginger and garlic.
Step 2: Brown the beef.
In a large wok or skillet, heat the oil and brown the ground beef.
Drain off any excess fat before adding the sauce.
Step 3: Pour the sauce, assemble the Korean Beef Bowls and garnish!
Pour the sauce and cook until thickened to the desired consistency.
Serve over rice, garnished with toasted sesame seeds and sliced scallions.
Olivia's Tips
Make sure to buy low sodium soy sauce. It has 40% less salt than regular soy sauce, so not only it will make the ground beef bowls less salty, but it is better for you!
I recommend cooking the ground beef at a moderate temperature. Cooking it over high heat can lead to overcooking, and the beef will get too chewy and possibly tough.
To make this a low carb meal, use brown sugar replacement (instead of brown sugar), and serve over cauliflower rice or zucchini noodles.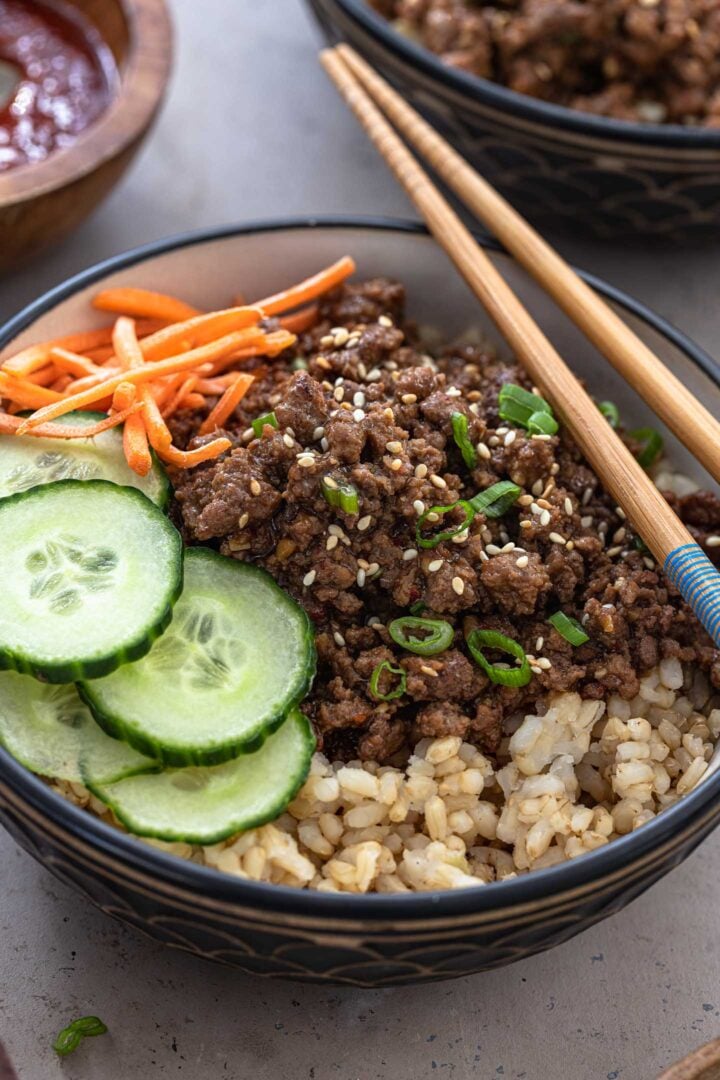 What to Serve with Korean Beef Bowls?
Korean Beef Bowls are already a very satisfying meal. However, I find that adding veggies – cooked or raw – take them to the next level and make them even better for you!
Here are a few suggestions:
Sliced cucumbers and/or sliced radishes
Shredded carrots
Zucchini spirals
Kimchi – to make it even more Korean!
Sautéd spinach
Steamed broccoli
Crushed peanuts
A fried egg
For me, a must have is some Gochujang sauce on the side, so I can drizzle on my Korean beef bowl!
Gochujang is a spicy-sweet fermented chili pepper paste, made from glutinous rice, fermented soybeans, Gochugaru (Korean red chili pepper flakes), and salt.
I buy store-bought Gochujang sauces, but you can make your own from Gochujang paste. If you can't find it, sriracha is a good substitute (but doesn't have the same big dose of umami that Gochujang has).
Frequently Asked Questions
Can I make Korean Rice Bowls ahead of time?
Yes! In fact, this is a great meal prep meal as the beef can be prepared up to 4 days ahead.
How do I reheat them?
Reheat the beef in a skillet, adding a splash of water, as needed, to make it juicy and saucy again.
Can I freeze this?
Yes, this dish freezes well. Let it cool completely, then transfer to an airtight container or freezer bag, and freeze for up to 2-3 months.

When ready to eat, thaw overnight in the fridge, then reheat and serve over fresh hot rice!
Can I substitute the meat?
Absolutely! This recipe will also work great with ground chicken, turkey or pork.
Korean Beef Bowls
These Korean Beef Bowls are about to become your favorite busy weeknight meal! Packed with flavor and ready in less than 30 minutes, this healthy ground beef recipe is definitely a keeper.
Ingredients
2 teaspoons cornstarch
1/3 cup water
1/3 cup low sodium soy sauce
3 teaspoons toasted sesame oil
1/2 teaspoon Gochugaru, (substitute 1/4 teaspoon red pepper flakes)
3 cloves garlic, minced
1 teaspoon grated fresh ginger
1 tablespoon O Organics light brown sugar
2 teaspoons vegetable oil
1 pound O Organics ground beef
Sliced scallions and toasted O Organics sesame seeds, for garnishing
Instructions
In a bowl, dissolve the cornstarch into the water until no white lumps remain. Add the soy sauce, sesame oil, Gochugaru, garlic, ginger and brown sugar, whisking to combine. Reserve.

Heat the oil in a large wok or skillet, over medium heat. Once hot, add the ground beef and cook, breaking the meat apart into smaller pieces, until it is no longer pink, about 3-4 minutes. If necessary, drain off any excess grease before adding the sauce.

Pour the reserved sauce and stir to combine. Cook until the sauce thickens and reduces, about 5 minutes.

Taste and adjust the sweetness (brown sugar), spiciness (Gochugaru) and/or saltiness (soy sauce).

Serve over rice (brown, jasmine or white), garnished with toasted sesame seeds and scallions. You can also top with raw or cooked veggies, if desired.
Notes
Make Ahead: The beef can be made up to 4 days ahead and refrigerated in an airtight container. When ready to eat, reheat and serve over fresh hot rice! Reheating Instructions: Reheat in a wok or skillet, over medium-low heat, adding water as needed to make it juicy and saucy again. Freezing: This dish freezes well, for up to 3 months! Thaw overnight in the fridge and reheat as instructed above.
Nutrition
Calories: 277kcal, Carbohydrates: 7g, Protein: 24g, Fat: 17g, Saturated Fat: 7g, Trans Fat: 1g, Cholesterol: 74mg, Sodium: 790mg, Potassium: 425mg, Fiber: 1g, Sugar: 3g, Vitamin A: 74IU, Vitamin C: 1mg, Calcium: 30mg, Iron: 3mg