New York-Style Bacon Egg and Cheese Sandwich
The breakfast sandwich that conquered the Big Apple. No true New Yorker starts their day without a delicious and gooey B.E.C (which is short for Bacon Egg and Cheese)!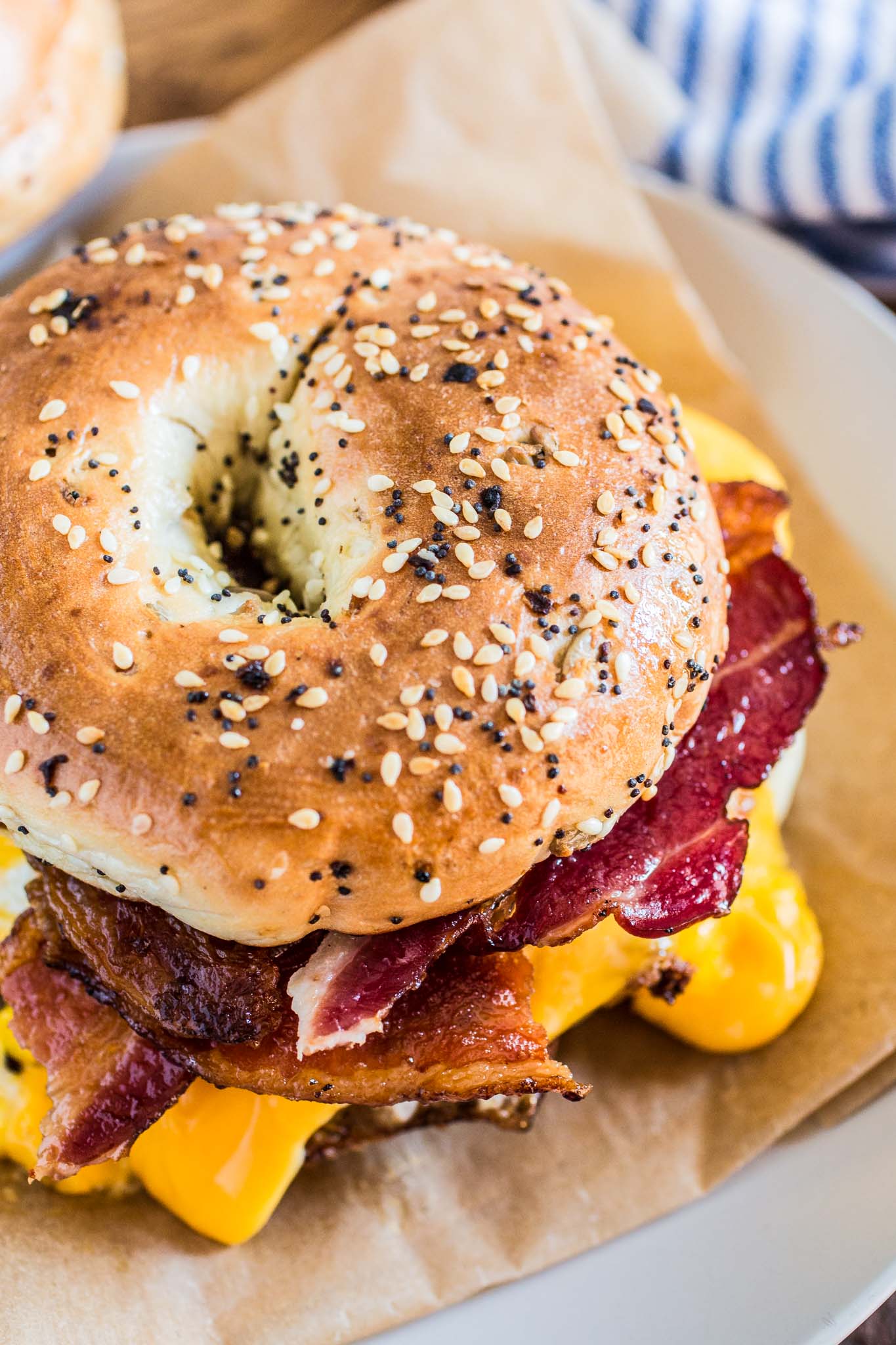 I was never an egg sandwich lover.
In fact, with the exception of frittatas and omelettes, I'm not much of an egg person, period. For example, I will run for the hills at the sight of an egg salad.??? Sorry, egg lovers, but the truth is I didn't come into this world with the egg gene.
So, it took me a long time to have my first Bacon Egg and Cheese Sandwich. I am even a little embarrassed to admit, but it was only this year. Yep, after living in NYC for the past 6 years, I finally tried my first BEC. And it was awesome!
Okay, maybe not as awesome at first, since it was at a Dunkin' Donuts.
Tim and I were on a road trip somewhere and I was starving. At the sight of the first food court/gas station thingy, I made him stop and we went to get some food. As I was looking through the menu, I though: well, I hate egg sandwiches, but at least this so called Bacon Egg and Cheese will keep me full for the rest of the ride. So I got one. And I ate it all! "This is promising!", I remember thinking as I chomped down my breakfast, feeling a little less cranky.
Since I couldn't tell if the sandwich pleased me because it was really good or because I was starving and would have been happy with anything edible, I decided to have it again a few weeks later, at a New York City deli. It was even better – obviously! – and I was forever hooked!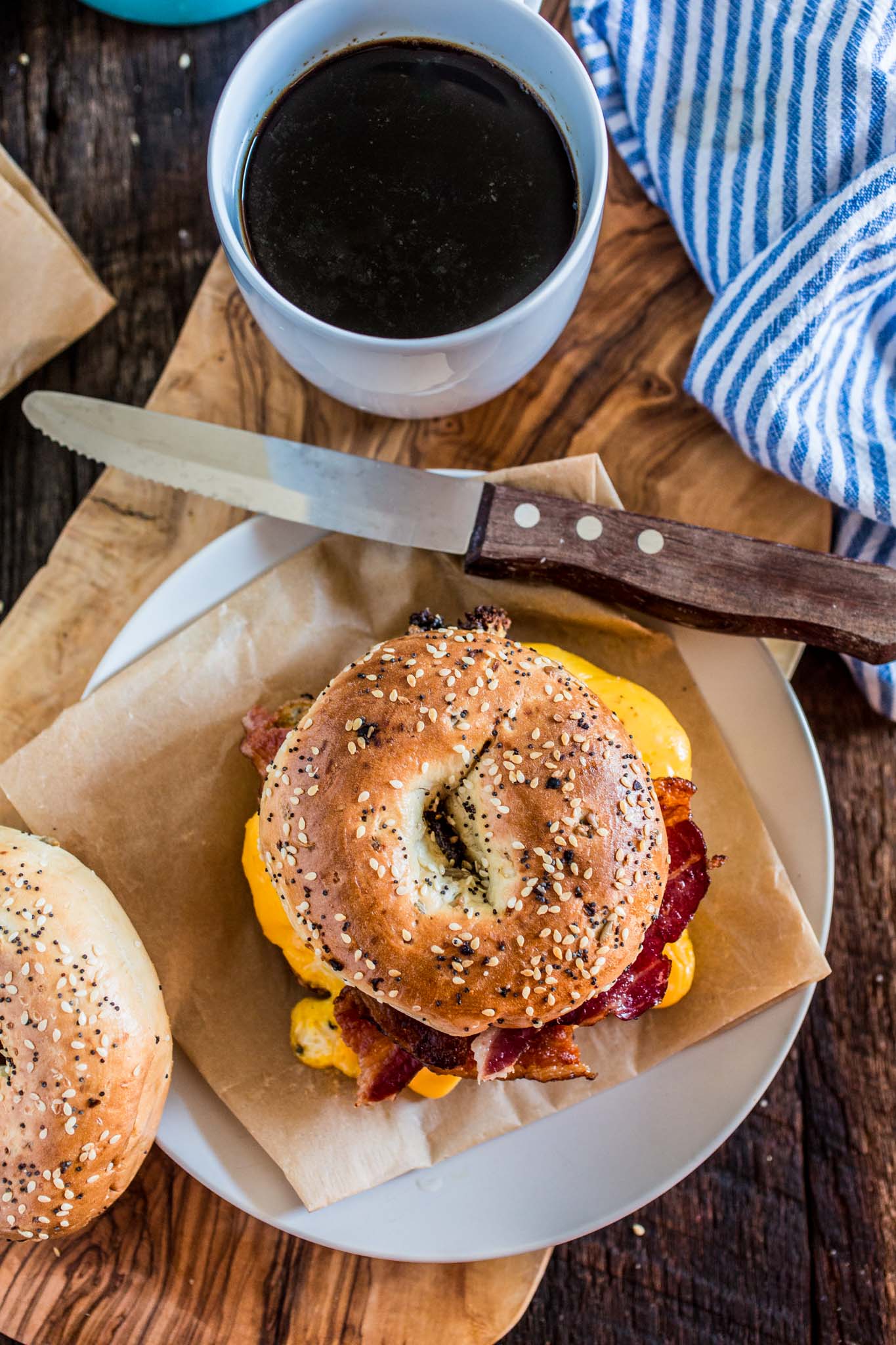 Question of the day: do you know the difference between a Bacon Egg and Cheese and a New York-Style Bacon Egg and Cheese?
And the answer is: in New York we like it inside a bagel. Preferably an everything bagel! If you answered right, congratulations! ? Either you are a real New Yorker or a serious foodie.
Your prize? What do you mean where's your prize? Your prize is the privilege of being my cyber friend. You're welcome! ?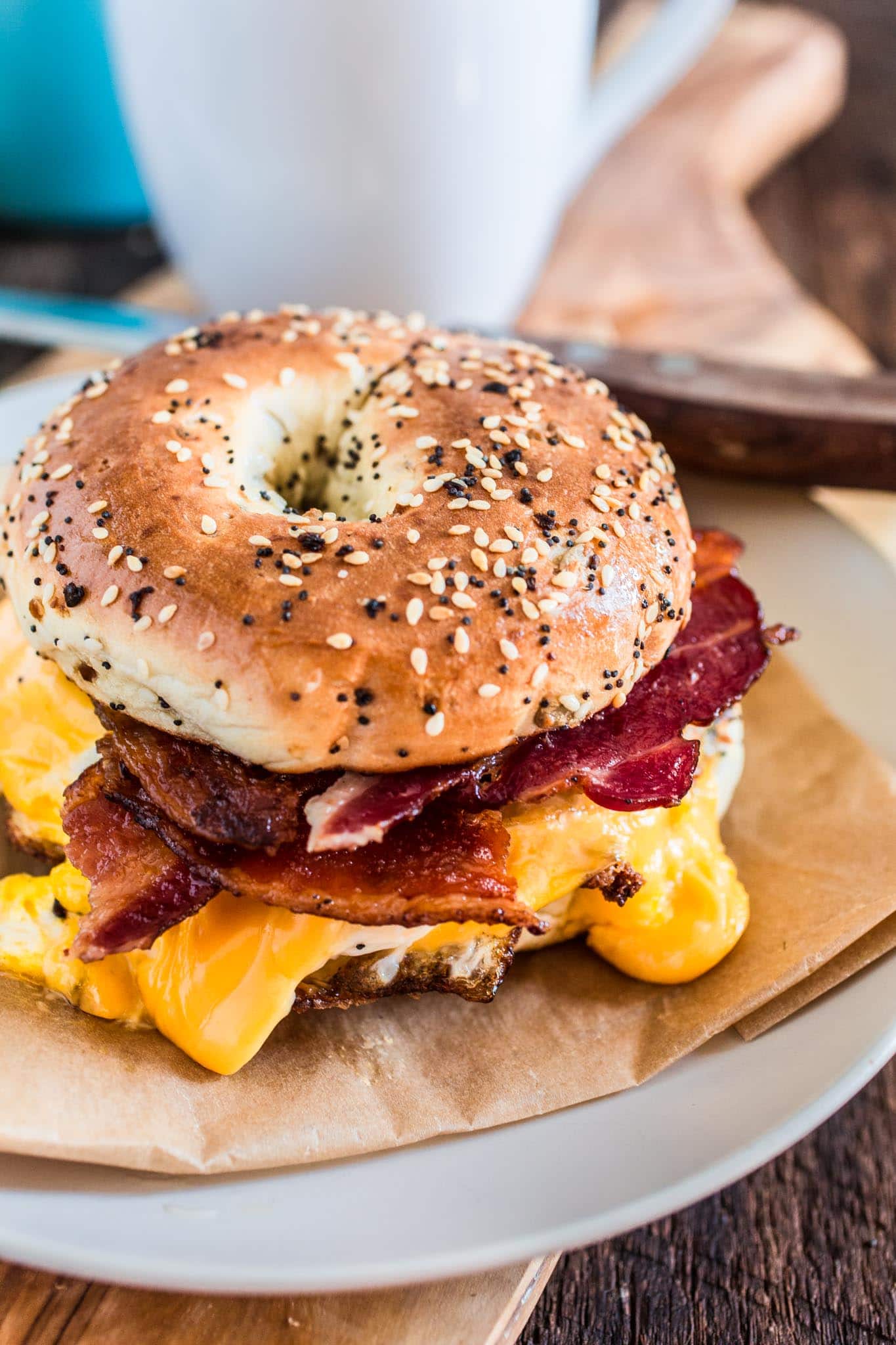 For whatever reason, it's near impossible to find a good bacon egg and cheese sandwich outside of New York, so people usually settle for not so great imitations, like an Egg McMuffin.
So, if you're not a New Yorker with a deli in walking distance, all that's left to do is sit and cry.
Until now!
Seriously, this recipe makes a B.E.C that is as good or better than the ones you'll find in Manhattan. No need to pay the outrageous rents in the Big Apple. You can make this delicious breakfast sandwich anywhere in the world!
And even if you're a New Yorker that can walk to a deli in less than 30 seconds, give this a try! Not only will you save money, but you will feel proud that you made a homemade Bacon Egg and Cheese.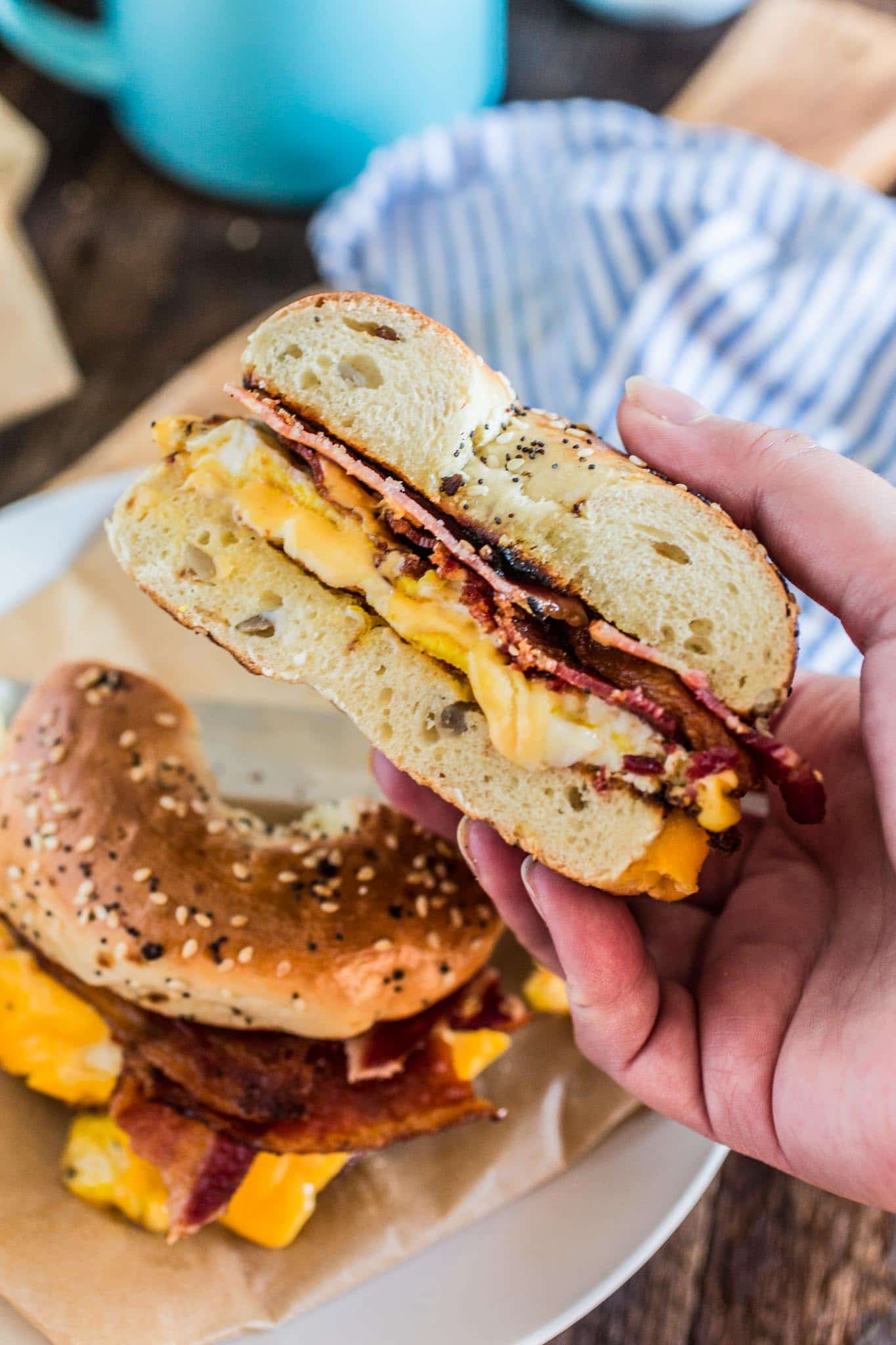 For the sake of being authentic, I used my least favorite cheese: American cheese. Surprisingly enough, it works like a charm. The cheese melts beautifully and it's almost like cheese and egg become one single being, a very awesome being!
This is one sandwich that is not necessarily improved by better cheese, so save the gouda for another culinary creation.
It is all about the simple ingredients, designed to satisfy practical needs rather than voluptuary desires, that can be put together quickly, because New Yorkers don't have time to lose. Hence why they usually buy it from a bodega or a street cart outside their offices.
But believe me, the joy you'll feel by whipping up this gloriously simple and satisfying sandwich at home beats waiting on a crowded bodega any time.
Plus, you get to enjoy this ooey-gooey goodness sitting on your couch (or table) instead of on a dirty NY subway car. (Unless you wanna make it to go. Because you totally can!)
P.S. A shout out to my friend Kevin from Kevin is Cooking, because he gifted me that beautiful wood board that you can see in these pictures! :) Thank you again, Kevin, for this wonderful gift. You are the best! ❤️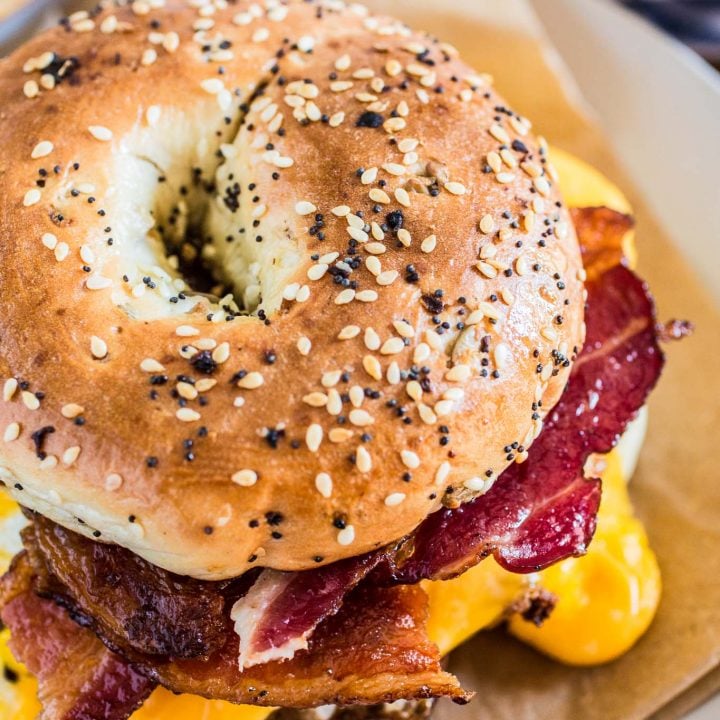 New York-Style Bacon Egg and Cheese Sandwich
Yield: 1 sandwich
Cook Time: 5 minutes
Total Time: 5 minutes
New York-Style Bacon Egg and Cheese Sandwich Author: Olivia's Cuisine
Ingredients
1 bagel (plain, whole wheat or everything)
3 tablespoons butter, divided
2 slices of bacon, cooked
2 eggs
2 slices of American cheese
Salt and freshly ground pepper to taste
Instructions
Slice bagel in half and spread the butter on the cut sides.
Pre heat your cast iron pan (or griddle) over medium heat and, once hot, toast the bagels until golden brown. Alternatively, you can use a pop-up toaster. In that case, wait to butter the bagel after it's toasted). Reserve.
Add the remaining tablespoon of butter and, once melted, crack both eggs into the pan. As soon as the whites start to set, puncture the yolks and gently spread them over the whites. Season with salt and pepper.
Layer the cheese and the bacon on top of one the eggs and, using a spatula, flip the other egg on top of the bacon. Cook for a few extra seconds for the cheese to melt.
Once the cheese has melted, transfer the eggs to the bagel bottom and top with the bagel top.
Serve immediately or wrap for a on-the-go breakfast!
For this recipe, I recommend:
 * Disclosure: This post might contain affiliate links.