Nutella French Toast
Sometimes we just need to start the day with something decadent and indulgent, like this Nutella French Toast! Made with brioche bread and stuffed with Nutella, it's the perfect treat for a special breakfast-in-bed on Valentine's Day or weekend brunch.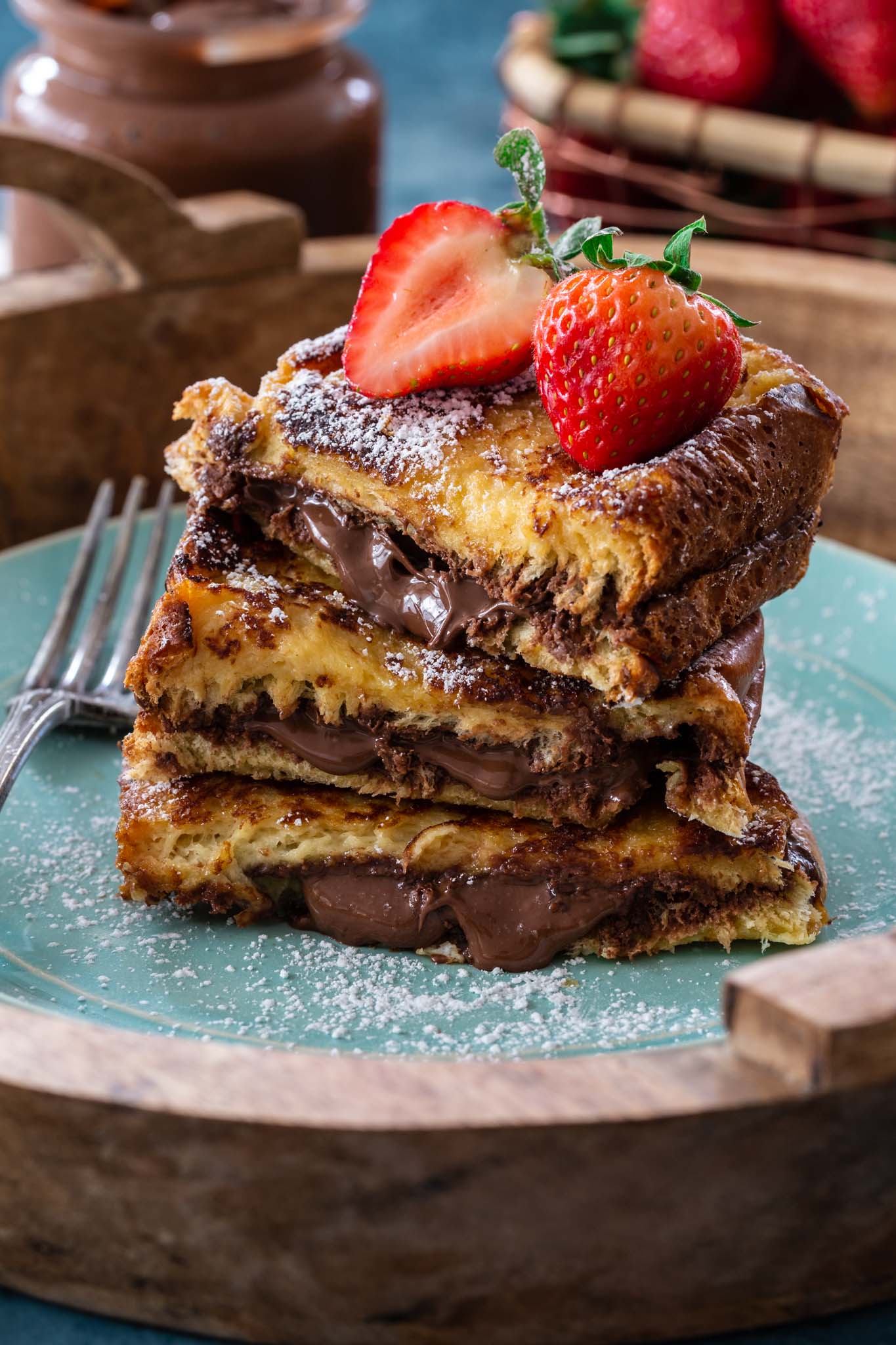 What's the best way to celebrate Valentine's Day? With a romantic breakfast in bed, of course.
A touch of love for the first meal of the day really sets the tone for an awesome day. And for me, that love has one name: Nutella!
I mean, who wouldn't love waking up to warm, buttery French toast oozing delicious Nutella? I know I would! And if you're the one making it – versus the lucky one who gets to be sweetly surprised – you will be happy to know that it is quite easy to make.
That being said, if you're one of those people that don't enjoy a sweet breakfast, this Nutella French Toast also makes a luscious dessert. Even better if you top it with ice cream!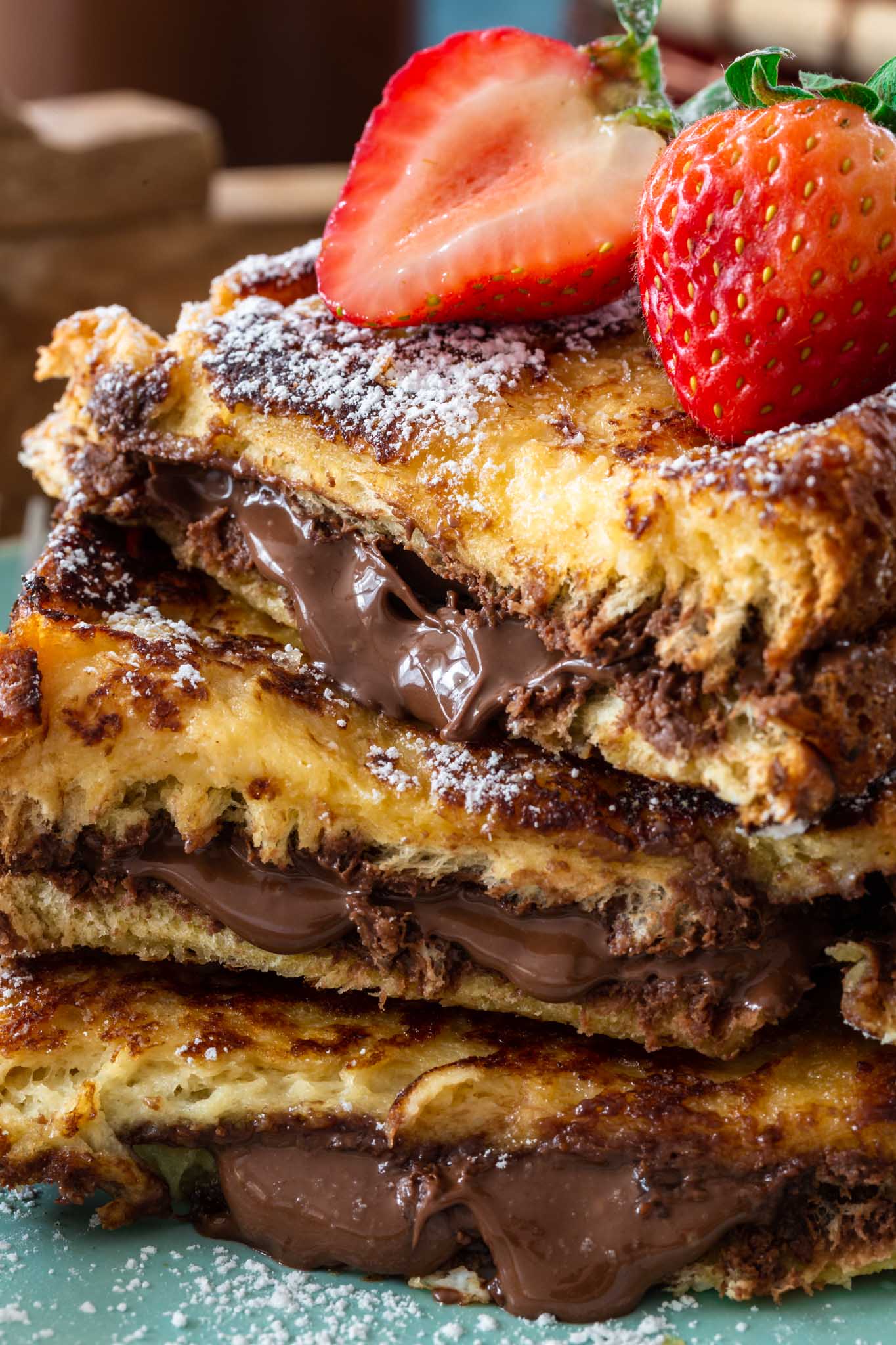 How to make Nutella French toast
French toast, the American version of the French Pain Perdu or the Italian Pan Dulcis, always start with some sort of hard or stale bread that is then soaked in a mixture of milk, sugar and eggs, and fried on butter.
Once cooked, you top it with everything your heart desires, like powdered sugar, fruit, maple syrup or – why not? – all of them!
To make Nutella French Toast, we follow that same formula, but instead of using only one slice of bread, we use two to make a sandwich filled with Nutella. And when I say filled, I mean it! Please save your calories elsewhere. I wanna see at least 2 tablespoons of Nutella per French Toast!
I am semi-kidding, of course. Feel free to adapt this to your dietary needs! A little Nutella is better than no Nutella, after all.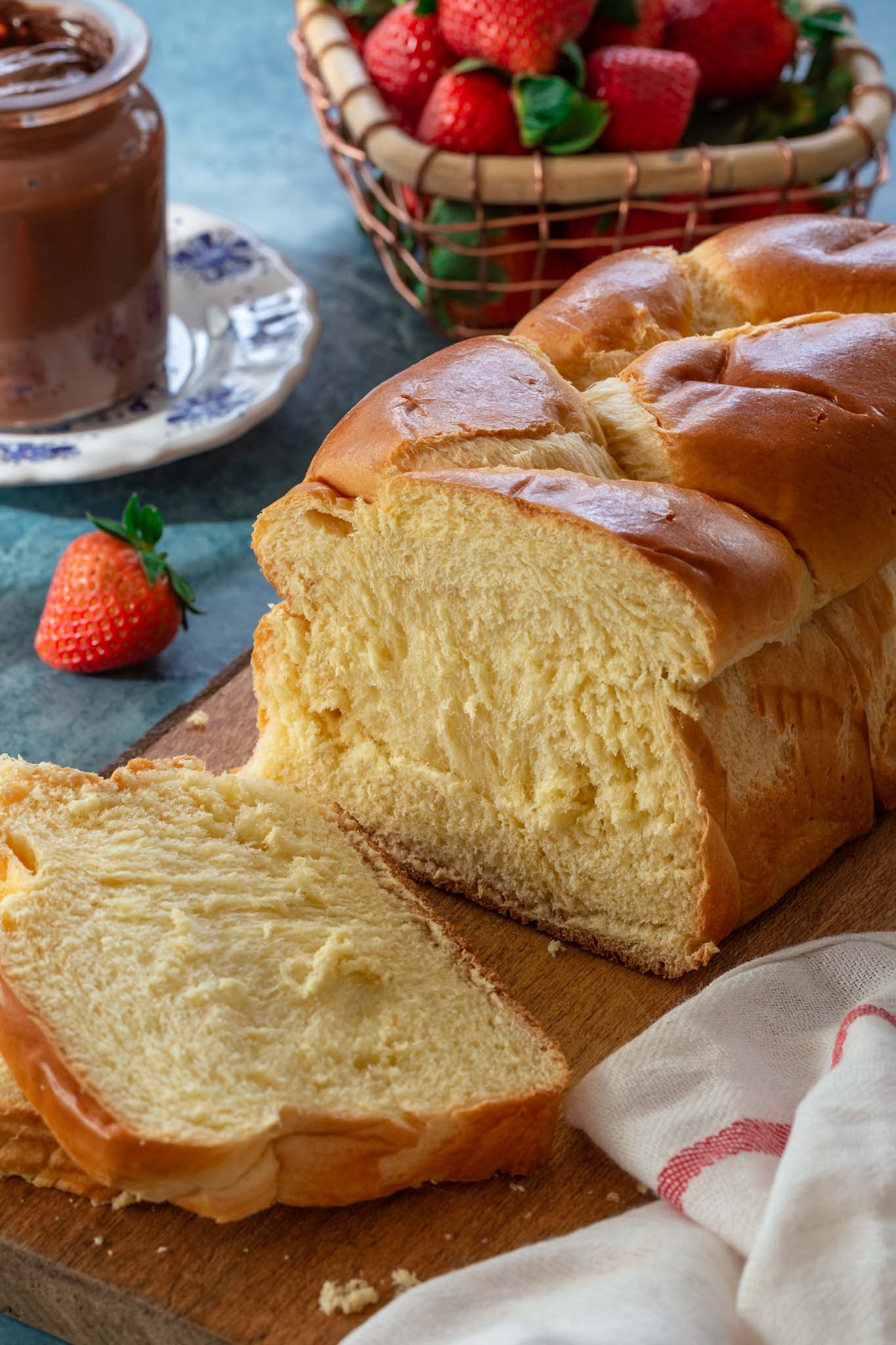 What kind of bread should I use for French toast?
The bread is the most important ingredient of any French Toast. Choose something too thin, and you'll end up with a soggy mess. Choose something too hard, and you won't get that delicious creaminess inside.
So what is the best bread? While lots of people will vote for challah, I really like brioche. The rich, buttery and fluffy brioche soaks the custard beautifully while still maintaining a slight crunchy texture on the outside when fried.
The drier the bread, the better. Usually a day old loaf will do, but a couple days is better. If you're in a pinch, you can always start with a fresh loaf, slice it and dry it in a 275 degree F oven for 10 minutes or so.
I also like to buy a loaf that is not pre-sliced, so I can control the thickness of my slices. The ideal thickness for French Toast is 3/4″ to 1″ thick. If it's thicker than that, it might not cook to the center.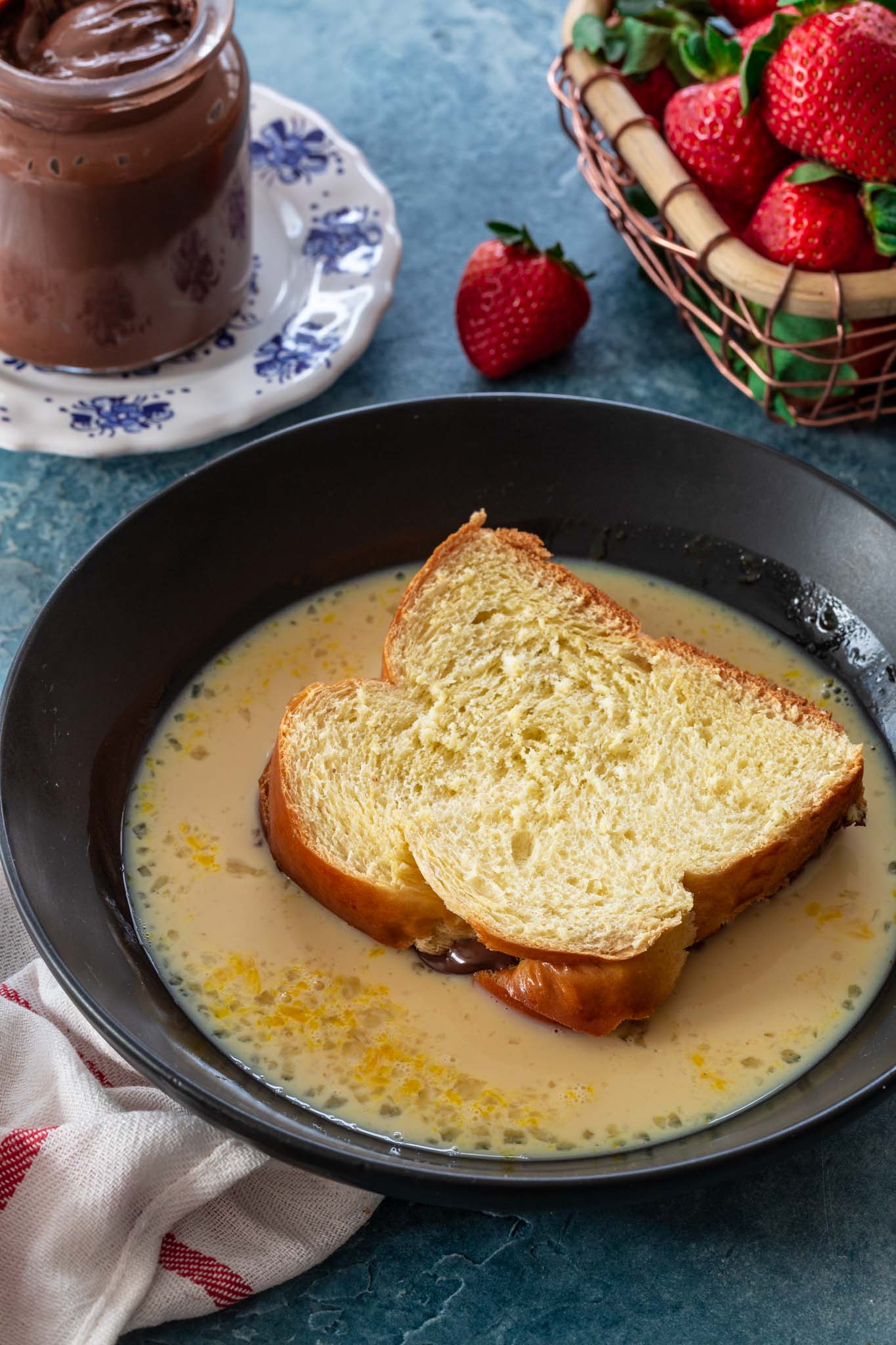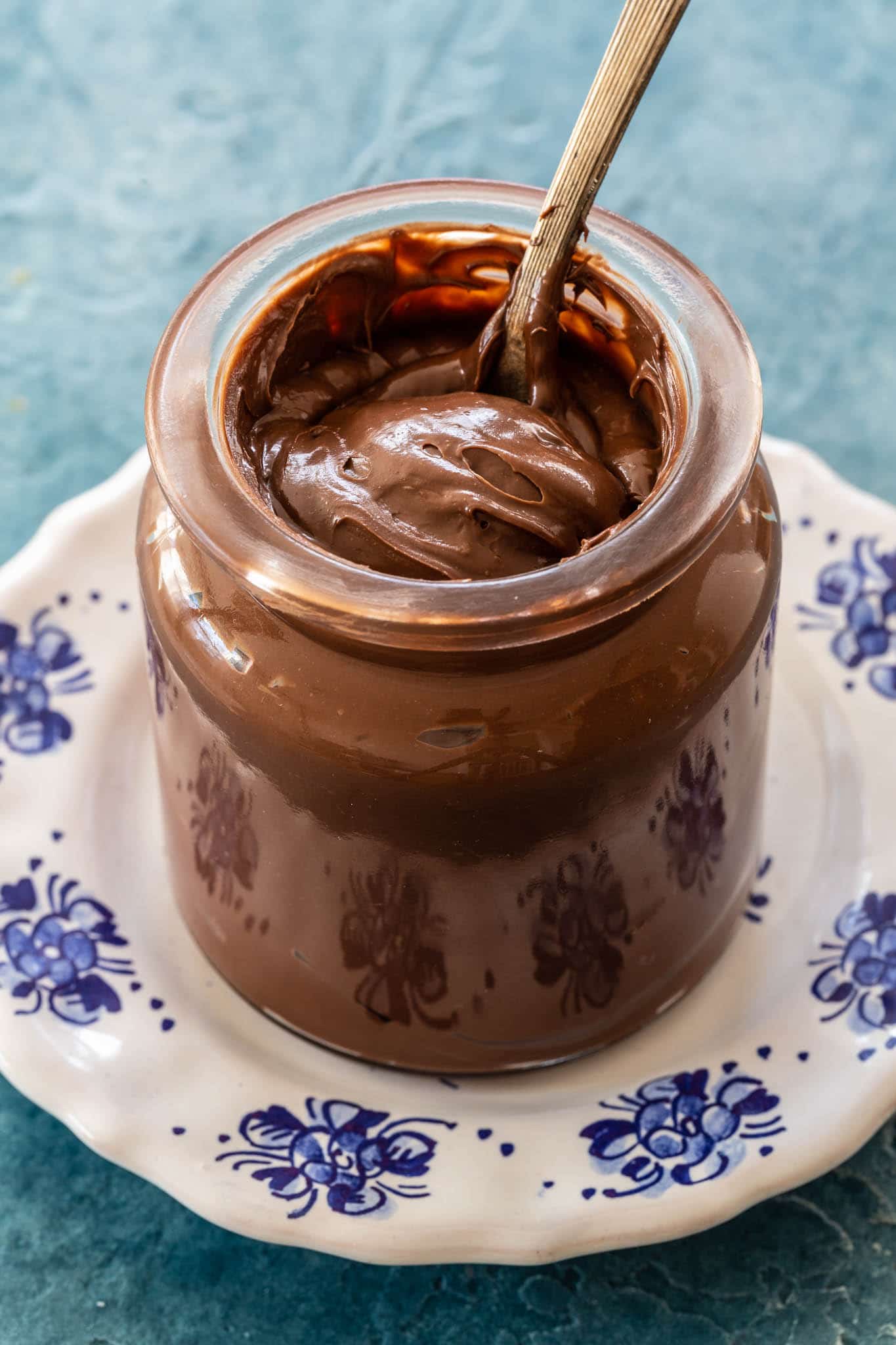 Tips and tricks for the best Nutella French Toast
As I said above, start with stale bread. If you didn't plan ahead, you can toast the slices in the oven. Fresh bread will get too soggy and start to disintegrate before it even gets to the pan.
Pile up the Nutella! Believe me, once you cut through one of these French Toasts and you see that deliciousness oozing through, you will feel the urge to come back here to thank me! :)
Don't soak the bread for too long. While you want the custard to penetrate and saturate the bread, you gotta be careful not to end up with sad, soggy slices that will fall apart when frying.
Always preheat the pan! A hot pan is the secret for that nice golden brown exterior.
Spray the pan with cooking spray before adding the butter. That way, the butter won't burn! You can also use a little bit of vegetable oil instead, if you prefer.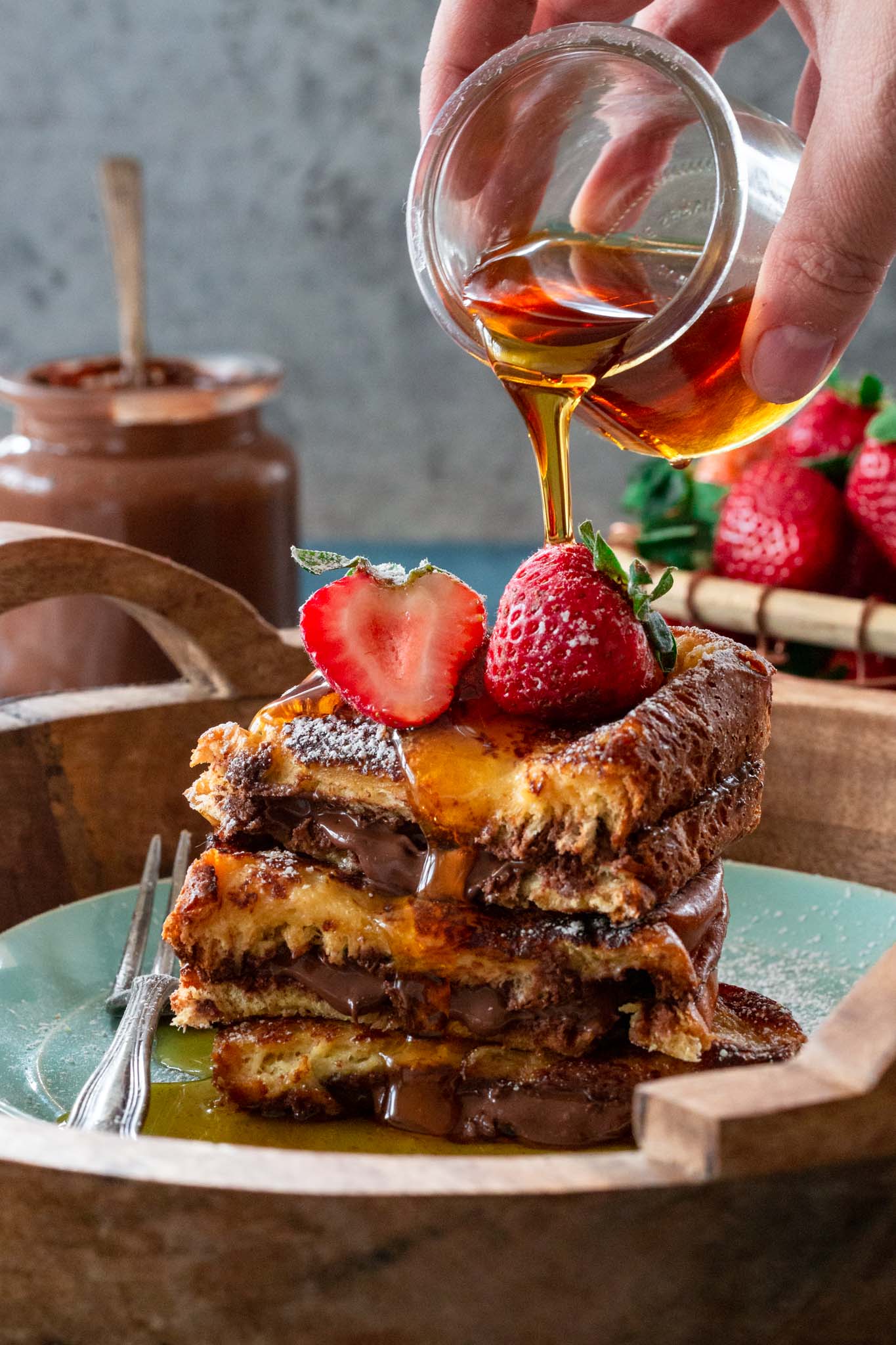 Can I reheat Nutella French toast?
Not a morning person? You can make the French Toasts the night before and then reheat it in the oven (375 degrees F for about 10 minutes) or using a skillet. I don't recommend reheating stuffed French toast on a toaster, as the filling will drip and you'll end up with a huge mess.
If you want to freeze Nutella French Toast, just cook it according to recipe instructions and allow it to cool on a wire rack. Then, place a sheet of parchment paper between the "sandwiches" and wrap tightly in aluminum foil. You can then freeze it for up to 2 months!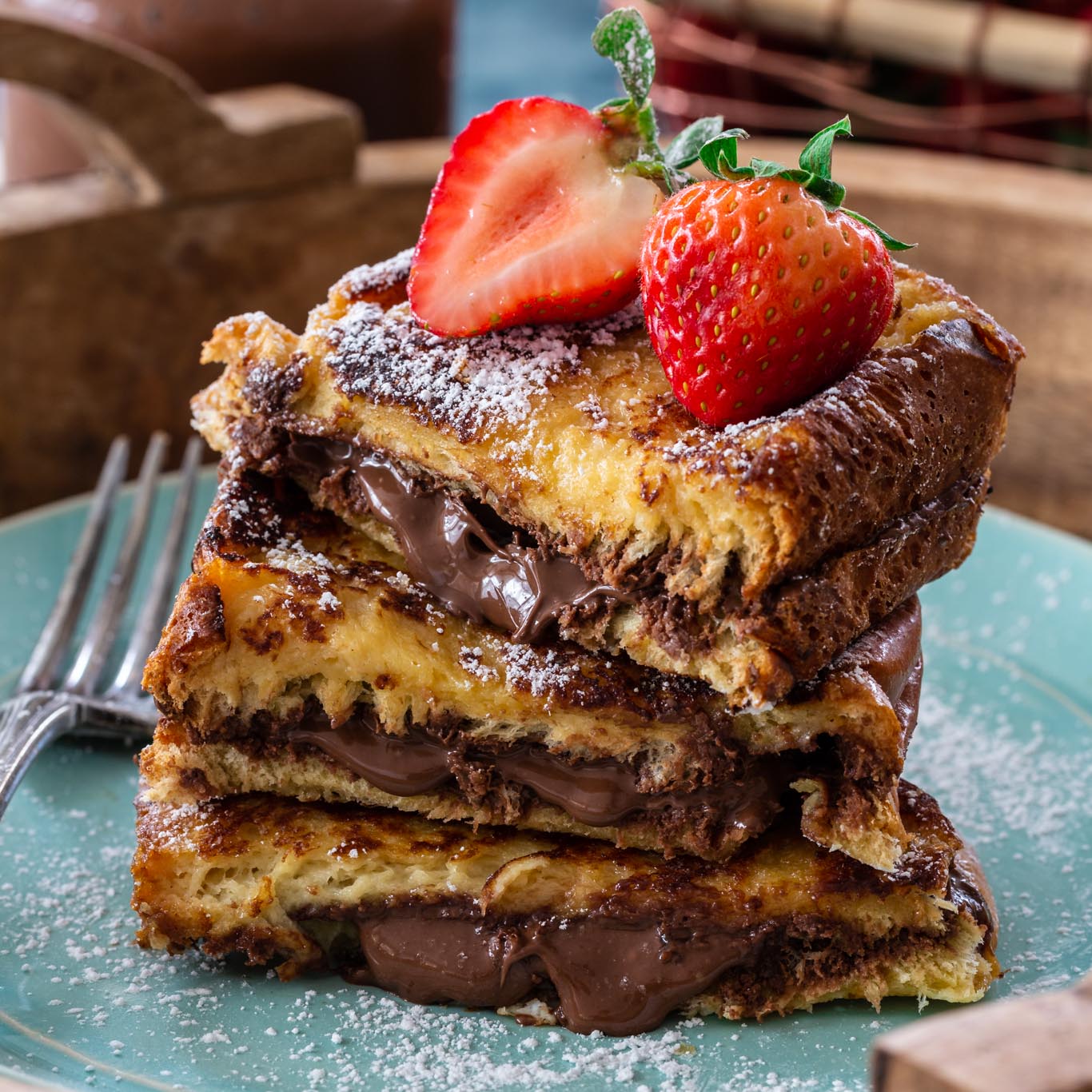 Nutella French Toast
Yield: 2
Prep Time: 5 minutes
Cook Time: 5 minutes
Total Time: 10 minutes
Sometimes we just need to start the day with something decadent and indulgent, like this Nutella French Toast! Made with brioche bread and stuffed with Nutella, it's the perfect treat for a special breakfast-in-bed or weekend brunch.
Ingredients
4 slices brioche bread, about 3/4" to 1" thick
4 tablespoons Nutella
1 egg
1/2 cup whole milk (or half and half)
1 tablespoon sugar
1 teaspoon vanilla extract
1 tablespoon butter
Powdered sugar, for dusting
Berries, for garnishing
Instructions
Spread Nutella in each of the 4 pieces of bread and join them, 2 by 2, like sandwiches.
In a shallow bowl, whisk the egg, milk, sugar and vanilla extract until well combined.
Dip each sandwich into the custard, letting it saturate on both sides.
Preheat a large skillet over medium high heat. Spray with cooking spray and add the butter, swirling the pan to coat the bottom. Once the butter is melted, add the French toasts and cook each side until golden brown (about 1-2 minutes per side).
Dust the Nutella French toasts with powdered sugar, top with berries and serve.
Recommended Products
As an Amazon Associate and member of other affiliate programs, I earn from qualifying purchases.
Other breakfast/brunch recipes: