One-Pot Cheeseburger Macaroni
This creamy and ultra cheesy One-Pot Cheeseburger Macaroni is the answer to your prayers: easy, comforting and ready in less than 30 minutes! All because of a little (and delicious) shortcut. ?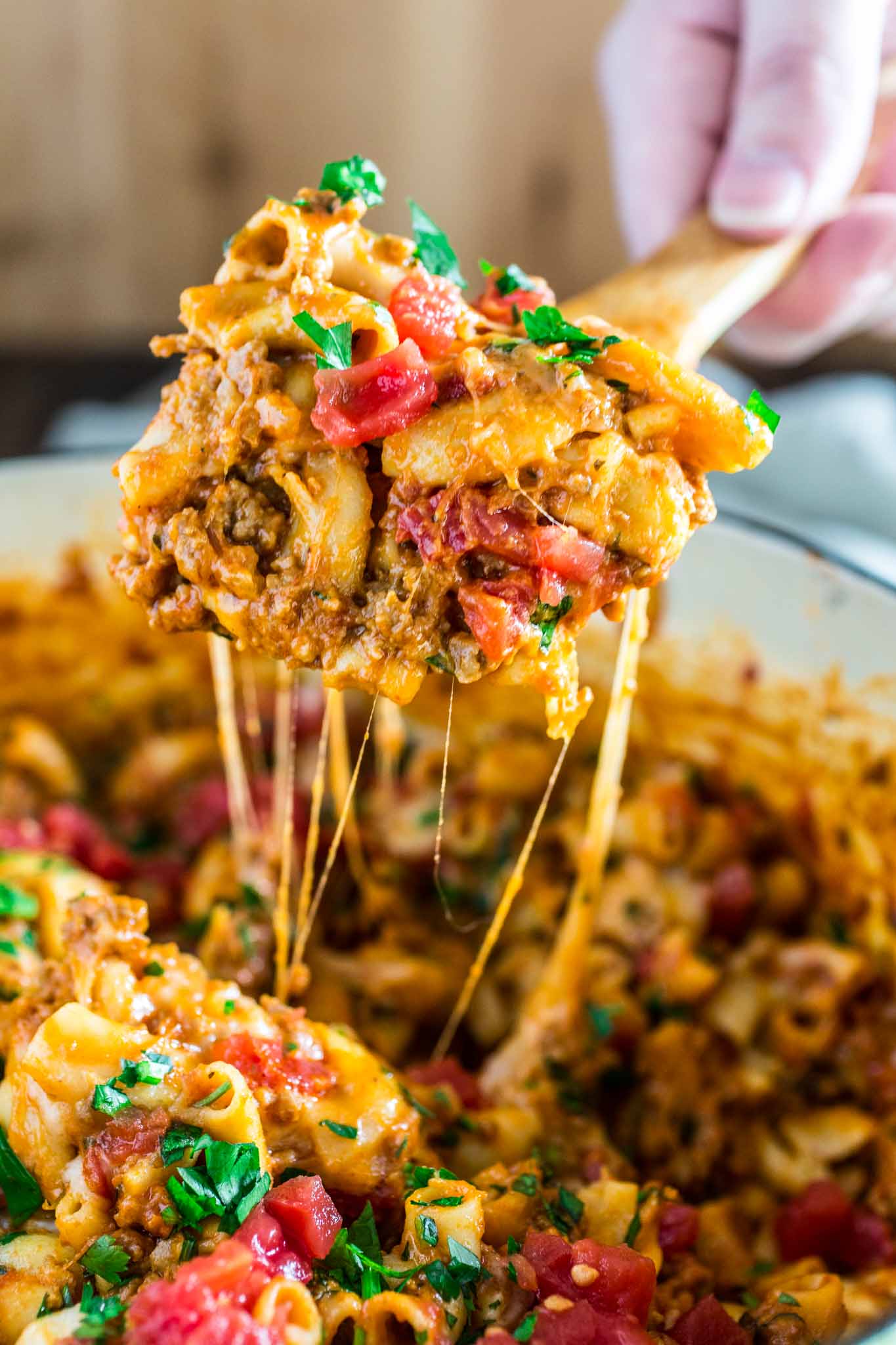 Today I'm partnering up with Ragu to bring you some comfort food.
I don't know about you, but I am so ready to move on from salads to hearty Fall dishes like stews and soup. Not to mention all the pies we get to eat, without any guilt, for Thanksgiving! And let's not forget of the epic turkey, of course. ? Oh, I just can't wait!
But I'm a little ahead of myself, I know. There are still lots of sunshine and ice cream to be enjoyed before we start pumpkinizing everything.
However, nobody said anything about holding off on pasta, so here I am, sharing the ultimate comfort dish: an One-Pot Cheeseburger Macaroni. If you didn't feel all warm and fuzzy inside at the sight of these words, you are heartless! ? Because this dish is supposed to caress your soul and make you feel like everything is right in the world.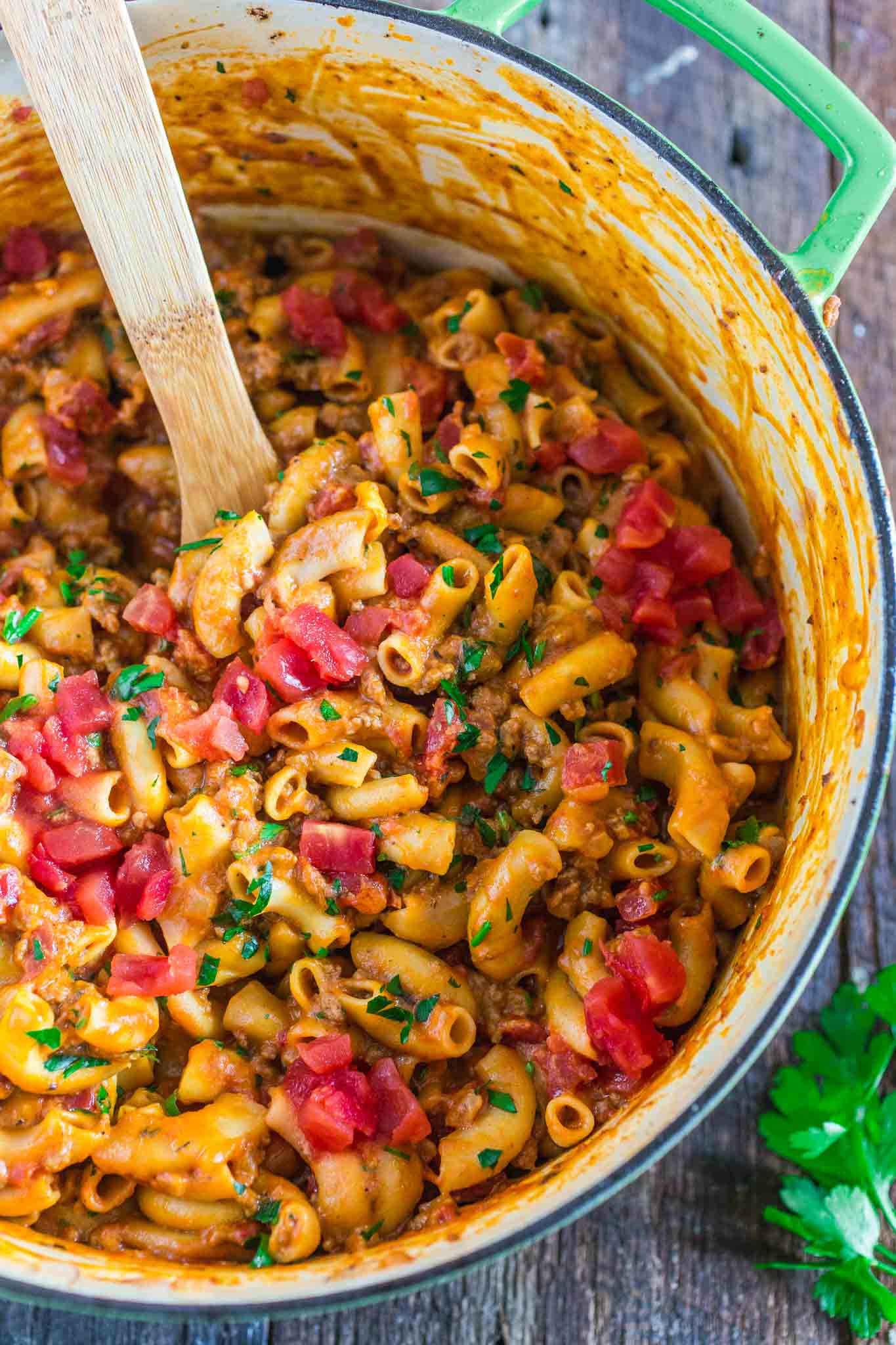 I haven't been feeling super great lately. First I managed to cut my toe by breaking a pie dish in the kitchen, then I got hit with the dreaded summer cold, then I received some not so great news from back home that my grandfather is in Intensive Care, and then, finally, I cut my foot in the kitchen again (the other one this time around!). All in the last week or so!
So, yeah, if anyone deserves a big bowl of cheeseburger macaroni, it's me.
But no need to worry, this recipe makes a big pot of pasta so there is enough for me, you and everybody else who is in need of some comfort in a bowl. Because I'm sure y'all have your own life drama going on and could use some food love. Amirite?
And because it's summer and nobody wants to be in the kitchen for hours working on something elaborated, I made sure this pasta was not only delicious but also easy and quick with very few dishes to wash. Even the pasta gets cooked right there in that same pot!
One-Pot dishes are GENIUS, aren't they? ❤️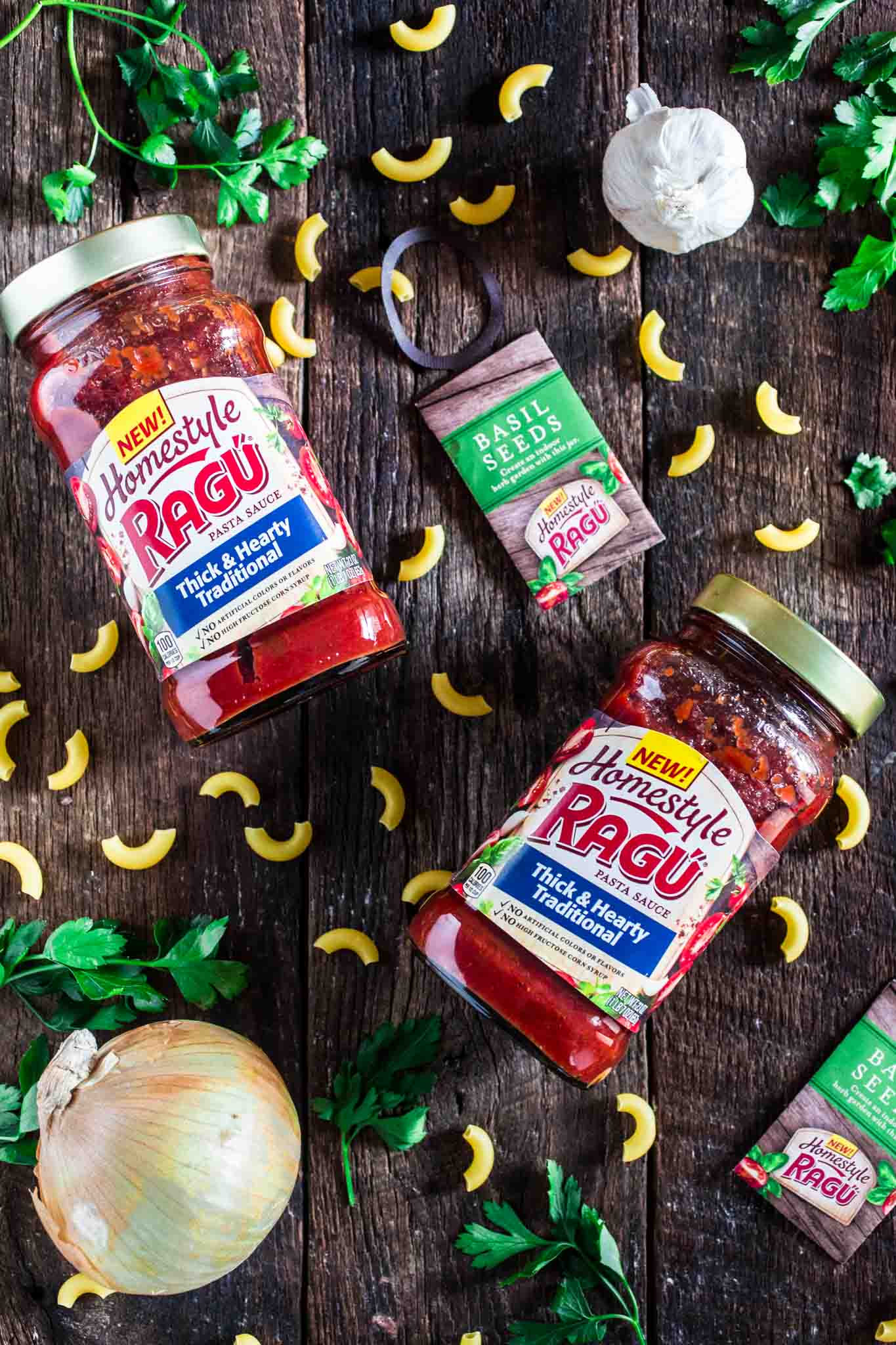 Except for sautéing the onion and garlic and browning the meat, all that is left to do is adding all the ingredients and letting them work their magic.
If you've been following my culinary journey, you've probably seen a few Ragu recipes here on the blog. And that's because I am a huge fan of their products, particularly the Homestyle sauces. They are nice and thick and hug the pasta like no other, making any dish extra creamy and flavorful!
I call them my little special short cut, because all I have to do is open a jar, but Ragu doesn't take any short cuts. They take the time to make sure the sauce is made right and tastes homemade, without any artificial flavors, colors or high fructose corn syrup.
I was especially happy when I bought these jars, because they came with a special little gift: basil seeds, so you can grow your own basil garden at home (inside the sauce jars!). How fun is that?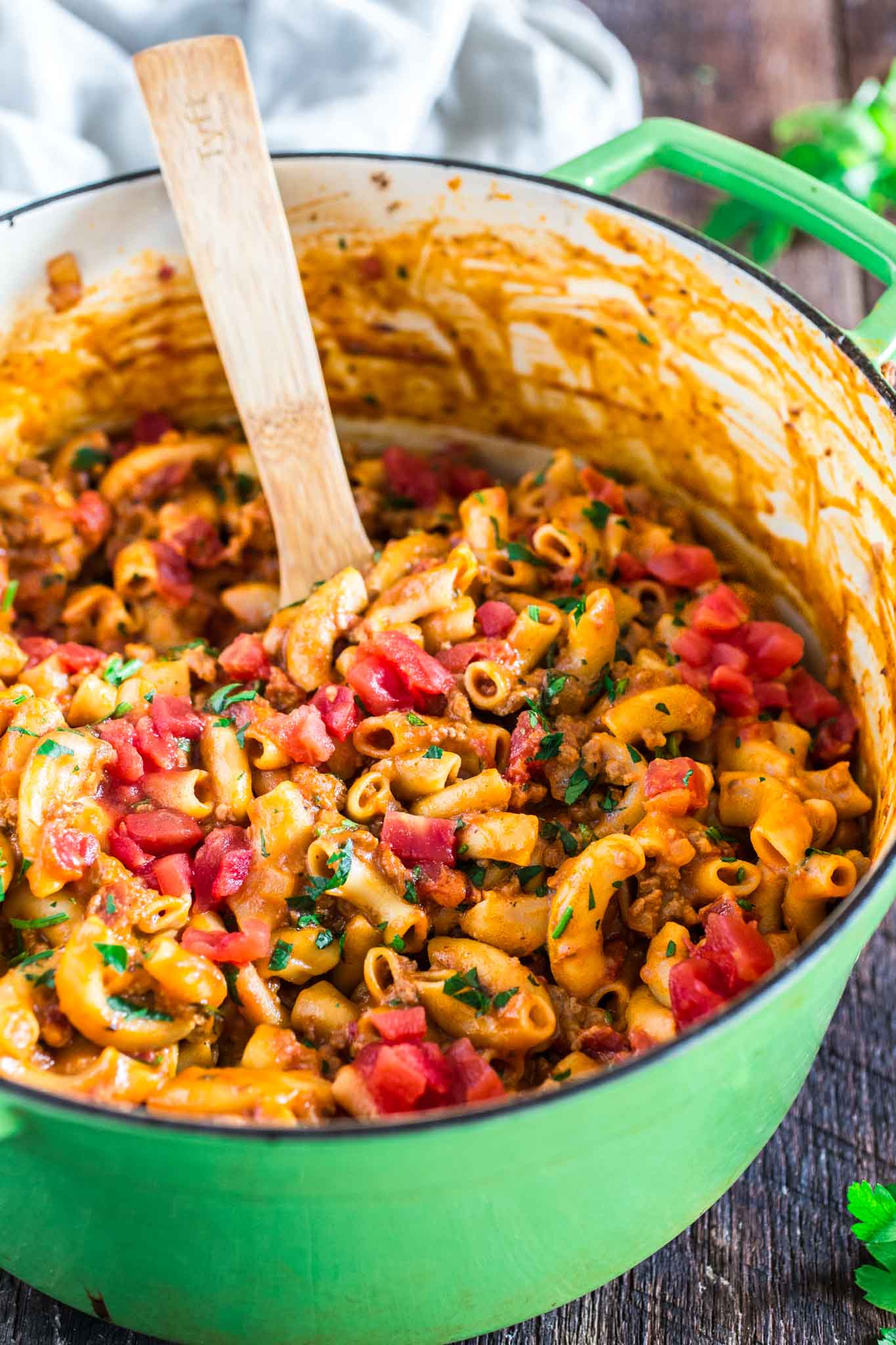 But you know how what's even better than that? This Cheeseburger Macaroni.
Seriously, you guys, this one is a winner! If you're a cheeseburger lover, you are going to love this dish. And if you're a lover of all things practical and easy, you just found nirvana!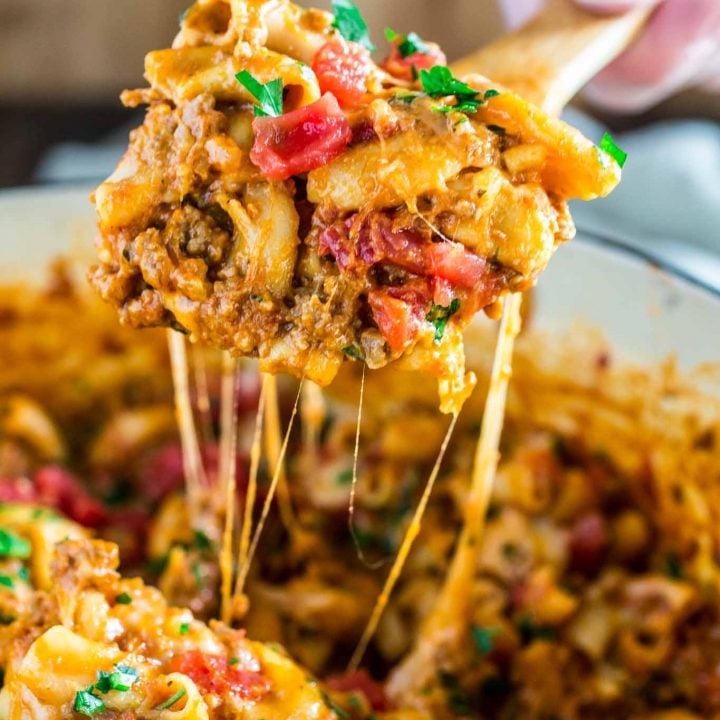 One-Pot Cheeseburger Macaroni
Yield: 8
Prep Time: 5 minutes
Cook Time: 20 minutes
Total Time: 25 minutes
Ingredients
2 tablespoons olive oil
1 medium onion, chopped
2 cloves of garlic, minced
1 pound ground beef
2 tablespoons Worcestershire sauce
1 tablespoon ketchup
2 tablespoons Dijon mustard
2 cups beef broth
1 cup milk
1 pounds elbow macaroni (penne or rotini also work)
1 can diced tomatoes, drained
8 ounces sharp cheddar cheese, grated
Salt and freshly ground black pepper to taste
Chopped parsley or scallions to garnish
Instructions
In a large pot or dutch oven, over medium high heat, heat the olive oil and sauté the onion and garlic until fragrant and translucent, about 2 minutes. Add ground beef and cook until browned, about 3-5 minutes, breaking it apart with a wooden spoon. Season well with salt and pepper.
Add the Ragu sauce,Worcestershire sauce, ketchup, mustard, broth and milk and give it a good stir. Then, stir in the pasta and bring to a boil. Once boiling, cover and lower the heat to a simmer. Cook for 8 to 10 minutes (adding more liquid if necessary) or until the pasta is al dente and liquid has reduced.
Remove pot from heat and stir in the diced tomatoes. Then, add the cheese, cover and let it stand for 2 minutes so the cheese can melt. Garnish with chopped parsley or scallions and serve immediately!