Brazilian Beef Stew (Picadinho) with Banana Farofa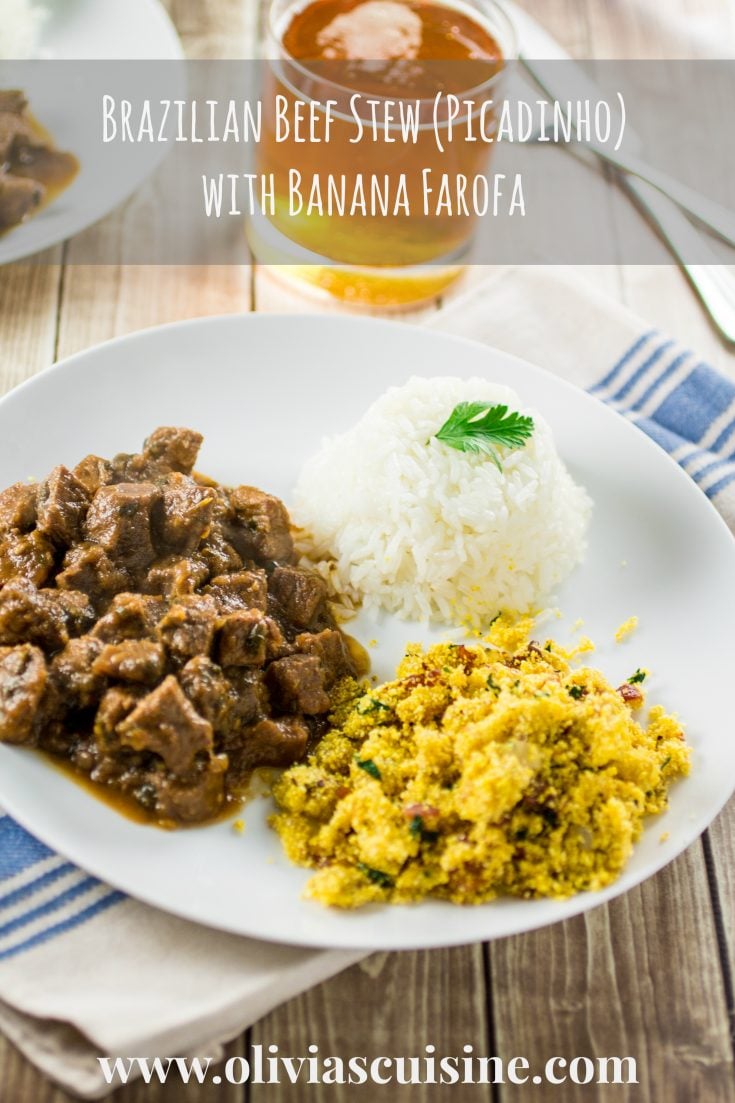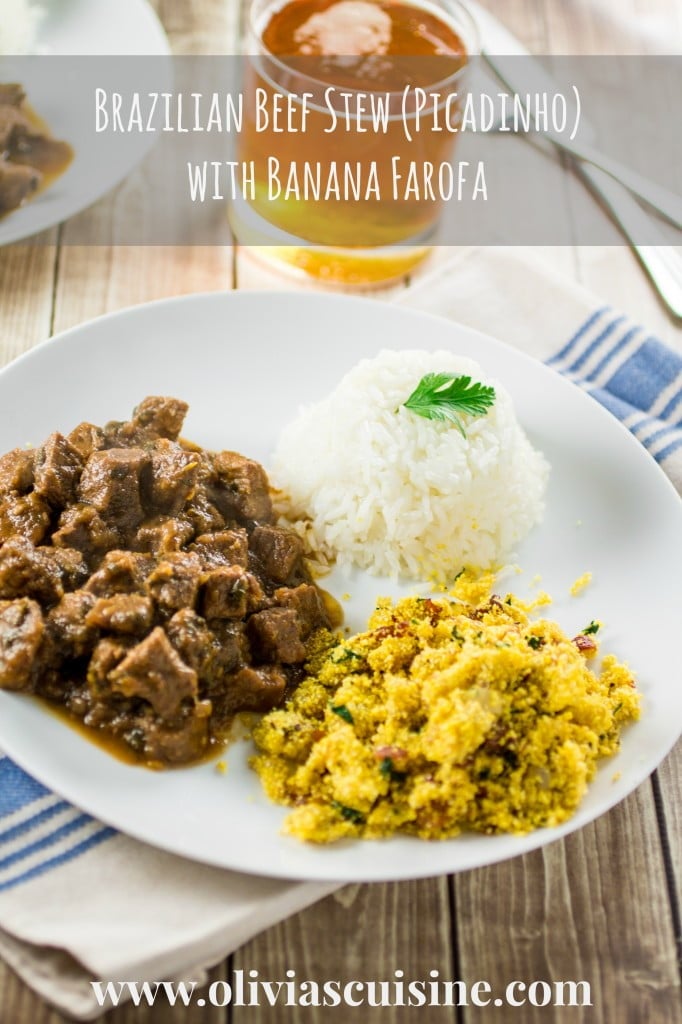 There simply isn't a better way to say it: there is nothing like Brazilian food. Sorry, guys! I don't mean to be cocky, but I'm always committed to being honest with you. I had to go ahead and say it (or better, write it!).
Five years ago I moved to the United States, and everyday I get asked what do I miss the most about my home country. The beach? The tropical weather? The warm personalities? Apart from the obvious answer, which is my family, what I miss the most about Brazil is the food. Of course, I can get Brazilian food in Brazilian restaurants here in New York, but it's not the same as having it homemade on the table 3 times a day. Especially if it was cooked by my grandmother, the Food Goddess of all times and forever this blog's muse.
Anyway, today I'm here to talk about one of my favorite Brazilian dishes: picadinho (or Brazilian Beef Stew as I decided to call in English). And, since I'm still trying to compensate for my health related absence during the past month, I'm throwing a Banana a farofa in the mix! Seriously guys… This is one of those meals that caresses your soul. Comforting, hearty and, I suppose, exotic! :)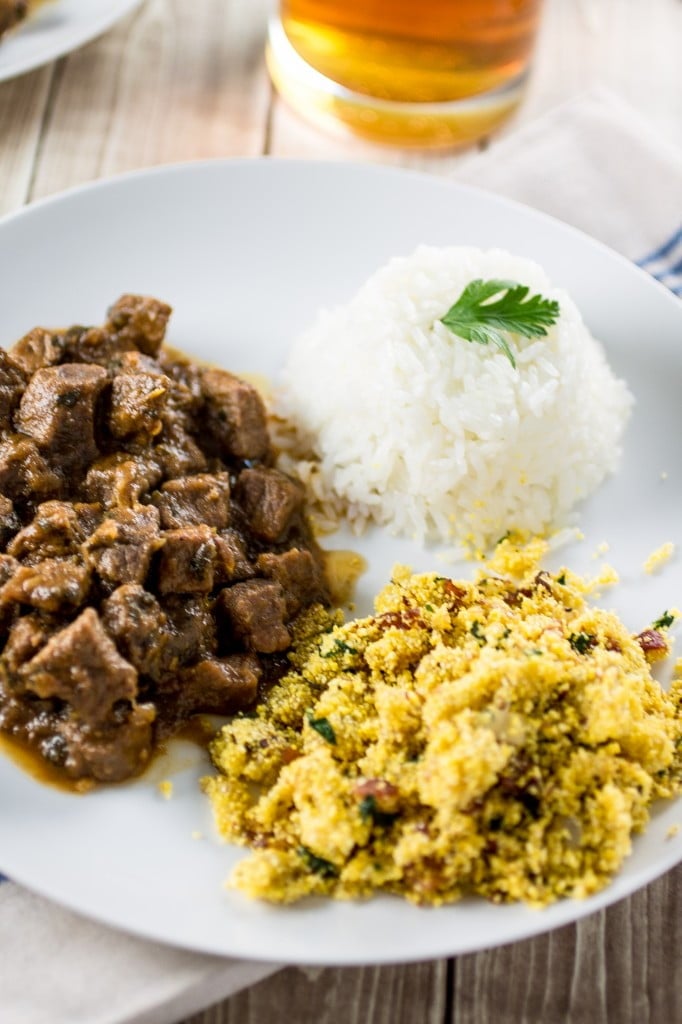 The word "picadinho" would be translated as something like "chopped", because the meat is cut into tiny little cubes or stripes, like in a beef stroganoff. I don't wanna bore you guys with lots of historical facts, but the habit of eating meat cut in cubes came from the Medieval times. The idea of serving meat in big portions, like roasts, came from the big Middle Age's feasts, when it was noble to eat entire game animals in sign of glory. The servants, who didn't have the right to hunt, had to use the toughest/fattiest meats that were left behind and cook them for hours in stews to get the most flavor out of it and to feed a large number of people. So that's why they chopped everything. But then, around the centuries XV and XVI, at the end of the Middle Ages and with the Italian Renaissance, the "chopped" meat dishes became sophisticated and popular in the high societies. Good examples are the stroganoff for the Russian elite and the goulash for the Hungarians.
In Brazil this type of dish came from the Portuguese stews. Our version, the picadinho, started appearing in taverns and bars in Rio around 1816 and were served and shared by the working class at communal round tables.
In the São Paulo of the 50s and 60s, in a more urban context, the dish evolved to a more sophisticated version, using filet mignon and cooked almost like hibachi style. It was (and somehow still is) really popular as a late night meal for bohemians that would come to the bars looking for something tasty to eat at 4am after a long night out.
From there the picadinho spread around the whole country and you can find an infinite variety of recipes. Each family has its own recipe and swears by it! The one I'm sharing with you is inspired by Chef Carlos Ribeiro's version, but modified to my tastes. I like to serve it with Banana Farofa, which is a side dish made with bananas and corn (or manioc) flour, and white rice.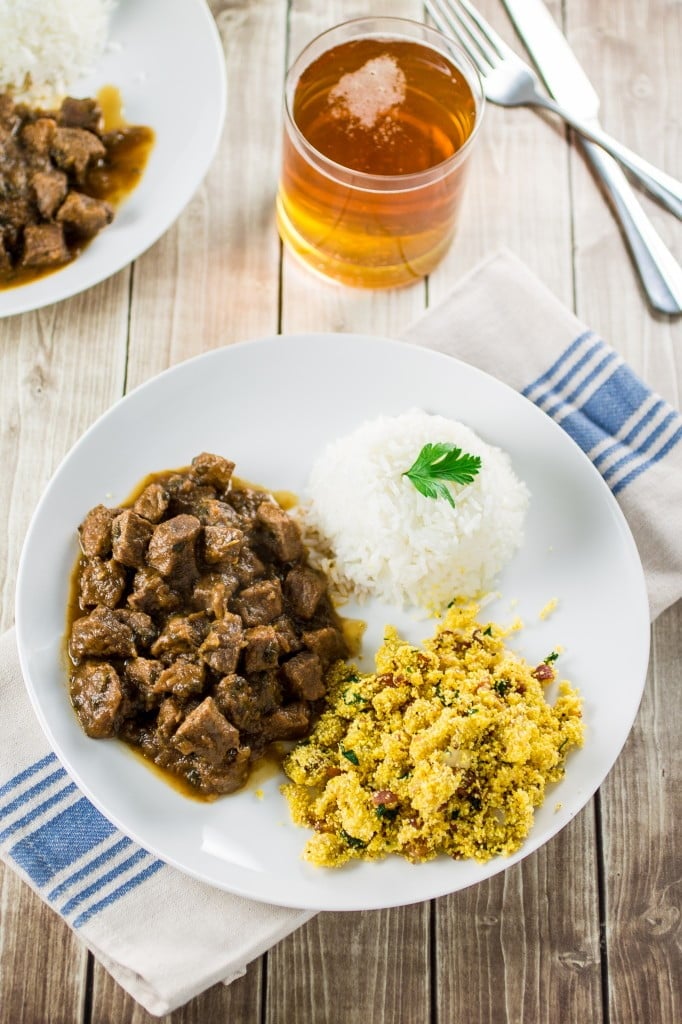 You'll notice I ask for sirloin meat in my recipe, instead of the (now) traditional filet mignon. Why? Because filet mignon is expensive here in the U.S., that's why. If you're feeling fancy and want to make it with filet mignon, just skip the whole cooking the meat in the broth part. After you add the tomatoes, parsley and spices, just add one cup of the broth to give it a little moisture and create a bit of a sauce and cook it until it slightly reduced and thickened. That's it! Since I use sirloin, I cook with 3 cups of broth until it reduces almost completely because I want the meat to be as soft as the filet mignon. And if I feel it's still not soft enough, I keep adding broth until it gets to my desired softness! This is one of my favorite dishes in the whole world, so it can't be anything less than perfect! The meat at the end is very soft and full of flavor!
This is the Brazilian version of comfort food that will get you wanting more and more. :) I just had it this week and am already craving it again. It might make the weekly menu again next week… There's no getting tired of Picadinho!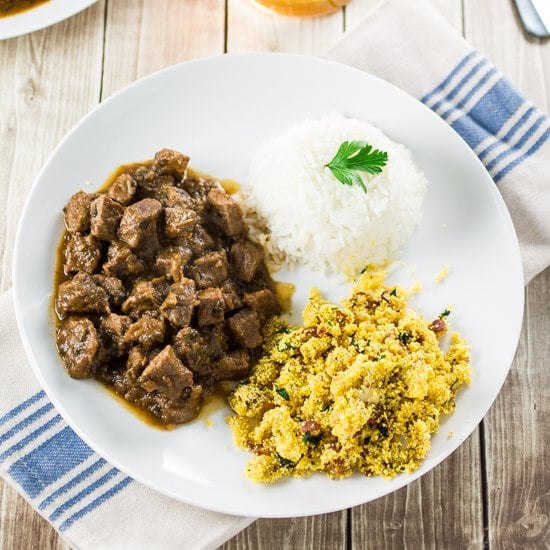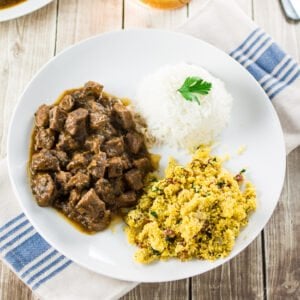 Brazilian Beef Stew (Picadinho) with Banana Farofa
Ingredients
For the Picadinho:
2 pounds sirloin steak, cut in cubes
Salt and freshly ground black pepper , to taste
2 tablespoon olive oil
1 large onion, chopped
2 tomatoes, chopped
4 cloves garlic, minced
1/3 cup chopped parsley
1 teaspoon paprika
2 tablespoon Worcestershire sauce
3 cups beef broth
2 tablespoon butter
For the Banana Farofa:
2 tablespoons olive oil
2 bananas, sliced
4 slices bacon, chopped
1 medium onion, chopped
2 cloves garlic, minced
2 tablespoons unsalted butter
1 cup coarse corn flour
1/4 cup chopped parsley
Salt and freshly ground pepper, to taste
Instructions
To make the picadinho:
Season the meat generously with sat and pepper.

In a large pan, heat olive oil over high heat and add meat. Cook until browned on all sides. (Make sure you don't overcook, or the meat will toughen).

Add the onion and the garlic and sauté until translucent and fragrant, about 2 minutes.

Add the tomatoes, the paprika, the Worcestershire sauce, the parsley, salt and pepper to taste and the butter. Let everything cook together for a few minutes.

Add the broth and, once it boils, lower the heat to low. Cover and cook for 30 minutes or until the meat is tender.

Once the meat is tender, turn the heat back up and cook until the liquid has reduced/thickened to 1 cup.

Adjust seasoning and serve.
To make the farofa:
In a large skillet, over high heat, heat olive oil and quickly sauté the bananas. (Don't over do it, or the bananas will get too soft and fall apart). Reserve.

In that same skillet, add the bacon and let it fry until golden. 

Add the onion and the garlic and sauté until it starts to caramelize.

Add back the banana and the butter and let everything cook together for a couple of minutes.

Stir in the flour, 1/2 a cup at a time, mixing delicately.

Stir in the parsley and season with salt and pepper to taste

Serve warm or at room temperature.
Nutrition
Calories: 715kcal, Carbohydrates: 47g, Protein: 57g, Fat: 33g, Saturated Fat: 10g, Cholesterol: 155mg, Sodium: 906mg, Potassium: 1525mg, Fiber: 5g, Sugar: 13g, Vitamin A: 1501IU, Vitamin C: 33mg, Calcium: 173mg, Iron: 6mg