Baked Kibbeh (with Cucumber Yogurt Dip)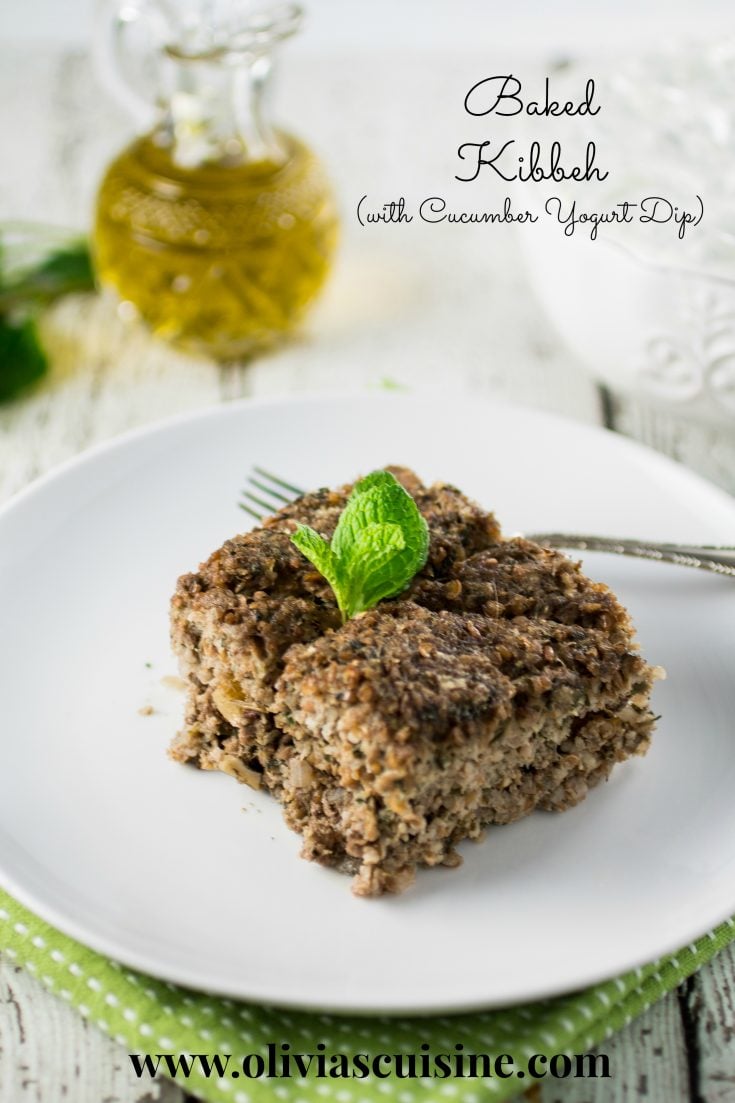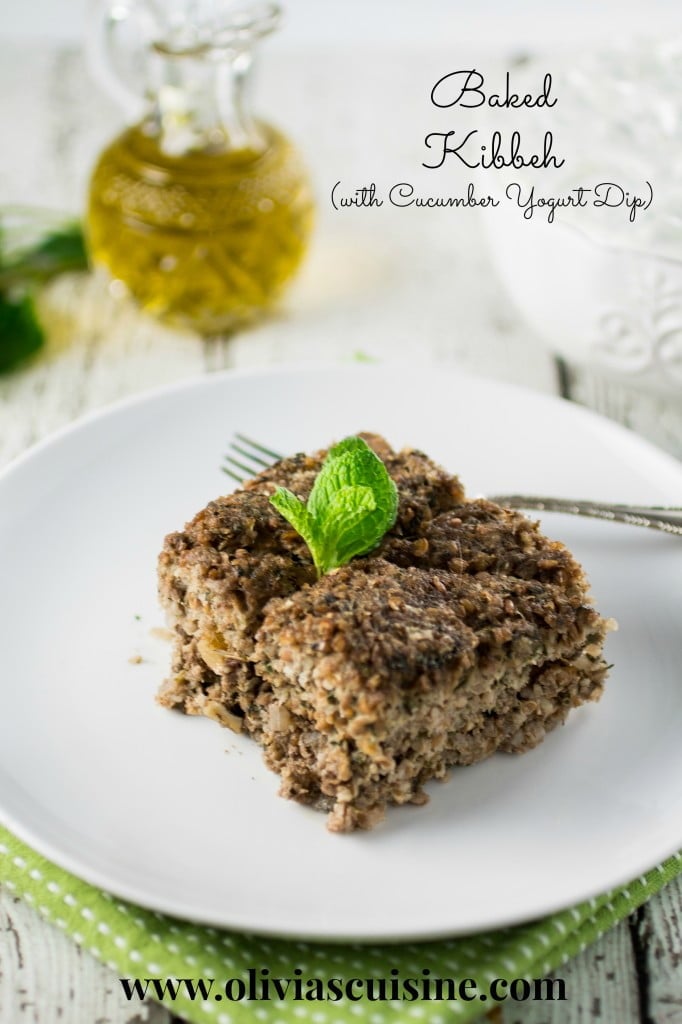 Happy New Year, friends!
2014 is behind us and 2015 is here to bring us lots of happiness… And health, hopefully. Which brings me to an apology for being MIA for the past few weeks. I started having this excruciating pain down my right leg – that I later found out was sciatica – and visited the ER at least 3 times.. Oof! Yes, I've been having a rough time.
Also, one of these days where I spent 10 hours in the ER, we came home to find that Lola – our dog – ate a whole 9oz box of raisins, something that happens to be very toxic for dogs and can cause kidney failure. My lovely in-laws came to the rescue and took her at midnight to the Emergency Vet place where she ended up staying for 48 hours… And now we have to pay $2000! So, yes, I'm really glad that 2014 is over and am hoping for a better year this time. Unfortunately, because of all that, I haven't dedicated enough time to Olivia's Cuisine. I had so many holiday recipes and stories begging to make to the blog, but I guess they will have to wait to the end of this new year! :-(
But, what matters is that I'm back and that I'm already planning many delicious things for 2015! For example, this out-of-this-world delicious Baked Kibbeh.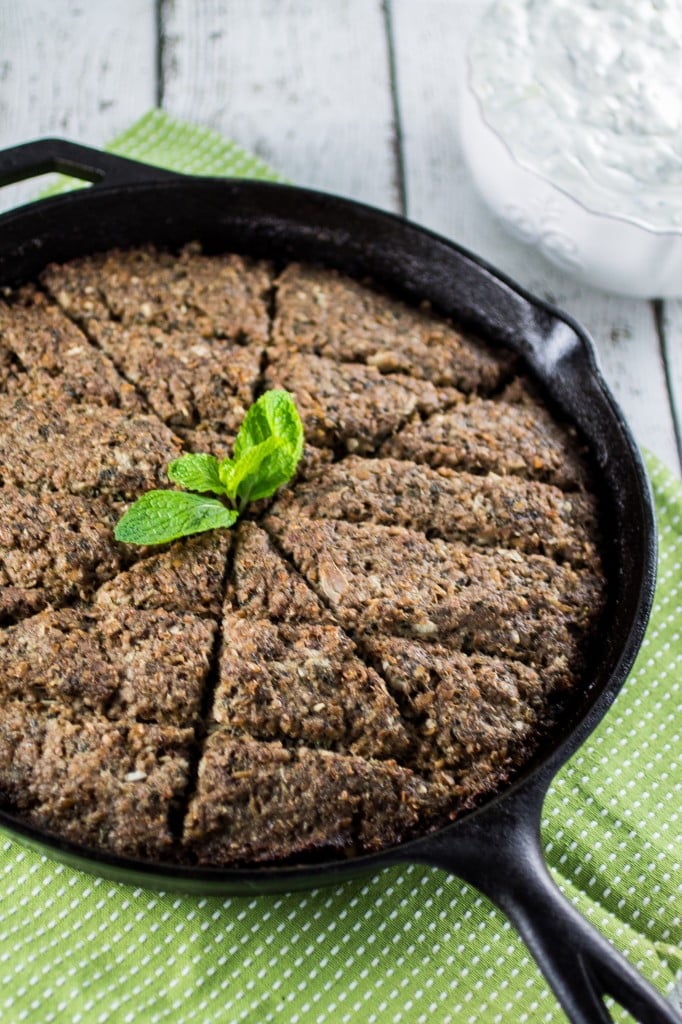 I think I told you this before, but Lebanese cuisine is really popular down in Brazil. So Kibbeh (or Quibe/Kibe in Portuguese) always makes the menu in our homes. I know it always did in mine! (My mom was even eating a slice of kibbeh when she was pregnant with me and her water broke and she had to run to the hospital. I know that because they always tell the story about how she dropped her arm with the kibbeh and our dog Apple started eating it! TMI?!? lol)
So yeah… Kibbeh is amazingly delicious and if you haven't tried it yet, you absolutely have to!
Kibbeh, or Kibbe, is a Lebanese dish made of burghul (cracked wheat), onions and ground beef (or lamb). It can be fried or baked. And it is considered to be the national dish of many Middle-Eastern countries. It is most often found in countries like Lebanon, Palestine, Jordan and Syria; but also Israel, Iraq, Iran Afghanistan, Egypt, Cyprus, Turkey, Argentina, Brazil, Colombia, Cuba, Ecuador, the Dominican Republic, Haiti, Honduras and Mexico. Moral of the story? Everybody loves kibbeh! :-)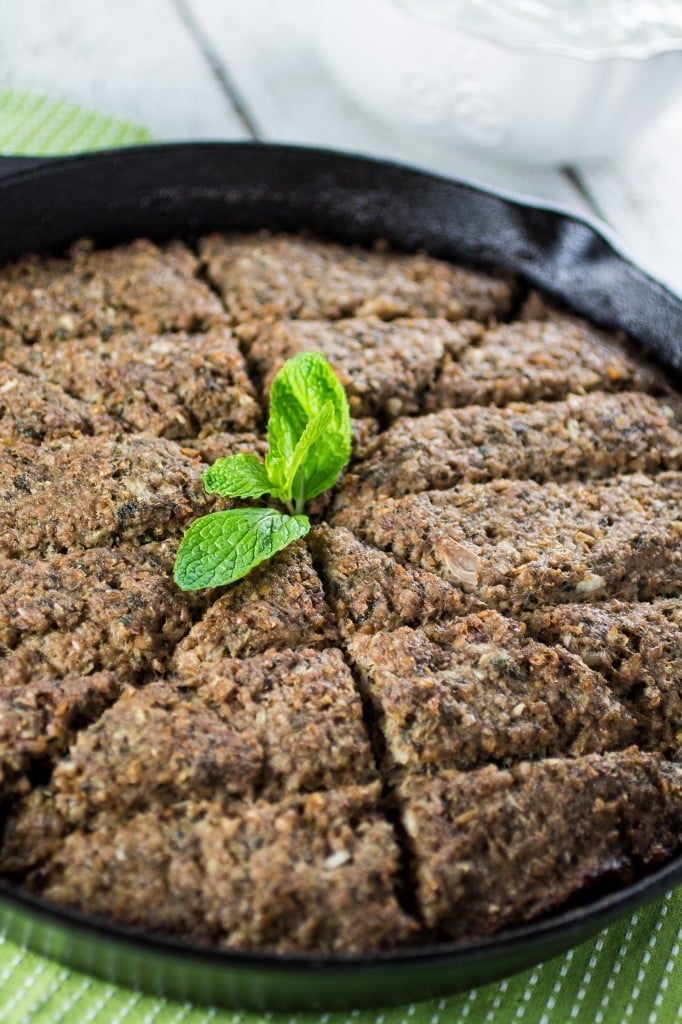 There are so many variations of this dish… As I said it can be fried (and then it is shaped like a Coxinha or even like croquettes) in different sizes, it can be baked and it can even be served raw. I know, I know! Salmonella alert! I always tell my dad that but he looooves his raw kibbeh with some olive oil and some pita bread! (I confess! I love it too! So far, so good…But you never know.). It can also be filled with many things, for example many different types of cheese or more meat.
The Kibbeh we used to eat growing up is just the meat "dough" without the filling. It is a very quick and easy dish and perfect for weeknights after busy days. It only requires ground beef, hydrated bulgur wheat, an onion, mint and some spices. The version I'm sharing with you has a meat filling in the middle that requires just a little bit more work but it makes it extra tasty!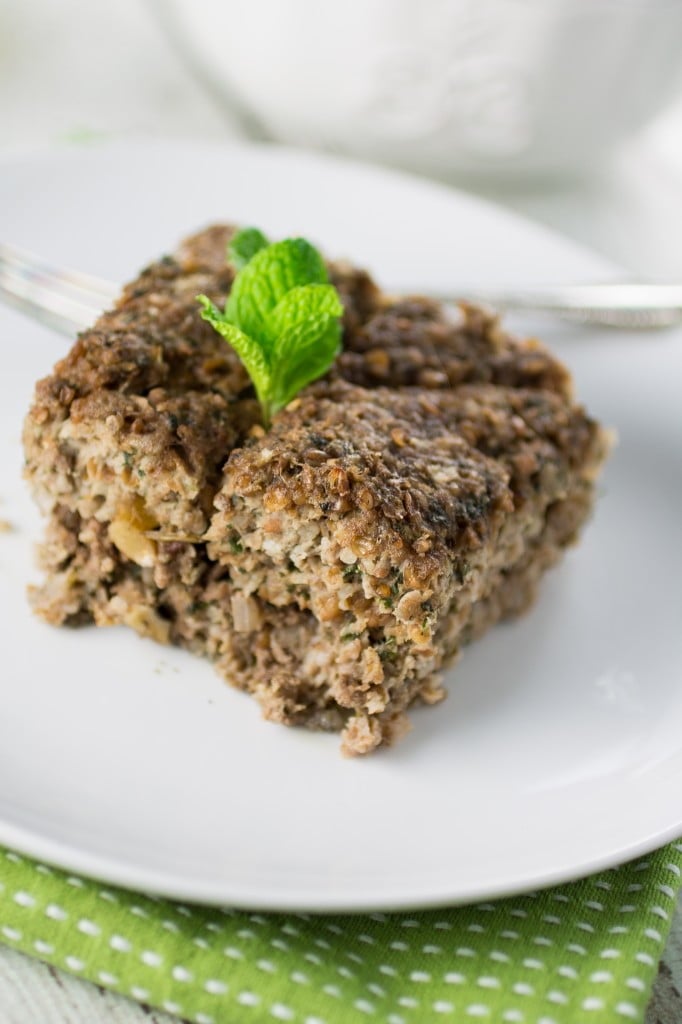 The mint is the biggest star of this recipe, in my opinion! It gives this meatloaf that special sweet/fresh flavor that Kibbeh lovers crave. The bulgur wheat comes in second, with its nut-like flavor, making this a very nutritious dish. Then, to make this a show-stopper, I like to add walnuts (or pine nuts) in the filling to give it an extra crunch and flavor. Seriously, guys, I'm salivating even though I know I can go to the fridge to grab a slice… It is that good!
I like to eat my kibbeh hot with white rice and salad, the Brazilian way. My Lebanese friend tells me she eats it with salad or with a Cucumber Yogurt dip. I decided to make the dip to try and loved it, so I'm sharing the recipe with you guys as well! in Brazil we have something called "Coalhada Seca" – that we often see in the Lebanese restaurants – which is pretty much the yogurt with lime juice and salt, but I love the addition of cucumber and (more) mint to this!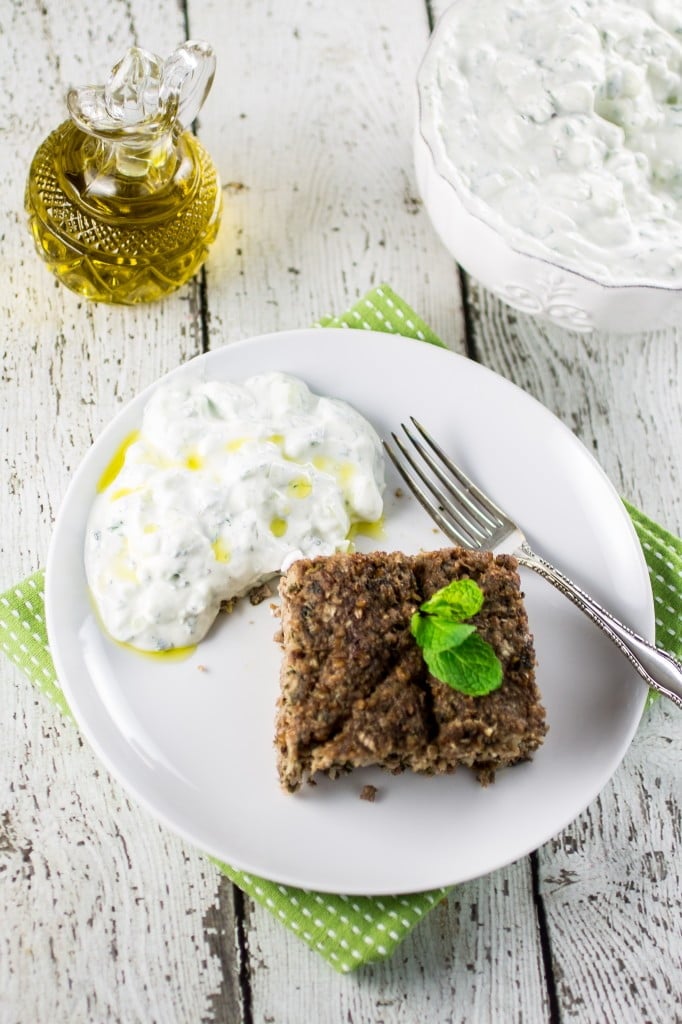 So this is it… my comeback recipe! I hope you guys enjoy it and that I stay healthy enough to post as often as I used to. In the meantime, we can all use a slice of this divine, moist, flavorful kibbeh! I've been through a whole lot lately, so I deserve to stuff my face with yummy food! :)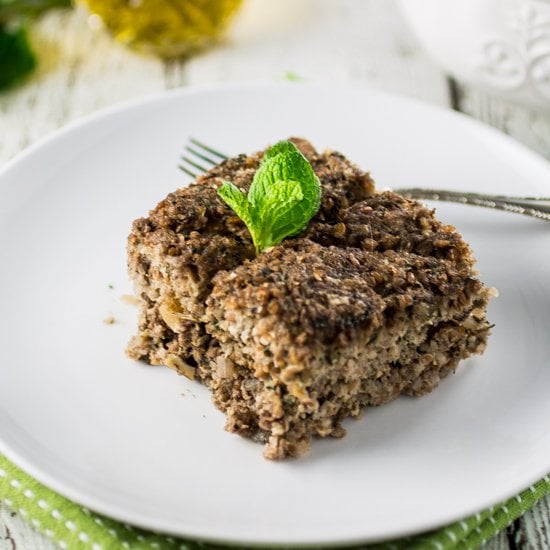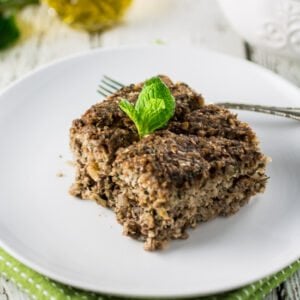 Baked Kibbeh
Ingredients
For the "dough":
1.3 lbs ground beef, chuck
1 1/2 cups bulgur wheat, hydrated overnight
1 bunch of mint, leaves only, finely chopped
1 onion, peeled and grated
1 tsp allspice
1/2 tsp cinnamon
Salt and pepper to taste
For the filling:
1 lbs ground sirloin
1 onion, finely chopped
3 cloves of garlic, peeled and minced
3 Tbsp chopped parsley
1 tsp allspice
1/2 cup chopped walnuts, or pine nuts, toasted
2 Tbsp olive oil
2 Tbsp butter
Salt and pepper to taste
Instructions
Making the "dough":
Soak the bulgur wheat overnight.

The next day, drain the water, squeezing the wheat to make sure there's no excess moisture. Reserve in a large bowl.

Add the rest of the ingredients and, using your hands, mix everything well.

Keep working the mixture with your hands until it all comes together. Separate in two halves (one half can be a little larger, for the top).
To make the filling:
In a skillet, heat the olive oil and sauté the garlic and chopped onion until translucent.

Add the ground sirloin and cook until browned. The oil has to be hot so the beef browns quickly, otherwise it will lose moisture and get tough.

Add the chopped parsley, the allspice and season with salt and pepper.

Add the butter and cook until the butter melts.

Turn the heat off, add the chopped walnuts and let it cool slightly before assembling the kibbeh.
Assembling the kibbeh:
Pre heat oven to 350 degrees.

In a large greased cast iron or baking dish, add the first layer of "meat dough", covering the whole surface. (It should be about an inch thick).

Add the filling on top of the first layer of dough.

To add the top layer, cover with patches of the 2nd half of the dough. It helps if your hands are wet.

Once the whole surface is "patched", use your hands to smooth everything, so the filling is closed in between the two layers.

You can make superficial cuts in the kibbeh so it's easier to cut it after it's done.

Drizzle some olive oil on the kibbeh and bring it to the pre heated oven for 30 minutes or until browned.

Serve hot.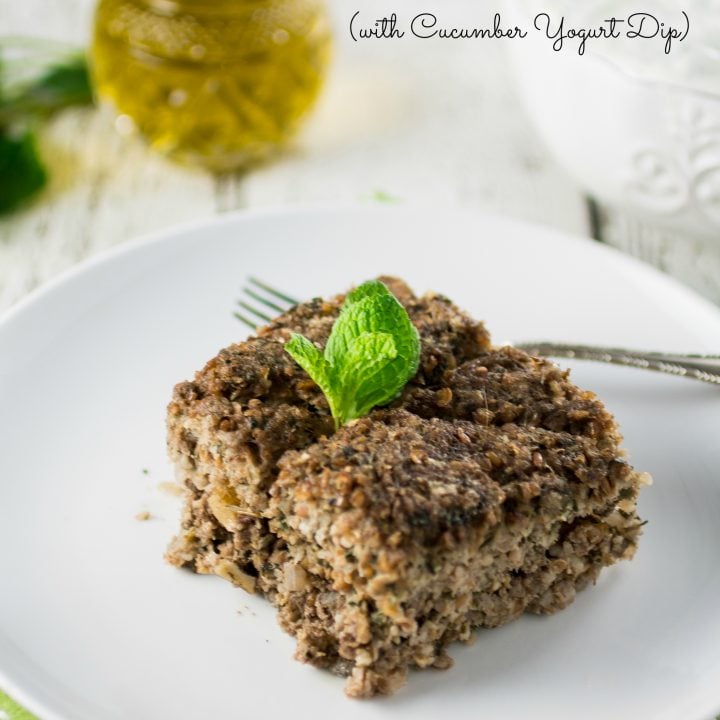 Cucumber Yogurt Dip
Prep Time: 30 minutes
Cook Time: 30 minutes
Total Time: 1 hour
Ingredients
1 35.3oz container greek yogurt
2 cucumbers, peeled, seeded and chopped (or grated)
2 garlic cloves, peeled and minced
Half a bunch of mint (leaves only), finely chopped
Juice of one lime
Salt and pepper to taste
All spice to taste (optional)
Instructions
Combine all the ingredients in a bowl.
Mix well until everything is incorporated.
Bring it to the fridge for at least 1 hour before serving.
Serve cold.