Flamiche aux Poireaux (French Leek Tart)
Made with leeks, bacon and Gruyère, this luscious Flamiche aux Poireaux is perfect for an elegant brunch or a light dinner. Easy to make, yet impressive enough for special occasions, like Mother's Day!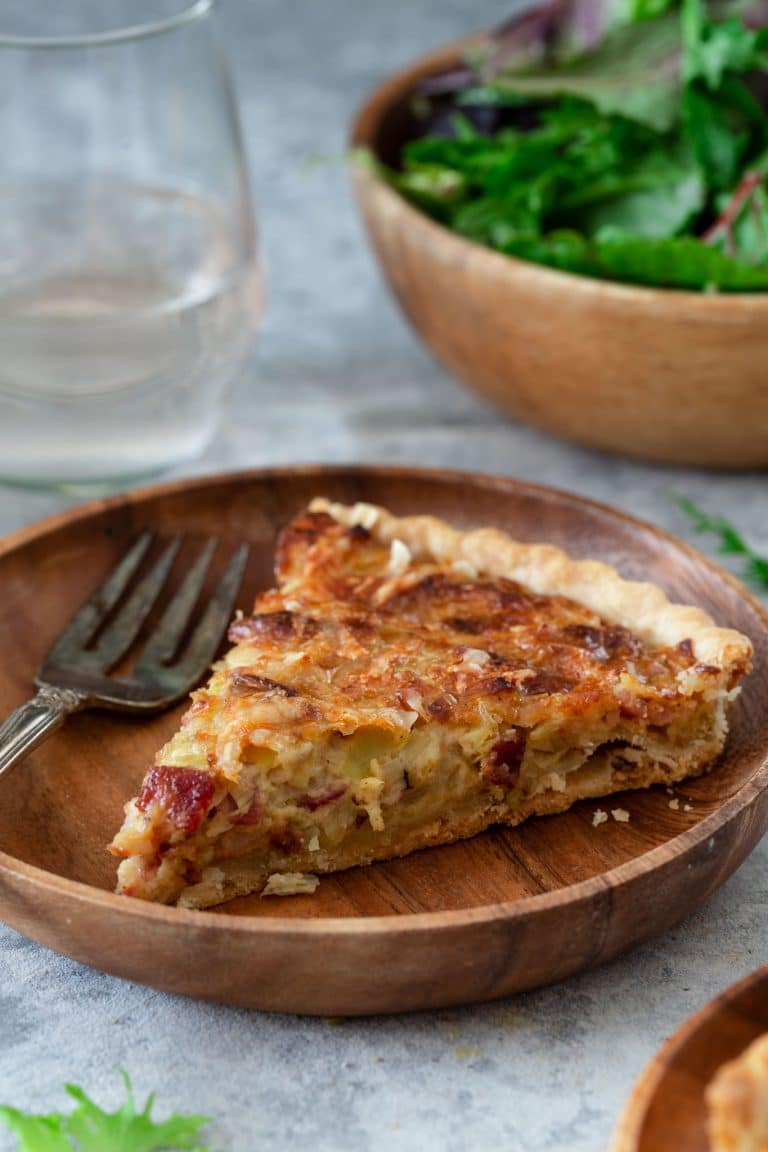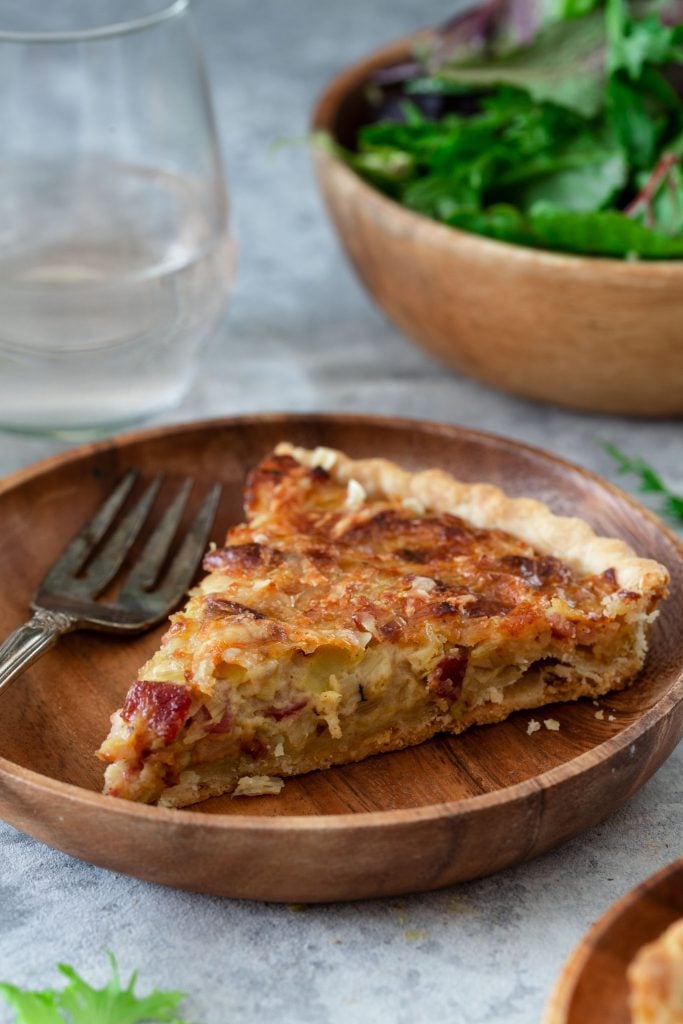 Everybody loves a good dessert tart! But what about savory tarts?
While quiches are constantly being devoured world wide, I feel like the other savory tarts are not getting the spotlight they deserve.
Take this French Leek Tart, for example, hereby called by its French name Flamiche aux Poireaux because I like to be fancy. How could anyone resist a flaky buttery crust filled with an out of this world mixture of bacon, leeks, shallots, cream and cheese? I'll take that over a dessert tart any time!
If you love French dishes, tarts should definitely be on your list of things to master! After all, nobody makes tarts like the French! Actually, scratch that. Nobody makes any pastry like the French!
I especially love this recipe because, despite the fancy name, it is easy and versatile. It can be served both as an appetizer and as a main dish, accompanied by a green salad.
And while I like mine warm, it is often served at room temperature, so you can make it ahead of time if you want!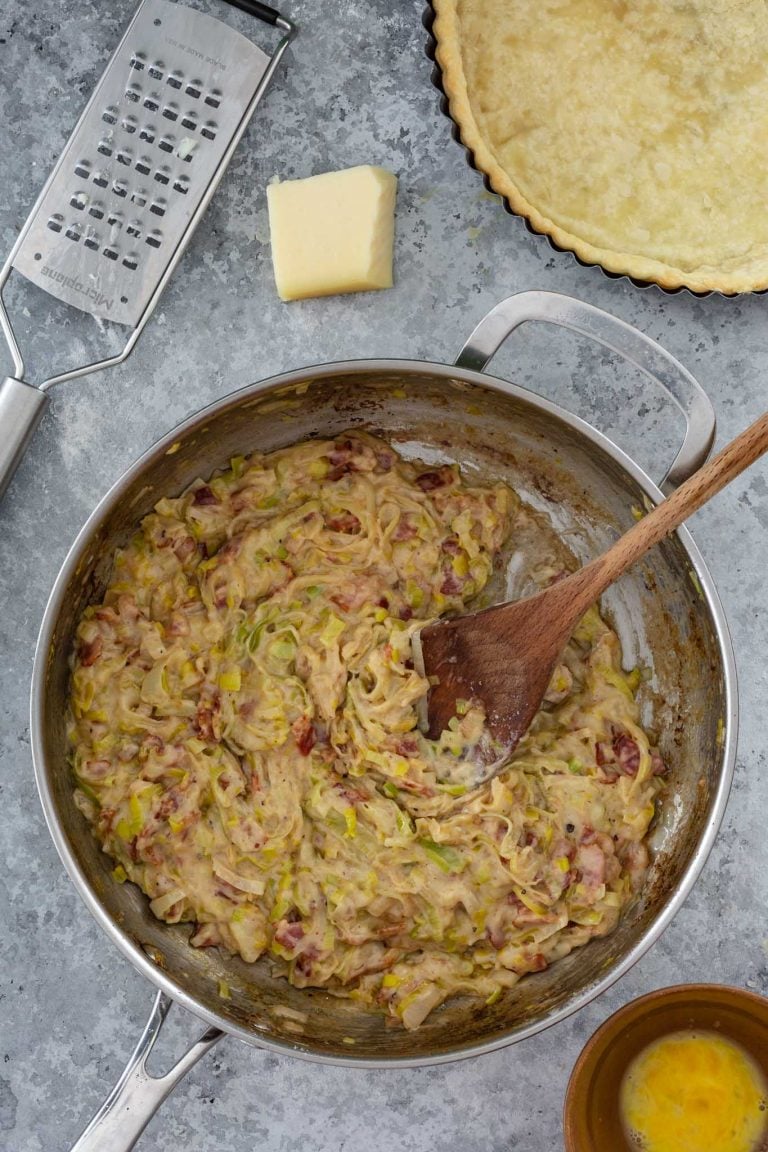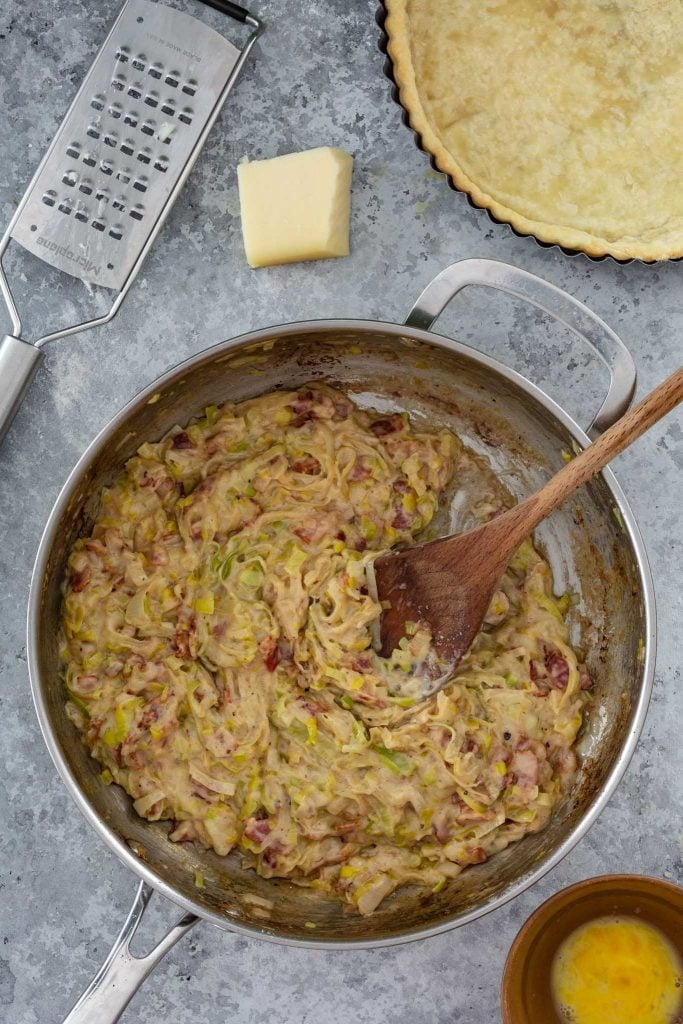 What is Flamiche aux Poireaux?
Flamiche aux Poireaux is a French tart (flamiche) made with leeks (poireaux), and a culinary specialty of the Picardy region of northern France.
The word flamiche, of Flemish origin, means "cake". Once upon a time, back in the Middle-Ages, a flamiche was a slab of dough that was eaten hot, with butter. It was only much later that it became a sort of tart, sweet or savory, topped with seasonal fruits or vegetables.
While I've seen it resembling more like a quiche, a true flamiche to me is not supposed to be custard-y. It still has eggs in it, but only enough to bind everything together.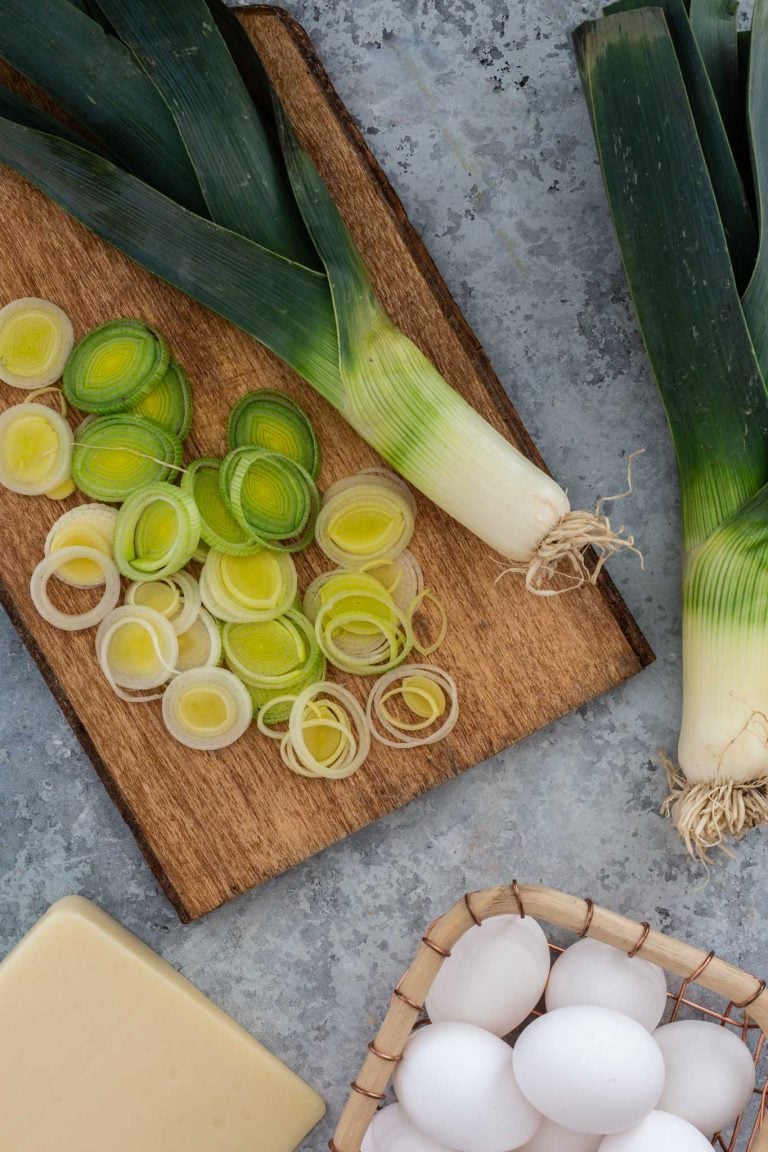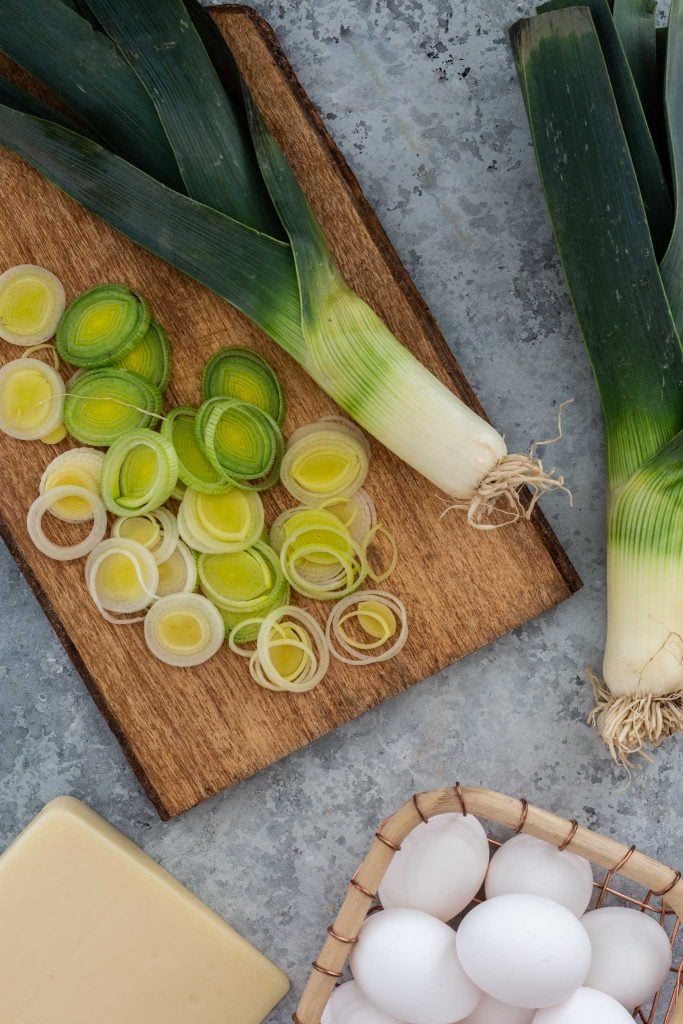 How to Clean and Slice Leeks
I simply adore leeks! I'm always looking for ways to use them, my favorites being this tart, my mom's Creamy Leek Spaghetti and my Gruyere, Bacon and Leek Quiche.
However, if you are not used to cooking with them, they can be a little intimidating. What's with all that grit? Am I supposed to eat the hard leaves?
But don't fret! I've got you covered.
Buying Leeks
First things first, when buying leeks, make sure to grab the ones that are firm and bright green.
If they look wilted and yellowish, they are past their prime. If they are mostly dark green, you won't get much out of them, since you will only use the white and light green parts. Also, for best flavor and tenderness, choose the ones that are smaller in diameter.
Preparing Leeks
As for the dirt, it is normal. Leeks are grown in trenches and the stalks buried in dirt as they grow so they blanch and stay tender. Because of that, they must be cleaned thoroughly before consumption.
The best way to clean them is to trim the top, which is the thick, darker green part, and the bottom off. Then, thinly slice the stalks into rings and transfer to a colander. Rinse under cool running water until dirt free, and drain before using.
Alternatively, if your recipe calls for halved leaves, just cut them in half lengthwise. Keep the roots in as it will hold the leeks together when you wash them. Then, rinse each leek under water, using your fingers to gently spread the layers and dislodge any dirt.
Pro tip: Keep the tough parts! If you wash them well, they can be used for stock.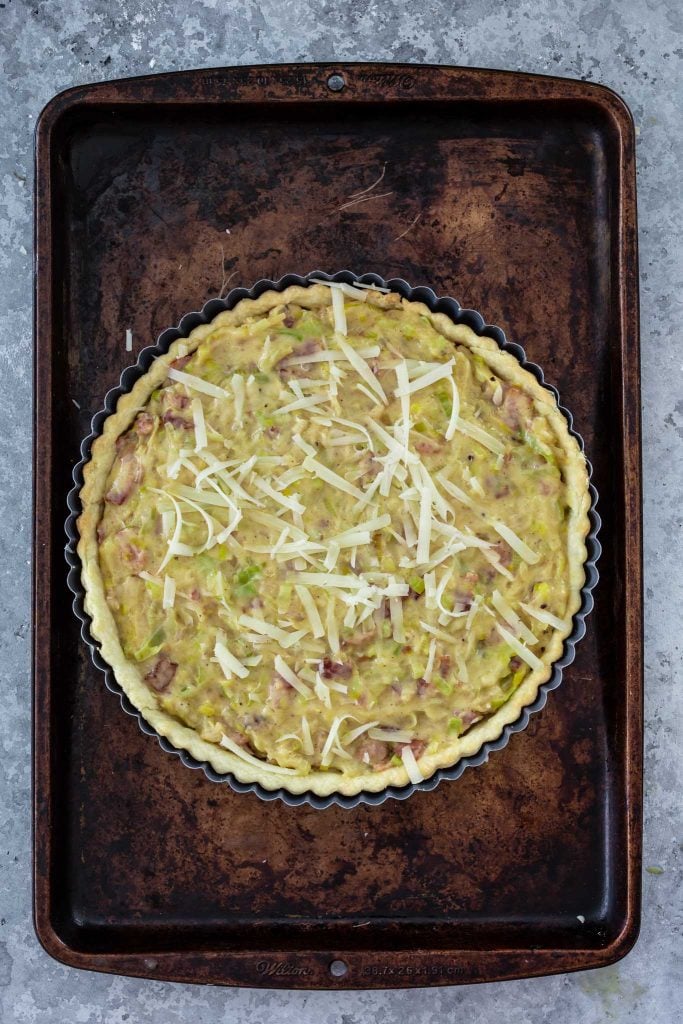 How to make French Leek Tart
Make the crust and blind bake it for 10 minutes to prevent the bottom from getting soggy.
Make the filling by cooking the bacon, sautéing the vegetables until soft, making a roux and adding creme fraiche. Remove from heat, let it cool slightly, and add eggs and cheese.
Bake until beautiful! Voila!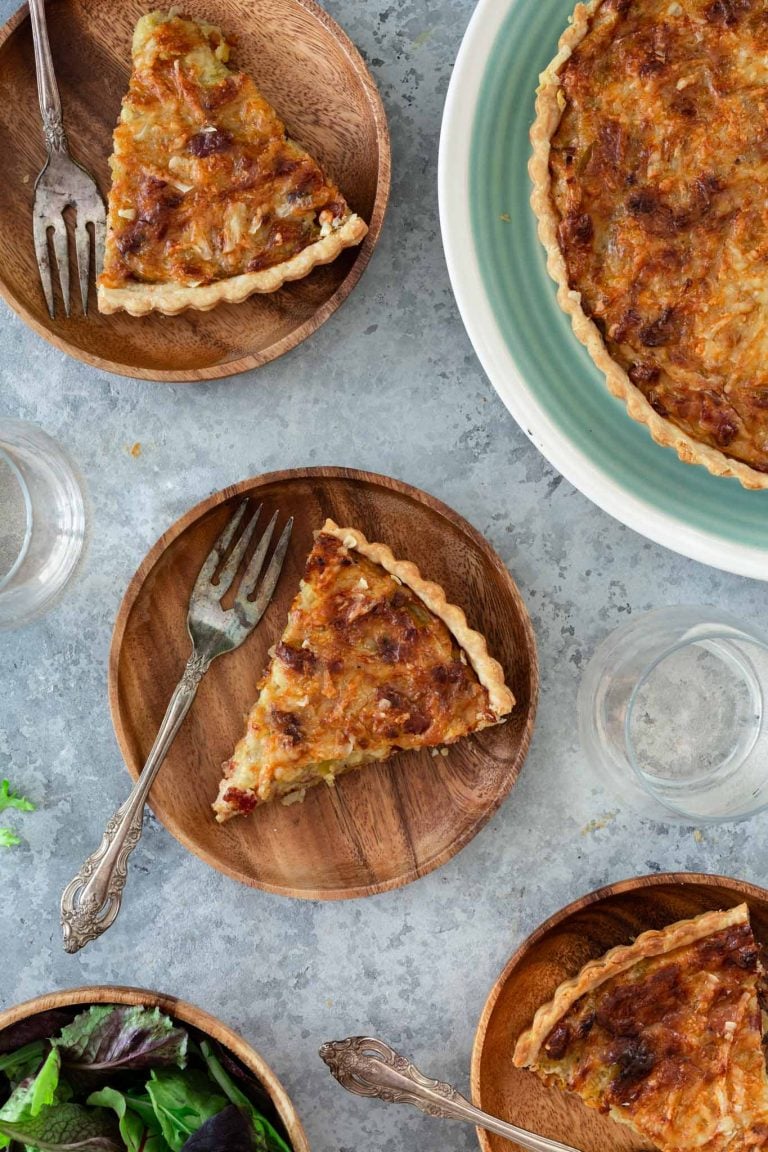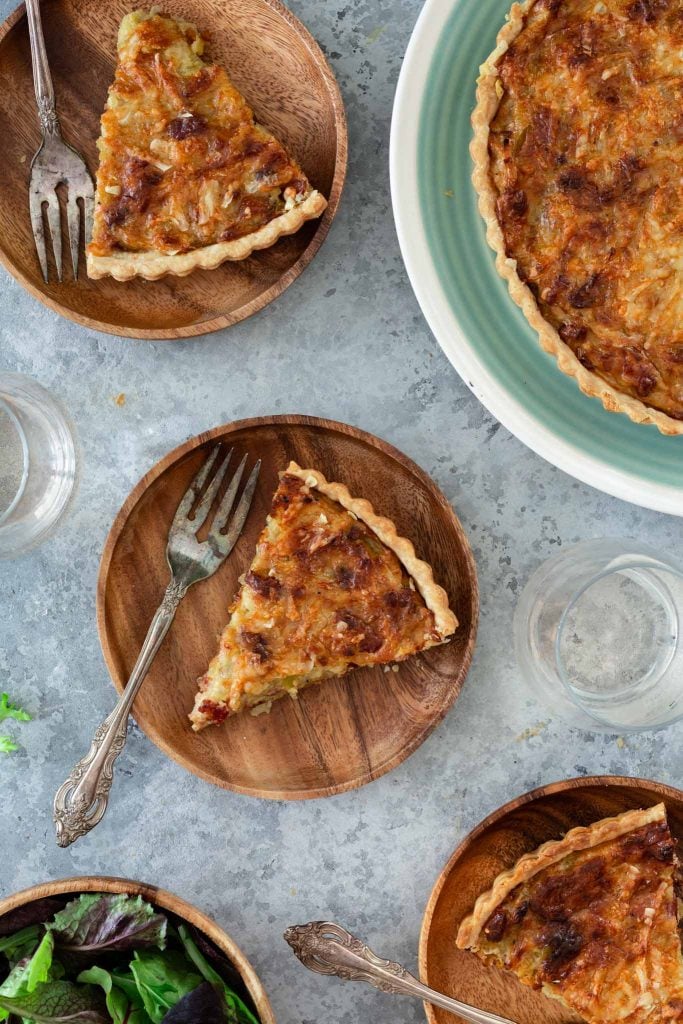 Flamiche aux Poireaux FAQs:
Can I make it ahead of time? Yes. This tart can be served at room temperature, so you can make it in the morning, or the day before, and let it cool on the counter until ready to serve. Alternatively, you can make it, bake it, and store it in the refrigerator for a couple of days. When ready to serve, let it come to room temperature or reheat it in the oven.
Can I freeze it? Yes. You can make it, bake it and freeze for up to 1 month. Thaw in the fridge overnight, then bake at 350 degrees F for 25 minutes, or until piping hot.
How do I reheat it? To reheat, preheat the oven to 350 degrees F, cover the tart with foil and bake for about 15 minutes or until hot.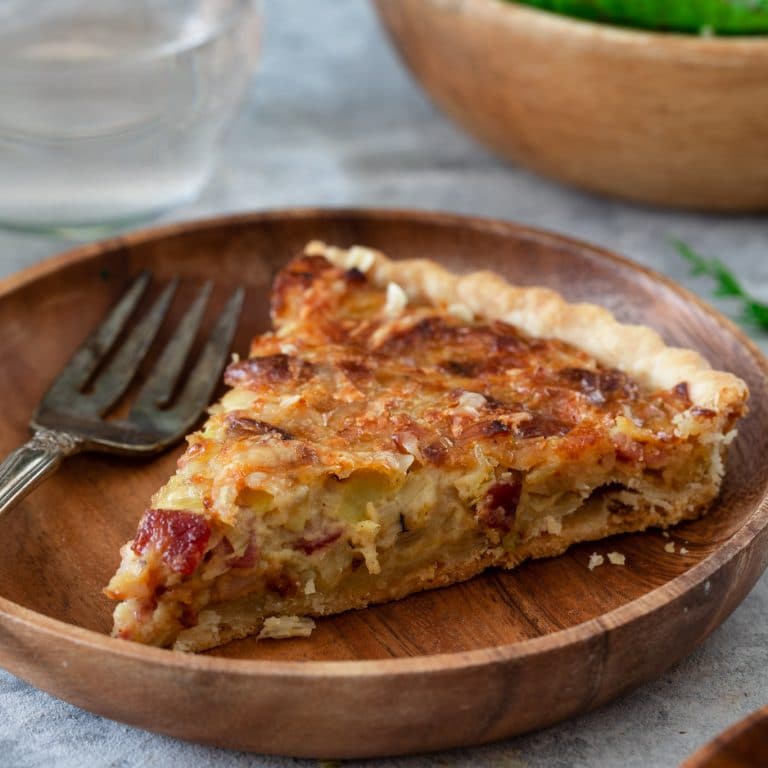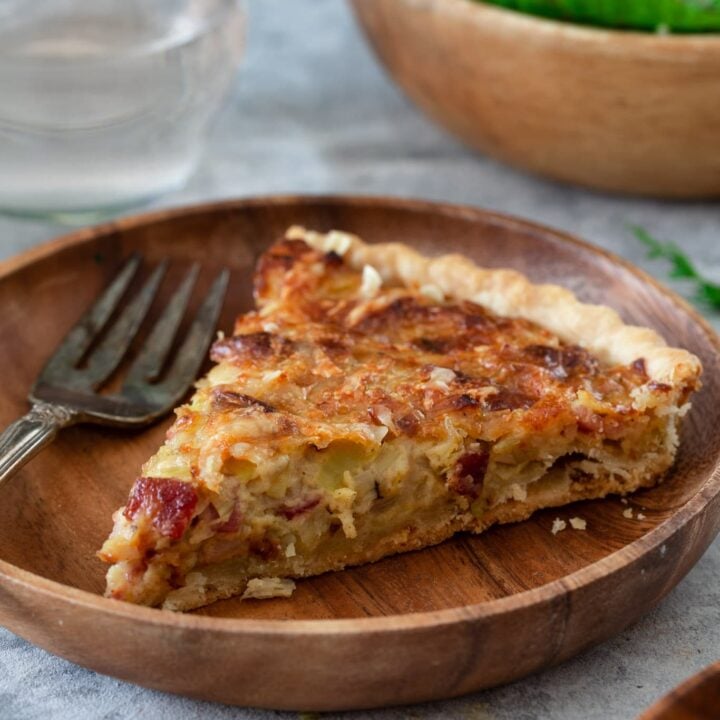 Flamiche aux Poireaux
Yield: 6 to 8
Prep Time: 45 minutes
Cook Time: 35 minutes
Additional Time: 30 minutes
Total Time: 1 hour 50 minutes
Made with leeks, bacon and Gruyère, this luscious Flamiche aux Poireaux (French Leek Tart) is perfect for an elegant brunch or a light dinner.
Ingredients
For the crust:
1 1/4 cups flour, sifted
1/2 teaspoon salt
10 tablespoons unsalted butter, cubed and chilled
2 to 4 tablespoons ice water
Leek and Bacon Filling:
5 ounces bacon, diced
3 tablespoons butter
1 large shallot, chopped
5 large leeks, white and light green part only, rinsed and sliced
1/3 cup white wine
Salt and freshly ground pepper, to taste
A pinch of freshly grated nutmeg
2 tablespoons flour
1/3 cup whole milk
1/4 cup creme fraiche
2 large eggs, lightly beaten
1 1/2 cups shredded Gruyere cheese, divided
Instructions
Making the Tart Crust:
Combine the flour and salt in a large bowl. Add the cubed butter and, using a pastry cutter (or the tip of your fingers), cut the butter into the flour until the mixture resembles coarse sand. Add the water, one tablespoon at a time, and mix - adding more water as needed - until the dough comes together. Do not overmix!
Turn the dough out onto a lightly floured surface and knead just until it forms a ball. Transfer the dough onto a piece of parchment paper, flatten into a disk, cover with a second piece of parchment paper, and roll into a 10-inch circle.
Carefully transfer the dough to a 10-inch tart pan and chill for 30 minutes, or until firm.
Preheat oven to 425 degrees F.
Using a fork, pierce the bottom of the crust. Cut a square of parchment paper about 4 inches larger than the pie plate. Line the crust with the paper and fill with ceramic pie weights (or dried beans).
Bake in the preheated oven for 10 minutes or until set. Remove from oven and gently remove the paper and weights. Reserve the crust.
Making the Leek Filling:
In a large skillet, over medium heat, add the diced bacon and cook until crisp and golden brown, about 5 minutes. Using a slotted spoon, remove the bacon to a plate. Reserve.
Discard all but 1 teaspoon of the bacon fat. Add the butter and, once melted, add the chopped shallot. Cook until translucent, about 2 minutes. Add the sliced leeks and stir to coat them with the fat. Add the white wine, partially cover, and cook, stirring occasionally, until the leeks are soft, about 8 to 10 minutes. Season with salt, pepper and nutmeg.
Add back the bacon. Stir in the flour and cook, stirring constantly, for a couple of minutes. Then, add the milk and stir until thickened. Add the creme fraiche and stir until incorporated.
Remove the pan from the heat and let it cool slightly. Then, add the eggs and 1 cup of the Gruyere cheese, stirring until combined.
Assembling the Flamiche aux Poireaux:
To assemble the tart, pour the filling mixture into the reserved crust. Scatter the remaining cheese evenly over the top.
Bake until set and nicely browned, about 35 to 40 minutes. Let it cool for at least 30 minutes before serving.
Serve warm or at room temperature.
More French dishes: