The World Cup Gourmet Series – France: Croque Monsieur
Salut amis!

Today is France day! After this, I only have one more country to do: The Netherlands! :-) Almost done with this crazy and amazing journey through The World Cup Gourmet Series.

France is one of those countries that I wish I had a separate blog for. How can we talk about food and not talk about France? Home to many famous chefs and delicious dishes… And yet, I have never been to France! Sigh… Me and my husband are still trying to save up for our honeymoon after our ceremony in Brazil. I really hope we can save enough so we can go to Paris! I've never been to Europe and I've been dying to go. I can't even begin to imagine the excitement of being in the place that was stage to many stories, plays, books, movies… I can't wait to sit in a Parisian cafe and eat those amazing pastries that only the French can do!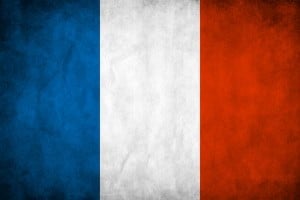 So, as usual. Some fun facts about France:

1) The capital of France is Paris.
2) The official language is French! (I bet you didn't know that one! lol) French is the second most taught foreign language in the world, after English. (THAT I didn't know! I always thought it was Spanish!)
3) The word "salut" means both "hello" and "goodbye".
4) If you're going to France, I recommend you learn a bit of French, because only 34% of the French can speak English! (I am damned! I speak no french at all!)
5) France was originally named Lutetia.
6) Paris was nicknamed "City of Lights" because of the number of intellectuals that lived there.
7) They have a Disneyland there, called Disneyland Paris. Is it bad that is wanna go? Sorry, I'm a Disney girl! ;-)
8) It's against the law to take pictures of police officers and police cars. (NY policemen would hate working in France! They love taking pictures with tourists and I think it's so cute of them!)
9) Wearing a white dress on your wedding day is a French tradition that began in 1499!
10) French fries and French toast aren't French inventions. Well, we knew about the French fries because of my Belgian post. But French toast? I'm shocked!
11) The croissant was actually invented in Austria! (Shocked again!)
12) The ministry of health once tried to promote milk as the national drink! (C'mon! Milk?!? I always imagine French people drinking French wine, eating croissants and smoking cigarettes! My dreams are crushed! lol)
13) About two cookbooks are published everyday in France! (I wanna buy them all!)
14) The French say that if you cross your glass with someone else when toasting, you will receive 7 years of bad sex. (In Brazil we say that when people drink before toasting or toast and don't drink immediately after!)
15) The average French citizen eats 500 snails each year! (Gross! Or maybe I shouldn't say gross on a food blog…)
As I mentioned before, french cuisine is famous all over the world, extremely diverse and has influenced many other western cuisines. Each region of France has iconic traditional specialties and costumes. For example, while the North prefers to use butter as the preferred fat for cooking, the South uses olive oil. (Proximity to Italy maybe?) Some of the famous french dishes are: quiche (specially in the Lorraine region), cassoulet, choucroute, beef bourguignon and many others. France is also famous for some of the best wine in the world, for champagne and for a huge variety of cheeses (including Camembert, Roquefort and Brie)!
The recipe I chose for today is the famous french Croque Monsieur! I adapted from a recipe from Ina Garten's cookbook "Barefoot in Paris", which I love! I am a huge fan of Ina Garten and really recommend her cookbooks! Anyway, this is a pretty simple and straightforward recipe and you can easily impress your friends with this dish.
The Croque Monsieur is nothing more than a ham and cheese sandwich with béchamel sauce. It originated in french cafes and bars as a quick snack and its first appearance in a menu was in a Parisian cafe in 1910!! The name Croque Monsieur come from the verb croquer (to crunch) and monsieur (mister) which would be something like "Mister Crunch"! (Why do I think of Mister Softee when I hear that? Maybe it's in my future to have a Mister Crunch truck selling Croque Monsieurs? lol)
There are lots of varieties of the Croque Monsieur, one of them being the Croque Madam, which is the same sandwich but with a fried egg on the top. Apparently, the name comes because the egg resembles an old fashioned woman's hat. :)
So how do you make this sandwich that sounds so complicated?
Start by preheating your oven to 400 degrees.
Then, to make the béchamel sauce, heat the milk in the microwave and make a roux of butter and flour in a small saucepan. To make a roux, you just melt the butter and add the flour (all at once) and cook for around 2 minutes or until the flour is cooked.Then add the milk slowly, whisking constantly, until the sauce has thickened. Turn the heat off and add the salt, the pepper, the freshly grated nutmeg and the cheese (Gruyère and Parmigiano Reggiano). FYI: Once you add cheese to the béchamel sauce, it is no longer called béchamel, it becomes Mornay sauce. :) (I need to cover my ass in case some connoisseur comes here and criticizes me!)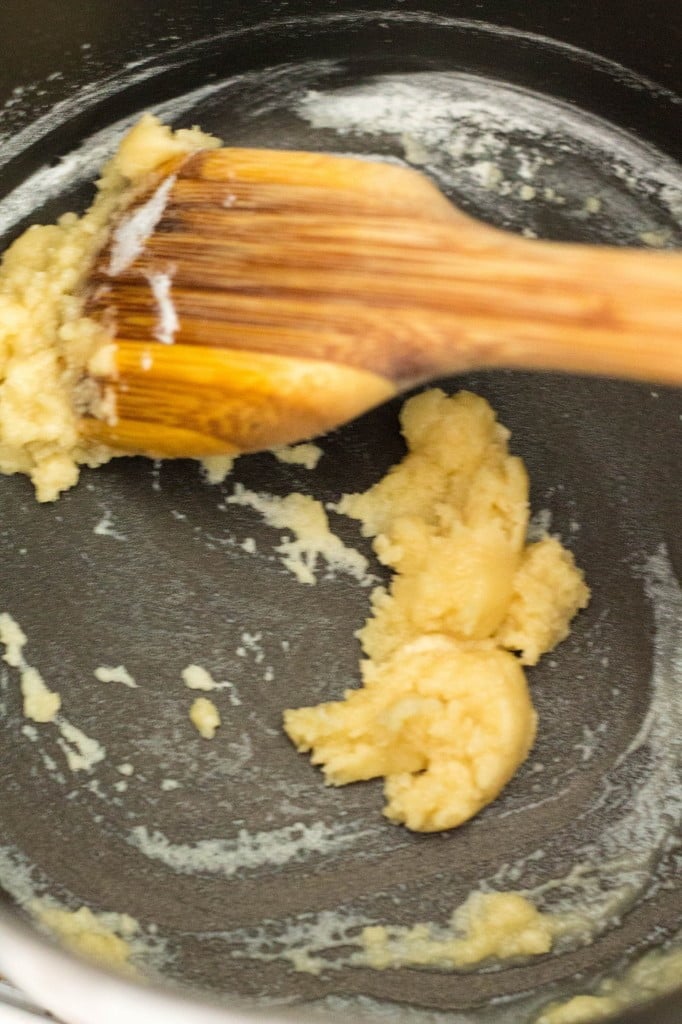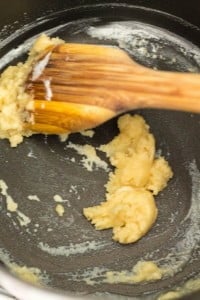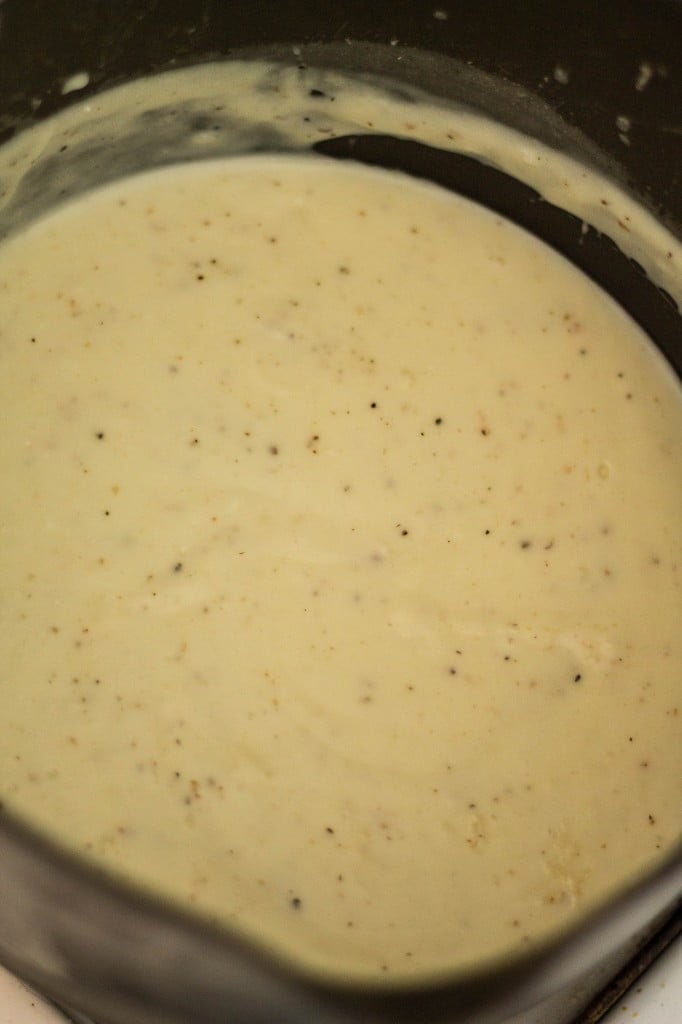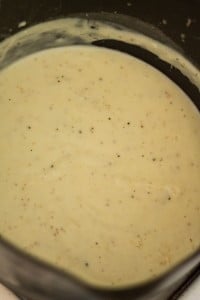 Once the Mornay sauce is ready, toast the bread in the toaster and you are ready to assemble the sandwiches! (Didn't I tell you this was super easy?)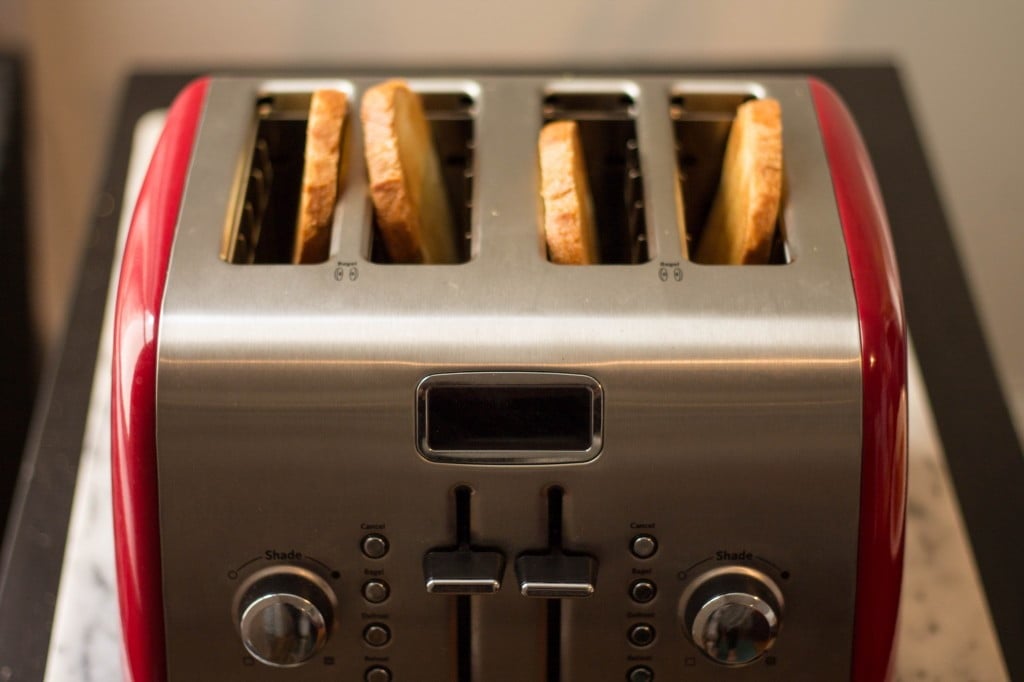 Lightly brush one side of each bread, then add grated Gruyère to each side and place a slice of ham in the middle. Close the sandwiches, spoon some Mornay sauce on top of them and finish sprinkling with some more Gruyère to make it insanely cheesy! (Who doesn't love cheese?!?).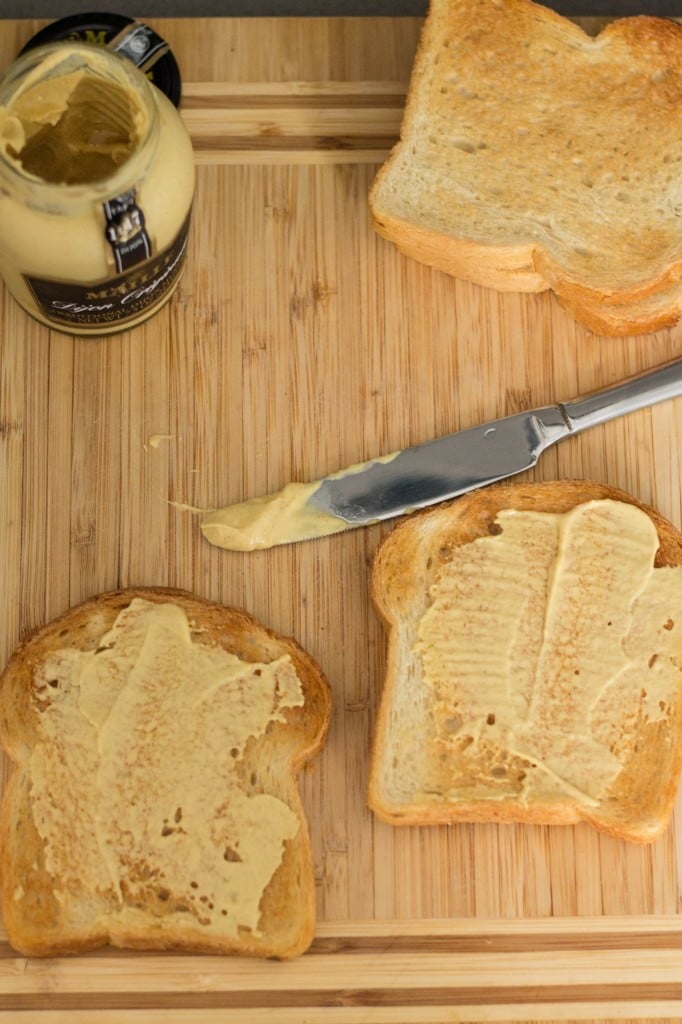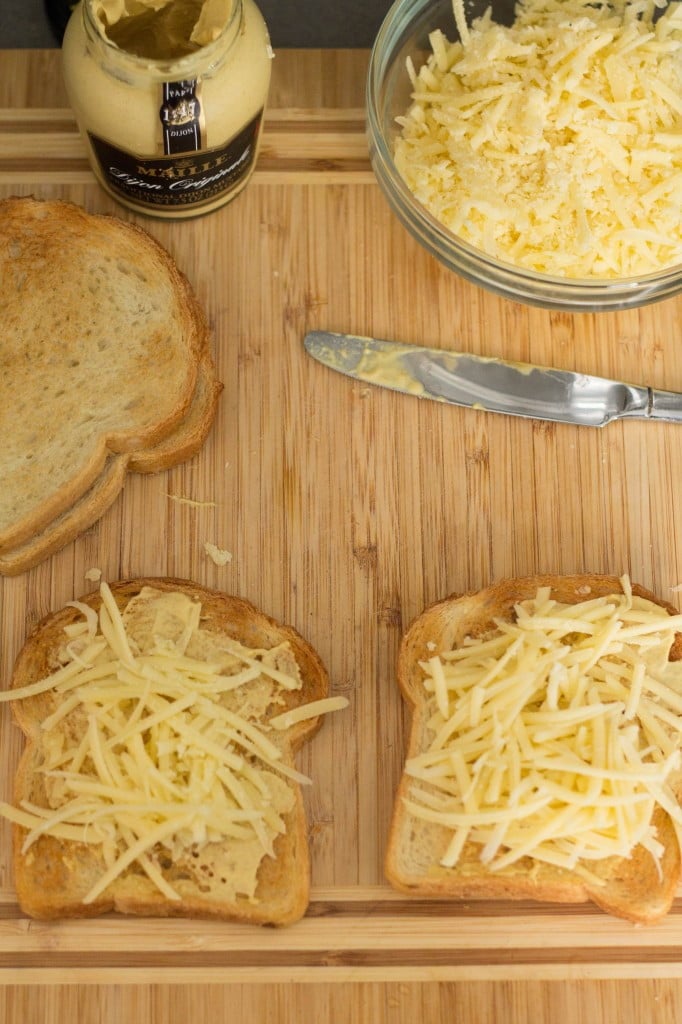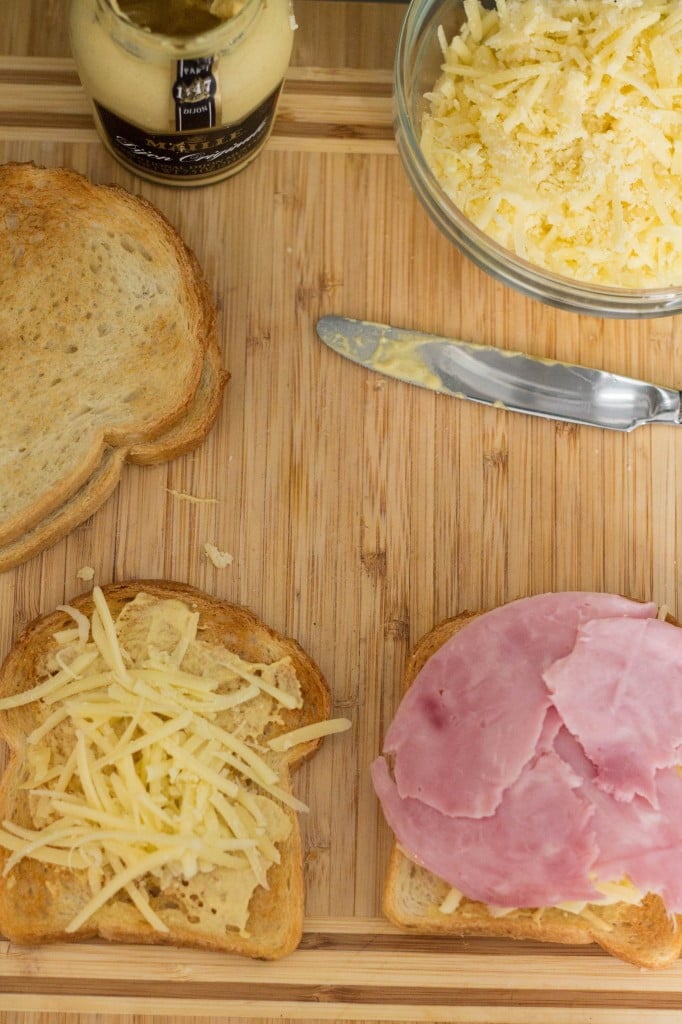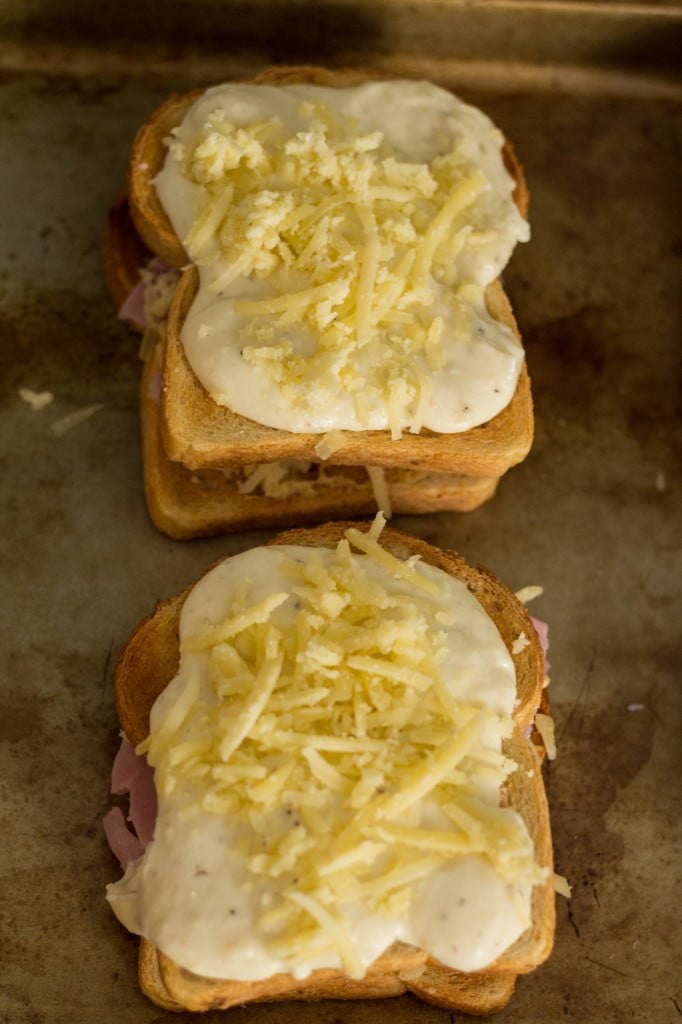 Bake the sandwiches for 5 minutes and then turn on the broiler and broil them until the cheese on the top is bubbly and slightly browned! (I can never get my rented apartment's oven's broiler to work, so I just raise the oven temperature to 500 degrees). And that's it!!! Can you believe it? :) You have no excuse to not go RIGHT NOW to your kitchen to make some Croque Monsieurs!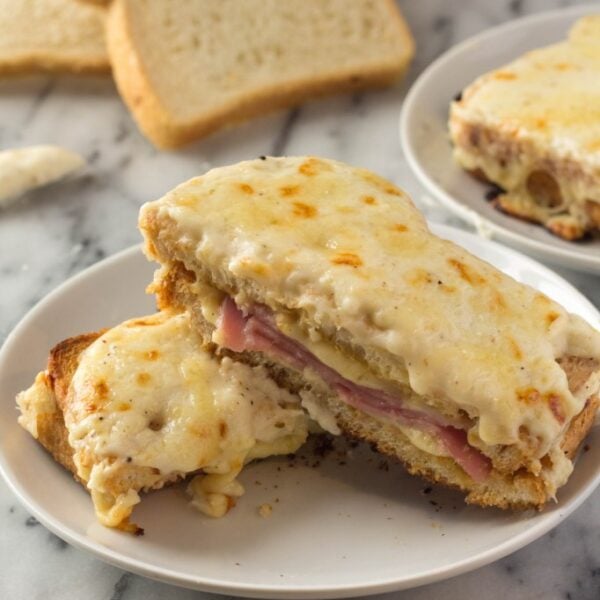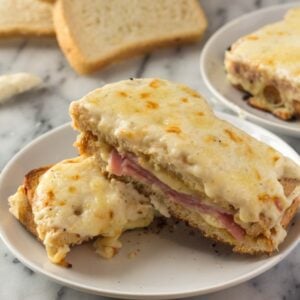 Croque Monsieur
An iconic french dish so easy that you can be biting into pure cheesiness in 30 minutes!
Ingredients
8 slices of sandwich bread, I used french bread
2.5 cups grated Gruyere
1/2 cup grated Parmigiano Reggiano
4 slices of cooked ham
2 tablespoons unsalted butter
3 tablespoons flour
2 cups hot milk
Pinch of freshly grated nutmeg
Dijon mustard
Salt and pepper to taste
Instructions
Preheat the oven to 400 degrees.

In a small saucepan, melt the butter over low heat and add the flour, stirring constantly for 2 minutes.

Add the hot milk, slowly, and whisk until the sauce has thickened.

Turn the heat off and add the salt, pepper, nutmeg and cheese (1/2 cup of the Gruyere and Parmigiano Reggiano).

Lightly brush one side of each bread with Dijon mustard.

Add Gruyere cheese to each side, one slice of ham and then close the sandwiches together.

Spoon the bechamel sauce on top of the sandwiches and then sprinkle the rest of the Gruyere cheese.

Bake the sandwiches for 5 minutes.

Turn on the broiler and broil the sandwiches until the top is bubbly and slightly browned.

Serve warm.
Notes
Adapted from Barefoot in Paris