Potato Gratin Dauphinois
Gratin Dauphinois might sound fancy, but it's just a side dish made of thinly sliced potatoes, cream and cheese. Possibly my favorite potato recipe of all time, this decadent French classic – bubbling and cheesy, with a gorgeous caramelized top – is absolutely irresistible!
These potatoes are the perfect accompaniment to a special meal! They go great with Coq au Riesling, Roasted Chicken or my famous Rosemary and Garlic Roast Beef.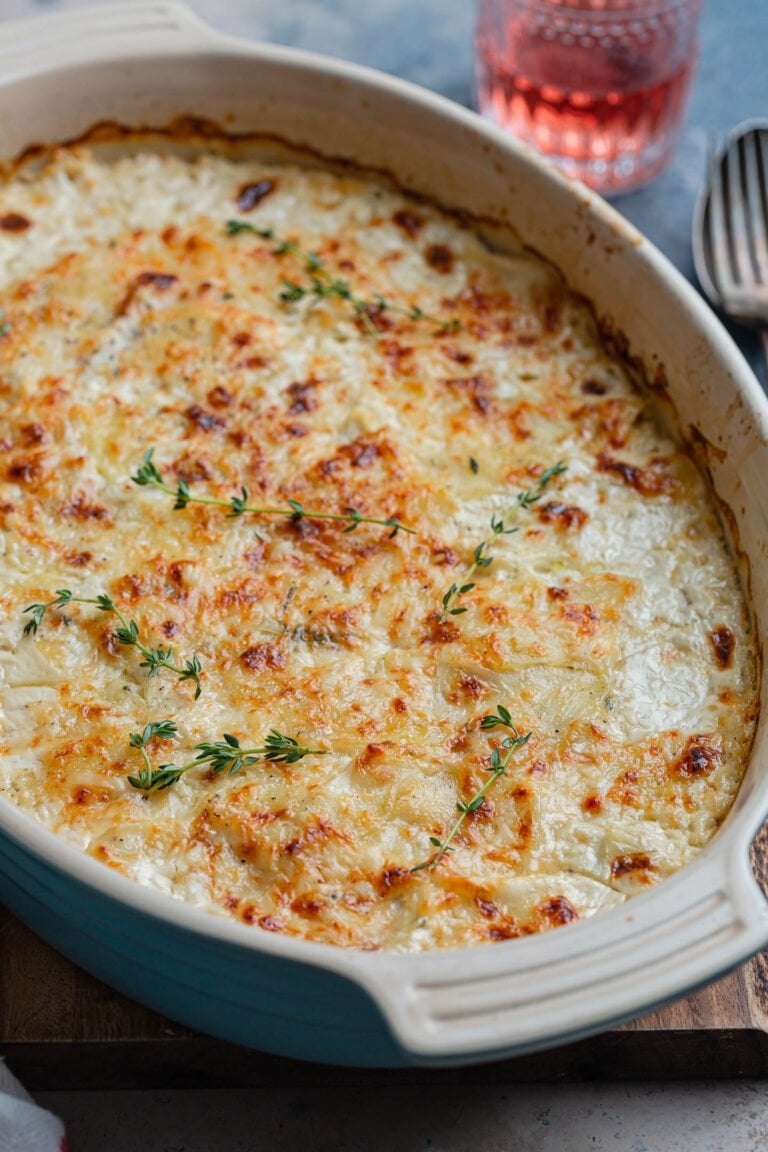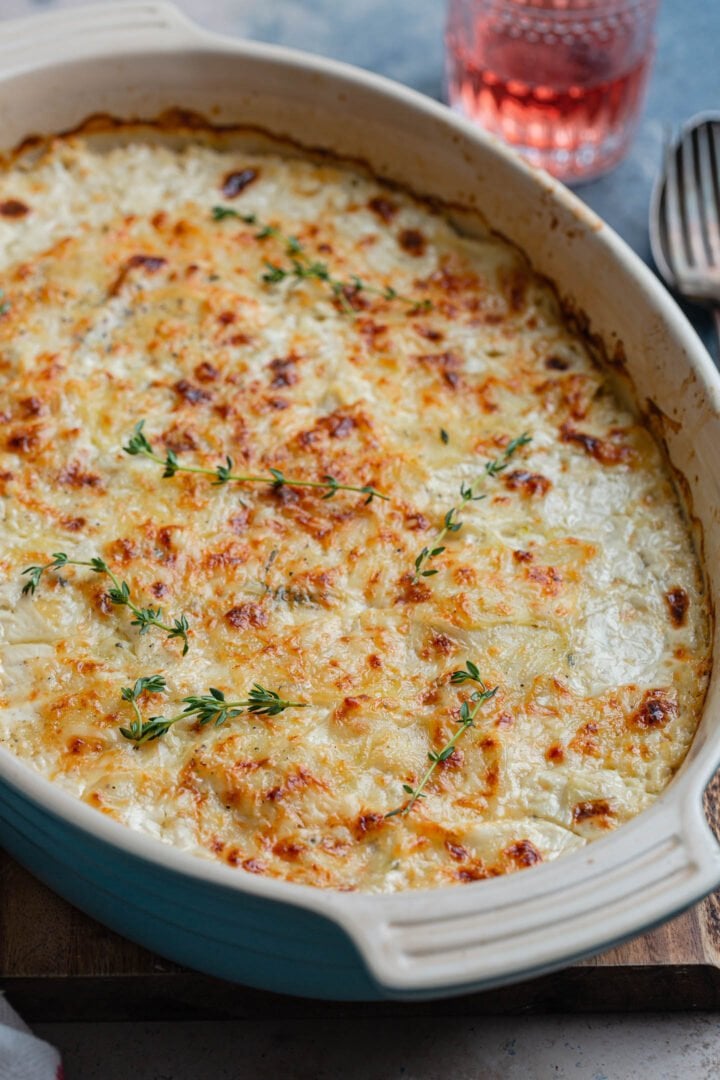 Potatoes + Cream + Cheese. What's not to love?
This dish, in all its cheesy creamy glory, makes the perfect side dish for when you want to impress guests or a special someone!
Made popular by Julia Child, this French classic shouldn't be confused with Pommes Dauphine, which are crispy potato puffs and the subject for a future blog post.
Comfort food at its best, this delicious and indulgent Potato Gratin Dauphinois is destined to be at your holiday table or Valentine's Day dinner. That being said, it is so easy to make that it can certainly make occasional appearances on your everyday table too!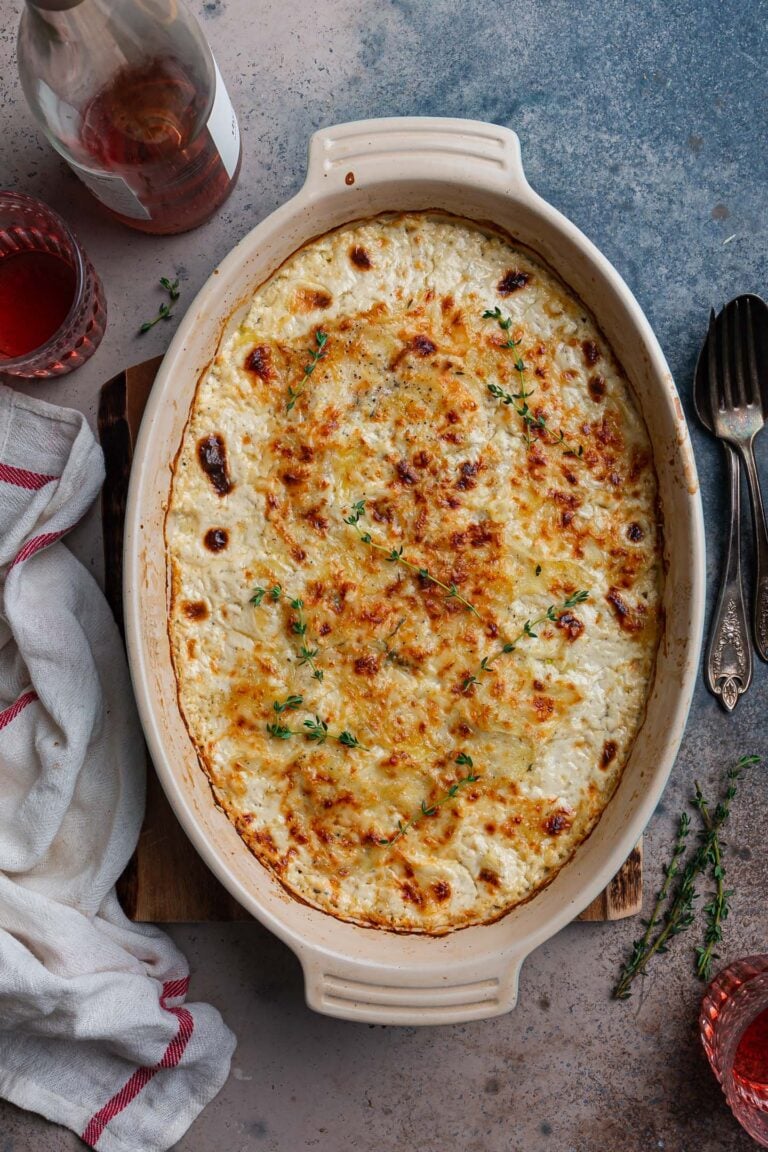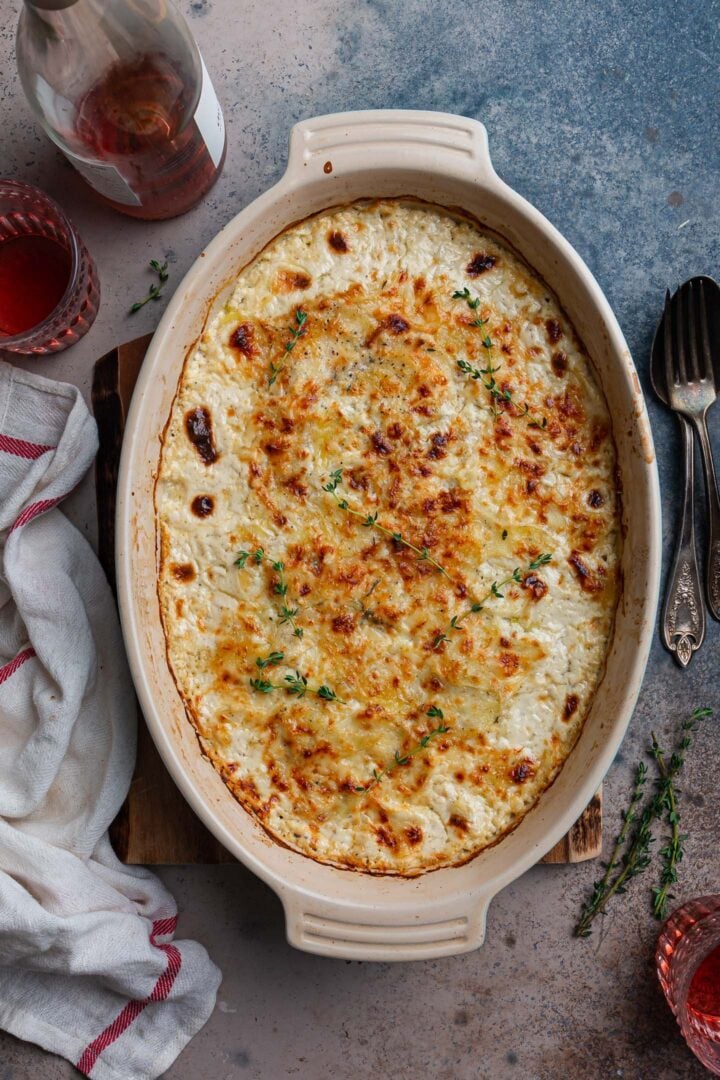 What is Gratin Dauphinois?
Gratin Dauphinois (pronounced "do-fin-WAHZ") – also known as Pommes de Terre Dauphinoise, Potatoes à la Dauphinoise, Gratin de Pommes à la Dauphinoise, Dauphinoise Potatoes or Potato Dauphinoise – is a French potato dish from the Dauphiné region in south-eastern France.
It consists of sliced potatoes that are baked in milk or cream, in a buttered dish.
While my recipe calls for (two kinds of) cheese, purists often insist that a true Gratin Dauphinois must not include cheese. If cheese is included, it would technically be called a Gratin Savoyard.
You can make it without cheese, if you're concerned about authenticity, but know that nowadays most chefs use cheese and still call it Dauphinois/Dauphinoise.
Gratin VS Gratin Dauphinois
You might be asking yourself: So what is the difference between a regular Potato Gratin and a Potato Gratin Dauphinois? Are they the same?
The difference is that when you make ordinary gratin potatoes, you precook the potatoes before they go in the oven, while in a Potato Gratin Dauphinoise, you use them raw.
Au Gratin VS Scalloped Potatoes
Again, very similar dishes! Their names are often mixed up too, so that's why it can be confusing.
The difference comes down to cheese. While Potatoes Au Gratin are made with cheese, Scalloped Potatoes are not. They are much simpler and not as decadent as gratins.
Also, scalloped potato slices tend to be slightly thicker than those of au gratin.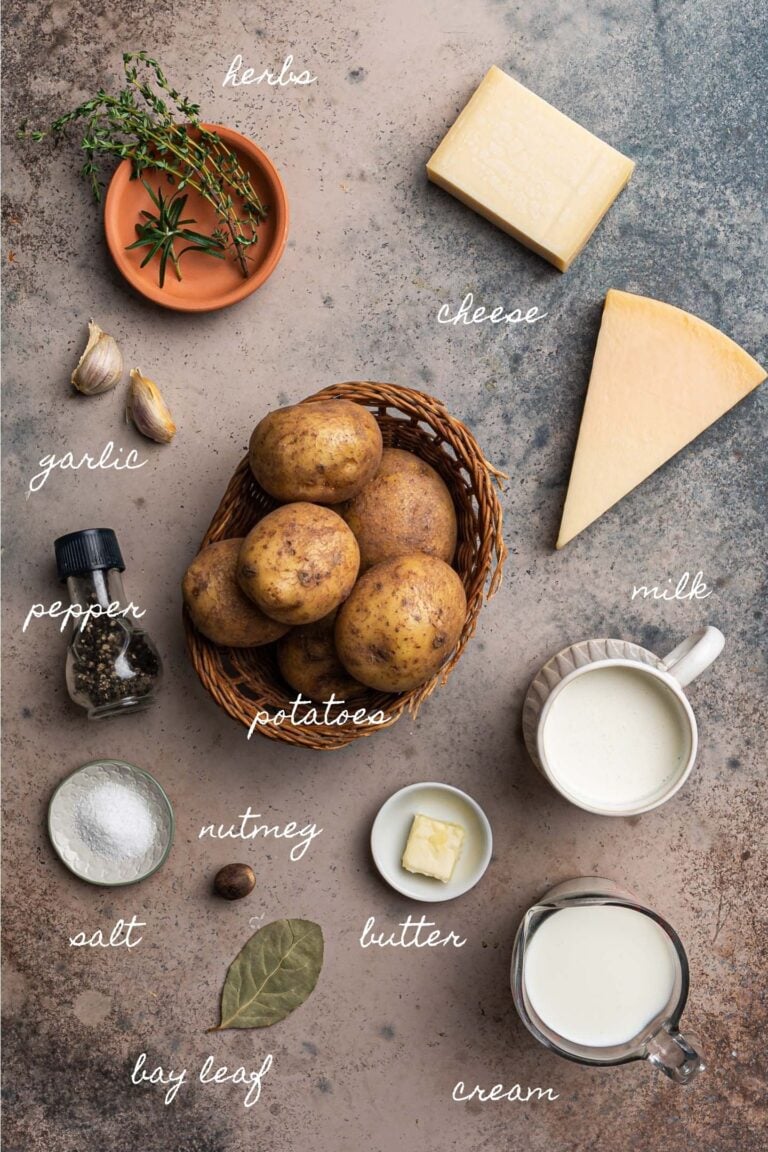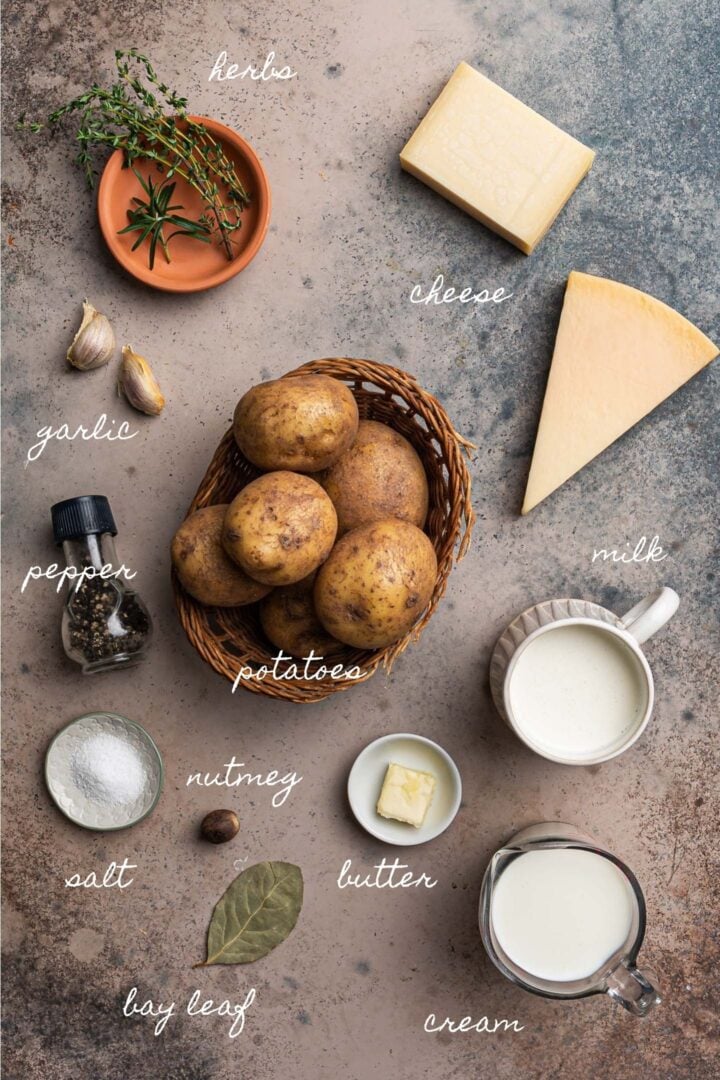 Ingredients
To make Gratin Dauphinois, you will need:
Potatoes
Cheese – Gruyére is the classic choice, but I like to also add parmesan (preferably Parmigiano Reggiano), for its nuttiness and sharpness.
Milk and Cream – You will need both, as the milk by itself won't be stable enough to stand up the oven temperature and will curdle.
Garlic
Herbs – I use thyme, rosemary and a bay leaf to flavor the cream!
Nutmeg – Freshly grated is always better!
Salt and Pepper
Butter – For greasing the baking dish.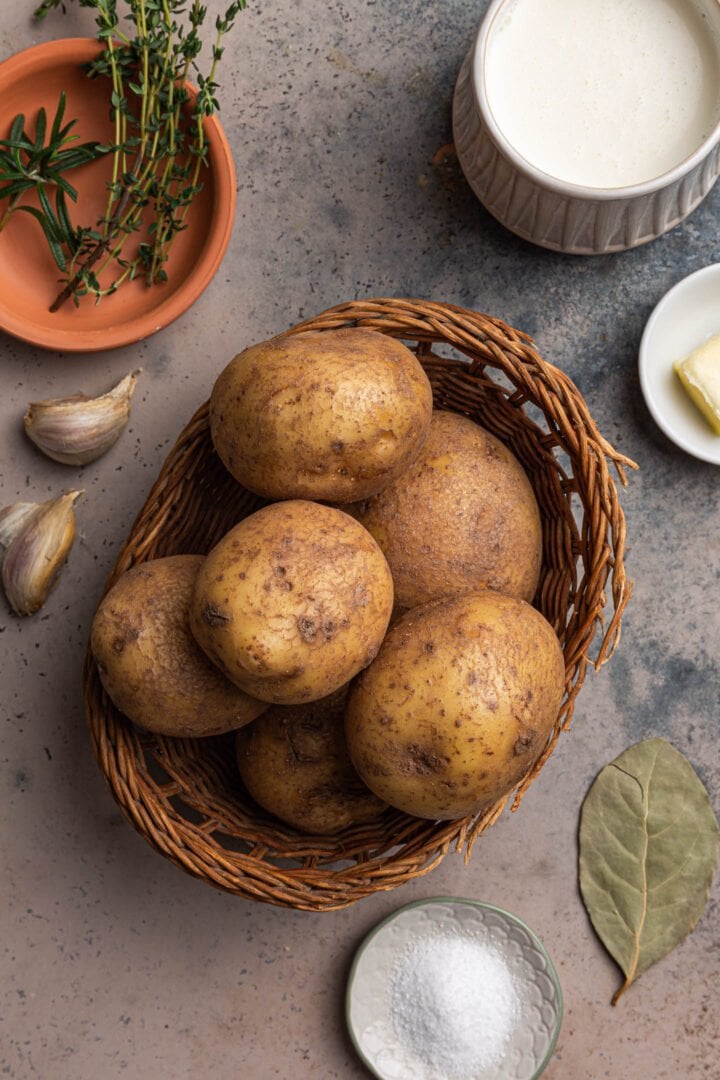 Which type of potatoes for Gratin Dauphinois?
In France, this dish is usually made with yellow-fleshed potatoes, like Charlotte or Belle de Fontenay.
Here in the U.S., I like using Yukon Golds, which are considered an all-purpose variety. They keep their shape, but also absorb the flavor from the cream without turning into mush.
You can use Russets, if that's what you have on hand, but since they are a high-starch variety, they absorb more liquid and don't hold their shape as well.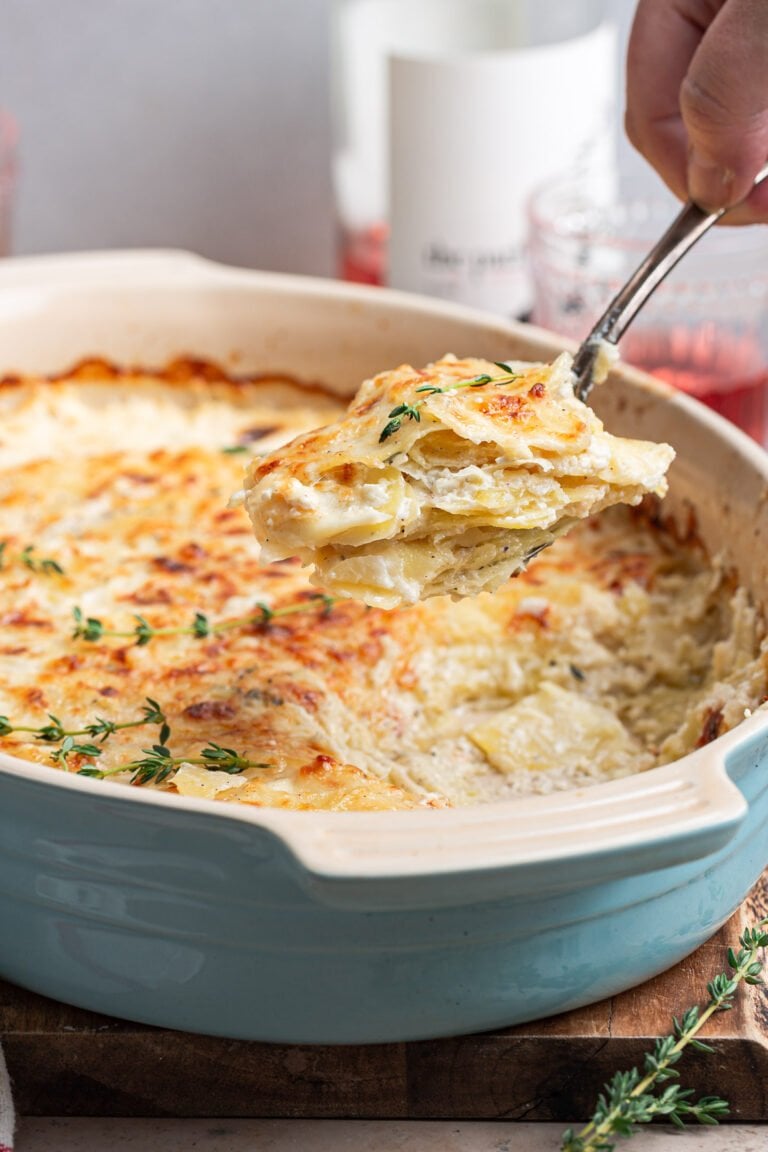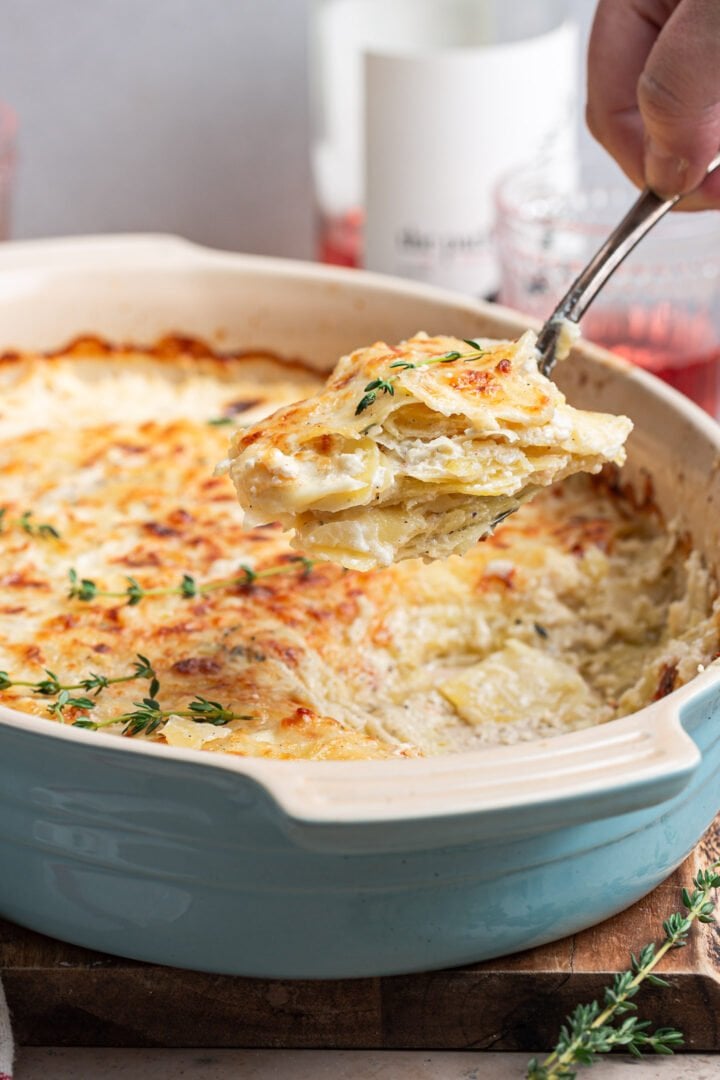 How to Make Gratin Dauphinoise
While this side dish is easy to make, it can be a little time consuming to prepare if you don't have a food processor, as you will have to slice the potatoes by hand.
If using a mandolin, take your time and all necessary precautions. I also recommend investing in some cut resistant gloves!
It is really important to get the potatoes very thin (about 1/8-inch thick) so they cook properly.
Recommended tools and equipment: saucepan with lid, food processor or mandoline, gratin dish.
Here's how I make this Potato Gratin Dauphinois recipe. As always, you will find the printable (and more complete) version of the recipe at the end of this post!
Step 1: Prepare the cream and the potatoes.
Combine the milk, cream, herbs, freshly grated nutmeg, salt and pepper in a saucepan. Cook until steaming. Then, remove from heat, cover and let it steep for 15 to 30 minutes. This will infuse lots of flavor into the dish!
Slice the potatoes thin using a mandolin. Place the sliced potatoes in the cream.
Step 2: Assemble the gratin dauphinois.
Generously butter a baking dish.
Add a layer of the cream.
Follow by a layer of sliced potatoes, seasoned with salt and pepper.
Add a layer of shredded Gruyere.
Repeat until you've run out of potatoes.
Finish with a layer of parmesan and Gruyere.
Step 3: Bake!
Bake at 350ºF until bubbly and golden brown.
Let the dish rest for 5 minutes before serving, so the cream doesn't immediately ooze out when you dig in.
Olivia's Tips
To get the potatoes thin enough, I recommend using a mandoline or food processor. Slicing by hand will likely produce potatoes that are too thick and you risk undercooking them.
Placing the sliced potatoes in the warm cream prevents them from getting brown while also jump starting their cooking, so they will need less time in the oven! It will also add some starch to the milk mixture, which will prevent it from curdling when baked.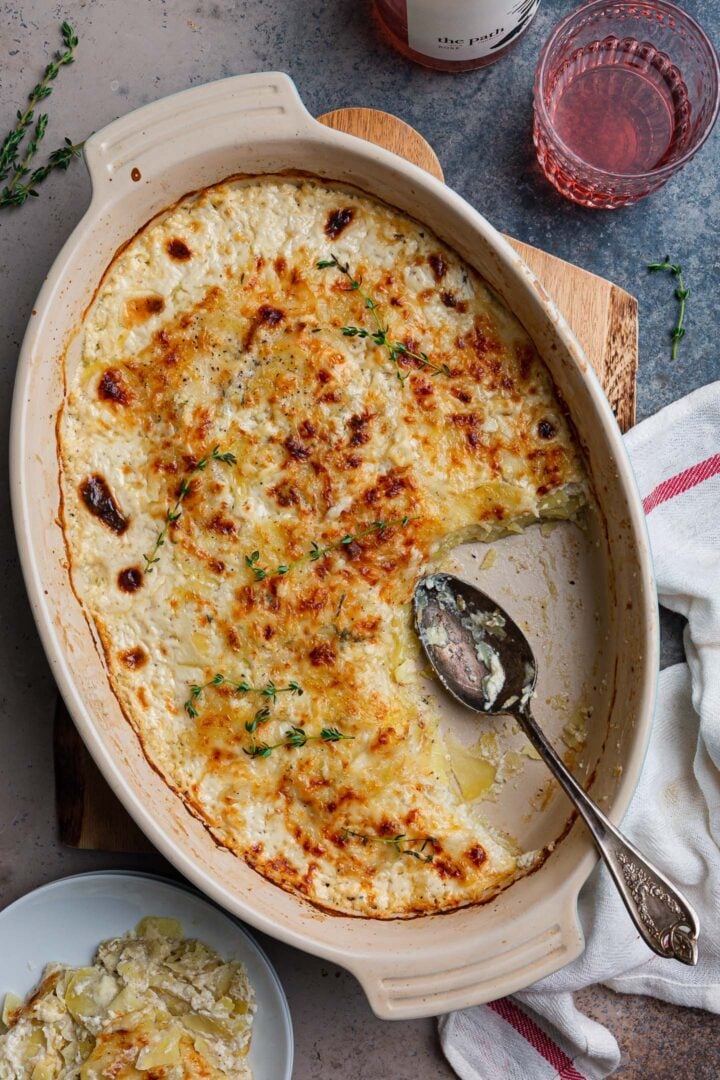 What goes with Potato Gratin Dauphinois?
This dish was originally served – to the Duke of Clermont-Tonnerre in 1788 – as a side to a fowl main dish.
While in France, it is often served with roasted pork, I personally find that is the perfect side for any main entree, like roast beef, steak, chicken, lamb or fish.
Here are a few suggestions: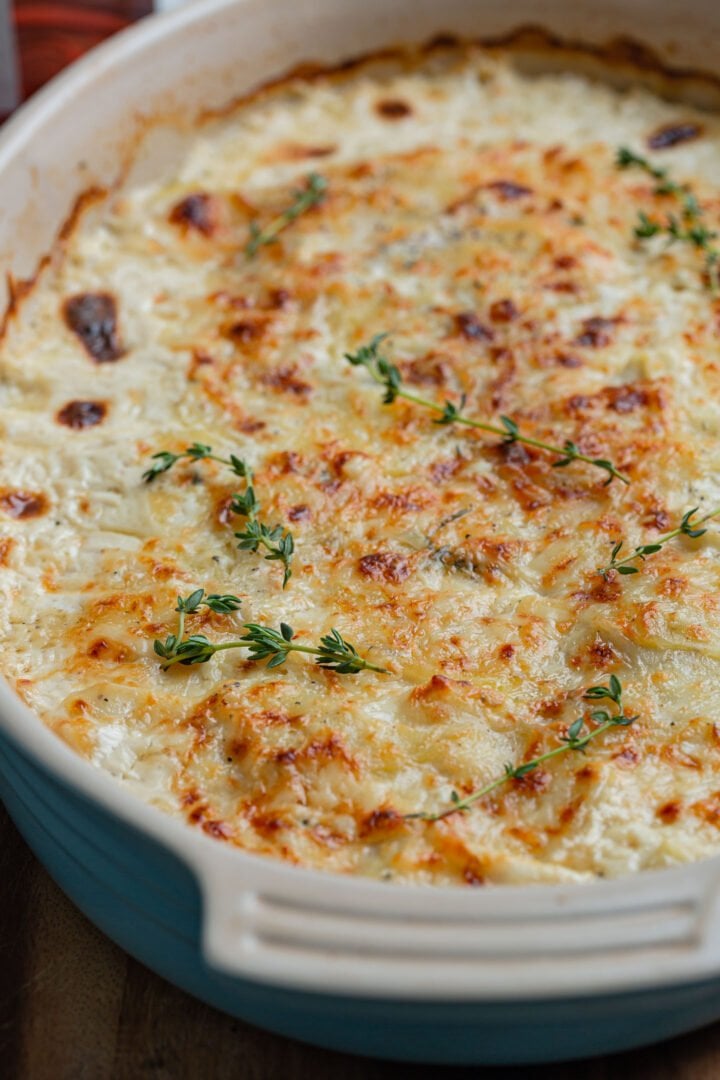 Frequently Asked Questions
Why does my gratin curdle?
Curdling is usually caused by high heat, so don't try to cut the time by raising your oven's temperature.
Can you freeze Gratin Dauphinois?
I am not a fan of freezing potatoes as their consistency changes considerably when frozen and thawed. That being said, if you don't mind the texture alteration, it is safe to freeze this for up to 3 months.
Can you reheat Dauphinoise Potatoes?
Reheat leftovers in the oven, at 350ºF, covered in foil, for 15 minutes or until hot and bubbly.
More Potato Recipes
Did you make this recipe?I love hearing from you! Please comment and leave a 5-star rating below. You can also take a photo and tag me on Instagram with #oliviascuisine.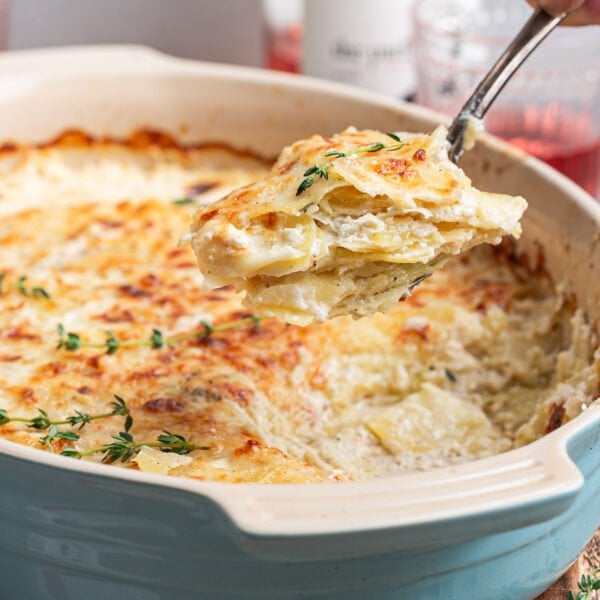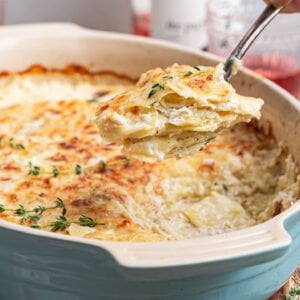 Potato Gratin Dauphinoise
Gratin Dauphinois might sound fancy, but it's just a side dish made of thinly sliced potatoes, cream and cheese. Possibly my favorite potato recipe of all time, this decadent French classic – bubbling and cheesy, with a gorgeous caramelized top – is absolutely irresistible!
Ingredients
1 cup whole milk
1½ cups heavy cream
2 cloves garlic, smashed
Pinch freshly ground nutmeg
1 teaspoon Kosher salt, plus more
Freshly ground pepper, to taste
2 sprigs fresh rosemary
2 sprigs fresh thyme
1 bay leaf
2 pounds Yukon Gold potatoes
2½ cups grated Gruyere cheese
1 cup freshly grated Parmesan cheese
1 tablespoon unsalted butter, softened
Equipment
Mandoline or Food Processor

11-inch Gratin Dish
Instructions
Preheat oven to 350ºF degrees.

In a saucepan, combine the milk, heavy cream, garlic, nutmeg, salt, pepper and herbs. Bring to a simmer then remove from heat. Cover and let it steep for several minutes to infuse the milk/cream with all the flavors.

In the meantime, peel and slice the potatoes 1/8-inch thick using a mandoline or food processor. As you slice them, place them in the milk mixture to prevent them from browning.

If you haven't yet, grate the cheese. Take 1/4 cup of the grated Gruyere and combine with the parmesan. Reserve.

Grease a 11-inch gratin dish with the butter. Drain the potatoes, saving the infused cream in a bowl. Discard the herbs and garlic.

Start assembling the dish. Add a layer of the infused cream, followed by a layer of potatoes and a layer of Gruyere cheese. Season lightly with salt and pepper. Repeat layering the potatoes, cream and cheese until all potatoes have been used, always seasoning. If there's any cream left, you can pour it over the top. Top with the reserved parmesan and Gruyere cheese.

Bake in the preheated oven until the potatoes are tender and the top is golden brown and bubbly, about 45 to 55 minutes. If you notice that the top is browning too quick, you can cover with foil. If you like, you can increase the heat at the end or pop the dish under the broiler for a deep brown color.

Let it rest for 5 minutes before serving. You can garnish with fresh thyme leaves, if desired.
Notes
Make Ahead:
There are a few ways to make Potatoes Dauphinoise ahead of time.
Assemble a day ahead, cover tightly with plastic or foil and refrigerate until ready to bake. The problem with this method is that the potatoes might discolor slightly.
Prepare and bake one to two days ahead, then cool, cover and refrigerate. When ready to serve, reheat until hot and bubbly. Here, the problem is that I find that the dish is not as creamy, as the potatoes will absorb quite a bit of the liquid while chilling.
Prepare the dish as written but hold on adding the last layer of cream and the cheese topping. Bake, covered in foil, until the potatoes are tender. Then cool, cover tightly and refrigerate. The next day, add the reserved cream and cheese topping. Bake covered in foil until hot, then remove foil and continue baking to get that beautiful brown color on the top.
Storing Leftovers:
Leftovers keep well in the fridge, if properly stored in an airtight container, for up to 4 days. Reheat in the oven, at 350ºF, covered in foil, for 15 to 20 minutes.
Nutrition
Calories: 493kcal, Carbohydrates: 23g, Protein: 21g, Fat: 36g, Saturated Fat: 22g, Trans Fat: 1g, Cholesterol: 122mg, Sodium: 666mg, Potassium: 600mg, Fiber: 3g, Sugar: 3g, Vitamin A: 1252IU, Vitamin C: 23mg, Calcium: 644mg, Iron: 1mg