Creamy Sausage Kale Pasta
Possibly my favorite pasta dish, this Creamy Sausage Kale Pasta combines Italian sausage with rich and earthy Tuscan Kale. Tossed in the creamiest lemon parmesan sauce! And you can make it as mild or as spicy as you like!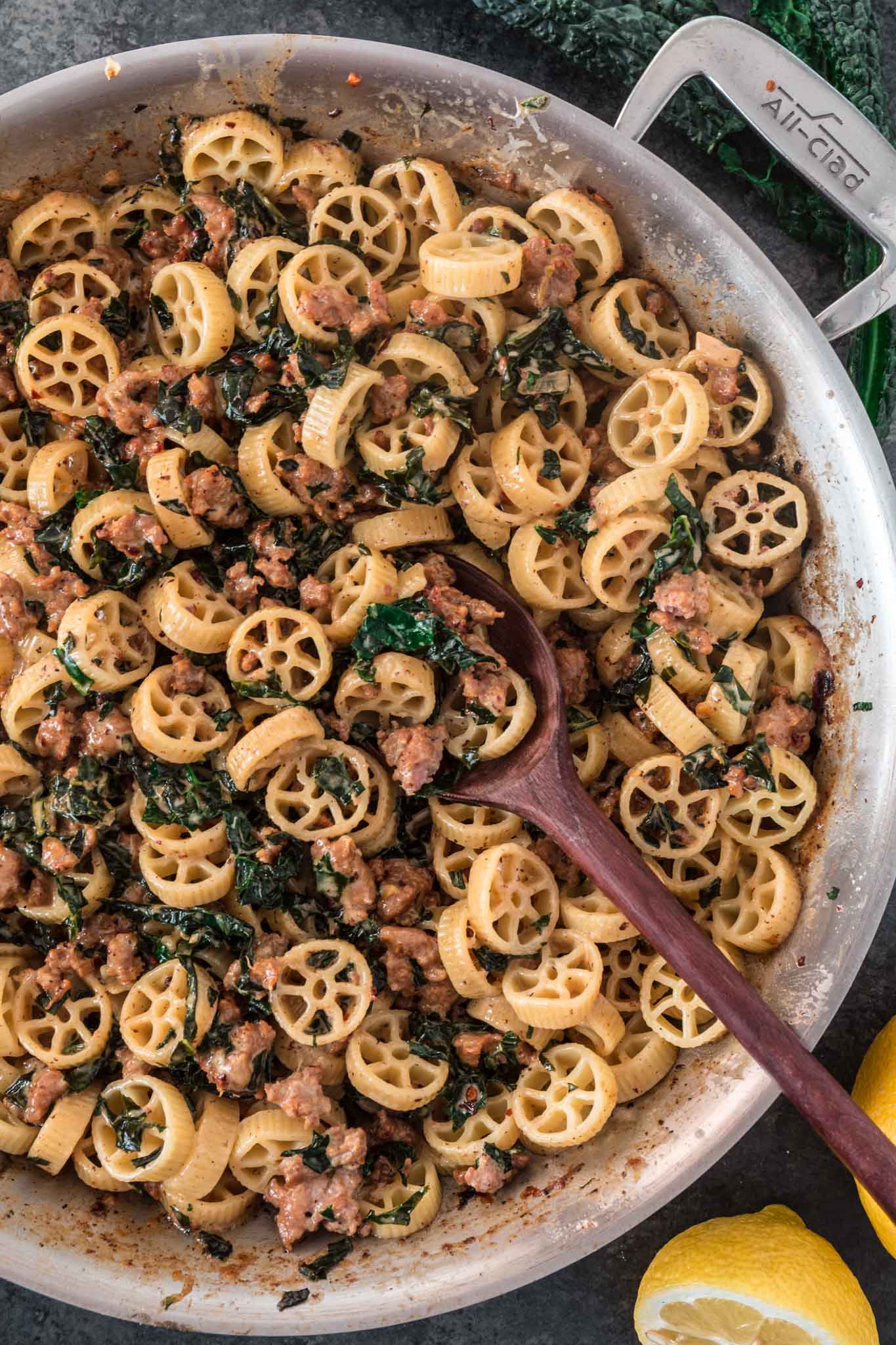 I've been meaning to post this pasta recipe for a long time.
However, every time I've made this, it vanished before I could bring it into my photography studio to shoot some photos. Yep, it's that good! Extremely addicting, I would add.
And as much as I consider my Bolognese sauce and my braised ragu some of my specialties, this sausage kale pasta is the one recipe that I make when I truly want to impress someone. It is hearty and comforting, but at the same time fresh and bold!
Perfect to be served alfresco, but also great for dinner on a chilly Fall evening.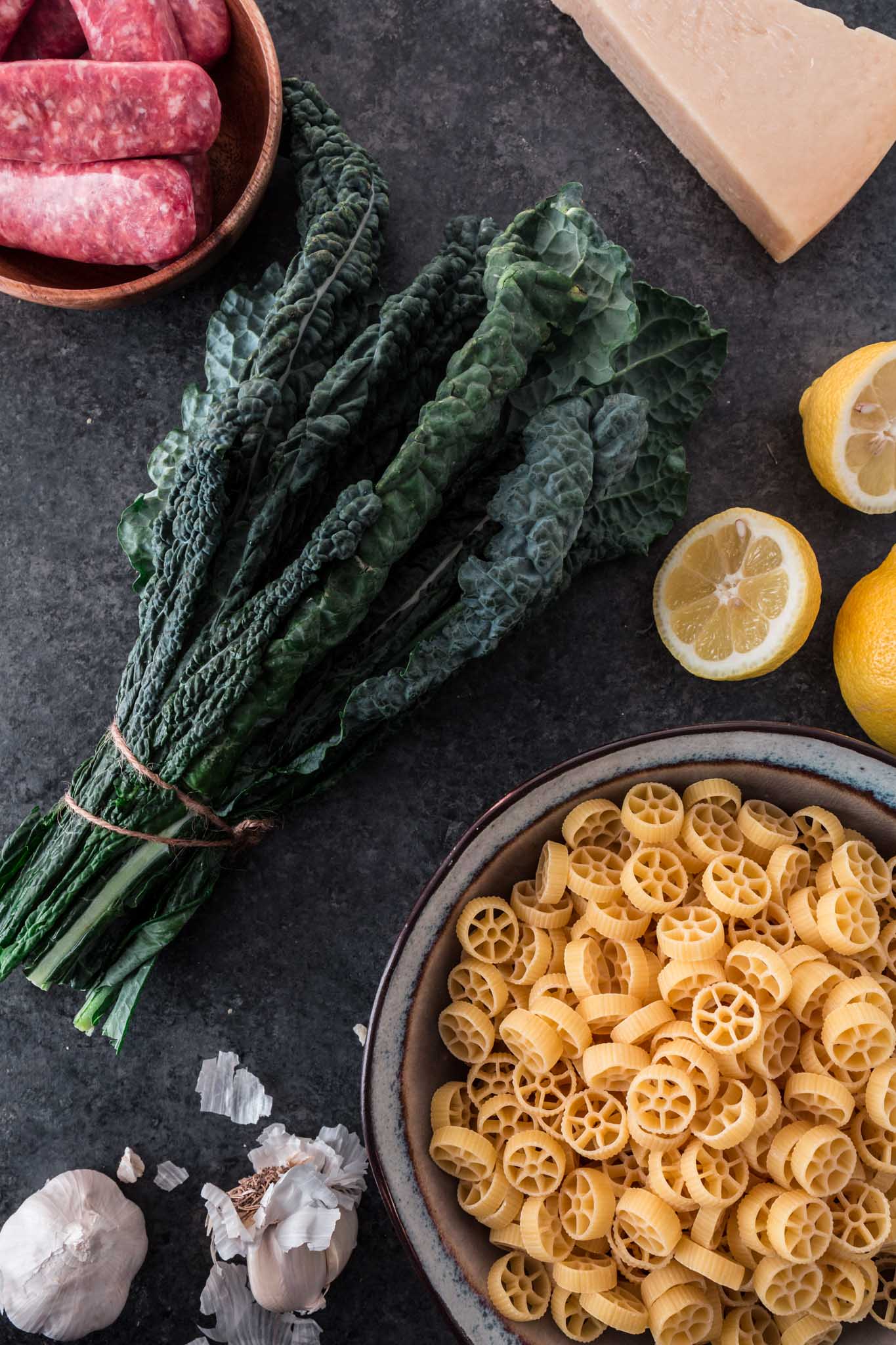 Cavolo Nero, aka "Tuscan Kale"
Also known as black kale or lacinato kale, cavolo nero is the Italian version of curly kale. Most prevalent in Tuscany, it has ruffled plume-shaped leaves and a beautiful very dark blue-green color.
It is more tender and flavorful as other types of kale, and I find it to be a little sweeter and not as bitter.
If you're in the U.S., you will probably find it at Whole Foods or farmer's markets, although I have seen it occasionally at the organic section of my local larger supermarket. And if you have a green thumb, I've read that it is easy to grow and you can easily find seeds online!
When buying, go for firm and evenly shaped/colored leaves. Skip anything that looks brown or yellow, or with holes.
Store cavolo nero for a couple days in your fridge's vegetable crisper, with the stems wrapped in moist paper towel to keep it from drying out. Avoid washing until you plan to cook it, because it may go limp.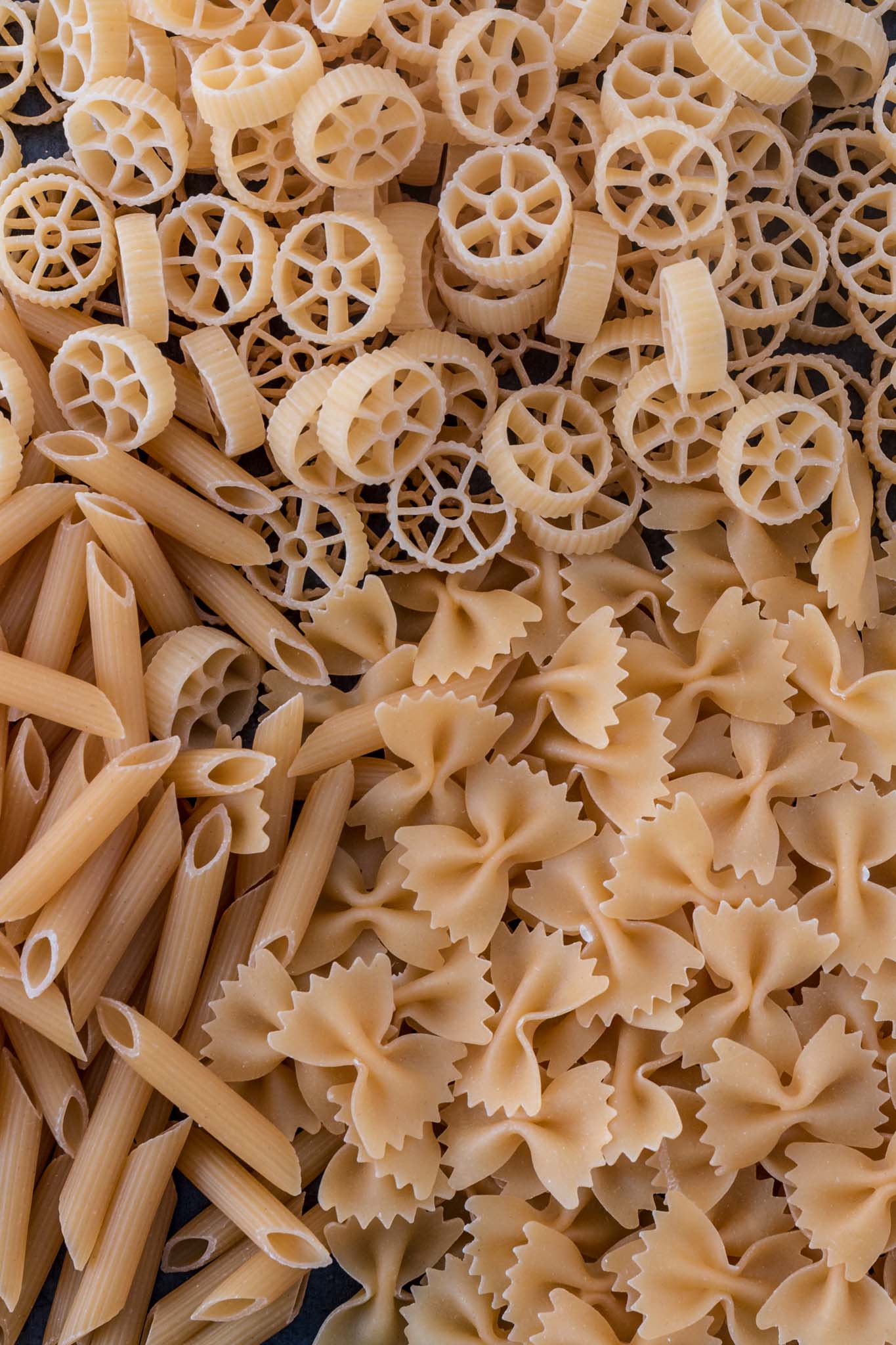 Which type of pasta should I use?
I have made this sausage kale pasta with pretty much every pasta type out there! Basically, whatever I had in my pantry.
However, even though it tastes delicious regardless of which kind you use, I find it works better with short shapes, like penne, farfalle or rotelle (mini wheels).
Although not a classic Italian shape, the rotelle goes really well in this recipe, as the shape is good for capturing flavor. The creamy sauce and the pieces of sausage and kale get into those nooks and crannies, making every bite an explosion of flavor!
If you can't find it, feel free to use whatever short shaped pasta you have on hand! But make sure to cook it al dente. Mushy pasta will definitely ruin this dish!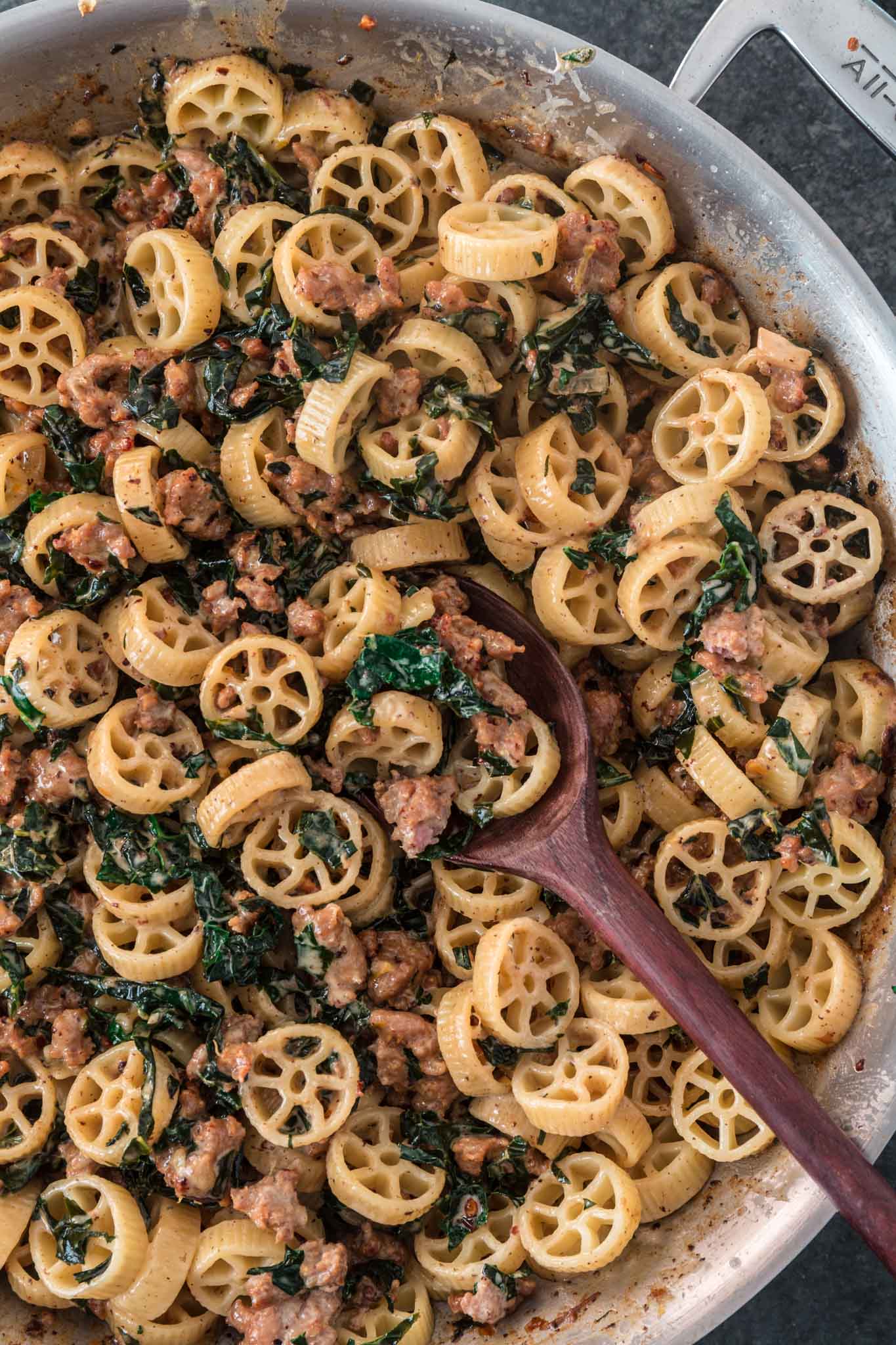 Hot or Sweet Italian Sausage?
Whatever floats your boat!
I am not crazy for super spicy food, so I go with sweet (or mild) and I add a bit of heat with red pepper flakes. But if you're more adventurous, hot sausage will work just fine!
Chicken and turkey sausages can be used too, although I really prefer pork here. But I made it with chicken for my mom – who doesn't eat pork – and it was a total hit! So go for it if you must.
And since you will have to remove the casings, it is a good shortcut to buy ground sausage.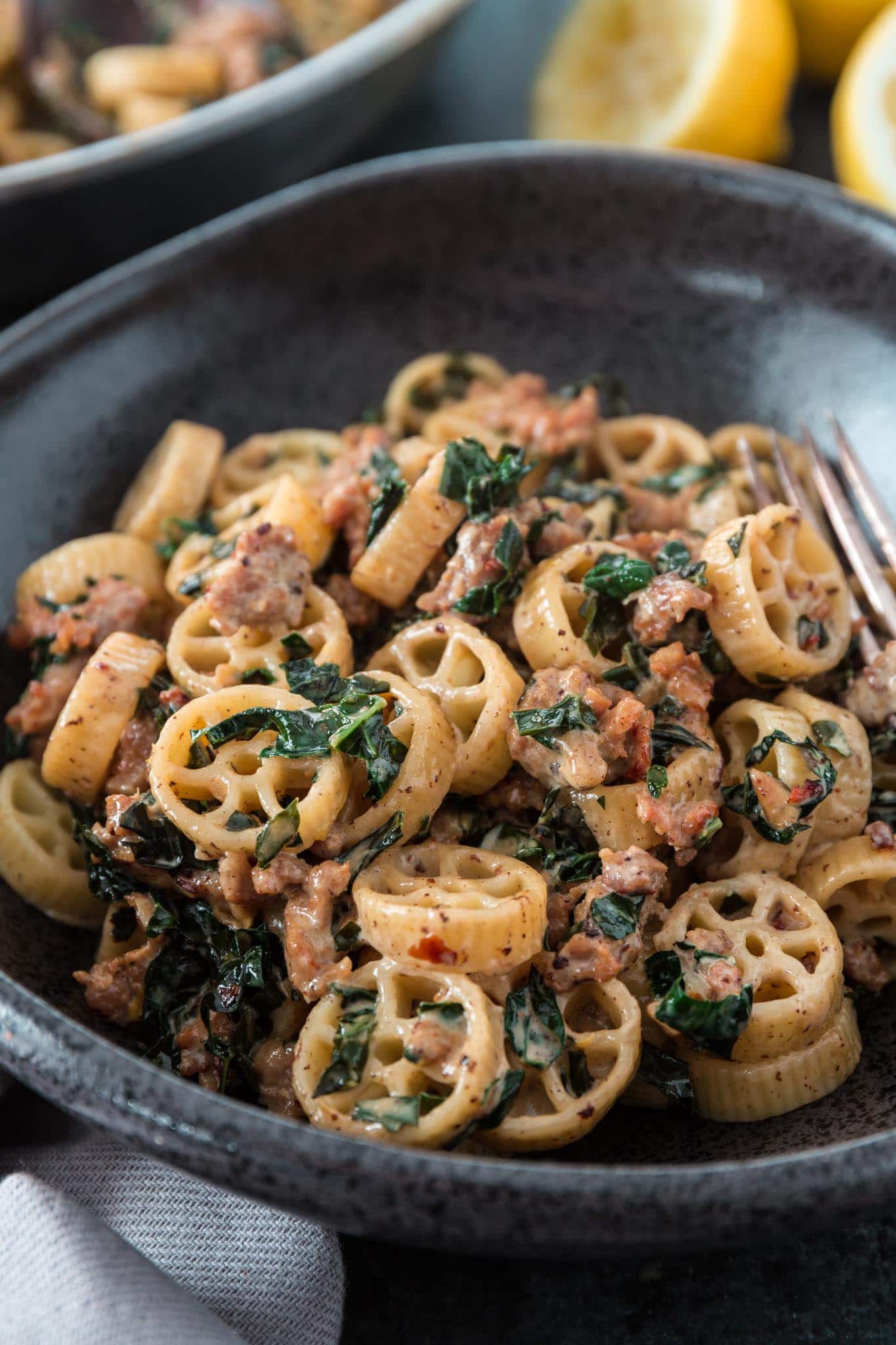 The best way to reheat Creamy Sausage Kale Pasta
Got leftovers? Tried to reheat them and they turned into an oily mess? Don't fret!
I find that the best way to reheat cream-based pasta dishes is to add a little bit of heavy cream (or milk) – about 1/3 cup or so – to a small pan, and when boiling, add the leftover pasta. Gently simmer, stirring occasionally, until hot.
You do compromise on the "aldente-ness", but the truth is that leftover pasta – when reheated – is never as al dente as freshly cooked pasta.
More pasta recipes: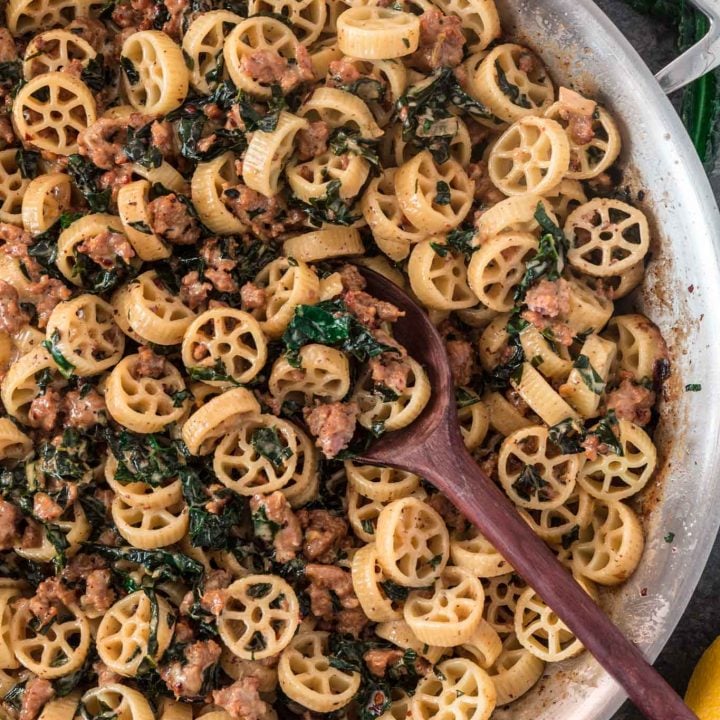 Creamy Sausage Kale Pasta
Yield: 6
Prep Time: 15 minutes
Cook Time: 20 minutes
Total Time: 35 minutes
Ingredients
3 tablespoons olive oil
2 large shallots, chopped
4 garlic cloves, minced
1/2 teaspoon red pepper flakes, or to taste
1 pound sweet Italian sausage (you can use hot!), casings removed
1 bunch Tuscan kale, roughly chopped
Salt and freshly ground pepper, to taste
2 1/2 cups heavy cream
Juice and zest of one lemon
1/2 cup freshly grated Parmesan cheese, plus more for serving
1 pound rotelle pasta (great substitutes: penne, farfalle, rotini)
Instructions
Bring a large pot of salted water to a boil over high heat. Cook the pasta according to package instructions, until al dente.
Meanwhile, heat the olive oil in a large skillet and sauté the shallots, garlic and red pepper flakes until translucent, about 2 minutes. Add the sausage and cook, breaking it apart with a wooden spoon and stirring occasionally, until browned and cooked through, about 8-10 minutes.
Add the chopped kale and season with salt and pepper. Cook until wilted, 2-3 minutes. Then, add the heavy cream and lower the heat to a simmer. Simmer until thick and reduced slightly, about 5 minutes. Remove from heat and add the lemon juice and zest, and the parmesan, stirring to combine.
Drain the pasta, reserving a little big of cooking water (1/4 cup). Add the pasta and reserved cooking liquid to the sauce and toss until combined.
Serve immediately!
Adapted from
Saveur
.
To make Creamy Sausage Kale Pasta, I recommend:
Disclosure: This post contains affiliate links.