Fizzy Passion Fruit Cocktail
This Fizzy Passion Fruit Cocktail is sponsored by Pernod Ricard, but the content and opinions expressed here are my own.
This holiday season, ditch the same old eggnog for a delicious and tropical premium vodka cocktail. Easy, refreshing and oh so luxurious!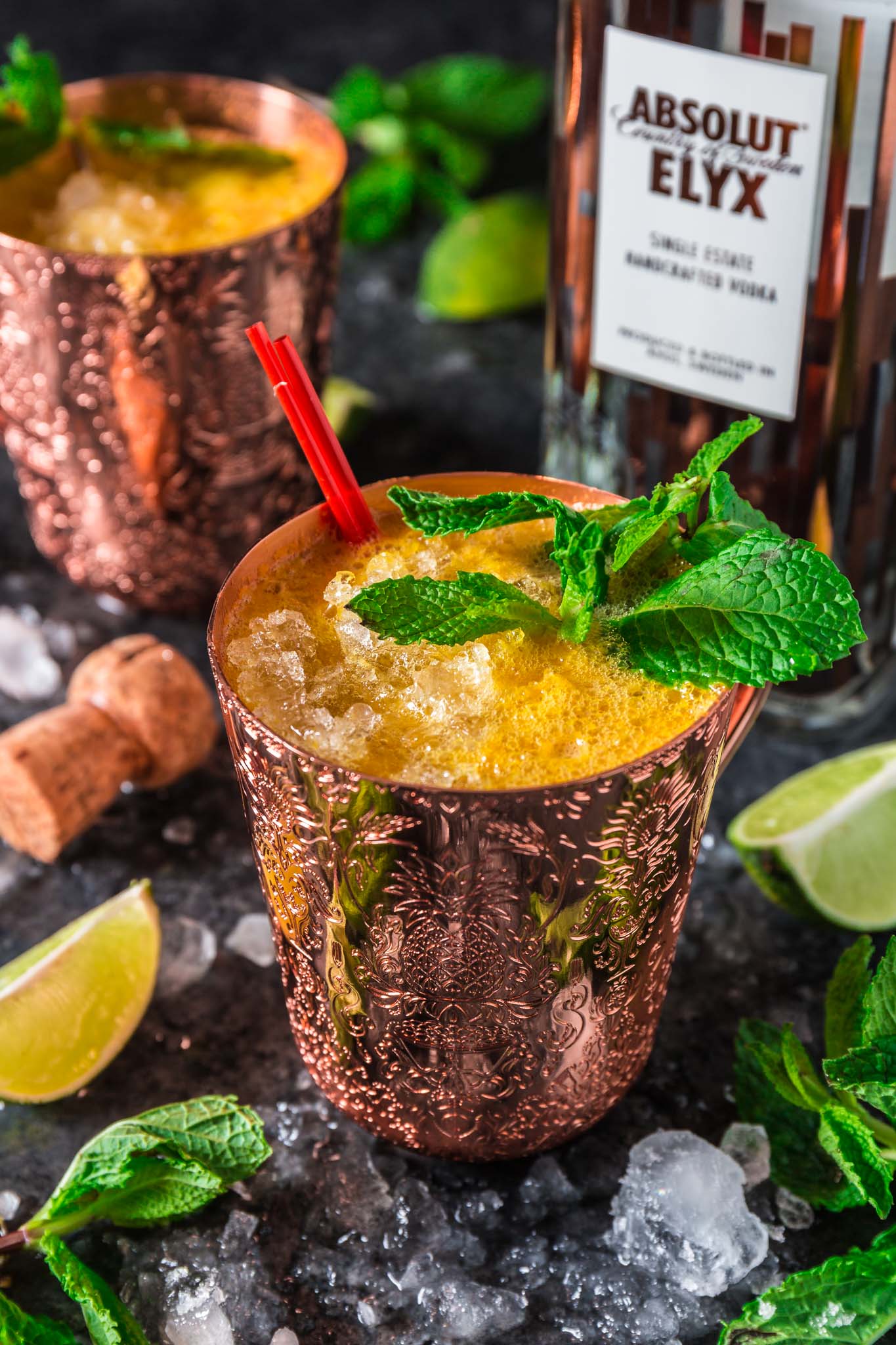 Roll call! Who's still standing this holiday season?

Overwhelmed? Looking forward to a marathon of holiday parties so you can indulge in exquisite food and fancy cocktails?

Or, perhaps, practicing for said marathon, crafting cocktails at home? Yep, that's me! But hey, I have the excuse of being a food blogger. Therefore, I need to test my recipes! What's your excuse? 😜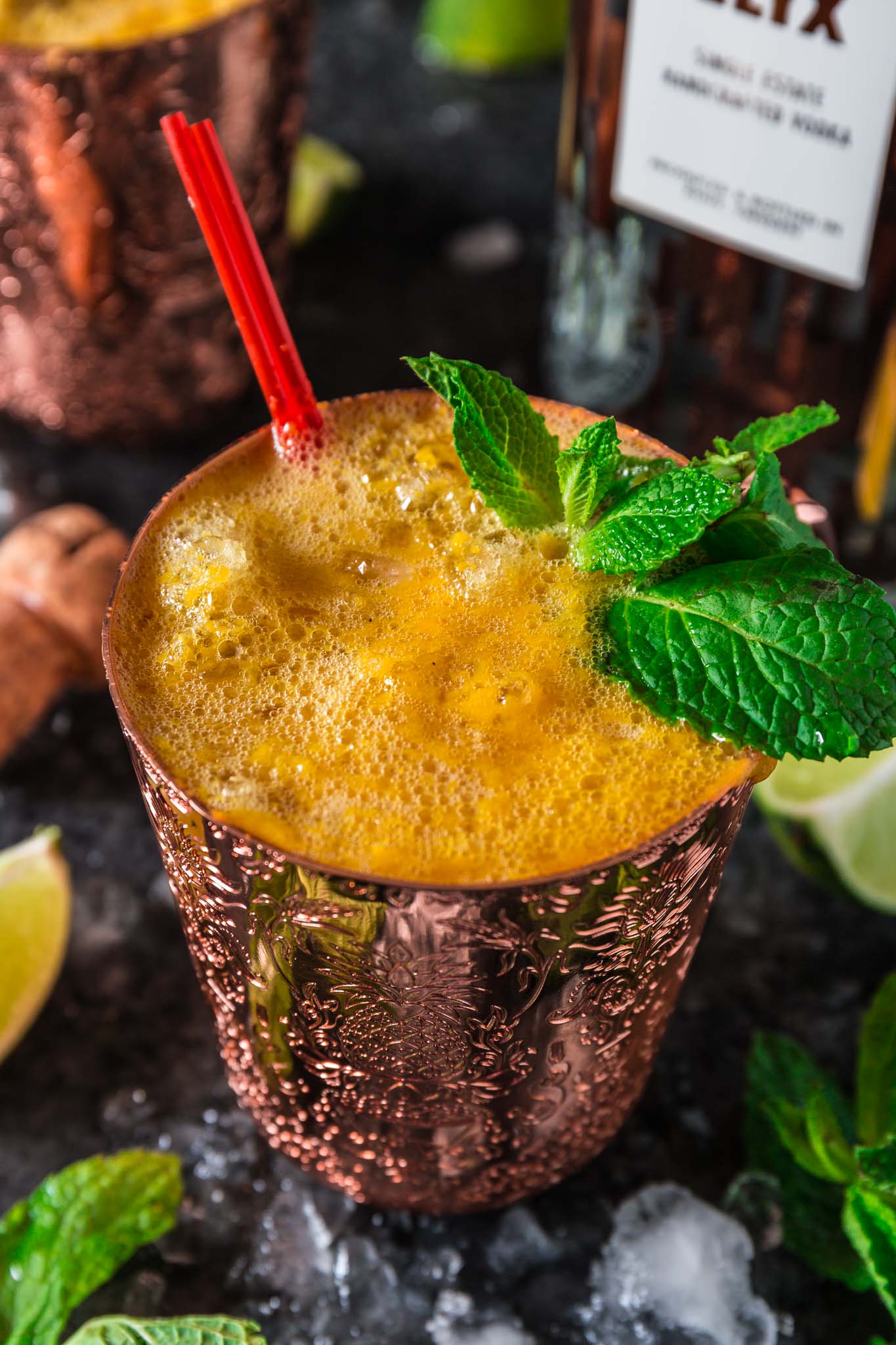 This week's creation was this Fizzy Passion Fruit Cocktail in those beautiful copper cups that I got as a gift from Absolut Elyx.

The recipe is also from their website, where they call it Copper Cup #16, slightly adapted.

It is absolutely (pun intended!) delicious! Sweet, tangy, and perfectly bubbly.

I dare say this should be your New Year's Eve midnight toasting cocktail!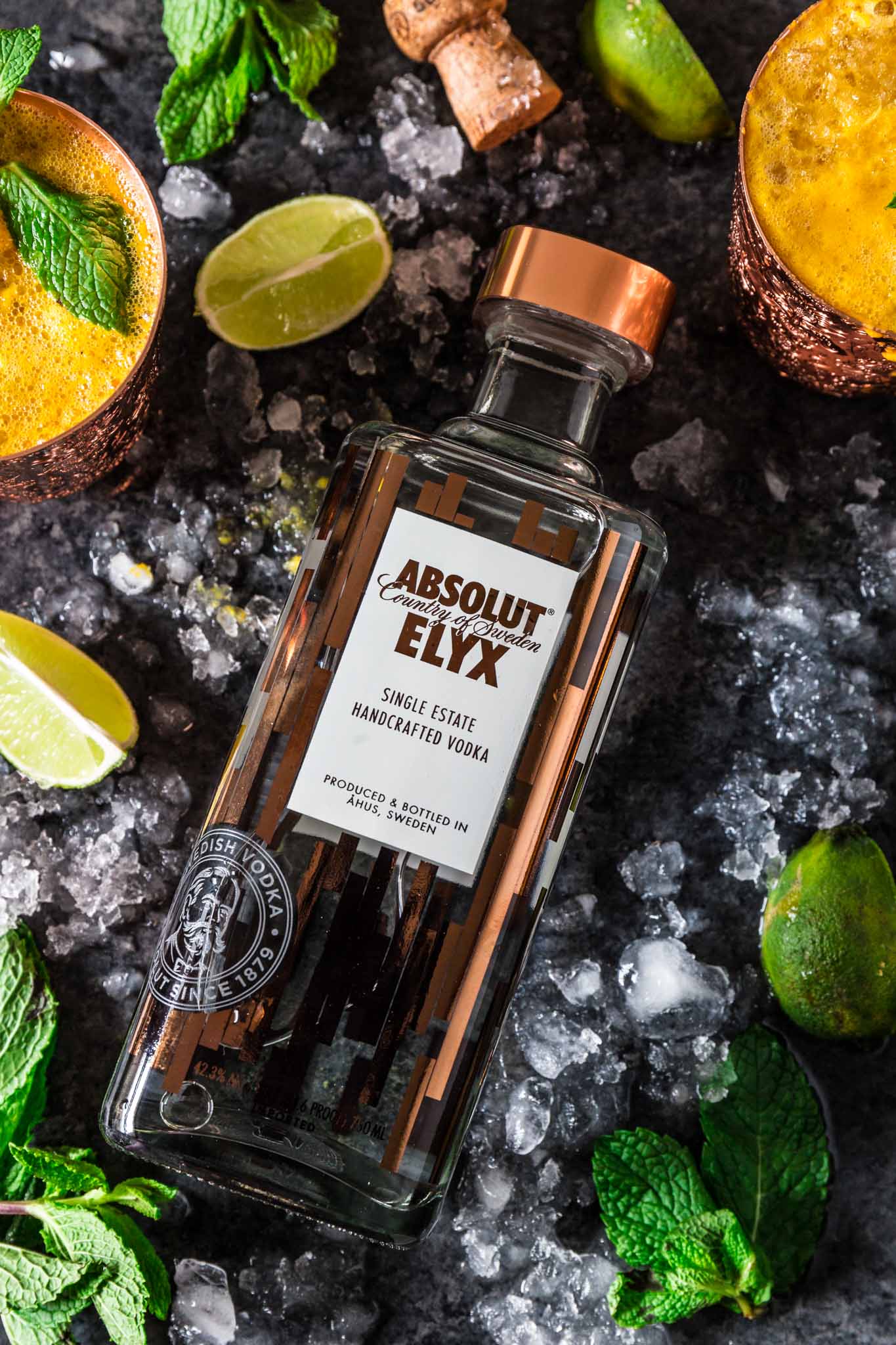 If you're not familiar with Absolut Elyx, it is a single estate, copper crafted vodka that is the luxury expression of Absolut.

The luxurious vodka is forged from the same DNA as Absolut vodka. Culture, tradition, location and even production techniques are shared, but then elevated to produce a vodka unlike any other.

Their Master Distiller Krister Asplund and his team refined and perfected each detail of production in their relentless pursuit of excellence.

Absolut Elyx goes further by sourcing the finest winter wheat from just one estate, revitalizing traditional skills and know-how, and bringing back into service a vintage copper column still from 1921.

The results are a luxury vodka with unparalleled character and flavor.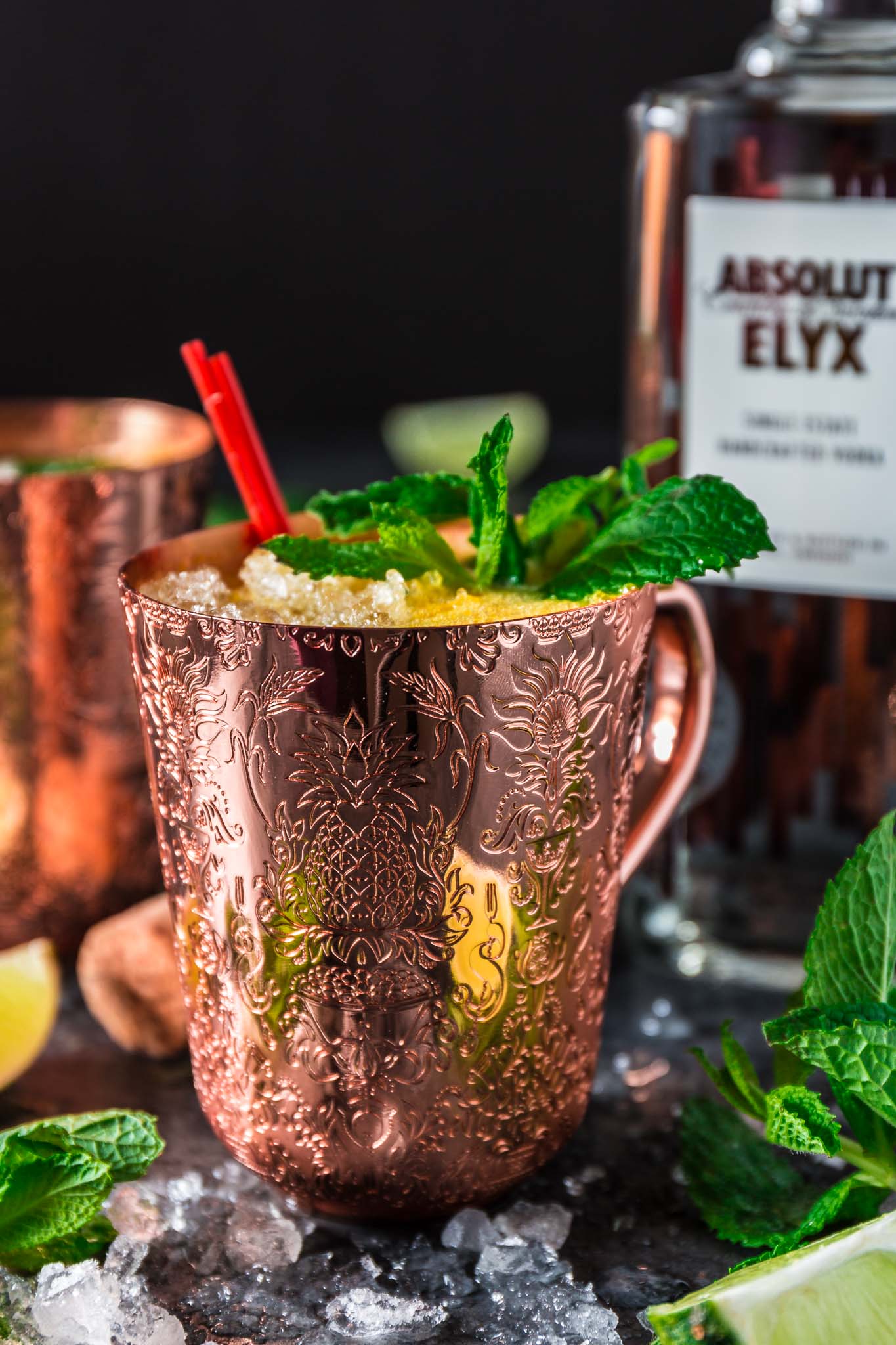 Sorry if I got a little vodka nerd for a moment here. I just can't help being fascinated with food/drink production and its history/details.

Who knows? Maybe one day I'll go to Sweden to make a post showing step by step how Absolut Elyx is produced! :-P (Hint hint, friends at Absolut! Take me!)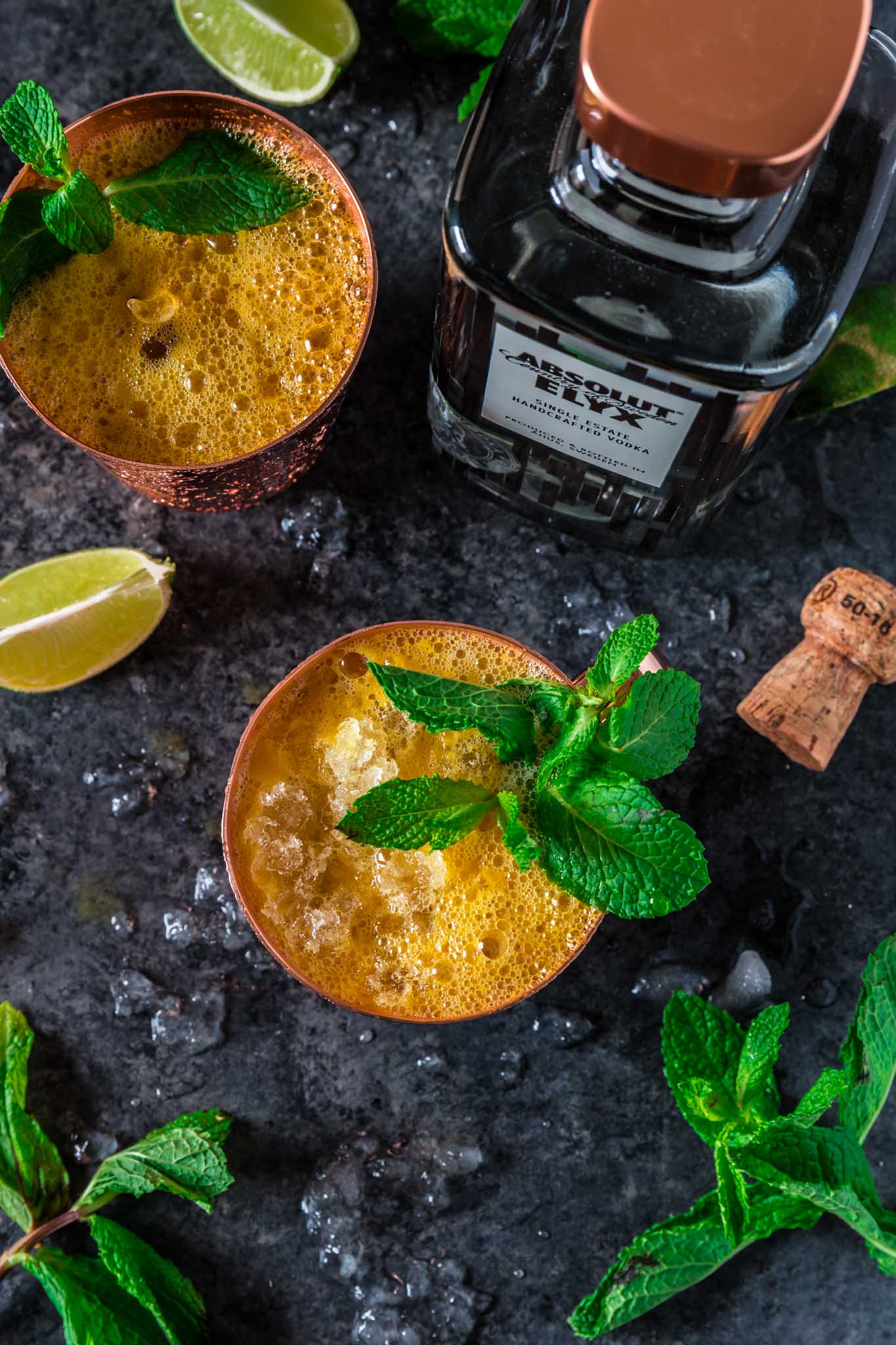 For now, I'm happy at home, hosting friends and serving fun cocktails made with my beautiful bottle of Absolut Elyx.

I'm also obsessed with my copper mule cups! Every time I use them, someone compliments how gorgeous they are. Oh, and they keep cocktails colder for longer too!

It's seriously taking all my energy not to visit the Elyx Boutique to buy all their signature copper gifts! I want them all!

I think an all white and copper New Year's Eve party might be in my near future. With lots of fizzy passion fruit cocktails to enter the new year in a happy tropical mood!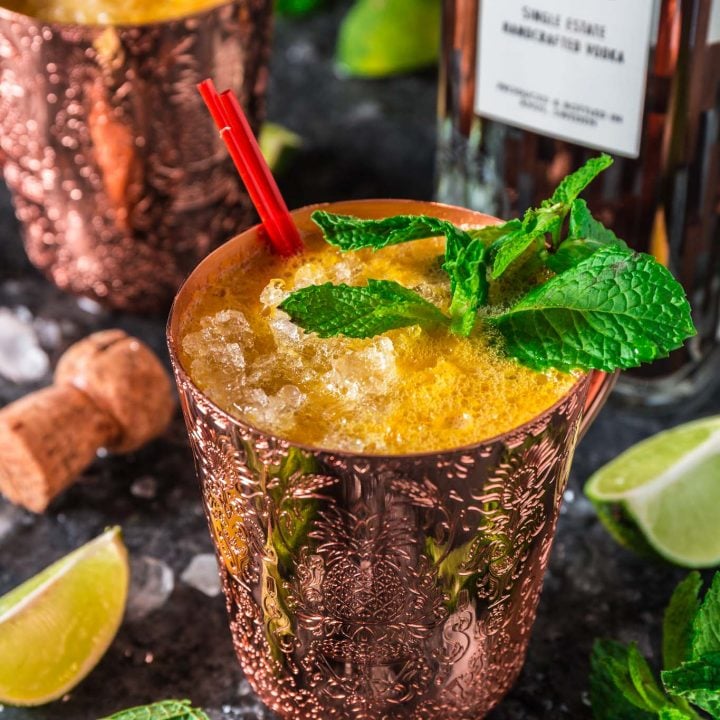 Fizzy Passion Fruit Cocktail
Ingredients
3 ounces Absolut Elyx
3 ounces Fresh Passion Fruit Puree/Juice
1 ounce vanilla simple syrup
Champagne
Garnish: Fresh Passion Fruit and Mint
Instructions
Combine all ingredients in a copper cup over crushed ice, top with champagne and garnish