Brazilian Walnut Candy (Camafeu de Nozes)
A classic Brazilian Christmas treat, this walnut candy (Camafeu de Nozes in Portuguese) will bring joy to your holiday table! And the best part? You'll only need 5 ingredients!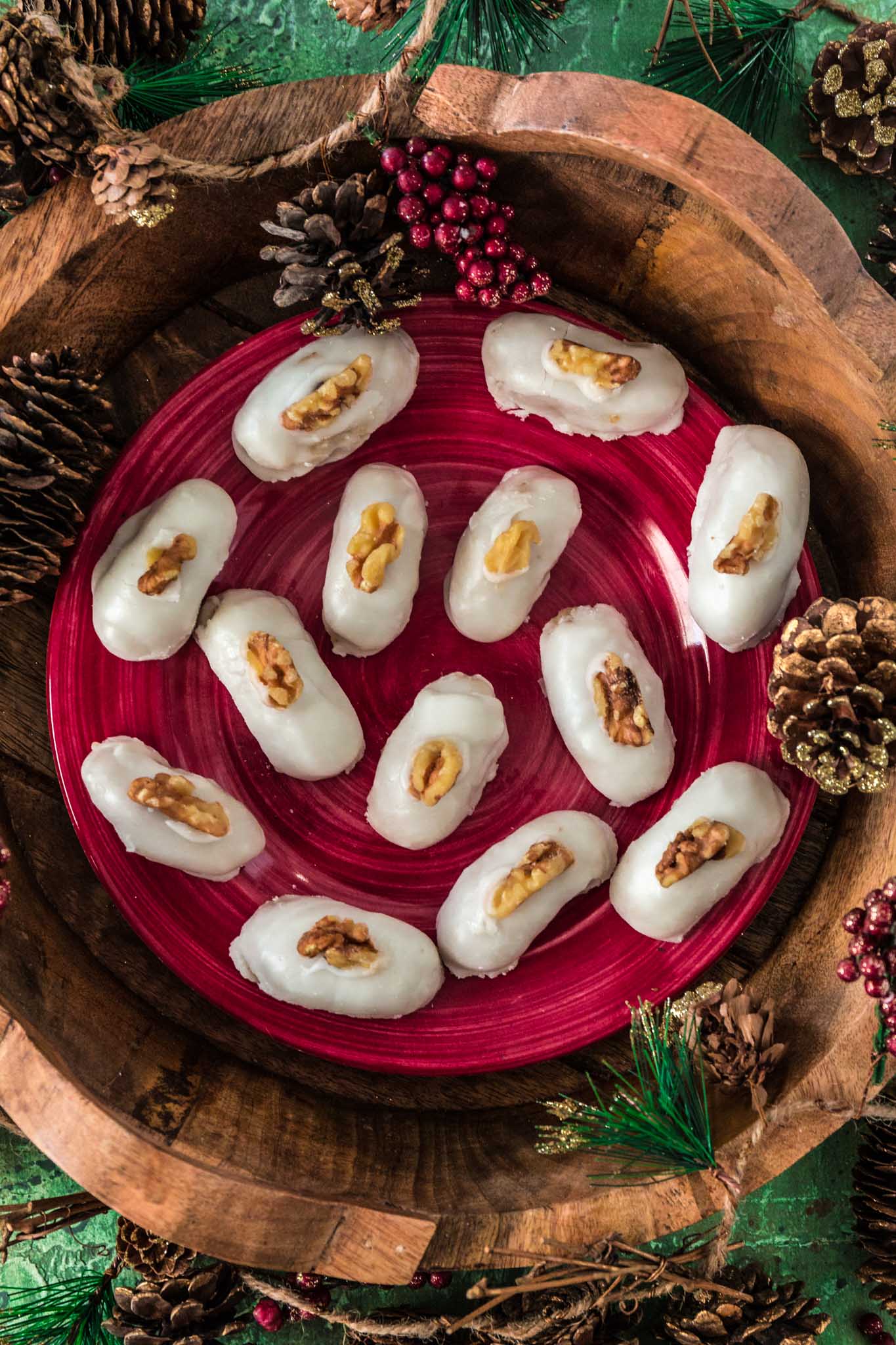 This post is sponsored by Nuts.com but my rate will be donated to a local food pantry.
Merry Christmas! (Or Happy Holidays if you don't celebrate Christmas.) I hope y'all are having a wonderful time among loved ones.
We had family and friends over for Christmas Eve yesterday – following Brazilian traditions – and it was beyond special. Great food and even better company!
Today we are having a quiet day at home, opening gifts from Santa and just enjoying our little girl's first Christmas. I just cannot express how happy I am right now. Everything feels right and my heart is overflowing with joy and love!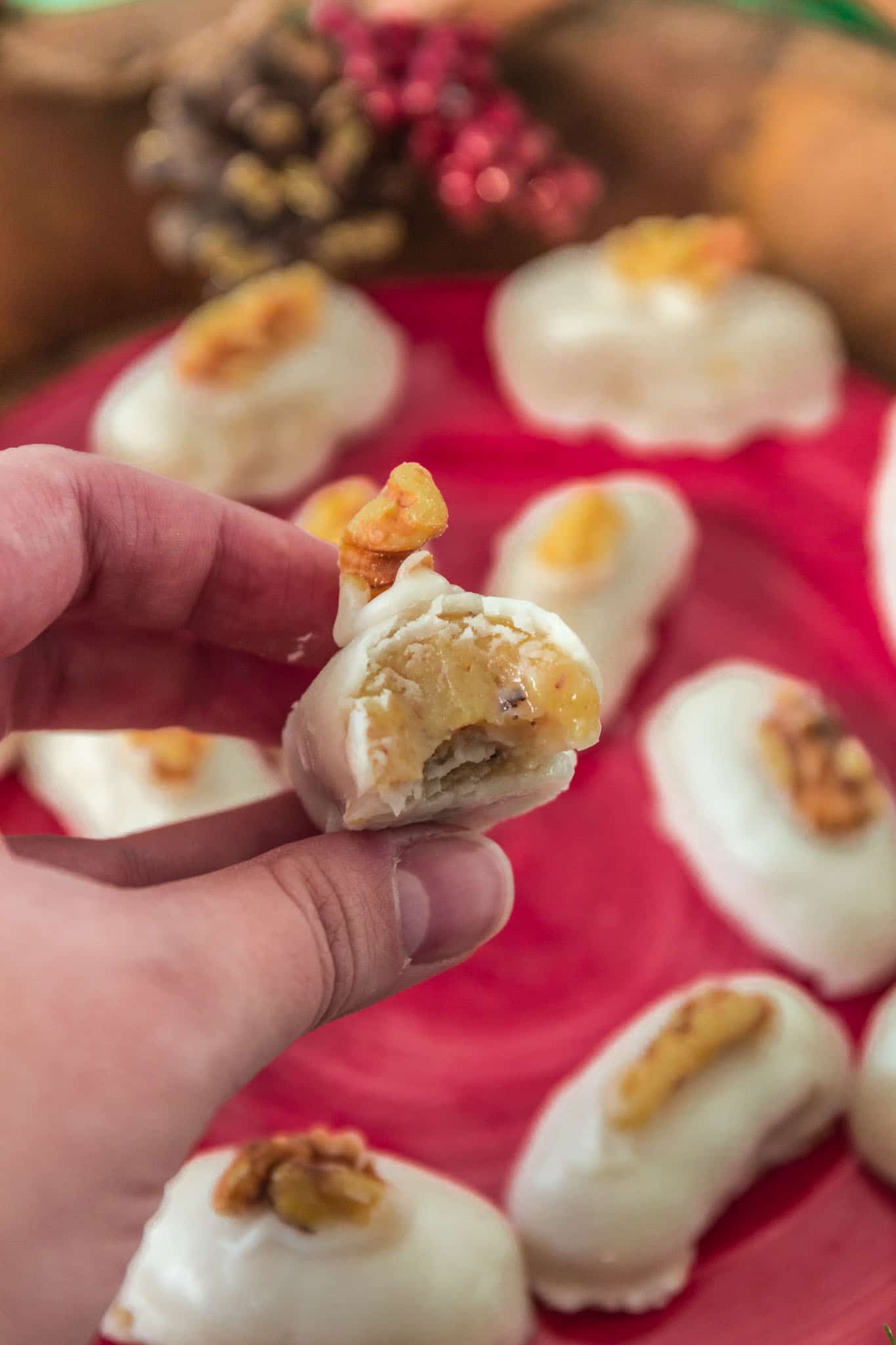 And since it's Christmas and I'm already feeling so joyful, I decided to share a special recipe here on the blog. A classic Brazilian Christmas delicacy: Camafeu de Nozes.
It took me a while to figure out a name for it in English. Bonbon? Truffle? Candy? Nothing feels quite right! I settled for "walnut candy", but you can call them whatever you want.
If you're not familiar with it, this walnut candy consists of a rich walnut paste covered in fondant icing. Simple but very delicious and a hit at special parties, like weddings and Christmas/New Year's Eve.
Although really popular in Brazil, it is a culinary contribution from the Portuguese. The name "camafeu" is inspired by its shape and the resemblance with cameo (camafeu) jewelry.
They are usually served in oval bonbon cups, but I couldn't find any here in the US, so mine are looking quite rustic! Maybe I'll reshoot these photos once I get my hands on those fancy cute cups, but for now you'll have to take my word that these are amazingly delicious despite their homemade appearance.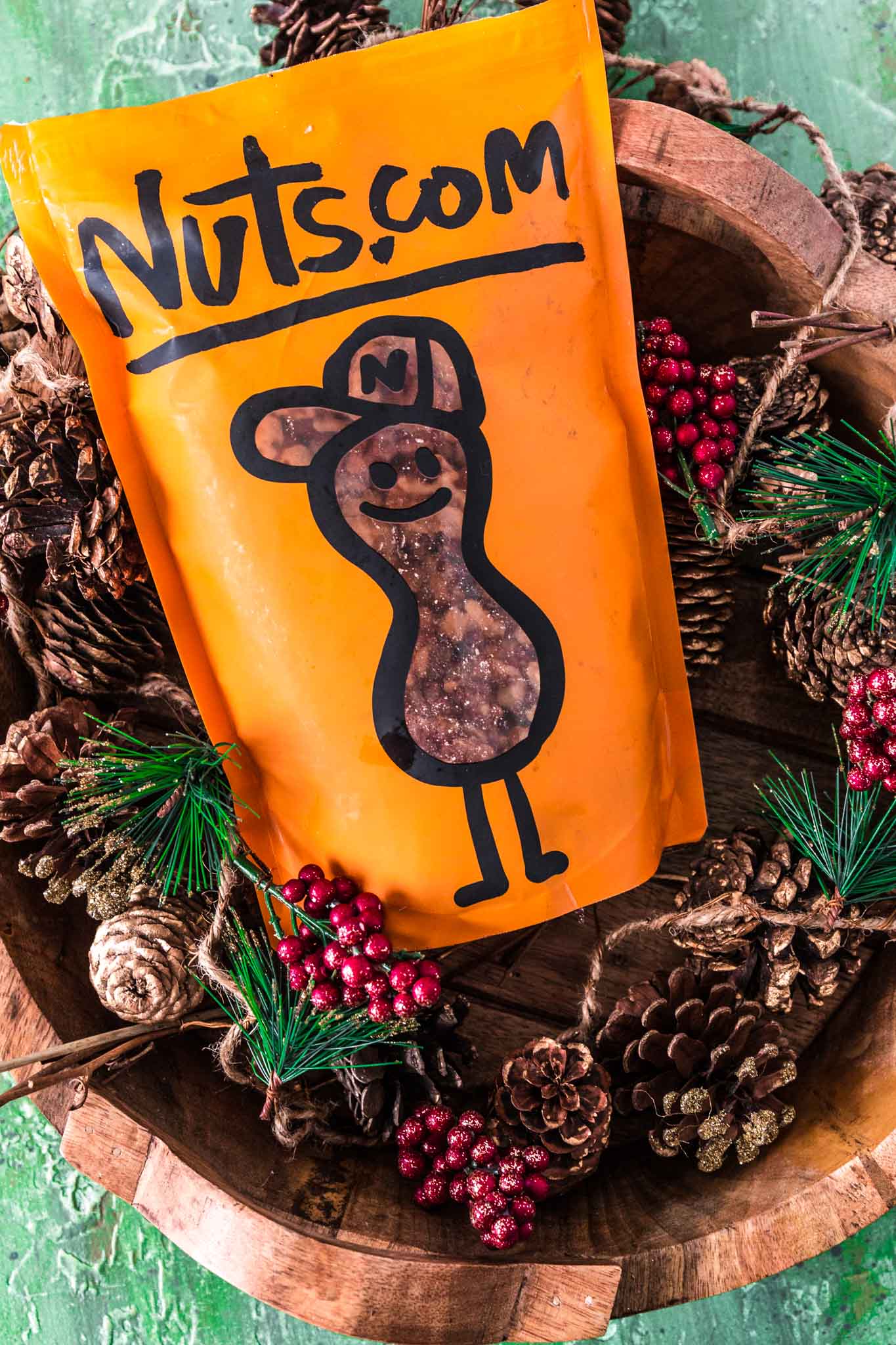 You probably already figured out that the walnuts are the stars of the show here! They are one of my favorite nuts and are a must during the holidays.
I got two big bags from one of my favorite partners, Nuts.com, my go to brand for nuts and yummy goods. I might sound biased, but they truly have the best quality nuts at a fair price!
And as I mentioned in a previous post, they are family owned and wonderful people. I truly enjoy my relationship with this brand, as I like to be authentic when I write sponsored projects, and I recommend them to everyone I know.
If you're looking for fresh nuts and a great customer experience, Nuts.com is the place to go!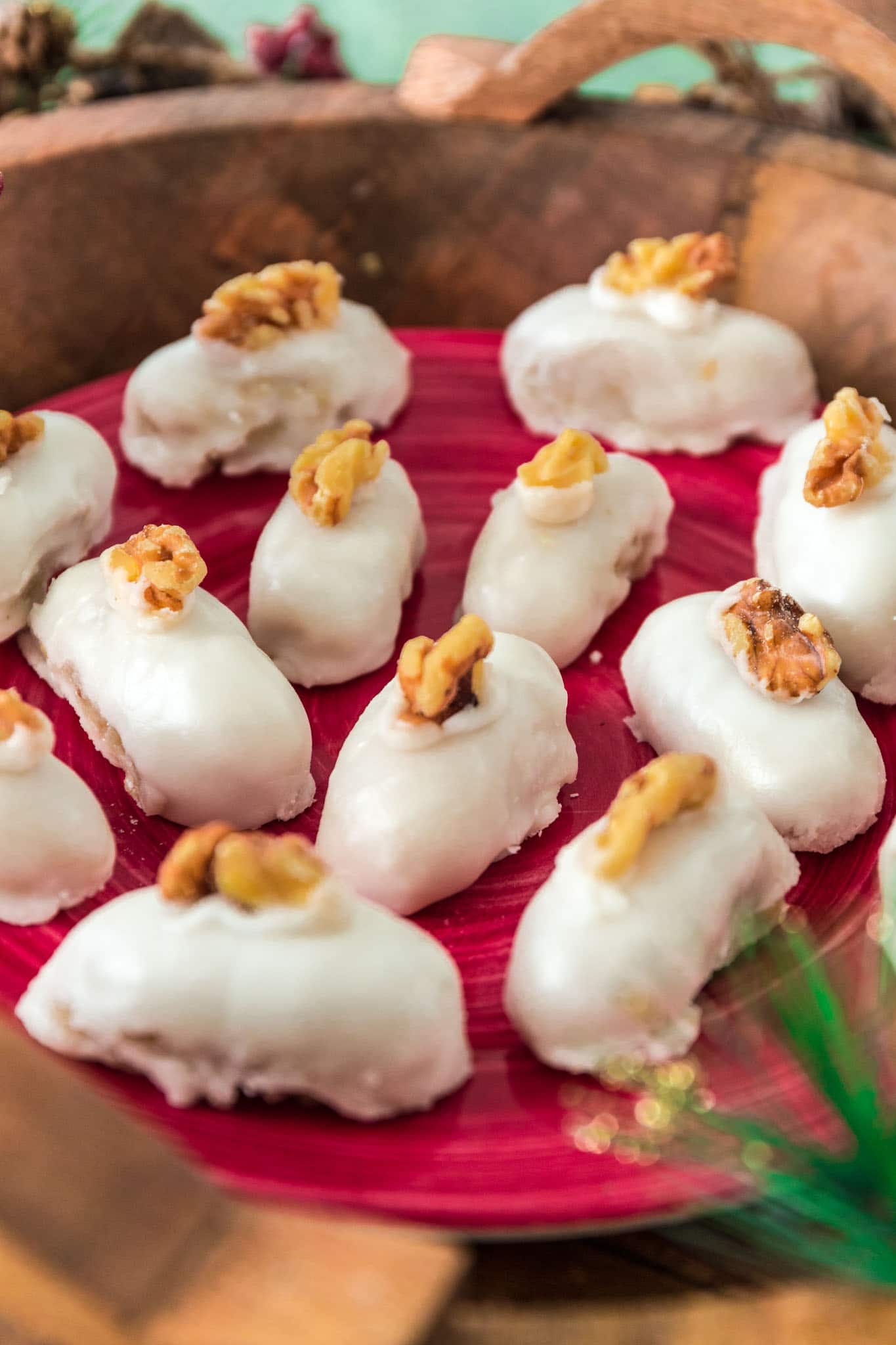 Now, it might be a little too late to have these walnut candies for Christmas, but you should totally do them for New Year's Eve (or any other major festivities, like birthdays, baby showers, Easter or Mother's Day).
Because who doesn't want to enter the New Year eating jewelry inspired treats? :)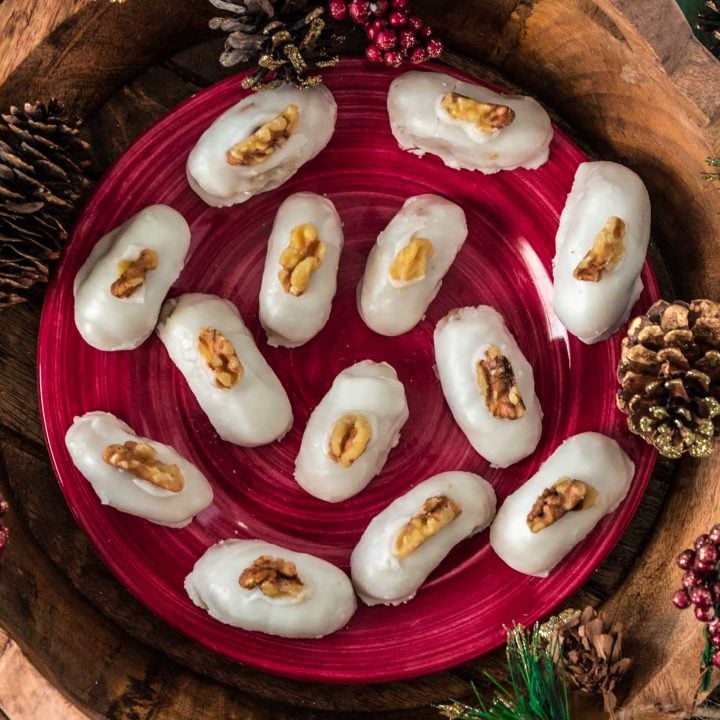 Brazilian Walnut Candy (Camafeu de Nozes)
Yield: about 25 camafeus
Prep Time: 20 minutes
Cook Time: 10 minutes
Total Time: 30 minutes
Ingredients
7 ounces walnuts, plus more to decorate
1 (14 ounce) can sweet condensed milk
4 cups confectioners sugar, swifted
About 1/3 cup milk
One teaspoon lime juice
Butter to grease your hands
Instructions
Add the walnuts to the jar of a food processor and pulse a few times until they are ground, being careful not to turn them into butter.
Transfer the ground walnuts to a saucepan and add the sweet condensed milk, stirring until combined. Bring it to the stove, over medium low heat, and cook - stirring constantly - until thickened and releasing from the bottom of the pan when you run the spoon from side to side. That should take about 10 minutes.
Transfer to a greased plate, cover with plastic film and let it cool to room temperature, preferably overnight.
Use a little butter to grease your hands and take about a tablespoon of the mixture to form into an oval shape roll. Repeat with the remaining mixture and reserve.
In a double-boiler, combine the confectioner's sugar with the lime juice and start adding the milk, a little at a time, whisking firmly until the sugar has melted and you achieve a paste consistency. It should be thick and creamy and not runny, so you might not need all the milk. (See notes.)
Using a fork, dip each camafeu into the glaze, letting the excess drip off.
Transfer the glazed camafeus to a parchment paper covered plate and decorate each with a walnut. Allow them to dry completely before trimming off excess glaze with a knife and transferring them to bonbon cups!
Notes
Keep glaze in the double boiler at all times, or it will harden.If you find that the fondant glaze is getting too thick after a while, feel free to use some more milk to thin it out. If you find that it got too runny, you can add a bit of confectioner's sugar to thicken it up.

The walnut candies will keep in the fridge for up to 5 days or frozen for a couple of months.