Pan Fried Salmon with Passion Fruit Sauce
This Pan Fried Salmon with Passion Fruit Sauce brings a tropical flair to celebrate summer! Salmon fillets are pan fried to perfection and then served with a vibrant, sweet and tangy passion fruit sauce. 
Love passion fruit? Make sure to also check out my Passion Fruit Ice Cream, Passion Fruit Cocktail and Passion Fruit Mimosa.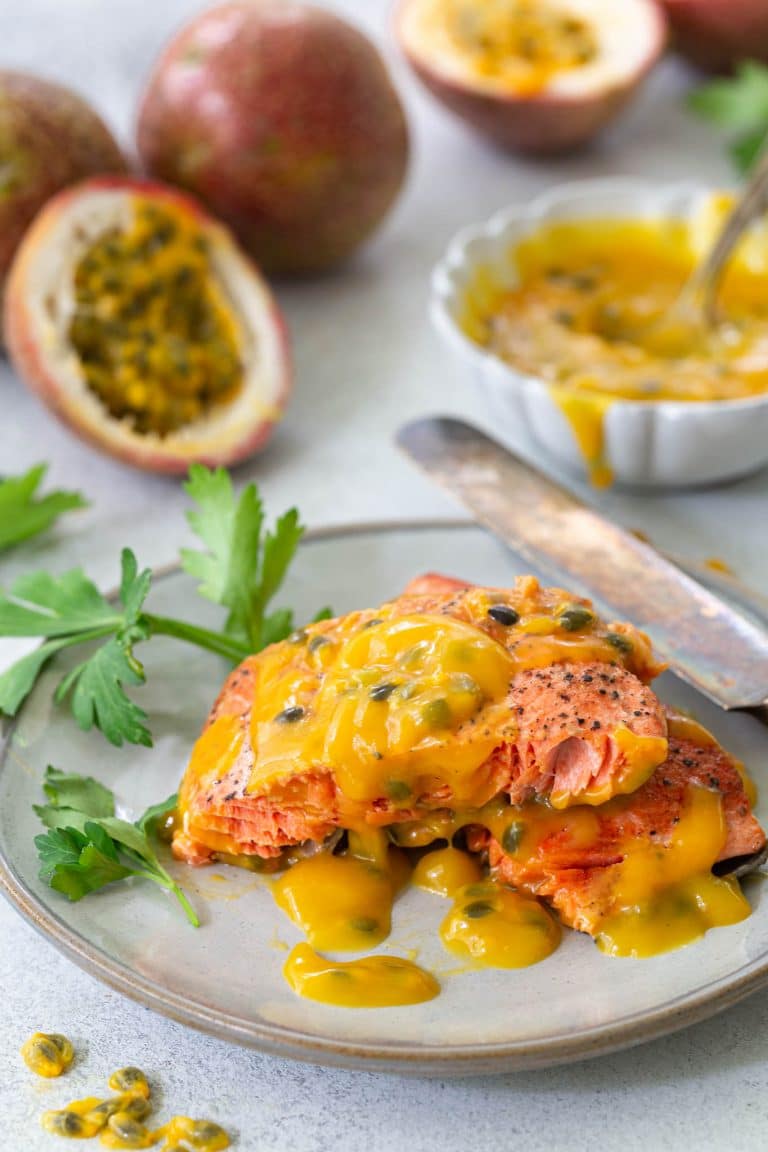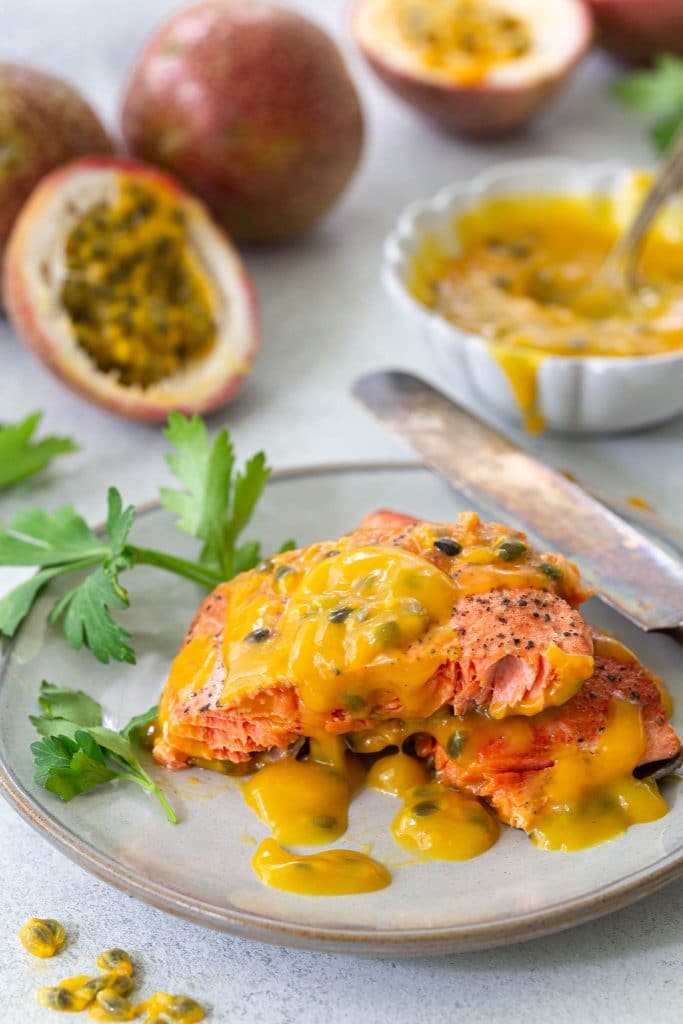 This is a sponsored post written by me on behalf of ACME Markets. All opinions are 100% mine.
A quick and easy salmon recipe!
Summer is almost gone, which means you will see me walking around the produce section, nervously looking for fresh passion fruit.
You see, while this tropical fruit is widely available in my home country (Brazil), it only shows up for about a week here in the United States.
Oh, who am I kidding? You will see it for about 5 minutes, even less if you happen to be someone who got at the store seconds after me.
Because I'm sorry (but not sorry), that while I consider myself a nice person, I will buy all the passion fruit that I can get! Even if that means that you won't get any. Oops!
True, I can easily find the frozen pulp at my store, but I love the wow effect from the seeds, which you can only get if you buy the fruit itself!
That being said, you have to make this salmon recipe even if all you can find is the frozen pulp. The sweet and sour flavor from the passion fruit combined with a little honey pairs beautifully with the melt-in-your-mouth perfectly cooked salmon.
This dish truly tastes like summer!
In this post you will learn:
And a printable recipe!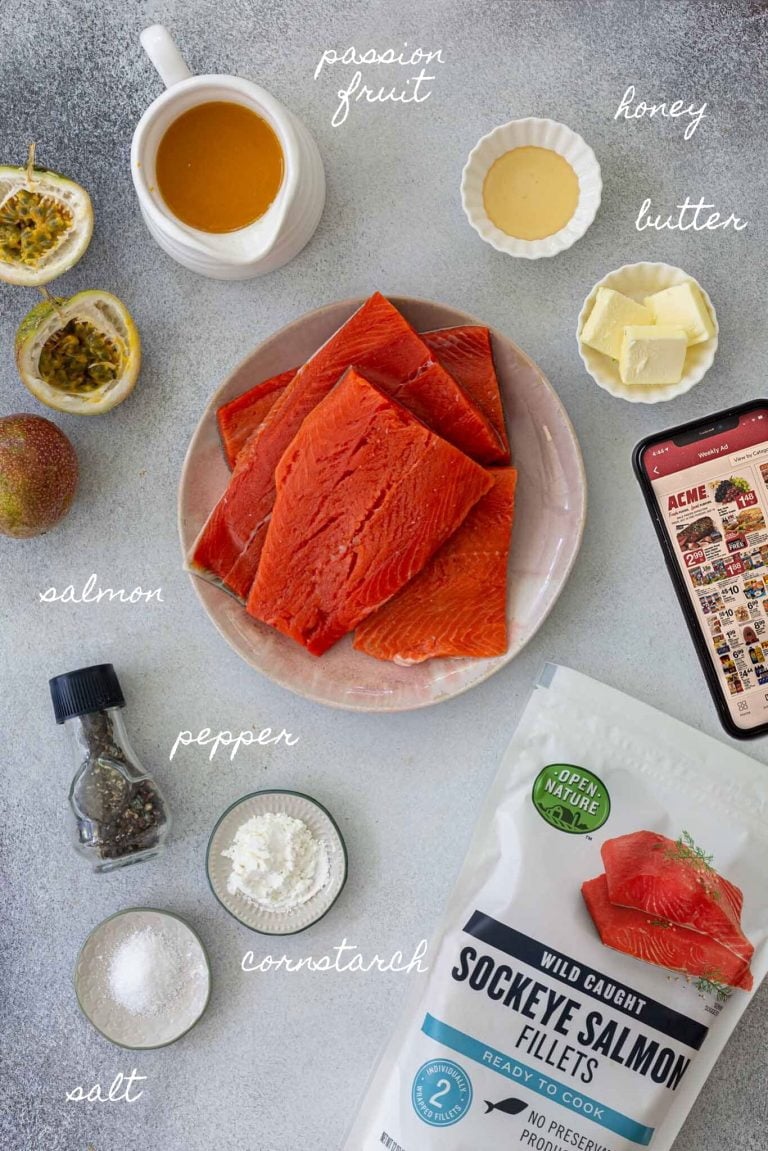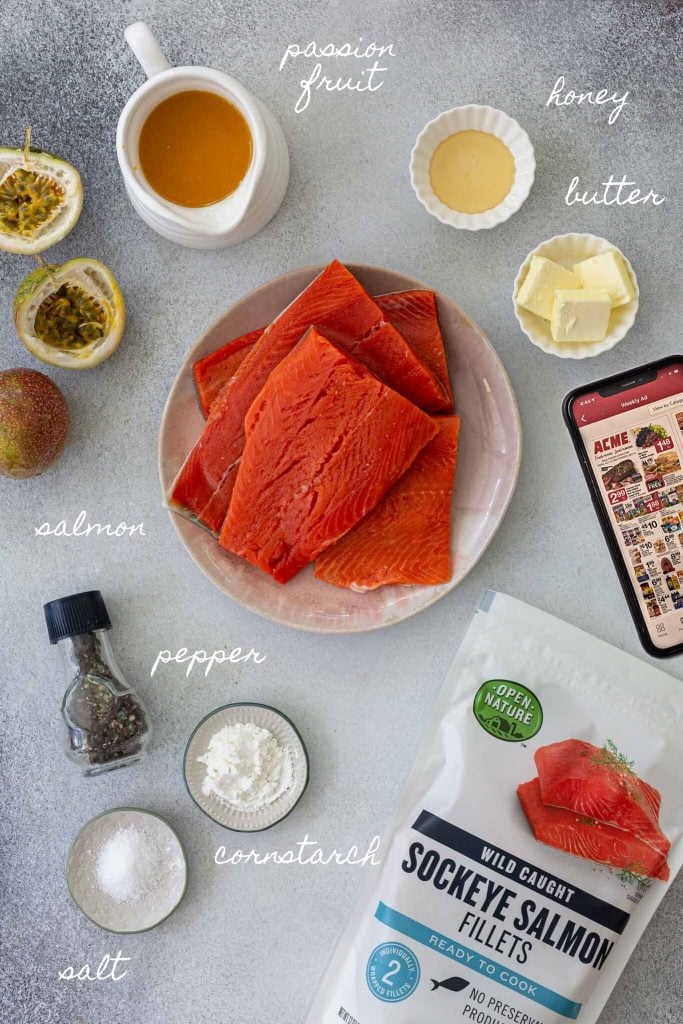 Ingredients
Here's what you'll need to make this salmon recipe:
SALMON – I used Open Nature® Alaskan Sockeye Salmon Skin-on Fillets.
PASSION FRUIT PULP – I was lucky to find fresh passion fruit, so I used that as well as the frozen pulp (thawed). Since finding fresh passion fruit is difficult, you can use just the frozen pulp to make the sauce.
HONEY – I like to add a bit of honey to balance the sourness from the passion fruit. You can omit or substitute for an equal amount of sugar.
BUTTER – We'll use unsalted butter to pan fry the salmon fillets, make the roux and emulsify the sauce at the end. Make sure it is cold.
CORNSTARCH – For thickening the passion fruit sauce. You can use flour if you prefer.
SALT AND PEPPER – For seasoning the fillets. We'll also use a pinch of salt in the sauce.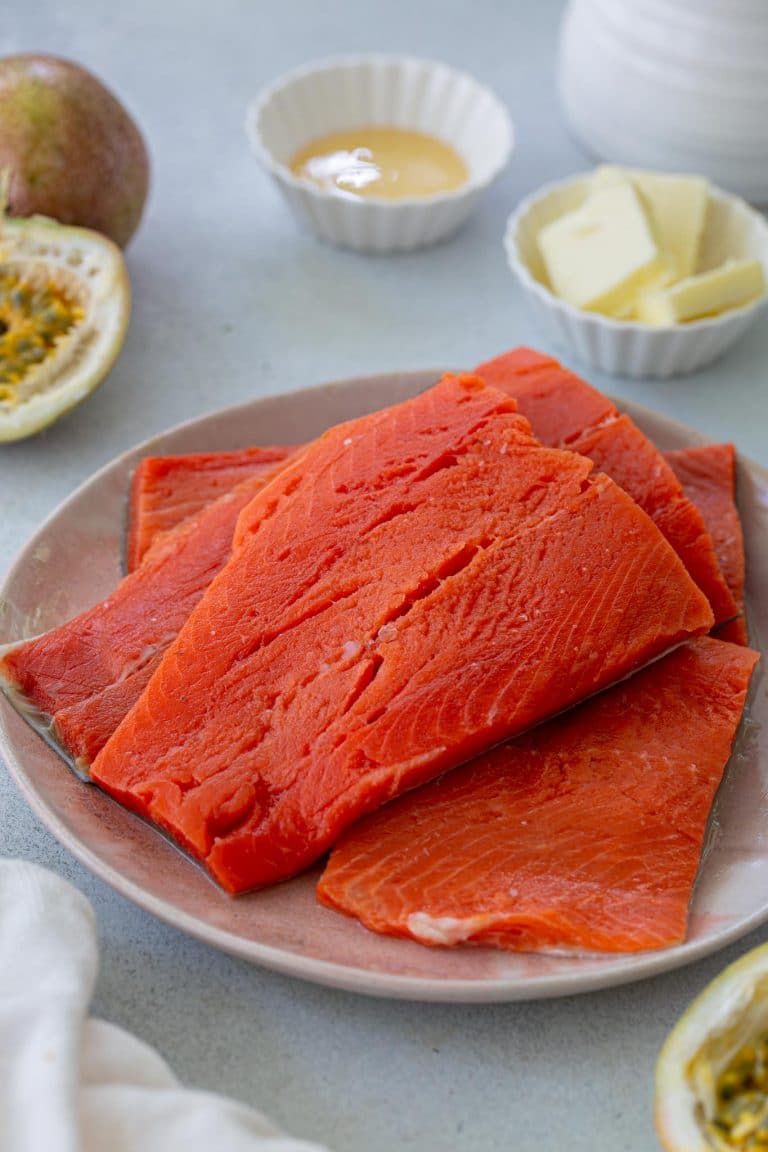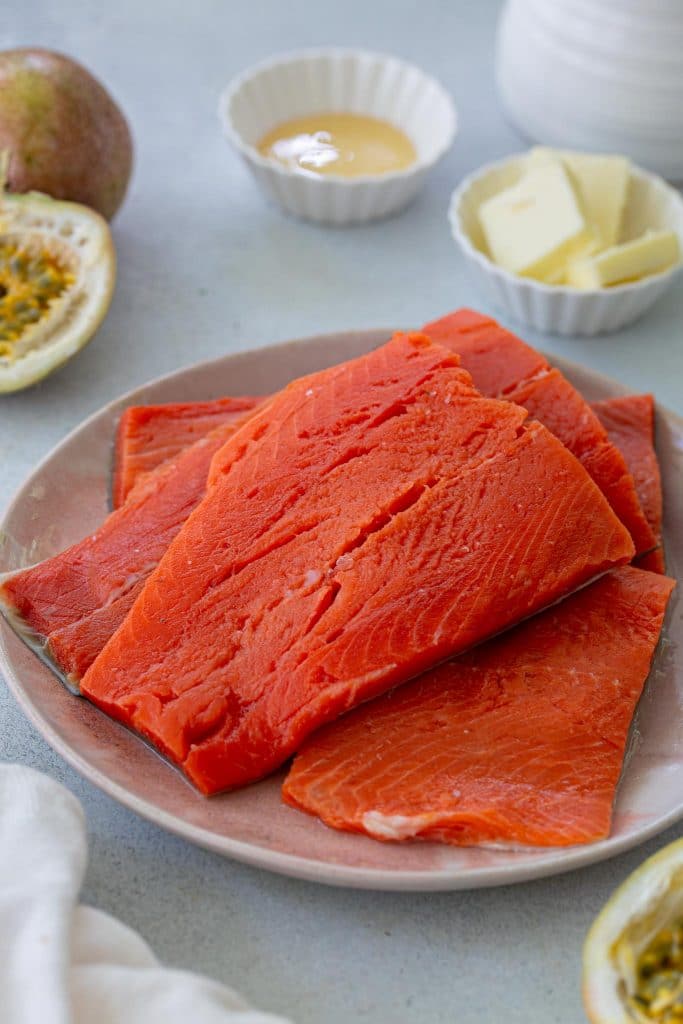 What's sockeye salmon?
Sockeye salmon, also known as red salmon or blueback salmon, is an anadromous species of salmon found in the Northern Pacific Ocean and rivers discharging into it.
It gets its name from a Halkomelem word from the indigenous people of British Columbia, suk-kegh, which means "red fish".
This species is known for their deep red flesh and full flavor. Salmon lovers often say sockeye tastes the most like salmon.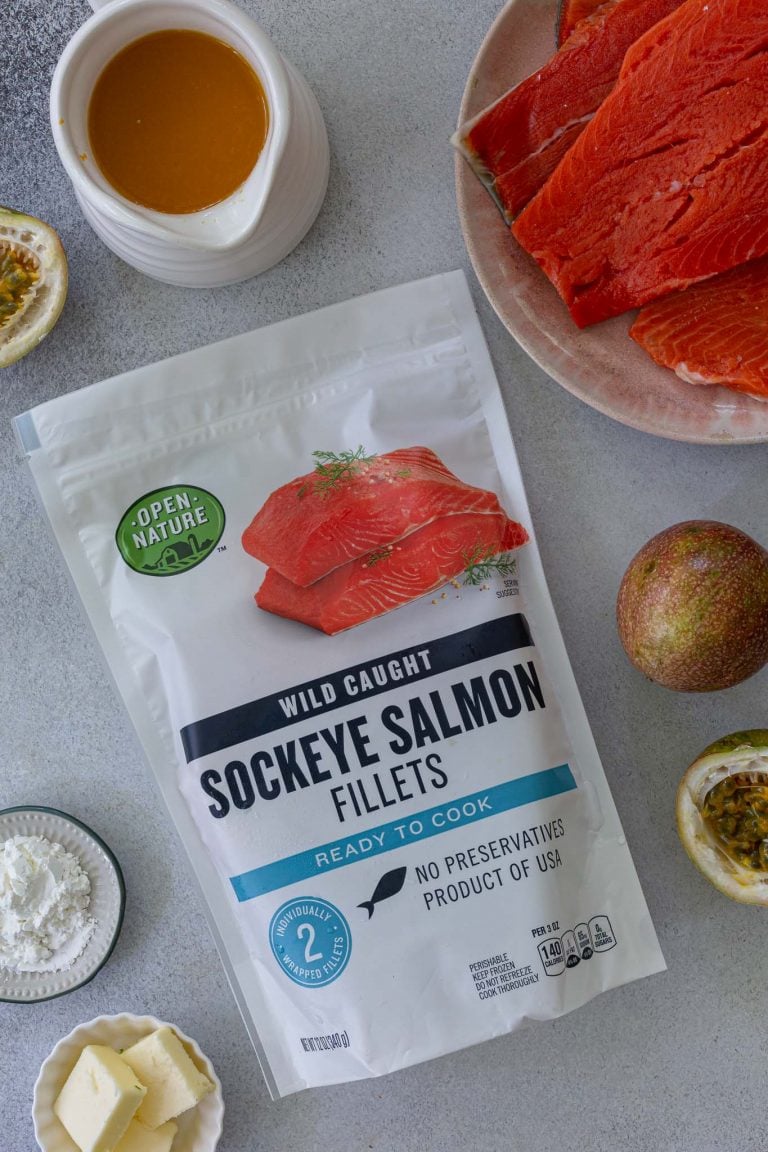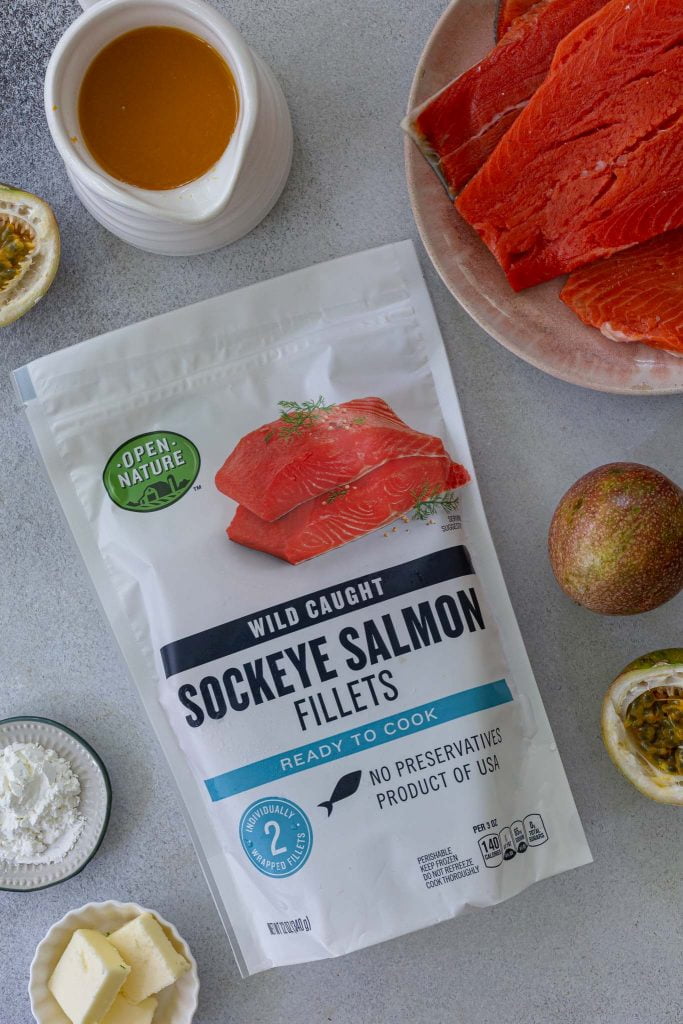 Fresh VS Frozen Salmon
If you don't live near salmon fishing territory, frozen salmon is the way to go.
You know that wild salmon that is sitting on a bed of ice at the fish counter? I would bet good money that it is thawed, frozen fish.
Because unless that fresh fish is being airlifted from Alaska as soon as it was caught, it would have to have been frozen to be preserved for travel. Nobody would want fresh fish that sat in a container for days.
And since you don't want to risk buying fish that has been sitting out or that has been frozen and thawed several times, do yourself a favor and head straight to the frozen fish section of your grocery store.
Once you're there, I highly recommend you buy Open Nature Wild Caught Salmon Fillets.
Not only is their seafood wild caught with no preservatives and frozen shortly after being harvested, but they are committed to raising and catching seafood in ways that help safeguard future supplies, helping to keep ocean ecosystems thriving. That's what the Responsible Choice™ Label represents.
I find them at my local ACME Markets, but you can also buy them at the Albertsons Companies family of stores, including Albertsons, Safeway, Jewel-Osco, Vons, Randalls, Shaw's Supermarket, Star Market, Tom Thumb and Vons.
ACME Markets also offers Grocery Delivery and Drive Up & Go™ for convenient ways to shop!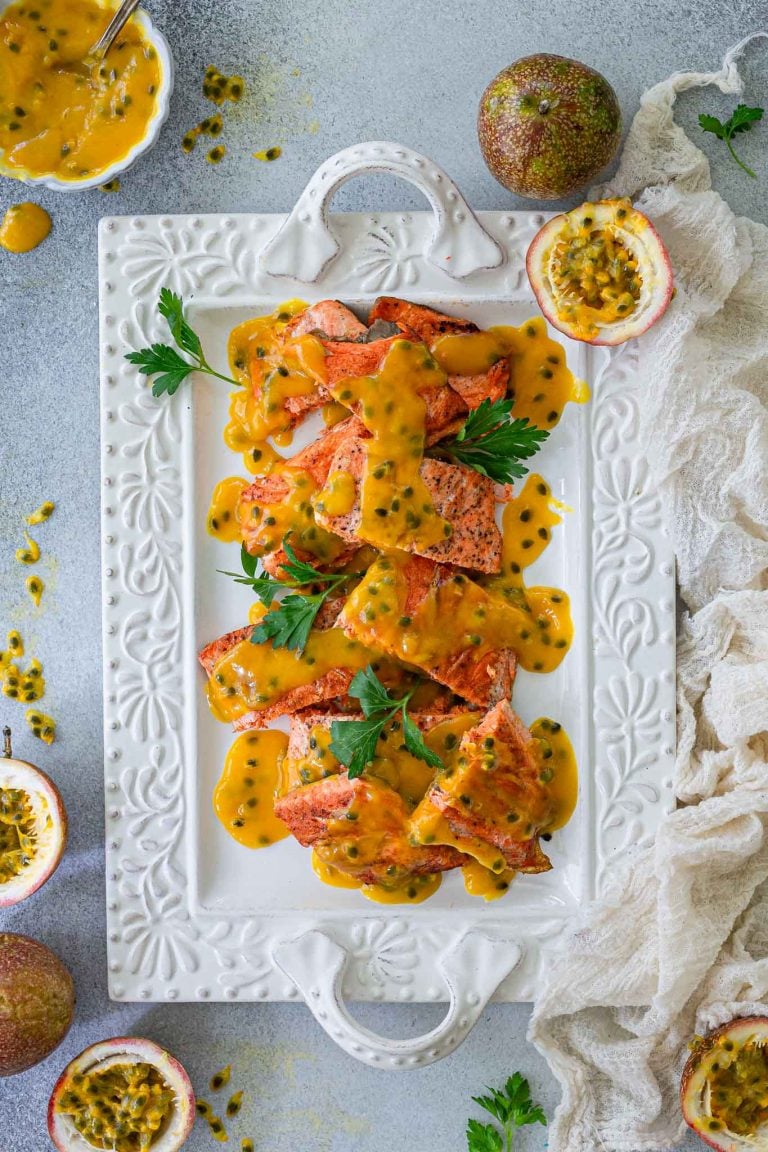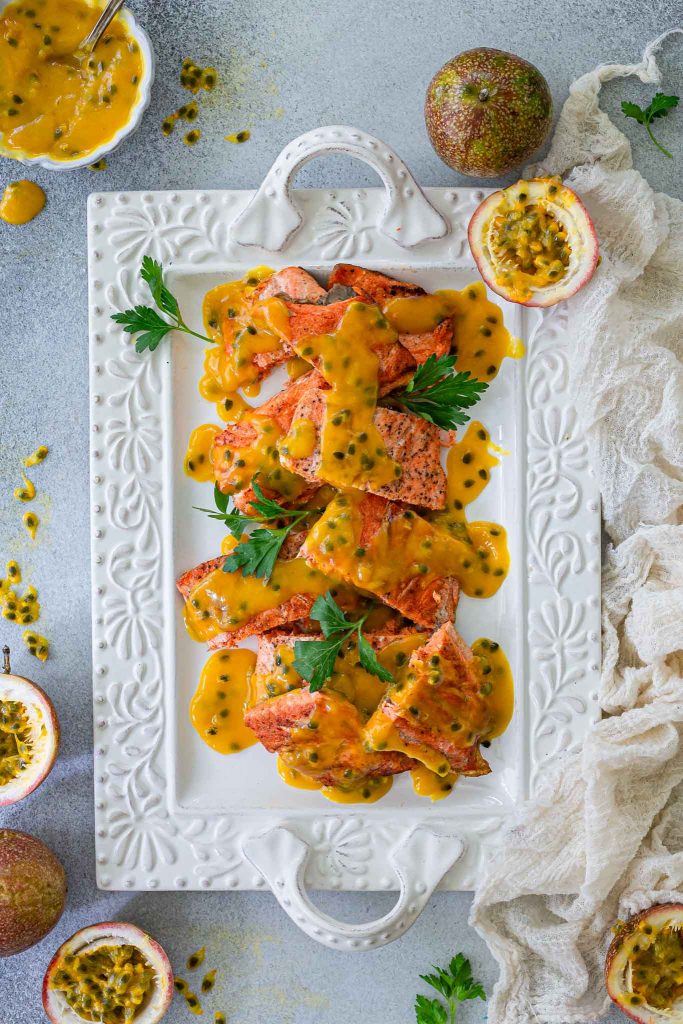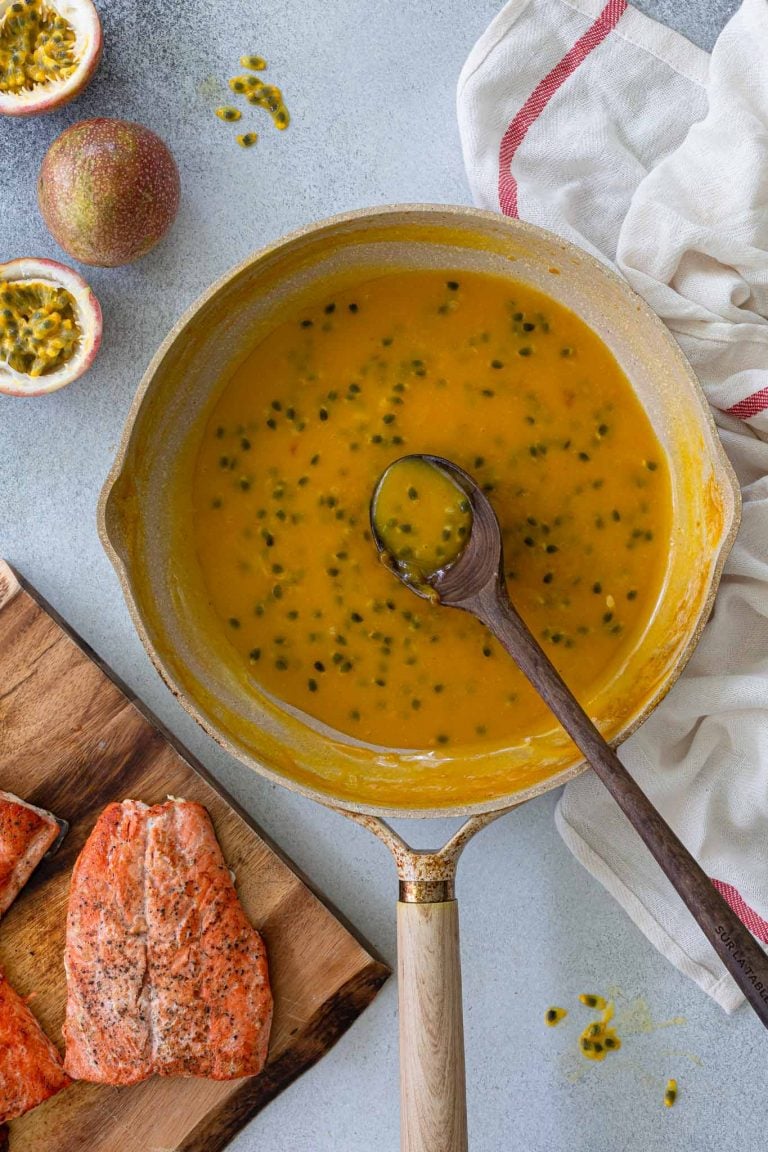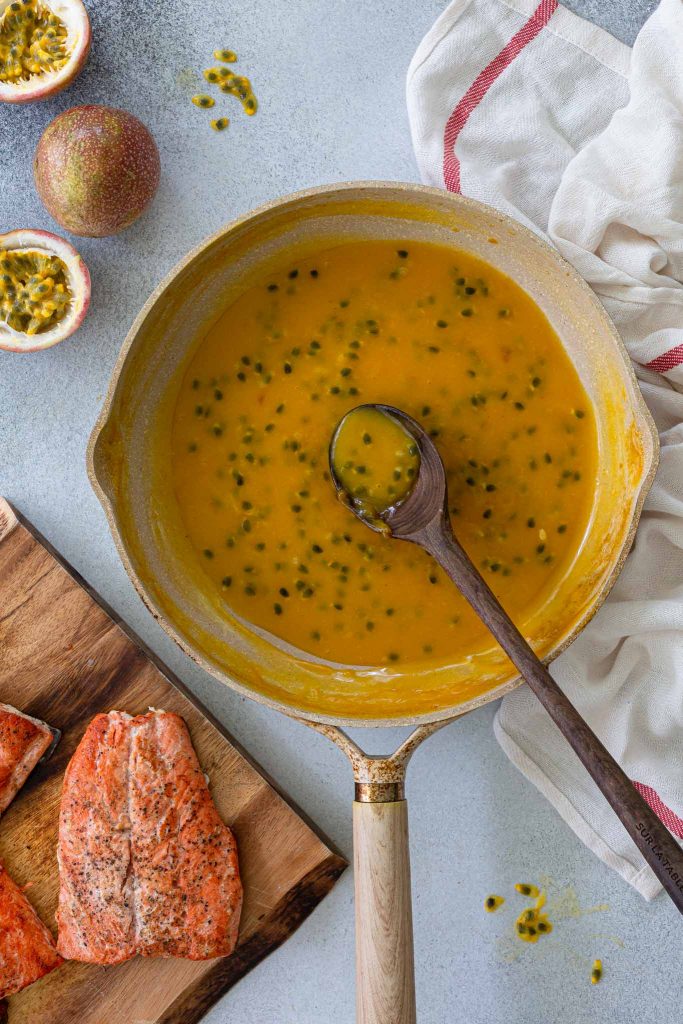 How to make Pan Fried Salmon with Passion Fruit Sauce
This is truly a simple and quick recipe that is perfect for those warm days when you don't want to heat up your kitchen for too long!
And as long as you pay attention to not overcook the fish, you will be rewarded with an impressive, bright and summery dish that tickles your tastebuds like no other.
How to prevent it from overcooking, you ask? Well, just cook it mostly with the skin-side down, flipping it over at the end just to firm up and get some color on the flesh side.
We are pan frying here, but this recipe works great on the grill too. In that case, you would make the sauce on the stove and serve it over your grilled salmon.
Recommended tools: sharp knife, nonstick skillet, whisk.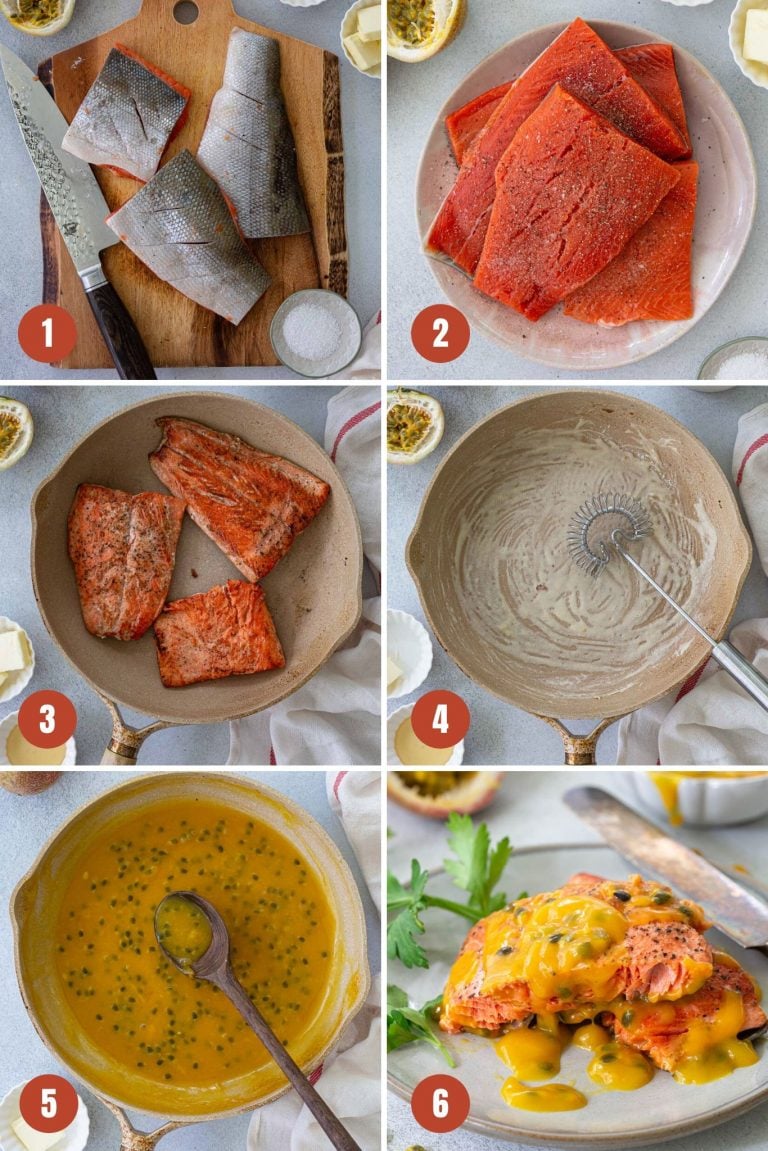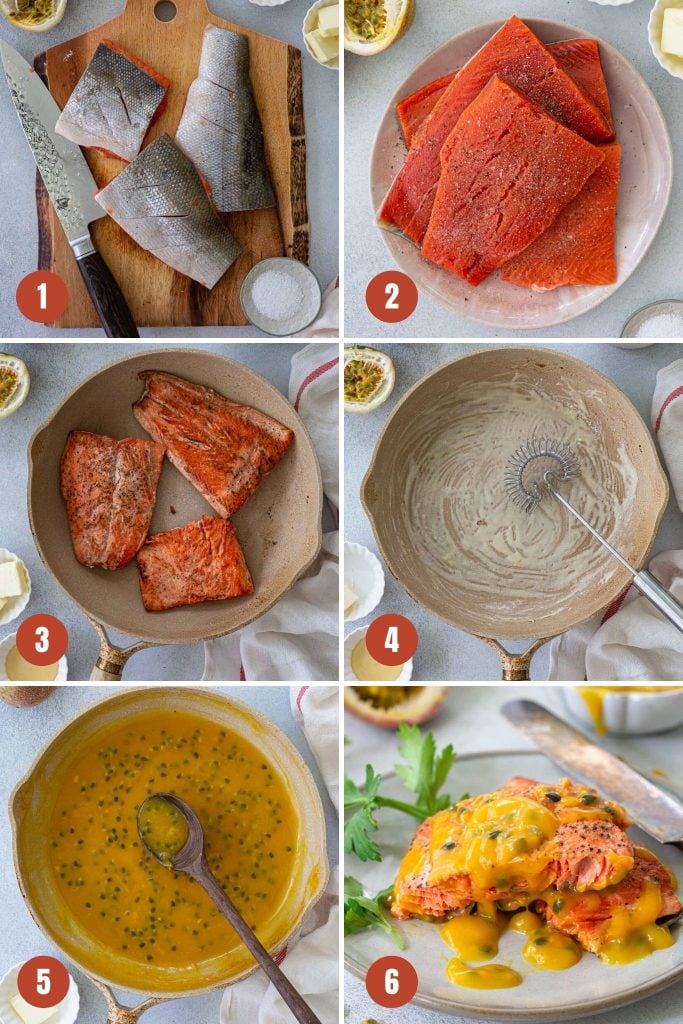 How to prep salmon
Let the salmon fillets thaw overnight in the fridge.
When ready to cook, remove them from the fridge and let them sit at room temperature for 5 to 10 minutes before cooking.
With a sharp knife, make 3 or 4 shallow slashes through the skin of each piece of salmon. (Photo 1) This will prevent the skin from curling up as it cooks. Be careful not to cut into the flesh or the fish will fall apart when cooking.
Season generously, on both sides, with salt and pepper. (Photo 2)
Olivia's Tip
By starting with a fish that is not too cold, you'll be able to cook it for a shorter amount of time, which will yield juicier results!
How to pan fry salmon
Heat butter in a large nonstick skillet, over medium-high heat.
Place the fillets, skin-side down, and cook until the skin is crispy. Then, gently flip them over with a spatula and cook for a few minutes until golden brown. (Photo 3)

Passion Fruit Sauce
Use the same skillet to prepare the sauce!
Add the butter and cornstarch, whisking until combined. (Photo 4)
Slowly pour the passion fruit pulp, whisking until the sauce has thickened. Add the honey and a pinch of salt.
Add the cold butter and stir vigorously to emulsify. (Photo 5)
Serve the salmon with the sauce spooned on top! (Photo 6)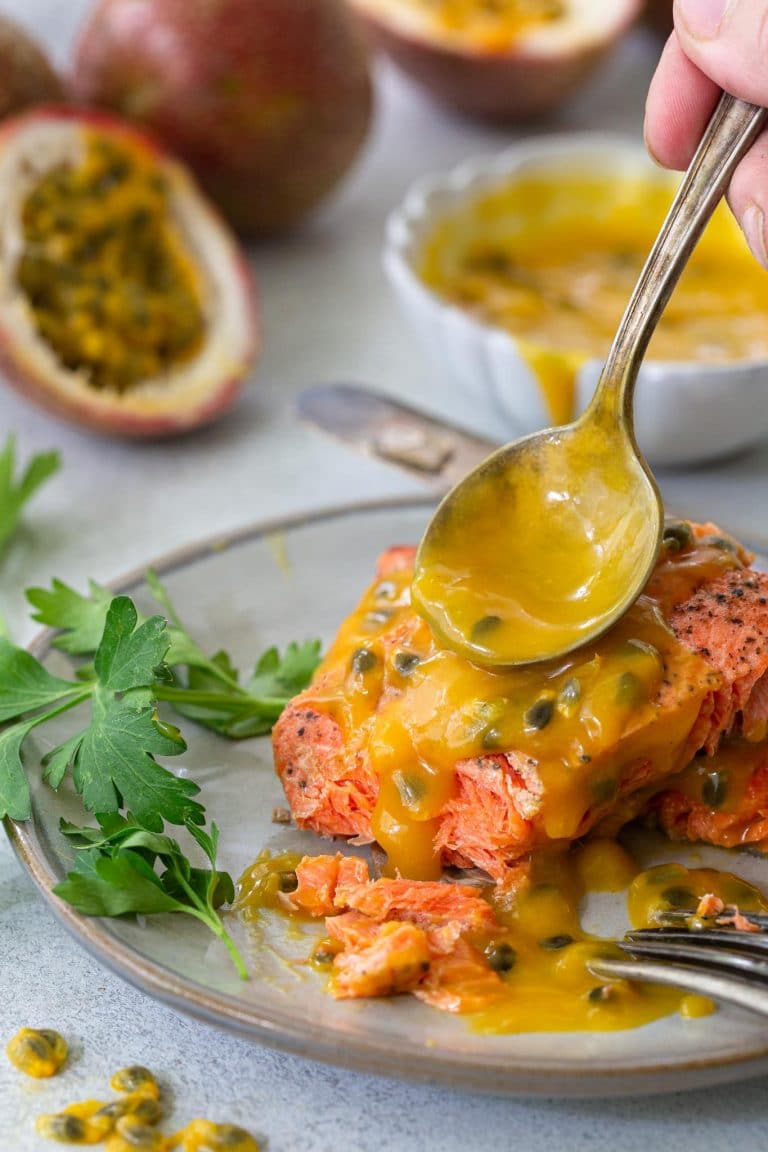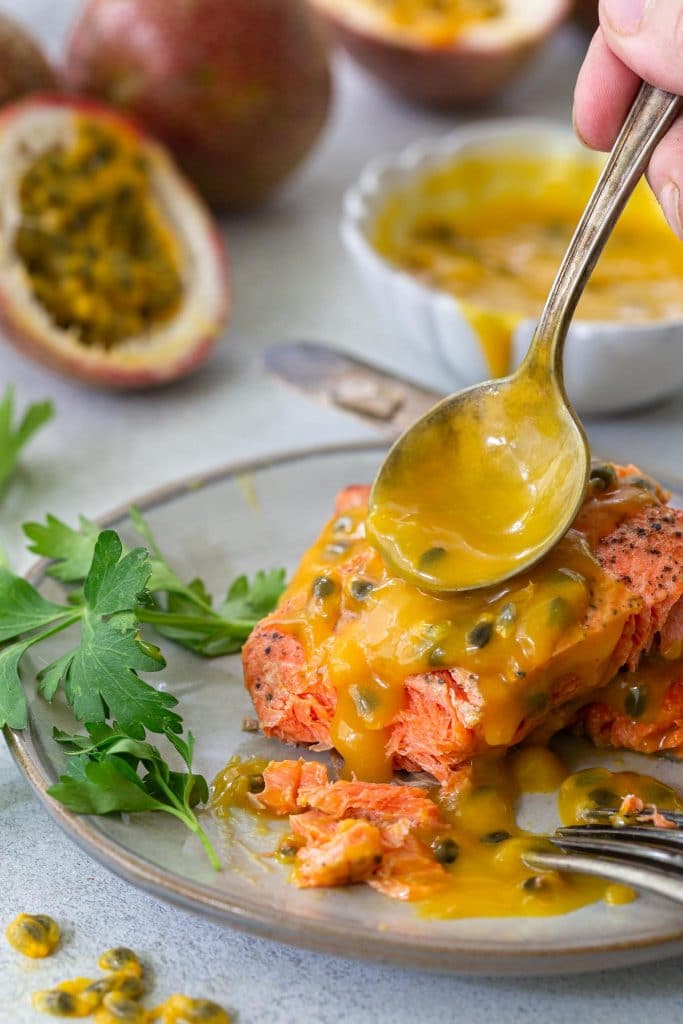 Recommended internal temperature for salmon
It's my job to warn you that the FDA recommends cooking fish to an internal temperature of 145 degrees F.
That being said, most people would find that salmon that was cooked to that temperature is not as moist and tender as they'd like.
For a flakier, juicier fish, I would cook the salmon fillets to medium-rare, to a temperature of 120-125 degrees F.
Serving suggestions
Since this dish is so bold due to the passion fruit sauce, I like to serve it with simple side dishes that will complement but not outshine it.
Here are a few suggestions: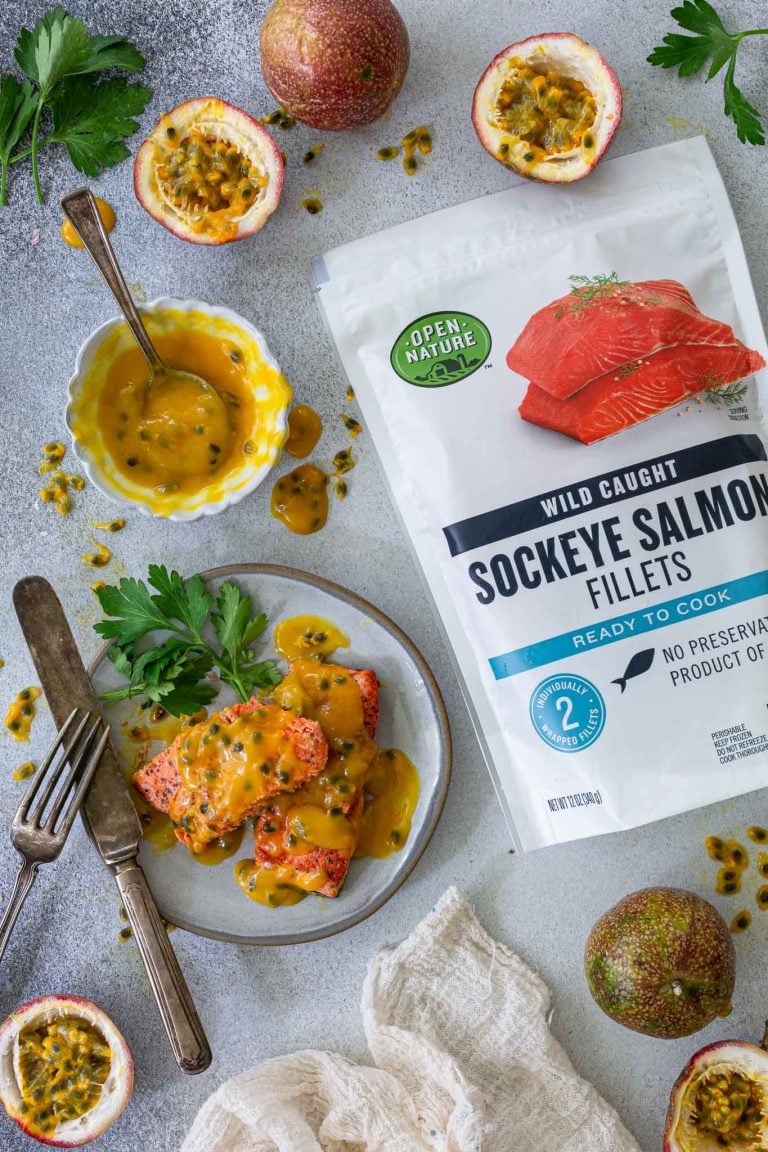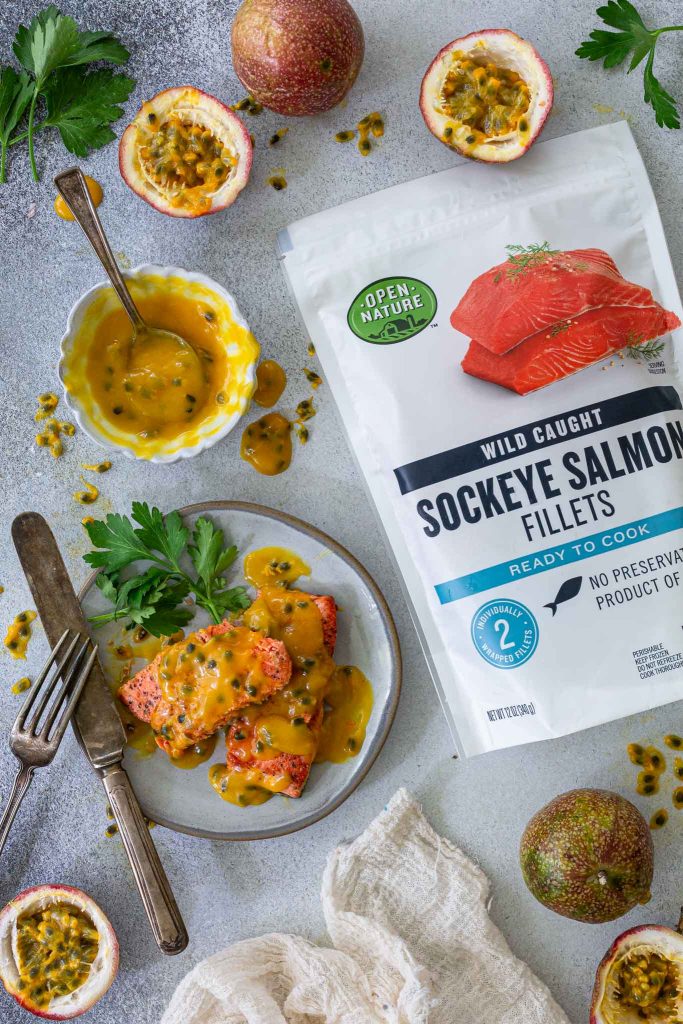 Pan Fried Salmon FAQs:
Can I pan fry salmon from frozen?
As long as you cook the salmon to a safe internal temperature of at least 120 degrees F, you can cook it from frozen.

However, since the fillets will take longer to cook, you risk overcooking them and they won't be as flaky and tender as the thawed ones.
Can I cook salmon in advance?
Freshly cooked salmon is much better than reheated salmon. Considering it takes less than 15 minutes to make this recipe, I wouldn't recommend cooking it ahead of time.
How to reheat pan fried salmon
If you happen to have leftovers and need to reheat it the next day, the first thing to do is to accept the fact that the fish won't be as juicy as when it was freshly cooked.

If you want to proceed, place the leftover fillets on a rimmed baking sheet and loosely cover with foil. Reheat in the oven, at 275 degrees F, for 15-20 minutes or until it reaches an internal temperature of 120 to 125 degrees F.

Alternatively, you can flake the leftover salmon and use it cold in salads or wraps, or as a main ingredient in a new dish like salmon cakes, pasta or breakfast hash.

Did you make this recipe? I love hearing from you! Please comment and leave a 5-star rating below. You can also take a photo and tag me on Instagram with #oliviascuisine.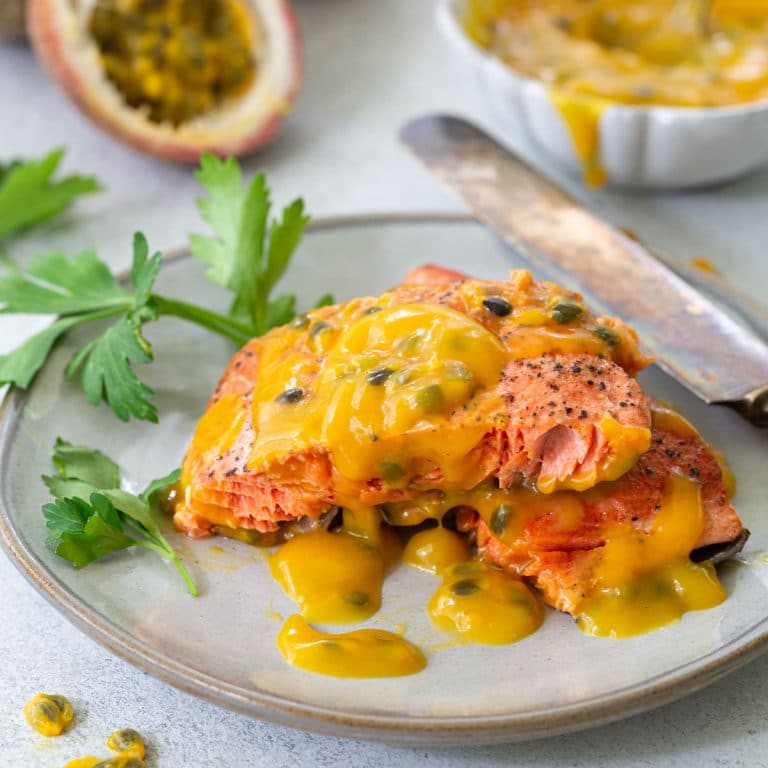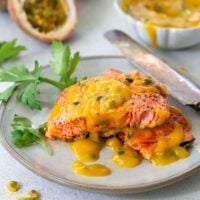 Pan Fried Salmon with Passion Fruit Sauce
This Pan Fried Salmon with Passion Fruit Sauce brings a tropical flair to celebrate summer! Salmon fillets are pan fried to perfection and then served with a vibrant, sweet and tangy passion fruit sauce.
Ingredients
4 skin-on salmon fillets
Salt and freshly ground black pepper, to taste
3 tablespoons unsalted butter, cold
1 tablespoon cornstarch
1 1/4 cups frozen passion fruit pulp, thawed
Flesh of 2-3 fresh passion fruits, optional
1 tablespoon honey, or to taste
Instructions
Remove the salmon from the fridge and let it sit for 5 to 10 minutes before cooking.

Use a sharp chef's knife to make 3 or 4 shallow cuts on the skin side of each fillet, being careful not to cut into the flesh. Season the salmon on all sides with salt and pepper.

Heat one tablespoon of butter on a large nonstick skillet, over medium-high heat. Add the fillets, skin side down, and pan fry until the skin is crispy and releases easily from the pan, about 4 minutes. Carefully flip the fillets with a spatula, and cook the flesh side until firm and golden brown, no more than 1-2 minutes. Remove the fish to a plate and reserve.

Lower the heat to medium and place the skillet back on the stove. Add another tablespoon of butter and the cornstarch, whisking to make a roux.

Start pouring the passion fruit juice, whisking constantly to thicken the sauce, about 1-2 minutes. Once the sauce is thickened to the desired consistency, add the honey, fresh passion fruit flesh (if using) and a pinch of salt. Remove from heat and add one tablespoon of cold butter, whisking vigorously to emulsify.

Taste the sauce and adjust the sweetness as needed.

Arrange the salmon skin side-down on a platter, with the passion fruit sauce spooned over the fillets.

Serve immediately.
Notes
Frozen Salmon:
If using frozen salmon, thaw it overnight in the fridge. While you can pan fry salmon from frozen, you will get juicier and flakier results if you thaw it first.
Internal Temperature:
The FDA recommends fish to be cooked to a internal temperature of 145 degrees F.
However, if you're after a juicy and tender fish, I recommend you cook your salmon medium rare to no more than 125 degrees F.
Leftovers:
Leftovers are best used to make other dishes, like salads, salmon cakes or pasta.
If you must reheat, lay the fillets on a baking sheet, cover with foil and reheat in the oven at 275 degrees F for 20 minutes.
You can reheat the passion fruit sauce in a saucepan, adding a little water or juice to bring it back to the original consistency.
If you like this Pan Fried Salmon recipe, you will also love: