Classic Vichyssoise Soup
Oui, oui!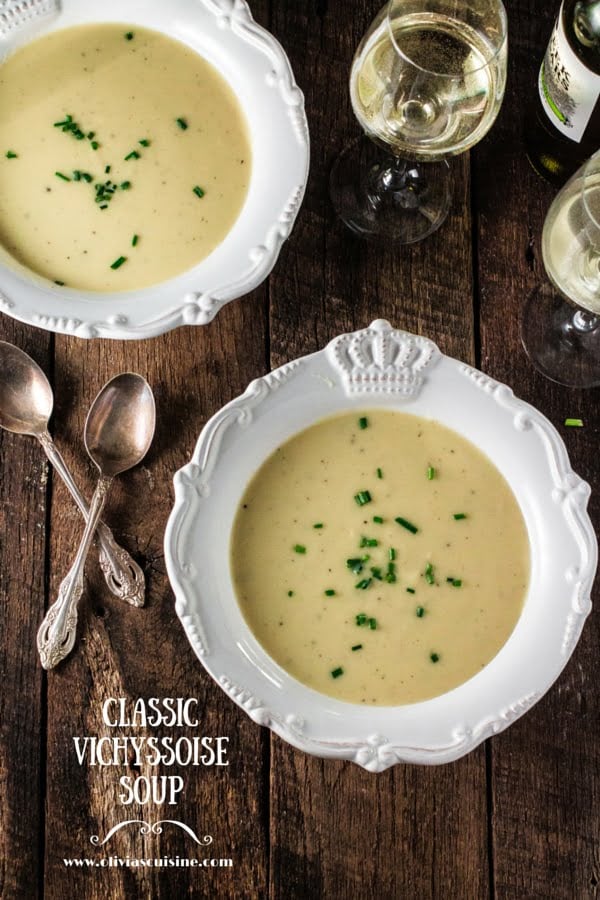 I have a feeling you are staring at this picture and thinking I definitely went crazy. Soup?!? In the summer?
Calm dooown and carry on!
My friends, I introduce to you the perfect summer appetizer: a cold leek and potato soup, best known as Vichyssoise. (I mean, you probably already knew this dish, as it is very popular. But the post wouldn't have the same dramatic effect without the "I introduce to you" part. Right?!?*insert confused emoticon here*)
This delicious creamy soup – made of onions, puréed leeks, potatoes, chicken broth and cream – is typically served chilled as a first course during the warm months, but can also be served hot. (Hello southern hemisphere friends!! How's winter going?)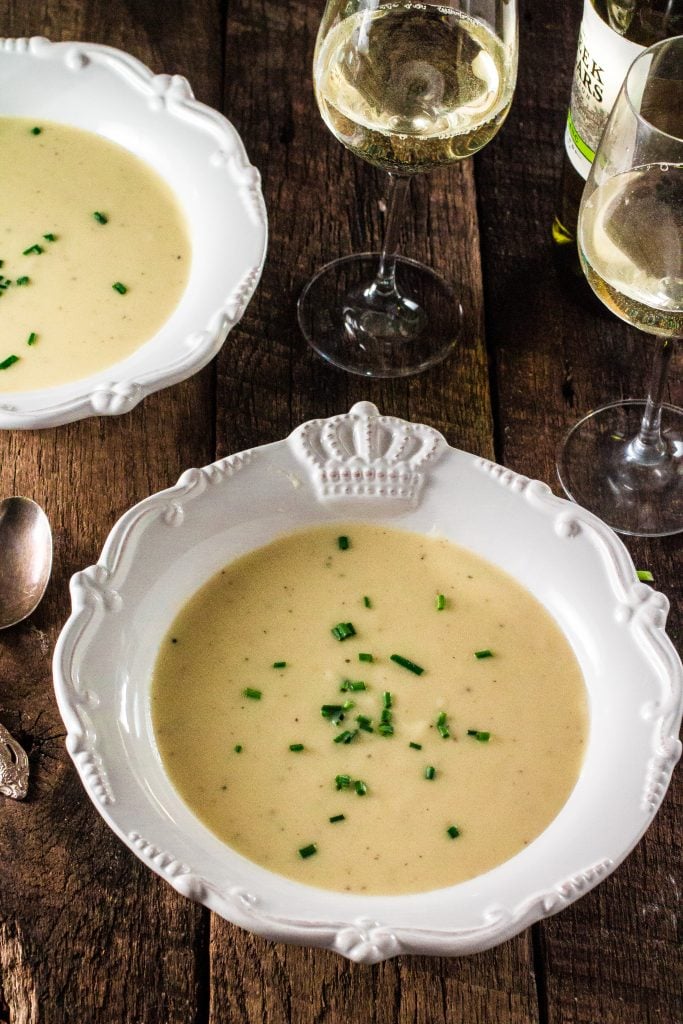 Despite the French name, some people (aheeeem, Julia Child) claim that this is "an American invention", as opposed to a traditional French dish.
French or not, the dish is attributed to Frenchman Louis Diat. He (re)invented the soup in 1917, in New York City while working at the Ritz-Carlton Hotel.
Diat was born in Vichy, France, where hot potato and leek recipe was a traditional dish. So, for the opening of the Ritz-Carlton Hotel's rooftop garden, he decided to serve that same soup of his childhood, only cold and with cream. He called it Crème Vichyssoise Glacée.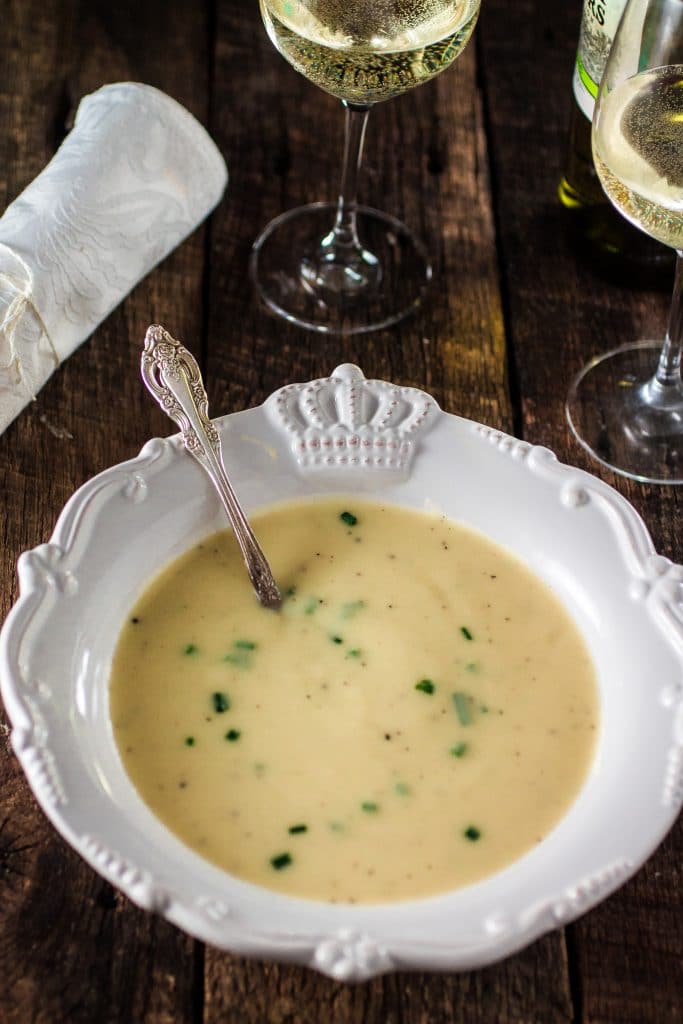 What I like the most about this recipe is that I can make it ahead of time, as the flavors will only get better as the soups chills in the fridge.
However, before serving, I like to bring it closer to room temperature, so the flavors can shine. If it's too cold, you can't really differentiate all the dimensions in there and it will taste as a plain potato soup. Bleeeeh!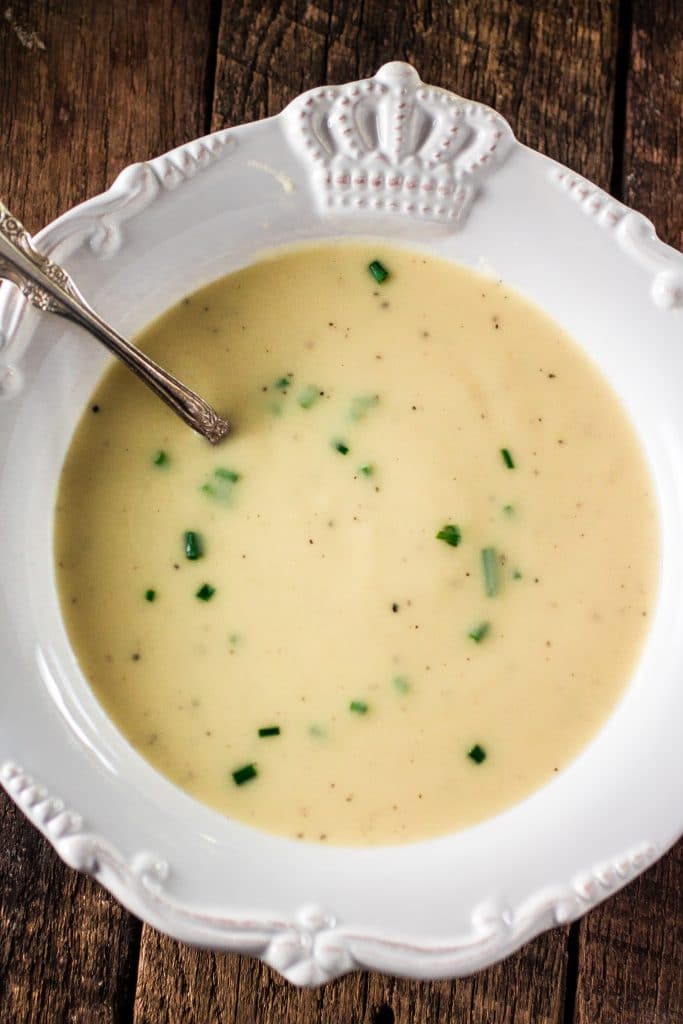 My younger self would have never thought that eating cold soup was acceptable. She barely ate soup at all! Thankfully, my palate evolved with time and now I appreciate a plate of this soup for lunch on a hot summer day.
As for serving it at a dinner party… Well, let's say your guests will be impressed and will definitely appreciate you not serving another of those plain boring old salads.
P.S. Wanna keep in touch? Follow me on
Facebook
,
Twitter
,
Instagram
or
Pinterest
to stay up to date with my posts! If you end up making one of my recipes, I would love to see it! Just take a photo and post it on your preferred Social Media and tag me or use the hashtag #oliviascuisine!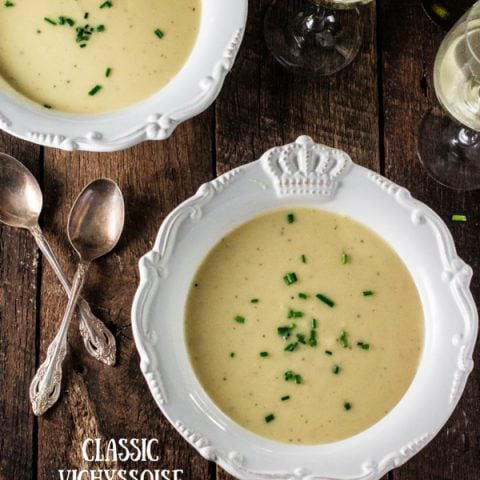 Classic Vichyssoise Soup
Yield: 6 as an appetizer or 4 as main course
Prep Time: 1 hour
Cook Time: 45 minutes
Total Time: 1 hour 45 minutes
Ingredients
1 large sweet onion, chopped
2 tablespoons butter
1 tablespoon olive oil
3 large potatoes, peeled and diced
6 large leeks, thoroughly rinsed and sliced (white and light green parts only)
1 quart chicken broth
Salt and pepper to taste
A pinch of nutmeg
1/2 cup heavy cream
Chives to garnish
Instructions
In a heavy bottomed pot, or dutch oven, heat the olive oil and the butter, over medium high heat.
Sauté the onion until translucent (about 2 minutes).
Add the leeks and sauté until soft (about 4-5 min).
Add the potatoes and sauté with the onions and leeks for a couple of minutes. Season with salt and pepper.
Add the chicken broth and bring to a boil.
Lower the heat and simmer for 30 minutes, or until the potatoes are tender.
Using an immersion hand blender, puree the soup until smooth. Alternatively, you can work in batches using a regular blender.
Add the heavy cream and turn the heat back up to medium. Cook for about 5 minutes so it thickens a little.
Taste for seasoning and add more salt and pepper if necessary. Add a pinch of freshly grated nutmeg. Remove from heat.
Wait for the soup to cool down to room temperature and chill for at least one hour before serving (overnight is better).
Garnish with some chopped chives and serve.