Arugula and Prosciutto Pizza
It's pizza time! Again!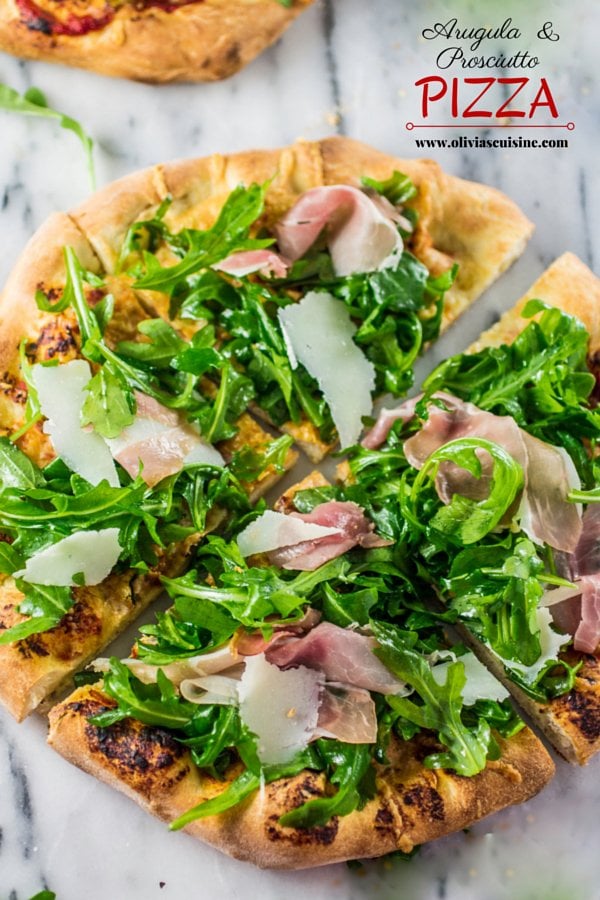 'Another pizza recipe? Ma che caspita?' Said… uh.. no one EVER!
And in case you are wondering, "Ma che caspita?" means something like "What the heck?" in italian. Yes, I speak a little italian. Mostly curse words…
Anyway, back to pizza. You guys know how serious I am about my pizza. I should probably have a blog just for my pizza creations. But since having two blogs seem like an insane amount of work (and time I do not have), here I am, sharing yet another pizza recipe that I hope you will love!
The warm weather doesn't stop me from craving pizza. No, not at all! In fact, it inspires me to make pizza with beautiful fresh ingredients that are now in season. We are talking artichoke, asparagus, arugula, spring onions, garlic, fresh herbs and even strawberries. They all belong in a pizza and pizza belongs in mah belly!
For example, doesn't this Arugula and Prosciutto Pizza scream spring? The peppery arugula combined with the paper-thin salty prosciutto and the buttery parmesan on a crispy crust makes the perfect Spring dinner!
Oh, and let's not forget the mozzarella! Why? Because I love cheese, that's why!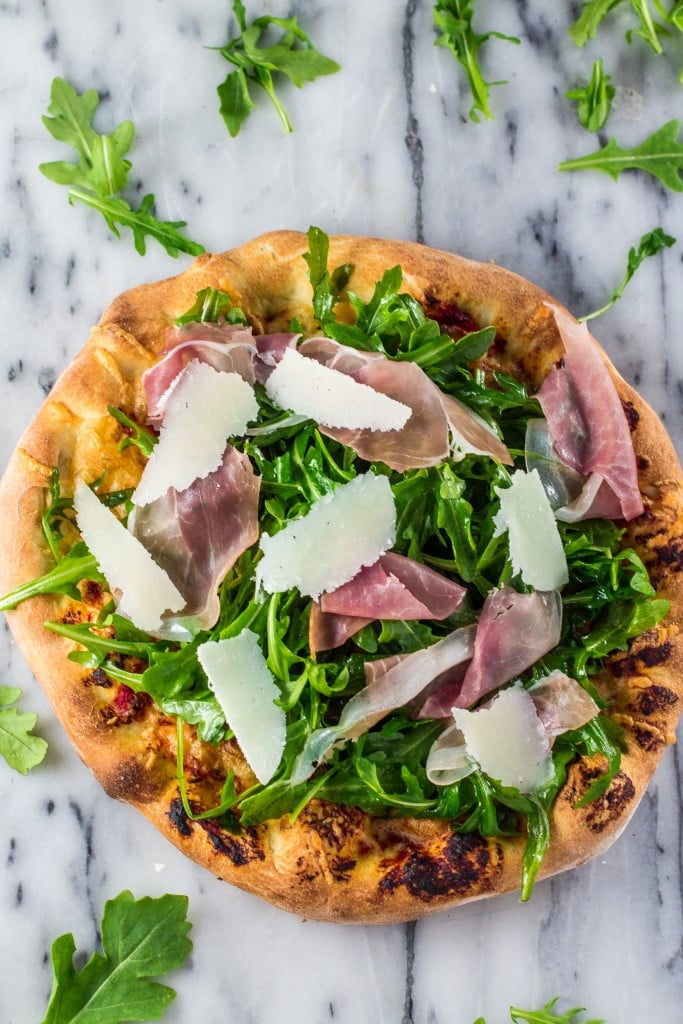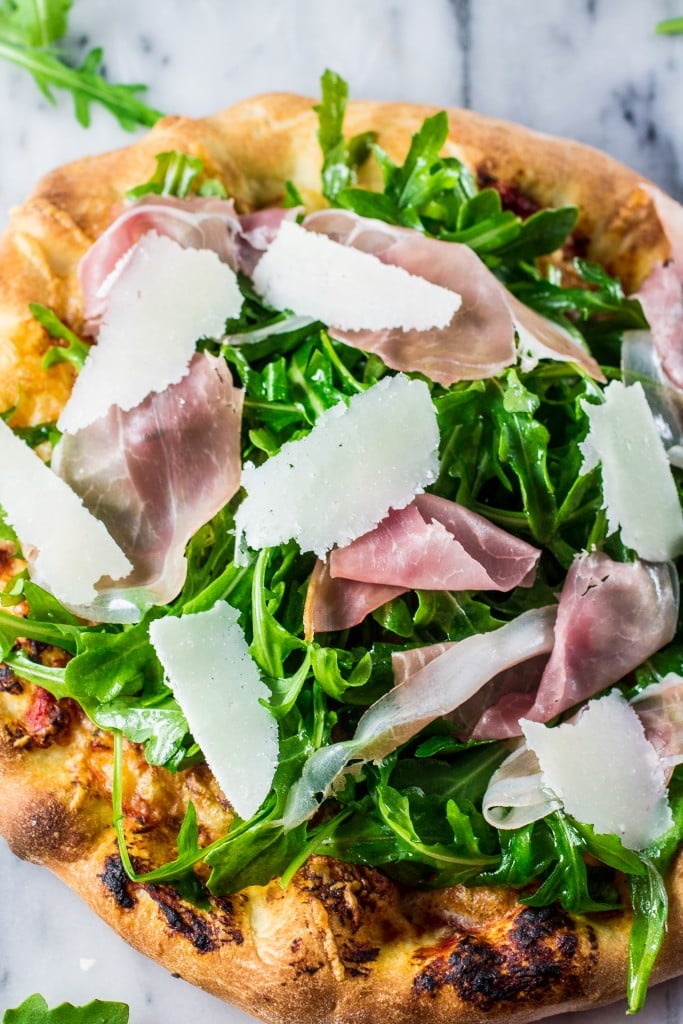 I like to toss my arugula with some olive oil and lemon juice, just to make it extra special!
The recipe I came up with has 1 cup serving per individual pizza. It is quite a bit because I like an arugula explosion in my mouth, but feel free to customize however you like! That's the beauty of homemade pizzas! You can make it perfect for you.
Also, I know I've said that before, but the secret to a perfect pizza is… *rolling drums*… a pizza stone! It is the only way to get pizzeria quality pizzas at home. It is pretty inexpensive and a very good investment if you make homemade pizza a lot!
Mine lives in the oven so I don't have to worry about storage! I make homemade pizza and bread every week, so I can't live without my pizza stone!
I hope you guys enjoy this recipe! Keep an eye out for some other pizza recipes coming soon. I just can't get enough! :P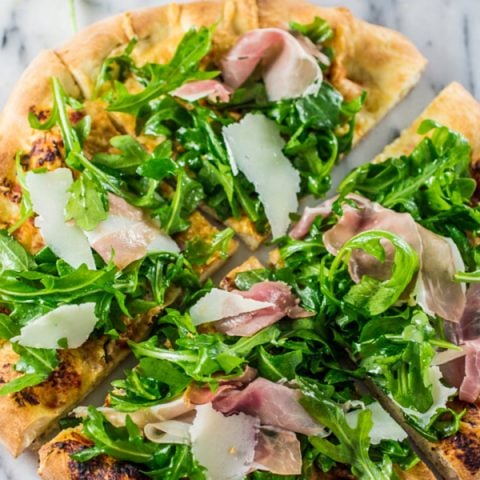 Arugula and Prosciutto Pizza
Yield: 4
Cook Time: 30 minutes
Total Time: 30 minutes
Spring time means delicious pizza with fresh baby arugula, salty prosciutto and buttery Parmigiano Reggiano!
Ingredients
1 cup pizza sauce, divided (recipe in notes)
3 cups shredded mozzarella, divided
4 cups fresh baby arugula
4 tablespoons olive oil, plus more for drizzling
2 tsp lemon juice
12 slices prosciutto crudo
Salt and pepper to taste
Shaved Parmigiano Reggiano
Instructions
Place a pizza stone on top rack in your oven and preheat to the highest setting (mine goes up to 550F degrees). The stone should preheat for at least 30 minutes but 1 hour is better.
Divide your dough into 4 equal parts and shape them into balls. Sprinkle some flour on the top of the dough and cover with a damp towel or plastic. Let it rest for at least 15 minutes!
On a lightly floured surface, roll out your dough into 8-inch round pies. Transfer to a pizza peel covered with parchment paper or an upside down baking sheet.
Brush some olive oil on your pie and season with some salt and pepper.
Add the pizza sauce to the middle of the pizza and, using the back of a spoon, spread it evenly across the surface, stopping about 1/2 inch from the edges.
Add 3/4 cup of shredded mozzarella over the sauce.
Bake the pizza until the crust is golden brown and the cheese is bubbling, approximately 5 to 8 minutes.
Repeat all steps with the other 3 dough balls.
In a larger bowl, toss the arugula with 4 tablespoons of olive oil and 2 teaspoons of lemon juice and season with salt and pepper.
Top the pizzas with the arugula and the prosciutto. Finish off with the shaved parmesan.
Cut the pizzas into slices, sprinkle some extra olive oil (or truffle oil!) and serve!
Notes
To make a no-cook pizza sauce, just combine 1 cup of crushed tomatoes, salt, pepper, 1 tsp garlic powder and some oregano to taste. For a pizza sauce that you can make on the stove, please find the recipe here.
A sneak peek!
Earlier this month, Tim and I did a photo shoot session in Central Park with the amazing Vanessa Barros Terra.
I'm so happy with the little I've seen so far!
Here's one of the photos: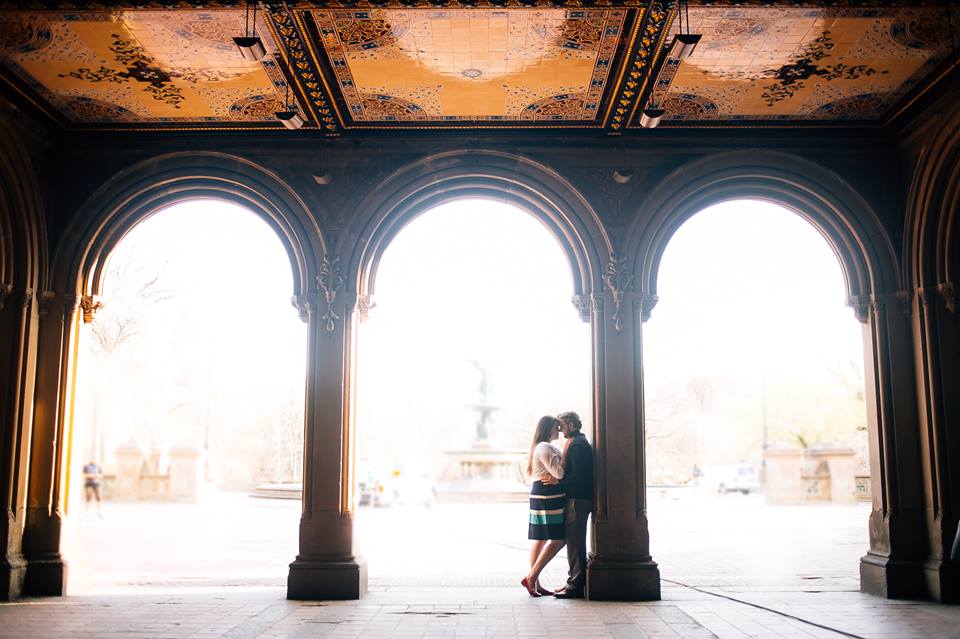 (This post contain affiliate links, meaning I get a small commission if you end up purchasing a product I recommended.)