Chicken Stroganoff
The creamiest!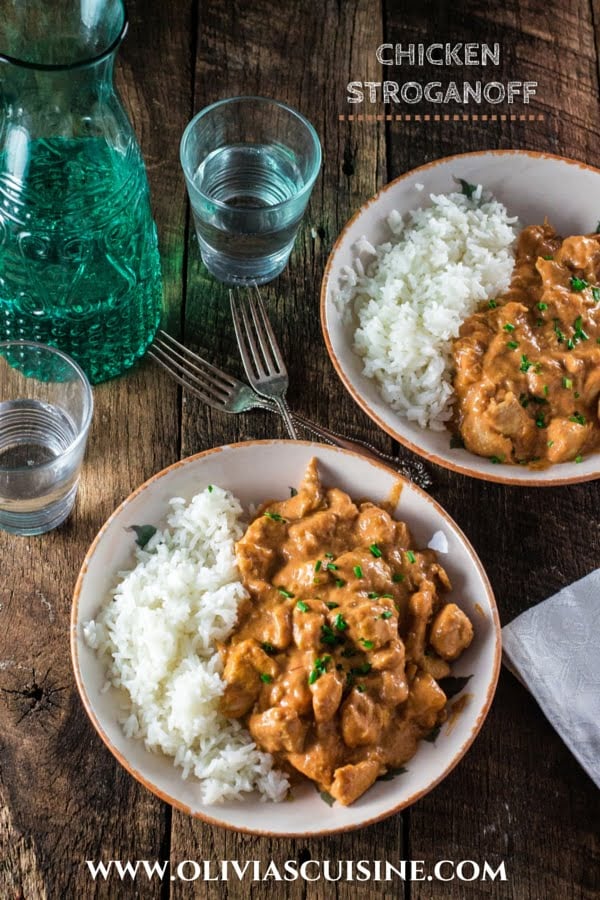 (Thank you awesome peeps at the Brooklyn Creamery Company for sponsoring this post. All the opinions expressed here – and my love for cream – are my own!)
So creamy I want to stuff my face into the bowl, no utensils necessary! (Don't judge! I just happen to have this huge stroganoff addiction… Hey, there are worse things to be addicted to!)
Life has been all over the place with apartment searching, finding a new vet for our furry baby, missing my family so so much and dealing with a huge creative block. So the blog has been a little neglected… I'm sorry! 
I've been so uninspired by everything that even cooking – which is my passion – was hard to do. So we had to get take out and/or eat cereal for dinner for a few nights in a row. Oh, the glamorous life of a food blogger… #NOT!
Even now that I'm almost 100% recovered (hopefully) and beginning to feel inspired again, spending all day in the kitchen isn't something I'm ready to do.
Thank God for this easy Chicken Stroganoff that tastes better than the convenient take out and is made in only ONE PAN (which equals less dishes sitting in the sink overnight, waiting for Tim to decide to wash them!). Better yet when that recipe is not only easy but dinner party material and you get to impress your guests who 1) think you spent all day in the kitchen and 2) are amazed at the fact that you have a Russian inspired recipe up your sleeve!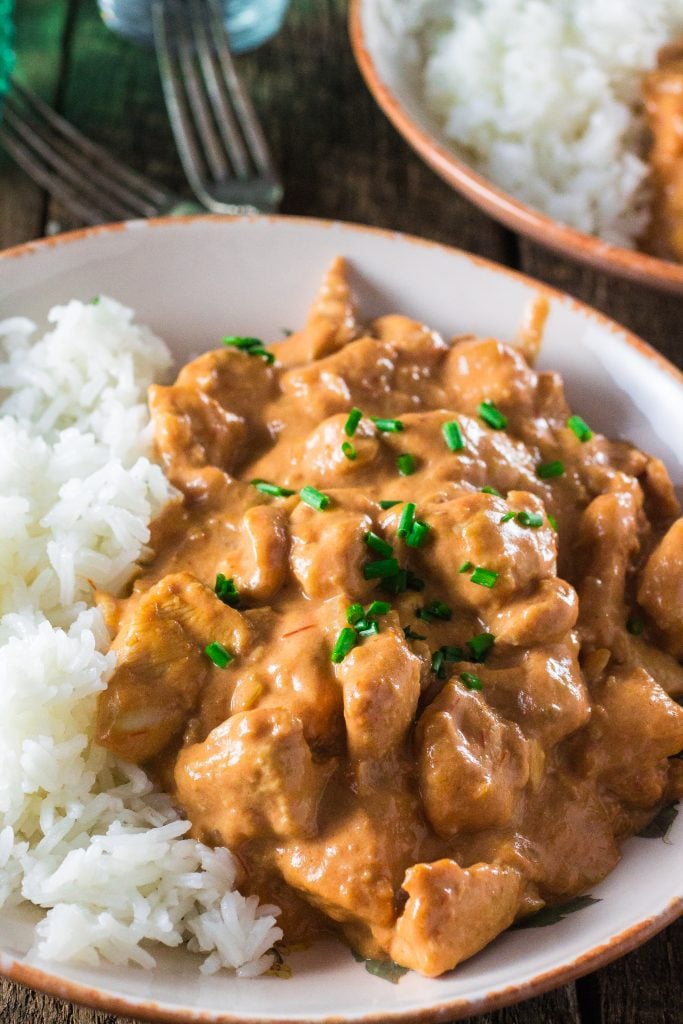 If you've been following this blog for a while, you probably know Stroganoff is my favorite dish. My first blog post ever was my grandma's recipe for Beef Stroganoff and 'til this day – despite the awful beginner food blogger's pics – it's one of the most popular recipes on this blog. 
So when I partnered with Brooklyn Creamery to create a dish showcasing their amazing Double Cream, I had no doubts I was going to make a variety of that stroganoff, but this time using chicken!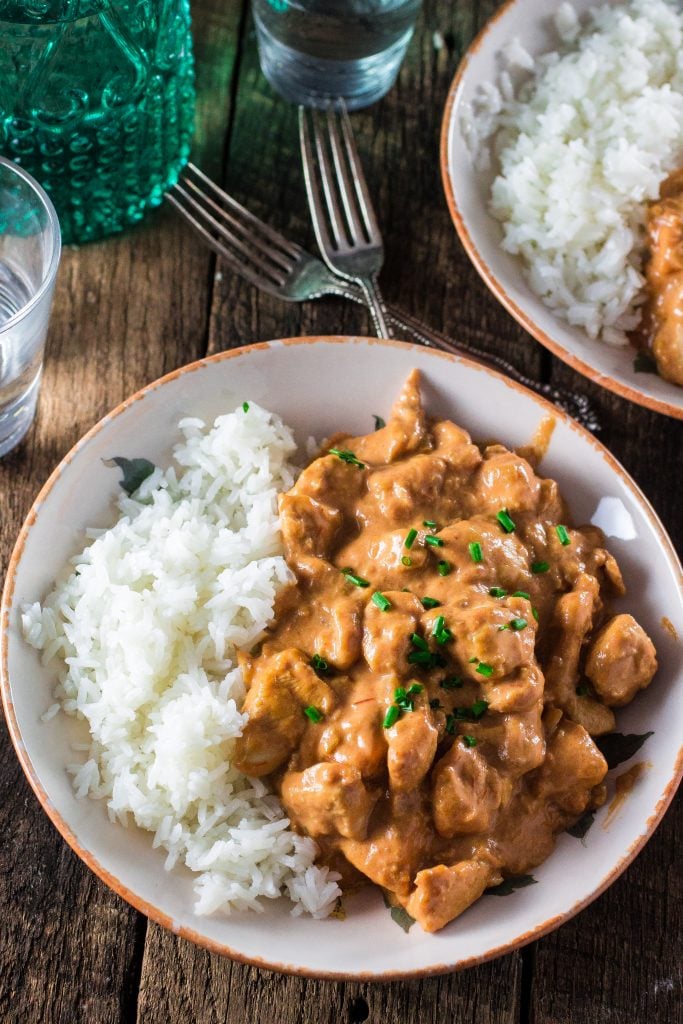 The original stroganoff recipe – the beef one – comes from Russia in mid 19th century. There are several theories on where the name "stroganoff" comes from, but the most popular one is that it is derived from some member of the large and important family Stroganov. 
The first time the recipe was ever published was in Elena Molokhovets' classic Russian cookbook A Gift to Young Housewives in 1861. She gives the first known recipe for Govjadina po-strogonovski,s gorchitseju, or "Beef à la Stroganov, with mustard", which invoked lightly floured beef cubes sautéed, sauced with prepared mustard and bouillon, and finished with a small amount of sour cream. Notice: no onions and no mushrooms. Onions and tomato paste came later, in another recipe published in 1912 which also suggested serving with crisp potato straws, which are the traditional side dish for stroganoff in Russia (and in Brazil)! Finally, the version given in 1938's Larousse Gastronomique, includes beef strips and onions, with either mustard or tomato paste optional.
The recipe became popular in hotels and restaurants in China, after the fall of Tsarist Russia, before the start of World War II. Russian and Chinese immigrants, as well as U.S. servicemen stationed in pre-Communist China, were the ones that brought variations of the recipe to the United States, which explains the recipe's popularity during the 50's.
In France, the recipe finally got the now popular version with mushrooms.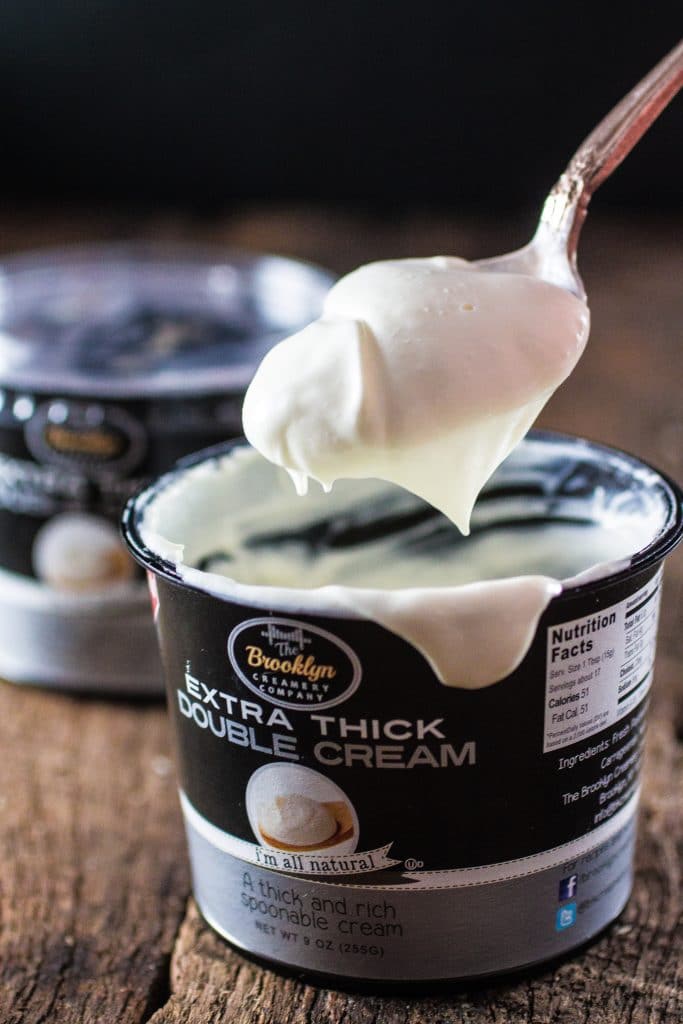 The stroganoff – which is not only mine, but also Abraham Lincoln and Charles Chaplin's favorite dish – is made with either sour cream or heavy cream. 
I usually make it with heavy cream – not only because that's how I grew up eating it but also because I don't like the sourness of the sour cream in this dish – but this time I decided to give it a try with Brooklyn Creamery's new Double Cream and oh-my-god! I think I have a new favorite!
The Double Cream is like the sour cream and the heavy cream had a baby. It has the thick ad spoonable consistency of the sour cream but without the sour flavor. It tastes like amazing pure, fresh cream and it complemented this dish perfectly, making it so rich, smooth and creamy!
I gotta admit it: my love for this dish relies more on the flavorful pink cream soaked by the rice than on the chicken (or beef) itself. It's SO GOOD!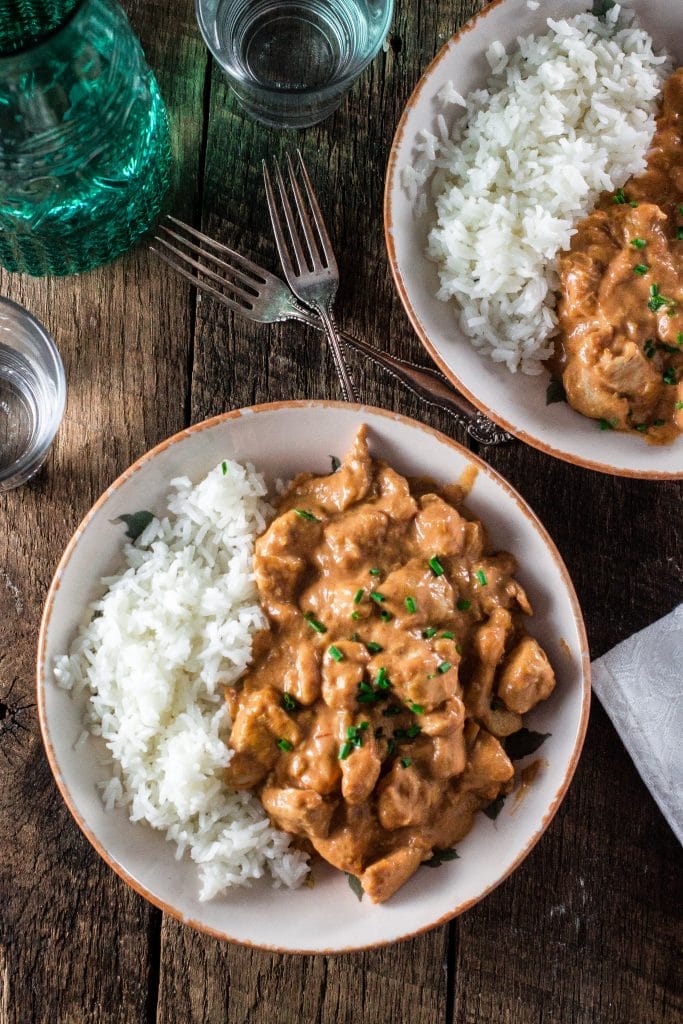 And speaking of rice, I know you are used to seeing stroganoff recipes being served over pasta. No no no no no no! A million times no! Rice is so much better! As I said above, the rice soaks up the creamy sauce and each bite is like a cream madness dance in your mouth. YUM! Any variety of long grain rice goes well in here, but I do have a soft spot for jasmine.

That being said, feel free to serve it over pasta if that's your thing! (Just kidding… Don't do that!)
Also, I didn't have any crisp potato straws on hand (and no intention of making them myself), so I skipped them this time. However, they do enhance the dish, so get them if you can!
P.S. Wanna keep in touch? Follow me on
Facebook
, 
Twitter
, 
Instagram
or
Pinterest
to stay up to date with my posts! If you end up making one of my recipes, I would love to see it! Just take a photo and post it on your preferred Social Media and tag me or use the hashtag #oliviascuisine!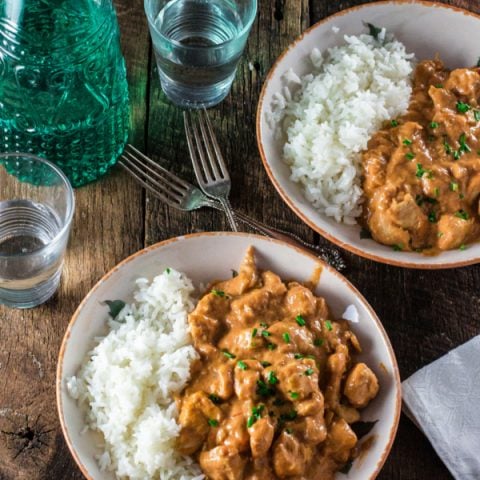 Chicken Stroganoff
Yield: 4
Prep Time: 5 minutes
Cook Time: 15 minutes
Total Time: 20 minutes
Ingredients
2 lbs chicken breast, cleaned and cut in 1/2 inch cubes
1 teaspoon paprika
6 cloves of garlic, minced
2 tablespoons all purpose flour
1 large sweet onion, chopped
2 tablespoons butter
1 tablespoon olive oil
2 tablespoons Worcestershire sauce
2 tablespoons cognac (or brandy)
3 tablespoons ketchup
2 tablespoons Dijon mustard
1 cup crushed tomatoes
1 1/2 cups heavy cream
Salt to taste
Chopped chives to garnish
Instructions
In a large bowl, mix the chicken cubes with the salt, garlic, the paprika and the flour until all the chicken is coated.
In a large skillet over medium high heat, heat the olive oil and the butter and sauté the onion until translucent (about 2 minutes).
Add the chicken and cook until the chicken is browned on all sides (about 5 minutes).
Add the Worcestershire sauce and the cognac. Let the cognac cook for a few seconds and then set a match to it and allow the flames to subside on their own.
Once the flames have gone out completely, add the mustard and the ketchup and cook for a minute.
Add the crushed tomatoes and stir until everything is incorporated.
Check to see if the chicken is cooked through. If it isn't, lower the heat and let it simmer until the chicken is done. If it is, stir in the heavy cream and let the stroganoff cook for an additional 5 minutes.
Sprinkle some chopped chives to garnish and serve hot!
Notes
When flambeing, always pour the liquor in a cup before adding it to the pan. Never pour it straight from the bottle. Always be cautions and aware of pets and children around you!