Torta de Santiago (Spanish Almond Pie)
Good afternoon, friends!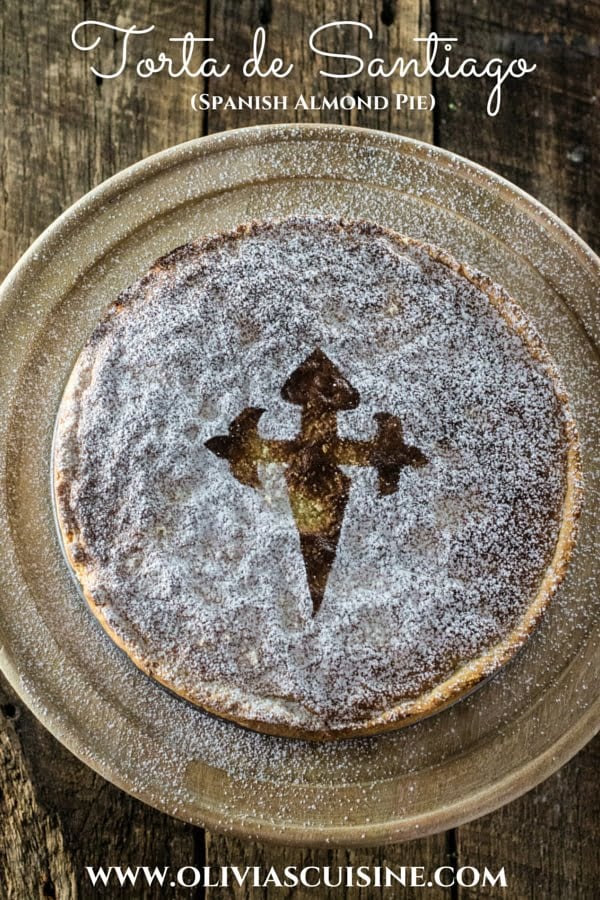 What can I serve you? Coffee? Tea?
It doesn't matter what you're drinking, you HAVE to have a slice of this amazing Torta de Santiago to go with it.
Torta de Santiago (in Galician) or Tarta de Santiago (in Spanish) means Pie or Cake of St. James and is a Spanish almond pie (or sometimes cake) that is said to have been originated in Galicia during the Middle Ages. It is specially popular among the pilgrims and tourists in Santiago de Compostela, the area where the remains of the apostle Santiago are believed to be buried.
This pie/cake is so deliciously moist and not too sweet, perfect as a snack accompanied by a latte on a lazy afternoon.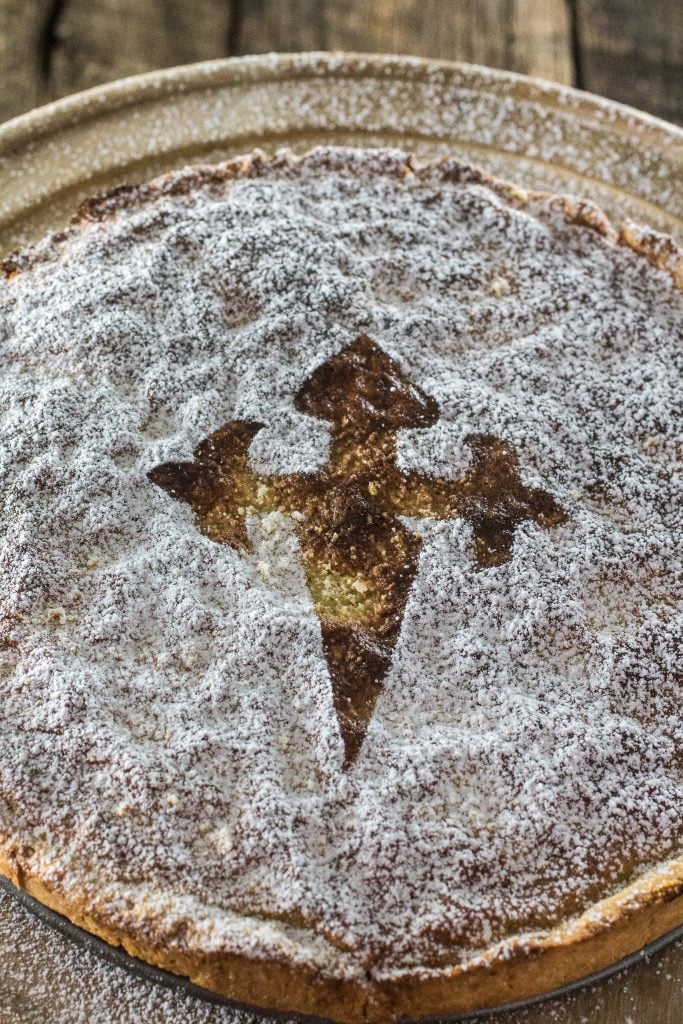 After I finished making this almond pie, I proudly looked at it and thought of my mom. Her dream is to go to do the pilgrimage to the cathedral of Santiago de Compostela, which is known to be a very spiritual experience!
Maybe one day I'll take her. I just find it difficult to imagine I'll be able to walk for 30 days to get to the cathedral… Just thinking of my sciatica hurts. Ouch! Oh well, if I can stop every now and then to savor one of these pies at the local bakeries maybe I can survive…
Oh who am I kidding? I'll end up renting a car to get to the top! (And yes, I'll get the pie anyway!)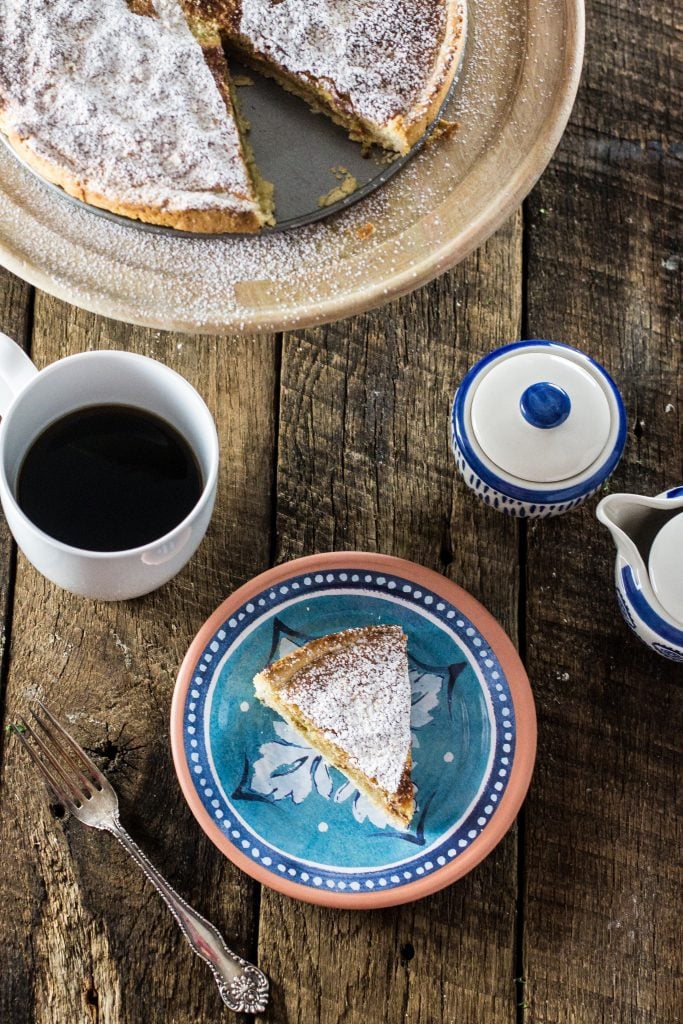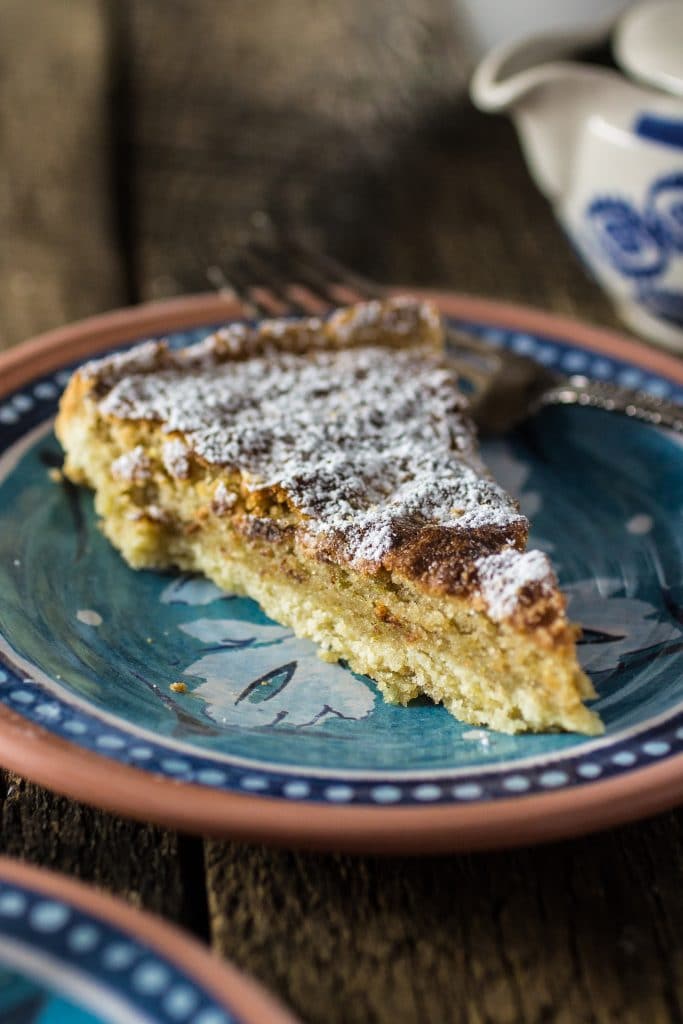 The traditional way to decorate this pie is to use a stencil of the cross of Santiago in the middle of the pie and sprinkle powdered sugar on top, so the cross is "printed" on the pie.
I didn't have a Santiago's cross stencil and my printer is broken. So I draw one myself on a piece of cardboard and cut with a pair of kitchen scissors (that's when I realized I had no regular scissor at home! Am I failing at adulthood or what?).
As you can see I am not very crafty… So I hope you'll excuse my not-too-perfect cross and applaud my attempt to be traditional! :)
If you also wanna be traditional and have a working printer, print this stencil and use it as your mold and your cross will definitely look better than mine.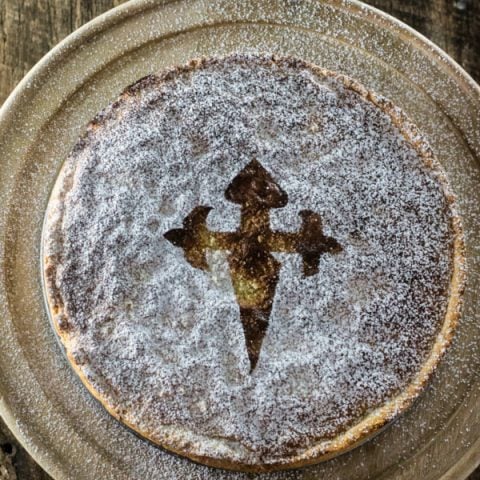 Torta de Santiago (Spanish Almond Pie)
Yield: 10
Prep Time: 45 minutes
Cook Time: 30 minutes
Total Time: 1 hour 15 minutes
Ingredients
Crust:
1 1/4 cups all purpose flour
1 1/2 tbsp sugar
6 tablespoons cold butter, cut in small cubes
1 egg
1 tsp vanilla extract
Butter and flour to grease/dust pan
Filling:
1/2 cup sugar
Zest of one lime
1/2 teaspoon cinnamon
3 eggs
3/4 cup almond flour plus 2 tablespoons (Bob's Red Mill has a good one)
1 tablespoon amaretto (optional)
Decoration:
Santiago cross stencil
Confectioners sugar
Instructions
Crust:
In a large bowl, mix the flour and the sugar together.
Add the cold butter and mix with your hands, working the butter into the dry ingredients, until the mixture resembles sand. (Yes, you can do this in a food processor if you'd like!)
Add the rest of the ingredients and mix well until you have a smooth and consistent dough.
Cover and refrigerate for 30 minutes.
Grease and dust a tart pan (or springform pan) with butter and flour. Reserve.
Once the dough has chilled for 30 minutes, use your fingers to press the dough into the tart pan, taking care to push it into the sides. Pat until the crust is even and, using a fork, make some holes all over the bottom. Reserve.
Filling:
Preheat oven to 375 degrees with a rack in the middle.
In the bowl of a stand mixer, add the sugar, the lime zest and the cinnamon. Mix on low just to combine.
Add the eggs, one at a time, and mix well. (If using the amaretto, add it with the eggs)
Mix in the 3/4 cup almond flour until smooth.
Pour the batter into the prepared tart pan and dust the remaining 2 tablespoons almond flour on top, for a crunchy finish.
Bake for 30-40 minutes or until the top is golden brown and a tooth pick inserted in the middle comes out clean. Reserve to cool.
Once the pie is cool, remove from the tart pan and transfer to a serving platter/stand.
Place the Santiago cross in the middle and sprinkle confectioners sugar on top of the pie. Remove the cross to reveal the drawing.
Serve at room temperature or cold.
P.S. Wanna keep in touch? Follow me on Facebook, Twitter, Instagram or Pinterest to stay up to date with my posts! If you end up making one of my recipes, I would love to see it! Just take a photo and post it on your preferred Social Media and tag me or use the hashtag #oliviascuisine!