Corn Couscous with Basil, Feta and Lemon
This Corn Couscous with Basil, Feta and Lemon is sponsored by Del Monte®.
This simple dish, packed with Mediterranean flavors, consists of only 7 main ingredients and is done in about 5 minutes. Serve it warm as a side dish, or cold as a salad.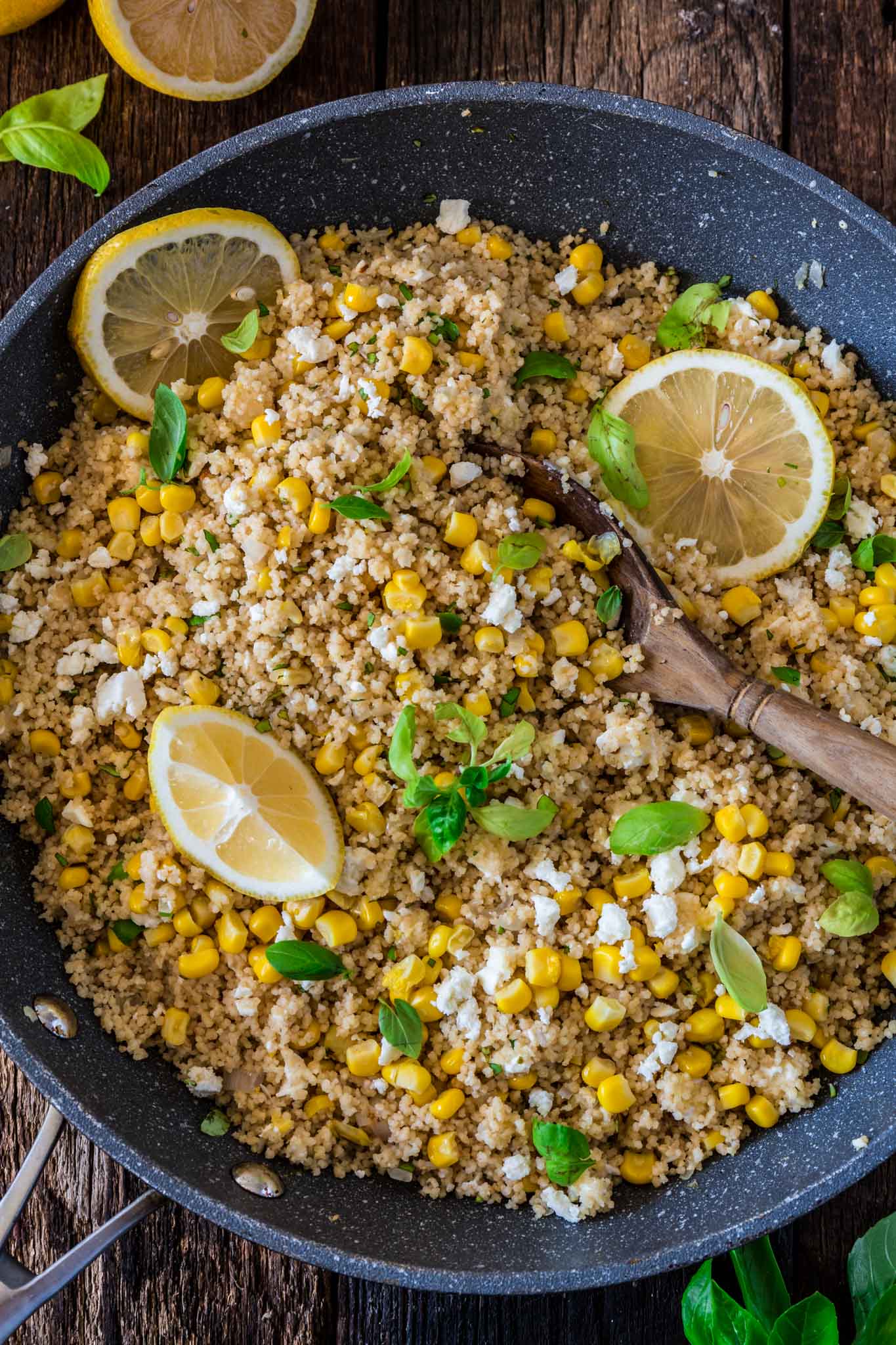 Another Chopped style post? You bet!
Del Monte® challenged me (and you) to cook something delicious out of 4 ingredients: Del Monte® Whole Kernel Corn, basil, lemons and feta cheese.
I'm not one to decline a good culinary challenge, so I grabbed the ingredients out of the Chopped basket (just kidding, I went to buy them at the store) and went to the kitchen to experiment with those flavors.
Oh, it was so much fun! Probably because I had all the time in the world to play with the food as opposed to running out of time like the contestants in the actual show. Although, now that I think of it, when you have a baby you constantly feel like you're in a Chopped competition suffering to finish everything on time.
But I digress…
I ended up deciding on a Mediterranean inspired dish: a delicious corn couscous topped with feta, basil and lemon zest. My family liked it so much that the whole thing was gone in one sitting!
Definitely not something I would have thought to make if it wouldn't be for the Chopped At Home Challenge, but it will surely be a regular on the menu from now on.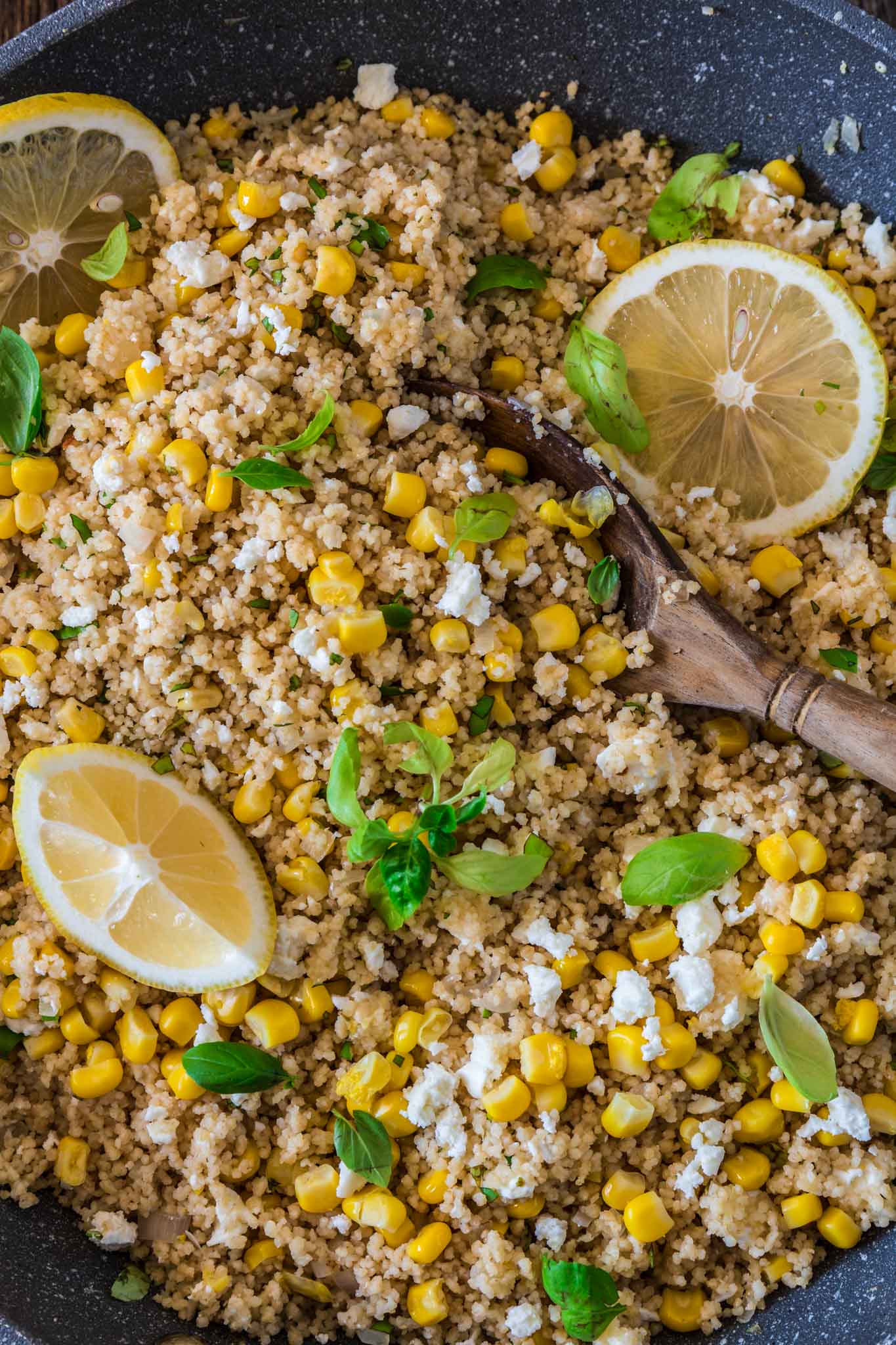 If you've never tried couscous, you need to get on it ASAP. It is such a versatile ingredient that can be used in a variety of dishes!
Despite popular belief, couscous is a pasta, not a grain. It is made of semolina flour mixed with water. Some people make couscous from scratch and that is apparently extremely labor-intensive, requiring a long time drying in the sun.
But I wouldn't know anything about it, since I buy my couscous all ready to be cooked in the grocery store. ?
I'm a big fan of modern world convenience, especially when the couscous from the store has already been steamed at least twice and dried, so all that's left to do is plump it up with boiling water. I am not exaggerating when I say it is all done in 5 minutes.
And voila, an easy, fast and furious side dish that is great to be served with pretty much anything: from stews to salads.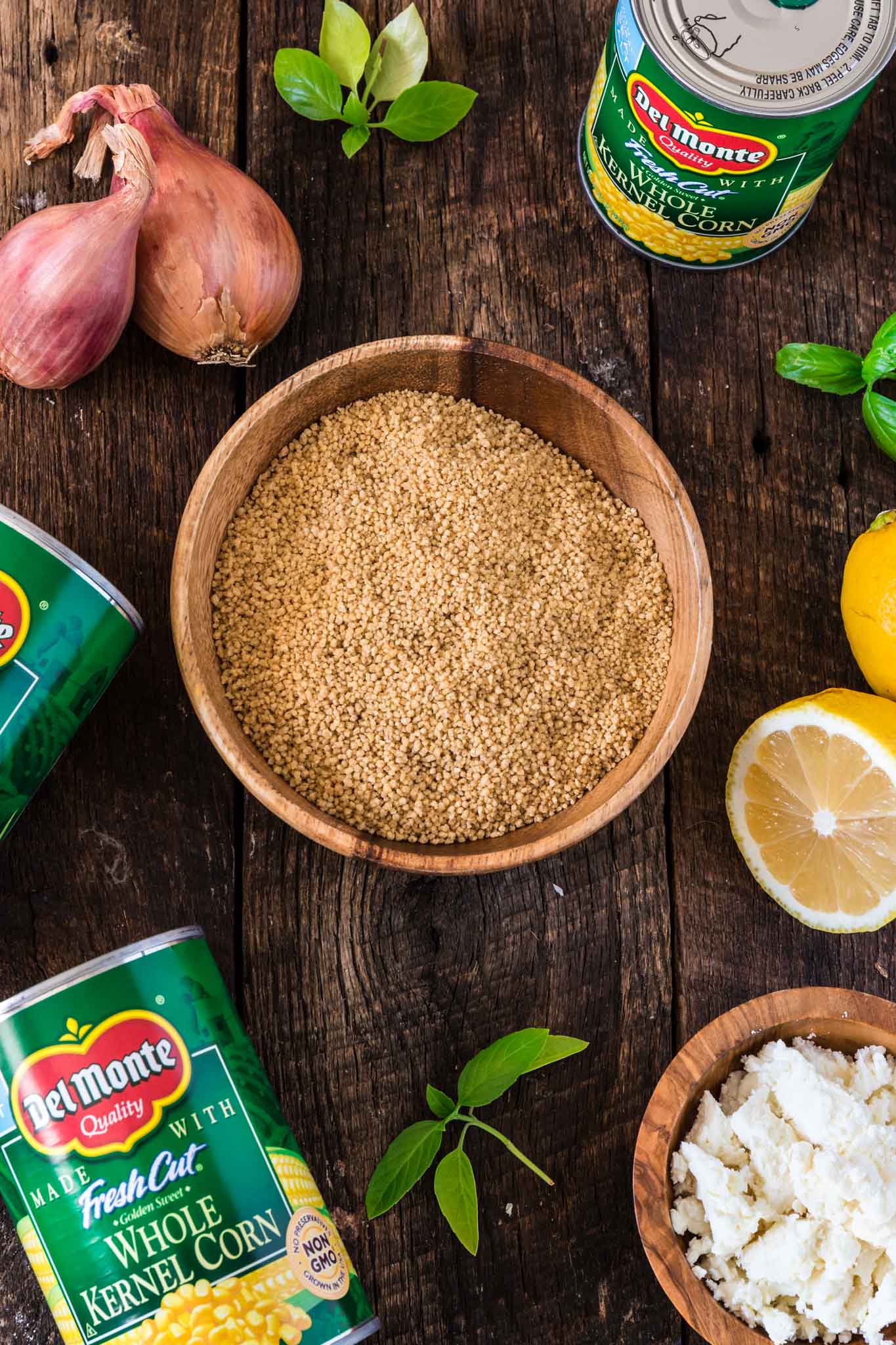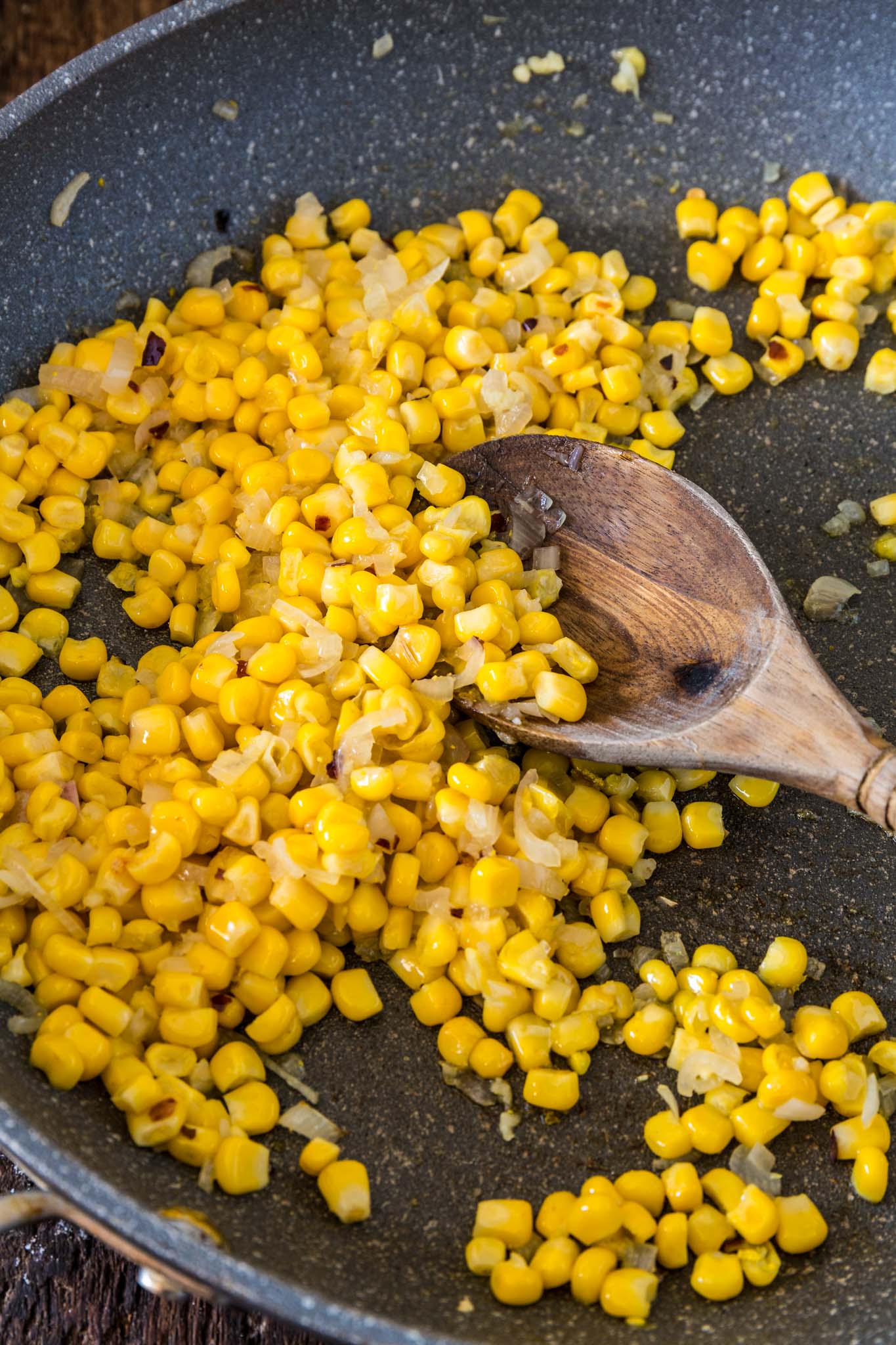 My grandma makes the most delicious Moroccan Couscous and I promise I will eventually get around to sharing that recipe here on the blog.
She also uses couscous as a way to use whatever vegetables and food she has in the fridge. Even chicken has made its way into one of her couscous dishes, making a very convenient weeknight main meal for the family!
I cannot recall her ever using corn, but I thought that was a great addition to my couscous.
The plump and sweet kernels of Del Monte Corn make all the difference in this dish. And the best thing? Del Monte makes a product where you can understand everything in the ingredients like: corn, water, sea salt. That's it!
The corn is picked and packed at the peak of freshness for the highest standard in rich, sweet flavor. My pantry is always stocked up as I use corn all year long, in chilis, soups, salads, pilafs, you name it! I am crazy for that stuff!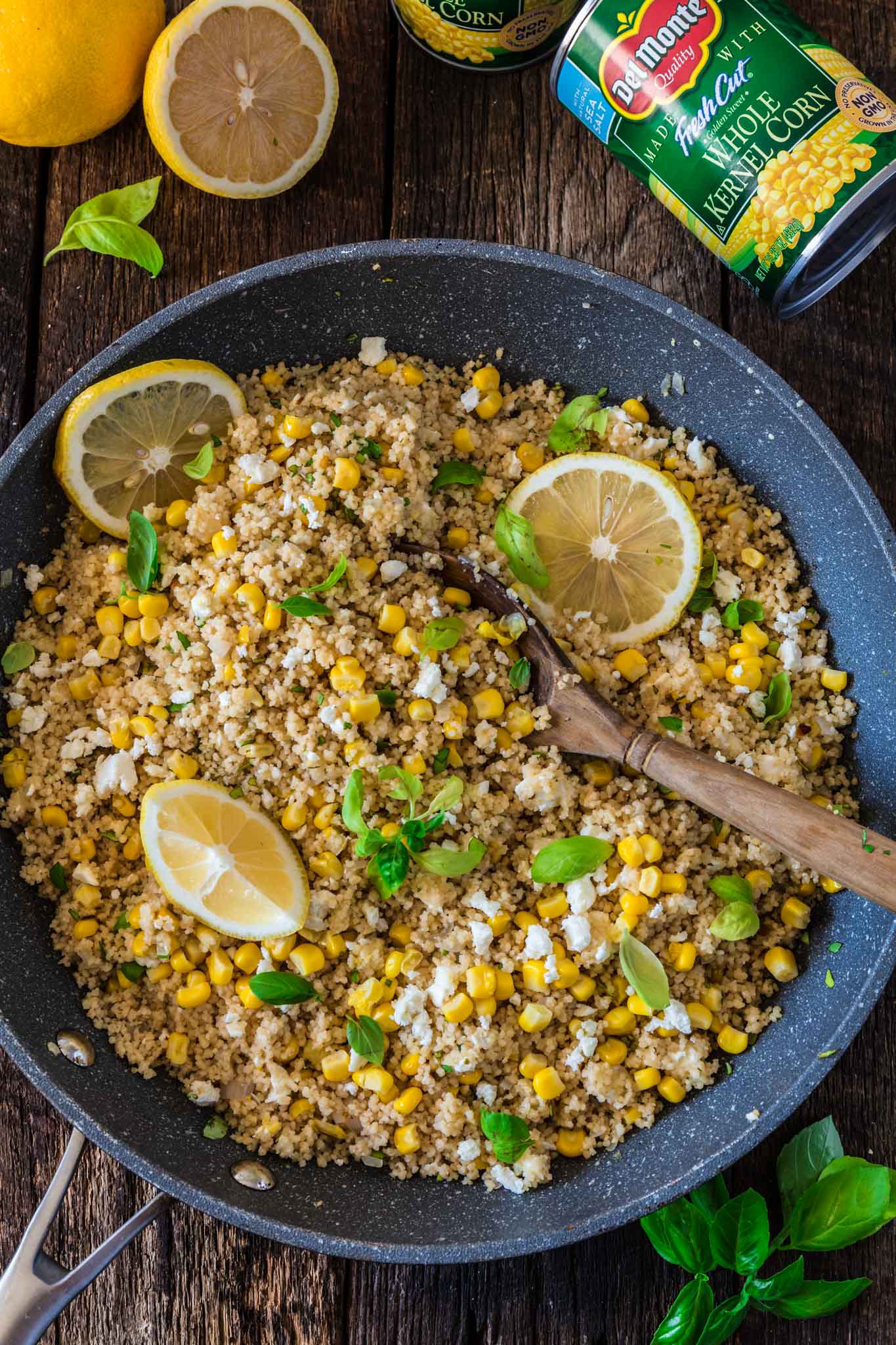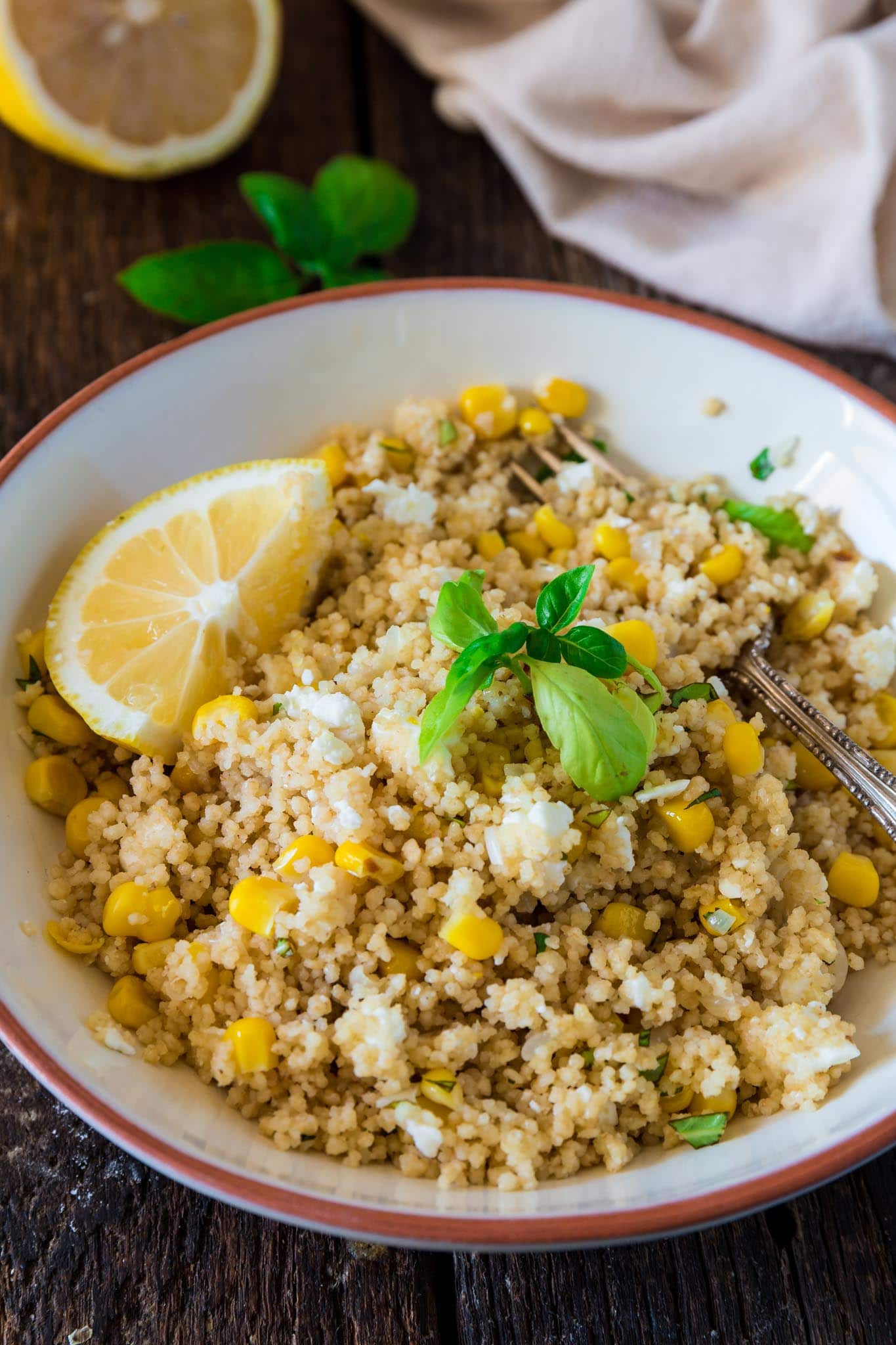 Now, I'm well aware that we are in the middle of the Fall season and that those flavors (corn, basil, lemon and feta) are usually associated with summer.
But I promise that one small taste and you will be hooked like I was! I plan on eating this corn couscous as a side dish often, because nothing beats a dish that is on the table in 5 minutes. Especially when it is packed with stuff that is good for you!
And now it's your turn. What would you create with those flavors? Don't forget to enter the Chopped At Home Challenge.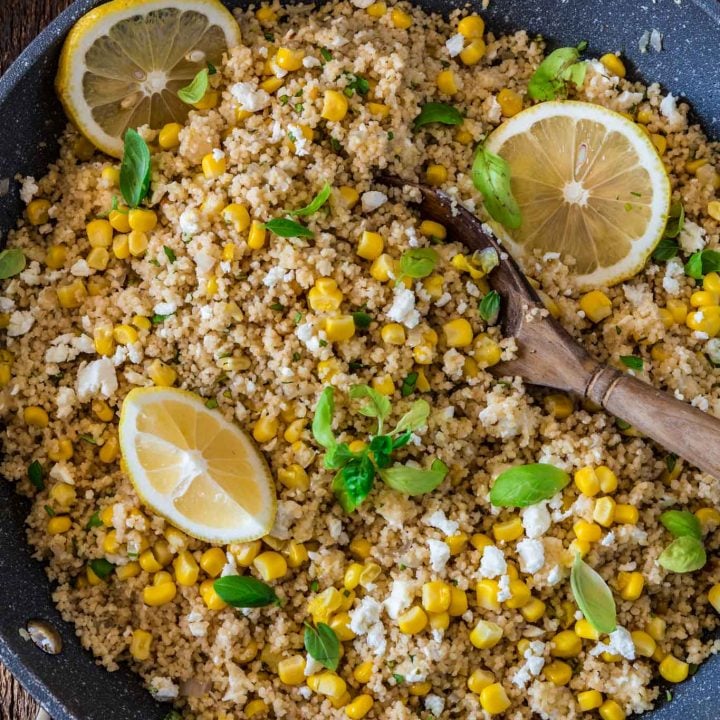 Corn Couscous with Basil, Feta and Lemon
Yield: 6 to 8
Cook Time: 5 minutes
Total Time: 5 minutes
Ingredients
1 package (10 ounces) whole wheat couscous
2 cups water
1 tablespoon butter
Salt and freshly ground pepper to taste
Juice and zest of half a lemon
2 tablespoons olive oil
1 shallot, finely chopped
2 cloves of garlic, minced
1 can (15.25 ounces) Del Monte Whole Kernel Corn, drained
1/2 teaspoon red pepper flakes (optional)
1 cup crumbled feta cheese
Chopped basil, to taste
Instructions
Combine the water, salt and butter in a saucepan. Bring to a boil and, when boiling, add the lemon juice.
Remove from heat, add the couscous and cover. Let stand for 5 minutes.
In the meantime, heat the olive oil, over medium heat, on a large sauté pan. Add the shallot and garlic and cook for a couple of minutes, until tender and fragrant. Then, add the corn and red pepper flakes and cook for another couple of minutes, until soft.
Transfer the corn mixture to a large bowl. Fluff the couscous with a fork and add to the corn. Add the feta, lemon zest and basil and toss to combine.
Serve warm or at room temperature if serving as a side dish or cold as a salad.