Muffuletta
Muffuletta is an Italian sandwich on steroids! A classic New Orleans invention that consists of a wide and round bread, a marinated olive salad, cheese and charcuterie. Perfect to feed a crowd, this sandwich is the epitome of epic!
Whether for picnics or for quick lunches, sandwiches are always a great call. From a Classic Reuben Sandwich to the nostalgic Sloppy Joe, you will find a plethora of delicious sandwiches here on the blog!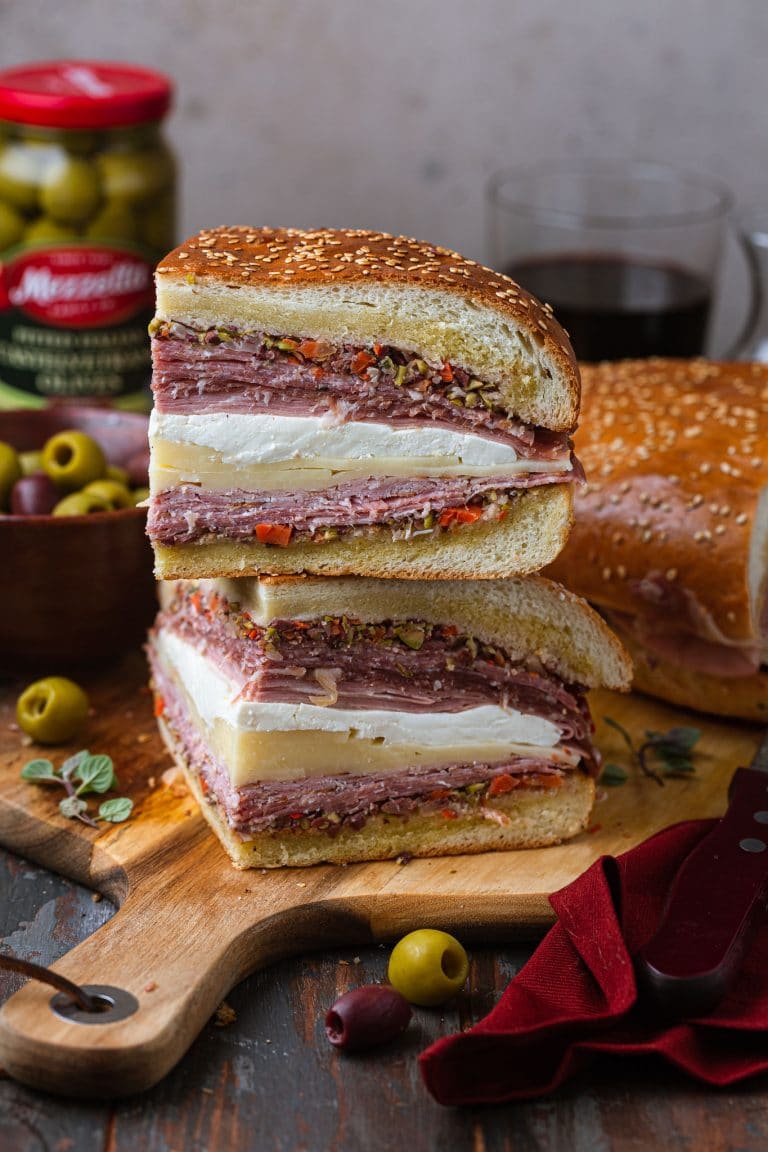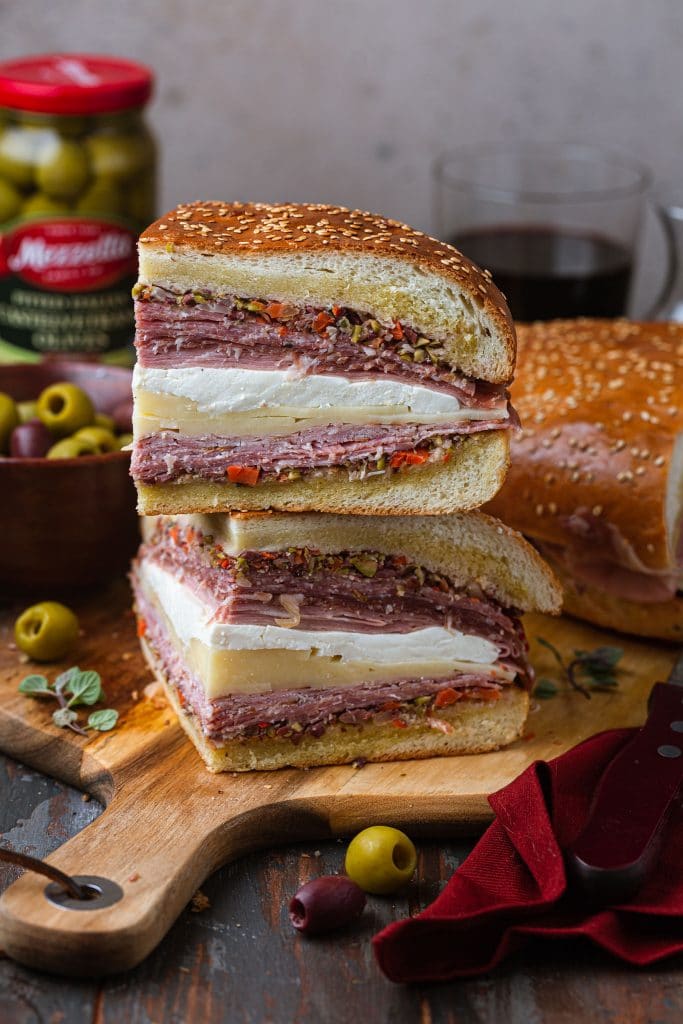 This post is sponsored by Mezzetta. All opinions are my own!
Muffuletta: a sandwich that feeds a crowd!
Since vacations are out of the question right now, I figured I would take us on a foodie staycation. Destination: New Orleans (in your kitchen, obvs!).
Being the food lover that I am, New Orleans is one of the top destinations on my bucket list, and one that I was hoping to get to this year.
Since I probably won't be able to get there anytime soon, I made one of its most iconic dishes: the Muffuletta sandwich.
A sandwich that lots of people mistakenly think is Italian. And while it is Italian in spirit, such sandwich doesn't exist in Italy! Only in New Orleans.
And now in your kitchen!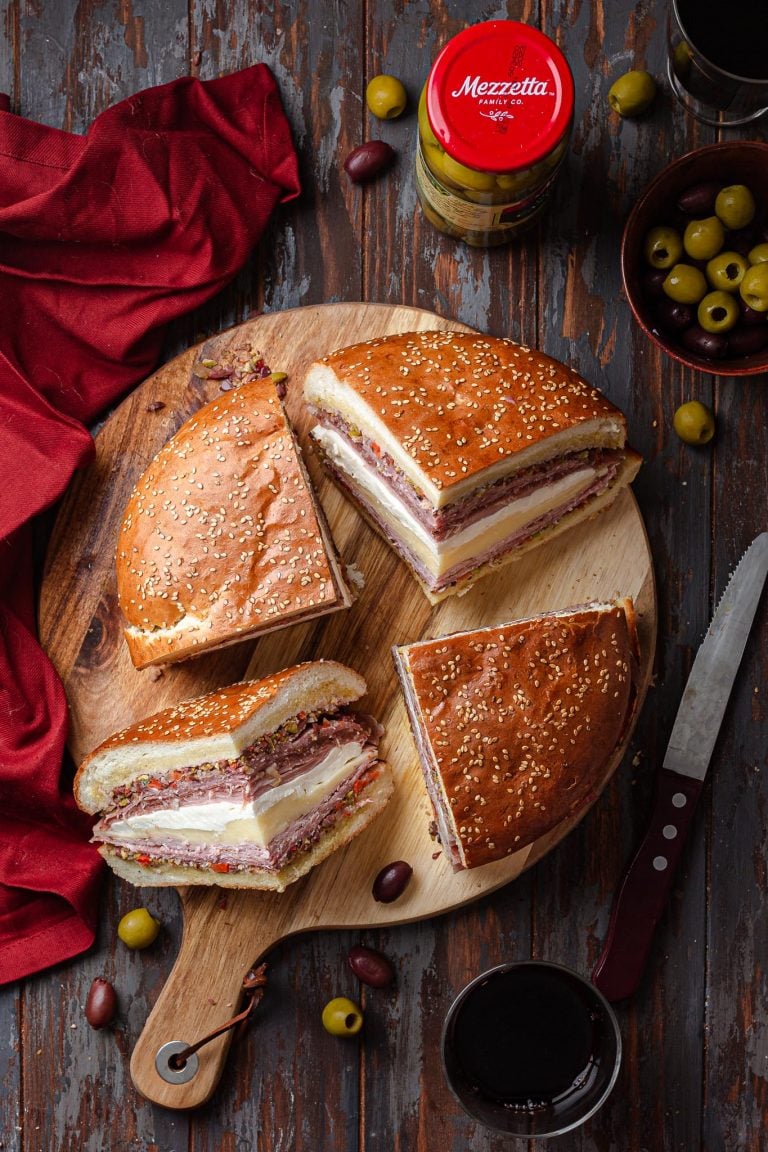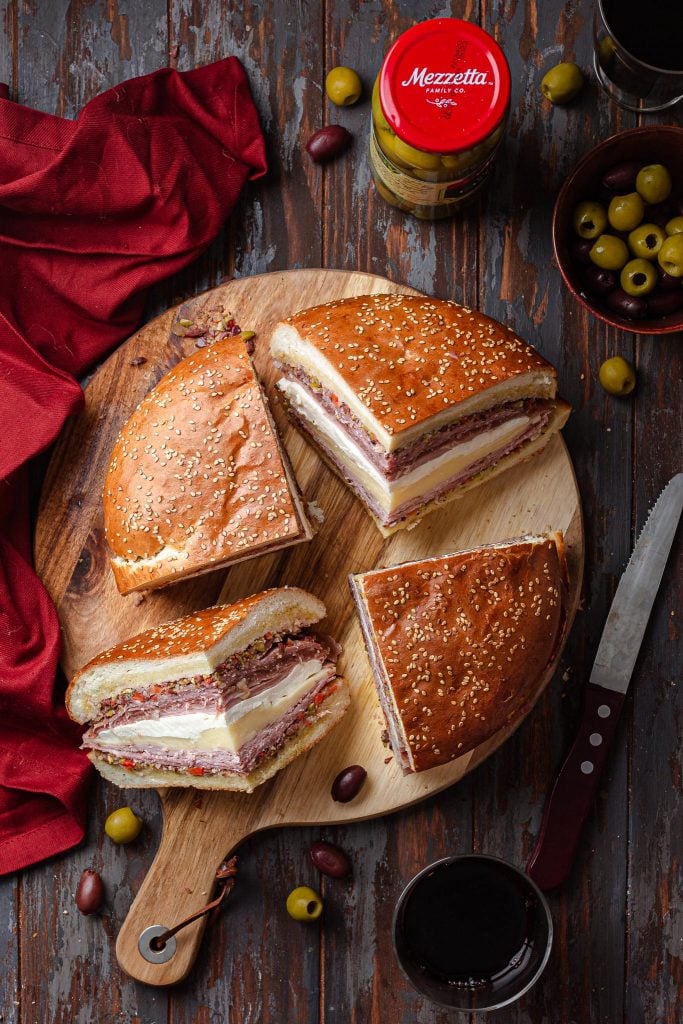 What is Muffuletta?
Muffuletta (muff-uh-LAH-tuh) – also known as Muffaletta – is a classic New Orleans sandwich that consists of a large wide bread, filled with layers of a marinated olive salad, cheese and Italian charcuterie.
In Italy, muffuletta is the name of the bread itself: a round and flat Sicilian sesame loaf. It is commonly eaten on All Soul's Day.
The name is believed to be a diminutive form of muffe (which means "mold" or "mushroom"), perhaps due to the bread's shape resembling a mushroom cap; or from muffola (which means "muff, mitten").
Where was the Muffuletta invented?
This sandwich originated among the Italian immigrants of New Orleans.
It is said to be created in 1906 at the Central Grocery in New Orleans by its owner, Salvatore Lupo, a Sicilian immigrant.
Legend has it that Salvatore noticed that his customers – workers and farmers who came to his store for a quick lunch – had a hard time juggling and eating their bread, meat and olives – which he sold separately – so he started putting everything together, creating an antipasti sandwich.
The sandwich eventually came to be known as Muffuletta, the name of the sesame-seed topped bread, baked in abundance by the Italian immigrants in the Quarter.
The store, which is now owned by Lupo's grandson, still exists and sells lots of Muffulettas. However, nowadays the sandwich – as well as the olive salad, sold as a condiment by itself – can be found all over New Orleans.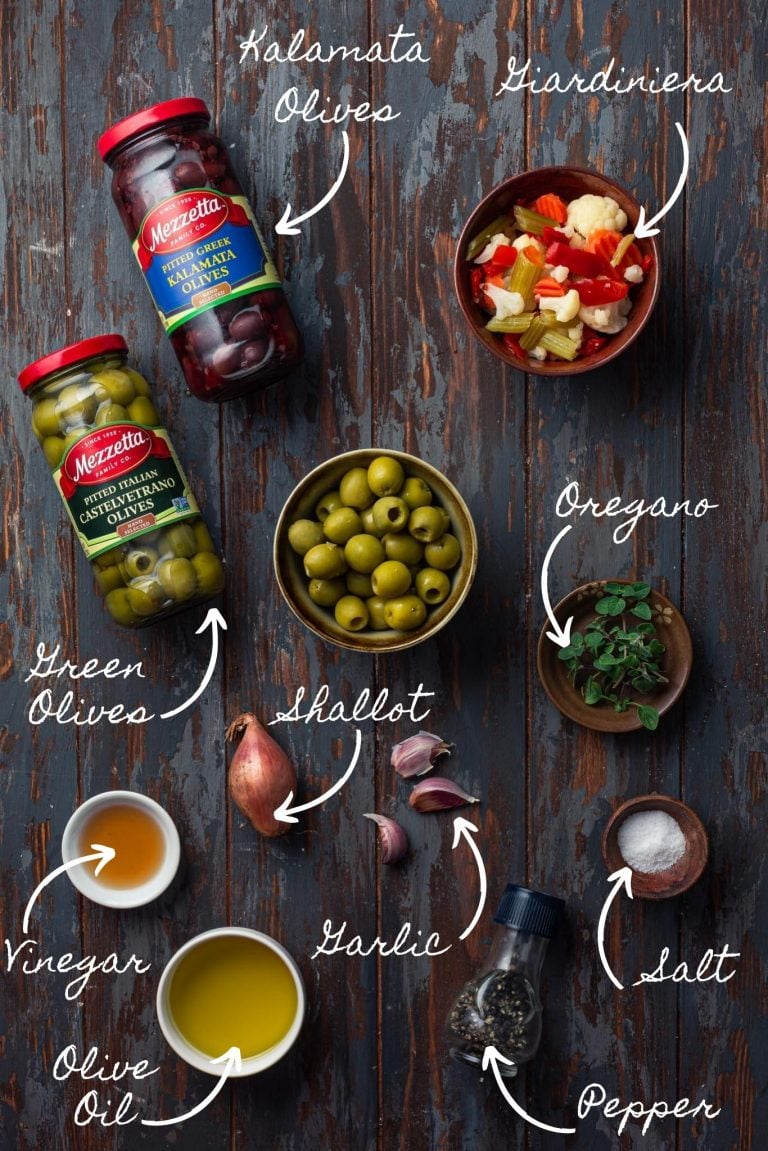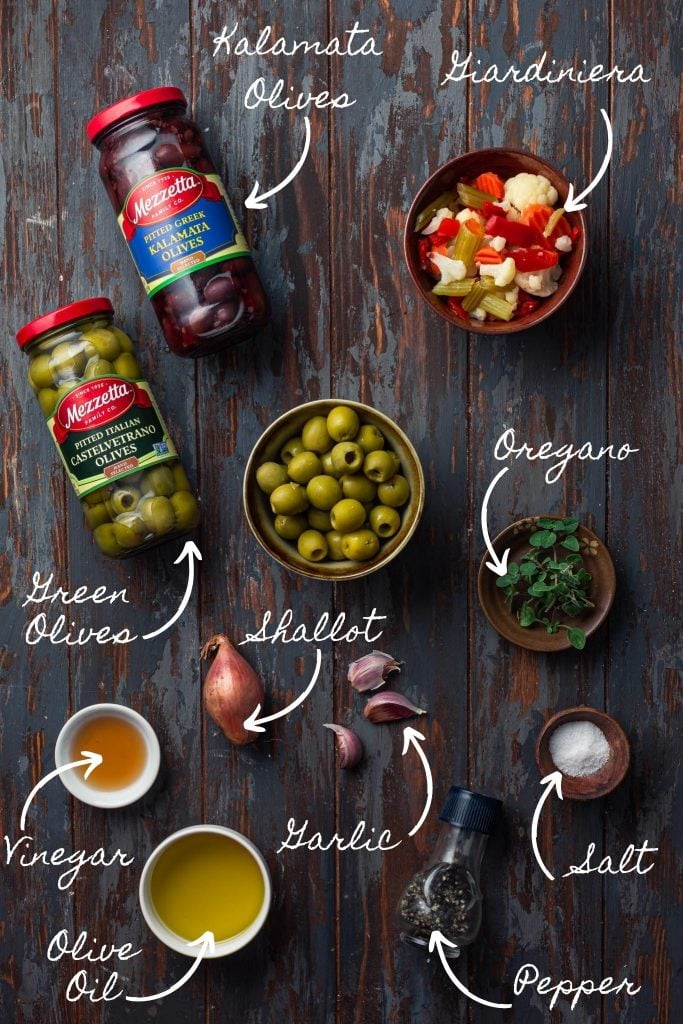 Ingredients for the Muffuletta Olive Salad
OLIVES – Use a green and a black variety. My favorites are Castelvetranos and Kalamatas.
GIARDINIERA – Giardiniera is a mix of pickled vegetables in vinegar or oil. You can make your own or buy it in a jar.
SHALLOT – I prefer shallots than onions here, because they are milder and will let the olives shine. You can use onions if that's all you have!
GARLIC – To make the garlic oil, which will be used in the salad and to brush the bread later.
OREGANO – Fresh or dried.
OLIVE OIL – The best one you can afford! Extra-virgin, pretty please.
VINEGAR – I use sherry vinegar, but red or white wine vinegars can be used instead.
SALT AND PEPPER – Go easy with the seasoning. Depending on the olives you are using, your olive salad might already be salty enough!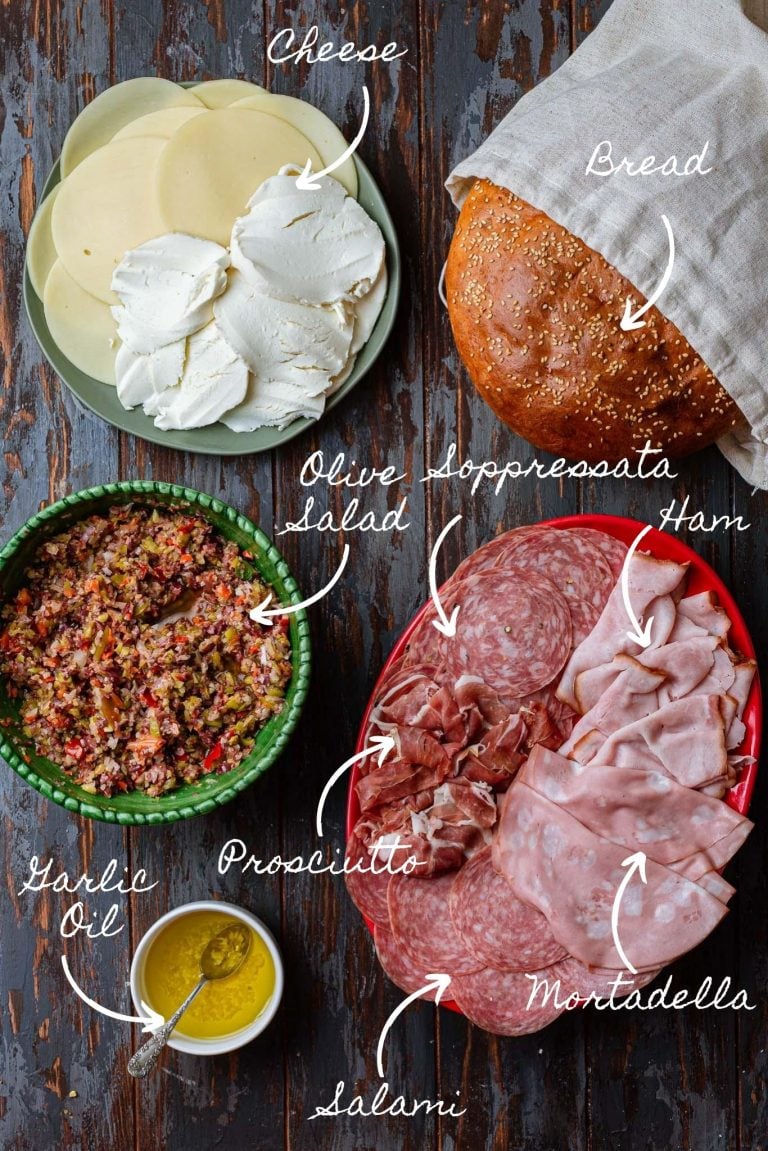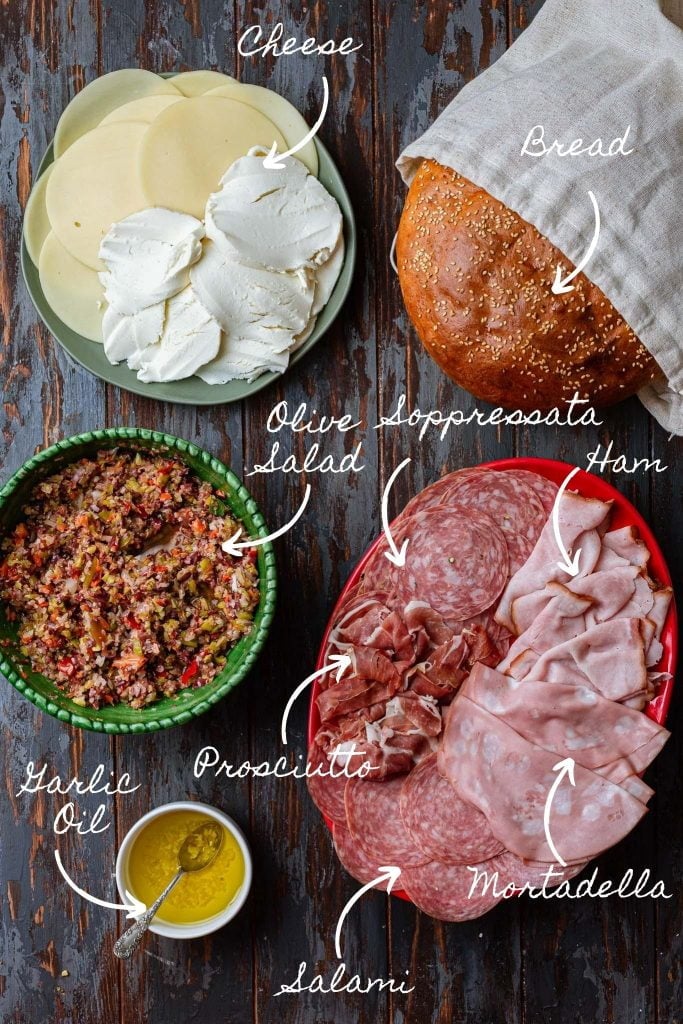 Sandwich Ingredients
Here's what you'll need to assemble your Muffuletta:
OLIVE SALAD – Made with the ingredients listed above. If you can, let it marinate in the fridge overnight for the flavors to blend.
BREAD – A large loaf of Muffuletta bread, preferably freshly baked.
GARLIC OIL – Olive oil mixed with minced garlic. For brushing the bread.
CHEESE – Provolone is traditional, and I also like to add fresh Mozzarella.
MEAT – Whatever cold cuts you like. My recipes calls for five cuts – because I'm extra – but most sandwich-makers will use a combination of three cuts. I use Genoa salami, Soppressata (hot or sweet), ham, Prosciutto di Parma (my favorite) and mortadella. Other popular choices are pepperoni, bologna, capicola and coppa. Make sure to ask your charcutier to slice your meats as thinly as possible!
How many ounces of meat goes in a Muffuletta sandwich?
There is usually at least 1.5 pounds (24 ounces) of meat in a muffuletta.
Here we are taking this sandwich to the next level of epic, so we have 5 types of meat and 2 pounds total!
What kind of bread is used for muffuletta?
Muffuletta bread is a large, round and flat loaf covered in sesame seeds. It has a soft crust and a texture that is soft but stands up to all the oil in the olive salad without getting soggy, like somewhere between focaccia and ciabatta.
Unfortunately, finding this bread outside of New Orleans is quite difficult. Your best bet is making your own, and there are lots of recipes for that online! The one you see in my photos is made by moi and if you ask nicely, I might post the recipe in a separate post. 😉
If bread baking is not your thing, then you could use focaccia or ciabatta to make a non-round muffuletta.
I find that a round Italian bread or sourdough have the right shape, but their crust is too hard for this sandwich.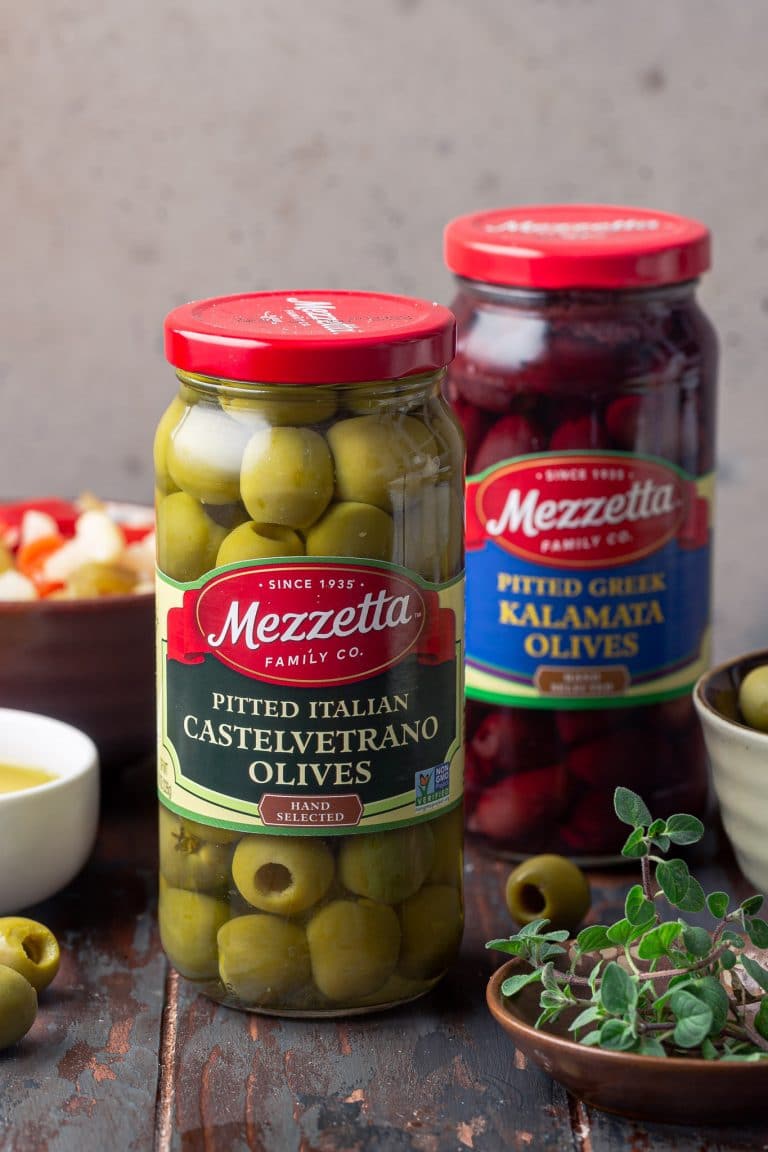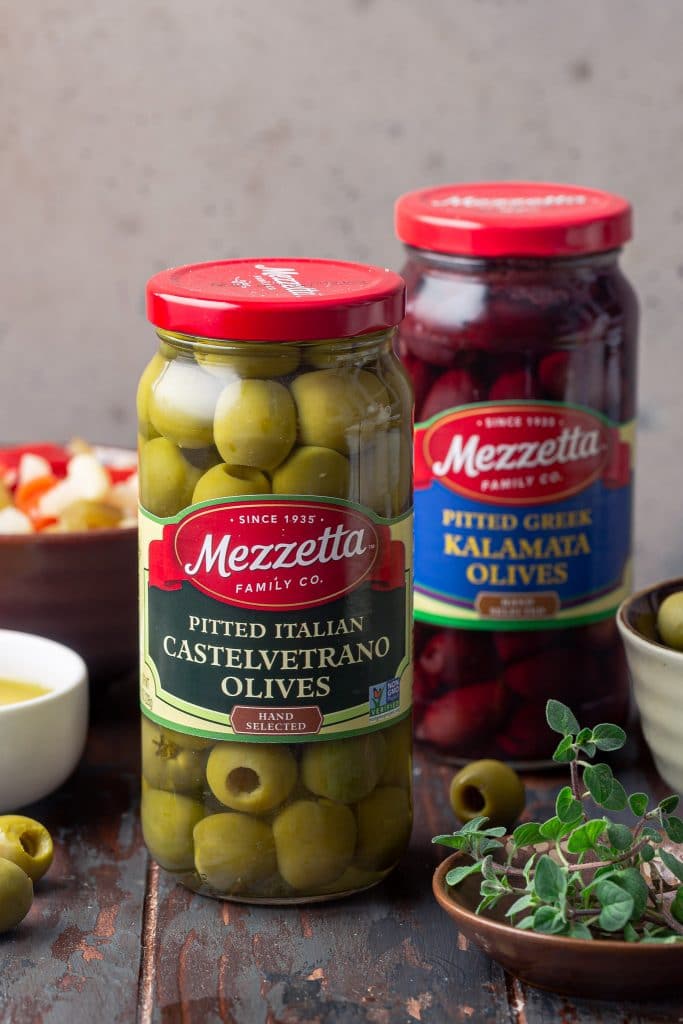 Which kind of olives to buy?
Buying olives can be a little intimidating. There are so many to choose from!
Should you go to the olive bar? Or straight to the pickled food aisle? And which kind of olives should I buy to make Muffuletta olive salad?
My recommendation: grab some Mezzetta olives at your local supermarket!
Mezzetta is the number one producer of specialty peppers and olives in the United States. Their mission? To produce the best quality products from the finest available ingredients and make them available at an affordable price!
Plus, their olives don't sit at an olive bar – exposed to all kinds of germs – all day.
For this recipe, I use their Castelvetrano olives – which are meaty, buttery, and not too salty – and their Kalamata olives – which are rich and fruity.
Make sure to buy them pitted, so you don't have to pit them yourself!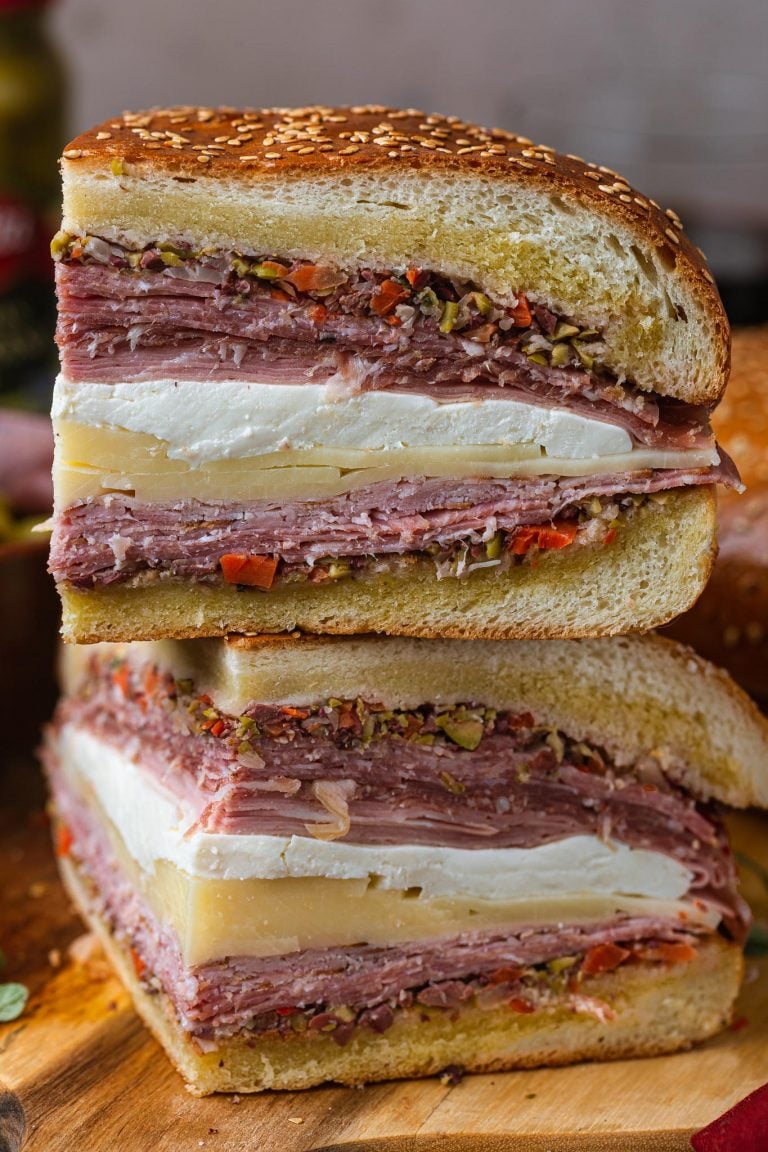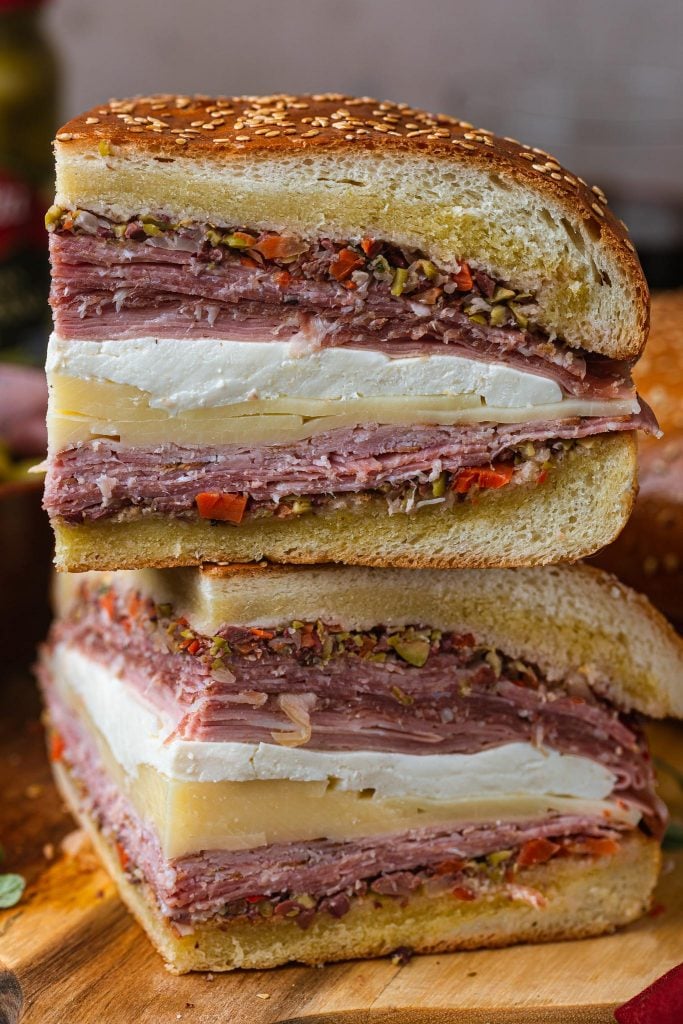 How to make a Muffuletta Sandwich
Making a muffuletta is a little more time consuming than assembling your everyday Italian sub, but it is so worth it!
I recommend you make the olive salad a day ahead, so you can let it marinate overnight. It can keep well in the fridge for a week (some people say a month), so if you could double the recipe and have olive salad available for when your next muffuletta cravings hit!
Don't skip brushing the bread with garlic oil and toasting it, as that adds a lot of flavor and texture.
And, finally, even if you can't wait for the sandwich to compress, you should let it sit for a little bit before digging in, as the muffuletta gets better as it sits around at room temperature!
Recommended tools: food processor, bread knife, cutting board.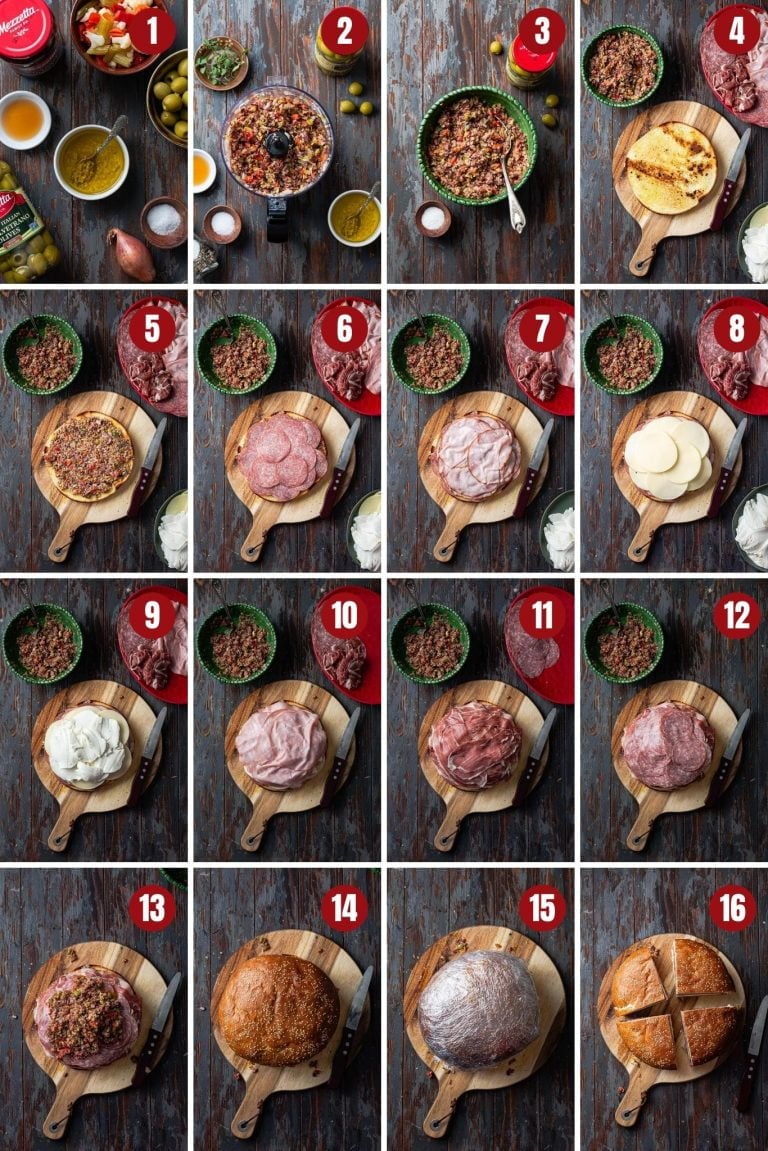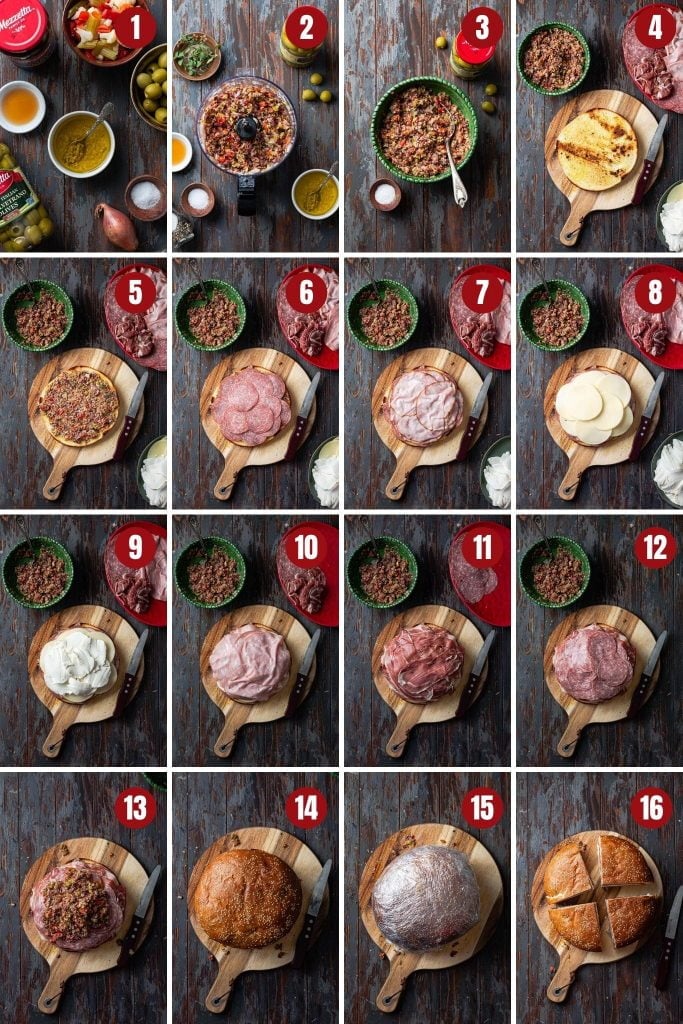 Here's how I make Muffuletta. As always, you will find the printable (and more complete) version of the recipe at the end of this post!
Step 1: Make the olive salad
Make the garlic oil by mixing the olive oil and the minced garlic. (Photo 1) Reserve.
Place the olives, fresh oregano and giardiniera in the food processor. Pulse until coarsely chopped. (Photo 2)
Transfer the chopped mixture to a bowl and add half of the garlic oil and remaining ingredients. (Photo 3) For best results, cover with plastic and refrigerate overnight (or up to a week).
Step 2: Assemble the sandwich
Start by halving the loaf and brushing the insides with the remaining garlic oil. Toast until golden brown. (Photo 4)
Spread the bottom cut surface generously with half of the olive salad. (Photo 5)
Layer all the soppressata (Photo 6), followed by the ham (Photo 7), provolone (Photo 8), mozzarella (Photo 9), mortadella (Photo 10), prosciutto (Photo 11) and Genoa salami (Photo 12).
Spread the remaining olive salad (Photo 13) and close the sandwich. (Photo 14)
Step 3: Wait!
Wrap the sandwich tightly with plastic wrap. (Photo 15) Place something heavy – like a heavy book or a marble tray – on top of the sandwich, for one hour, to compress it. After one hour, turn it around and repeat for another hour.
Cut the sandwich into 4 wedges and serve!
Olivia's Tip
While you could serve the sandwich immediately after assembling, wrapping it and letting it compress with the weight of something heavy, means that the olive salad's juices will get absorbed into the bread and that each bite will be magical!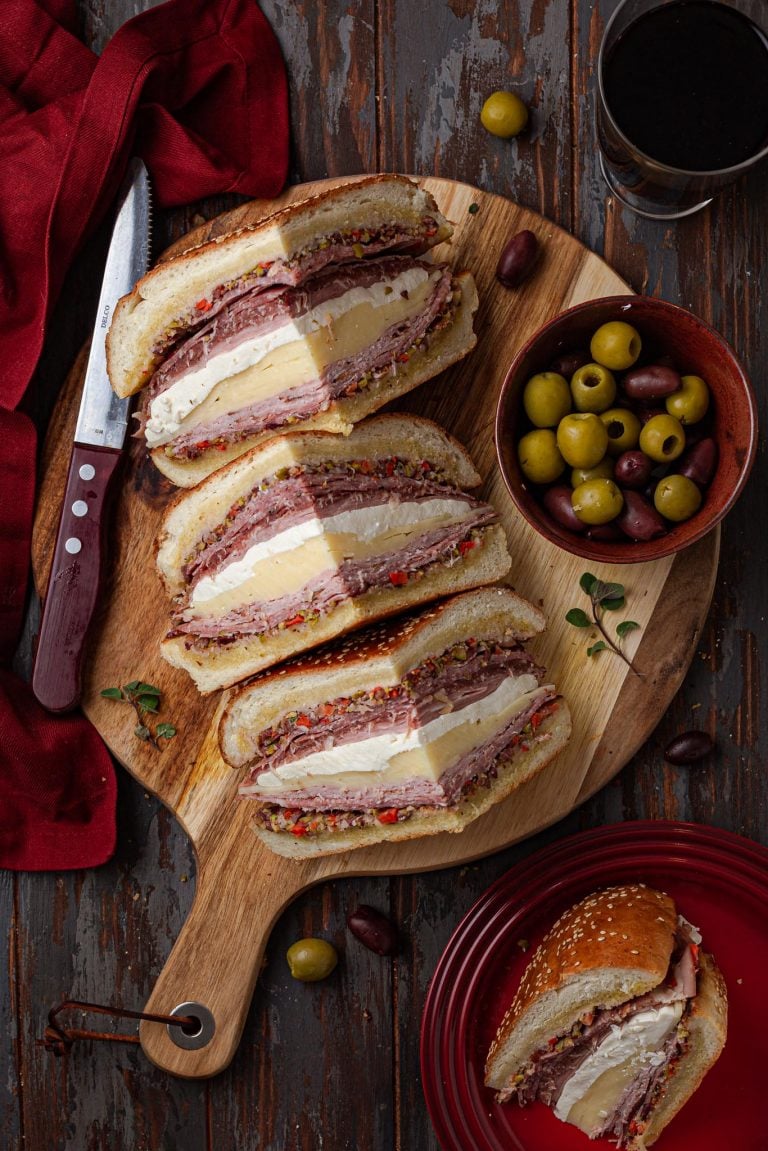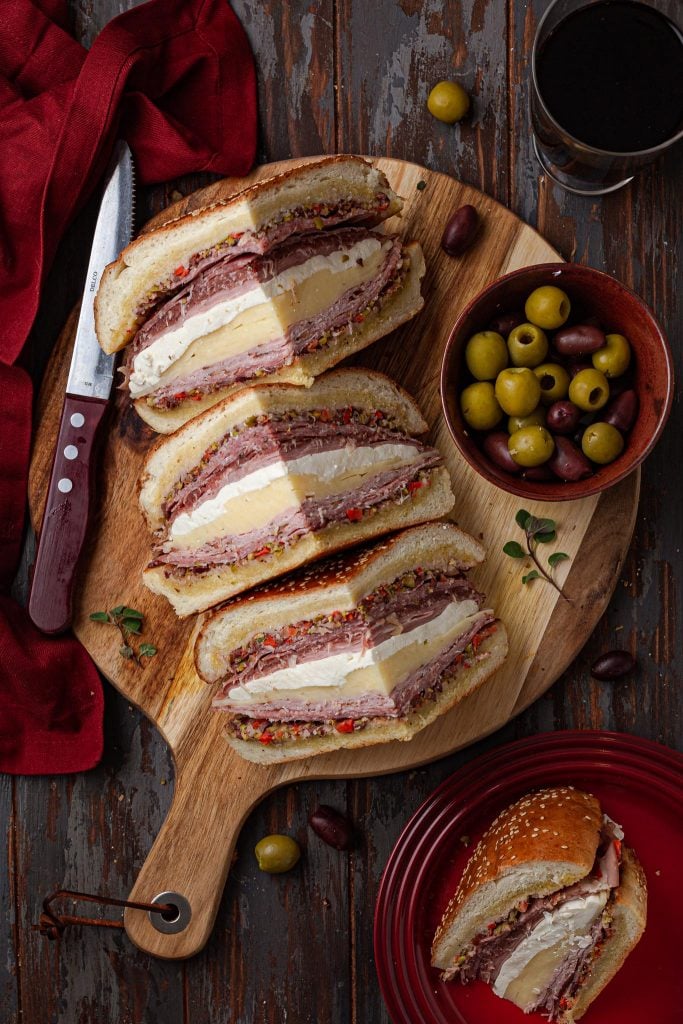 How to serve Muffuletta
This sandwich is traditionally served cold (as in room temperature), but there are some places that will heat it up if you ask.
As for sides, the muffuletta is quite filling, so you might not need anything to go with it. But if you must, some potato chips are always a good call!
Other frequently asked questions
How long can Muffuletta sit out?
The USDA says that it's dangerous to eat cold cuts that have been allowed to sit out at room temperature for more than two hours. So you should serve (or refrigerate) the sandwich as soon as you're done waiting for it to compress.
How long will it keep in the fridge?
The sandwich will keep for 2-3 days, but the bread will likely get stale.
Can a Muffaletta be frozen?
While I prefer to enjoy my sandwiches with fresh bread, they can be frozen!

If freezing, wrap the wedges tightly in plastic wrap and put them in a larger freezer bag. That way you can defrost individual portions (one wedge) at a time.

When ready to eat, defrost overnight in the fridge.
Did you make this recipe? I love hearing from you! Please comment and leave a 5-star rating below. You can also take a photo and tag me on Instagram with #oliviascuisine.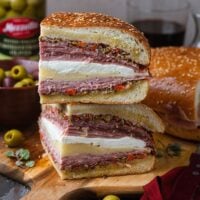 Muffuletta
Muffuletta is an Italian sandwich on steroids! A classic New Orleans invention that consists of a wide and round bread, a marinated olive salad, cheese and charcuterie. Perfect to feed a crowd, this sandwich is the epitome of epic!
Ingredients
For the olive salad:
3 garlic cloves
1 cup extra-virgin olive oil
1 cup pitted Castelvetrano olives
1 cup pitted Kalamata olives
2/3 cup Giardiniera, Italian-style pickled vegetables
1 shallot, minced
1 tablespoon chopped fresh oregano, or 1 teaspoon dried
2 tablespoons sherry vinegar
Kosher salt and freshly ground pepper, to taste
For the sandwich:
1 large Muffuletta bread
1/2 pound Genoa salami, sliced thin
1/2 pound ham, sliced thin
1/2 pound provolone cheese
1/2 pound fresh mozzarella
1/4 pound mortadella, sliced thin
1/2 pound Prosciutto di Parma, sliced thin
1/4 pound soppressata, hot or sweet
Instructions
Making the Olive Salad:
In a small bowl, combine the olive oil and minced garlic. Let it sit for at least 15 minutes.

Place the olives, giardiniera, shallot and oregano in your food processor. Pulse a few times until coarsely chopped.

Transfer the olive mixture to a bowl. Add half of the garlic oil and vinegar. Stir until throughly mixed.

Taste and season with salt and pepper as needed. For best results, cover with plastic and refrigerate overnight (or up to a week).
Assembling the Muffuletta:
Split the bread in half and brush each cut side with the remaining garlic oil.

Heat a medium-sized skillet over medium heat, and toast the bread directly in the pan until crisp and golden brown, about 1-2 minutes per side.

Place the bottom part of the bread, cut side up, on a cutting board. Spread half of the olive salad, making sure to include the juices.

Layer all the Genoa salami, followed by all the ham. Then, layer the provolone cheese, mozzarella cheese, mortadella, prosciutto and soppressata. Finish with the remaining olive salad.

Close the sandwich and wrap it tightly – two or three times – with plastic wrap.

Place the muffuletta top side up on a cutting board and put something heavy (like a big book or a heavy pot) on top of it, to compress it. Let it rest for 1 hour. After 1 hour, turn the sandwich upside down and continue compressing for another hour.

Cut the sandwich into wedges and serve.
Notes
Muffuletta Bread
If you can't find muffuletta bread, there are several recipes online for you to make it yourself. If that's not an option, you could use focaccia or ciabatta instead, but the sandwich won't be round.
Leftovers
Leftovers can be refrigerated for 2-3 days. The olive salad will keep well for up to a week or two.
Freezing
You can freeze this sandwich for up to 3 months. Wrap each wedge tightly and then place them in a freezer bag.
When ready to eat, thaw overnight in the fridge and then let it come to room temperature before enjoying!
Nutrition
Calories: 900kcal, Carbohydrates: 14g, Protein: 43g, Fat: 75g, Saturated Fat: 22g, Polyunsaturated Fat: 49g, Cholesterol: 130mg, Sodium: 3007mg, Fiber: 2g, Sugar: 2g
If you love Muffuletta, you will also like: