Classic Reuben Sandwich
Wanna learn how to make the best Reuben sandwich? Read on and get all my tips and tricks for the gooiest, most flavorful Reuben you've ever tasted. No trip to NYC necessary!
Love classic sandwiches? Make sure to also check out my Bacon Egg and Cheese, Croque Monsieur and Muffuletta.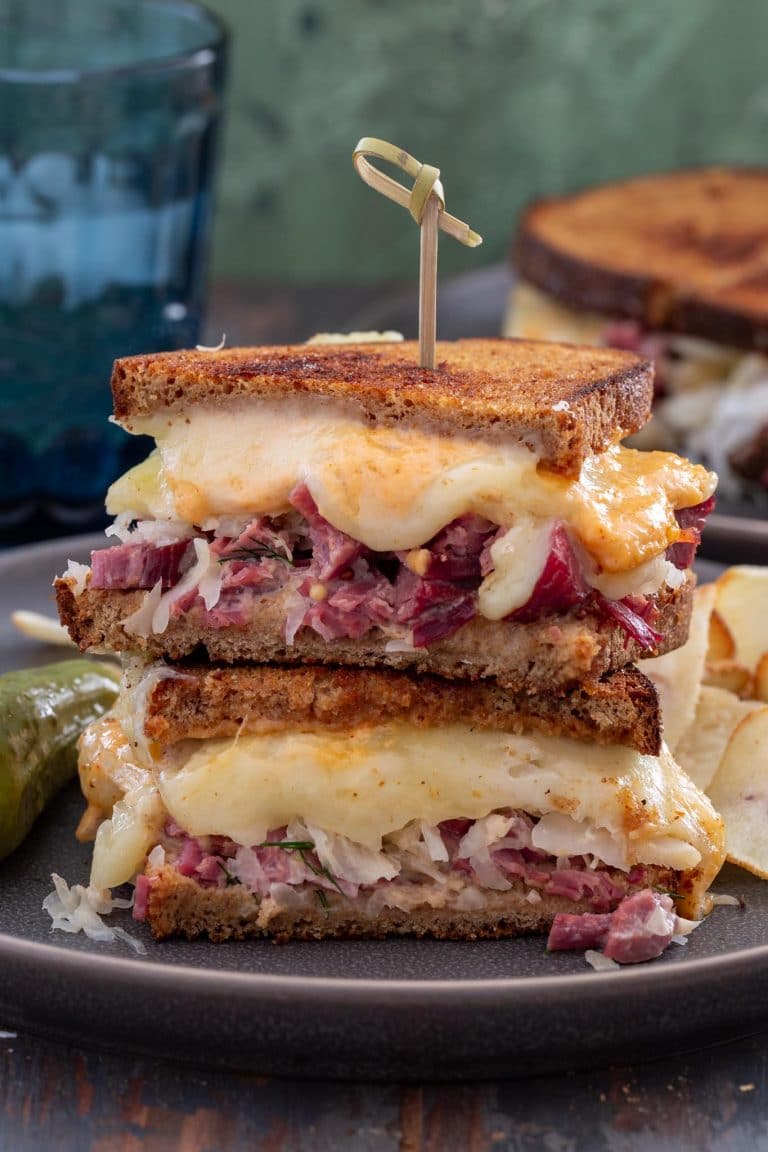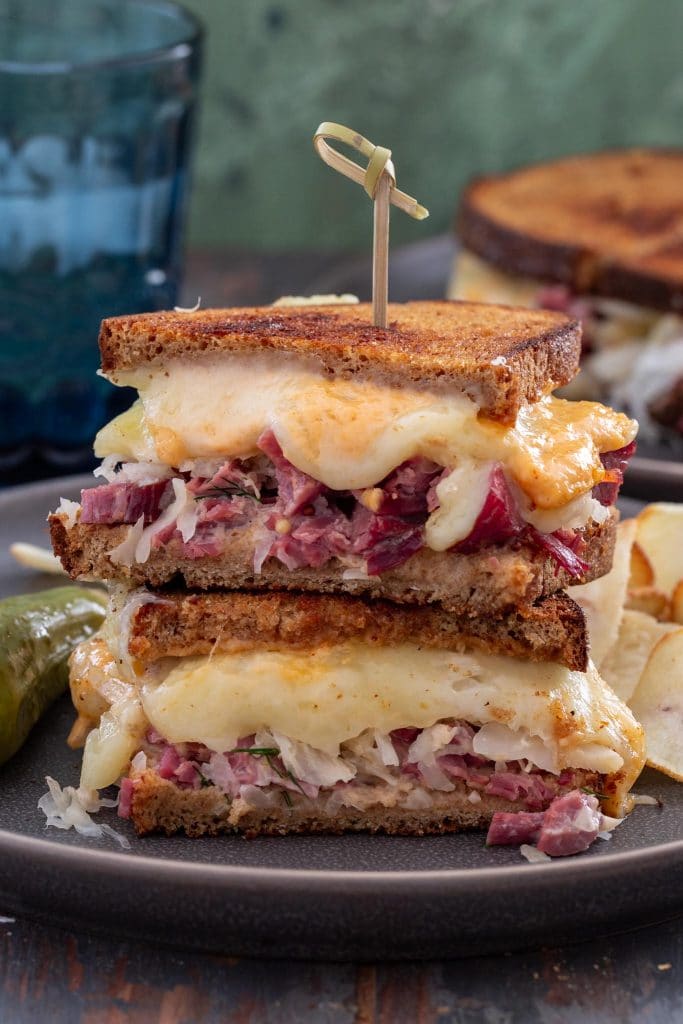 You know that corned beef I shared last week? Here it is! In Reuben sandwich form.
I bet you saw that coming, didn't you? Because who in their right mind would go through the trouble of making corned beef and not save some to make the ultimate corned beef sandwich?
But who invented the Reuben? Despite this sandwich being strongly associated with NYC, there is a lot of controversy over who actually invented it. Some claim it was Reuben Kulakofsky of Omaha, Nebraska, in the 1920s. Others strongly believe it was Arnold Reuben of New York City, in the 10s.
I'm not one to take sides in this kind of discussion, especially one that can be so passionate and emotional, so I'll let you decide for yourself. That being said, I consider myself a New Yorker (not by birth, obviously, but just by a strong sense of belonging), so I can't help but root for NYC on this one.
In any event, I am just glad that someone, either in the Midwest or in a New York City diner, had the wonderful idea of combining such eccentric ingredients into an exceptional sandwich!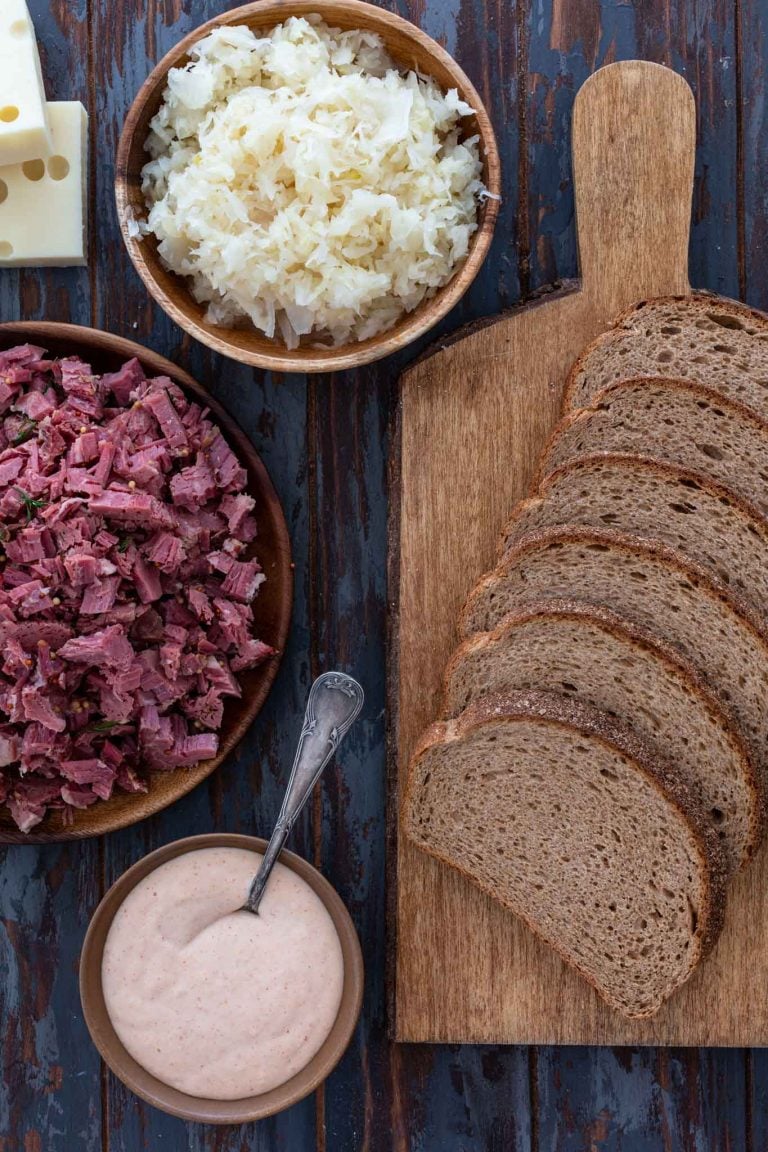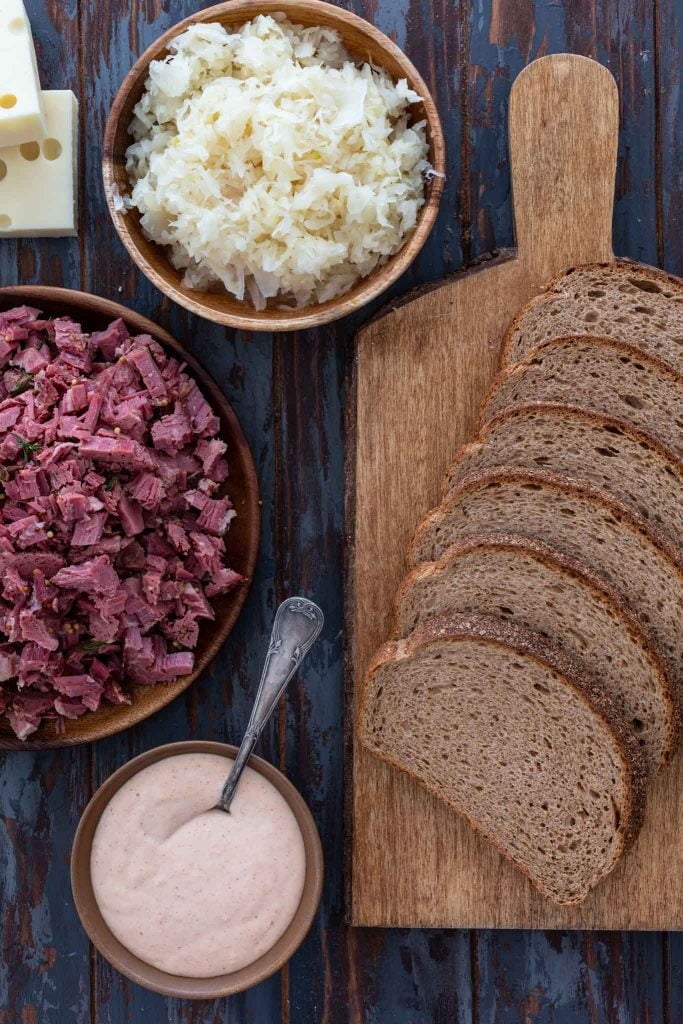 Ingredients
It doesn't matter where you are in America, if you spot a Reuben on the menu and order it, chances are it will have the following ingredients:
Toasted rye bread
Russian dressing (sometimes Thousand Island dressing)
Sauerkraut
Swiss cheese
Corned beef
As long as it's ooey gooey and packed with ingredients (to the point that you simply can't eat it without making a huge mess), it will be hard to be disappointed with a Reuben sandwich!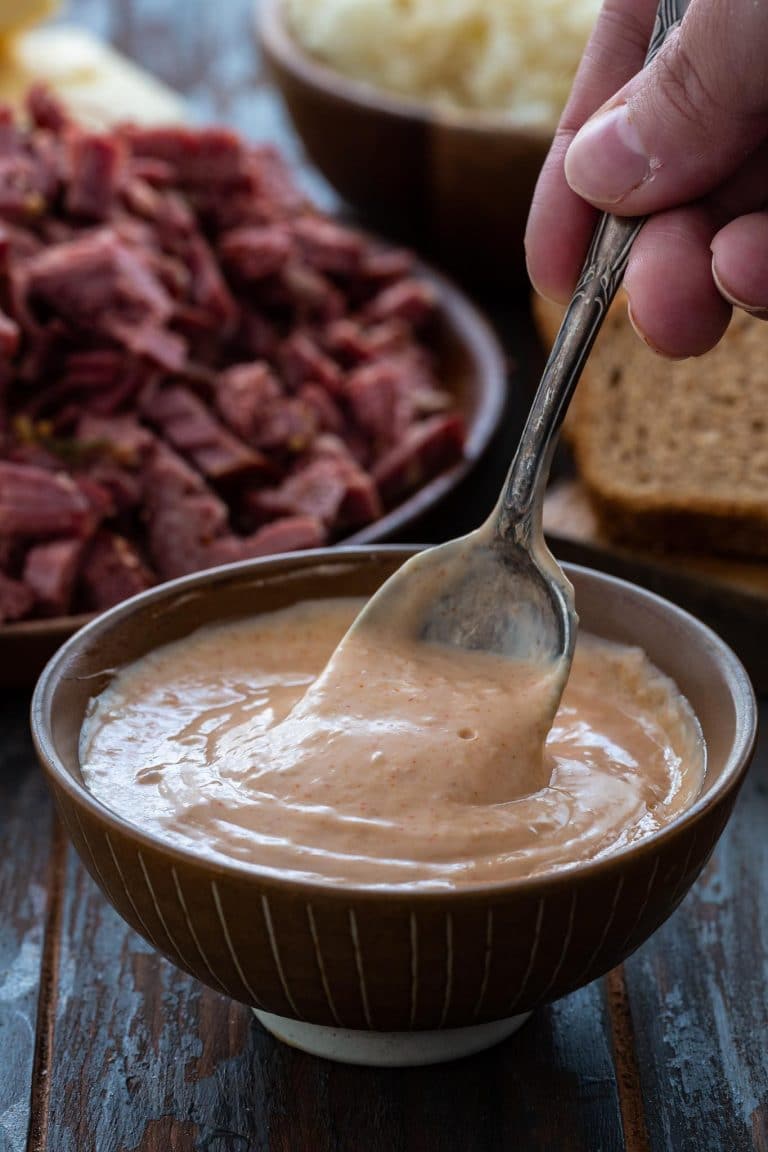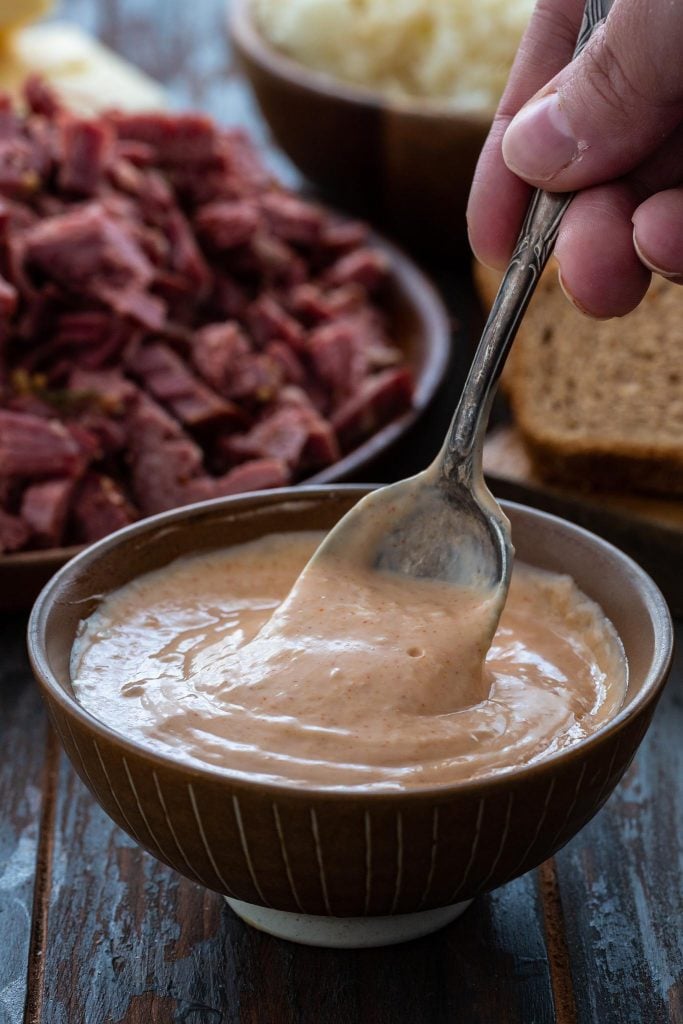 How to Make Russian Dressing
Despite Russian dressing and Thousand Island dressing being quite similar, a classic Reuben is traditionally made with Russian dressing.
Both sauces begin with a base of mayo and ketchup, which result in a pink color. But the main difference lays on the fact that Thousand Island is sweeter and studded with pickle relish, while Russian dressing is a bit spicier, with a little heat from horseradish and hot sauce.
And while you can certainly find both of those dressings at your local grocery store, making them at home is very easy!
A Russian dressing recipe consists of mixing mayonnaise, ketchup (or ketchup-style chili sauce), horseradish, hot sauce, Worcestershire sauce, sweetpaprika, a tablespoon of chopped or grated onion ( I prefer shallot) and salt.
Now, if you're a Thousand Island gal (or guy) and already have that in your fridge, by all means, use that! You can even add a few dashes of hot sauce to make it spicier and closer to Russian dressing.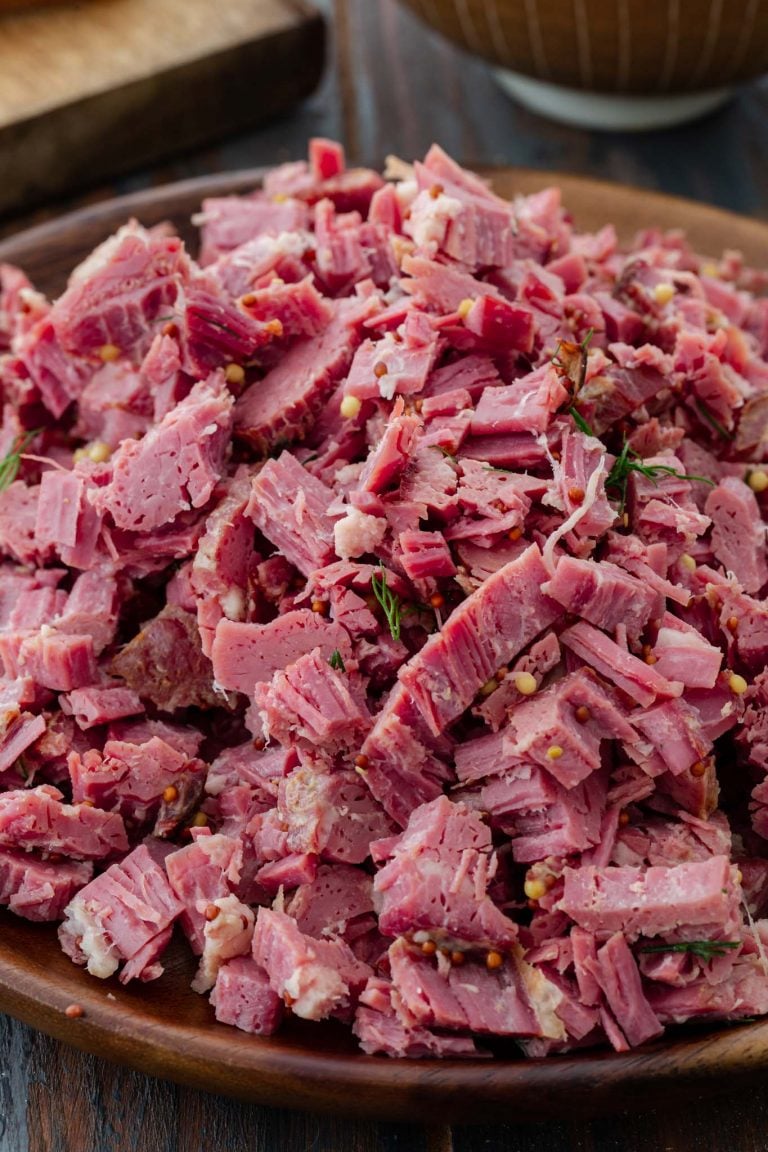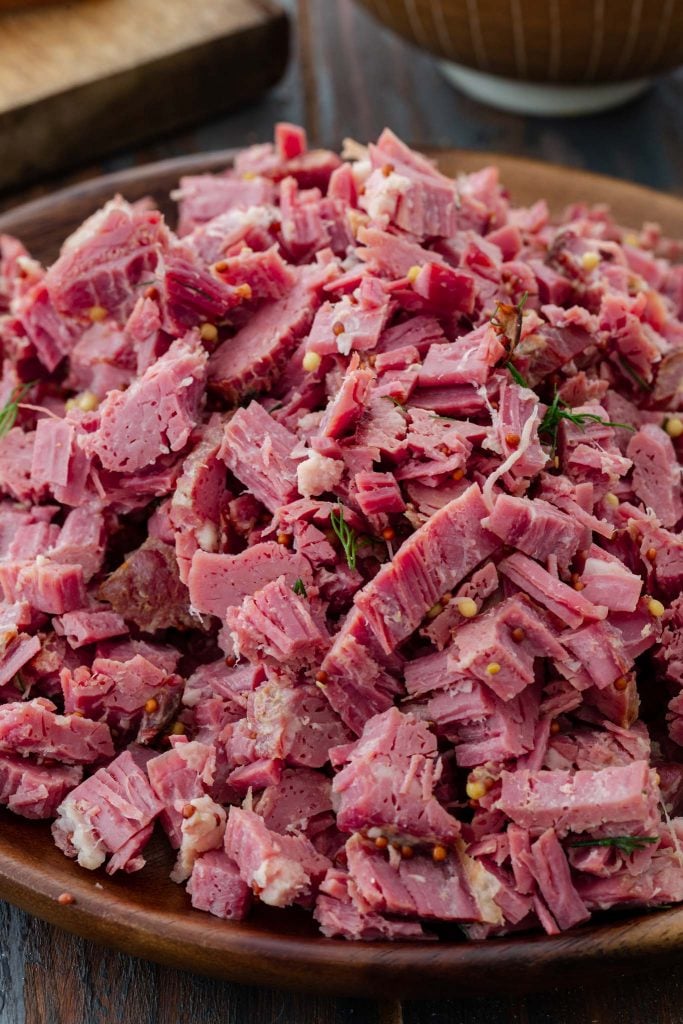 Is a Reuben made with corned beef or Pastrami?
If you want to get technical, a Reuben sandwich made with pastrami is called a "Rachel". A classic Reuben is always made with corned beef!
It is easy to see the confusion though, as both sandwiches are so delicious! If you've ever been to Katz's Delicatessen in NYC (or any other NY Jewish-style deli, really), you know what I'm talking about.
And although many people use corned beef and pastrami interchangeably, they are different. Both meats come from the same cut of beef (brisket) and are brined for up to a week, but afterwards corned beef is boiled while pastrami is seasoned with a dry spice mix and smoked.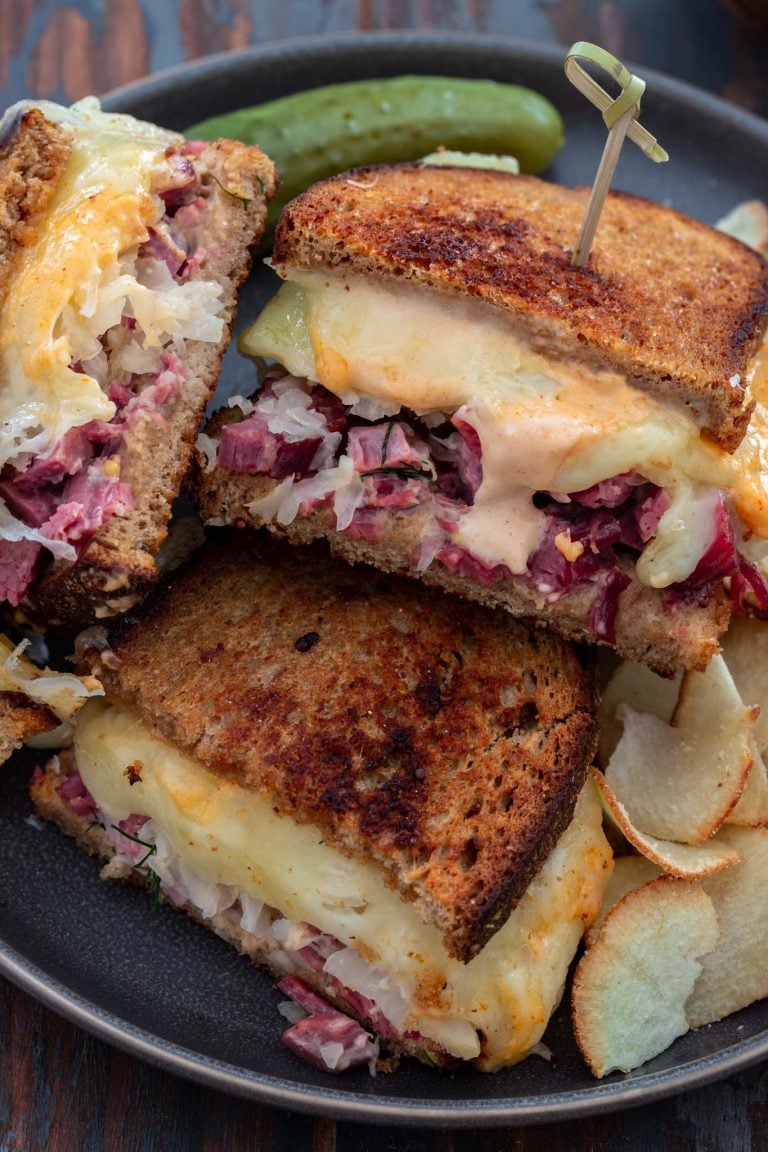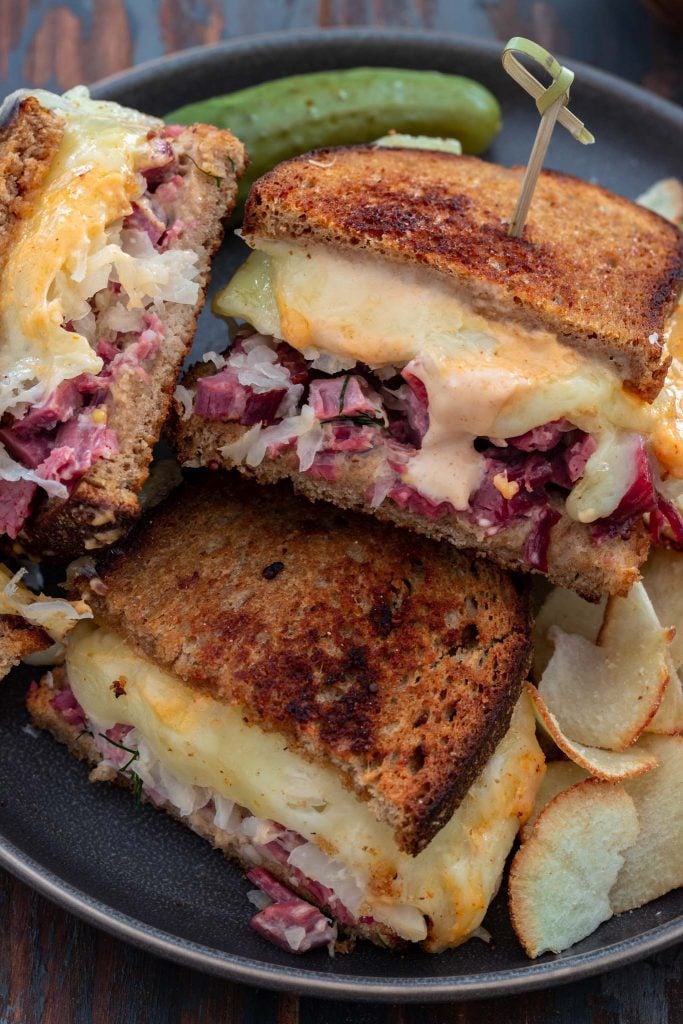 What goes with a Reuben sandwich?
In my few years of eating Reubens, I've seen it served with potato chips, fries, potato salad, Cole slaw and pickles.
The sandwich itself is quite epic that it stands alone, no side dishes necessary. But when I make a Reuben sandwich recipe at home, I like the convenience of opening a bag of chips and calling it a day!
Whatever you choose to do, there's one single thing that must ALWAYS accompany a Reuben sandwich. A napkin! Trust me on this one or don't come telling me I didn't warn you.
Other delicious sandwich recipes: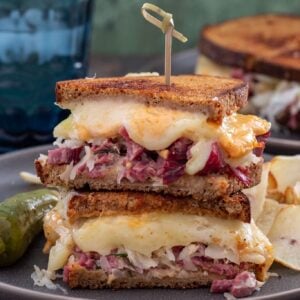 Classic Reuben Sandwich
Craving a Reuben sandwich? Look no further! This recipe makes the best Reuben I have ever tasted. PACKED with goodness and super ooey gooey. No trip to NYC necessary!
Ingredients
8 slices rye bread
4 tablespoons unsalted butter, softened
Russian dressing, recipe follows
1 pound sliced, or shredded corned beef
1/2 pound approximately 1 cup sauerkraut, drained
8 slices Swiss cheese
Russian dressing:
1/2 cup mayo
3 tablespoons ketchup
1 tablespoon grated or finely chopped shallot
1 tablespoon horseradish
1 teaspoon Worcestershire sauce
1 to 2 teaspoons hot sauce
1/2 teaspoon sweet paprika
Salt and pepper to taste
Instructions
Make the Russian dressing:
Stir all the ingredients in a medium size bowl. Reserve.
Assemble and grill the sandwiches:
Butter one side of each slice of bread. On the other (unbuttered) side, generously spread Russian dressing.

On half of bread slices, add corned beef and top with sauerkraut and cheese slices (2 per sandwich). Add more sauce, if desired. Top each sandwich with remaining bread slice, dressing side down.

Preheat a large skillet or panini press, over medium-high heat. Place sandwiches in pan, working in batches if needed, and grill each sandwich for approximately 3 minutes per side or until the bread is golden brown and the cheese is fully melted.

Cut each sandwich in half (for that classic deli look) and serve immediately!
Nutrition
Calories: 890kcal, Carbohydrates: 40g, Protein: 40g, Fat: 63g, Saturated Fat: 24g, Trans Fat: 1g, Cholesterol: 143mg, Sodium: 2511mg, Potassium: 634mg, Fiber: 6g, Sugar: 8g, Vitamin A: 849IU, Vitamin C: 11mg, Calcium: 353mg, Iron: 4mg