Passion Fruit Vinaigrette
Ready in a flash, this passion fruit vinaigrette is absolutely delicious and will bring a touch of the tropics to your salads! Make it with fresh passion fruit or with thawed frozen pulp.
Can't get enough of passion fruit? I have quite a collection of recipes for you, including my famous Passion Fruit Mousse and a delicious and refreshing Passion Fruit Ice Cream.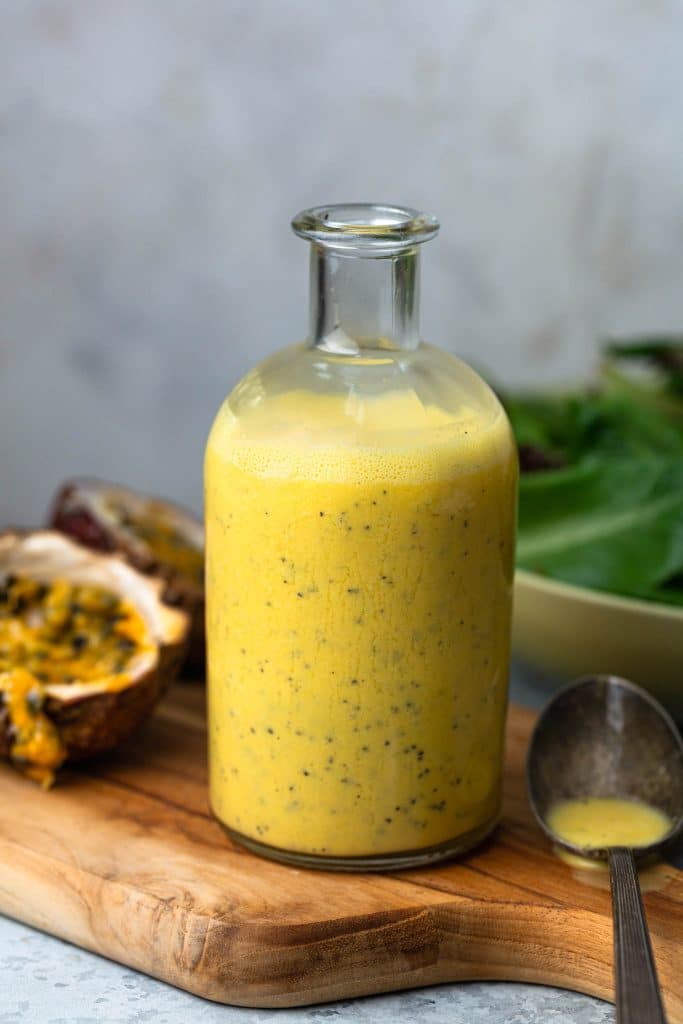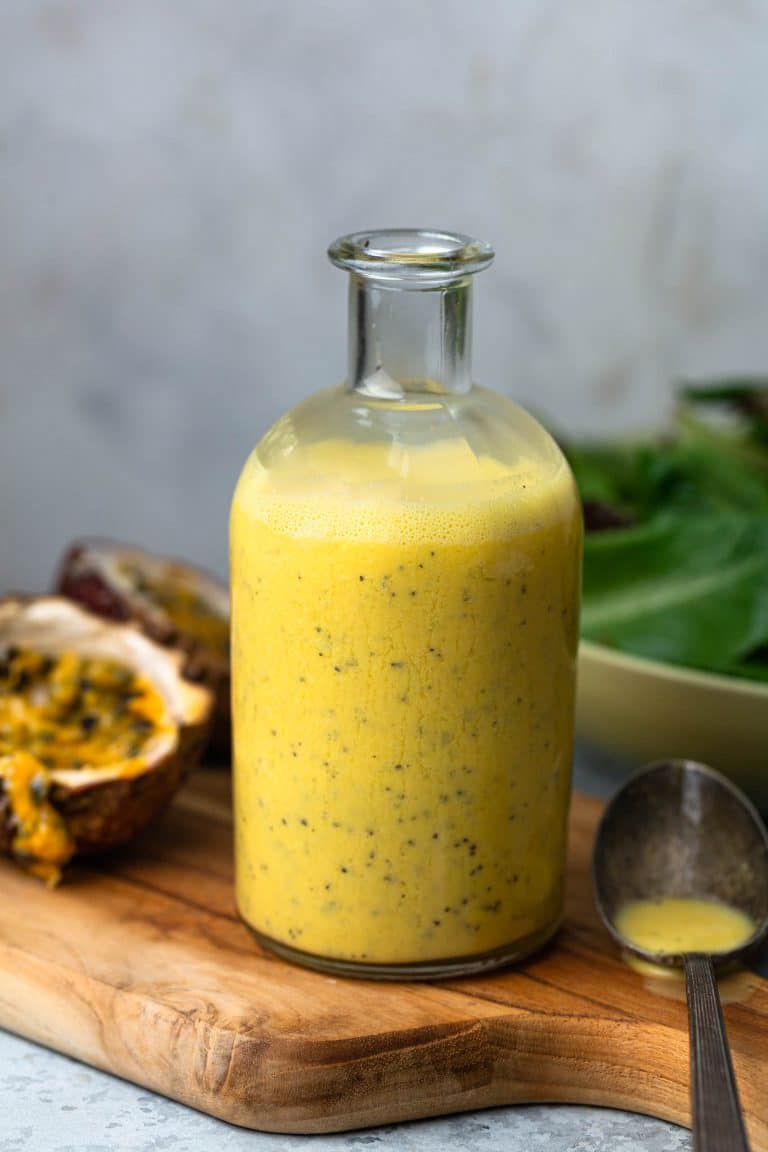 An easy summer salad dressing!
Hi! My name is Olivia and I have a passion fruit obsession.
I also got lucky enough to find the fresh stuff, so you might see a few other passion fruit recipes here over the next few days… or weeks. 🙈 Sorry, not sorry!
On the menu today is something simple but full of character: a passion fruit vinaigrette. Also known as the easiest way to elevate even the most boring salads.
It is bright and fresh, comes together very quickly and can be made ahead of time.
You will want to drizzle it on everything!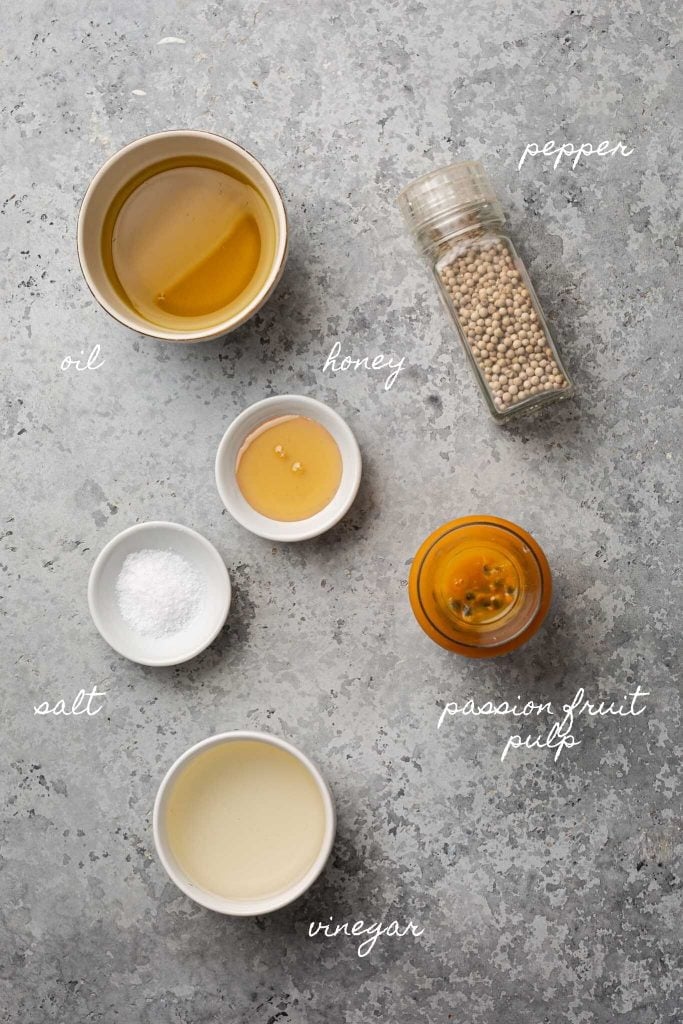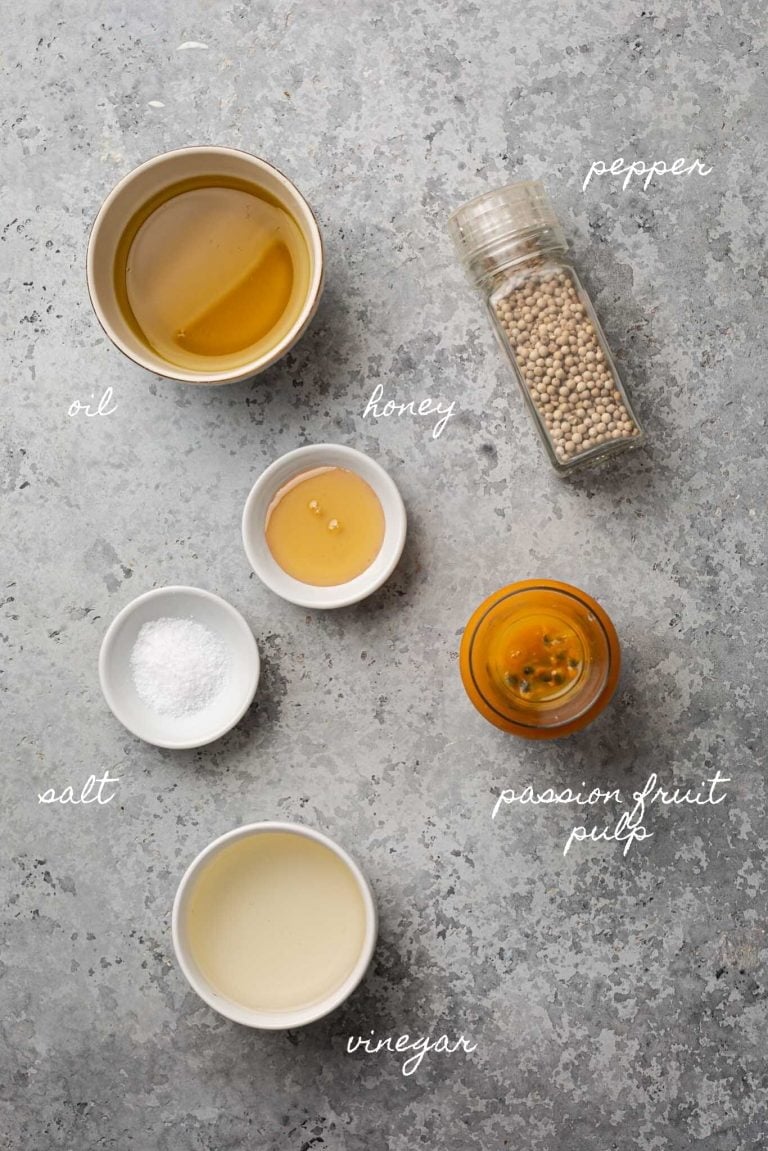 Ingredients
To make passion fruit dressing, you will need:
PASSION FRUIT PULP – Either frozen or fresh. If using fresh, separate the seeds from the pulp. You can then use a little bit of the seeds for a cool black speckled effect!
HONEY – To balance the acidity from the passion fruit and vinegar. If you're using fresh passion fruit and it's very sweet, you might only need a touch.
VINEGAR – I used white wine vinegar here, but white balsamic also works great in this recipe!
OIL – Extra virgin olive oil is what I like to use when making any vinaigrette. However, walnut oil or avocado oil would work here too!
PEPPER – I like to use white pepper in this recipe because it's more floral than black pepper and I think pairs better with the passion fruit. That being said, if black pepper is all you have on hand, feel free to use that instead!
SALT – To taste. Since I like to season my salad separately, I do not add a whole lot of salt to the dressing.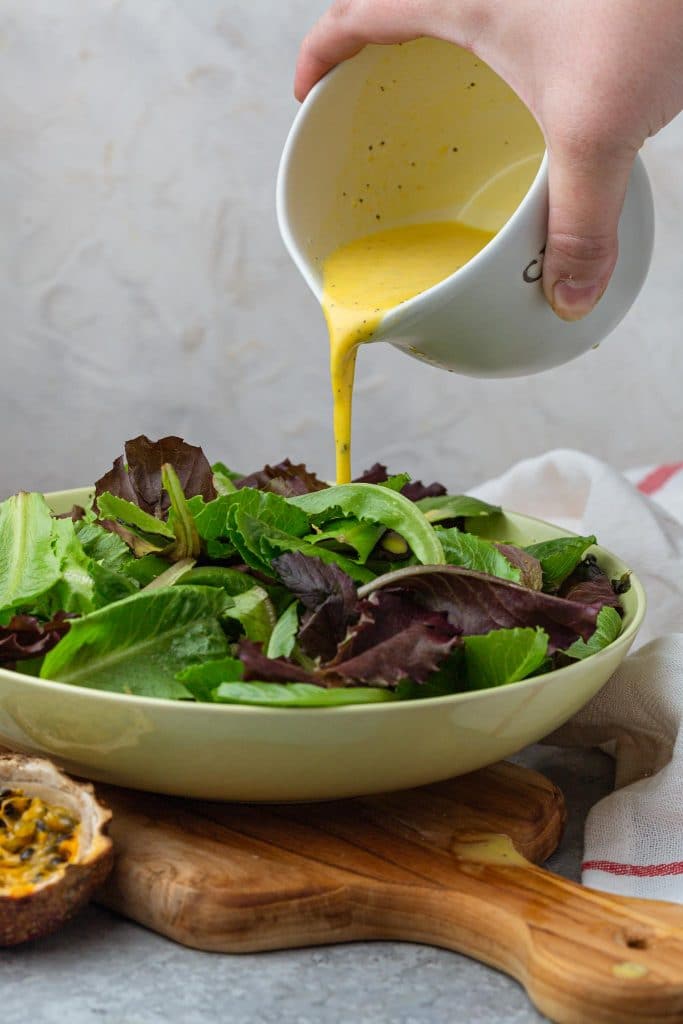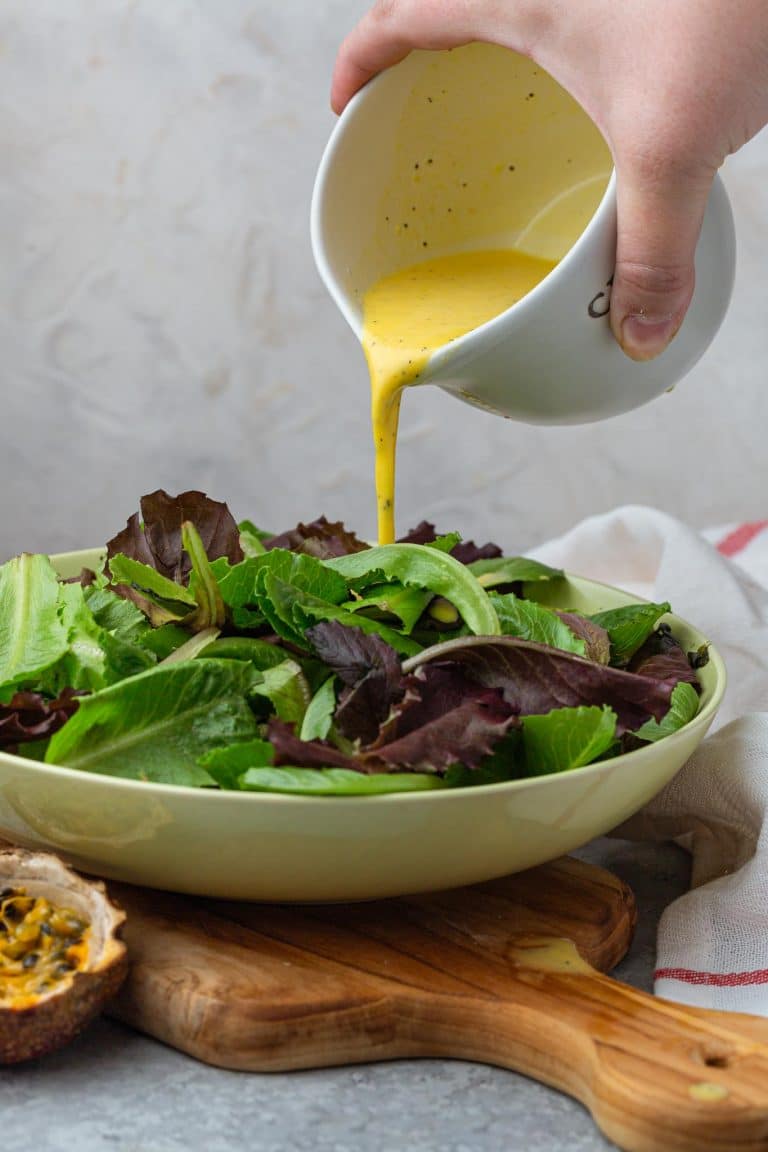 How to make Passion Fruit Vinaigrette
This dressing recipe is super simple to make!
While I usually whisk or shake vinaigrette dressings, for this specific recipe I like using a blender. That's because I like to add some of the fresh passion fruit seeds, so I need the blender to finely crush them!
If you can't find the fresh fruit and are using frozen (thawed) pulp, you can whisk/shake by hand, if you prefer.
Recommended tools: blender, mason jar (for storing).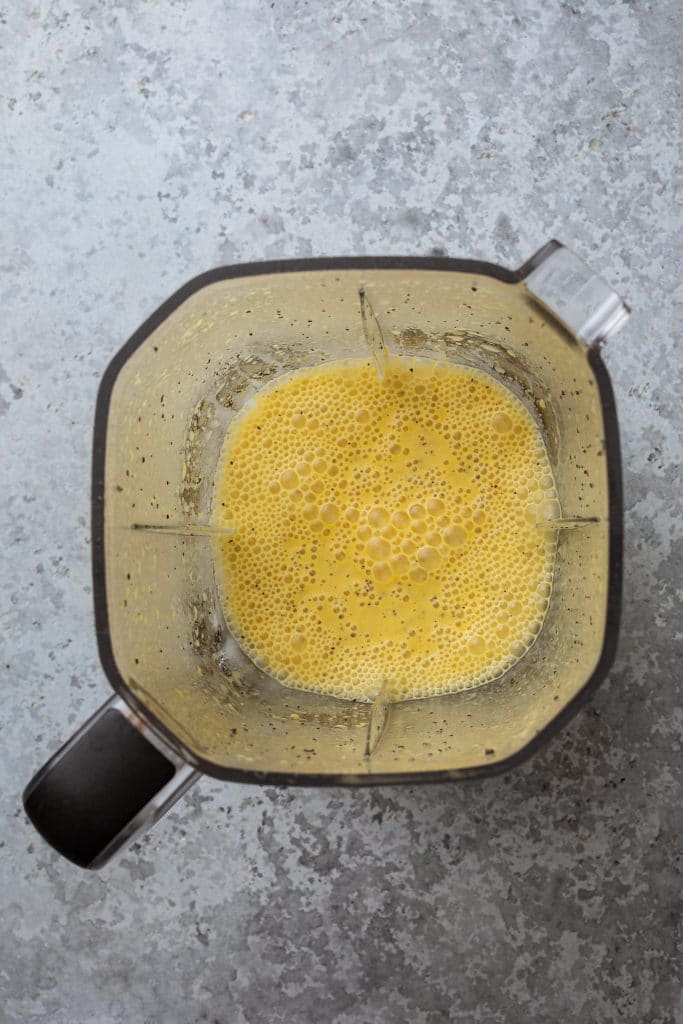 Here's how I make this passion fruit vinaigrette recipe. As always, you will find the printable (and more complete) version of the recipe at the end of this post!
Combine all the ingredients in the jar of a blender.
Blend until emulsified.
Seriously, what could be easier than that?
| | |
| --- | --- |
| | Olivia's Tip: If you prefer a creamy dressing, you can add 1/4 to 1/2 cup of Greek yogurt or buttermilk! |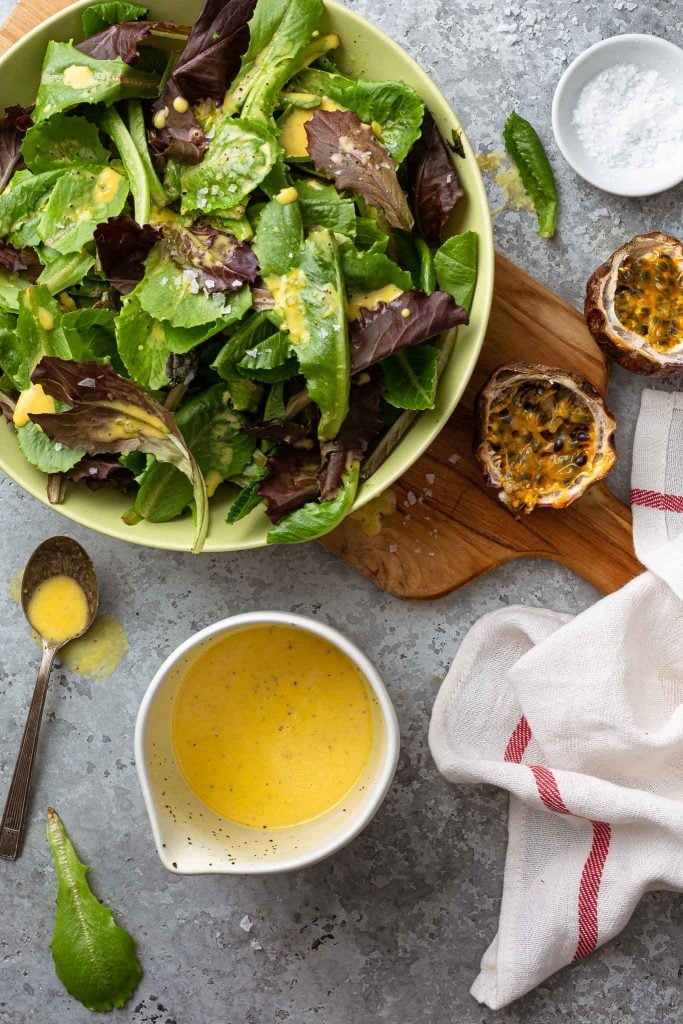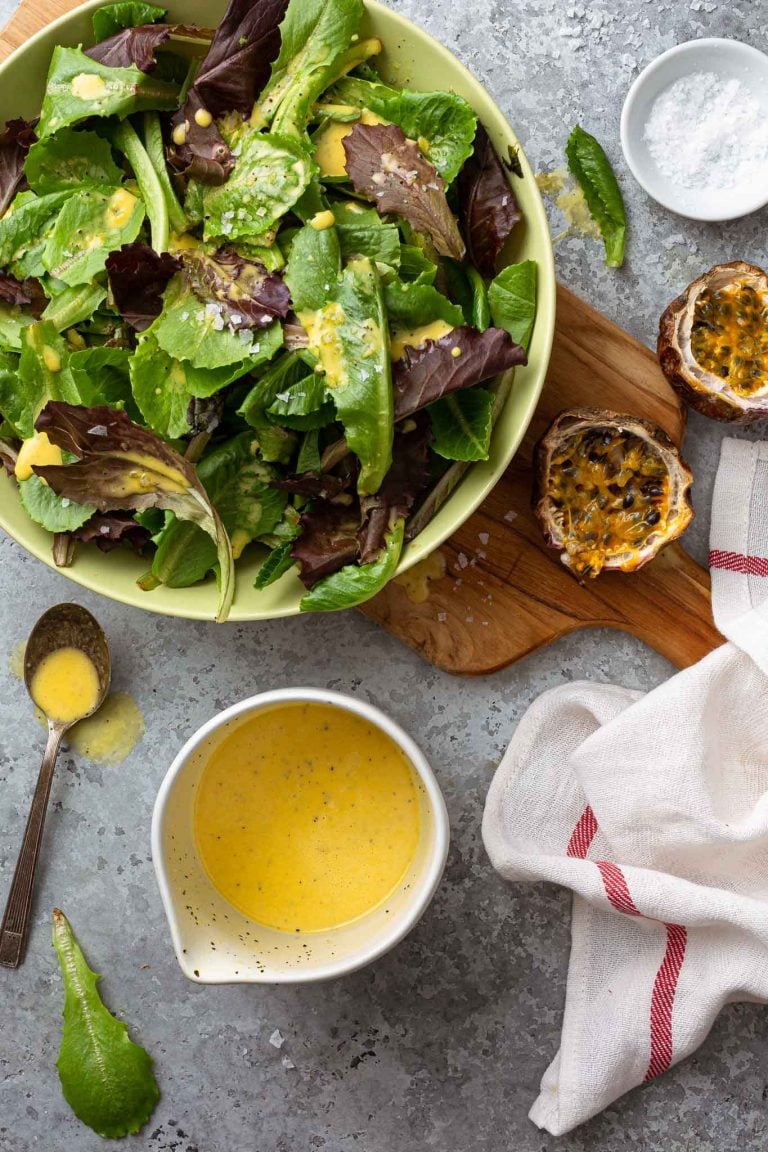 What to serve with passion fruit vinaigrette
This passion fruit vinaigrette is a great way to dress up a simple green salad. That being said, there are so many other ways to use it.
Here are a few ideas: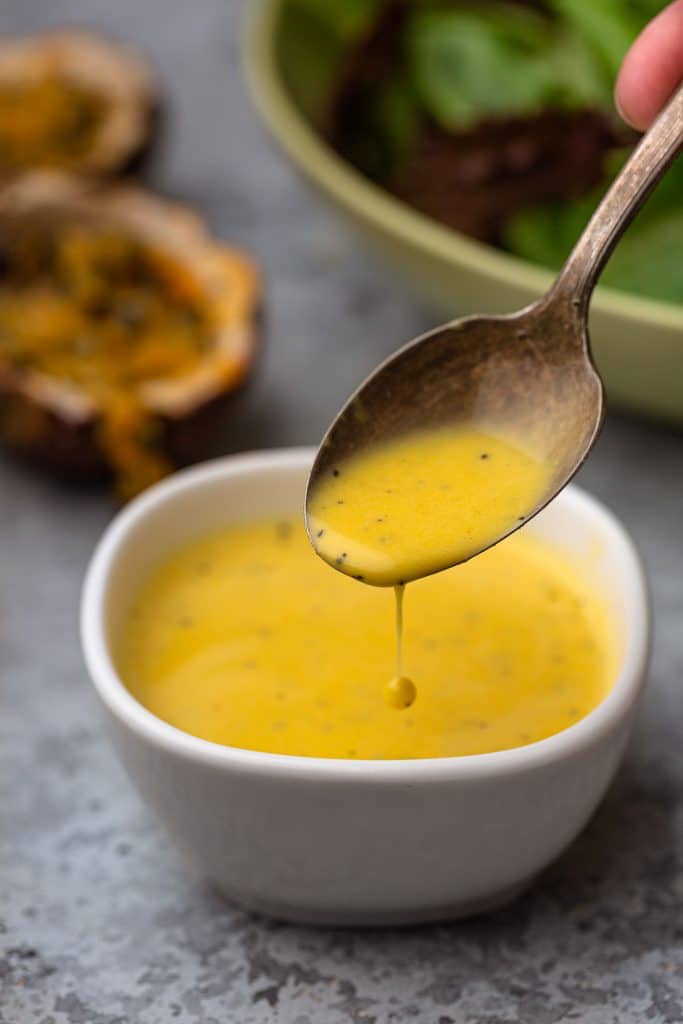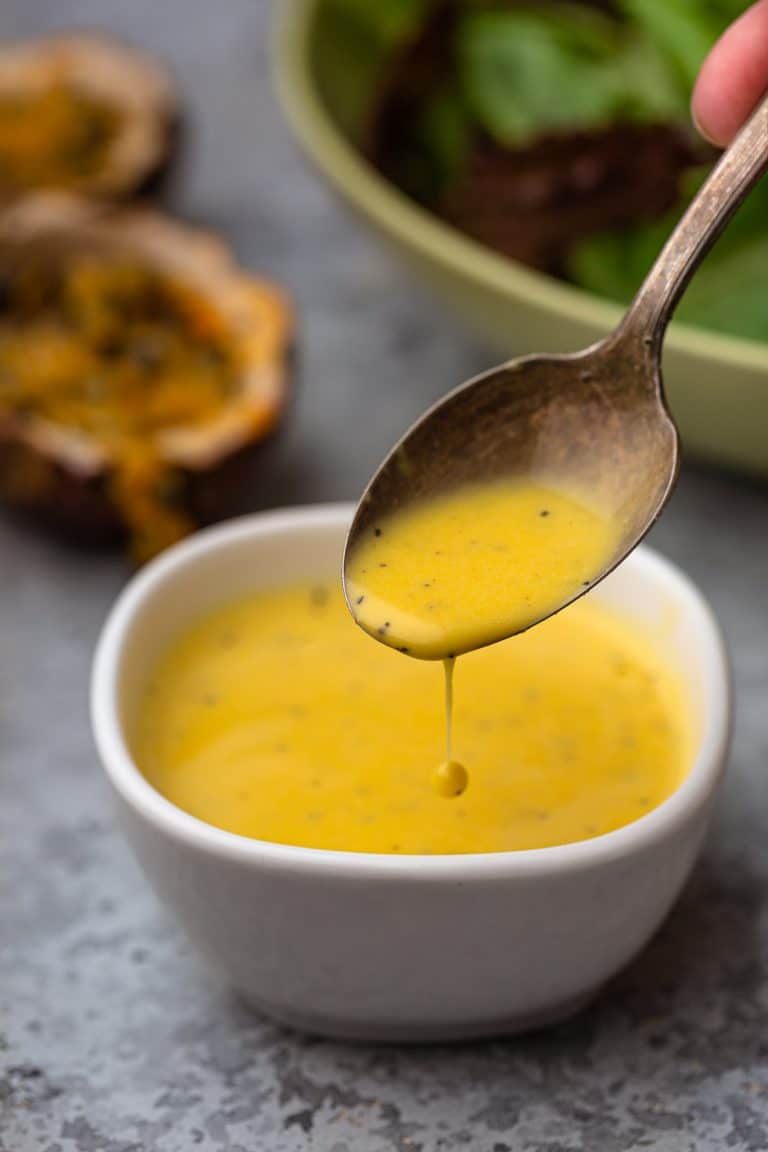 Frequently asked questions
Can I make it ahead of time?
Yes. You can make it a few days ahead and keep it in the fridge. When ready to serve, shake vigorously to emulsify it again.
How long does it last in the fridge?
If kept refrigerated, this passion fruit dressing will last for up to 1 week.
Can I freeze salad dressing?
If you used thawed frozen pulp to make this vinaigrette, I wouldn't freeze it. If made from fresh, then yes, you can freeze it for up to 6 months.
You will likely notice some separation when it thaws, but nothing that can't be fixed with some shaking! :)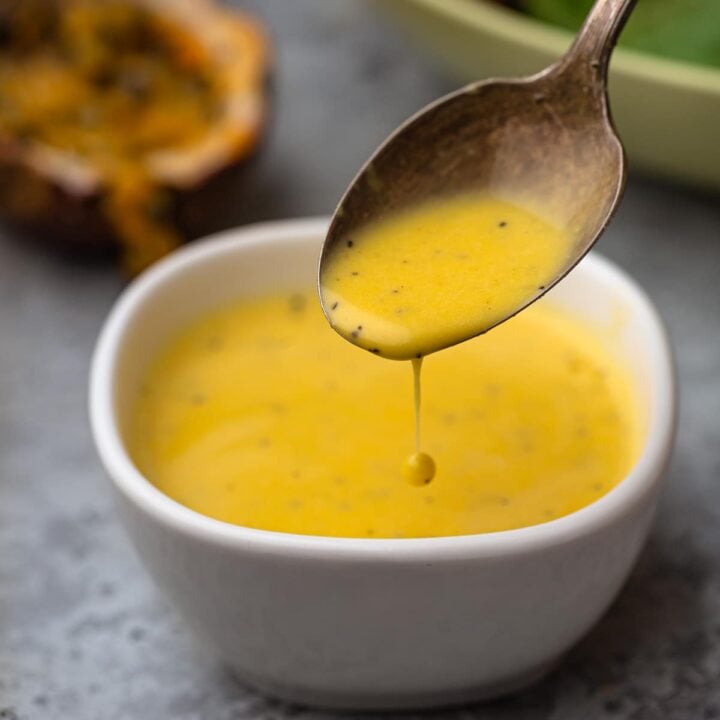 Passion Fruit Vinaigrette
Yield: about 1.5 cups
Prep Time: 5 minutes
Total Time: 5 minutes
Ready in a flash, this passion fruit vinaigrette is absolutely delicious and will bring a touch of the tropics to your salads! Make it with fresh passion fruit or with thawed frozen pulp.
Ingredients
1 cup passion fruit pulp (see notes)
2 tablespoons honey
2-3 tablespoons white wine vinegar
1/2 cup extra-virgin olive oil
Salt and freshly ground white pepper, to taste
Instructions
Combine all the ingredients in the blender or food processor.
Blend until smooth and emulsified. Taste for seasoning and adjust salt and pepper.
Use right away or refrigerate in a lidded mason jar for up to 1 week.
Notes
Passion Fruit Pulp

You can use thawed frozen pulp or the flesh from fresh passion fruit. If using fresh, you will want to separate the pulp from the seeds.
The best way to do that is to gently heat the pulp to liquefy it so it's easier to strain. Then, strain the warm pulp through a fine-mesh sieve, leaving the seeds behind. You can then add a tablespoon or so of the seeds to the blender, if desired.
Storage
Store this dressing in an airtight container, in the fridge, for up to 1 week.
When ready to serve, give it a shake (or pop it back in the blender) to emulsify it again!
Freezing
If made from fresh fruit, this vinaigrette can be frozen for up to 6 months. It will likely separate when thawed, but you can blend or shake it to bring it back to the original consistency.
Recommended Products
As an Amazon Associate and member of other affiliate programs, I earn from qualifying purchases.
Nutrition Information:
Yield: 12
Serving Size: 1
Amount Per Serving:
Calories: 111
Total Fat: 9g
Saturated Fat: 1g
Trans Fat: 0g
Unsaturated Fat: 8g
Cholesterol: 0mg
Sodium: 54mg
Carbohydrates: 8g
Fiber: 2g
Sugar: 5g
Protein: 0g
Nutritional values are approximate, please use your own calculations if you require a special diet.
If you love passion fruit, you will also like: