Spelt Salad with Navy Beans, Cherry Tomatoes and Cucumber
It's officially salad season!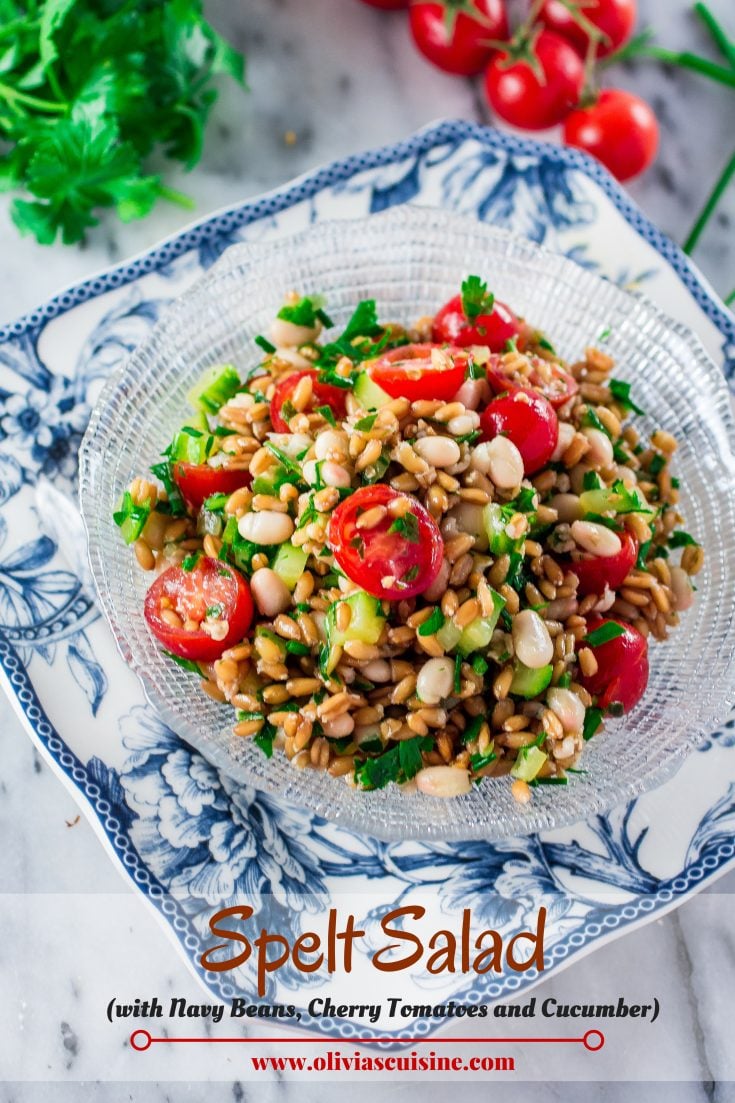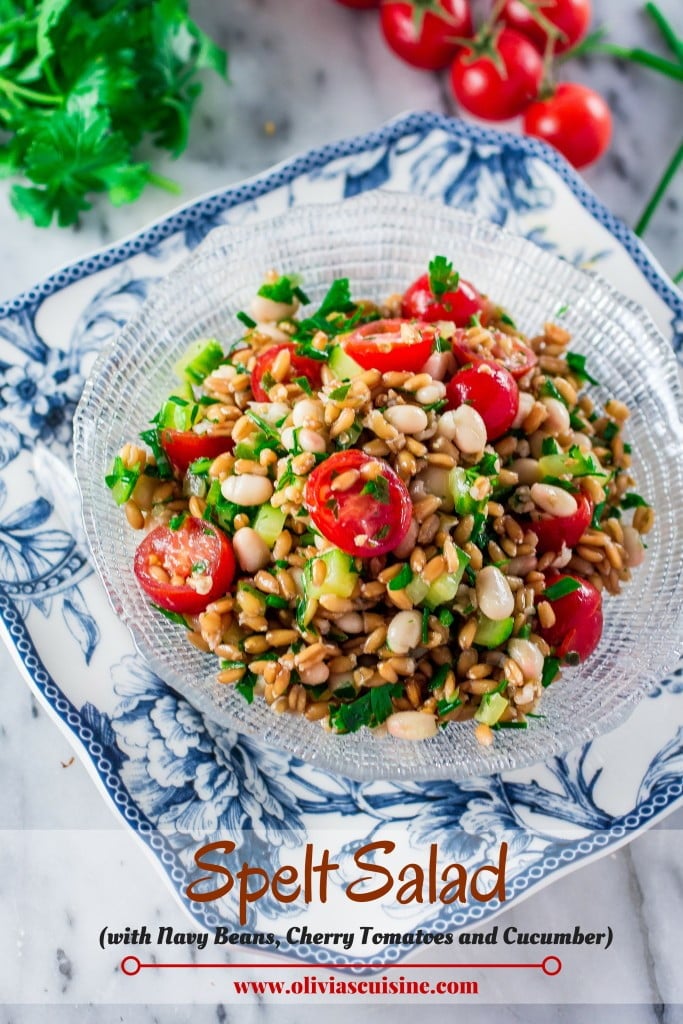 And I'm obsessed with spelt. Like, seriously obsessed! As in I've gone through 3 packages of spelt in less than 3 weeks obsessed!
A while ago I came across this NY Times article on Ancient Grains and got really curious about one I had never heard of before: spelt. So I went to the grocery store and got myself a big bag. After a little googling on how to cook it properly, I had a pot of cooked spelt that I then proceeded to use in all sorts of salads (and sometimes even eat it pure by the spoonful).
My favorite way to use it was in this Spelt Salad with Navy Beans, Cherry Tomatoes and Cucumber. This salad is so refreshing and really benefits from the chewiness and nuttiness from the spelt. Not to mention it is packed with fiber and protein, which makes it a meal by itself and great for Meatless Monday!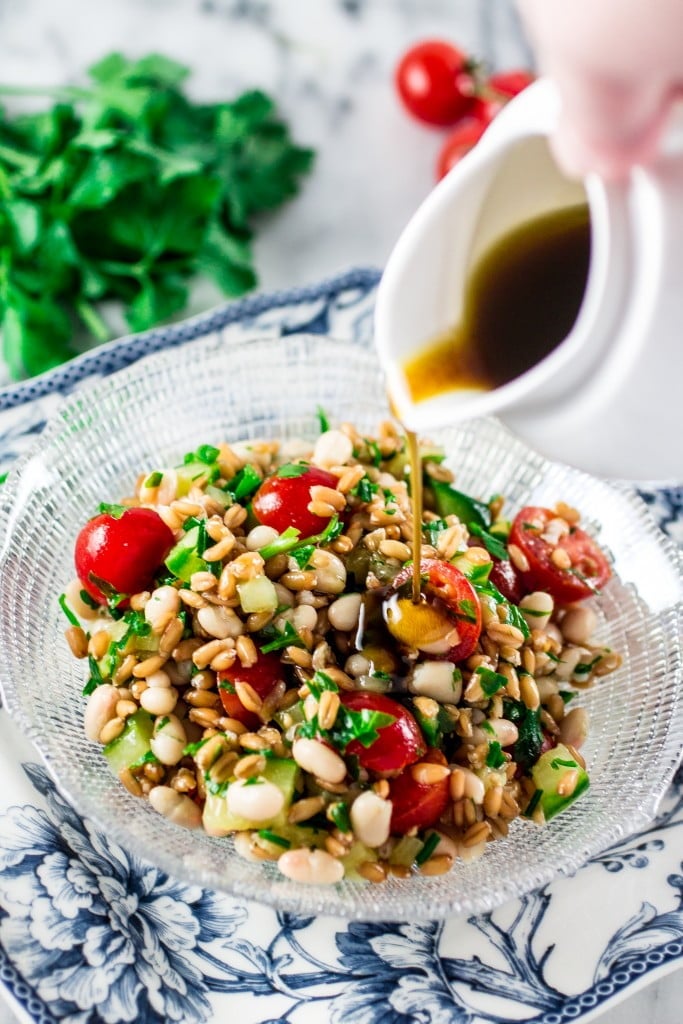 As you all know, I'm no vegetarian – just look at the last 3 posts on my blog – but I do like to cook vegetarian meals and I'm a huge grain fan. I seriously can't wait to expand my use of spelt in things other than salad. I've read it is great in meatballs (where its starchiness works as a binder), risottos, porridges and pilaf!
And as for using beans in salads, that is a recent trend for me. I grew up eating my beans hot, along with white rice. It was later in life that I fell in love with Black-Eyed Pea Salad, which inspired me to start adding beans. It is indeed a great way to boost any type of salad, really.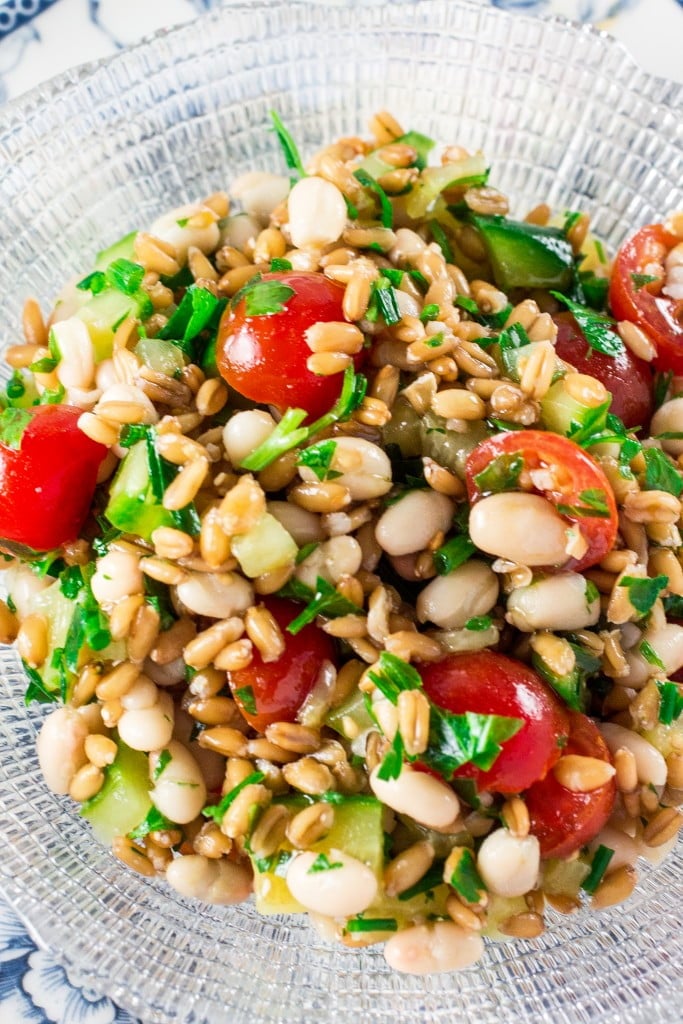 Also, once the spelt is cooked, this salad is made in less than 5 minutes! I don't know about you, but this is all I want for Spring and Summer. Low maintenance recipes that are still bursting with flavor and nutrients.
All I wanna do is pack this salad, put it in my picnic basket and go enjoy it at the park or anywhere outdoors! Wanna join?
P.S. Wanna keep in touch? Follow me on Facebook, Twitter, Instagram or Pinterest to stay up to date with my posts! If you end up making one of my recipes, I would love to see it! Just take a photo and post it on your preferred Social Media and tag me or use the hashtag #oliviascuisine! :)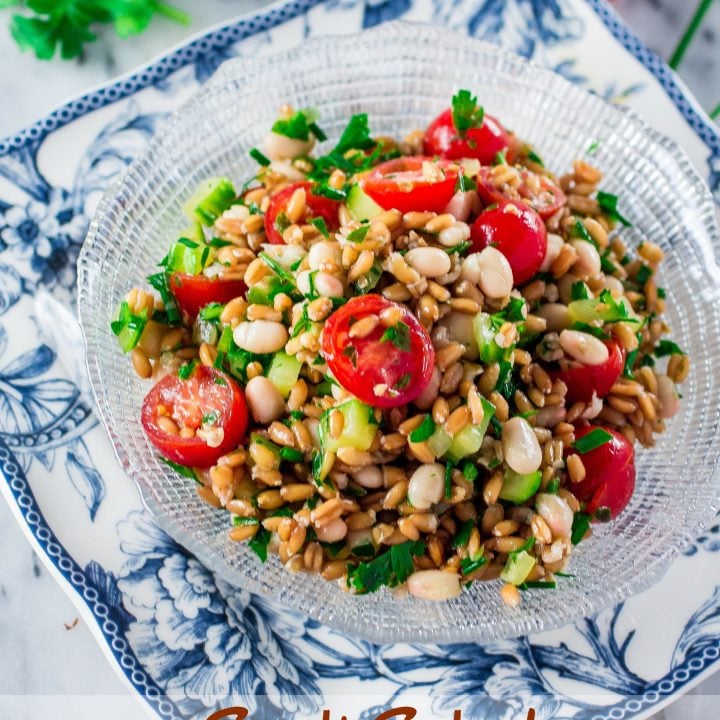 Spelt Salad with Navy Beans, Cherry Tomatoes and Cucumber
Yield: 6
Prep Time: 5 minutes
Cook Time: 45 minutes
Total Time: 50 minutes
Packed with fibers and protein, this salad is refreshing and full of flavor! Substitute the spelt for farro or even wheat berries if you have trouble finding spelt!
Ingredients
1 1/2 cups dry spelt
4 1/2 cups water
1 can (15.5oz) navy beans, drained and rinsed
1 package (12oz) cherry tomatoes, quartered or halved
1 cucumber, finely cubed
1/4 cup chopped parsley
1/4 cup chopped fresh chives
1/3 cup extra-virgin olive oil
2 Tbsp Balsamic Vinegar
Salt and pepper to taste
Instructions
In a medium saucepan, over medium high heat, cook the spelt grains, a pinch of salt and the water until it boils. Reduce the heat to low, cover, and let it simmer for 45 minutes to 1 hour or until the spelt is tender. Drain, transfer to a large bowl and set it aside to cool. You could also add a dash of olive oil for flavor.
Once the spelt is cool, add the navy beans, the tomatoes, the cucumber and the herbs and toss to combine.
In a separate bowl, combine the balsamic vinegar, the salt and pepper and the olive oil. Whisk until emulsified.
When ready to serve, pour the dressing over the salad and toss to coat.
Serve at room temperature!
Notes
You can make this salad one day ahead and refrigerate overnight.