White BBQ Brisket Sandwiches
Let's eat like Southerners, shall we?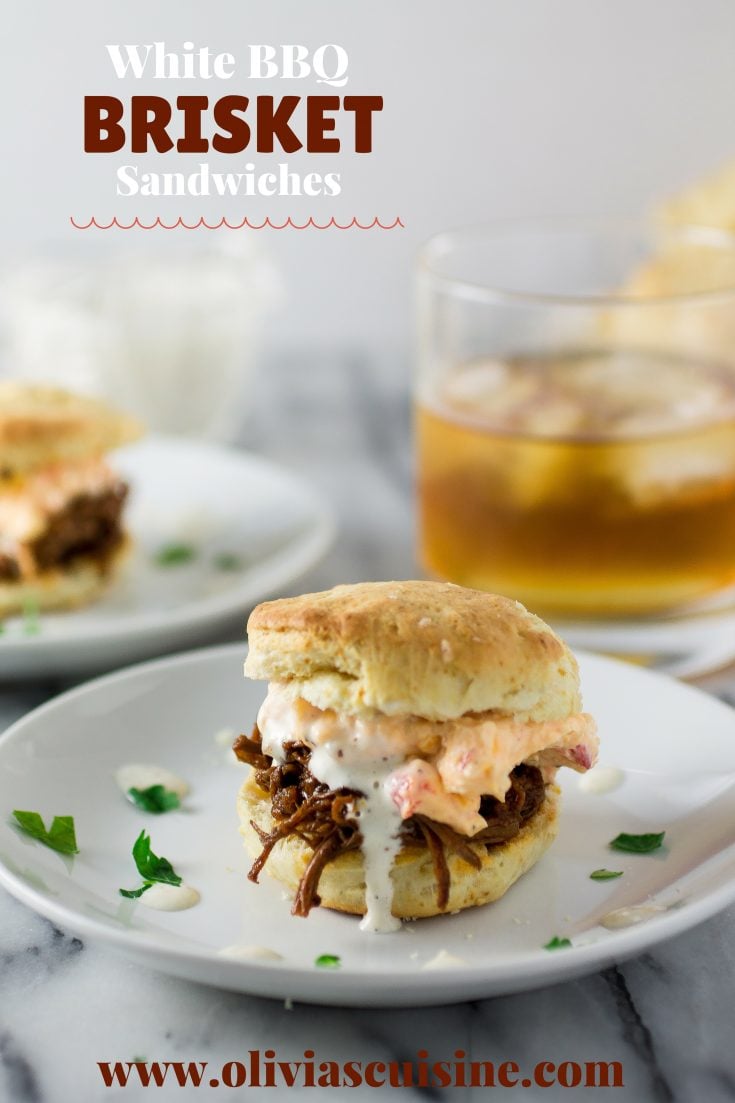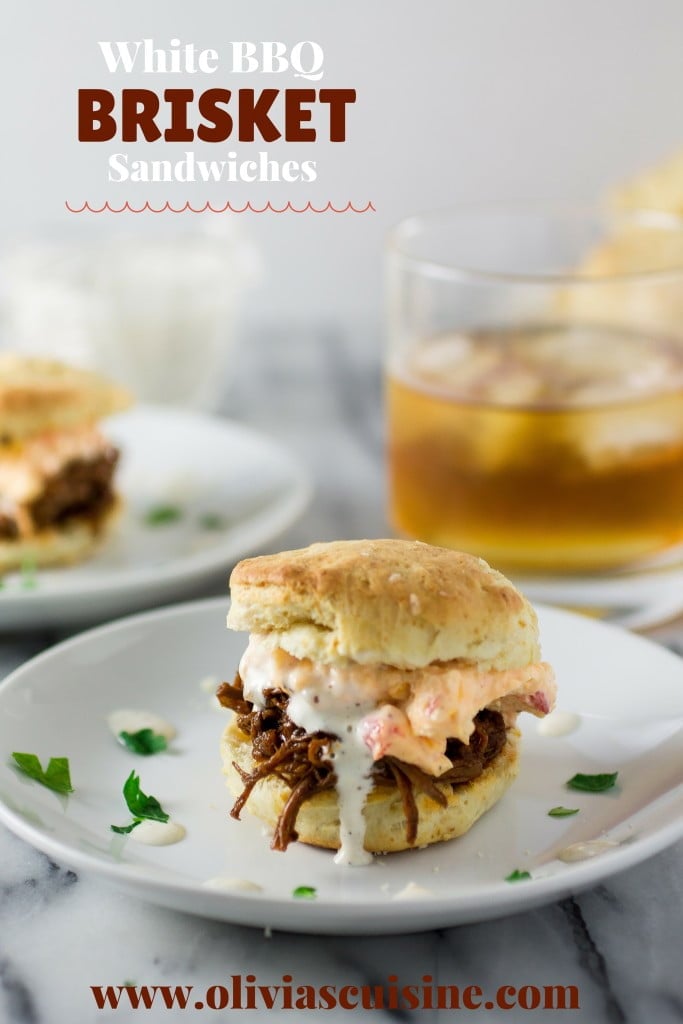 I mean, can a South American even say that? I hope so, because I love Southern American food! (Which is funny, because other than Florida, I have never been to the South.)
A part of me daydreams about moving to the south, New Orleans maybe, where the weather is milder and the people are nicer. I picture myself hosting barbecues on weekends or having some friends over for sweet tea and biscuits in the middle of the afternoon. But then I think of leaving NY and I just can't do it! The city has a spell on me… A relationship of love and hate that ties me to this weird city in such a powerful way that not even my hometown did.
But I digress! What was I saying? Ah, Southern food! Extremely fattening food (Hello, fried oreos?!?) that tastes so good that you end up not caring. Think Paula Deen! If I ever met Paula Deen, you know what I would make for her? These White BBQ Brisket Sandwiches, which I consider pretty guilt-free because they are bite-sized and therefore perfect for a party or for when you have friends (Paula Deen!!!) over!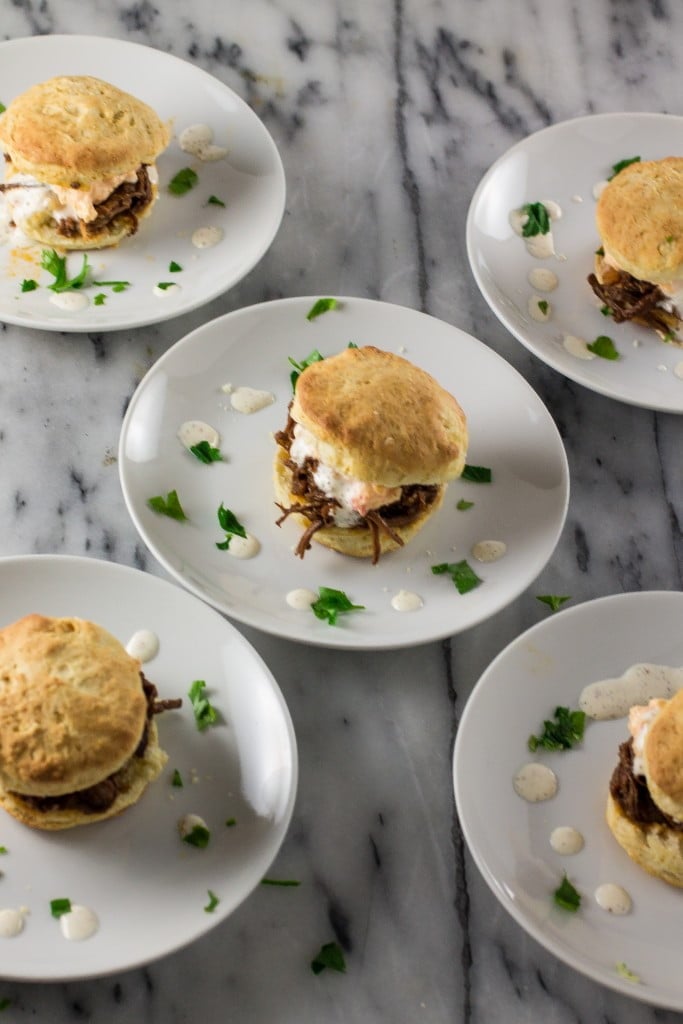 This is one of those dishes that you can make from scratch or take a few short cuts if time is an issue! I made everything from scratch: biscuits, pulled brisket, white BBQ sauce and pimento cheese. However, feel free to find the store-bought version of some of these ingredients to make your life easier.
Not that making it from scratch is hard, on the contrary. The pulled brisket, as you already know, is very conveniently made in the crockpot.
The White BBQ sauce I did try to get it from the store, but couldn't find it. ** venting cap on ** Sometimes it amazes me how I can't find some products in NYC! Aren't we suppose to have everything from all over the world in NYC?? Somehow I find myself (and my poor husband) in the grocery store, in an almost a scavenger-hunt-like experience, scratching my head looking at shelves and shelves of products without being able to find what I want. True, my list has become weirder and weirder after I decided to start food blogging, but still, it's NYC for God's sake! ** venting cap off **
Thank you for listening reading my first world problems! You would probably like to know that I did find a recipe for homemade White BBQ and it was as easy as putting the ingredients in the blender! So crisis averted!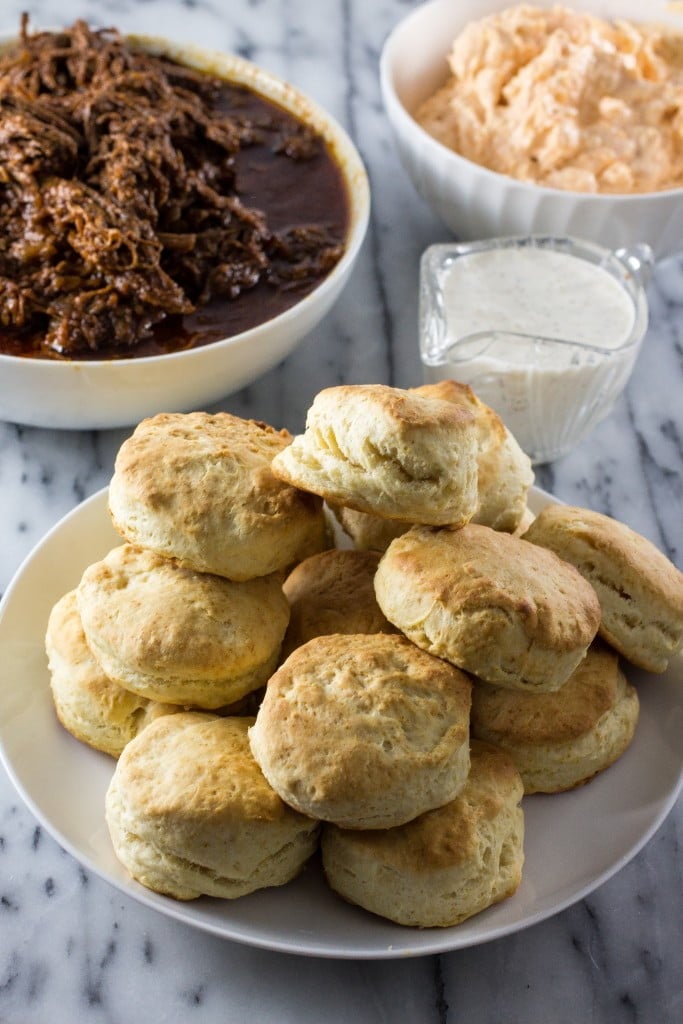 Can you believe I had never made homemade biscuits before I decided to make these sandwiches? It's so incredibly easy! They bake for only 10 minutes or so and they are so flaky/tender/buttery! I will definitely be making them more often.
In fact, I might take a day to make a bunch of biscuits and freeze them. Then, whenever I wanna make these delicious sandwiches (or any other biscuit sandwich), I can just pop them in the oven and bake for 20 minutes! And voilàaaaa! Biscuits whenever I want, at any time of the day! (I'm possibly seeing some breakfast biscuit sandwiches in my near future!)
And now it's time to combine all these amazing ingredients to create the most delicious, luscious White BBQ Brisket Sandwiches! That time when everything comes together and you understand that all the hard work was definitely worth it.

You get to assemble the sandwiches in any way you want. I like to do: pulled beef first, then pimento cheese and finish off with the white BBQ sauce! You can even make all the ingredients ahead of time, as they will all benefit from a day or two in the fridge, and have them ready to assemble before serving. The biscuits will keep fine for up to 2-3 days in an airtight container in your pantry.
Don't forget the napkins, as these sandwiches are a little on the messy side with all its sauciness. I suppose some people could chomp them down in one bite, but you'll most probably need two or three if you wanna maintain a certain level of elegance. However, it's understandable when elegance goes out of the window because you are eating a buttery saucy yummy sandwich. You will be lost in its hint of sweetness, tanginess, spiciness and manners will be the last thing on your mind. That's ok! I bet even the most judgmental southern old lady would forgive you!
P.S. Wanna keep in touch? Follow me on Facebook, Twitter, Instagram or Pinterest to stay up to date with my posts! If you end up making one of my recipes, I would love to see it! Just take a photo and post it on your preferred Social Media and tag me or use the hashtag #oliviascuisine! :)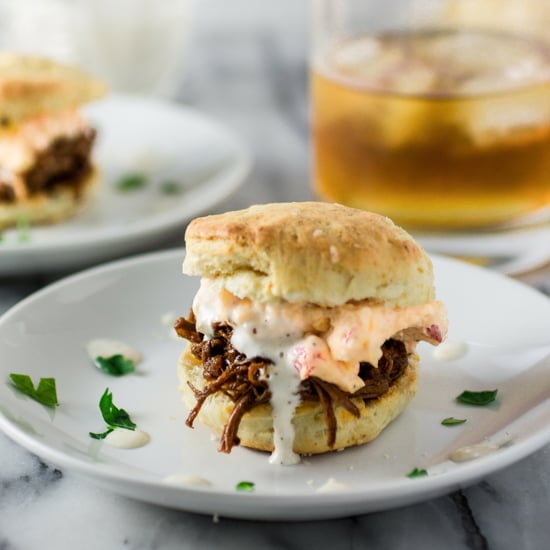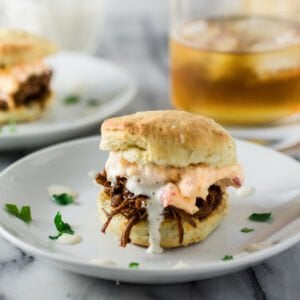 White BBQ Brisket Sandwiches
Buttery and flaky biscuit sandwiches loaded with shredded brisket, pimento cheese and white BBQ sauce! So delicious that you won't resist eating more than one!
Ingredients
3 pounds beef brisket
1 large spanish onion, thinly sliced
5 cloves of garlic, minced
3 tablespoons olive oil
1 1/2 cups peeled tomatoes, blended
1/2 cup Worcestershire sauce
2 tablespoons apple cider vinegar
2 tablespoons Dijon mustard
1 tablespoon brown sugar
1/2 cup ketchup
1 tablespoon chili powder
1 canned chipotle pepper in adobo
Salt and pepper to taste
FOR THE BUTTERMILK BISCUITS:
4 cups all purpose flour, plus more for dusting
1/2 tsp baking soda
2 tablespoons baking powder
2 teaspoons kosher salt
12 tablespoons very cold unsalted butter, cut into small cubes
2 cups buttermilk
FOR THE PIMENTO CHEESE:
1 3-ounce package cream cheese, room temperature
1 cup grated sharp cheddar
1 cup grated Monterey Jack
1/2 cup mayonnaise
1 tsp garlic powder
2 to 3 tablespoons pimentos, smashed
1 teaspoon grated onion
Salt and pepper to taste
FOR THE WHITE BBQ SAUCE:
3/4 cup mayonnaise
2 tablespoon water
2 tablespoon apple cider vinegar
1/2 tsp salt
2 tsp coarsely ground pepper
1 1/2 tsp mustard
1/2 tsp sugar
2 garlic clove, minced
1 tsp prepared horseradish
Instructions
TO MAKE THE PULLED BRISKET:
TO MAKE THE BUTTERMILK BISCUITS:
Preheat oven to 450 degrees.

Add the flour, baking soda, baking powder and salt to the bowl of a food processor and pulse a few times to combine.

Add the butter and pulse until it resembles coarse meal.

Add the buttermilk and pulse just until combined. Do not over mix!

Transfer the sticky dough to the counter (dusted with flour) and pat gently until it's 1/2" thick. (Do not use a rolling pin, as you don't want to over work the dough!)

Fold the dough about 5 times and then gently press it until it's 1 inch thick.

Using a 2 inch round biscuit cutter, cut the biscuits (pushing straight down through the dough, without twisting!) and place them in a baking sheet covered with parchment paper, about 1-inch apart.

Gently knead the scraps together to make a few more, but be aware those won't be as flaky as the first ones!

Bake for 10 to 12 minutes or until the biscuits are light golden brown! Be careful to not over bake!
TO MAKE THE PIMENTO CHEESE:
Using a mixer, beat the cream cheese until smooth. Add the rest of the ingredients and beat until the desired consistency!
TO MAKE THE WHITE BBQ SAUCE:
Combine all ingredients in a blender and blend until smooth. Add more mayo if you want a thicker consistency.
TO ASSEMBLE THE SANDWICHES:
Cut the biscuits in 2. Fill them with a layer of pulled beef, pimento cheese and white BBQ sauce. Close them and serve!



Nutrition
Serving: 1sandwich, Calories: 362kcal