Farfalle with Pancetta, Arugula and Lemon Cream Sauce
A pasta dish that embodies all the things we love about spring and summer. Fresh, colorful and tied together with a lip smacking lemon cream sauce that is to die for!
(This post is sponsored by Q Squared NYC.)
Oh spring, where art thou?
I've been patiently waiting, dreaming of my days in the sun, barbecuing, outdoor parties or pretty much anything that doesn't involve having the heat on. But despite being almost April, we just recently got a lot of snow! ?
Excuse me while I go pout under the warm covers for a moment…
But it's okay, because deep inside I know that soon the sun will be shining and I'll be able to wear all the dresses (pants are so uncomfortable when you're pregnant) and throw all the fun spring/summer parties.
In the meantime, I practice spring inspired dishes at home, like this delicious Farfalle with Pancetta, Arugula and Lemon Cream Sauce. Because it might be cloudy and snowy outside, but in my heart it is spring all year round! ?❤️☀️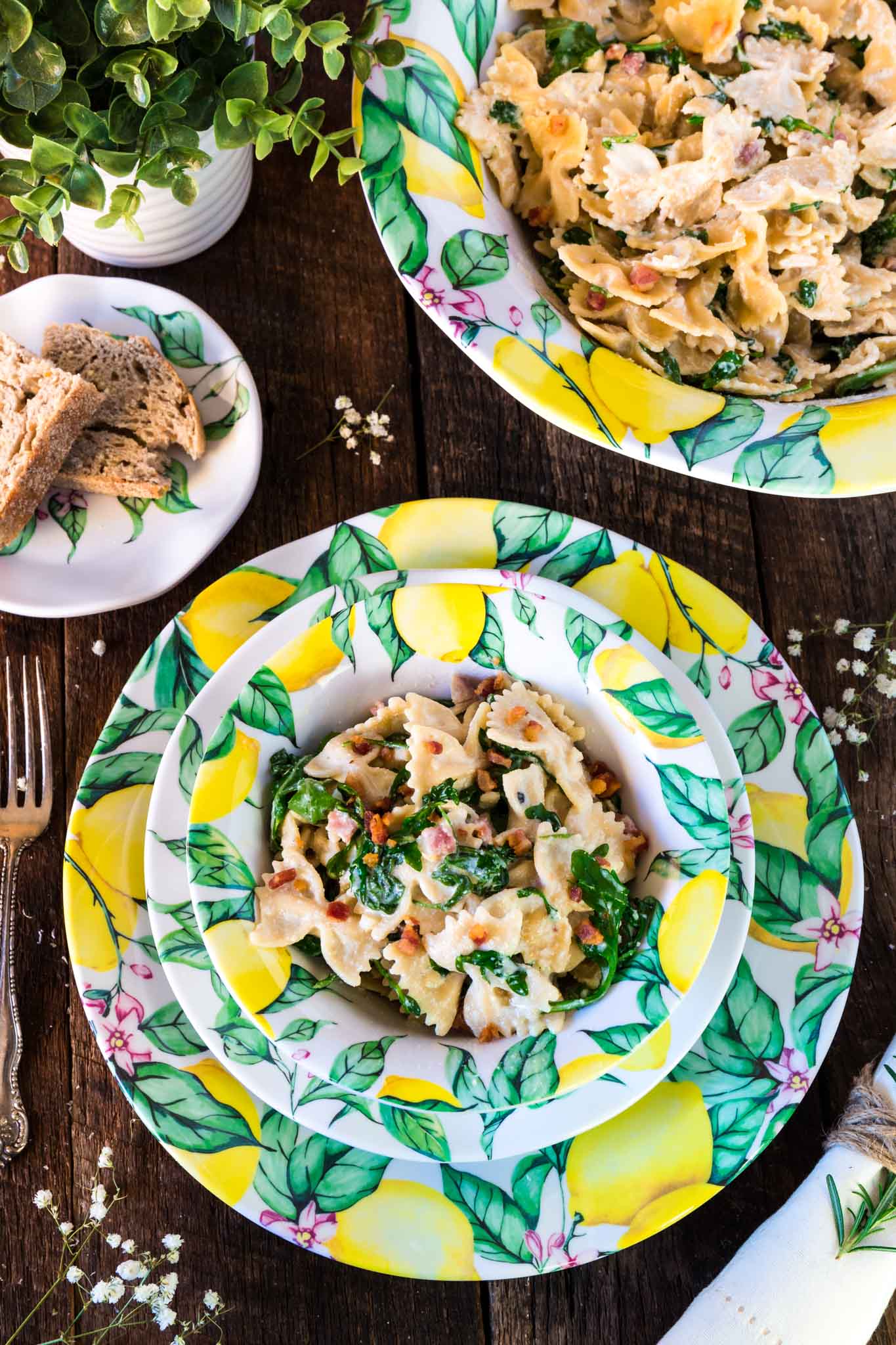 Ready to go on a moment's notice, this pasta dish is perfect for impromptu lunch or dinner occasions and can feed a crowd.
The peppery arugula and the salty pancetta perfectly complement the real star of the show: the luscious lemon cream sauce. Seriously, I could drink that stuff by the gallon! ?
But the truth, my friends, is that even though I was craving a fresh and light spring dish and ready to press pause on all the stews and chilis that were part of my winter diet, this dish was created because I couldn't wait to use my new Q Squared NYC Limonata Collection.
I've been in love and deeply obsessed ever since I received this beautiful gift! Isn't it stunning?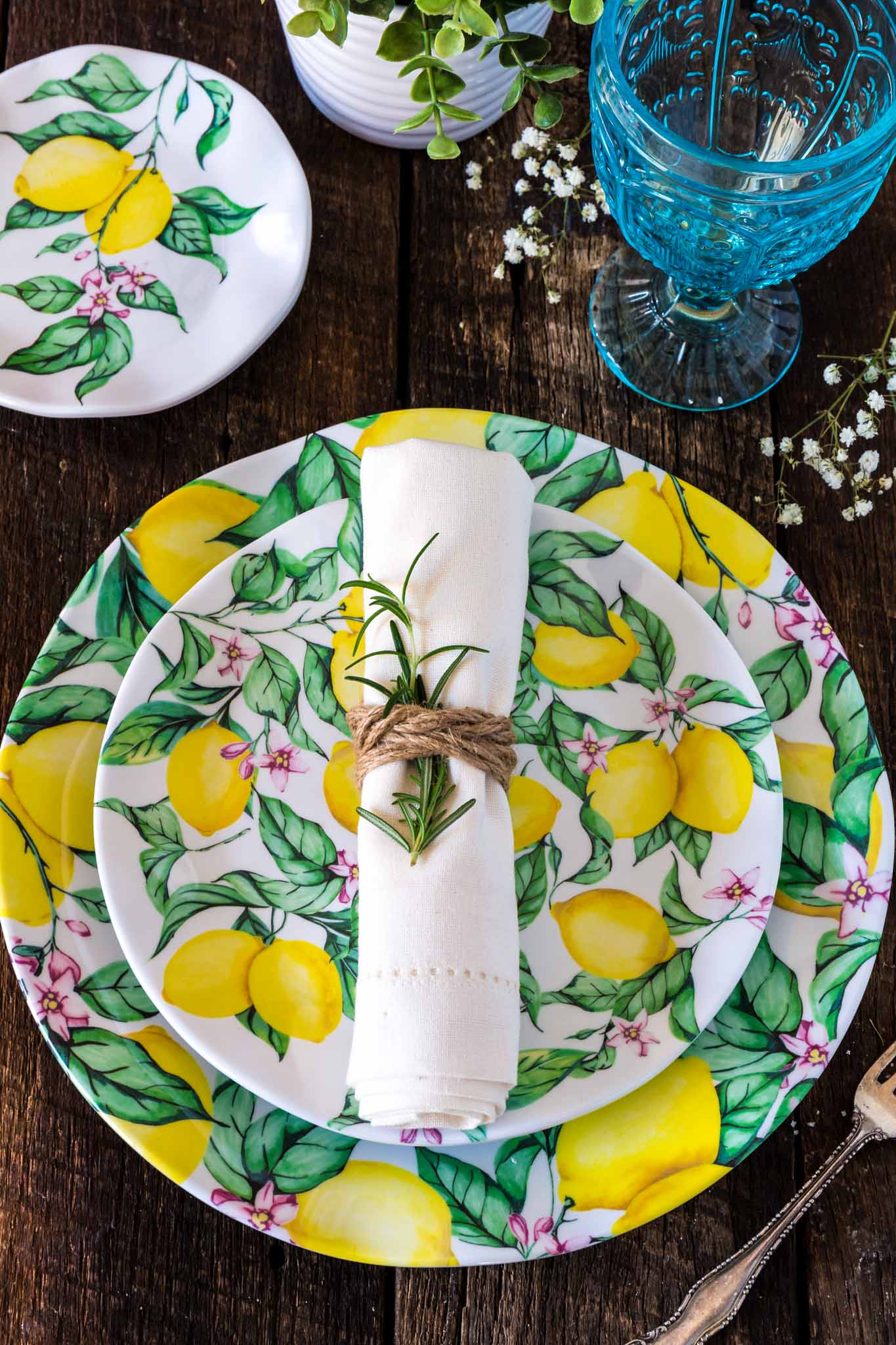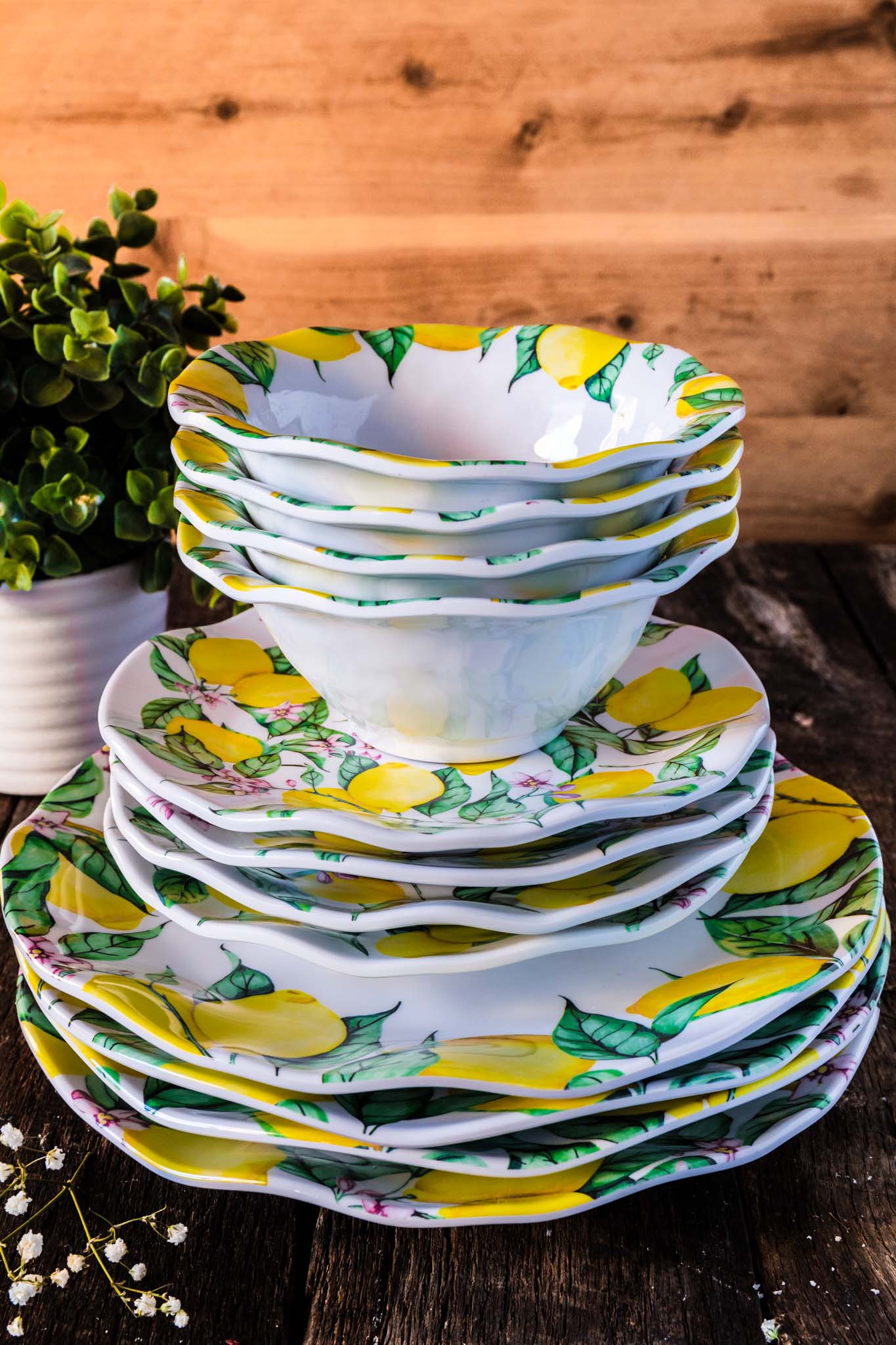 What I love the most about Q Squared NYC luxury tableware is that even though it is melamine, it looks and feels like porcelain and ceramic.
With a child on the horizon, I am glad that these beautiful plates and serve dishes are virtually unbreakable/shatter-resistant, dishwasher proof and perfect for everyday use.
Ideally, I would use those when entertaining by the pool or in the patio. But since we live in an apartment, it will be used for alfresco dinners in the balcony, picnics at our local park and it will probably make regular appearances at our table as well.
Q Squared NYC was founded by mother-daughter Nancy and Alaina in 2011, in an effort to inspire others to live elegantly every day. Each original pattern is hand-drawn and they were names "the pioneer for superior quality melamine" by Tableware International!
I really don't say this lightly: I am completely in love with this set. If you're in love too, Q Squared NYC is giving my readers a 20% discount site-wide plus free shipping on orders over $50. Just use the promo code Olivia20 and go to town! You won't regret it!
Once you have your beautiful Limonata Collection tableware (or any of their other gorgeous collections), you simply must make a gourmet meal to celebrate.
And you really can't beat this spring-y pasta dish! Serve it with some cold white wine and you'll be the queen/king of warm weather entertaining.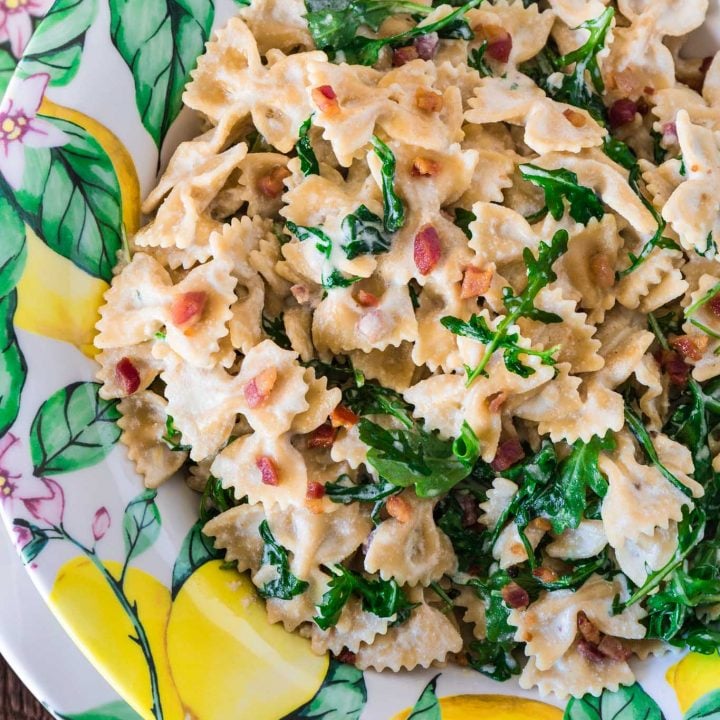 Farfalle with Pancetta, Arugula and Lemon Cream Sauce
Yield: 6
Cook Time: 15 minutes
Total Time: 15 minutes
Ingredients
4 ounces diced pancetta
1 cup ricotta
1 cup heavy cream
Juice and zest of 1 lemon
Salt and white pepper to taste
1/2 cup parmesan cheese
4 ounces arugula
1 pound farfalle pasta
Instructions
Bring a large pot of salted water to boil over high heat. Add the pasta and cook, stirring occasionally, according to package instructions. Drain pasta and reserve 1 cup of the pasta water.
While the pasta cooks, in a large skillet, over medium high heat, saute the pancetta until golden and crisp, about 5-6 minutes. Transfer to a paper towel-lined plate to absorb the excess grease. Remove all but one tablespoon of the pancetta grease from the skillet and lower the heat to medium. Then, add the ricotta, heavy cream, lemon juice and zest, salt and pepper and whisk until smooth. Cook, stirring constantly, until thickened, 8 minutes. Remove from heat and stir in the parmesan cheese.
Add the cooked farfalle and arugula to the sauce and toss to incorporate, adding pasta water if necessary. Top with the cooked pancetta and serve.
GIVEAWAY
This giveaway has ended and the winner is: Greg Elsass.
Just one more thing!
Q Squared is so awesome that they are giving away a 12-piece melamine dinner set to one lucky winner! To enter, leave a comment below telling me which of their collections would you choose.
The giveaway runs until midnight EST on 3/31/2017 and is open to US residents.
Good luck!