Salted Caramel Frozen Yogurt Milkshake
(This post is sponsored by Kemps.)
Looking for a way to satisfy your cravings without all the guilt? This Salted Caramel Frozen Yogurt Milkshake will definitely do the trick! Because healthy and indulgent go amazing together. ?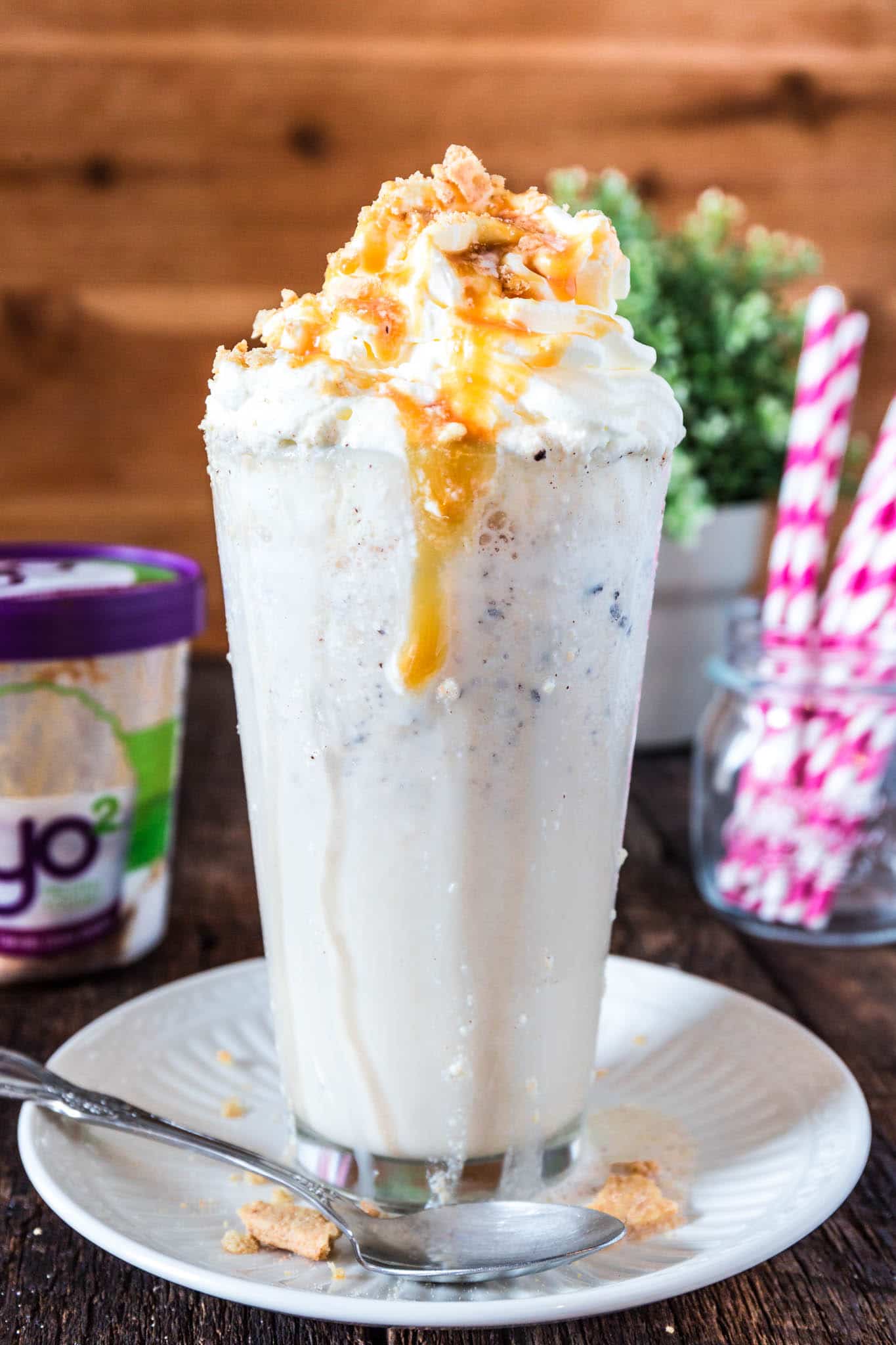 Every time I tell someone I'm pregnant, they think I'm living a blissful life of enjoying everything I like without moderation. After all, "you're eating for two, right?"
Oh, how I wish that was the case. Pregnancy is a very fragile moment and I'm growing a human being that needs me to make all the best choices 24/7. And, on top of that, I'm a chubby girl to begin with, so I was put on a pretty strict diet. ???
So…yeah… no crazy shameless indulging over here. No sending my husband at 3am for some greasy pizza or a big ice cream sundae like women do when they are pregnant in movies.
But it's okay, really. Okay, maybe that is a tiny bit of an overstatement as I do wish I could stuff my face with all the tasty things I'm craving. But everything will be worth it at the end!
And besides, there's always delicious things you can eat even on a diet. Like this Salted Caramel Frozen Yogurt Milkshake that has been my best friend whenever I crave a delicious dessert.
Another fun pregnancy trait is the fact that I have no patience for cooking anything too elaborated.
I was always one to love making loooong braised dishes that stayed in the oven all day and requires 758 steps to be mastered. But nowadays? If I can pop something in the microwave and eat in 5 minutes, I'm in heaven!
I bet you can tell where I'm going with this, right?
Yep! No making salted caramel from scratch to make this frozen yogurt milkshake. All you need to do is blend Yo² Frozen Yogurt with milk and garnish with your favorite toppings! Oh, I know! The nerve of posting this as a "recipe" on this blog. Sorry, not sorry. It is delicious!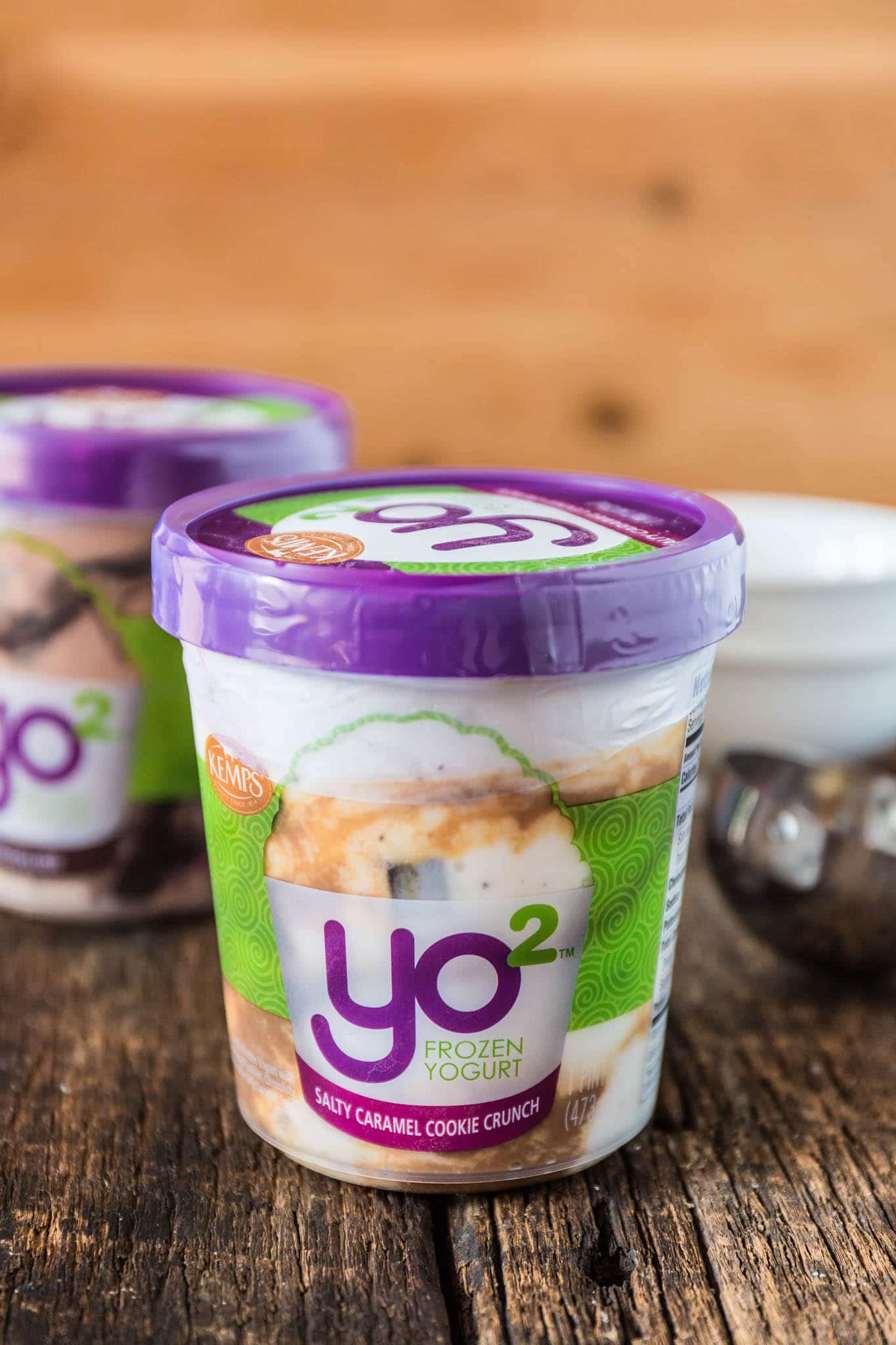 Besides, you will quickly forgive me when you taste Yo² Salty Caramel Cookie Crunch Frozen Yogurt. Make sure you grab at least two, because the first one you will gulp down straight from the container, hopefully with a spoon! ?
If that does indeed happen, don't feel bad! Kemps Yo² Frozen Yogurt is actually good for you.
What goes into Kemps Yo2 frozen yogurt? It starts with premium milk and yogurt with no high fructose corn syrup, artificial flavors or artificial growth hormones. Then they add natural flavors, craveable mix-ins that bring our flavors to life. The result is a froyo that lives up to your standards.
Because, I don't know about you, but I expect my treats to have the flavor I crave and the goodness I demand.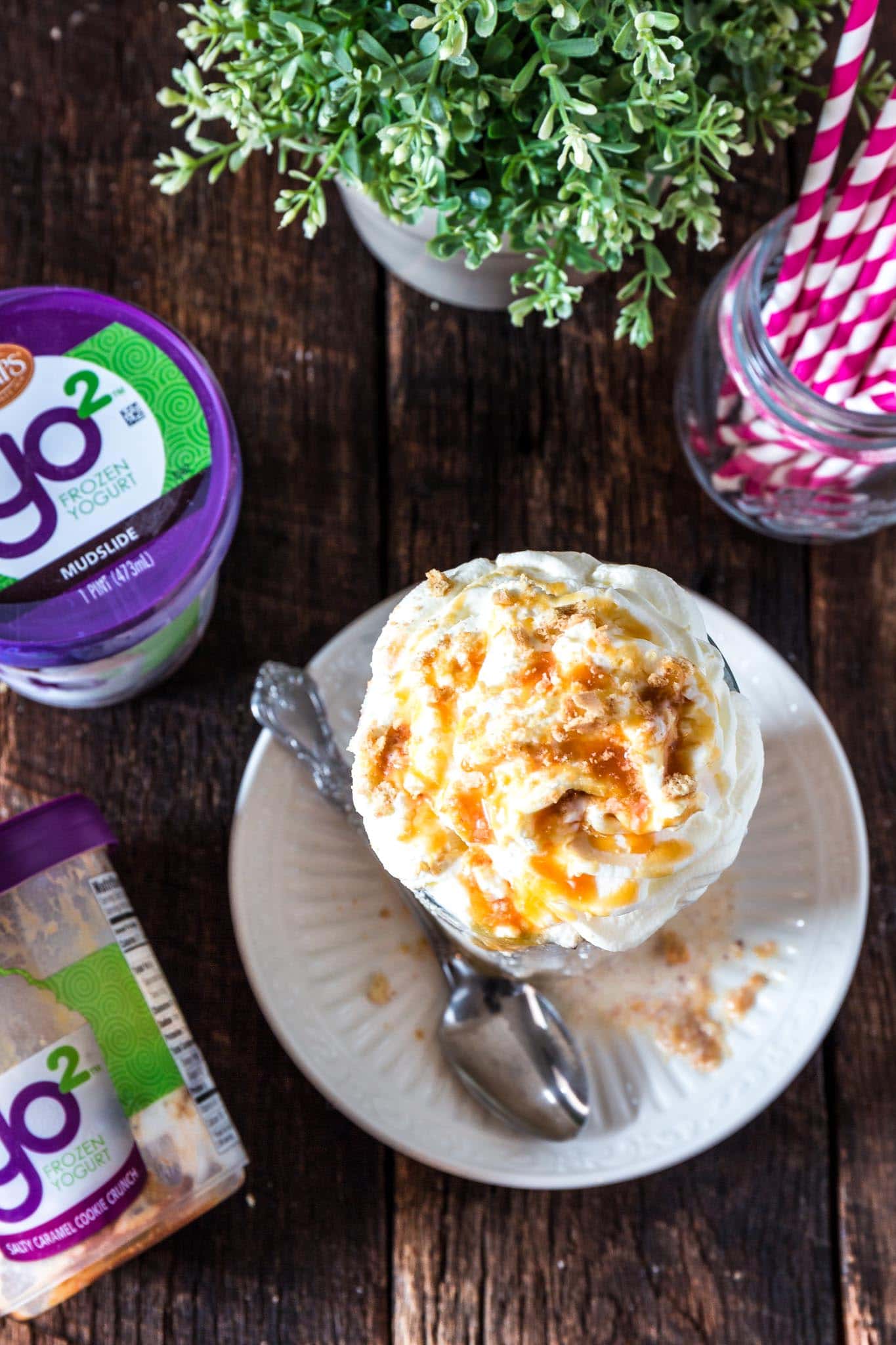 As for the toppings, you are free to use whatever fits your diet. I did homemade whipped cream sweetened with a little agave, sugar free caramel sauce and crumbled graham crackers.
Oh, you guys, this was everything I was hoping it would be! ? And it definitely helps me satiate my sweet tooth and, consequently, keep my sanity during pregnancy.
Enjoy!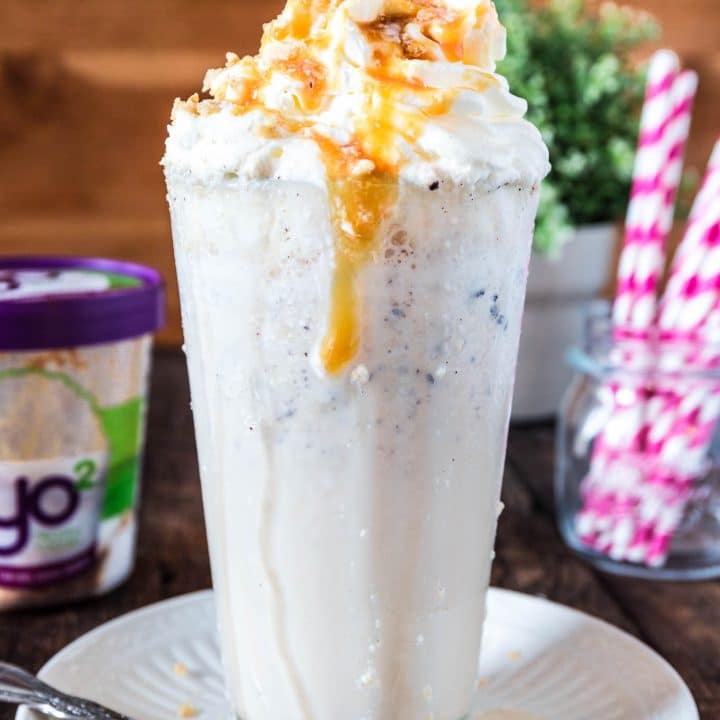 Salted Caramel Frozen Yogurt Milkshake
Yield: 1 shake
Prep Time: 5 minutes
Total Time: 5 minutes
Ingredients
4 scoops Kemps Yo² Salty Caramel Cookie Crunch
1/2 cup milk
Toppings: whipped cream, crumbled cookies, sugar free caramel sauce
Instructions
Blend the frozen yogurt and milk until smooth.
Pour into a glass and top with your favorite toppings.
Serve immediately.