Gruyère, Bacon and Leek Quiche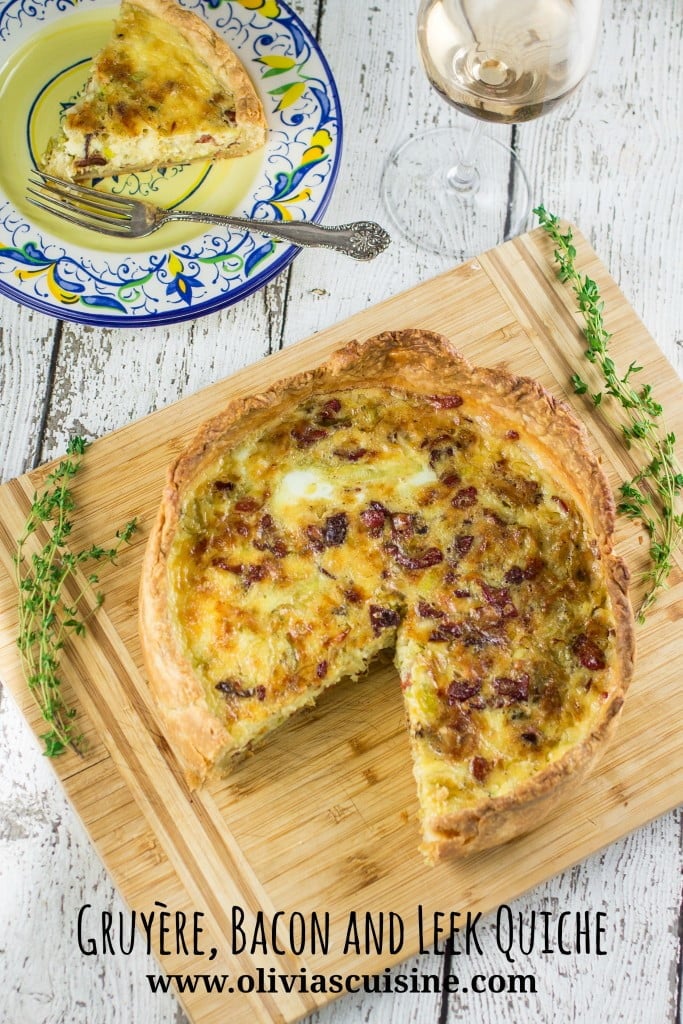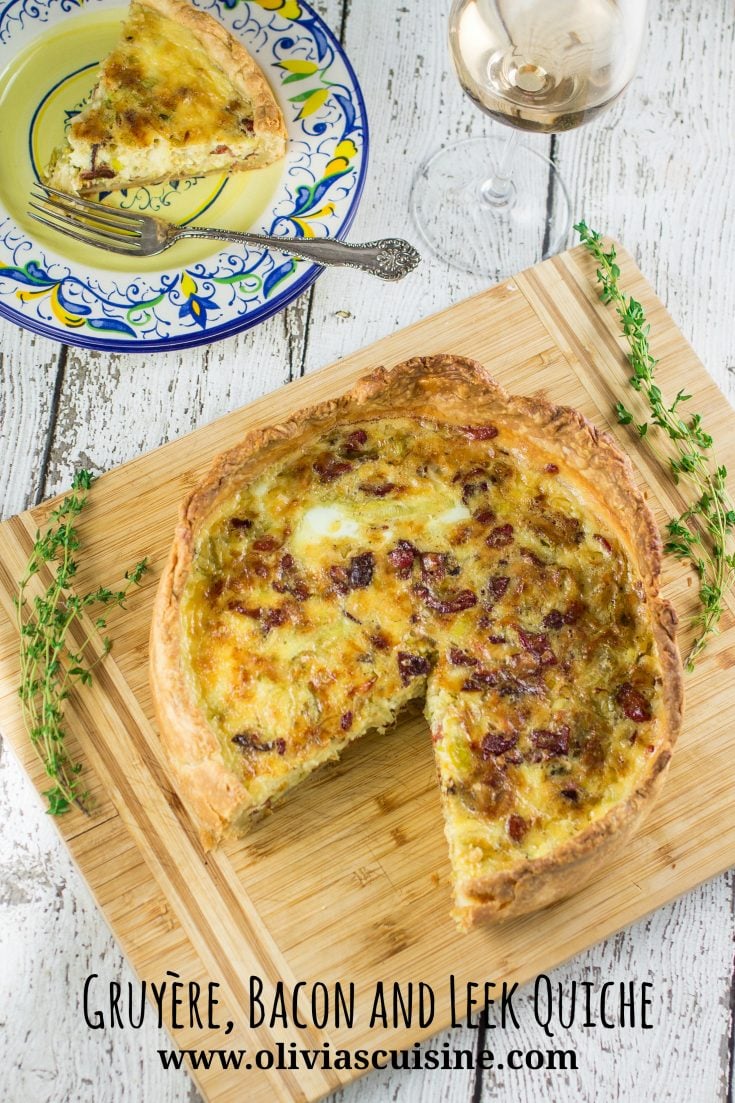 My dream is to one day be one of those cool grandmothers that can make ANYTHING from scratch. My grandma is one of those… She is so talented that everything she makes looks like it was served in a 5 star restaurant. One day I will be there!
One of the things I struggle with the most is pies/tarts/quiches. I'm just not good at making dough. My grandma makes everything by hand, but I use a food processor to help me, and even so I do not always succeed. I had my fair share of dough that breaks when I'm rolling it, that falls apart when it's baking, etc. It's just a nightmare! However, this week I decided I'm going to face my fears and work on the things I need to master in every aspect of my life. And so I made a Gruyère, Bacon and Leek Quiche! And it was awesooooome! The dough was perfect and the crust came out pretty good, even though it doesn't yet look like that of a 5 star restaurant. But I'm going for the rustic feel! ;-) And the filling… Oh my God, the filling! Just by writing about it my mouth is full of water.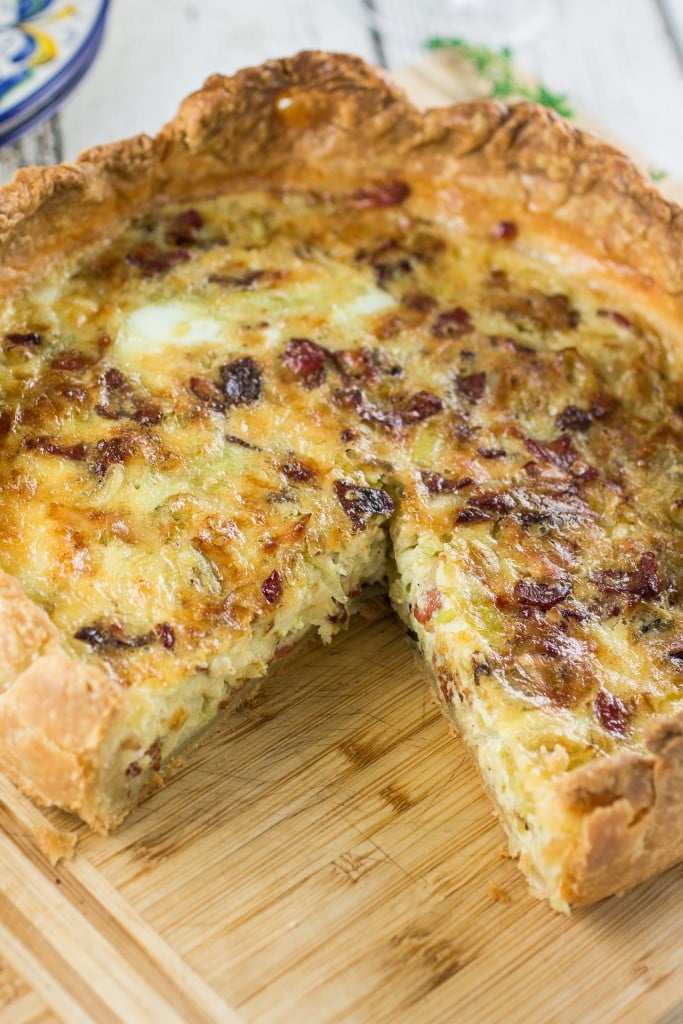 This quiche is so good that people make gutural sounds when they first bite it. I could hear my husband making those sounds in the living room from the bedroom. And honestly, nothing makes me happier. I think food that provokes this kind of raw feeling is the best food out there. And I made it! I conquered my fear and I made an awesome quiche with a crust that was so full of flavor and didn't fall apart when baking! (I guess I get the yellow belt now, right? <- karate reference for whoever is thinking I went cuckoo!)
The whole process of creating a dish, from picking fresh ingredients in the market to serving friends and family gathered around a beautiful table, feels magical. I feel like a painter looking at a blank canvas and having a whole palette of colors to chose from. Frying the bacon until crispy and golden, sautéing the leeks until green and tender, grating the Gruyère cheese (my favorite!)… then combining everything to create a delicious quiche. It really felt like I was blending colors one by one to the canvas so they could come together as something beautiful. That's why I love to cook, to feel some kind of purpose in life!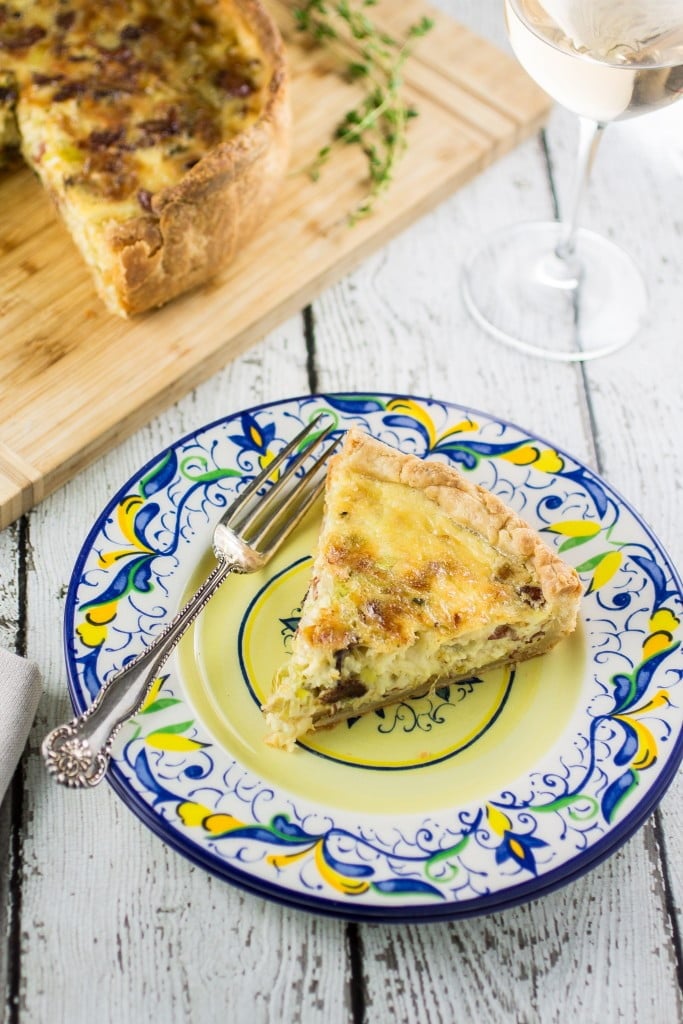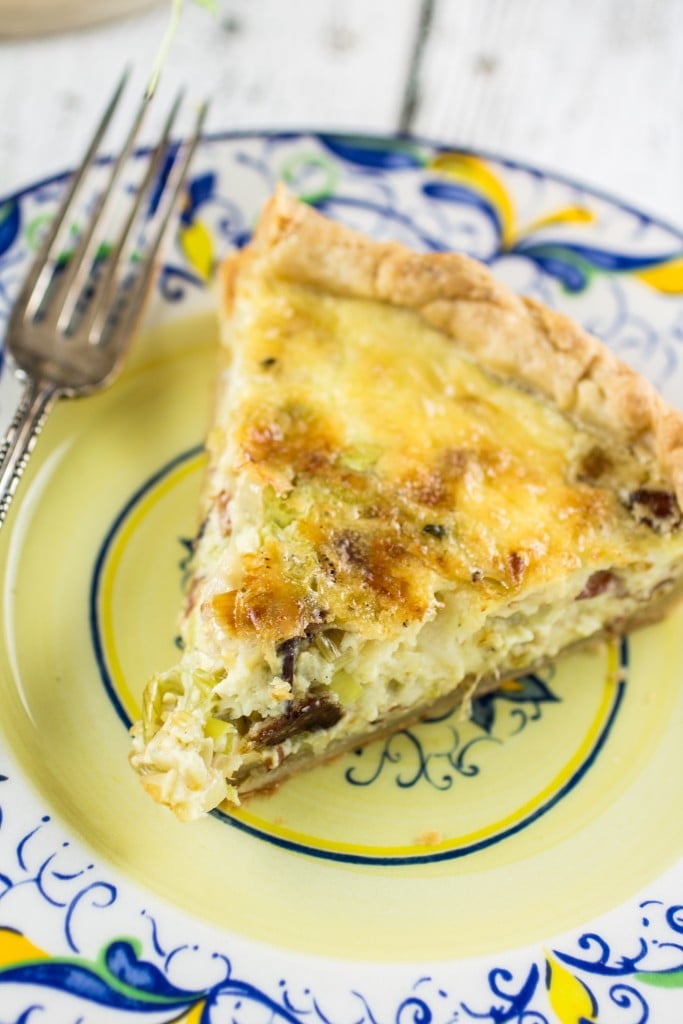 Quiches are the perfect dish for brunches, lunches and even dinners. Just whip up a nice salad and open a cold bottle of white wine and you're all set to impress! And the best thing about it is that you can make it one day before and just lightly heat it or serve it at room temperature.
Although this recipe is pretty time consuming, because you have to chill the dough twice and then bake it 3 times, it is not hard to make and this dough is pretty fool proof! (Well, I was able to make it wasn't I? And then so can you!) I will for sure be making more quiches from now on! They are not only delicious but so beautiful… They are my new obsession!
* A fun fact about quiches: Although considered as typically French, the quiche originated in Germany. The word quiche comes from the German word Kuchen, which means "cake".
* A few considerations about this recipe:
– During my first attempt to make this, the dough was really easy to handle but the crust shrank a lot during baking. So make sure your ingredients are cold and that you don't overhandle the dough too much when rolling out. It's is also nice to let the dough rest before baking. Also, because I know it will inevitably shrink a bit, I leave an overhang of about 1 inch and I make sure I fill it with enough pie weights (or beans) to keep the sides in place before blind baking.
So tell me… What's your biggest struggle in the kitchen?
P.S. This recipe was slightly adapted from the magazine Food & Wine, "We Heart Julia Child" article.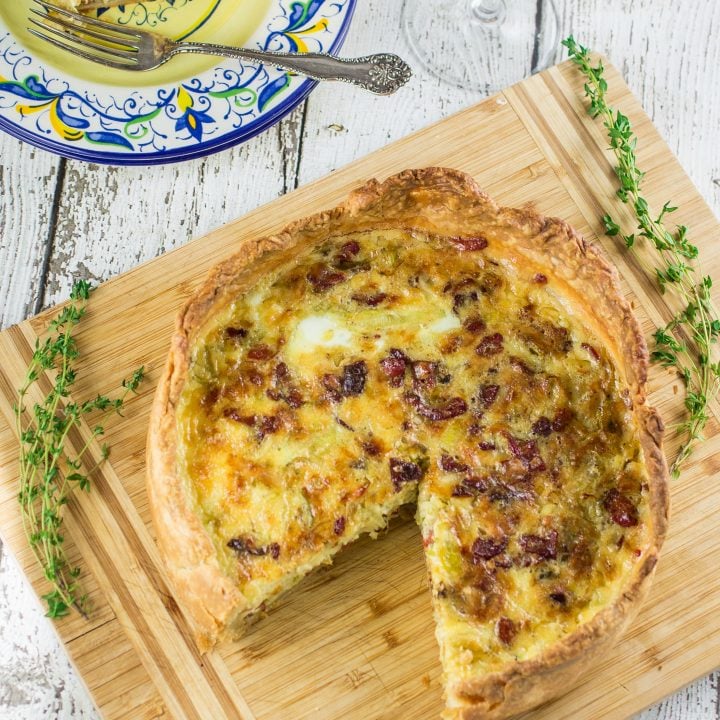 Gruyère, Bacon and Leek Quiche
Yield: 6
Prep Time: 30 minutes
Cook Time: 1 hour 15 minutes
Total Time: 1 hour 45 minutes
Ingredients
For the crust:
1 1/4 cups all purpose flour (plus more for dusting the counter)
1/2 tsp salt
6 tbsp cold butter, cut into small pieces
1 large egg yolk
4 to 6 Tbsp ice water
For the filling:
0.5lbs bacon, roughly chopped
2 large leeks, white and light green parts only, thinly sliced
1 tsp chopped thyme leaves
6oz Gruyère cheese, shredded
3 large eggs
1 large yolk
1 1/4 cups heavy cream
salt and freshly ground pepper to taste
Instructions
Before you start making the dough, put your crust ingredients in the freezer for 20 minutes so they can be extra cold.
Add the flour and the salt to a food processor and pulse a few times.
Add the cold butter and pulse until pea sized.
Add the egg yolk and start adding the ice cold water, 1 Tbsp at a time, pulsing a couple times in between, until the dough comes together.
Place the dough onto a floured surface and knead just enough until smooth.
Shape the dough into a disk, wrap in plastic and bring it to the fridge for 20 minutes so it gets firm. (I sometimes put it in the freezer for 10 minutes instead.)
Pre heat the oven to 375 degrees.
On the floured surface, roll the dough into 12-inch round and place it into a 10 inch springform pan or tart pan (with a removable bottom) without stretching.
Roll your pin over the top of the ring to remove excess dough.
Refrigerate the tart shell for 10 minutes. (Again, you can just put it in the freezer instead!)
Cover the tart shells with foil and fill with pie weights (or dried beans).
Bring it to the oven for 30 minutes, until dry.
Remove the weights and foil and bring it back to the oven for 15 more minutes until golden. Remove from the oven and reserve.
In a large skillet, over high heat, fry the bacon until golden brown and crispy.
Drain the bacon and place it in a plate covered with paper towel, so the paper towel can absorb the excess grease, and leave a couple tablespoons of the grease in the pan.
Turn the heat to medium and sauté the leeks and thyme in the bacon grease until the leeks are tender but not browned. Season with salt and pepper.
Transfer the leeks to a bowl and let it cool.
Once the leeks are cooled, add the bacon and the shredded cheese and give it a good mix.
In a separate bowl, whisk the eggs and egg yolks with the heavy cream, making a custard. Season with salt and pepper.
Add the bacon/leek/cheese mixture to the tart shell.
Pour the custard into the tart shell, making sure it's evenly distributed.
Bake the quiche for about 30 minutes, rotating it halfway through, until puffed and lightly browned.
Let the quiche cool for 15 minutes, remove from the tart pan and serve!
Wanna keep in touch? Follow me on Pinterest, Instagram, Twitter and Facebook to stay up to date with all my posts! :)