The Disney Gourmet Series – Beauty and the Beast's Grey Stuff Brownie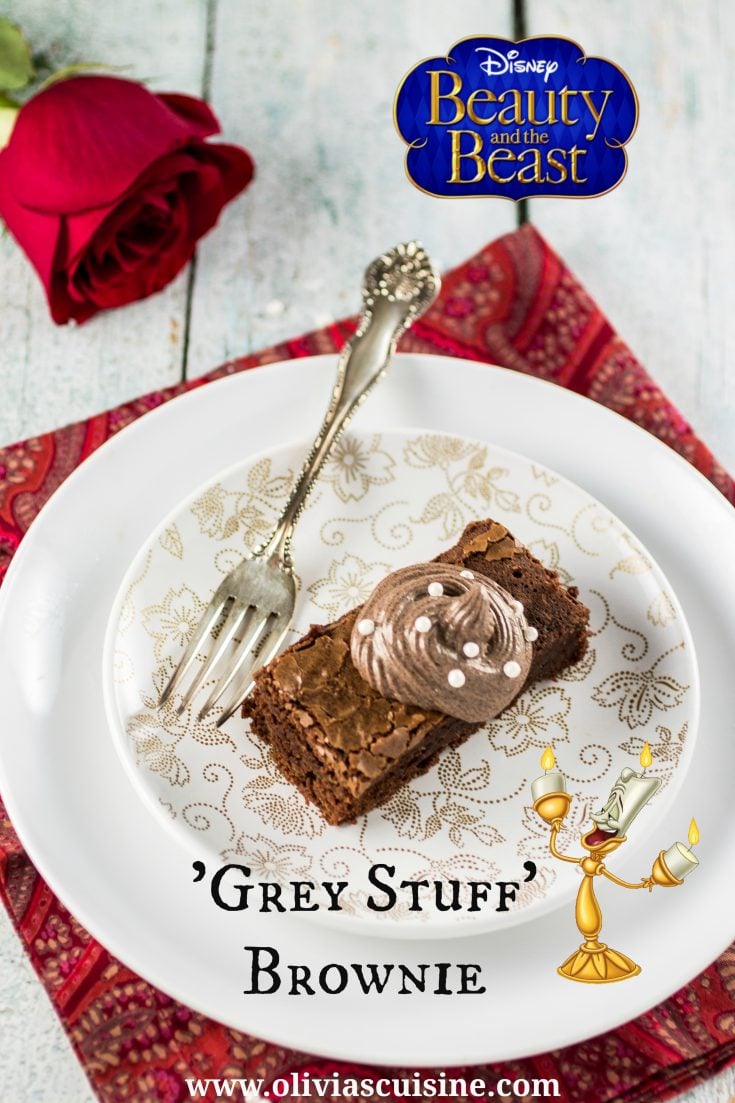 Hey, friends!
Two things:
1) You guys know how obsessed I've been with Lindt chocolate bars, right? No?!? See this and this! And no, I'm not being compensated in any shape or form… (Hey, Lindt, you're welcome for the free advertisement. I think that to thank me, you should send me like 1000 bittersweet chocolate bars. K? Tkx!)
2) It had been a while since I posted something from my Disney Gourmet Series. Since in a week from today I will be in Orlando for the Food Blog Forum (Yes, I'm dying with excitement!), I thought this was the perfect occasion to bring it back!
So here we are again: the Disney Gourmet series! And today it's inspired by one of my favorite Disney movies ever: Beauty and the Beast! And… we'll be making Grey Stuff Brownie, because… duh… "try the grey stuff, it's delicious! Don't believe me? Ask the dishes!"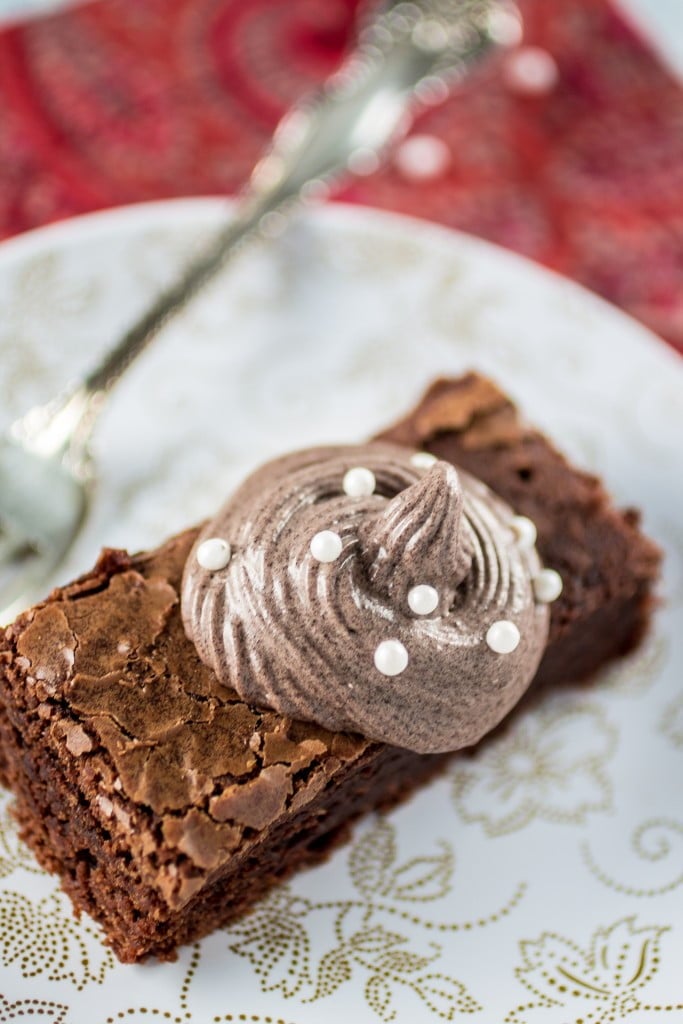 I'm sure y'all watched this movie – if you haven't, you must do it immediately! – so I'll skip the little synopsis and focus on the part of the movie that would interest any foodie or food blogger out there: the Be Our Guest scene! Oh, c'mon… You wanna tell me you'd never dreamed to be Belle in that scene, being served all kinds of delicious dishes by inanimate objects?!? I know I have!
That scene is so famous that Disney created a restaurant in Disney World called Be Our Guest that is usually so full that you have to make reservations months in advance. And, they created a recipe for the famous "Grey Stuff" that Lumiére tells Belle to try in the movie.
Even though the Grey Stuff in the movie seems to be some sort of hors-d'oeuvre – maybe a pâté served on a cracker – the Be Our Guest restaurant serves it as a dessert and so will we! :) I guess they realized the kids would never eat a grey pâté while they would totally go for a brownie or a cupcake. (They serve the grey stuff by itself or on a brownie or cupcake.)
Baking is not really my strength (yet! I will fully master it one day, I promise!) but those brownies came out PERFECT. I used a recipe from Lindt and the brownies were chewy, moist and fudgy but still sturdy to hold the 'grey stuff'.
The 'grey stuff' is some sorts of cookies and cream mousse, very easy to make. You'll need vanilla pudding, chocolate pudding, milk, oreos and Cool Whip. And before you run for the hills with only the slightest mention of 'Cool Whip', my gourmet friend, I need to defend myself and say I'm only recreating a recipe here. And, also, the final result is pretty delicious. So bear with me on this one, will ya? ;-)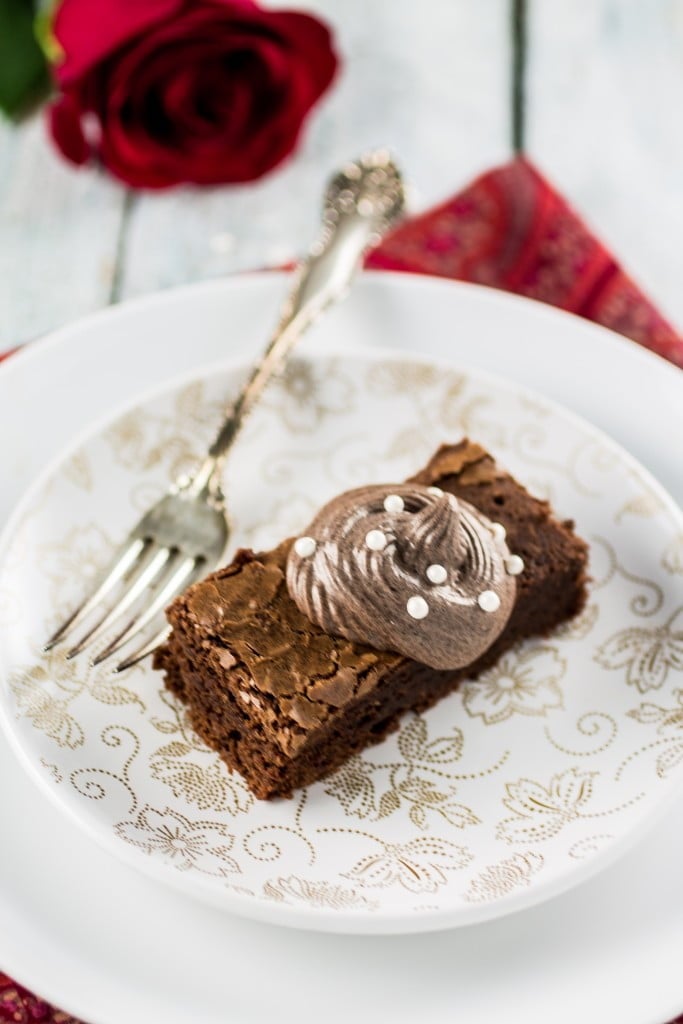 This is a delicious and fun dessert to serve at an Oscar's party. After all, Beauty and the Beast was the very first full-length animated feature film in cinema history to be nominated for the Academy Award for Best Picture.
So I guess now I'm ready for my trip to Orlando for the Food Blog Forum conference. While I'm there, I might pop up at the Be Our Guest restaurant and try their 'Grey Stuff'. I'll let you know if it's better than ours. (I doubt it! wink wink)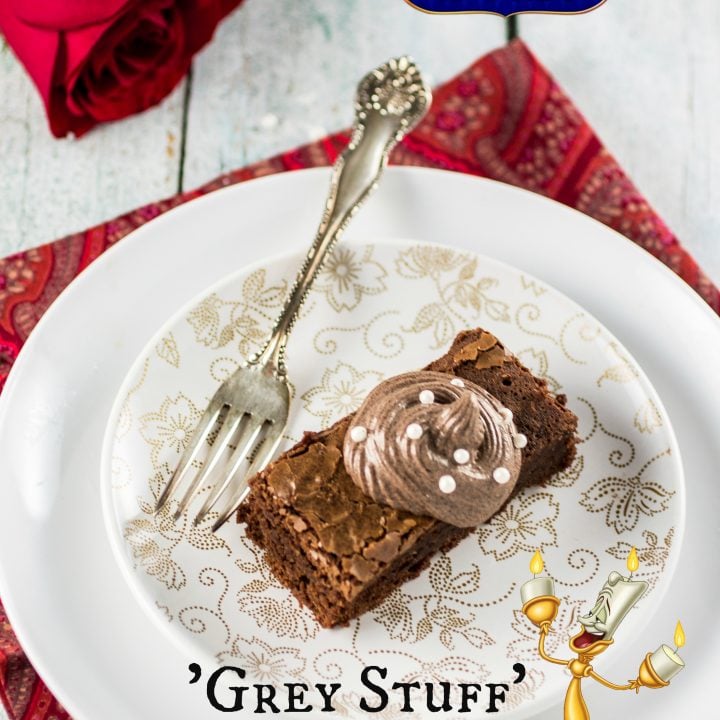 The Disney Gourmet Series - Beauty and the Beast's Grey Stuff Brownie
Yield: 8
Prep Time: 1 hour
Cook Time: 20 minutes
Total Time: 1 hour 20 minutes
Ingredients
For the brownies:
3 bars (3.5 oz) Lindt Bittersweet Chocolate, chopped
1/3 cup butter
3 eggs
3/4 cup sugar
1 teaspoon vanilla extract
1/2 teaspoon salt
1 cup flour
For the 'grey stuff'
1 (3.4 oz) package Instant Vanilla Pudding Mix
1 1/2 cups Whole Milk
15 Oreos (regular, not double-stuffed)
1 (8 oz) package Whipped Topping
3 tablespoons Instant Chocolate Pudding Mix
Edible Pearl Sprinkles
Instructions
To make the brownies:
Pre heat oven to 350 degrees.
Line a brownie pan (8X8 inches) with parchment paper.
Melt the butter and the chocolate using a double boiler method. For that, heat a saucepan filled halfway through with water until the water boils. Set a smaller pan (or heat proof bowl) into the bigger saucepan. Add the butter and, once the butter is melted, add the chocolate and keep stirring until it melts.
Remove from heat and let it cool.
In a big bowl, add the eggs, the sugar, the vanilla extract and the salt. Using a hand mixer, beat until well combined.
Add the chocolate/butter mixture and beat using the lowest setting on your mixer, just until everything is incorporated.
Add the flour and beat only until combined.
Pour the batter into the prepared pan and bake for 20 minutes or until a tooth pick (cake tester) inserted comes clean or semi-clean.
Let it cool and cut your brownies into 8 rectangles.
To make the 'grey stuff':
In a large bowl, mix the vanilla pudding mix and the milk and whisk it until well combined. Take it to the fridge to cool and set for 10 minutes.
While the vanilla pudding is in the fridge, add the oreos to a food processor and pulse until they become fine crumbs.
Once the pudding is set, take it out of the fridge and mix the crushed oreos.
Fold in the Cool Whip. The mixture should be light grey but not quite the desired color.
To achieve the desired color, add the chocolate pudding mix and stir until incorporated.
Bring the bowl back to the fridge for at least 1 hour before serving.
To serve, fill a cake decorating bag fitted with a star tip (preferably Wilton 1M) and swirl onto the brownies. Decorate with the edible pearls and serve!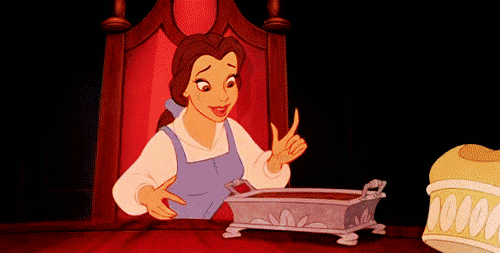 For more recipes from my Disney Gourmet Series, click
here
!