Rosemary Focaccia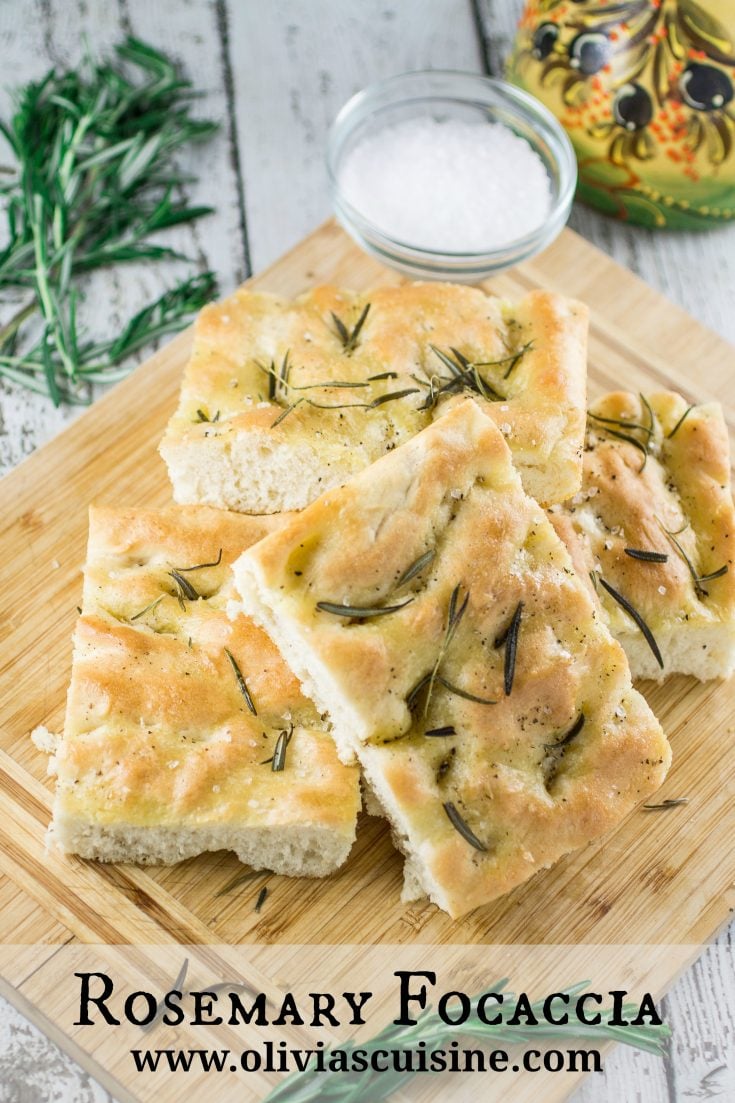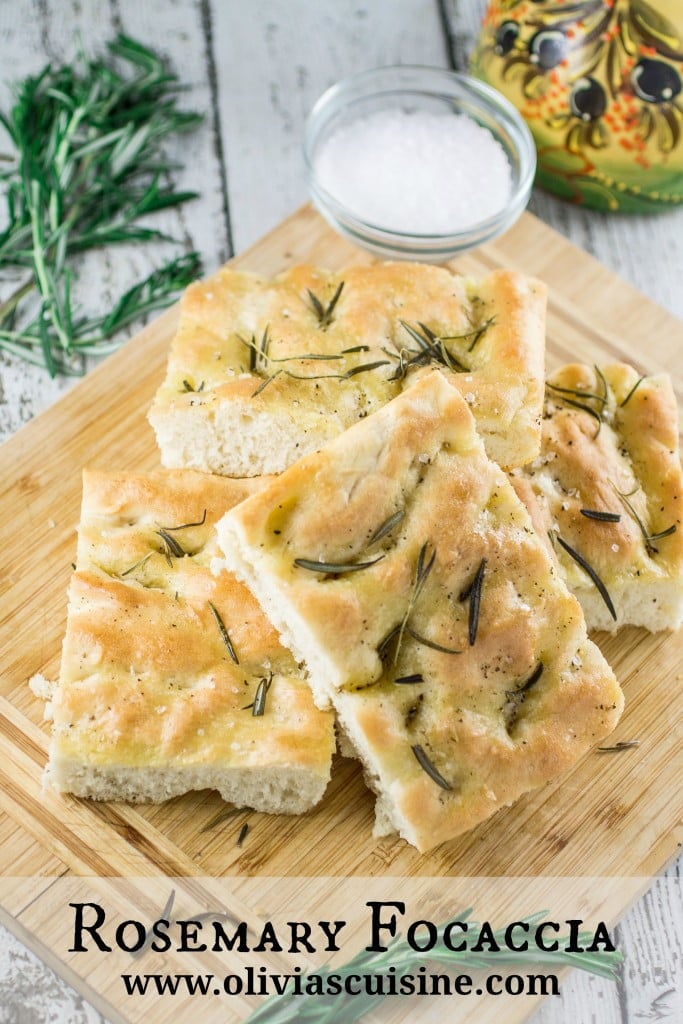 Let's face it, there's nothing better than bread. Warm, soft, delicious bread! Even better if it's homemade.
Don't even start with the whole anti-carbs speech towards me, 'cause I won't listen! Carbs are delicious and they are necessary. What a sad, sad life I would have without carbs… and without bread! (Sorry dieters and celiacs, I just have to express my love for bread.)
Among my favorite kinds of bread is the focaccia, which is a flat oven-baked bread very popular in Italy. I love lots of different kinds of focaccia, like the tomato focaccia (YUM!), but today I am focusing on the simplest (yet very tasty and fragrant) kind: the Rosemary Focaccia.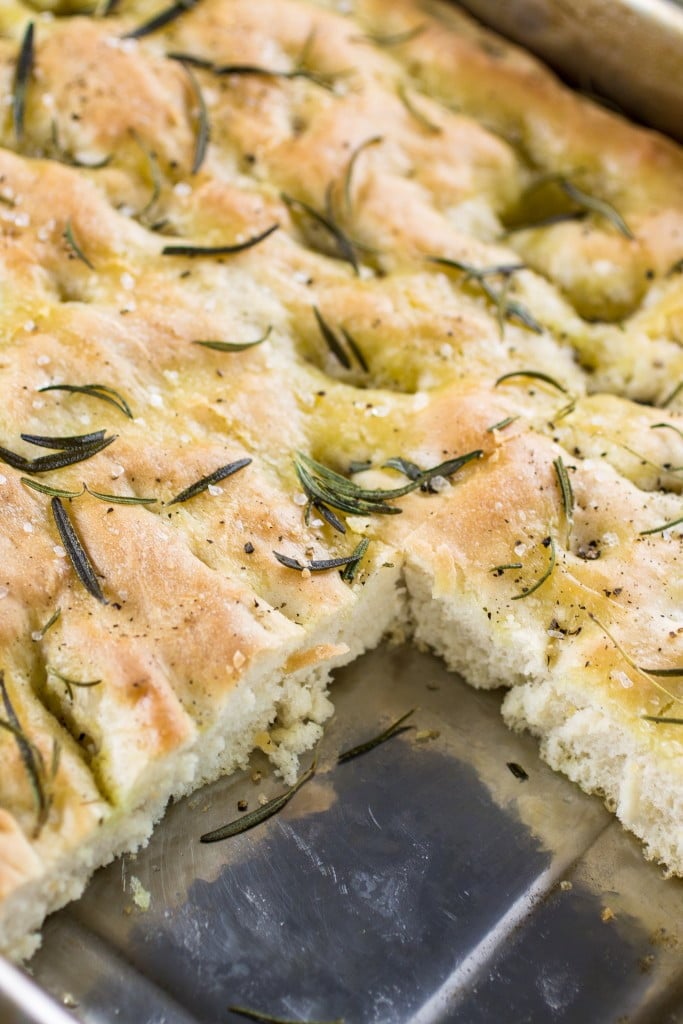 To be honest, I don't bake homemade bread very often, which is a shame considering how much I adore it. Not only eating, but the whole process of baking bread. Isn't it very therapeutic?
Last year, Tim even gave me an awesome bread machine for Valentine's Day. It had been in my wish list for a while and he decided to surprise me! Ahm.. actually, since Tim is my editor and he's going to read this and make fun of me, I have to tell you the truth: It wasn't quite a surprise… Because I peeked inside the closet! :( And then I pretended to be surprised when I opened the gift… :( :( I know, I know, I'm an awful person but I just had to see what that huge box was! And then I felt guilty and decided to fake surprise. Anyway… enough with embarrassing facts about me. All you need to know is that I was so excited that day that I promised myself I would bake more homemade bread!!
But the promise didn't last long and nowadays the lovely bread machine is hibernating in a cabinet. :( You see, living in NYC you have so many insanely delicious bakeries and emporiums around that sometimes you just grab that loaf of bread (that is strategically placed next to the check out registers) just because it's smelling soooo good. And then you get home and you're like: 'Oh yeah… I was supposed to make homemade bread…'!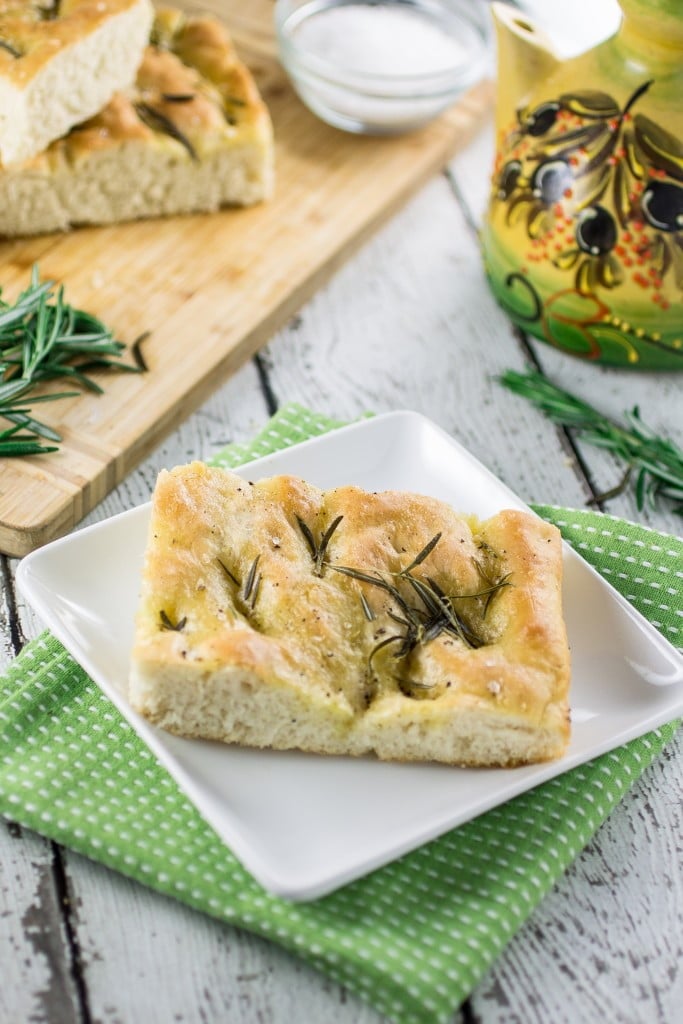 I know lots of people are scared when it comes to baking bread. But this Rosemary Focaccia is not challenging at all. On the contrary, it is extremely easy to make, especially if you have a stand mixer with a dough hook.
The focaccia dough is similar in style and texture to pizza dough, since both consist of high gluten flour, water, oil (or butter), salt and yeast. However, while pizza dough uses very little leavening – which results in a thin, flat and flexible crust – the focaccia dough uses more, causing the dough to rise significantly higher. The leavening firms the crust and gives the focaccia the capacity to absorb large amounts of olive oil, which makes it so flavorful that you can ditch the butter and just eat it plain!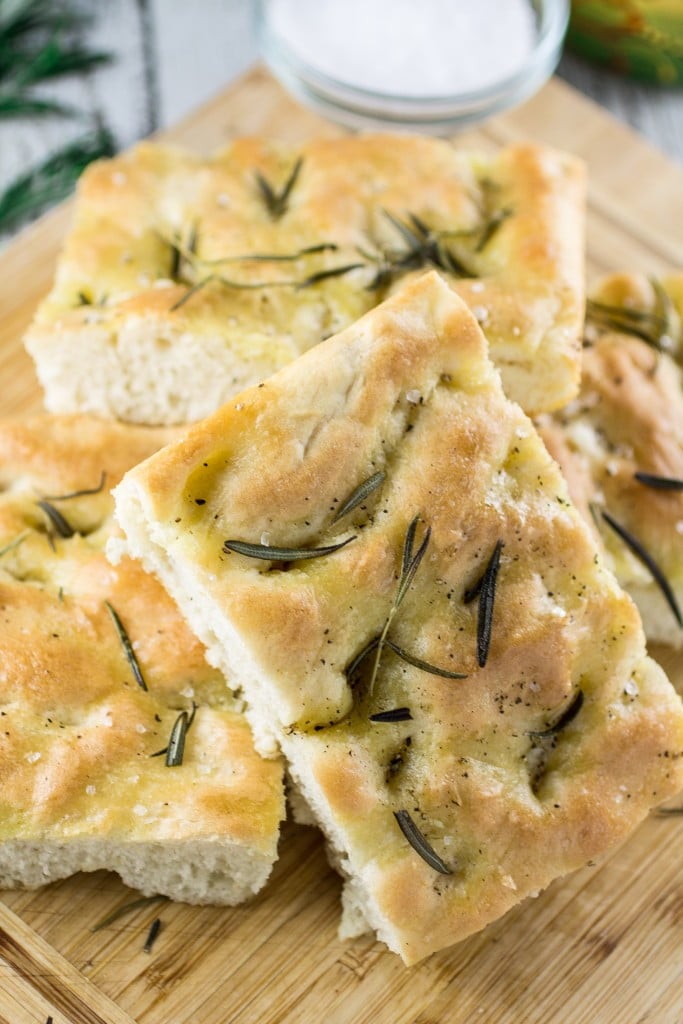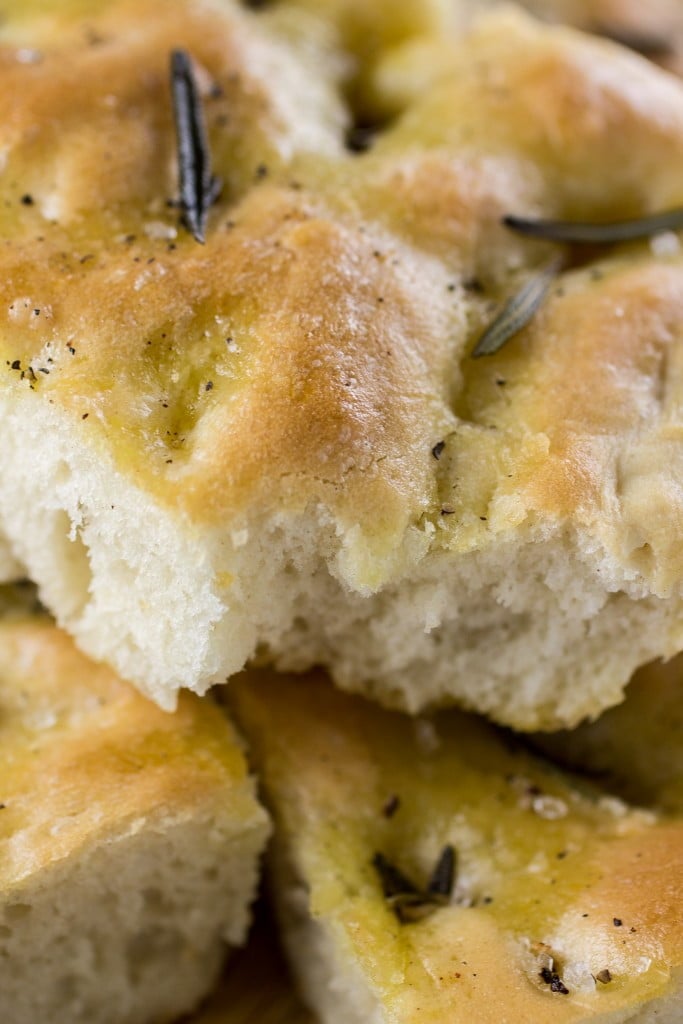 Doesn't it look sinful? I'm telling you, guys, you have to make this! It is so fluffy, herby and flavorful! And your house will smell divine.
This focaccia is better served warm, right out of the oven. But it will still be delicious at room temperature and as leftovers for the next few days (if you keep it in an airtight container!).
And, as this is my new habit, a few considerations about this recipe:
– Although I really recommend making the dough with the help of a stand mixer (so you don't have to knead it), you can totally make it by hand!
– You can add other toppings if you want. My favorites are olives, tomatoes, parmesan cheese, garlic… Just customize it however you want!
– I love serving this focaccia with a selection of cheese and a glass of wine! It is also perfect with soup. However, I often find myself just nibbling on it all day long.
I hope you guys enjoy this! And a toast to more homemade bread in our lives! :)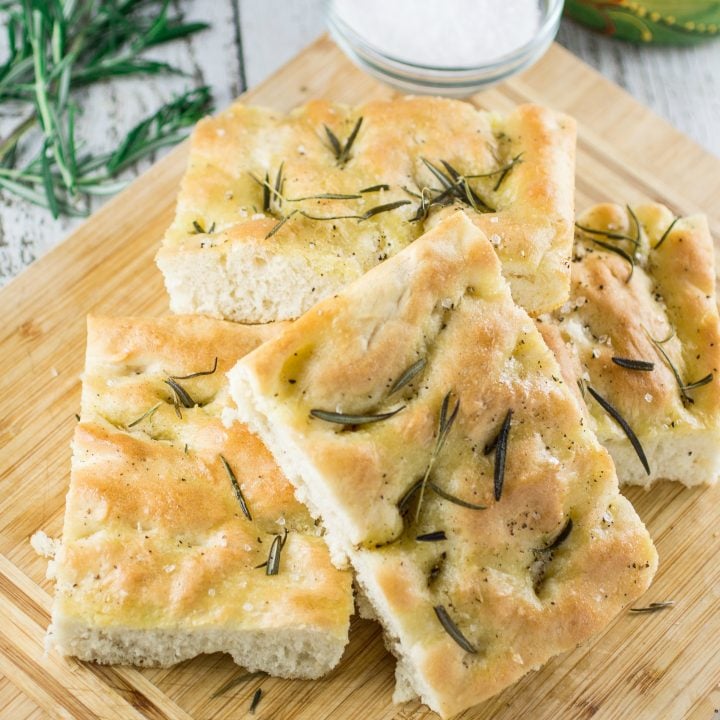 Rosemary Focaccia
Yield: 9
Prep Time: 1 hour 30 minutes
Cook Time: 20 minutes
Total Time: 1 hour 50 minutes
Ingredients
3 cups flour
1 1/3 cups warm water
1 package (1/4oz) dry yeast
1 Tbsp butter
1 tsp fine salt
Rosemary leaves, olive oil, pepper and coarse salt to taste
Instructions
In a small bowl, dissolve the yeast in the warm water and let it sit for five minutes or until it starts foaming.
In the bowl of a stand mixer, combine the flour, the butter, the salt and the water/yeast. Place it in the stand mixer (fit with a dough hook) and knead it on medium speed for about 10 minutes or until the dough is elastic and smooth. (Add more flour or water if needed.)
Place the dough in a bowl greased with olive oil, turning the dough so it gets coated with the oil as well.
Cover with a kitchen towel and place the bowl in a warm place (I use my microwave) for 30 minutes so the dough can rest. (The dough will rise slightly but not double in size.)
In the meantime, rub some olive oil in a baking pan.
Once the dough has rested for 30 minutes, punch it down and place it in the baking pan, stretching it with your fingers so it covers all the surface of the pan. Make sure you press the dough down with your fingers, dimpling it all over, to remove any air bubbles.
Cover the baking pan and place it again at a warm spot. Leave it to rest for 30 minutes.
Pre heat the oven to 400 degrees.
Drizzle olive oil, coarse salt, freshly grated pepper and rosemary leaves (to taste) on the dough.
Bake it for 20 minutes or until the top is golden-brown.
Let it cool slightly before cutting and serve.
Wanna keep in touch? Follow me on Pinterest, Instagram, Twitter and Facebook to stay up to date with all my posts! :) I appreciate the support!