Apple, Arugula and Brie Panini with Honey Butter
This post is sponsored by The French Ministry of Agriculture.
Be ready to be wowed! One bite of this French inspired Apple, Arugula and Brie Panini with Honey Butter and you're on a one way trip to France. No need for a return ticket as I'm 100% sure you will never wanna go back!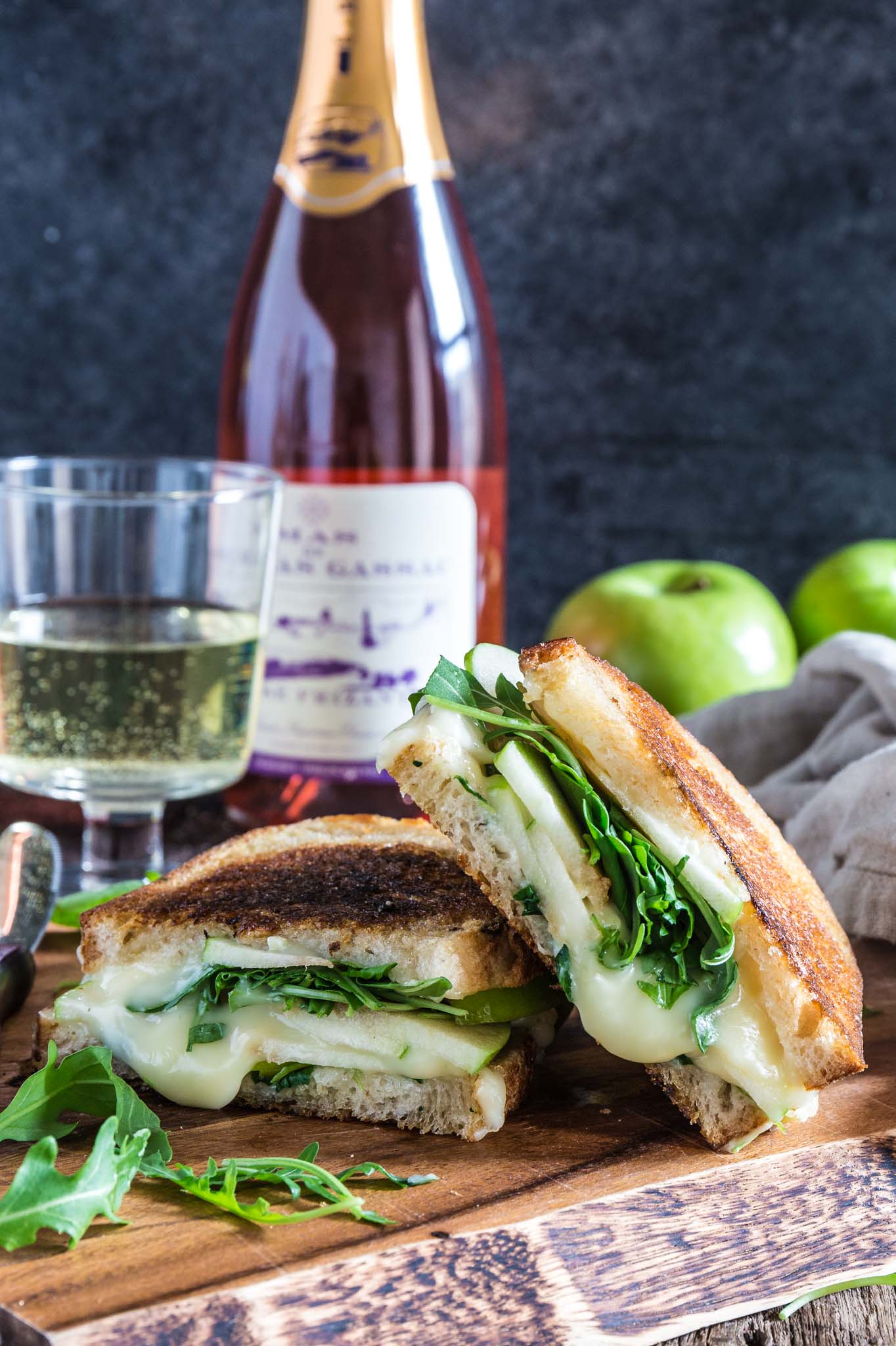 Ooh la la!
This post is filled with some French goodness and I couldn't start it without the most cliche French phrase. Sorry, not sorry! If you've been reading this blog for a while, you should know by now that I am cheesy.
Just like this brie panini. Oozing with delicious buttery/nutty brie cheese but also slightly sweet from the honey butter, sour-ish from the green apples and peppery from the arugula. I drool just by typing these words!
I mean, who doesn't love apple with cheese? I just went ahead and added a few other elements to make the flavors pop even more and then put everything into a sandwich.
The most perfect sandwich of all time!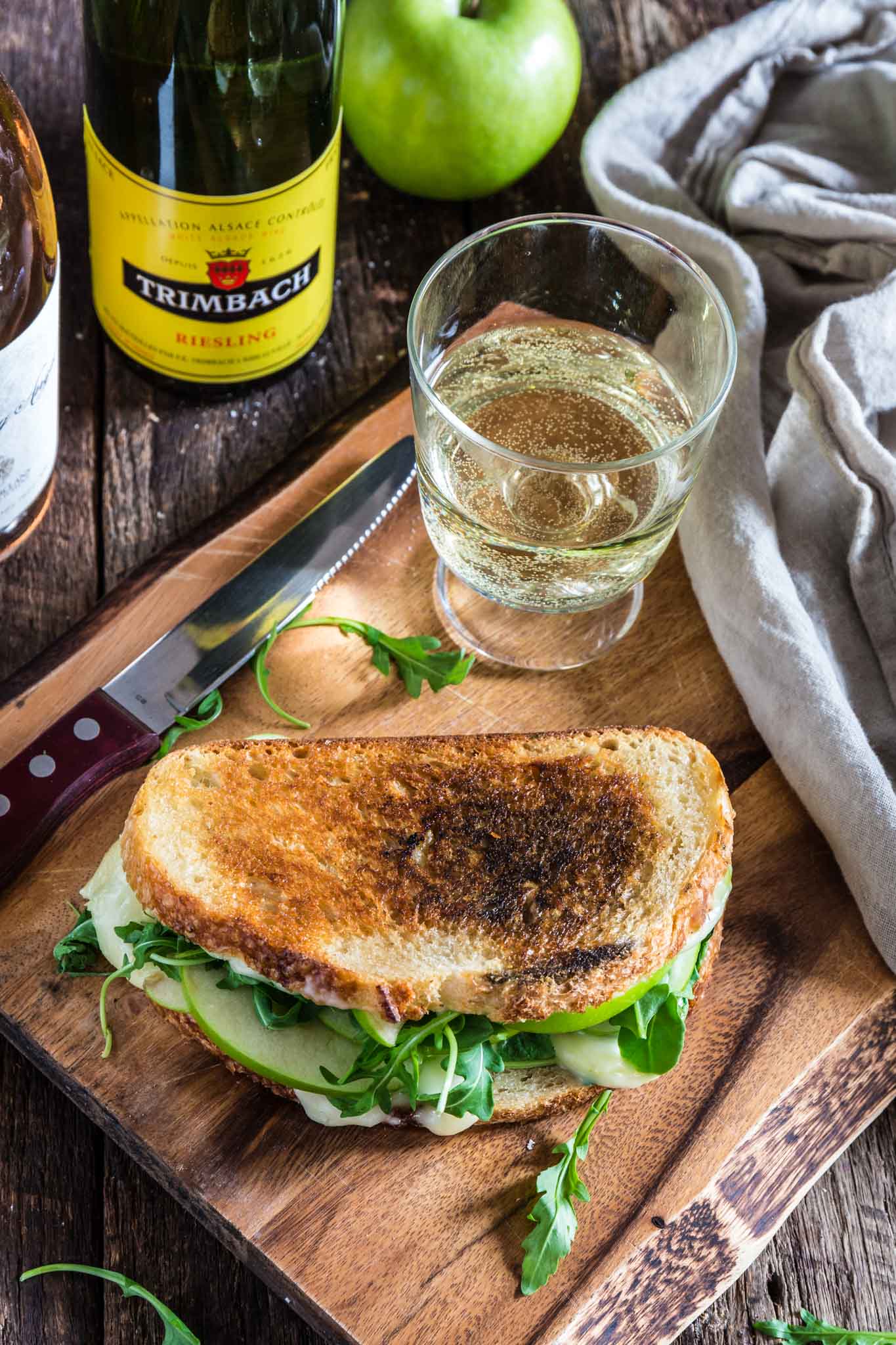 Now, I need your permission to brag a little.
Bragging is usually not inherent to my personality, but this time I cannot contain myself.
The thing is, being a blogger comes with its perks. Just like a Wall Street executive sometimes gets those VIP tickets to see the Yankees game, we bloggers sometimes get some goodies to make up for all our hard work! And these goodies come 99% of the time in the form of delicious food.
Last week I received a box from The French Ministry of Agriculture and, let me tell you, it was like Christmas morning. It was like the universe was making up for my cancelled trip to Paris – because, uhm, pregnancy – by giving me everything France has to offer.
Or at least a good sample of it!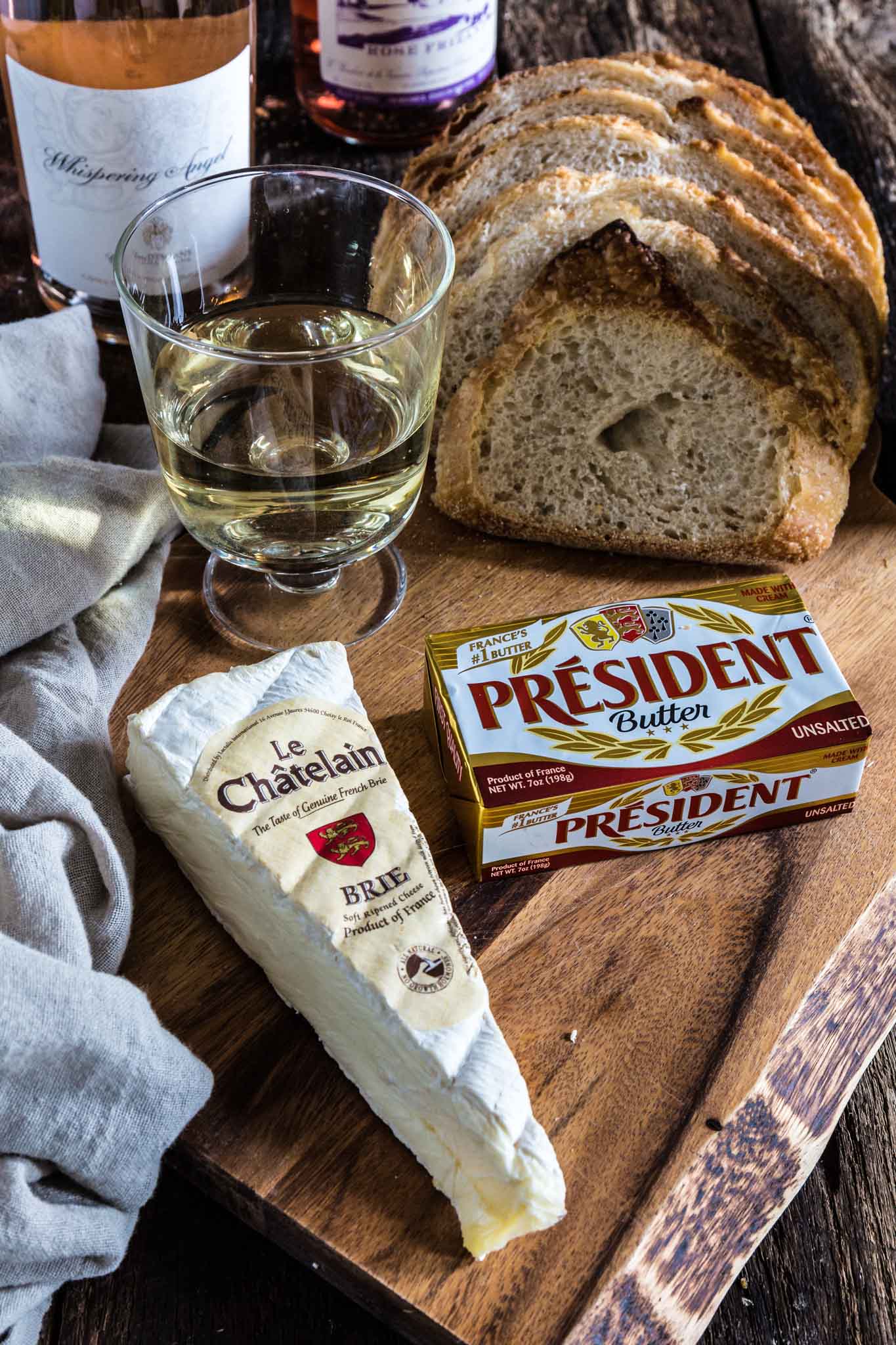 The first thing I took out of the box was the Président Butter (from Normandy, France) and I immediately knew these guys weren't joking around.
I've been a fan of Président Butter since I was a little girl in Brazil and the only way you could get it was if you (or, in my case, a family member) travelled to France and got you some at the duty free shop. When I moved to the US and saw that you could easily buy it in the supermarket, it quickly became at staple at our home.
Tim – who had never tried it before he met me – is now as obsessed as I and we share this strange deep connection over French butter! Oh yeah, we are very proud of our butter love!
I usually consider a sacrilege to modify this beloved butter in any shape or form and we gladly eat it pure, with crusty French or Italian bread. But this time, for the sake of the perfect brie panini, I decided to whip it with a touch of honey and… holy cow, you guys! All the guilty I was feeling for breaking a sacred foodie rule dissipated and the angels gathered to sing in harmony over the perfect flavor achieved.
There was also brie. And I'm not one to resist a good French brie!
I do not recall trying Le Chatêlain brie (from Raival in Meuse, France) before and was really impressed with how much character this cheese has, which was perfect on this sandwich.
I mean, we all expect brie to be soft, nutty and… well, funky. But Le Chatêlain is even richer, pungent and has a bolder taste than most of the brie cheeses out there. It is absolutely delicious and I was not surprise to learn that they were awarded one of the highest honors that can be bestowed upon a cheese: a Gold Medal from France's biggest food competition, the Concours General Agricole held at the Salon International de l'Agriculture in Paris.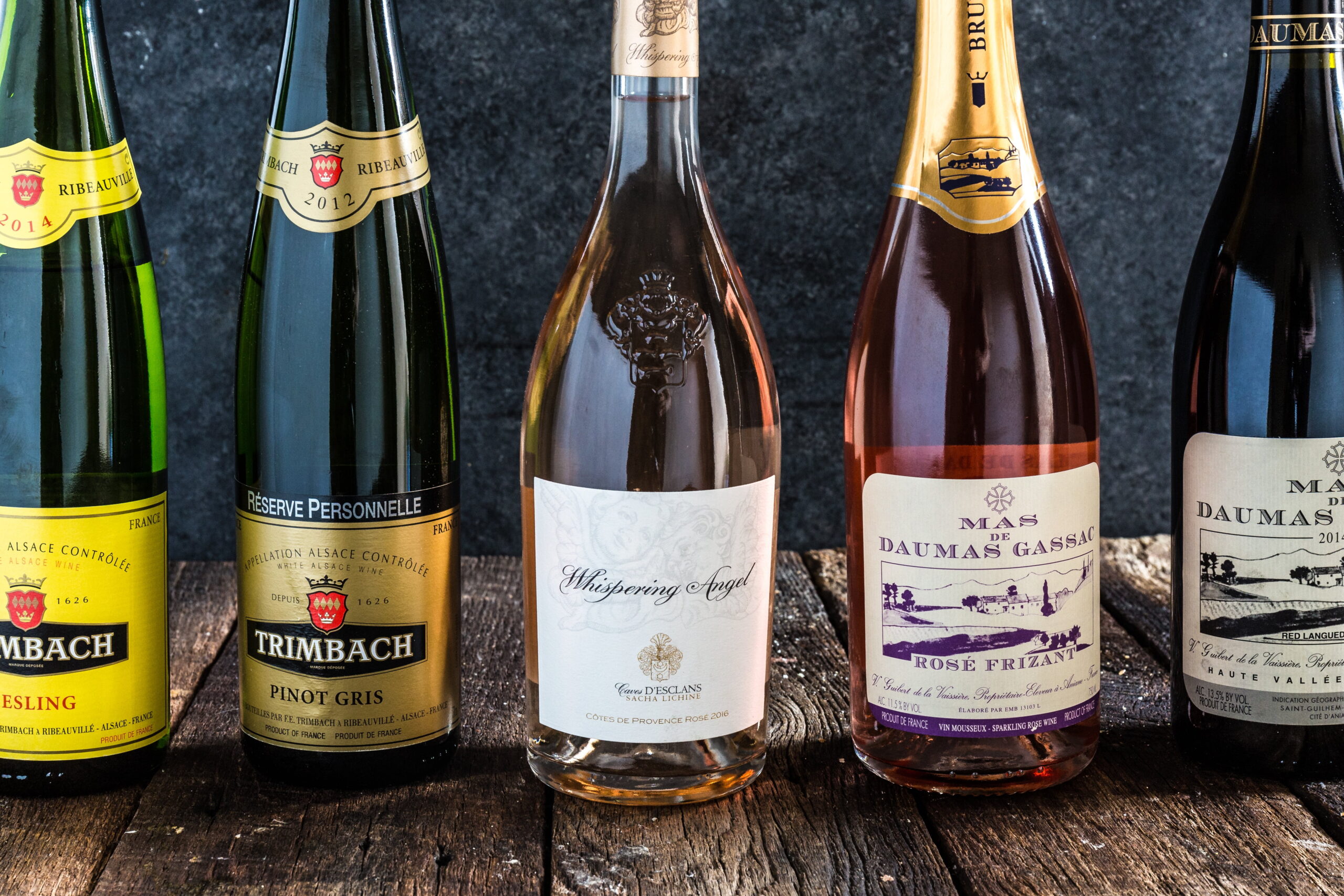 And then, mes amies, there was the wine.
I'm a huge sucker for some food and wine history, and I could probably write 10 thousand words on each of these wines. But – don't worry – I won't do that to you! Maybe they'll each get their own post in the future and we can learn everything about them and their regions, but for today I'll leave you with just enough to tempt you to try them! Because if you're into French wine, you absolutely must!
Chateau D'Esclans Whispering Angel Rose 2016 – A very pleasant dry rose with fresh red berry characteristics and a floral nose. This wine is smooth, round and very easy to drink, as there are no astringent aftertaste or bite. Perfect for beginners to wine experts and a great choice for the summer. It comes from Chateau d'Easclans, located in the heart of Provence, France (one of my bucket list places to visit), which is a prestigious winery that has become the fastest growing range of fine wines to be introduced globally during the past two decades, setting the tone for unprecedented growth within the rosé category. They were recently awarded Wine Enthusiast's European Winery of The Year Award for 2014.
Mas De Daumas Gassac Red 2015 – A very fine red wine aged for 14-16 months in Burgundy barrels, no filtration, splendid noble tannins ensuring a very long life to the wine. It is made from 75% uncloned and ancient Cabernet Sauvignong and blended with Cabernet Franc, Pinot Noir, Merlot, Tannat, Malbec, Bebbiolo and Dolcetto. Very elegant, complex and perfect to match with meat with very little sauce or any strong flavoured main dish! The type of wine you serve when you want to impress guests. And for that, please serve around 60F degrees and preferably in large Burgundy glasses. Bonus points if decanted/opened in advance.
Mas De Daumas Gassac Sparkling Rose 2016 – Made from the younger Cabernet Sauvignon vineyard of the estate, this naturally sparkling wine is a true delight to the palate, thanks to very lively fines sparkles, a low alcohol content (11%) and the extraordinary Cabernet Sauvignon red fruit and berries aroma. It goes amazing as an aperitif, with charcuterie, goat cheese, shrimp or even with a chocolate or berry dessert. It is best served at around 45F degrees and drunk young.
Both these wines are organic, made with no chemicals, pesticides or GMOs. They come from the family owned Mas de Daumas estate in the Languedoc region. They have devoted its approach since the creation of the estate to respect the environment (where the family also lives) and to follow the simple concept of no interference and total respect of Mother Nature!
Trimbach Riesling 2014 – If you want to win my heart, give me a good Riesling. Light, fruity (flavors of white peach, quince and lemon) and with a fine mineral fragrance of ginger and caraway seed under ripe pineapple and flowers. It paris perfectly with marinated or grilled fish and sushi. Bottles remain in the cellar for several years before reaching the marketplace, ensuring the wines are both ready to drink upon release but also hold great aging potential.
Trimbach Pinot Gris Reserve 2013 – Full-bodied with ripe smokey tropical fruit flavors, a long nutty finish and aromas of juicy peaches and ripe pear. Perfect as an aperitif or with fish, shellfish, poultry and lighter pastas.
The Trumbach's have been producing wines that are structured, long-lived, fruity, elegant and balanced for three centuries and across 13 generations. The family personally looks after each operation, from planting to harvests and from vinification to bottling. Maison Trimbach's vineyards are all situated around Ribeauville (Alsace, France).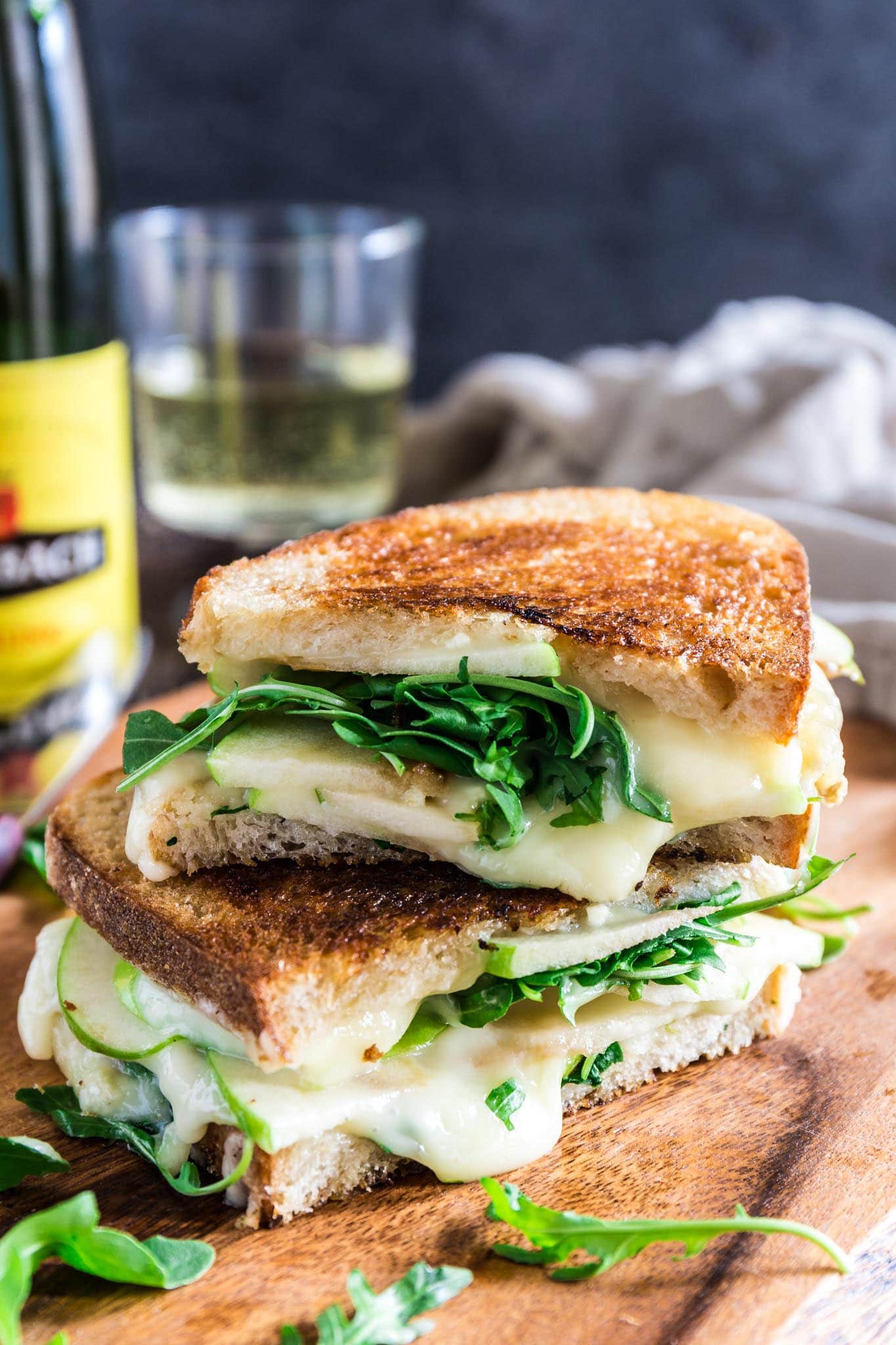 Aaaand I just realized I got completely carried away.
That's what happens when you let me talk about French food/wine. I don't know if you know this about me, but I'm part French (from both my mom's and dad's sides) so French cuisine is a passion of mine.
I'm also very aware that panini are not French, but I just thought it would be fun to put a French twist – with brie and French butter – to this Italian sandwich. Trust me: one bite of this Apple, Arugula and Brie Panini and you won't care if it's from France, Italy or Maysville, Kentucky. ???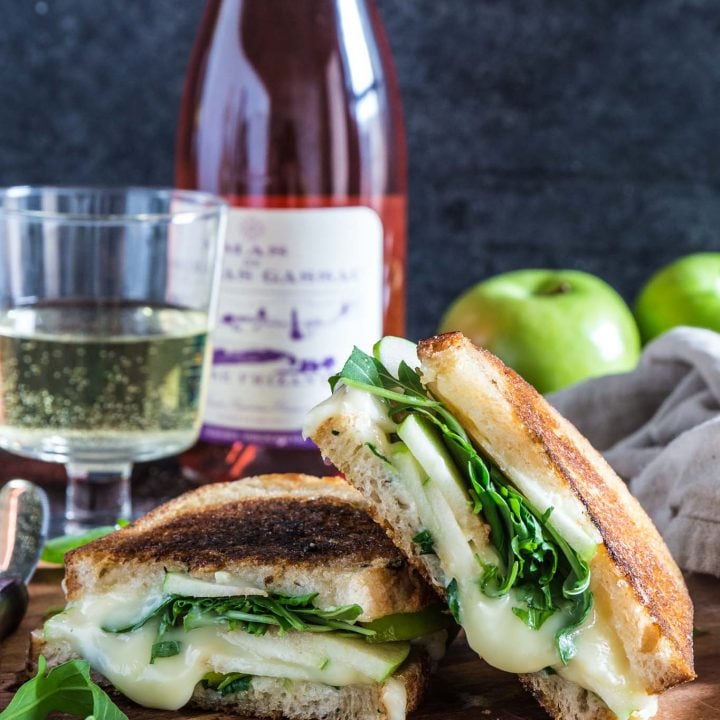 Apple, Arugula and Brie Panini with Honey Butter
Yield: 4
Prep Time: 5 minutes
Cook Time: 10 minutes
Total Time: 15 minutes
Ingredients
For the Apple, Arugula and Brie Panini:
8 slices sourdough bread (or any crusty French bread)
16 ounces Brie cheese, rind removed and cut into thin slices
2 green apples, cored and sliced
2 cups baby arugula
For the Honey Butter:
1/2 cup Président Butter
1/4 cup honey
Instructions
Make the honey butter by whisking the butter and honey until smooth. Reserve.
Heat your panini press (or a grill pan or skillet).
Spread the butter on one side of each slice. Then, layer the brie on top of the butter followed by apple slices. Top one side of each sandwich with arugula.
Fold the sandwiches together and butter the outsides.
Add sandwiches to panini maker and press for about 10 minutes or until the cheese is melted. If you don't have a panini press, you can make these easy sandwiches in a nonstick skillet or grill pan, much like you make grilled cheese sandwiches.