Pineapple Mint Fruit Bar Caipirinha
This post is sponsored by Outshine®.
Summer is almost here and this Pineapple Mint Fruit Bar Caipirinha will be the hit of your parties! Sweet, refreshing and very easy to make. Who doesn't love that?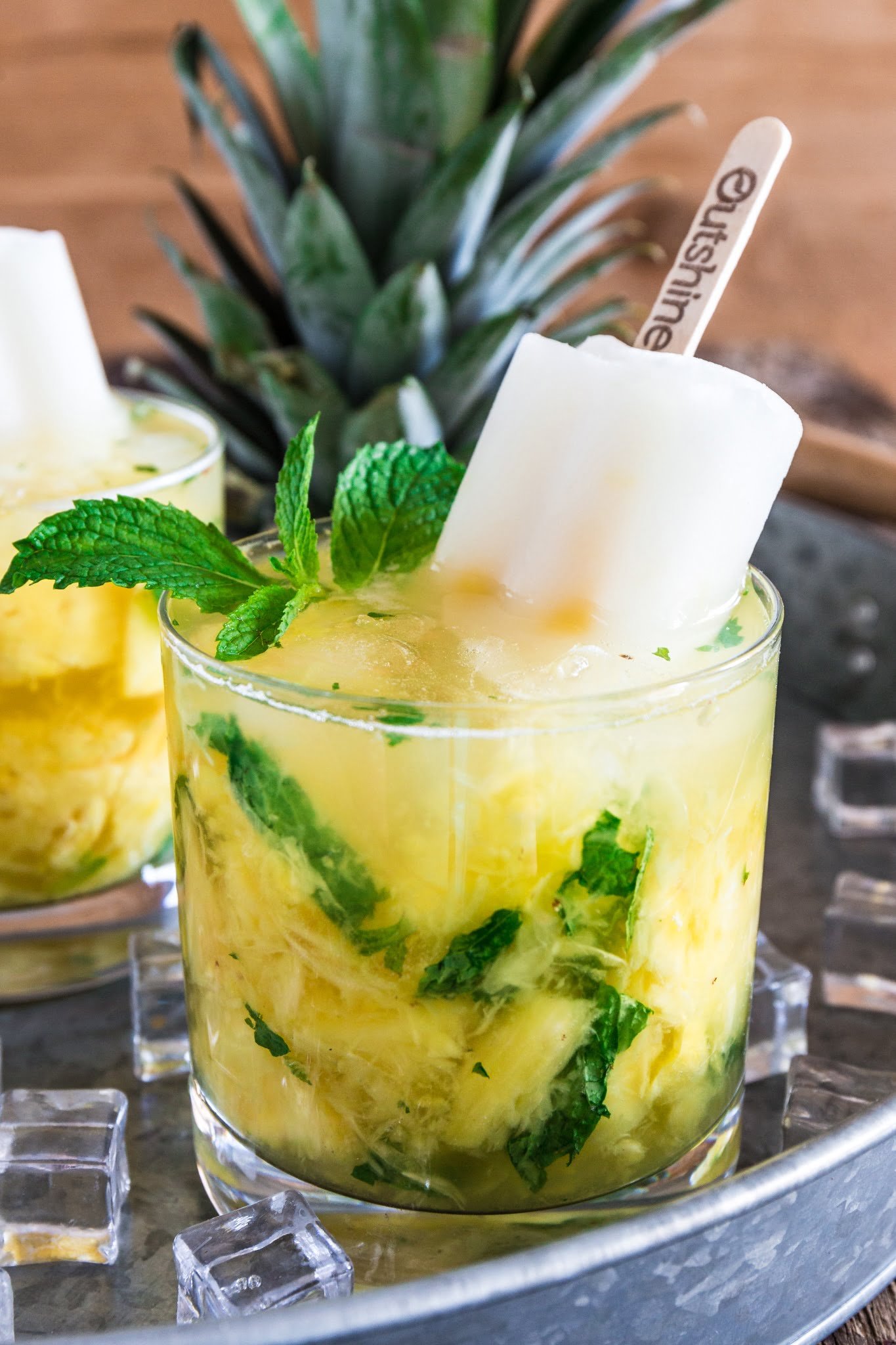 Why didn't I think of this before?
Sticking a fruit bar in my favorite cocktail? Genius!
I wish I were the one to have invented it, but the trend has been growing in Brazil since the last summer or so, so I'm just now riding the wave. Well, kind of!
As you guys know, I'm alcohol-less at the moment (due to a certain tenant in my uterus), so I had to resort to a mocktail version. But Tim had the real thing and I might or might not have had a small sip…?
And it was absolutely delicious!
Okay, you're probably thinking I'm biased. I'm Brazilian and we all know that we Brazilians LOVE our caipirinha. But who doesn't, really?
If you've tried a caipirinha and hated it, chances are it was too strong.
Believe me, there IS such a thing as a too strong caipirinha! Just ask my husband.
The first time he went to Brazil, my dad took him to a churrascaria (a Brazilian steakhouse) and kept ordering our famous and traditional lime caipirinha, made with cachaça. Oooh, boy! He later told me that he was drinking to be polite and couldn't even walk to the car at the end of the meal. ???
That experience traumatized him a bit and just the word "caipirinha" would make him want to run to the hills. Until I made him a milder, vodka version and was able to fix the damage.
So, yeah, the moral of the story is: even if you're not into cachaça, you can still enjoy caipirinhas, as you can make them with vodka or, my favorite, sake!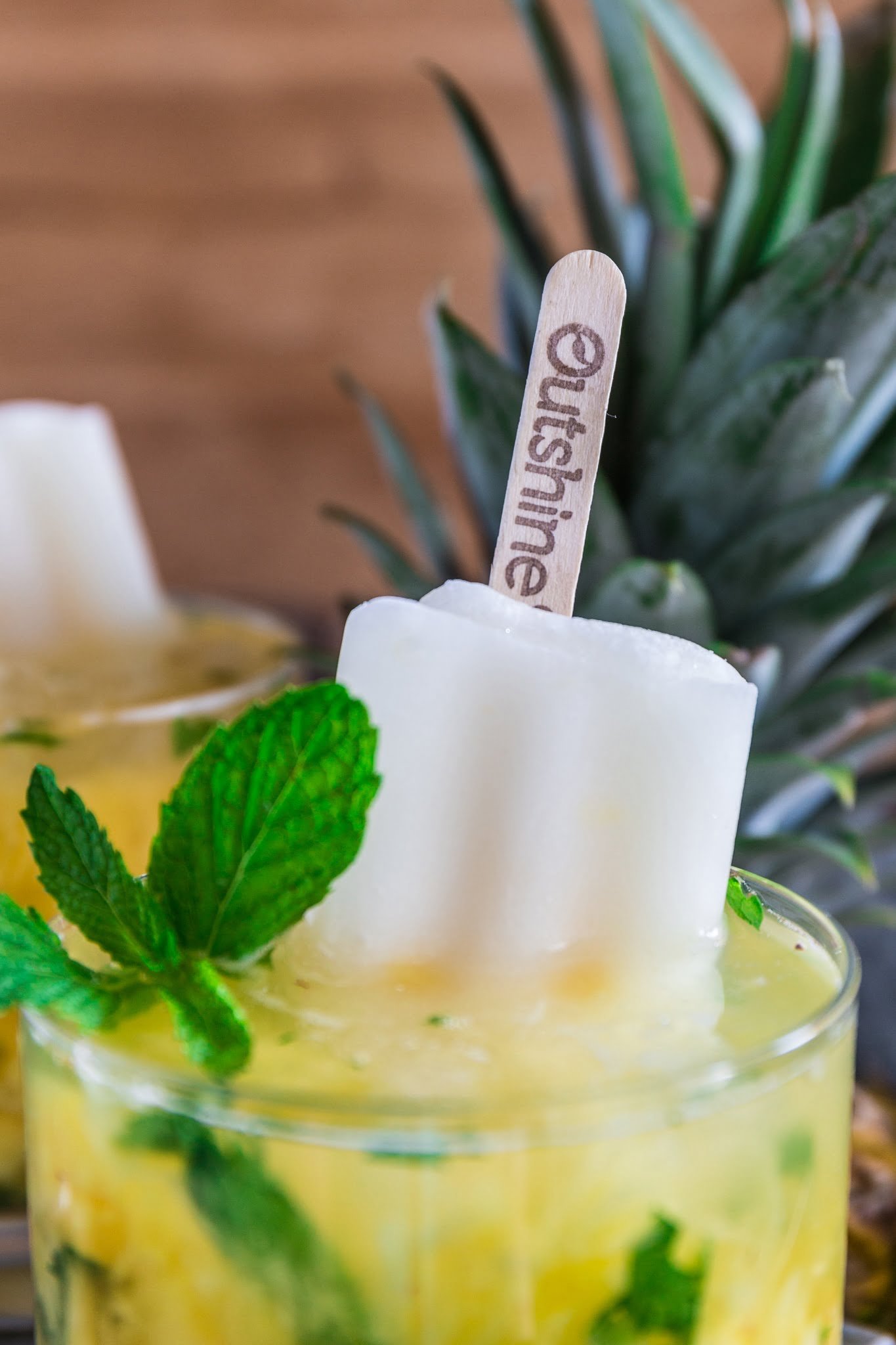 This time, I decided to share one of my favorite caipirinha flavors: pineapple with mint. And I made it with vodka, but just because I didn't have any sake on hand! So feel free to choose your favorite poison here. Even rum will work!
If you wanna get all fancy and technical, a caipirinha made with vodka is called "caipiroska", a capirinha made with sake is called "sakerinha" and a caipirinha served with a popsicle (or fruit bar) is called "caipilé". But my many years working as a bartender taught me that the different terms only confuse Americans, so I made the executive decision to just call it caipirinha.
At the end of the day, nobody cares how it's called. All that matters is that it is delicious and that it will get you happily boozed!
I served mine with an Outshine Pineapple Fruit Bar made with coconut water, but the regular pineapple or the lime will work as well in this recipe.
I love Outshine bars, mostly because they are made with real fruit or fruit juice and contain no GMO ingredients. I've been trying really hard to lead a healthier lifestyle, so I'm really grateful to be able to snack on one of their fruit bars daily without feeling an ounce of guilt!
Once you make this caipirinha, you will want to make it over and over again, all summer long! And if you're anything like me, you will want to experiment with other flavor combinations.
Call me crazy, but I've been craving a passion fruit caipirinha served with a grape bar! Is it the pregnancy or does it sound amazing?
By the way, if you're pregnant like me or if you want to make a version for the kiddos, just substitute the amount of liquor for water.
Because nobody should miss on all the fun just because they can't have the alcohol!
Pineapple Mint Fruit Bar Caipirinha
Yield: 1 caipirinha
Prep Time: 5 minutes
Total Time: 5 minutes
Ingredients
1/2 cup fresh pineapple chunks
4 to 6 mint leaves
2 teaspoons sugar or sweetener, or to taste
1.5 to 2 ounces vodka, cachaça or sake (2 ounces is about 1/4 cup)
Crushed ice
1 Outshine fruit bar (recommended: pineapple flavor)
Instructions
Using a muddler (or a wooden spoon), muddle the pineapple chunks, mint leaves and sugar/sweetener in a cocktail shaker.
Add the liquor and the ice and shake vigorously.
Serve in a rocks glass, over more crushed ice if desired.
Add the fruit bar, garnish with extra mint sprigs and enjoy!