Caldo Verde (Portuguese Green Soup)
How many Portuguese dishes have you had in your life?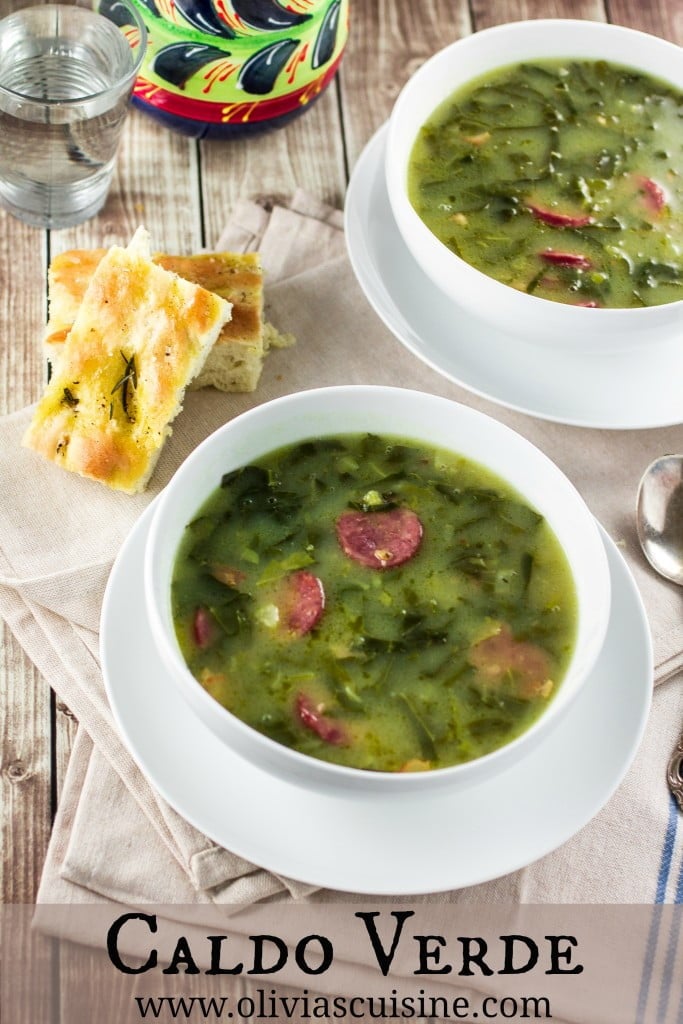 As most of you know, I am Brazilian. I was born and raised in São Paulo and my family is still down there so I visit often (or as often as I can afford the expensive plane tickets). Everyday I get asked where I'm from (because people notice my accent) and I always get that flabbergasted look of surprise: "oh, but you are so white!".
What most people don't seem to know is that Brazil is a multiracial country, like the US. We were colonized by the Portuguese, but we have huge Italian, Lebanese and Japanese communities in São Paulo, a huge German community in the south, and many others around the big country that is Brazil. So you can only imagine how much these cultures contributed to the Brazilian culture and people.
The Portuguese obviously were the main influencers, in lots of aspects, but especially in the food department. God, I couldn't possibly list all the delicious Portuguese or Portuguese-descendant dishes we have down there. Amazing sea food dishes, bacalhau, roasts, stews, breads, decadent pastries and desserts and many others. The Portuguese definitely know how to eat!
One of my favorite Portuguese dishes, especially in this insane NYC weather, is the Caldo Verde. It is the ultimate healthy comfort food to warm you up on a freezing day. I almost want the next winter to come faster so I can make more of this! (Relax, I said "almost"!)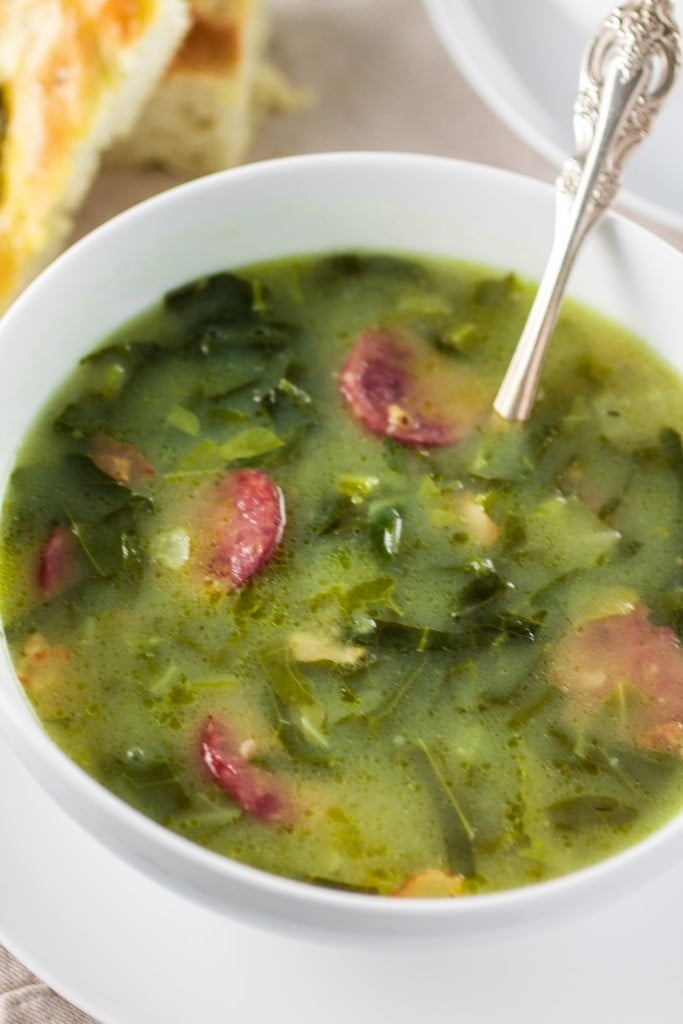 Caldo Verde is a Portuguese soup made with potatoes, collard greens, sliced chouriço or linguiça (smoked Portuguese sausage) and olive oil. It originated in northern Portugal, but nowadays it is a national favorite. Some people even say it's the national dish but I disagree! (Hello? Bacalhau?!?) It is also so popular in Brazil that most Brazilians don't even know that it is originally a Portuguese soup.
This soup is great served as an appetizer or as a light course for a late supper, for example. I find it to be very satisfying, because of the sausage and potatoes, so I'm usually good with a bowl of this soup and a slice of bread for dinner! Maybe accompanied by some Rosemary Focaccia? Yum!
However, as much as I love the sausage in this for its portion of protein and smokey flavor, you can just omit it (and the bacon) to make it vegan/vegetarian.
Ok, and so since I mentioned the bacon, I have to warn you, before any native Portuguese gets mad at me, that the traditional Caldo Verde doesn't call for bacon. But come onnnnnn! How could I not? Bacon makes everything so delicious!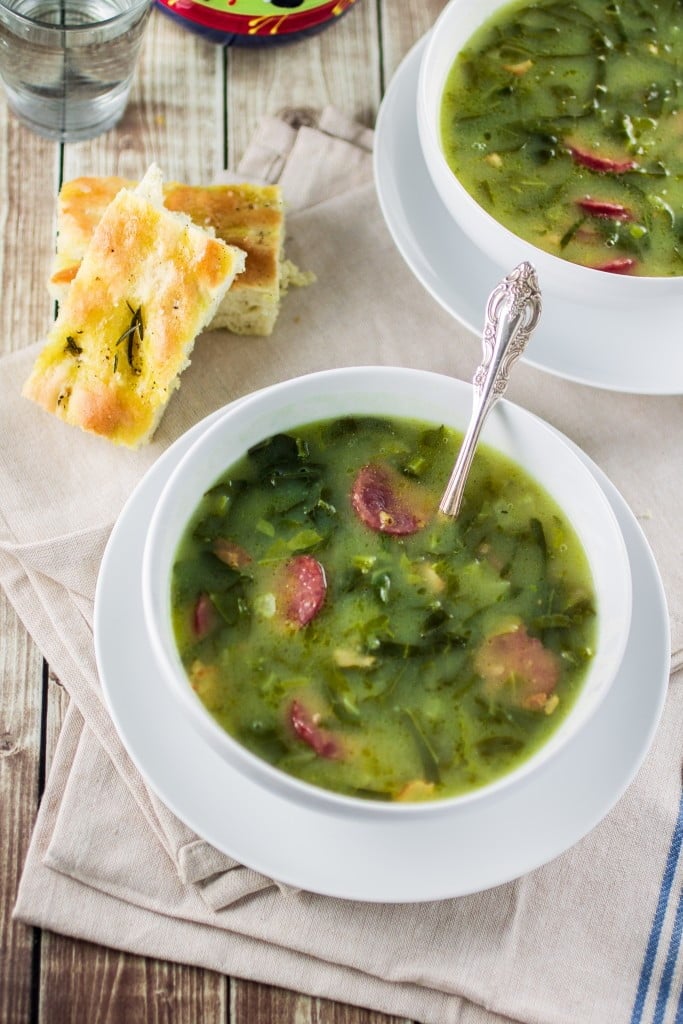 A few considerations about this recipe:
– The creaminess of this soup varies according to taste. I don't like mine too creamy, after all it is a "caldo" and not a "creme". But if you like yours creamier, just add more potatoes. You can add as much as you'd like and just use water to thin it out if it gets too thick.
– You have to (HAVE TO!) cut the collard greens into strips instead of chopping it. It is the traditional way. If you don't cut it into strips, it is not Caldo Verde. I don't care if you're worried your date will see you struggling to look classy! [Sorry, I just got bossy here. (**hides in the corner, embarassed**)]
– As I said before, omit the bacon and the sausage for a vegan/vegetarian version. :)
– The next day the leftovers will be a tad thicker than when you first made it (which is great if you love creamier soup), so add some water if you want to thin it out.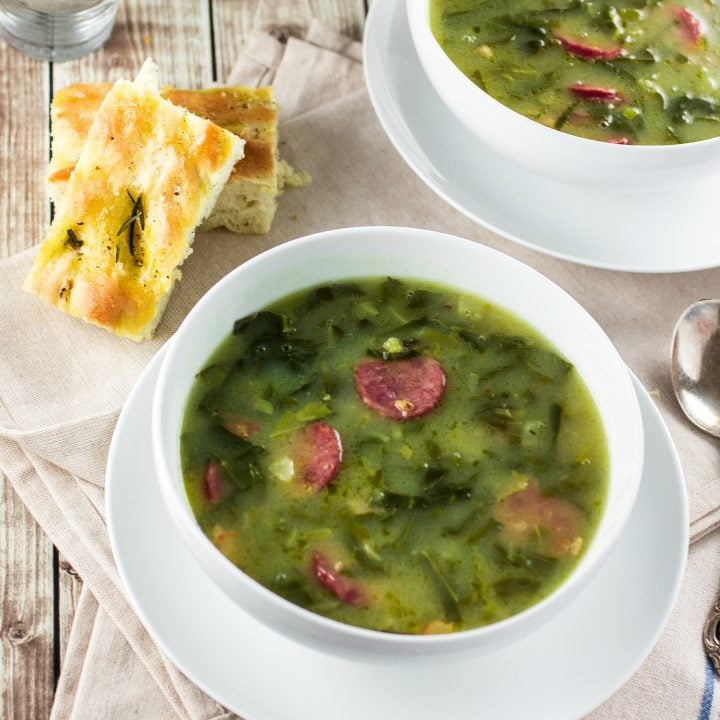 Caldo Verde (Portuguese Green Soup)
Yield: 6
Cook Time: 40 minutes
Total Time: 40 minutes
Ingredients
2lbs Yukon Gold potatoes, peeled
1 onion, peeled and quartered
3 cloves of garlic, minced
1/2 cup olive oil, plus more for serving
1lbs sausage (chorizo, linguiça or kielbasa), thinly sliced
1 bunch collard greens, thoroughly washed
4 slices bacon, roughly chopped
8 cups chicken (or vegetable) broth, low sodium
Salt and pepper to taste
Instructions
Start by cutting the collard greens. Just stack three leaves at a time and roll them like cigars. Cut them crosswise into very thin strips. Proceed with the rest of the leaves until all the collard greens are done. Reserve.
In a heavy bottomed pot, add the peeled potatoes, the quartered onion, the minced cloves of garlic, the olive oil and the chicken broth. Bring it to a boil over high heat and then lower the heat to medium low and cook until the potatoes are tender and ready to be mashed (about 20 min).
Mash the potatoes and bring them back to the pot.
Using a hand blender, blend the soup until smooth. You can also use a regular blender and blend the soup in batches.
Add the collard greens, stir, and keep cooking for 15 more minutes.
In a large skillet, fry the bacon and the sausage until the bacon is browned.
Add the bacon/sausage mixture to the soup and cook until the soup boils again.
Season with salt and pepper.
Serve hot with extra olive oil.
Notes
P.S. Add 1lbs more potatoes if you like your soup creamier.
Wanna keep in touch? Follow me on Pinterest, Instagram, Twitter and Facebook to stay up to date with all my posts! :) I appreciate the support!