Cream of Spinach Soup
January is National Soup Month and there's no better way to warm up than with a bowl of this Cream of Spinach Soup! Creamy, rich and so easy to make. Dinner will be ready in less than 20 minutes!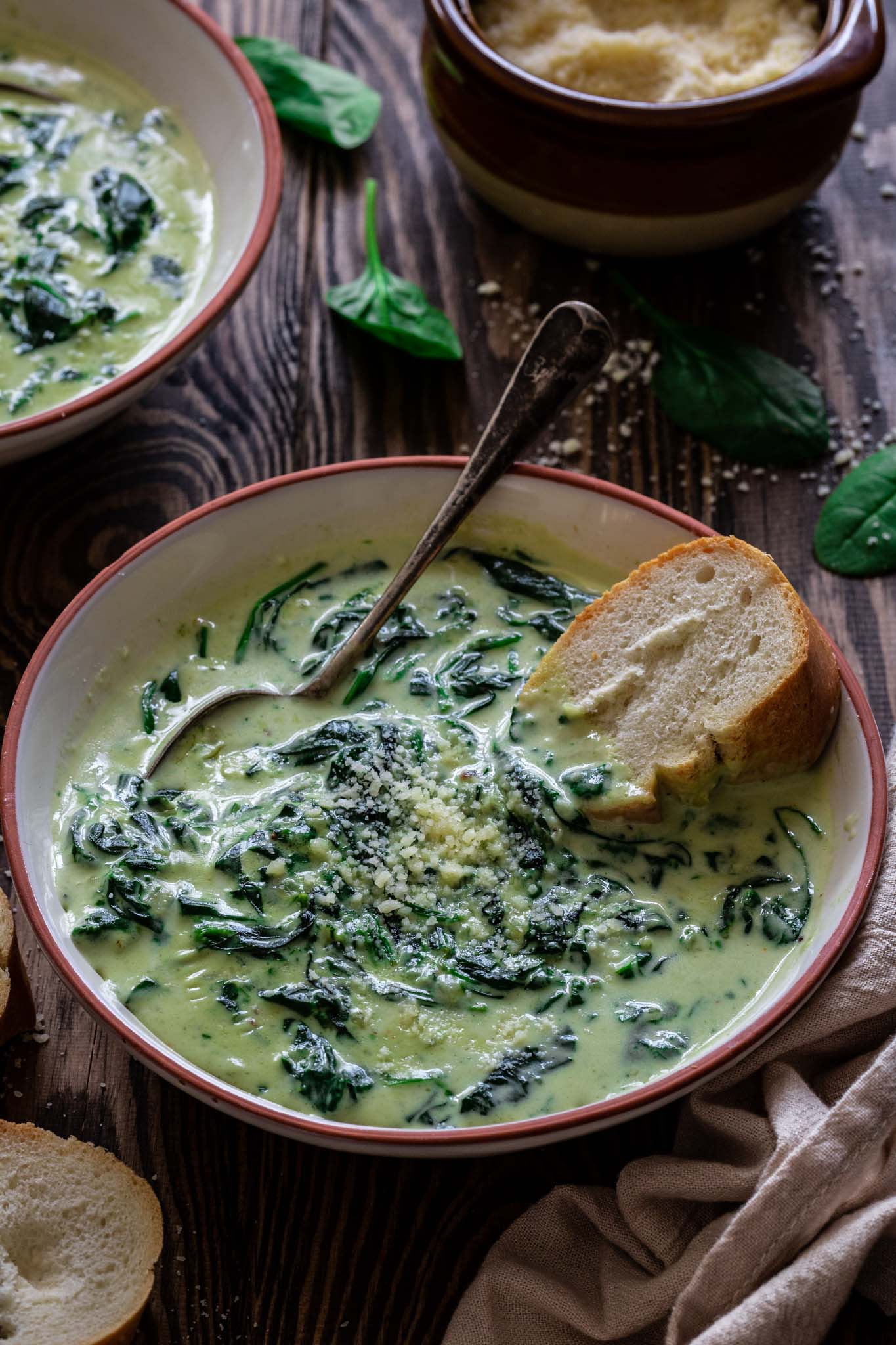 Happy New Year, friends! I hope you entered 2019 full of hope and goals. And hopefully not too hungover…
Me? My party days are long gone and I went to bed at around 10pm. This pregnant gal has been rocking some fuzzy socks and yoga pants while reading a book by the fire these days! And craving all the soups!
Gestational diabetes got me again, but I refuse to let it take away my joie de vivre, AKA my joy of eating! So I've ditched (most of) the carbs but am in a committed relationship with cheese and cream. And bacon, of course! Which I was tempted to add to this soup but was afraid people with weight loss New Year's resolutions would run for the hills.
So, yeah… this soup is pretty low carb and GD friendly. But oh so delicious!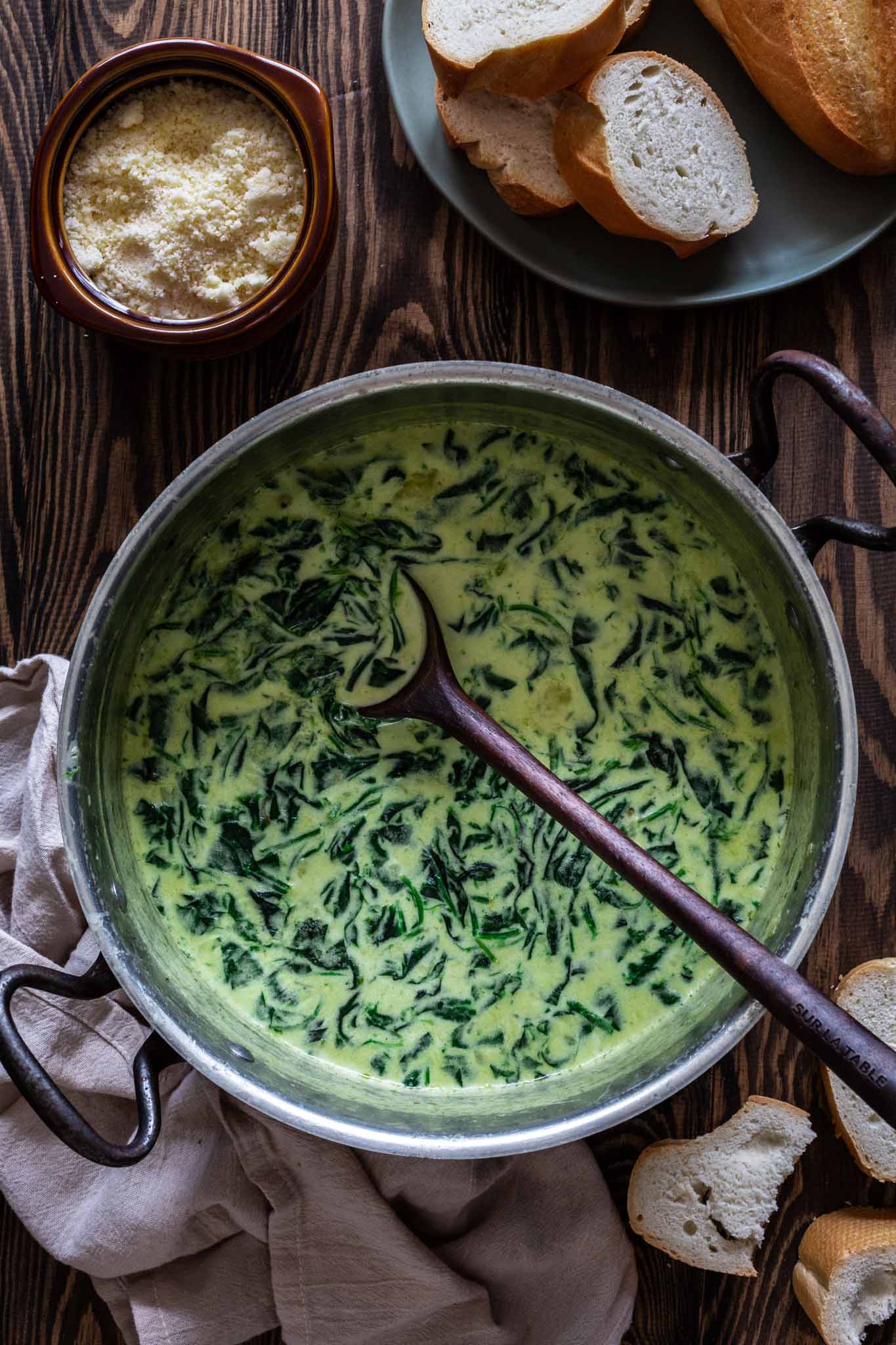 The inspiration for this spinach soup came from a craving I had recently.
I couldn't stop thinking of these creamed spinach crostini that my mom makes and had the idea of transforming them into a soup.
Most of the recipes for Cream of Spinach Soup will ask you to blend the ingredients. Mine doesn't! I'm after that steakhouse creamed spinach vibe, so the chunks of spinach are very much celebrated here.
That being said, if smooth is your jam, go ahead and puree the soup! It will taste just as good!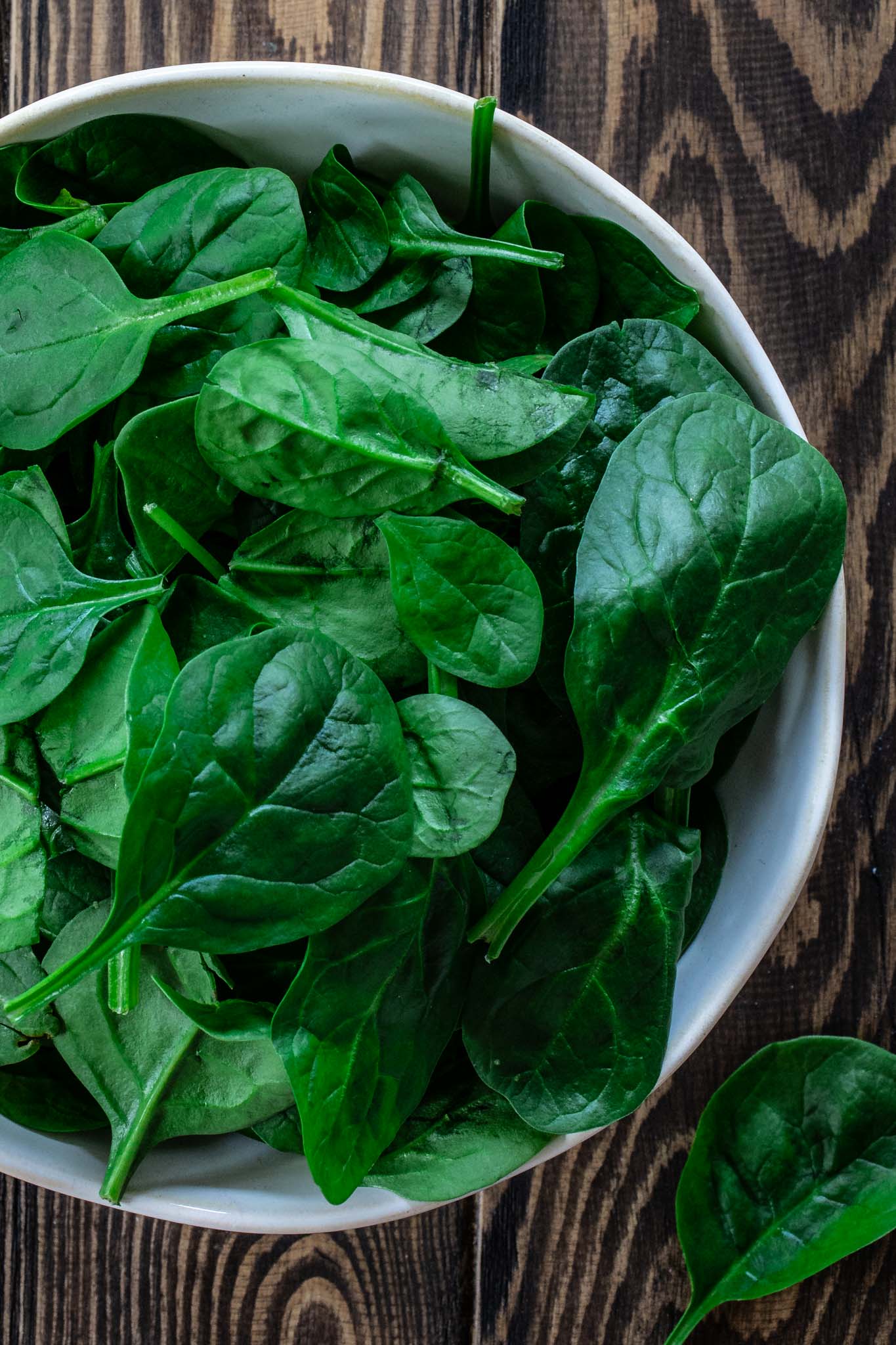 How to make Cream of Spinach Soup
This soup is made by sautéing shallots and garlic in butter and then adding a bit of flour (for thickening), a pound of spinach (sounds like a lot but we all know that the spinach elves make them shrink when they cook!), some spices (life is too short to be bland!), heavy cream, chicken (or vegetable) broth and parmesan cheese.
If you live a keto lifestyle, you can omit the flour or explore other thickening ingredients. The amount of flour here is okay for my current low carb diet, so I haven't really played with anything else. If you find something that works, feel free to tell me in the comment section below and I'll make sure to update the post with your suggestions!
As for the spinach, you can easily substitute frozen spinach for the fresh called for in the recipe. However, frozen spinach has extra water, so make sure to wait for it to evaporate while sautéing, otherwise you will have to adapt the amount of liquid in the recipe.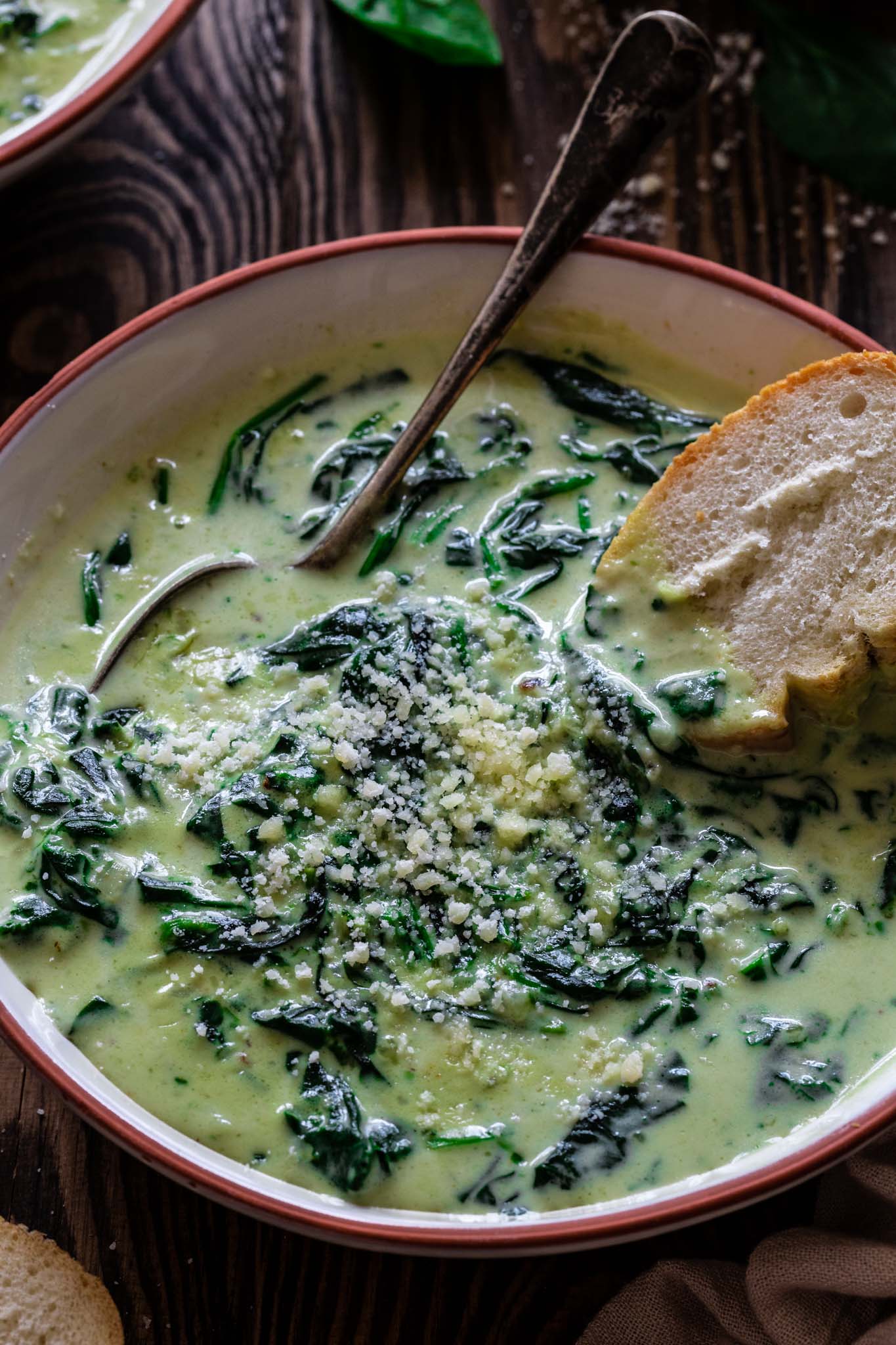 Serving Cream of Spinach Soup
Crusty bread is a must with cream soups! Or with all soups, really. Croutons are also a good option!
And let's not forget bacon. This soup really benefits from a handful of crumbled bacon!
A sprinkle of grated parmesan invokes that steakhouse creamed spinach vibe and brings a taste of indulgence. Even better if you splurge in good quality Parmigiano Reggiano!
Can I freeze creamy soups?
I am not a fan of freezing soups that contain dairy. I find that they separate and get a weird grainy texture once reheated and are not the same.
If you are meal prepping the soup for the future and would like to freeze it, I would prepare it without the heavy cream and then add it once you are defrosting and ready to serve.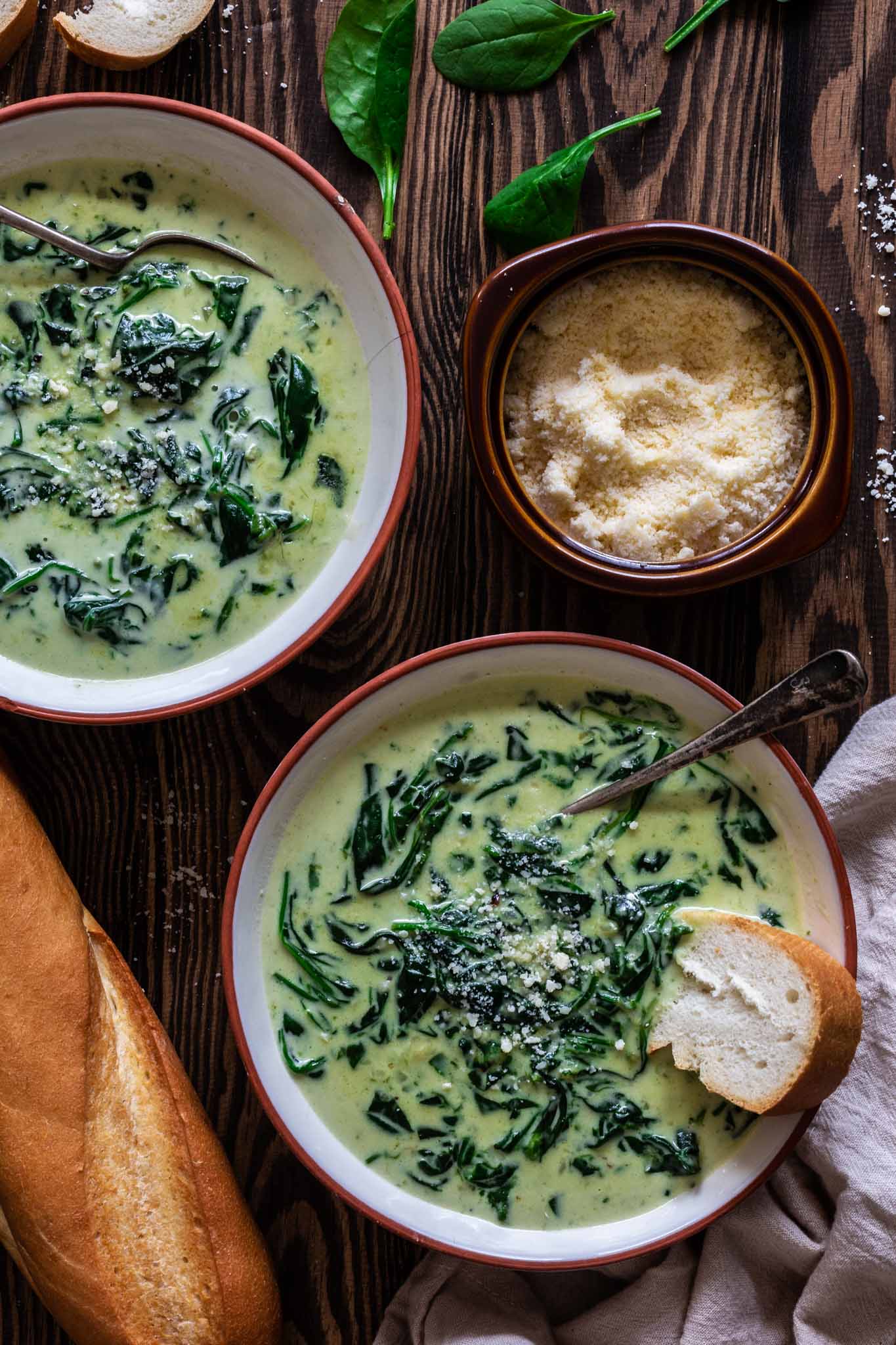 If you're anything like me, you are probably feeling a little sad because the holidays are over! This soup will warm your soul and make you feel better!
I also have a lot of new content planned for you this year. I know I've been MIA in the past – being pregnant and raising a toddler is no easy feat – but my 2019 resolutions include creating more delicious things to share with my online friends. Stay tuned!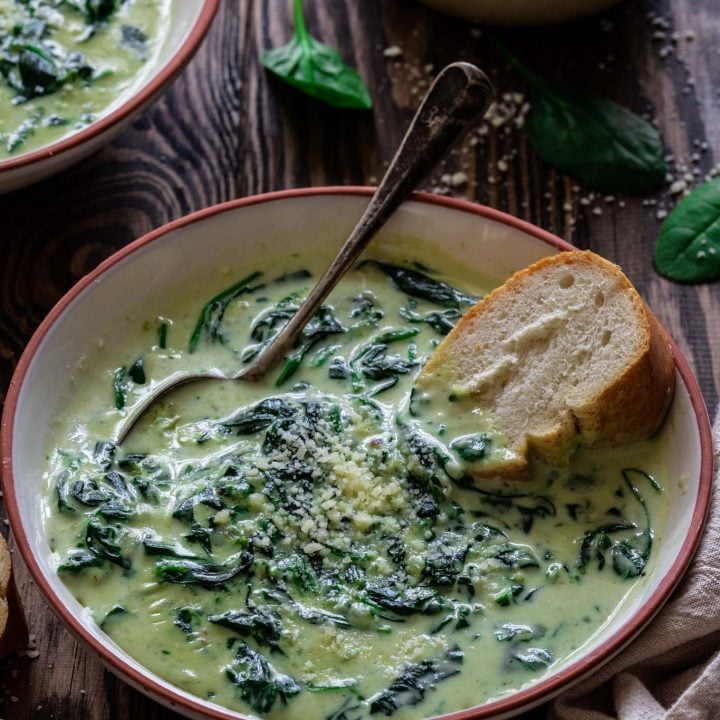 Cream of Spinach Soup
Yield: 4
Prep Time: 5 minutes
Cook Time: 15 minutes
Total Time: 20 minutes
Ingredients
1 tablespoon olive oil
2 tablespoons butter
1 large shallot, chopped
2 garlic cloves, minced
2 tablespoons flour
1 pound spinach leaves
2 1/2 cups heavy cream (or half and half)
2 cups chicken (or vegetable) broth
Pinch of freshly grated nutmeg, to taste
1/2 teaspoon cayenne pepper (optional)
Salt and freshly ground pepper to taste
1/2 cup grated parmesan cheese
Instructions
In a large pot or dutch oven, over medium heat, heat the olive oil and butter until the butter has melted. Add the shallot and garlic and sauté until softened and fragrant.
Add the flour and stir to combine, cooking for about a minute to get rid of the raw flour taste. Then, add the spinach and cook until wilted, about 5 minutes.
Add the heavy cream, chicken broth, nutmeg, cayenne, salt and pepper, and cook until thickened, about 5 minutes. Add the parmesan and stir to combine. Taste for seasoning and adjust if necessary.
If the soup is not thick enough, you can dissolve a bit more flour into some broth or heavy cream and add that mixture to the pot. Continue cooking until the soup is as thick as you'd like.
Serve immediately.
Other Soup Recipes at Olivia's Cuisine: