Sweet Potato Soup
Today I'm here to share with you my favorite soup in the whole world. Like, it's so incredibly delicious that I would trade a yummy cheeseburger for this soup any day, any time! It's a Sweet Potato Soup, but not just any sweet potato soup… THE sweet potato soup. What makes it so special? Oh well.. a special ingredient! :P
Usually when people say "special ingredient" they mean booze. Not this time! The special ingredient is – roll the drums – maple syrup! Say whaaaat?!? Yes, maple syrup! It adds an extra sweetness and woodiness to this soup that will make it your favorite too.
I still had some maple syrup from our Vermont trip in November that I used to make this soup. God, there's nothing like Vermont's Maple Syrup. I kinda want to go back just so I can get some more… I think if there would be an Oscar of the soups, the maple syrup would win the 'Best Supporting Ingredient in a Soup', as the combination of it with the sweet potatoes (that would obviously win the Best Lead Ingredient) is what makes this a memorable dish. It is a meal on its own as it's very fulfilling… And, because of its sweetness you probably won't even crave dessert after it! It's the meal of the meals, believe me!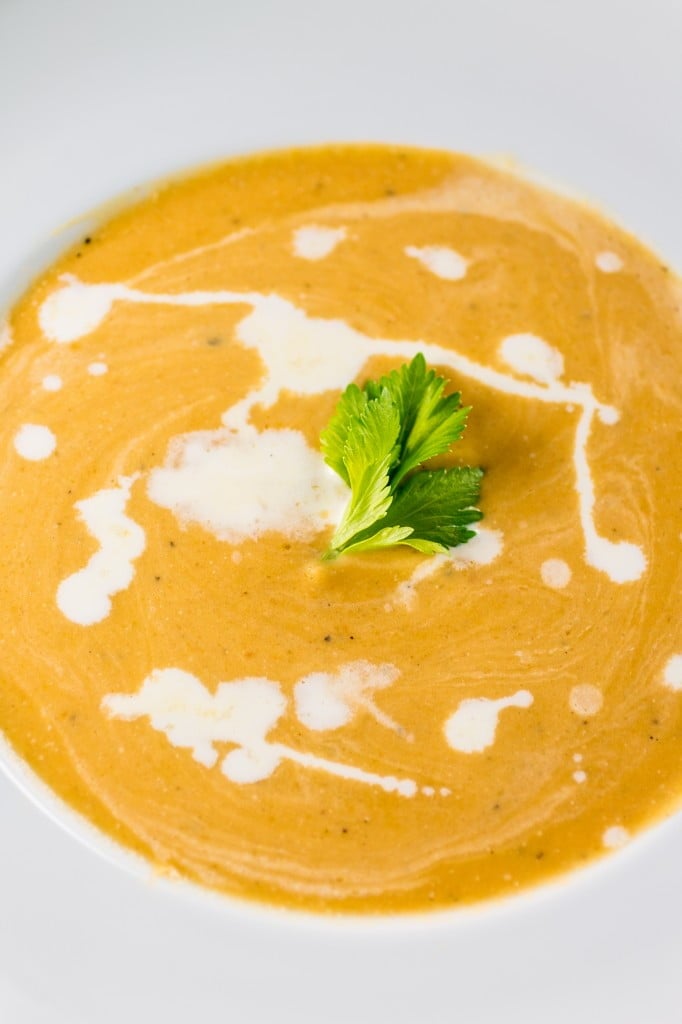 My whole life I associated soup with diet and weight loss. I guess it's because every now and then me and my mom would decide to go on a diet where we would basically only eat this bland vegetable soup and nothing else. By day 2 or 3 I couldn't even smell that thing without feeling sick. So I guess you can understand why I was never the type of person to go to a restaurant, browse through the menu and decide to order a soup. Until I met my husband…
Tim loves soup and will often order soup as an appetizer. At first I was like: 'Really? You prefer the soup over the delicious bruschetta or the Caprese salad?' Until this one day, when we went to grab lunch at a restaurant and he ordered the soup of the day, which was sweet potato soup. He offered me a spoonful and I reluctantly accepted. Well, call me dramatic, but I can say that that was a life changing experience. I don't even need to say that we ended up switching appetizers because I loved it so much! (Yes, my husband is the best husband in the world and will always switch dishes with me if 1) I don't like mine or 2) I like his better! lol) From that day I decided to give soups a second chance and now I absolutely love them!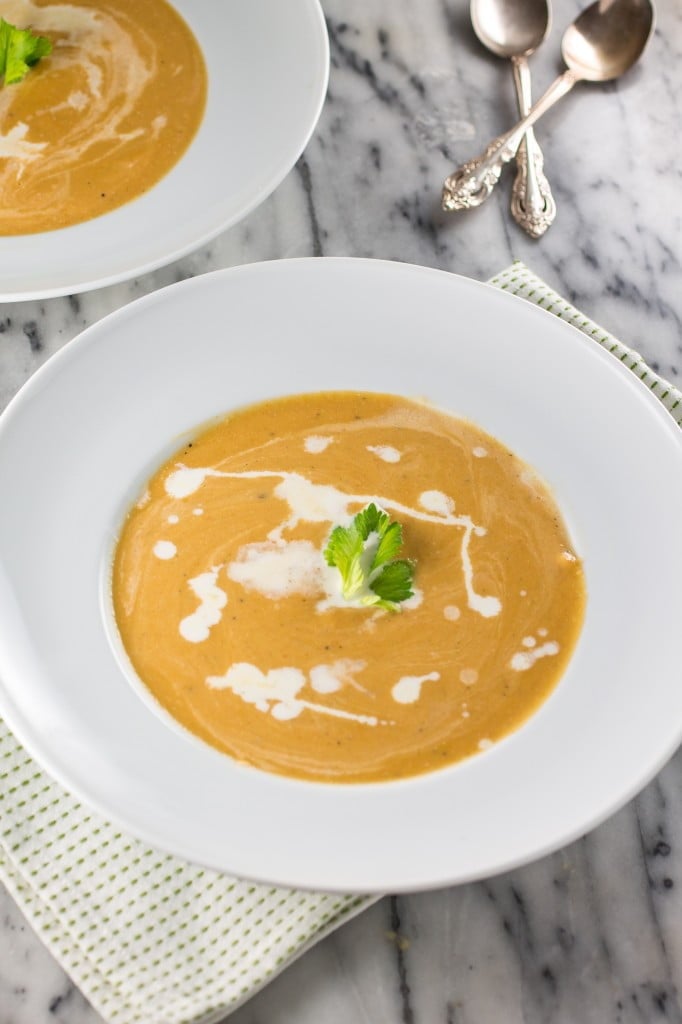 This soup is really really popular in our home. I made a huge pot the other day that I thought would last me at least a couple of days but I couldn't be more wrong. There wasn't even a drop left as the two of us devoured that deliciousness with some sourdough bread and went for seconds and for thirds. (I saw Tim grabbing a bowl at almost 1am!!! The last of it… That I thought I would be having for lunch the next day.)
Thank God this is an easy dish to make, because I'm still craving it even after having 2 bowls yesterday. I'm also thinking I might serve this soup for Thanksgiving this year. (Yes, I'm already planning the menu! Who doesn't love planning a Thanksgiving menu?)
I suggest serving it with some sourdough bread (my favorite!) and garnishing with some chopped pecans and a dollop of Crème Fraiche. You don't see the pecans in the pictures because I had that genius idea after I had already shot them. But they were delicious and paired really well with the soup. I could also see myself garnishing it with some chopped cashews, or some crispy bacon… Or some garlicky croutons! Really, almost anything would be good with this!!!
Sweet Potato Soup
Yield: 6
Prep Time: 10 minutes
Cook Time: 25 minutes
Total Time: 35 minutes
Ingredients
2lbs sweet potatoes (yams), peeled and diced into small cubes
2 celery sticks, chopped
1 large leek, white and light green parts only, chopped
1 sweet onion, chopped
2 cloves of garlic, minced
1 Tbsp olive oil
3 Tbsp butter, unsalted
4.5 cups low sodium chicken broth (use vegetable broth to make this vegetarian)
2 cinnamon sticks
3 Tbsp Maple Syrup
1 1/2 cups half and half
1/4 tsp paprika (optional)
Pinch of freshly grated nutmeg (to taste)
Salt and pepper to taste
Chopped pecans and Crème Fraiche to garnish
Instructions
In a large pot, over medium high heat, heat the olive oil and the butter until the butter melts. Add the onion and the garlic and sauté for a couple of minutes, until the onion is translucent.
Add the leeks and the celery and mix everything together. Let the vegetables cook for about 5 minutes, stirring every now and then, until they soften and develop some color.
Add the cubed potatoes and let them cook for a couple of minutes with the vegetables.
Add the chicken broth, the cinnamon sticks, the paprika (if using), the nutmeg and the salt and pepper. Lower the heat to low and let it simmer for about 15 minutes or until the potatoes are cooked and fork tender,
Using a hand blender, purée the soup until smooth. (You can also purée it in a regular blender, working in batches!)
Add the half and half and the maple syrup and stir until incorporated. Taste and fix seasoning, if necessary. You can serve it now, but I like to let it simmer for 5 more minutes for all the flavors to combine.
Garnish your soup with some chopped pecans (or cashews) and a dollop of Crème Fraiche. You can also garnish with celery leaves.