Fried Mac and Cheese Balls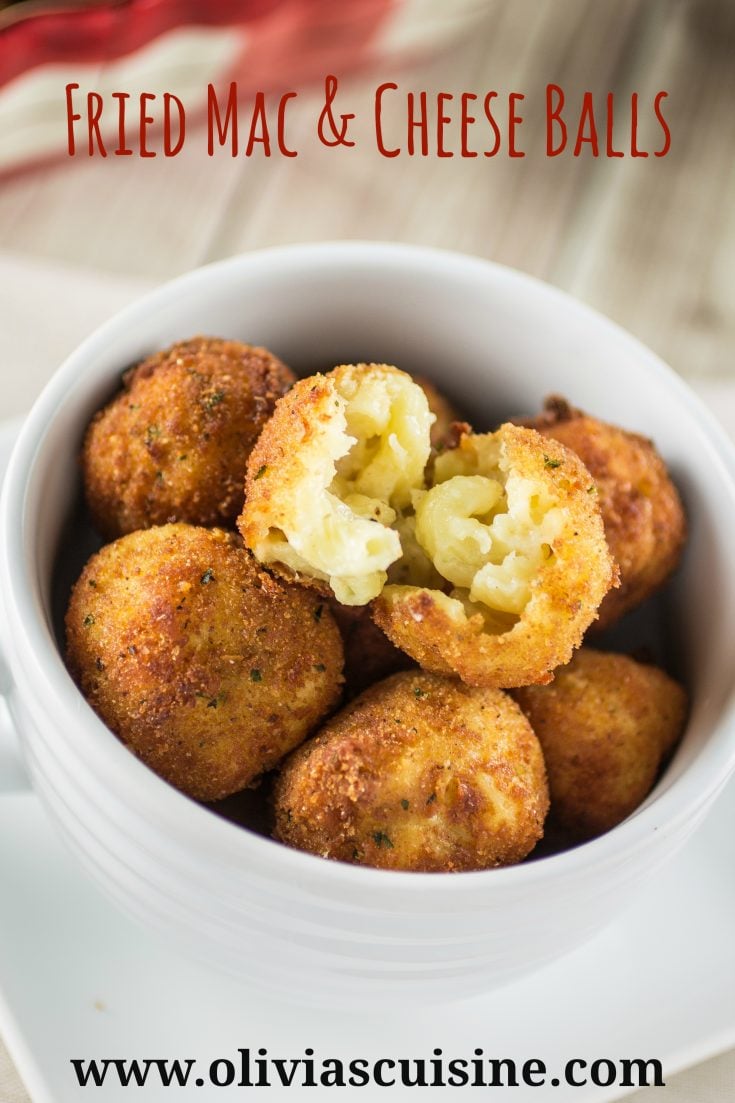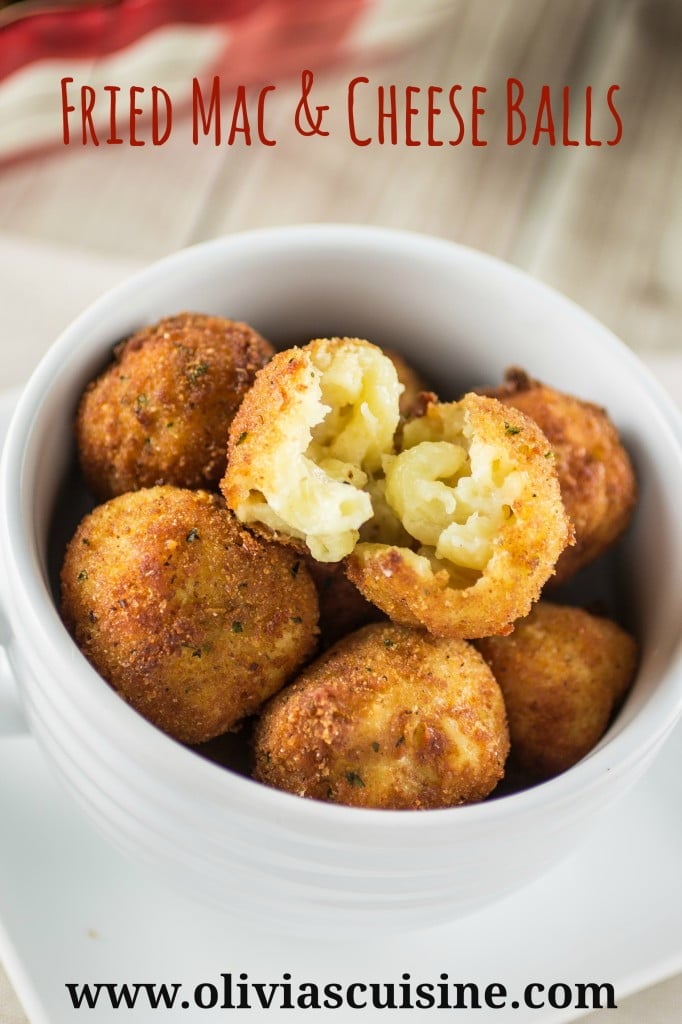 We're snowed in! Yay!
The mayor of NYC declared Snowmaggedon and said that this could be the worst snow storm of NYC's history. Maybe it's true, maybe he's exaggerating… But Tim got home early and he might stay home tomorrow! :) So that would be some much needed quality time together, since our schedules are usually so different.
I saw some of my friends were complaining on Facebook about being bored because they were trapped at home all day. But not me! I couldn't be happier. I got to feel great about staying in my pajamas all day, playing in the kitchen and catching up with my cooking.
Remember this Gruyère and White Cheddar Mac and Cheese? Well, I transformed the leftovers into these amazing Fried Mac and Cheese Balls! Yes, you heard it right. They are amazing, cheeselicious and they will be the perfect finger food for your Super Bowl party!!!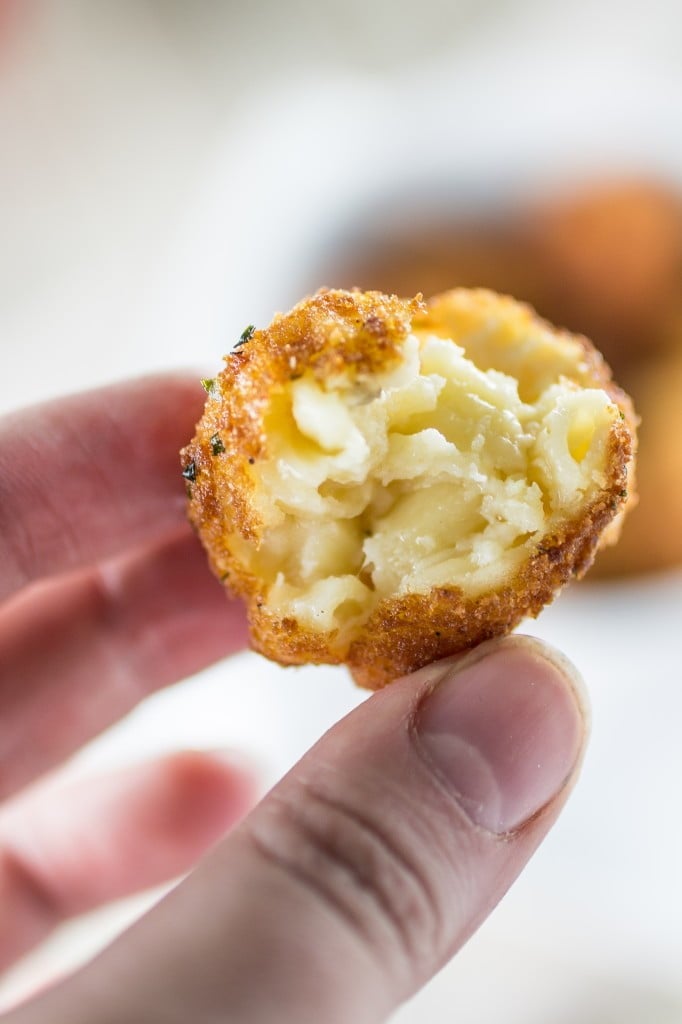 Forgive my poorly (or better, non) manicured hand, but I just had to show you how CHEESY these balls are. Who doesn't love cheese? (I'm sorry dairy intolerants!)
I still remember the first time I had a fried mac and cheese ball. I was working at one of the Broadway shows and got offered some of the leftovers of the cocktail party that happened at the lobby during the afternoon. I got down there and all that was left were some of these fried balls – I had no idea what they were. I bit one, very cautiously, afraid it would be fish (I hate fish!) and almost fainted! It was out-of-this-world good! Like, I ran to tell my co-workers to come get some before they were gone and then immediately regretted it. I should have eaten them all by myself! So then I decided I would have to recreate them at home. And I did… And they taste amazing, might I dare say better than the ones I had that day! (Ohhhh I'm so modest! :P)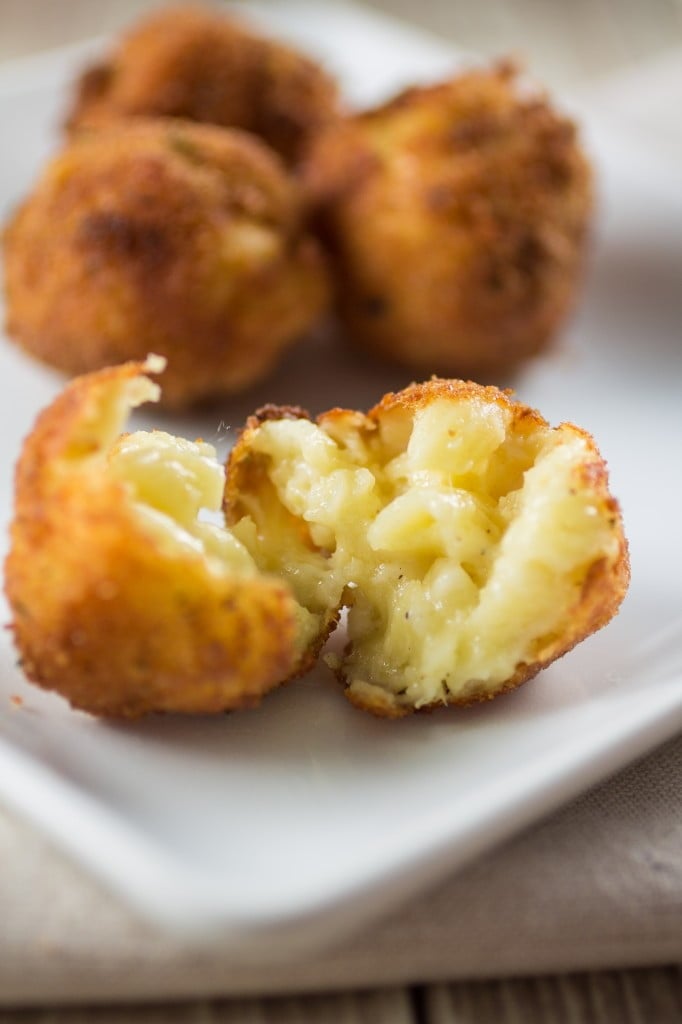 I'm usually not a Mac & Cheese person. But when it's made with good cheese it can be pretty awesome. And if you get good Mac & Cheese, turn it into balls and fry them, then it's not only awesome, but phenomenal! The outside is crunchy while the inside is soft, creamy and cheesy. I remembered tasting garlic when I had it for the first time, so I use seasoned Garlic & Herbs breadcrumbs to bread the balls. I think it makes a huge difference and gives them this garlicky hint that is so amazing.
Now I need to confess something to you… It's kinda embarrassing… But I ate these balls all day today. You see, they are kind of addicting. And I was snowed in inside. So I think the calories don't count, right? They are probably snowed in somewhere else and couldn't make their way into my body, right? (My mom is probably reading this right now and typing a message scolding me and saying that I need to lose weight or nobody will want to marry me! Oh wait… I'm married already! Ha!)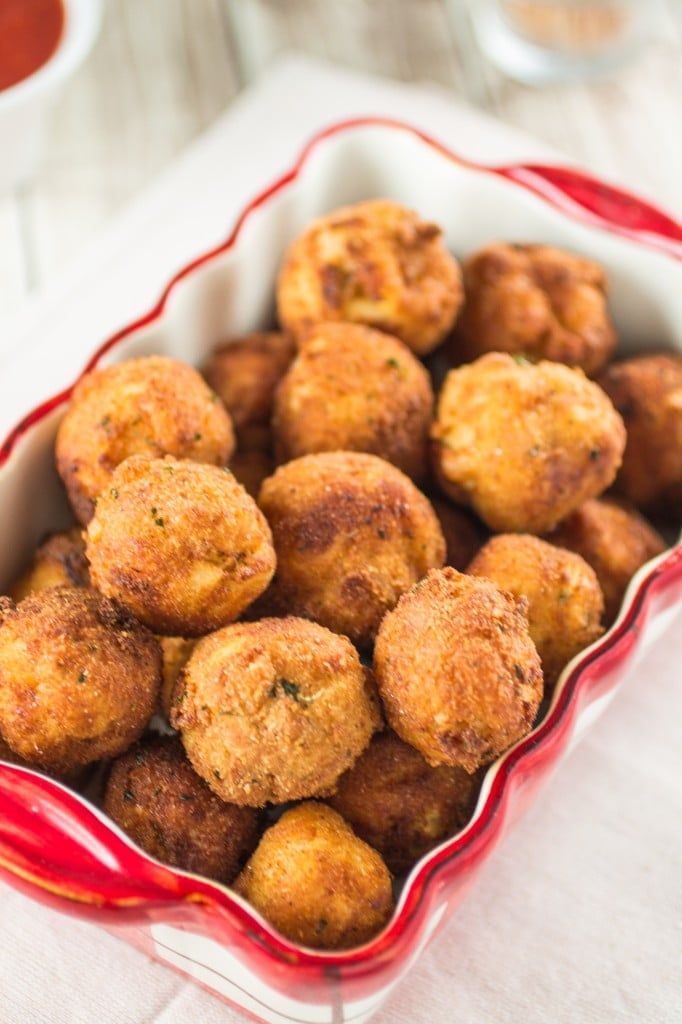 You can shape the Mac & Cheese into meatball sized balls, like I did, or make them smaller and call them Fried Mac & Cheese bites. Either way, remember to put them back in the freezer, after breading, for at least 1 hour before you fry them. Then fry them in medium low heat so they don't burn on the outside and stay frozen on the inside. I like to fry them on low until they start becoming golden brown and then I pump the heat to high and let them cook until the desired color, so they get extra crispy on the outside. And then I turn the heat back to low to keep frying the rest. You could also air fry them… I don't own an air fryer so I can't testify to this method. If you do try it, let me know how it turns out!
I created this recipe based on what I had left from the Mac & Cheese leftovers, which was 4 cups. That was enough for 25 meatball sized balls. But just adapt the recipe to whatever Mac & Cheese leftovers you have. Or just make fresh Mac & Cheese to fry… Just remember to make it two days in advance, as the Mac & Cheese needs to stay in the fridge overnight so you can shape the balls, and then overnight again, in the freezer, after you make the balls.
Believe me when I say it: this will be the star of your Super Bowl party. Nobody will care about the Halftime show while this is still on the table, so make sure you serve it during the 1st half, so it's gone by halftime and people can watch the show. In respect to the artist performing, of course. Who I have no clue it is this year! Oh well… I only attend Super Bowl parties because of the food, anyway… (What can I say? I'm a soccer girl!)
And that's it for today, guys! I hope you're safe and warm, if you're in the area affected by the storm. If you're not – and you're in sunny Florida, Brazil or something – I'm sorry but we can't be friends until March! Just kidding, enjoy the pool for me! ;-)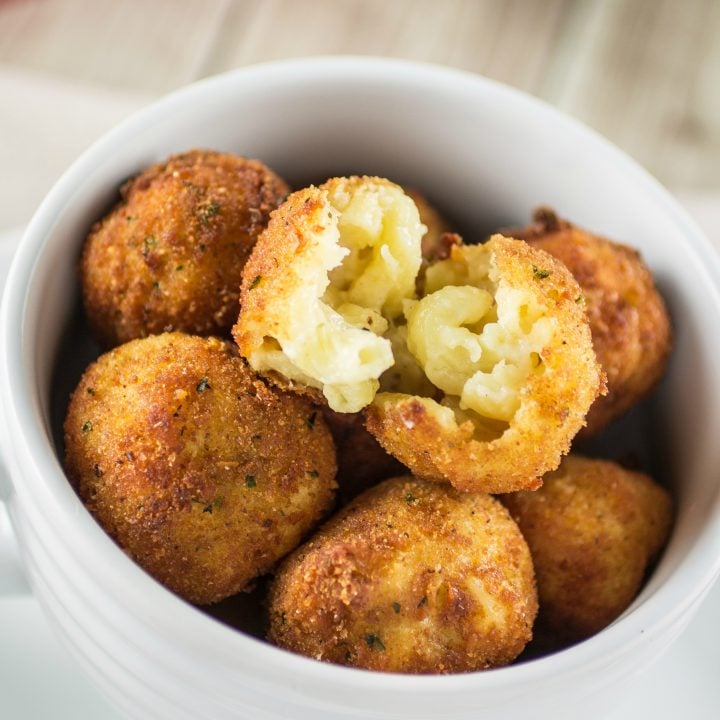 Fried Mac and Cheese Balls
Yield: 25
Prep Time: 15 minutes
Cook Time: 15 minutes
Total Time: 30 minutes
Ingredients
1.5 cups seasoned breadcrumbs (I used Garlic & Herbs)
1 egg
1 Tbsp milk
Vegetable oil for frying
Instructions
After the leftovers have been in the fridge at least overnight, shape them into meatball-sized balls (or small bites) and set them in a baking sheet covered with parchment paper.
Cover the baking sheet with plastic and take it to the freezer overnight.
The next day, make a egg wash by beating the egg and the milk with a whisk. Put the egg wash in a bowl and the breadcrumbs in another.
Dip the mac & cheese balls in the egg wash and them in the breadcrumbs.
Once all the balls have been breaded, put them back in the freezer for at least 1 hour before frying.
To fry, set a small saucepan filled with vegetable oil on the stove. Heat the oil over medium heat until 350 degrees. (If you don't have a thermometer, just put a match inside. When the match lights, the oil is ready!)
Turn the heat down to medium low and fry 5 or 6 balls at a time until they start becoming golden brown.
Turn the heat up to high and finish frying until the desired color: golden brown. (Don't forget to turn the heat down again to fry the rest of the batch!)
Serve the balls warm with some marinara or honey mustard sauce.
MORE PARTY FINGER FOOD
Coxinhas (Brazilian Chicken Croquettes):