Gruyère and White Cheddar Mac and Cheese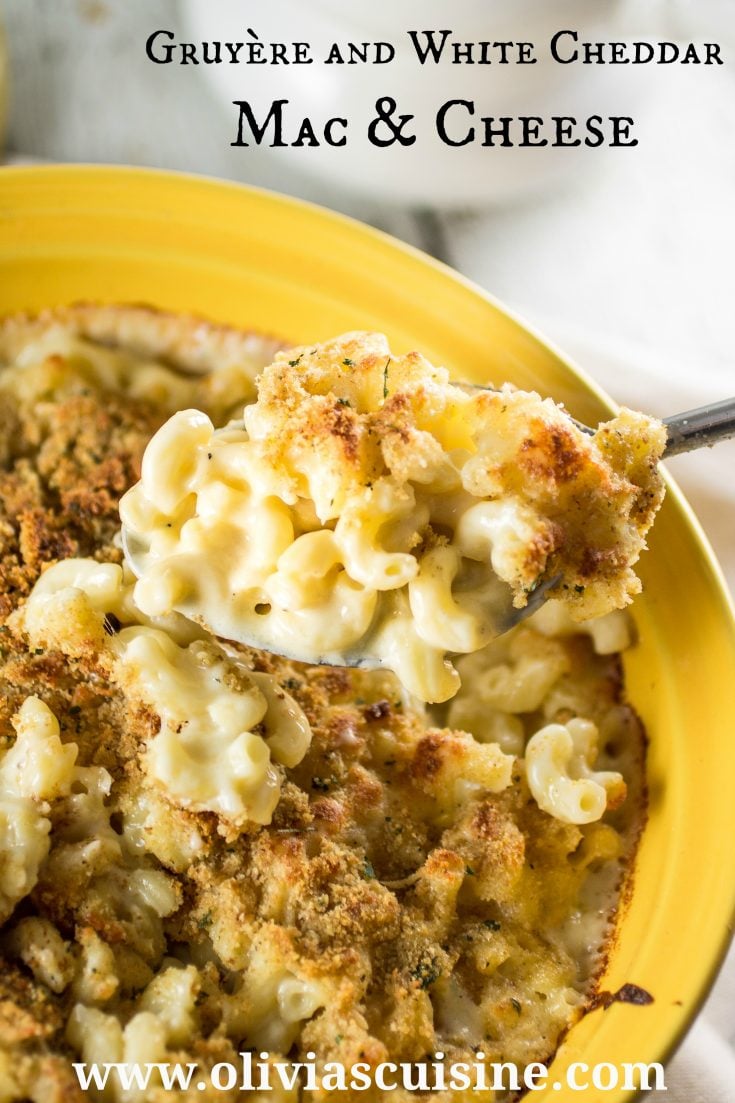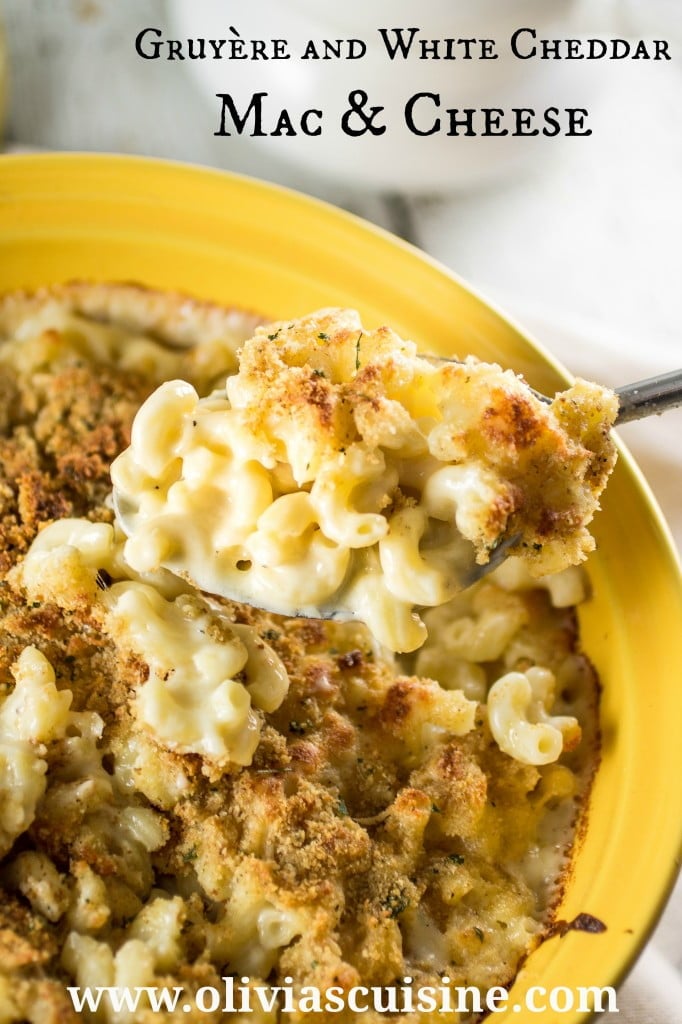 Tim and I are finally thinking of making the big jump from renting to buying. Rent prices in NYC are absurd and every time I see that money coming out of our account I cry a little…
So, after talking to my wonderful mother in law (who happens to be a financial guru) we realized that we would be spending less money if we bought a place outside of the island. But nobody tells you how hard this is! We are only at the beginning of this journey (that will for sure take at least 6 months) and I'm already stressed and exhausted! Prices are absurd for little tiny apartments (and I'm talking outside of New York City), dogs are not always allowed, they all seem to want 20% down payment (we have maybe 15…), etc! It's just a train wreck! But, fingers crossed we will find a lovely home where we can be happily ever after… Or maybe happy for at least 5 years cause later I'll eventually want a big house with a kitchen island, a fireplace, bay windows and a red door! :P
So all this venting to get to the point that I was in some serious need of some comfort food! And the chosen medicine for my soul problems was a bowl of hot and extremely cheesy Gruyère and White Cheddar Mac and Cheese!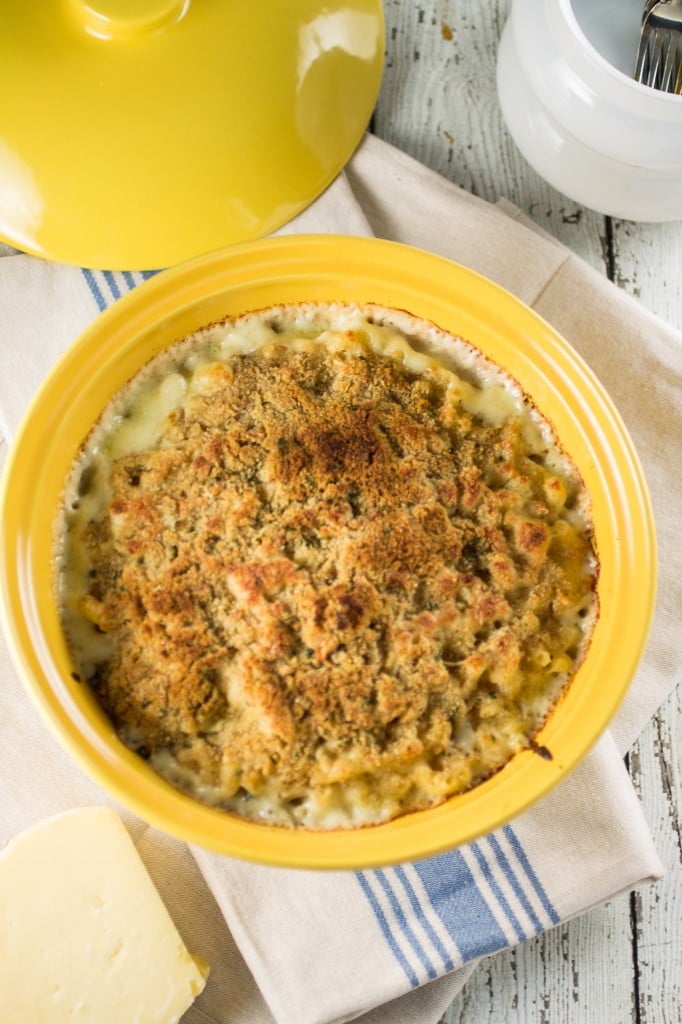 I'm usually not a Mac and Cheese person because I tend to associate it with that boxed version I had the displeasure to eat once. But I had a decent version at a fancy restaurant once and realized that when it is made with some good quality cheese it can be pretty amazing! It's like eating fondue with some macaroni in it! Yum! I'm drooling already!
The reason I had the ingredients for this fabulous Mac and Cheese at home was because I was planning a post of Fried Mac and Cheese for the Super Bowl week. But then I thought: what the heck?!? I might as well make the Mac and cheese, eat a yummy bowl and use the cold leftovers to make the fried balls! It was the perfect solution, since I was planning to post some delicious bruschetta this weekend but my husband ate them before I could shoot them!!! (Can I blame him? They were out of this world good. Oh well… More reasons to make it again!)
The best thing about this dish is that it's not only comforting but super easy to make. So it's perfect for people that get home late from work, like me! :) I know it's probably not good to have that many carbs and cheese late at night but I'm kinda needing it right now, ok? So don't judge! I'll eat salad all next week! (Yeah, right…)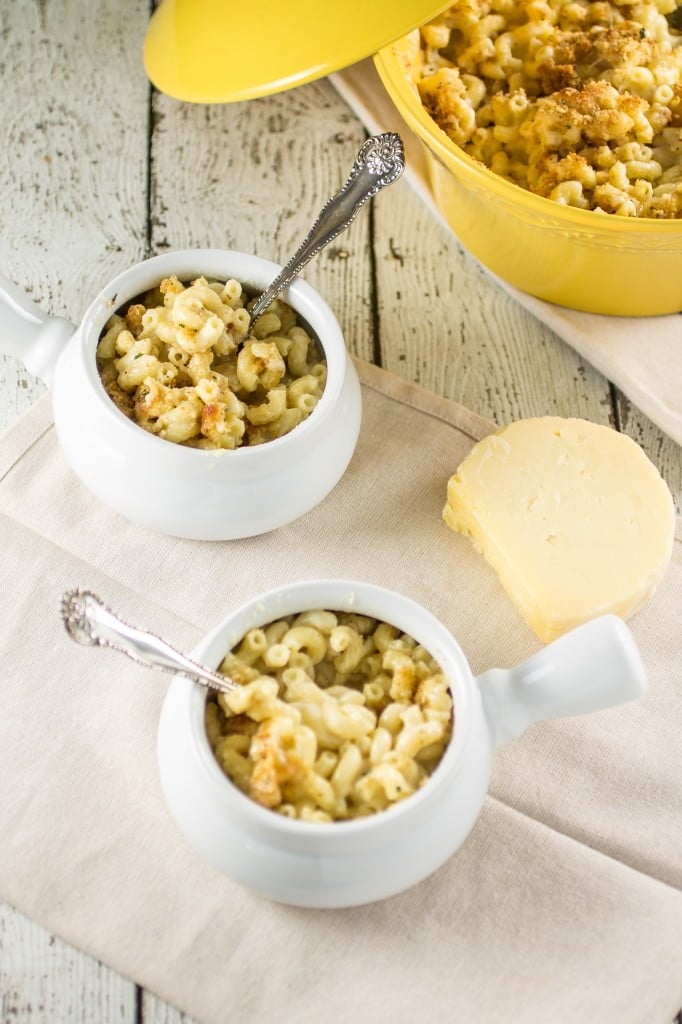 One thing I cannot stand is dry Mac and Cheese. So I make it extra creamy/liquidy because I know some of that moisture will go away when I bake it. I also use a deep oven proof dish because I find that the mac and cheese dries out more in shallow ones (like lasagna pans). But, as with every other comfort food, feel free to modify it to your taste. Comfort food should be that one food that you know will take all your problems away (or at least make you forget about them for a few seconds) in one bite. :)
I hope you guys had a wonderful week. Despite the stress of apartment hunting, mine is ending on a good note with this delicious Gruyère and White Cheddar Mac and Cheese! Yum!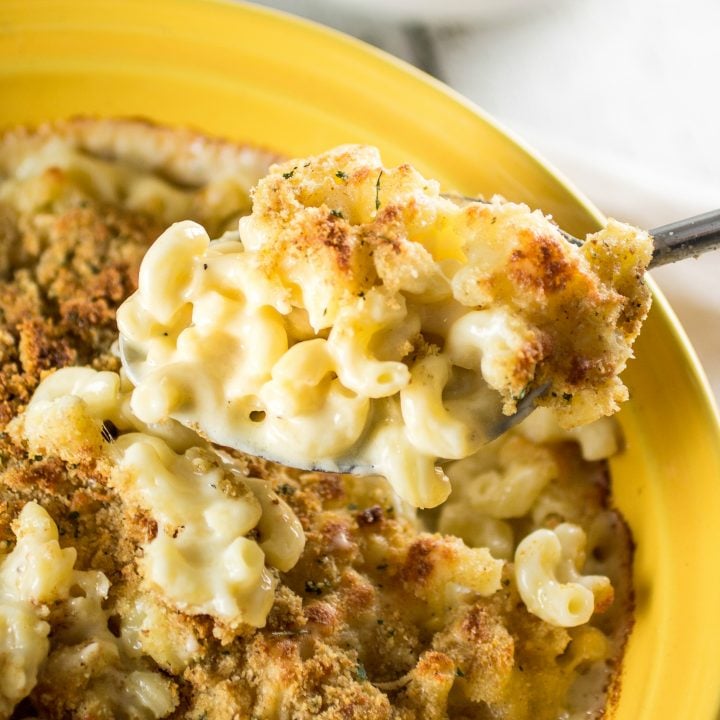 Gruyère and White Cheddar Mac and Cheese
Yield: 6
Prep Time: 15 minutes
Cook Time: 20 minutes
Total Time: 35 minutes
Ingredients
1lbs elbow macaroni
1lbs gruyere cheese, grated
1lbs white cheddar, grated
1/3 cup seasoned breadcrumbs (or panko breadcrumbs)
1/2 stick of unsalted butter
1/4 cup flour
3 cups milk
1 cup half and half
pinch of nutmeg
Salt and freshly ground pepper to taste
Parmigiano Reggiano to taste
Olive oil
Instructions
Preheat oven to 375 degrees.
Separate 1/2 cup of Gruyere and 1/2 white cheddar. Reserve.
In a large pot, boil the water over high heat, add salt, drizzle some olive oil and cook the macaroni according to package instructions.
Drain and transfer to a large oven proof dish.
Bring that same pot back to the stove and, over medium high heat, melt the butter. Once the butter is melted, add the flour and whisk until well incorporated, making a roux. Add the milk, slowly, whisking constantly. Keep whisking for about 5 minutes until the sauce boils and thickens. Once it's thick, add the half and half and cook for a little while longer to almost get thick again. Remove from the heat and add the salt, the pepper, the pinch of nutmeg and the majority of the white cheddar and Gruyere. Mix everything together until well incorporated.
Pour the sauce into the macaroni and stir. Top with the 1/2 cup of Gruyere and the 1/2 white cheddar. Grate some Parmigiano Reggiano on top, to taste. Sprinkle the breadcrumbs and bring it to the oven.
Bake for about 20 minutes or until the top is golden brown and the sauce is bubbly.