Bacalhau a Gomes de Sá (Salt Cod Fish)
Bacalhau – a popular Portuguese dish made with salt cod, potatoes, onions, hard boiled eggs, olives and olive oil – is traditionally served on Good Friday, but easy enough to be enjoyed all year round!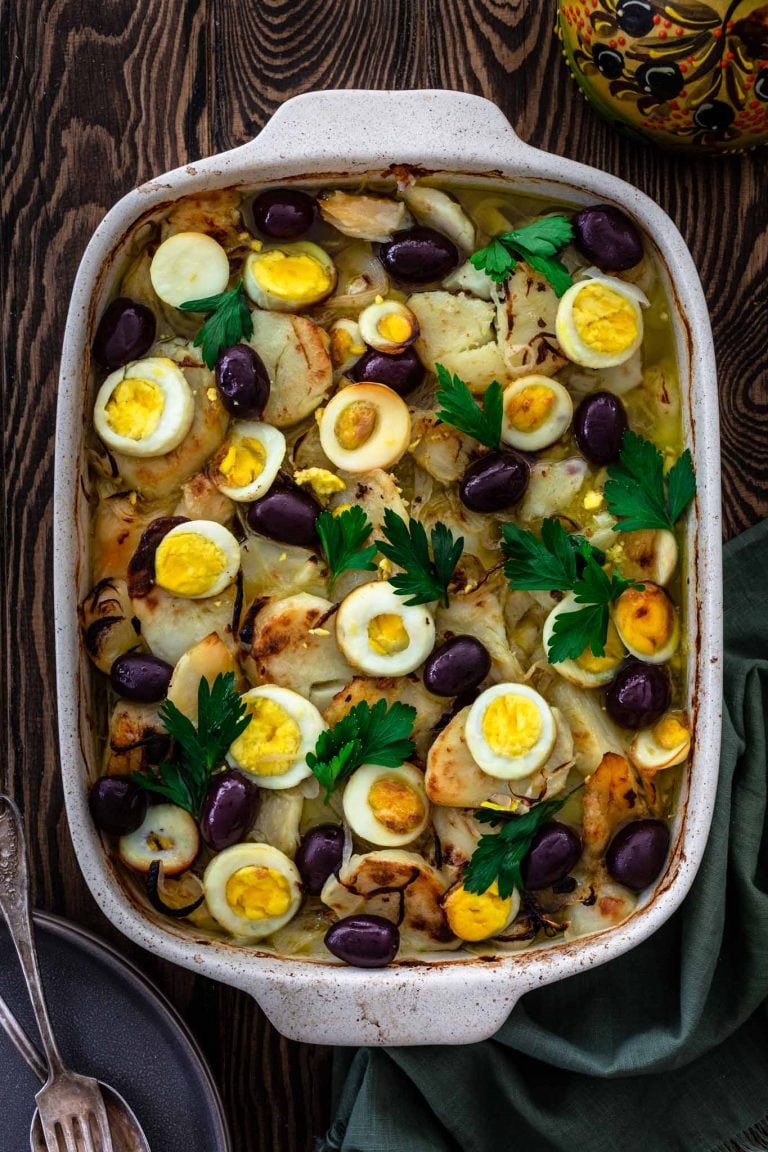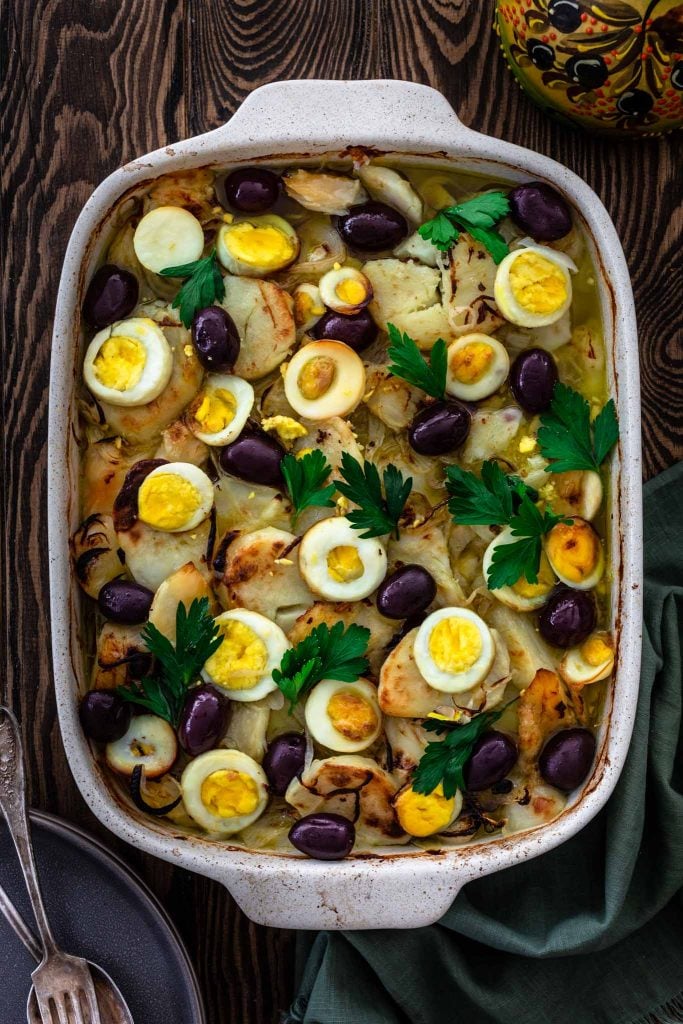 Aaaand I'm back!
Had to take a little blog break to tend to some pressing matters, aka go have a baby, but I'm feeling great (despite the lack of sleep) and ready to resume all foodie affairs.
The good news is that my mom is visiting and I get to pick her brain and watch her make family recipes so I can recreate them to share with you.
And on the spotlight today is a Portuguese/Brazilian classic: Bacalhau à Gomes de Sá. A must at my family's Good Friday table and one of my grandma's famous recipes.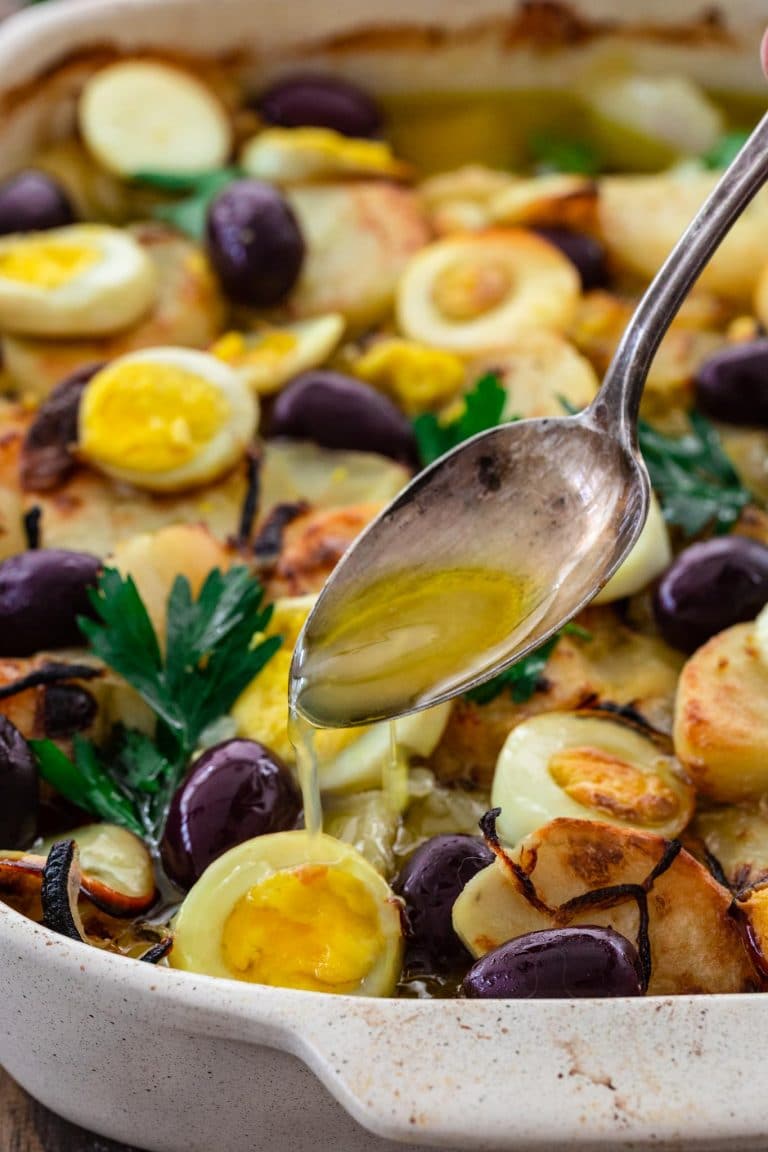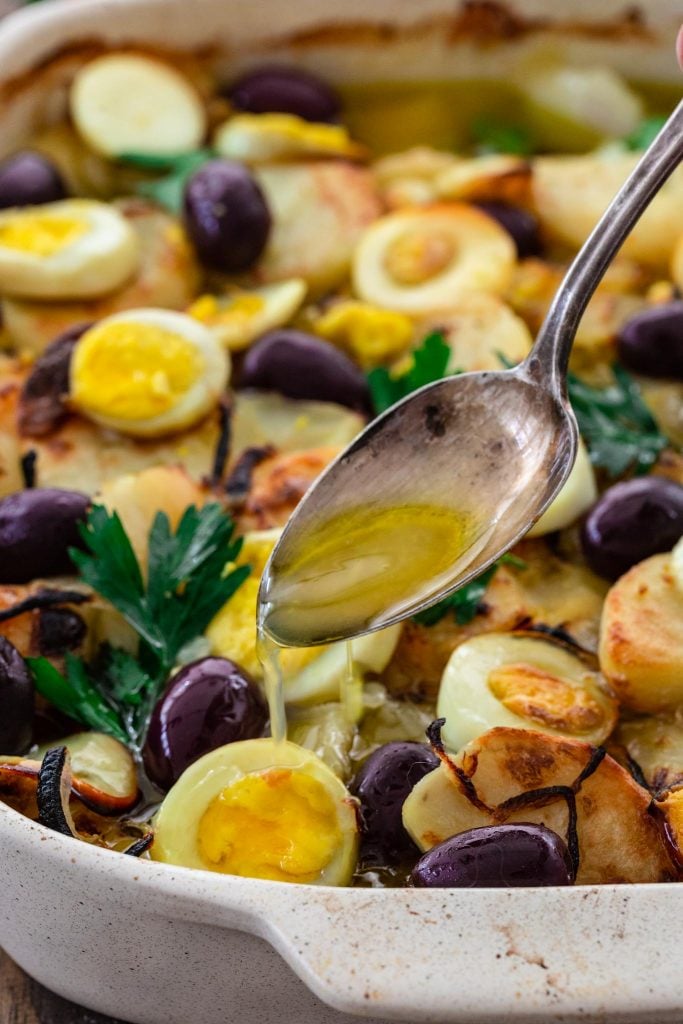 Good Friday in Brazil
Being the single country with the largest Catholic community in the world, it shouldn't be a surprise that the Catholic church's traditions are heavily observed.
On Good Friday (known as Sexta-Feira Santa in Portuguese), most households will abstain from eating meat and eat fish instead, usually a nice bacalhoada (a salted cod dish).
The tradition of eating bacalhau came to Brazil from Portugal. Even though bacalhau is not native to Portuguese waters – coming from the coast off Norway or Iceland – it became popular worldwide because of Portuguese recipes and is considered Portugal's national dish.
According to the Portuguese, there are 365 different ways to cook bacalhau, so you can expect to find many different recipes using it.
The one I chose to share today – Bacalhau à Gomes de Sá – is the one my family eats every year for Good Friday. And, despite being one of my grandma's signature dishes, it is very easy to make and requires only 6 ingredients.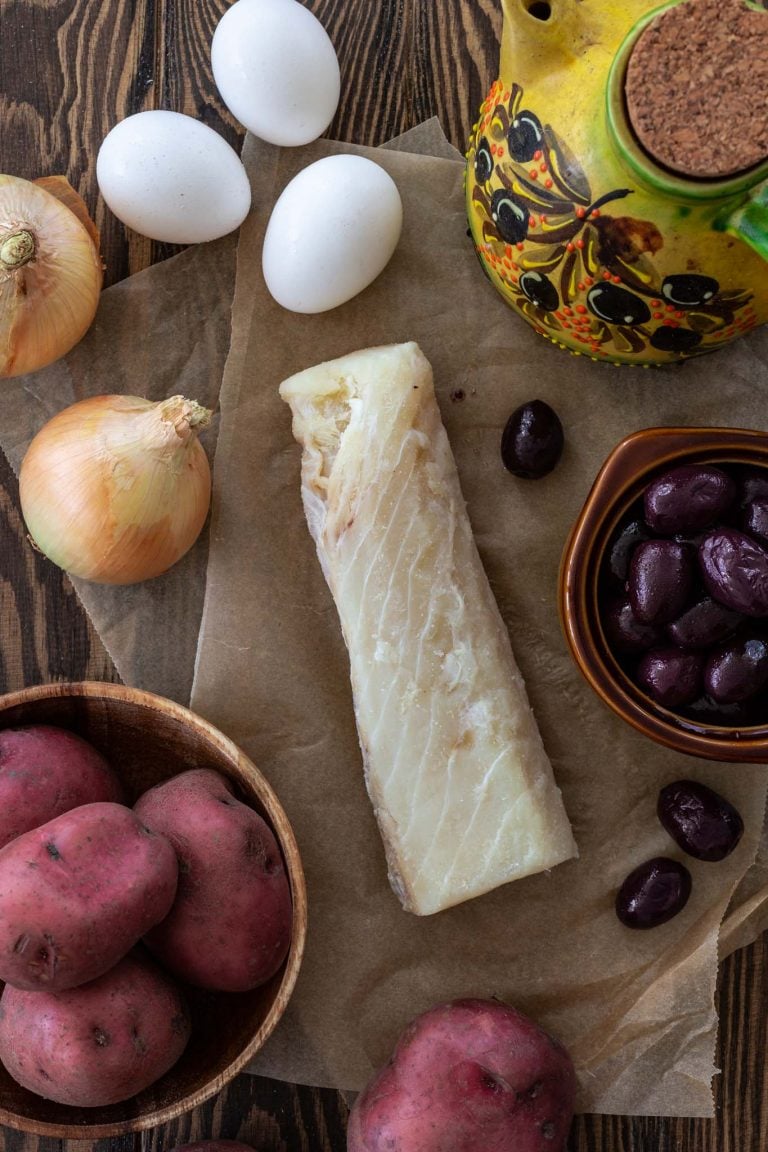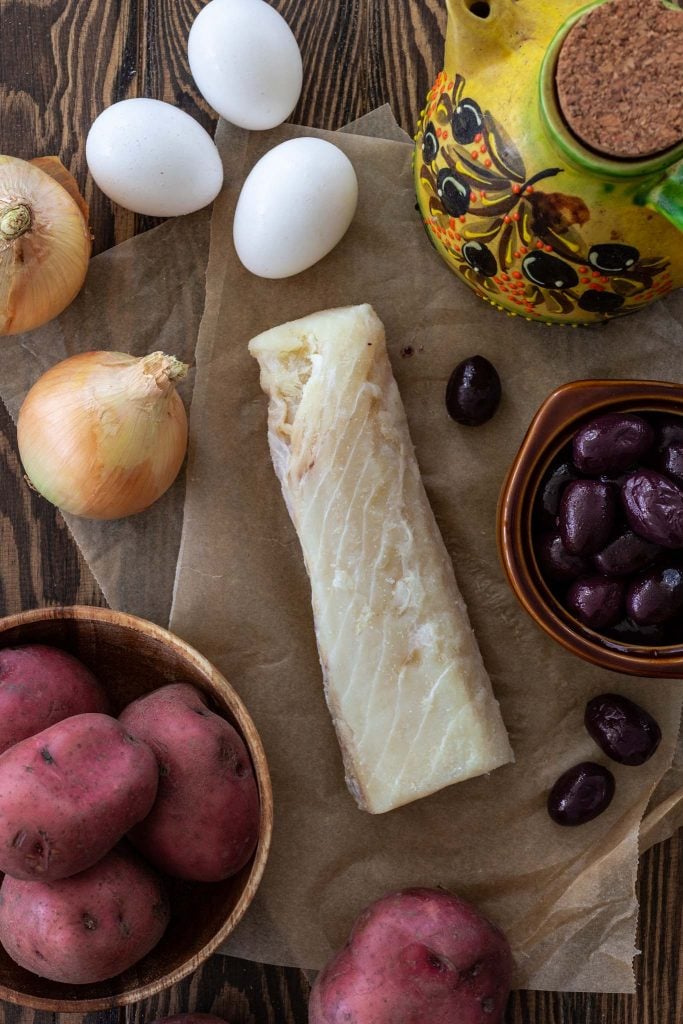 Ingredients for Bacalhau
All you'll need for a nice bacalhoada are:
Salt Cod Fish – Try to find salted Cod Gadus Morhua from Norway. I've seen it at Whole Foods before, but you can definitely find it in most Portuguese, Spanish or Latin markets.
Potatoes
Onions
Olives
Hard Boiled Eggs
Olive Oil – The best you can find! Believe me, this is the time to use that expensive olive oil you keep locked for special occasions.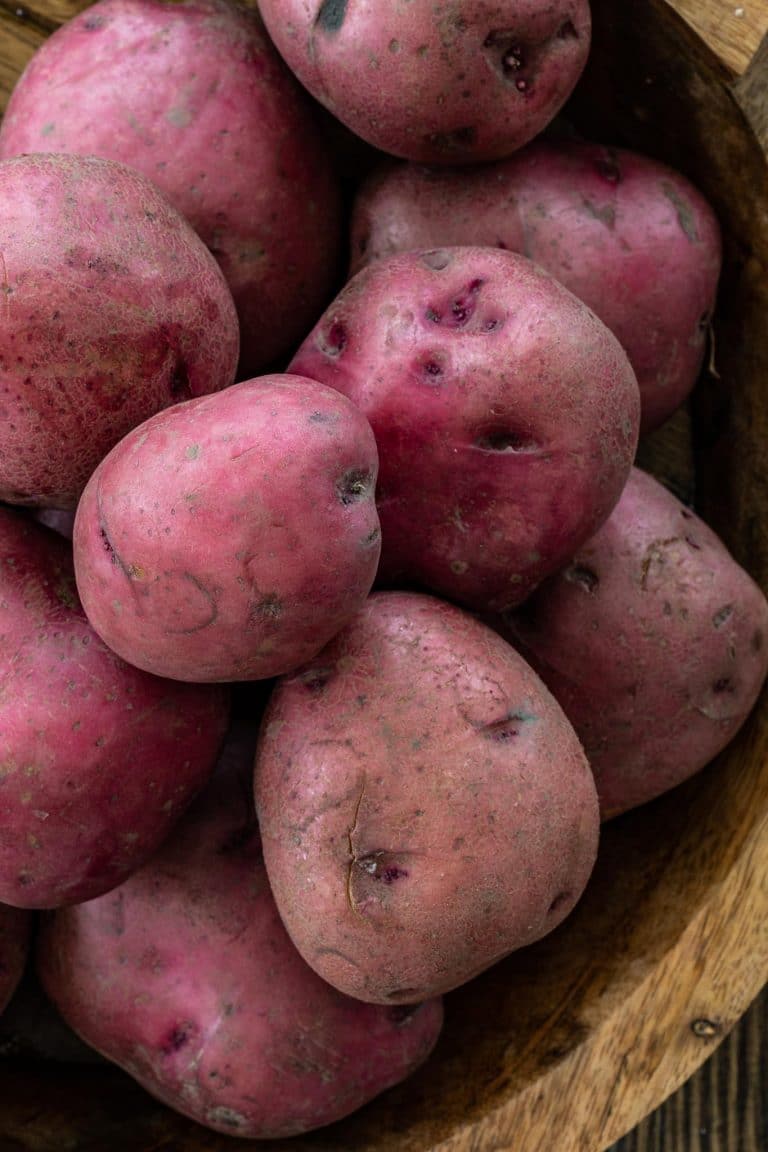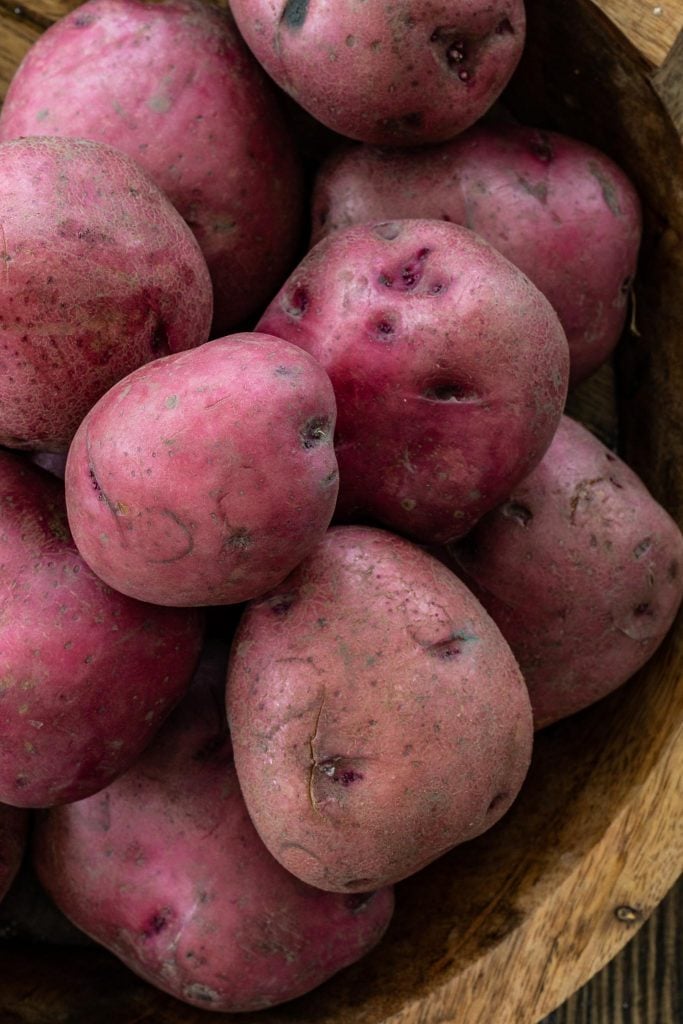 Which Potatoes are Best for Bacalao?
For this dish, you'll want to work with potatoes that can hold their shape after cooking, as they are first going to be parboiled and then baked in the final dish.
I ended up choosing Red Bliss potatoes, which are a type of waxy potatoes and therefore low in starch and high in moisture. They stay intact during cooking without losing its signature creamy texture.
You can also use all-purpose potatoes, like Yukon Golds. They are considered medium starch but they hold their shape well and are decently absorbent and fluffy, making them great multi-purpose potatoes and suited for just about any cooking method.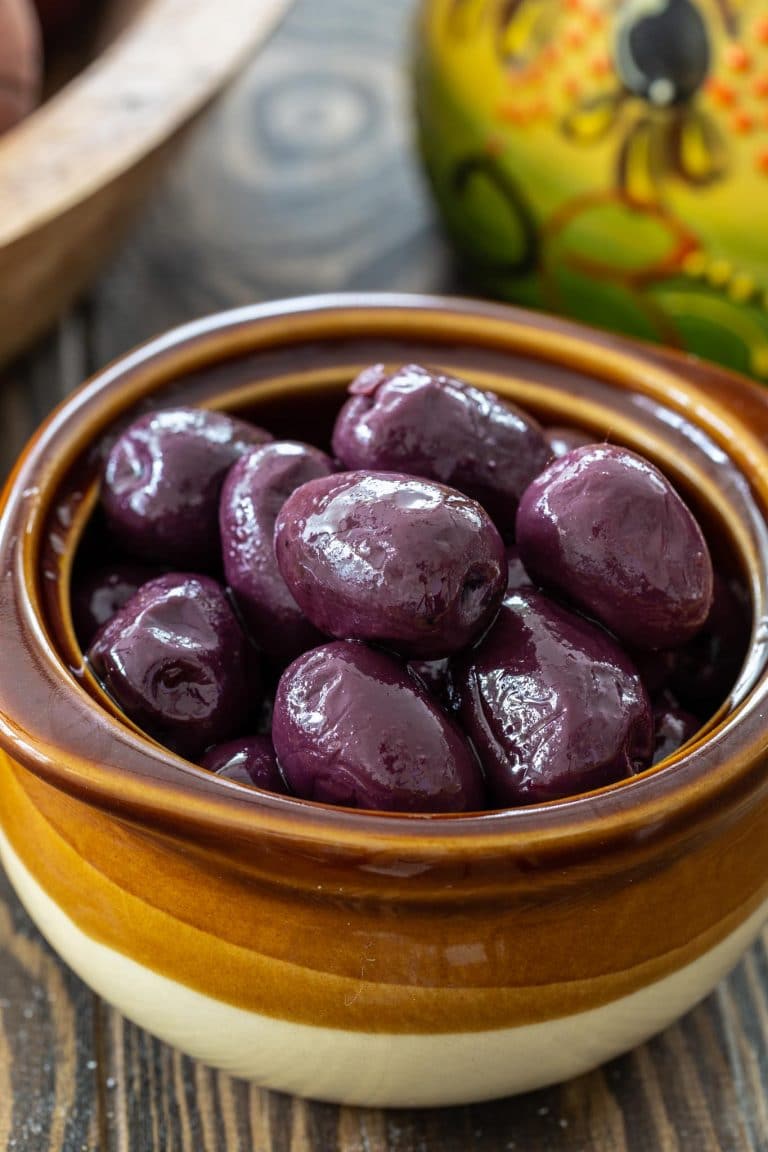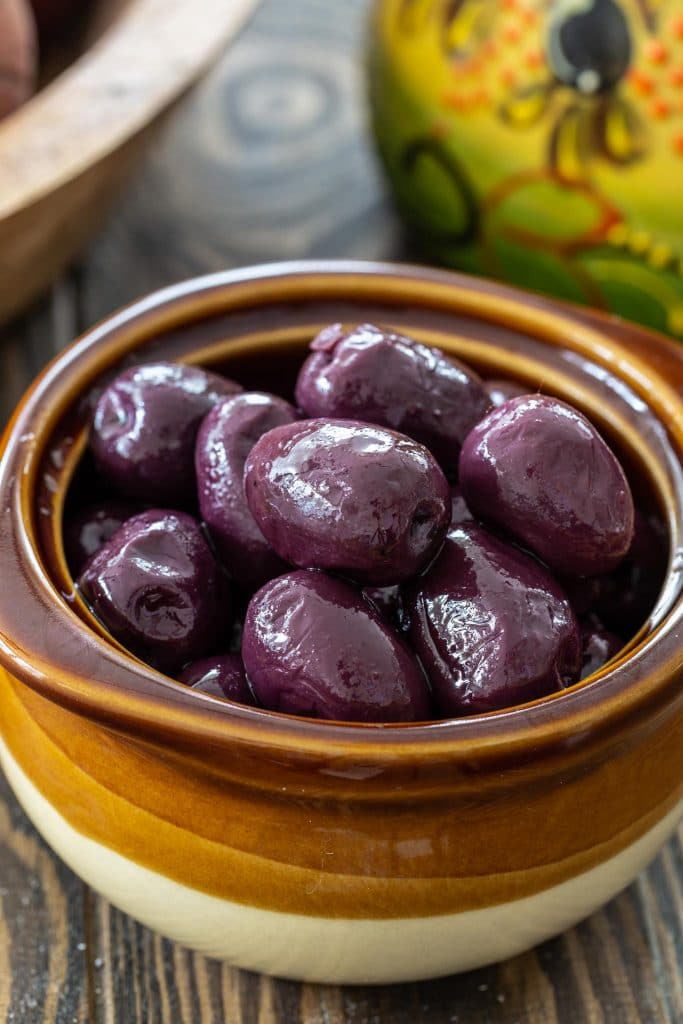 High quality olives are a must!
Since this dish requires so few ingredients, they have to be the highest quality you can afford. So head straight to the olive bar, where they'll be the freshest and where you'll find a larger variety.
Bacalhau is traditionally made with black olives, either Kalamata or Alfonso. Both are plump, juicy and bold, pairing quite well with the other flavors in the dish.
You might want to buy them pitted for convenience, that way your guests won't have to worry about breaking a tooth or swallowing a pit. I also like to use them whole, because I think they look like jewels in the final presentation, but you can slice them if you prefer.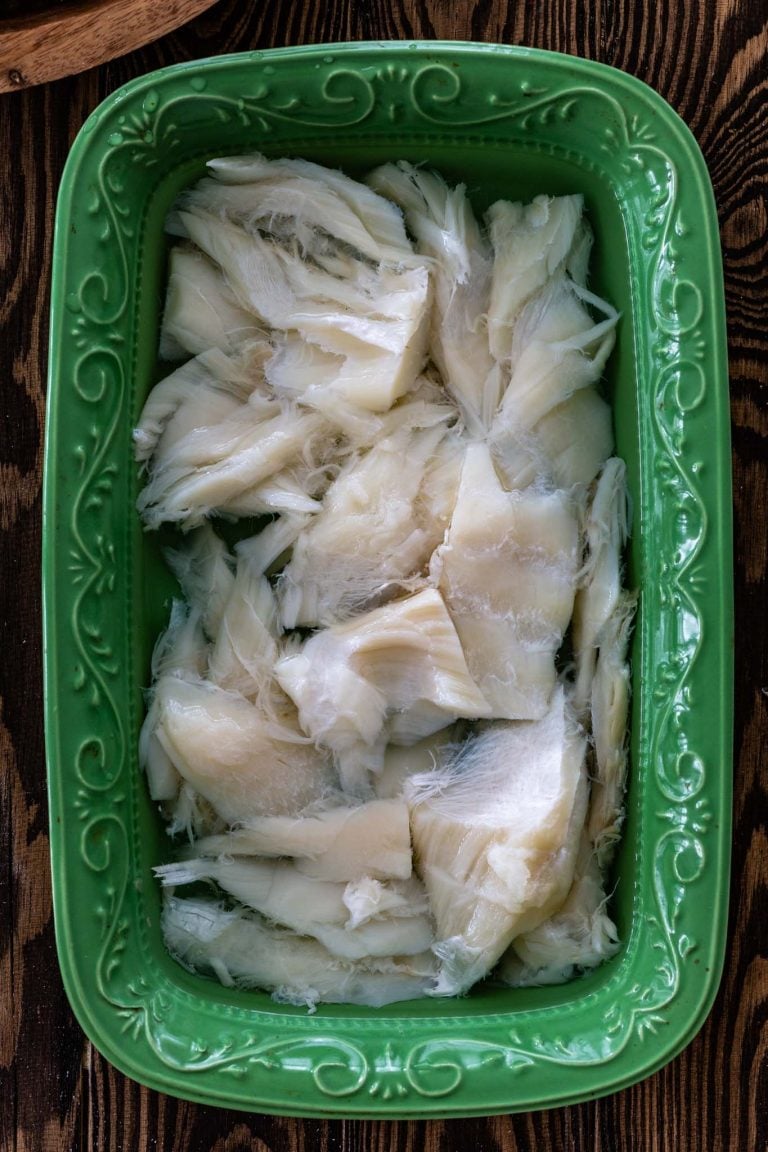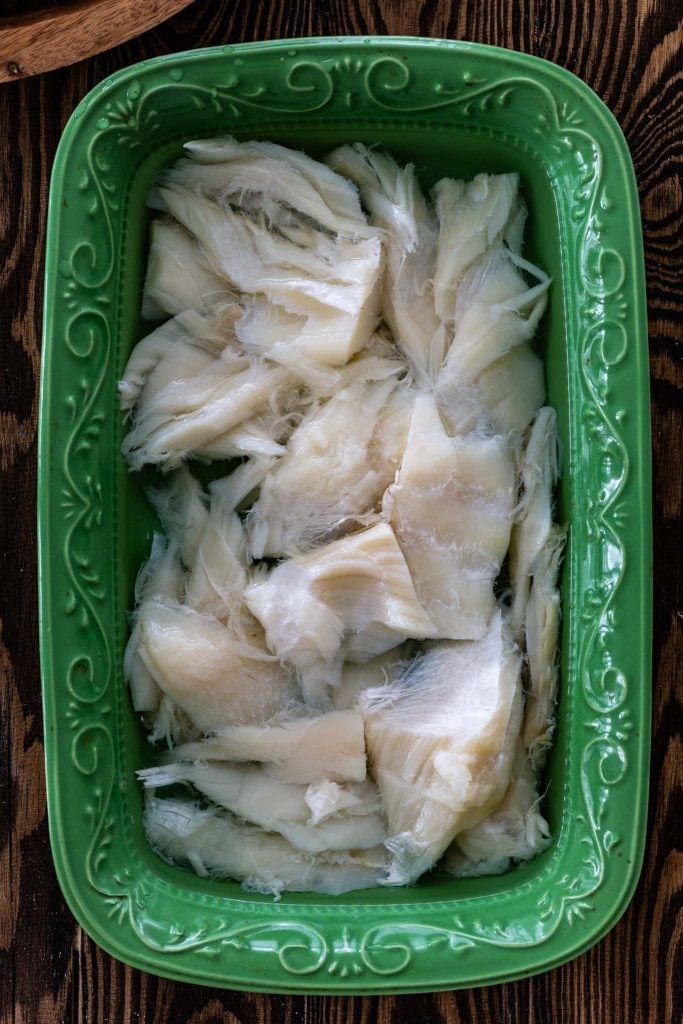 How to Remove Salt from Cod Fish?
Before cooking bacalhau, we must first rehydrate it and remove the salt. This is done by soaking it for one to three days and changing the water a few times, usually three to four times a day.
The length of time you need depends on the type of cod you are using, its thickness, and its overall salinity. If you have the time, I recommend soaking for at least 48 hours so you can make sure it has been properly desalted.
For best results, I recommend cutting the cod fish into chunks, putting them in a large bowl and covering with cold water. After a couple days, you can check by tasting a piece: it should taste briny but not salty.
Once the fish has soaked and is rehydrated, it transforms from a dry and unappealing piece of fish into a tender and delicate delicacy.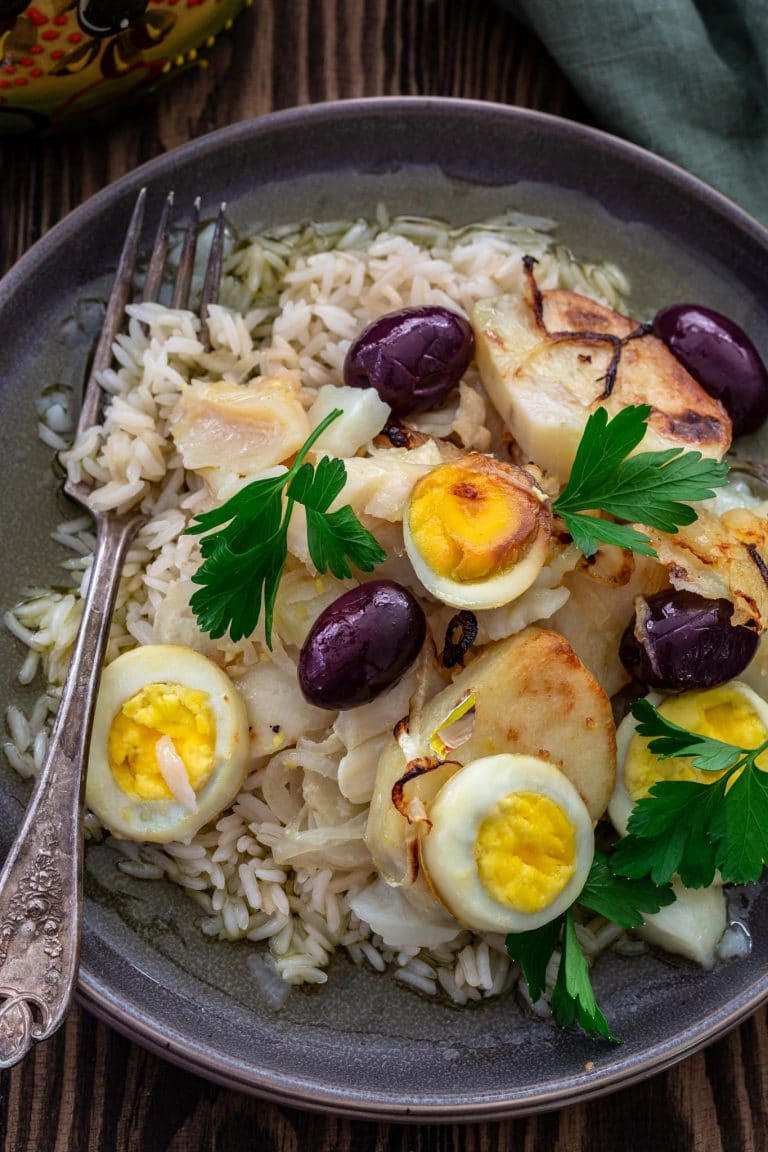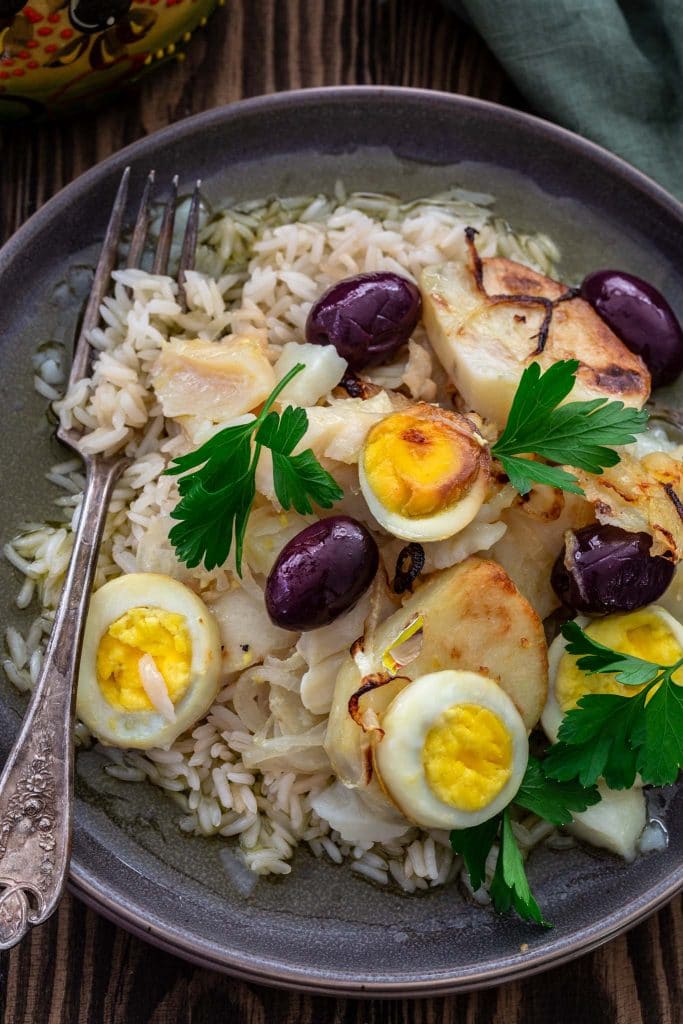 Tips and Tricks to make Bacalhau
Buying bacalhau can be a little intimidating at first. When in doubt, don't be afraid to ask the staff behind the fish counter for help. For this dish, I highly recommend buying the thickest loin (lombo) of Cod Gadus Morhua you can find, as that will give you the juiciest and flakiest results.
Most salt cod is sold skinless and boneless. If not, make sure to buy twice the weight called for in the recipe, to account for the skin and bones. You can remove them after soaking the cod fish, before adding to the final dish.
If you are not using the bacalhau right away, you should either store it in the fridge or in a cool, dry place. You can also freeze it for up to 6 months.
I like to add the hard-boiled eggs at the end, just long enough for them to warm up, so they don't dry out too much.
I do the same with the olives, adding them as a garnish as opposed to layering them with the other ingredients. That is just for aesthetics, as the olives will release their color and will tint the potatoes and cod fish.
Wine pairing: While most fishes are often paired with wine wine, bacalhau is traditionally served with red. Salt cod will have the effect of making wine taste sweeter than they are, so you should choose a dry full-bodied red.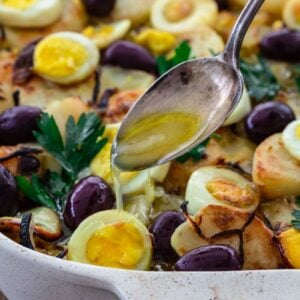 Bacalhau à Gomes de Sá
Bacalhau – a popular Portuguese dish made with salt cod, potatoes, onions, hard boiled eggs, olives and olive oil – is traditionally served on Good Friday, but easy enough to be enjoyed all year round!
Ingredients
1 pound salt cod
2 pounds Red Bliss potatoes, peeled and cut into 1/4-inch slices
Salt
Olive oil, about 1 1/2 cups
2 spanish onions, sliced
4 hard-boiled eggs, sliced
1/2 cup Kalamata olives, pitted
Fresh parsley to garnish, optional
Instructions
Soak the salted cod for 48 hours. Rinse it well under running water and place it in a bowl. Cover the cod fish with cold water and cover the bowl with plastic wrap. Refrigerate and change the water 4 times a day, until the cod is sufficiently desalted. Flake the cod into big chunks, removing any bones, and reserve.

Parboil the potatoes. Place the potatoes in a large pot and cover with salted water. Bring to a boil, reduce heat to medium-low and simmer for about 5 minutes. The potatoes should still be firm and your fork should meet resistance, as they will finish cooking in the oven. Drain and reserve.

Preheat oven to 400 degrees F.

Assemble the dish. Liberally grease a 3-qt ovenproof casserole dish with olive oil. Add 1/3 of the sliced onions, then layer half of the potatoes, half of the cod fish and another generous layer of olive oil. Repeat, finishing with a layer of onions and a good pour of olive oil. Cover with foil.

Bake in the preheated oven for 40 minutes, basting occasionally with the juices, or until the potatoes are tender and most of the excess juices have evaporated. Remove the foil, add hard-boiled eggs and olives and continue baking until golden brown, about 10 to 15 minutes more.

Remove from oven and let it cool slightly. Top with fresh parsley, if desired, and serve immediately.
More Easter Recipes: