Rosemary and Garlic Roast Beef
I wish you could smell this through the screen…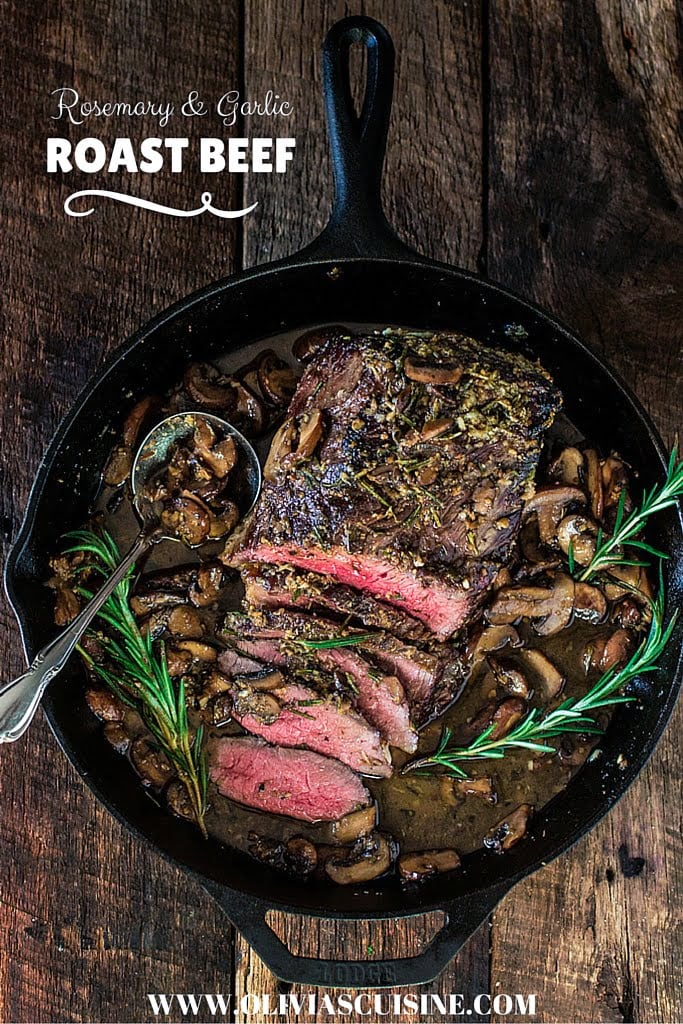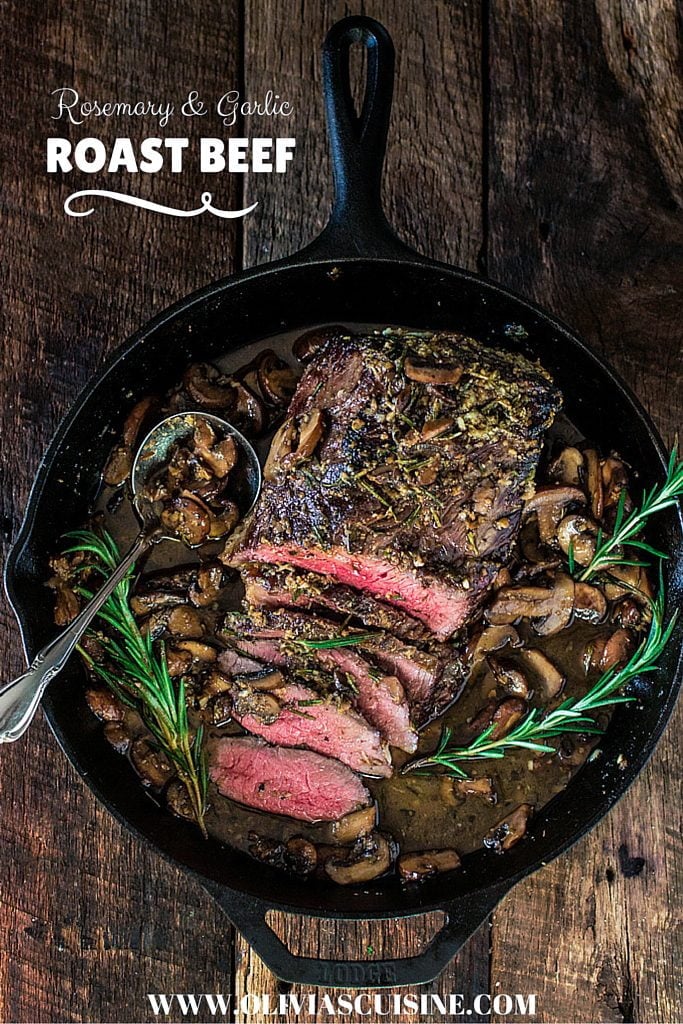 The holiday season is in full swing. Before you know it, your kitchen will be pumping out glorious platters of food and your dining room will be bustling with friends and family from near and far.
A great dish to serve at your holiday party is this Rosemary and Garlic Roast Beef. Tim and I had it for Thanksgiving since we had the turkey I made for the blog a few days before T-day and I know we'll be having turkey for Christmas. So it was a great way to spice things up a bit.
The roast did not disappoint! Juicy, garlicky, fragrant and incredibly mouthwatering. And the leftovers made the most amazing sandwiches. ?
Oh, and the mushrooms sautéed in butter and smothered in the roast sauce? PERFECTION! ❤️ I must confess I'm usually not that much into mushrooms. But this dish may have changed that for me! I am now craving mushrooms. How is that even possible? I wish I could go back in time and talk to my 15 year old self, picking the mushrooms off her plate and pushing them to the side. "Hey, girl! That's ok. One day you will love those slimy things!" (Provided they are sautéed in a bunch of butter, of course.)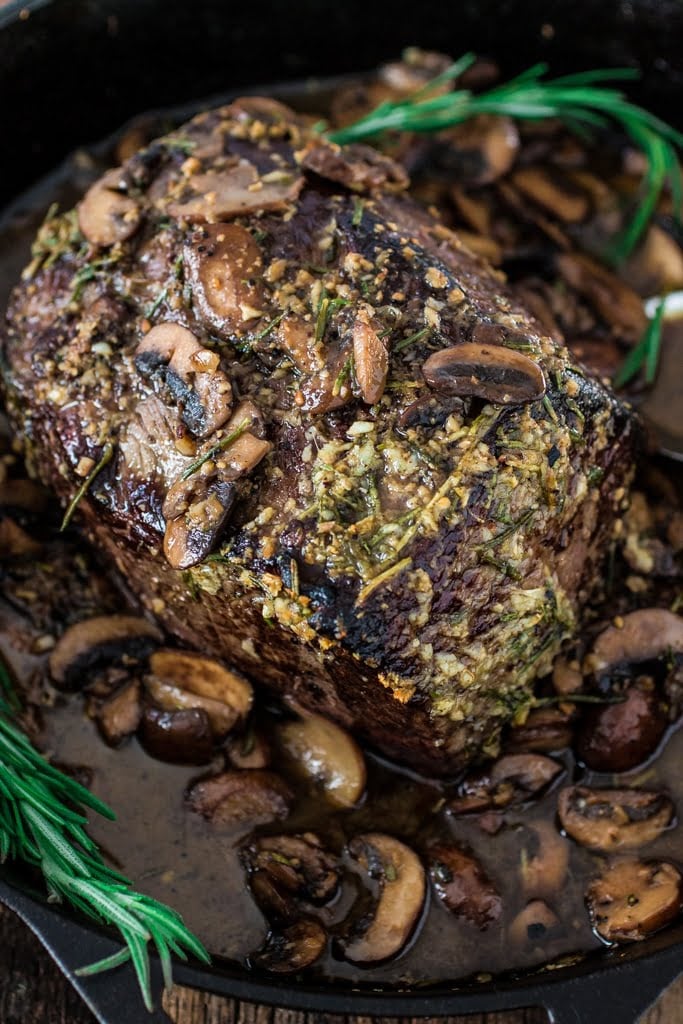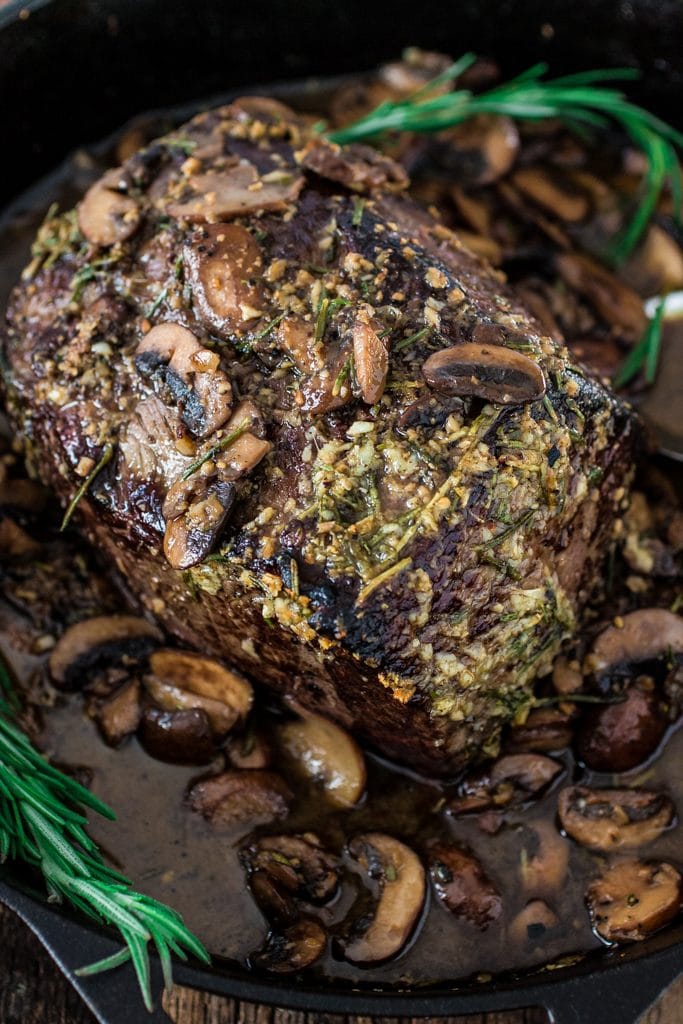 So yeah, a flavorful meat dish, crusted with garlic and rosemary and roasted to perfection, plus delicious sauce, plus buttery mushrooms swimming in that sauce equals the reason why your friends will keep asking you to host dinner parties over and over again.
There is no doubt your Christmas party will be way more fabulous if you serve an elegant dish like this. But what about the drinks? Let's not – never! – forget the drinks!
To pair with your favorite holiday fare, consider Rioja wines. Hailing from North-Central Spain, Rioja refers to the wine as well as the region it comes from. Made mainly from the Tempranillo grape, Rioja wines are one of only two D.O.C regions in Spain and all Rioja wines are always regulated so you can be sure you are buying a quality bottle every time. Why Rioja wine when there is Burgundy's Pinot Noir or Piedmont's Barbaresco? It's simple. Rioja wines are versatile and affordable. You don't have to break the bank on wine for your holiday dinner and no need stress out about ten different bottles of wine to pair with each course. Choose from juicy rosado wines, crisp blancos, or elegant reds ranging from lighter to robust with spice.
I paired our roast with a lovely Rioja Reserva. It was delicious and I am not ashamed to admit the bottle was gone fairly quickly… Oops! We don't usually drink that much, but when the wine is good there is no chance I'm letting it go to waste.
Rioja's Reserva and Gran Reserva wines are made from the best vintages and are aged in the bottles by the winemakers before release so you don't have to. Aged at least three years, and usually longer, before release, these wines have refined character.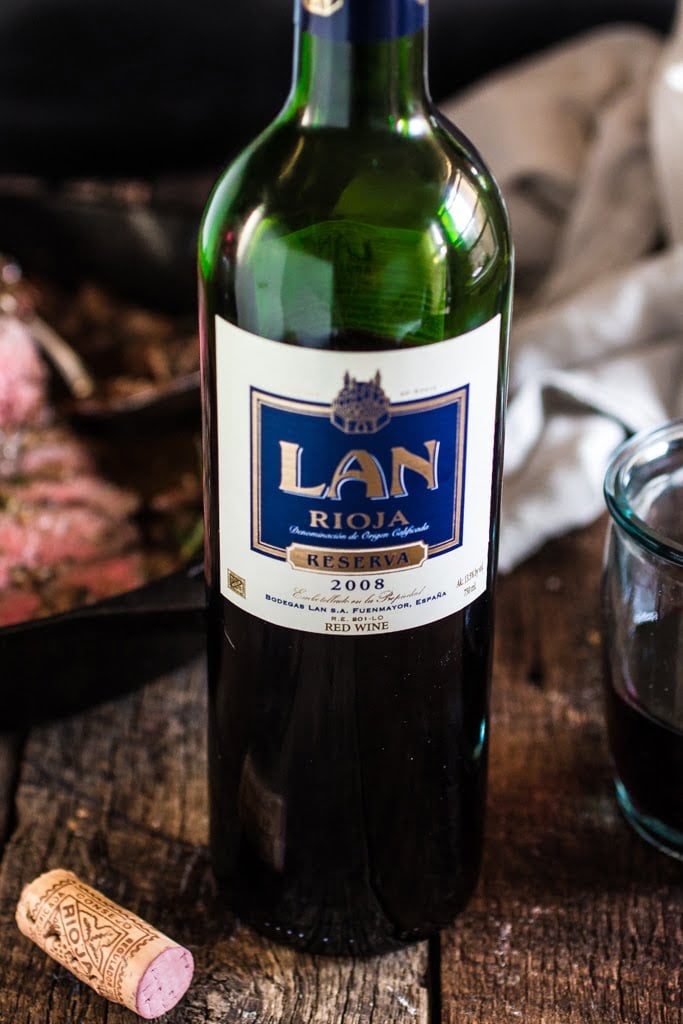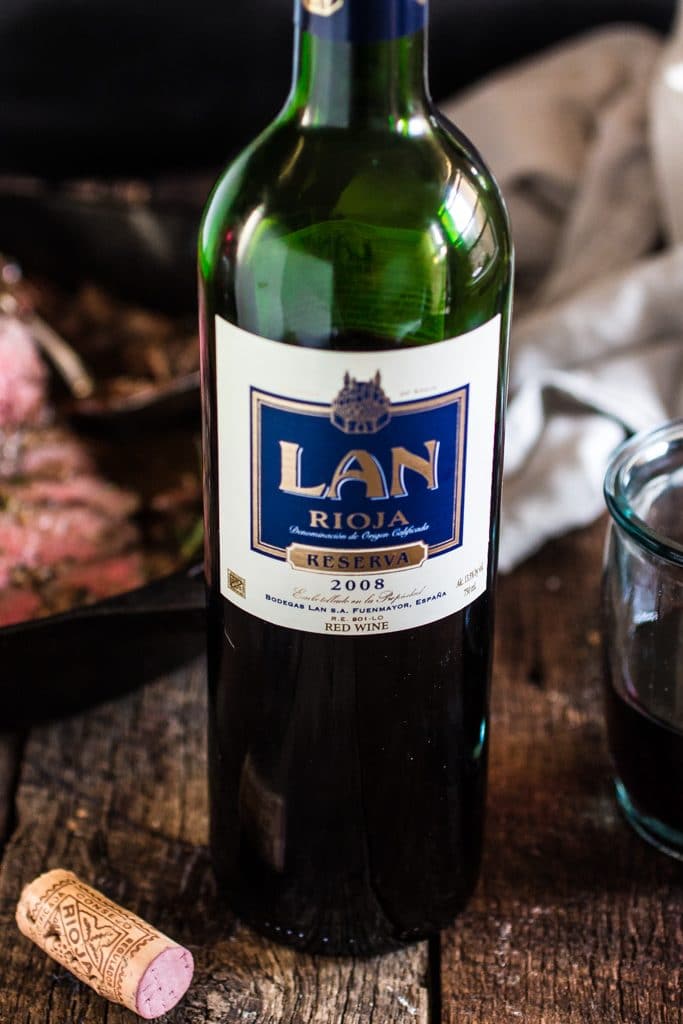 A seductive glass of a Reserva Rioja wine is a perfect blend of soft fruits, leathery undertones, and subtle black pepper spice. Reservas offer notes of dark fruits like plums and dried cherries. These wines are ideal with tender, slow roasted game meats and flavorful, hearty beef dishes. The fruits and cracked pepper hints of the wine are a perfect match with the herbal rosemary and garlic that becomes caramelized with this roast as it cooks. Its earthier tones are also a delicious fit with the mushroom and pan glaze that this holiday star is served with.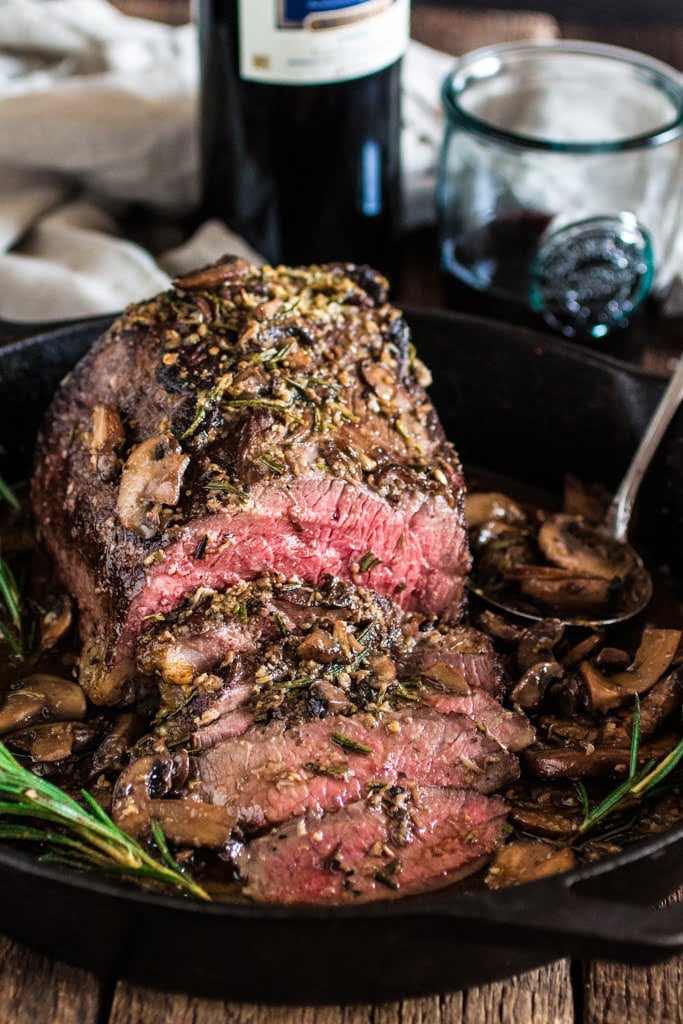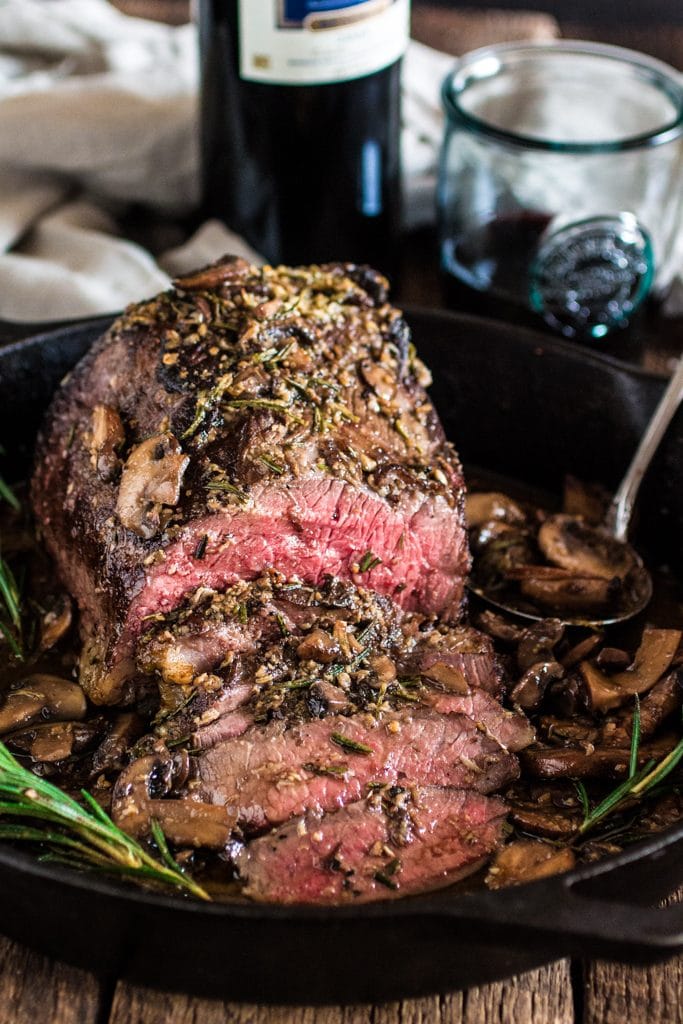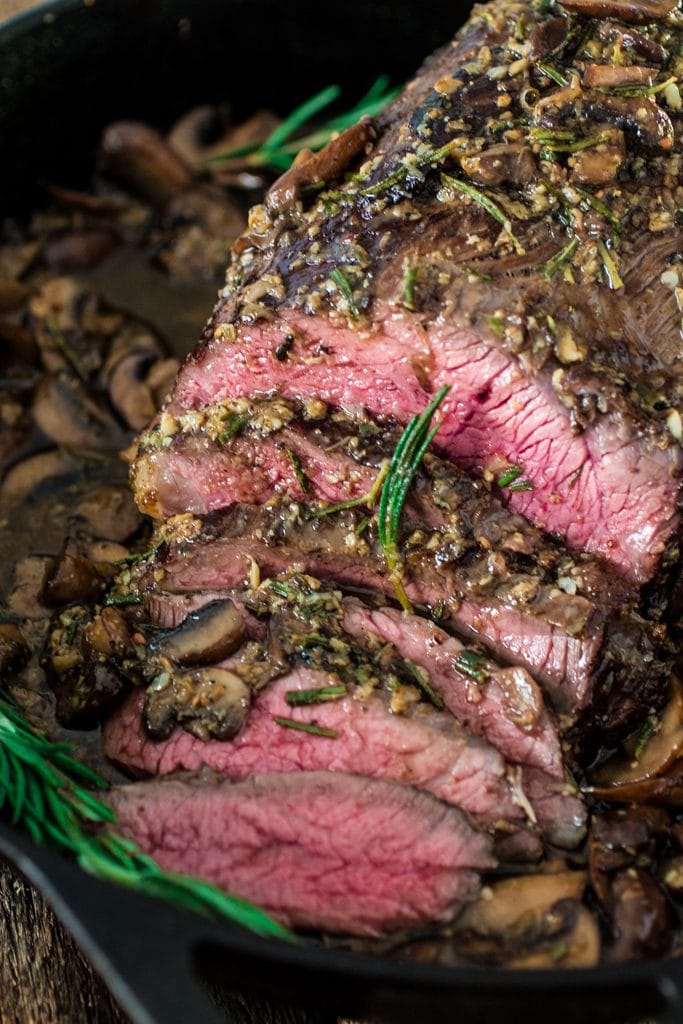 I also gotta say that this dish is super easy and quick to make and requires minimum prep.
Seriously, when was the last time you hosted a dinner party and still had time to do your make up and hair? I'm usually still in my sweatpants, with my hair looking like a bird's nest, when the door bell start ringing. Ugh, so stressful! Then I have to rely on Tim to entertain people – not his best trait, I must say – while I hide in the bathroom, trying to look like a decent human being.
With dishes like that, though? You will look like Gisele Bundchen while serving a dish that will leave your guests thinking you're some sort of Martha Stewart!
You might even have time to open a bottle of Rioja Reserva wines to enjoy while waiting for your friends.
Cheers! 🥂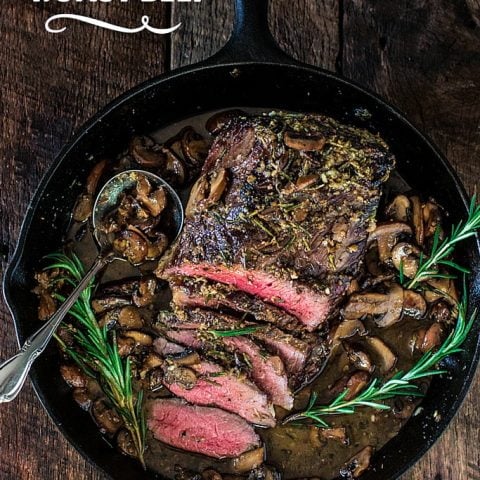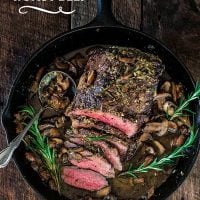 Rosemary and Garlic Roast Beef
Ingredients
3 pounds boneless Rib Eye roast
¼ cup chopped fresh rosemary (or other favorite herbs)
¼ cup chopped garlic (about 20 cloves)
Salt and freshly ground black pepper to taste
2 tablespoons olive oil
2 tablespoons vegetable oil
4 tablespoons unsalted butter, divided
4 cups a variety of mushrooms, sliced to about the same size
1 cup beef (or chicken) stock
Instructions
Preheat oven to 350ºF.

Tie the roast and season generously with salt and pepper.

Mix together rosemary and garlic. Add 2 tablespoons of olive oil and stir to combine, creating a paste. Reserve.

In a cast iron skillet, over medium heat, heat the vegetable oil and, once smoking hot, sear all sides of the meat, about 5-8 minutes.

Remove skillet from heat. Brush the herb-garlic mixture all over the roast.

Bring the roast, in the cast iron skillet, to the preheated oven and cook for about 1 to 1.5 hours or until a meat thermometer reads 135F degrees (medium-rare). Let it rest for at least 10 minutes before serving (final temperature should be 145F for medium rare.)

While the roast is resting, sauté the mushrooms over medium heat with 2 tablespoons butter until cooked through and no liquid is left in the pan, about 5 minutes. Season with salt and pepper.

Remove roast from the cast iron skillet and bring the skillet to the stovetop. Add stock to the pan and deglaze the pan, scraping all the bits from the bottom. Allow to simmer until thick.

Add the mushrooms to the sauce, stir in the remaining 2 tablespoons of butter and stir until the sauce is silky. Then, place the roast back in the cast iron with the sauce and spoon some of the sauce over the roast.

Garnish serving platter with fresh rosemary if desired.
P.S. Wanna keep in touch? Follow me on Facebook, Twitter, Instagram or Pinterest to stay up to date with my posts! If you end up making one of my recipes, I would love to see it! Just take a photo and post it on your preferred Social Media and tag me or use the hashtag #oliviascuisine!