Brazilian Style Chicken Wings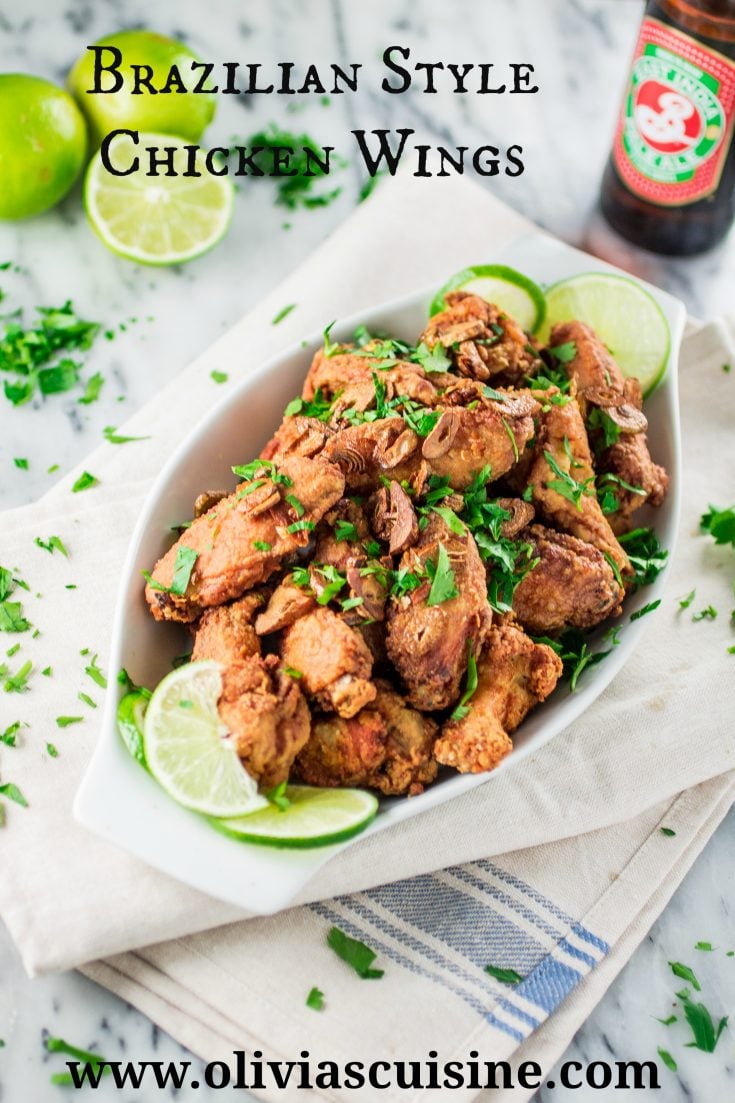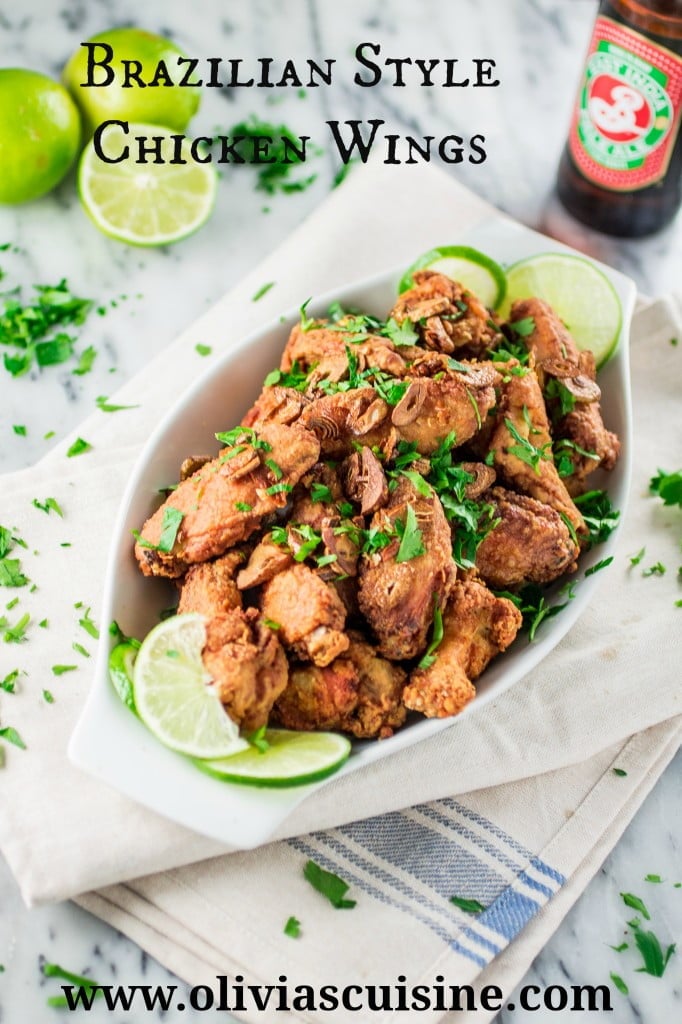 I know Super Bowl is an American sacred day and that you – my fellow American readers – like to feel very Amurrrican on this day. However, may I suggest an alternative to those boring plain old chicken wings? After all, we Brazilians do know a thing or two about having fun during sporting events!
These Brazilian Style Chicken Wings are seasoned with lime and garlic and they marinate in that mixture overnight so I guarantee you'll be biting into a juicy, well seasoned, crunchy chicken wing. It is topped with even some more garlic (sautéed in olive oil) and some chopped fresh parsley before serving! :)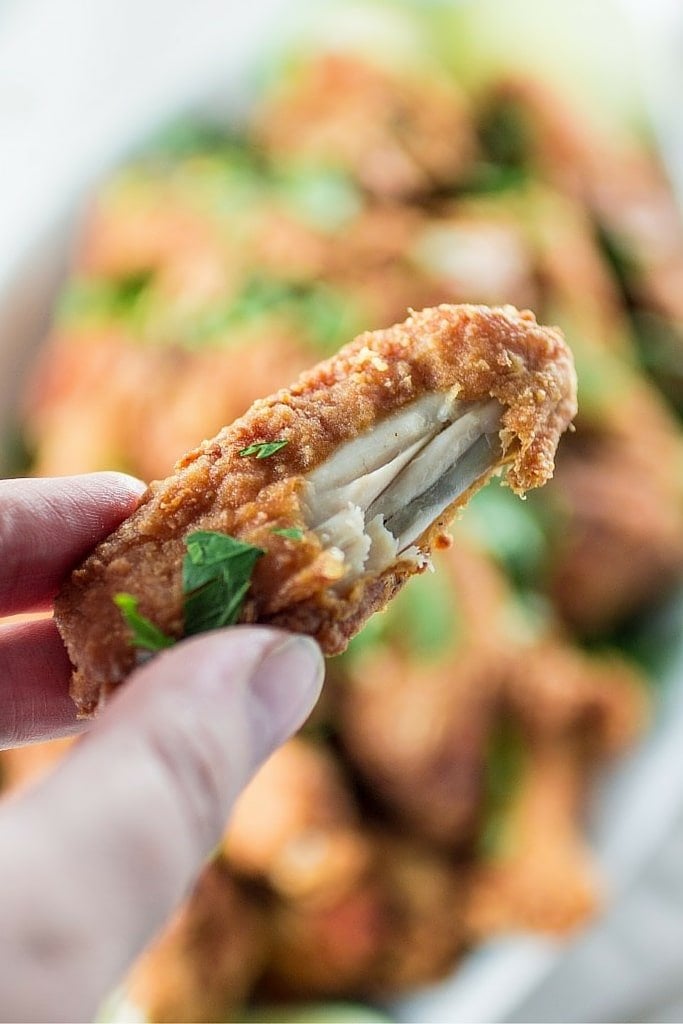 They are so so good that you probably won't need any dip to serve with them. I serve mine with some lime wedges and some optional Tabasco sauce for the spicy aficionados! Oh, and of course, don't forget the ice cold beer!!!
The thing is, you wanna taste the fabulously seasoned chicken and not the BBQ sauce/blue cheese/ranch/whatever you like to dip your wings in. However, I'm no fun police here, so do whatever makes you happy! Just taste one wing without the dip for me, please?!? I promise you won't regret it!
As for temperature, I prefer to eat them hot, but – believe it or not – they are still crunchy at room temperature. So if you're tailgating, you can totally fry the wings at home and bring them with you to share with your friends! It will be a guaranteed success!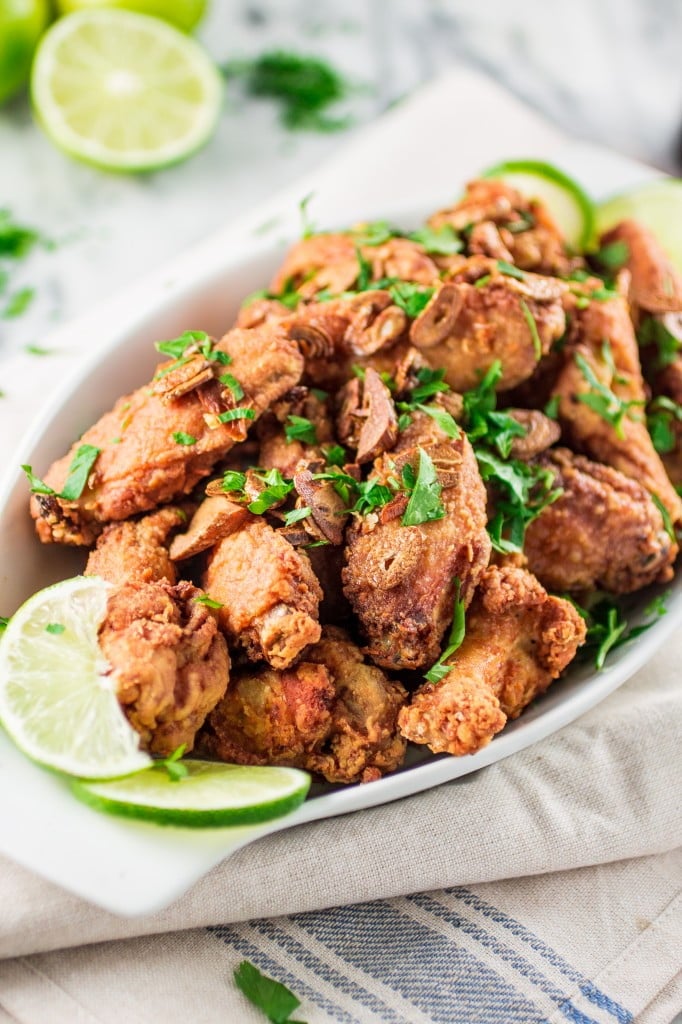 These chicken wings are not only great as finger food but they can also be served as a meal, accompanied by some salad or, as I like to do at home, with rice and beans. Nothing makes me happier than a plate of homemade rice, beans, salad and some chicken or beef.
The traditional way of serving Brazilian Style Chicken Wings is by pouring some sautéed garlic and olive oil on top of your wings before serving them. But make sure you do it immediately before serving, as you don't want you wings to get soggy and loose it's crunchiness. If you like garlic but not too much, just omit this step! (Whyyyyy? Garlic is so delicious I could dive into a pool of it! Don't judge!)
Also, if there's any left (I doubt it!) up you can store your leftovers in the fridge for up to a week and reheat them in the oven when you're ready to eat them.
Anyways… I hope you guys have fun this Sunday! Don't drink and drive, etc… Stuff your face with potato skins, chili fries, fried mac & cheese balls… and make my wings! They are so tasty and SO easy to make. So no buying the old man's wings this year. The Colonel has nothing on these wings, believe me! :D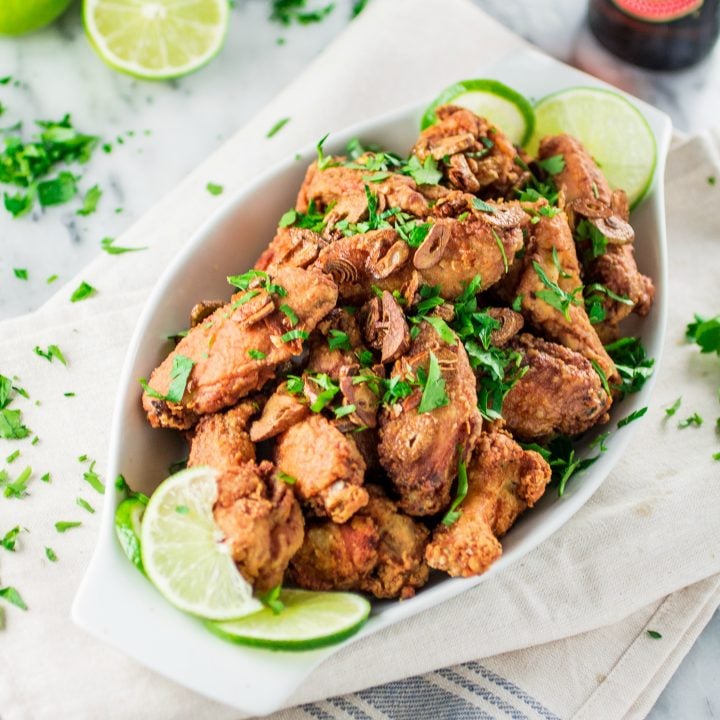 Brazilian Style Chicken Wings
Ingredients
2lbs small chicken wings
Juice of 3 limes
5 garlic cloves, minced
5 garlic cloves, sliced
1/4 cup olive oil
1/2 cup flour
Red pepper flakes (optional)
Salt and pepper
Chopped parsley to garnish
Lime wedges to garnish
Vegetable oil to fry
Instructions
In a large bowl, combine the lime juice, the minced garlic and the salt and pepper. Add the chicken wings and toss them with the marinade, making sure every piece of chicken is coated. Cover and bring the bowl to the fridge overnight.
The next day, add the flour and the wings to a ziplock bag. Close the bag and shake it so every wing is coated in flour.
Fill a saucepan with enough oil to deep fry the wings. Heat the oil over medium high heat and, when the oil is hot enough, lower the heat to medium low and start frying the wings in batches, 5 or 6 at a time.
When the wings look cooked and beginning to gain some color, turn the heat up to high, so they get extra crispy, and fry them until golden brown.
Set the fried wings over paper towel to absorb the excess oil.
Turn the heat back to low and proceed to frying the other wings.
Once all the wings are fried, transfer them to a serving dish and decorate with some lime slices and wedges.
In a saute pan, heat the olive oil and sauté the sliced garlic. Pour that garlic over the wings.
Finish the dish with some chopped parsley and red pepper flakes (if using) and serve! (You can serve them with some Tabasco sauce on the side for the spicy aficionados!)