German Sausage and Barley Soup (Graupensuppe)
This shop has been compensated by Collective Bias, Inc. and its advertiser. All opinions are mine alone. #OktoberOnTheFarm#CollectiveBias
A classic and filling barley soup with kielbasa sausage! Comfort food at its best!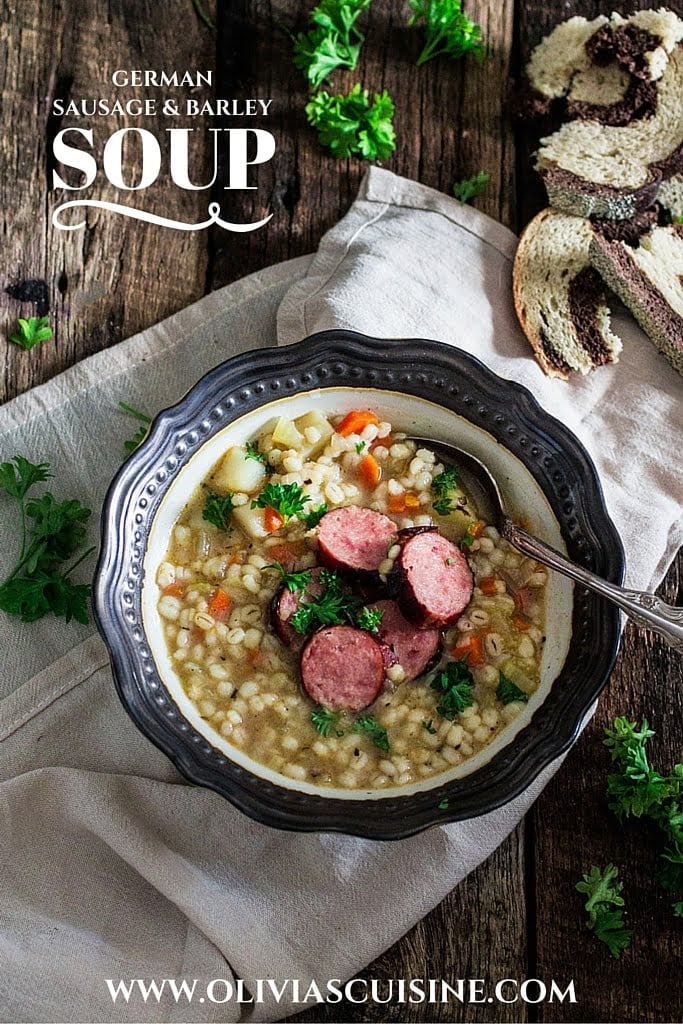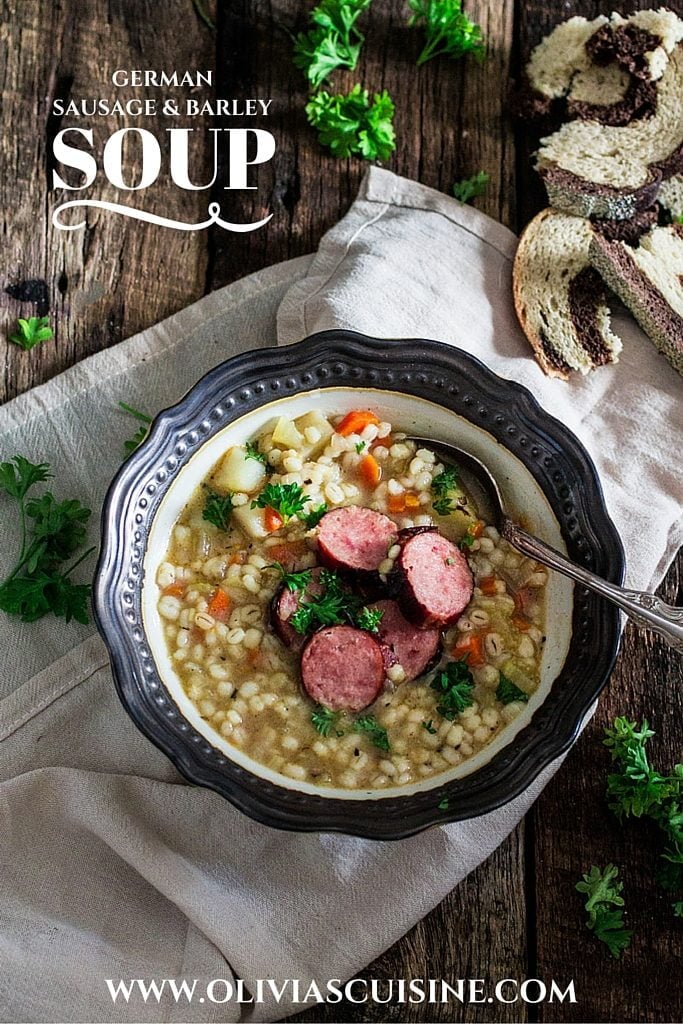 I had so many plans for this blog involving Oktoberfest food… But then life happened and the only recipe I ended up posting was the
German Soft Pretzels
… Boohoo…
But YA KNOW WHAT???
Oktoberfest might be over in Germany, but it is still very much alive in my heart (and in some bars in NYC)! So I decided I was going to share another classic German recipe: Graupensuppe, or Barley Soup in German, which I made with veggies, barley, bacon and, of course, sausage! ?
My husband went CRAZY over this soup.
I originally planned on freezing half of it, just because we (mostly me!) get sick of eating the same leftovers after a while, but then I noticed 2/3 of the soup was already gone.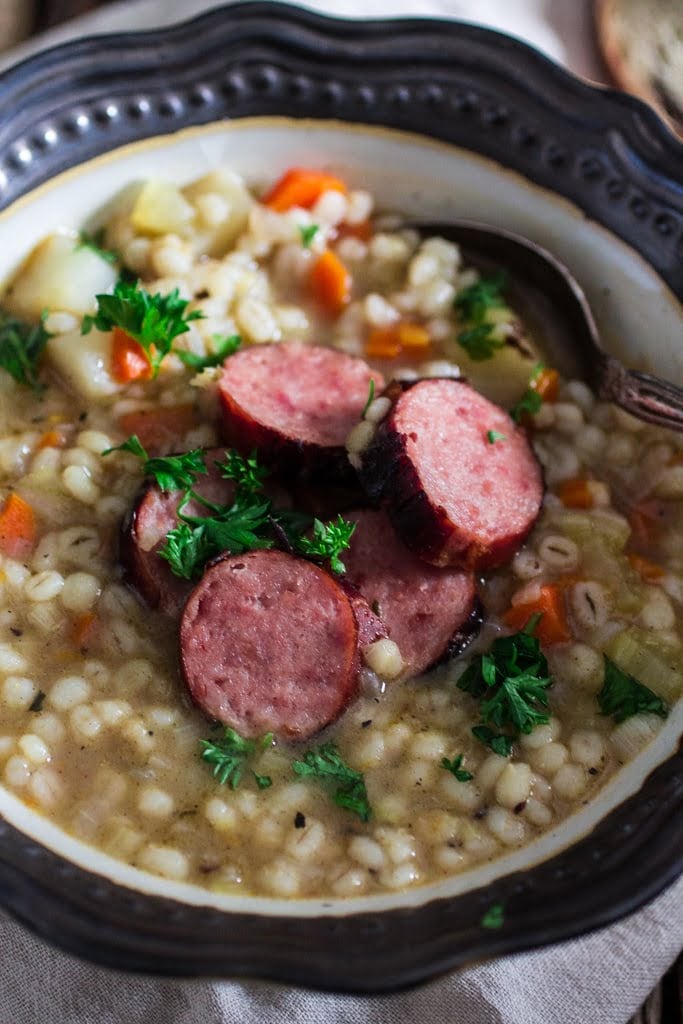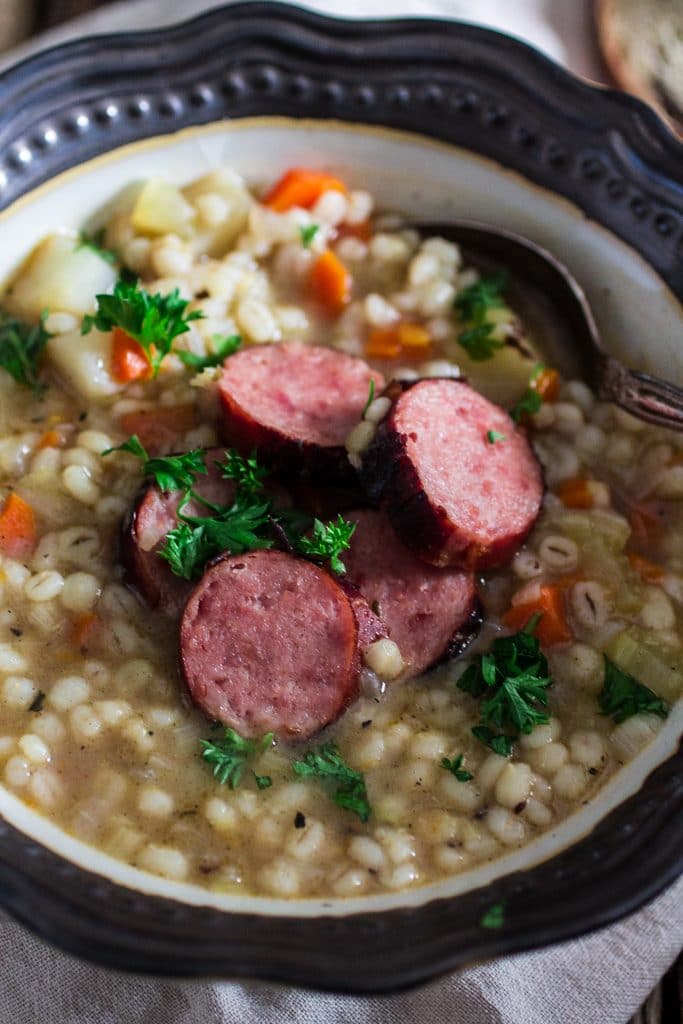 As I told you earlier last week, Tim and I were both feeling a bit under the weather. All we wanted to do was snuggle in bed with a bowl of comfort food, watching silly TV shows.
I mean… that's usually all we want to do even when we're not sick. Yep, I have no shame in admitting we are a lazy couple and we would trade any night out for good homemade food + Netflix + my fluffy doggy warming up our feet. ?➕?➕?=?
But anyways… I gathered all my (low) energy and went to the kitchen to make us this delicious soup. I considered using my slow cooker, but we needed the soup IMMEDIATELY, so no time to wait for it to simmer for 8 hours. Gladly, my part in this soup making business was only some browning and sautéing. The rest was the work of God, or science, or my amazing dutch oven. Whatever you want to believe!
40 minutes simmering on the stove and our soup was ready. Only my childhood years, where comfort food magically appeared in front of me every time I was sick, could be better! (Thanks, grandma!)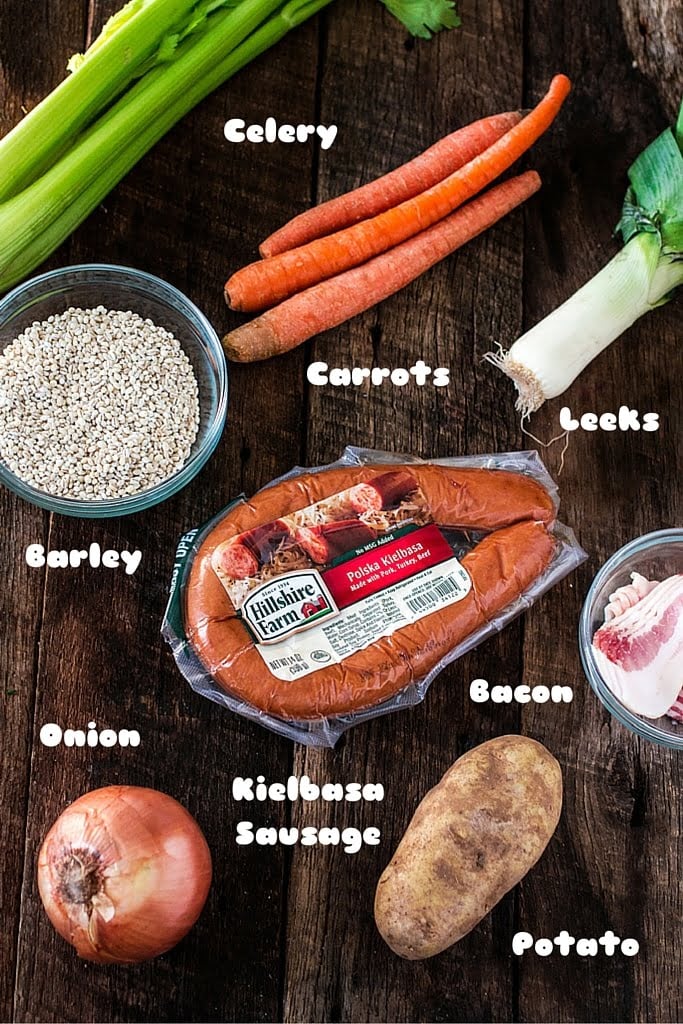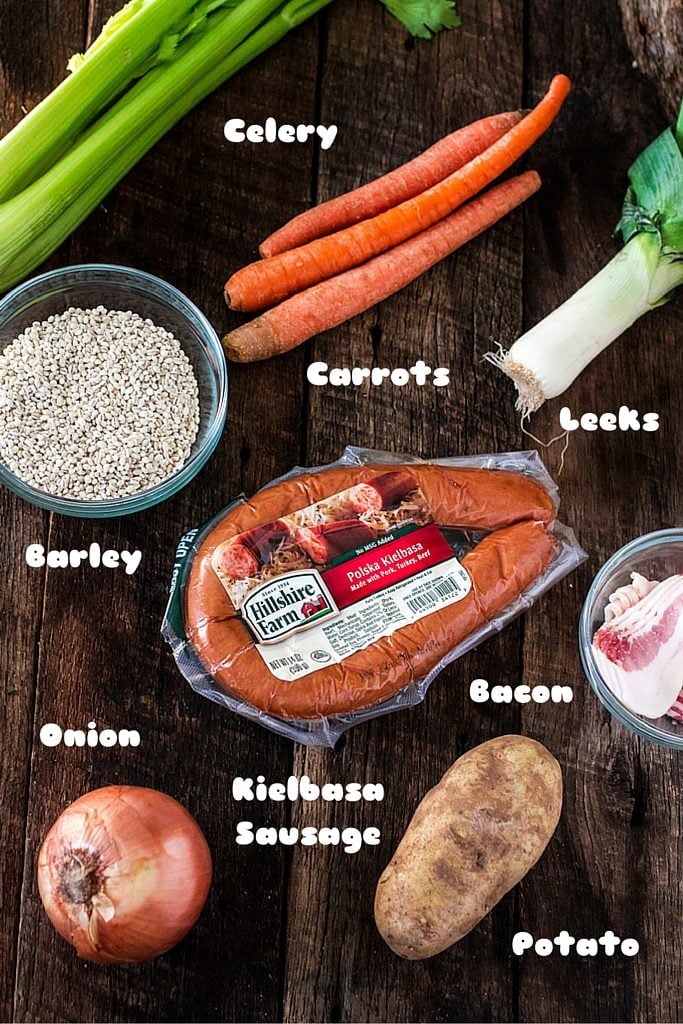 But guys, please don't think I'm foolish. I know damn well why Tim loved this soup so much.
The Hillshire Farm® Polska Kielbasa.
I mean, he would be happy with just eating the straight out of the packaging. I can't tell you how many times we had "fights" because he ate the sausage I bought thinking of a recipe. Good thing I have a Walmart just down the hill and I can send him for some more whenever that happens.
Thankfully, I now got into the habit of just buying more than what I need. Especially now with the colder weather, there's no recipe that wouldn't benefit with the addition of this delicious sausage.
If I'm short on time, or forgot to think of dinner (mostly because I spent all day working on a dessert for the blog, for example), I just slice the Hillshire Farm Polska Kielbasa and sauté with onions until everything is perfectly browned. Then we use it for sandwiches or we eat it with rice! Along with a bottle of cold beer, of course. This post is Oktoberfest themed, after all! ?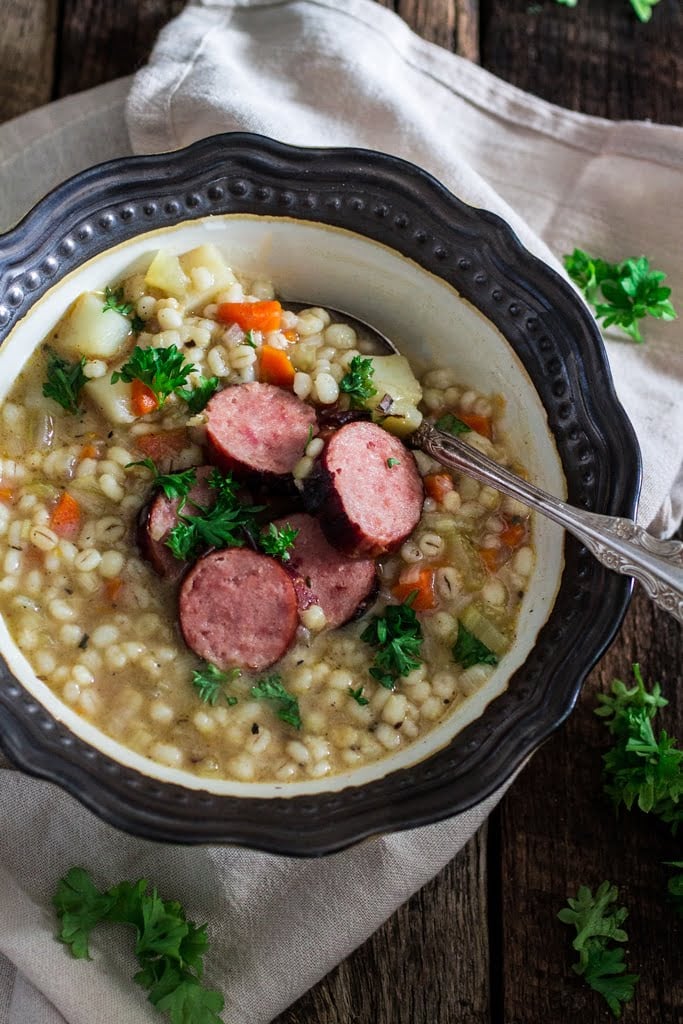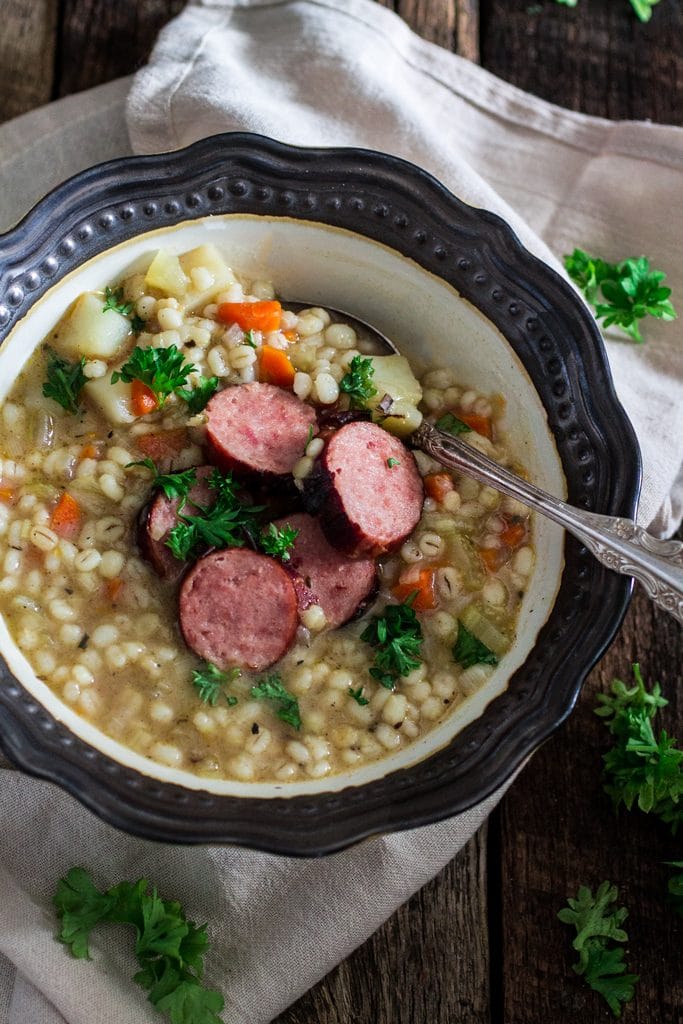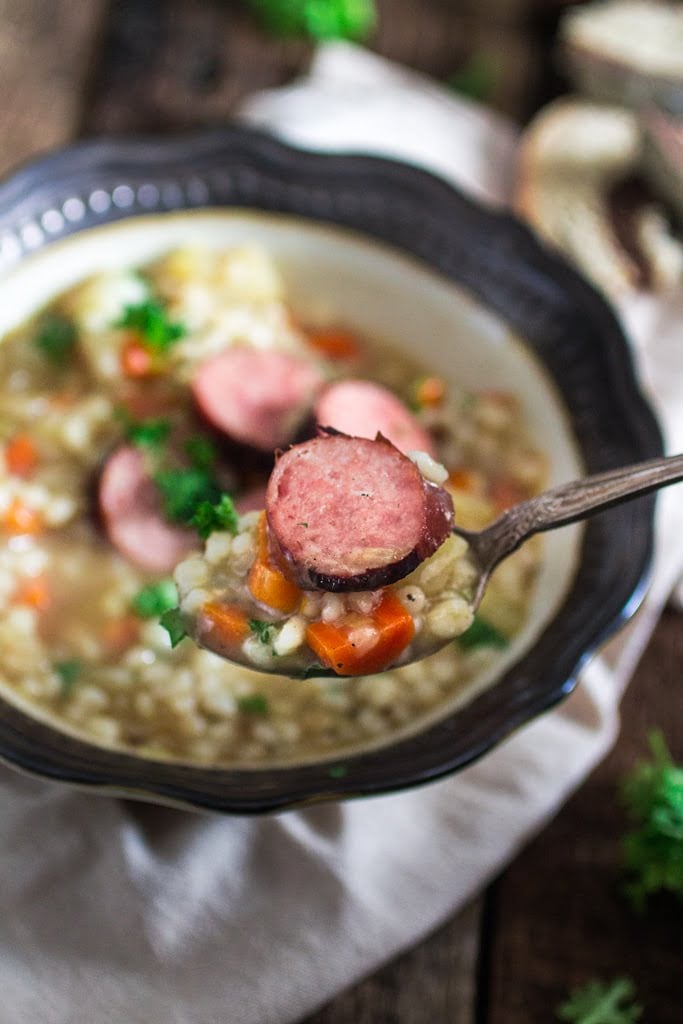 The barley and the sausage really make this soup very filling and a meal on its own.
If you haven't had the chance – or the time – to attend an Oktoberfest celebration this year, just make this soup and it'll be as if you were there in Munich!
Guten Appetit!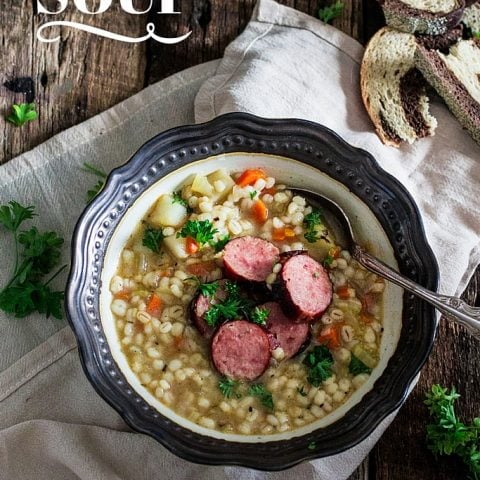 German Sausage and Barley Soup (Graupensuppe)
Yield: 8
Prep Time: 15 minutes
Cook Time: 45 minutes
Total Time: 1 hour
Ingredients
4 slices of bacon, cut into big chunks
14 oz. Hillshire Farms Polska Kielbasa sausage, cut into 4 big chunks
2 tablespoons of butter, if necessary
1 large onion, chopped
1 cup (2 leeks) chopped leeks (white and light green parts only)
1 cup chopped carrots (about 2 small carrots)
1/2 cup celery, chopped (about 1 stalk of celery)
1 cup chopped russet potato (peeled)
1 cup pearl barley
1 tsp dried oregano
1/2 tsp paprika
6 cups chicken broth
Salt and pepper to taste
Freshly grated nutmeg to taste
Chopped parsley to garnish
Instructions
In a large dutch oven, over medium high heat, cook the bacon and the sausage until browned, about 5 minutes.
Remove and reserve.
If necessary, add 2 tablespoons of butter. (You might also have to remove some of the bacon fat, if it's too much or if it looks burnt).
Lower the heat to medium and sauté the onions until translucent, about 2 minutes.
Add the leeks, the carrots, the celery and the potatoes and cook until softened, about 5 minutes.
Add the barley and let it cook with the veggies for a minute, stirring constantly.
Season with salt, pepper, oregano, paprika and nutmeg.
Add back the bacon and the sausage.
Add the chicken broth and bring the soup to a boil. Once it boils, lower the heat to low, cover and simmer for 45 minutes to 1 hour or until the barley and the potatoes are cooked.
Remove the bacon and sausages. Discard the bacon and thinly slice the sausages.
Serve hot, garnished with chopped parsley and the sliced sausage.
P.S. Wanna keep in touch? Follow me on
Facebook
,
Twitter
,
Instagram
or
Pinterest
to stay up to date with my posts! If you end up making one of my recipes, I would love to see it! Just take a photo and post it on your preferred Social Media and tag me or use the hashtag #oliviascuisine!