Ghost Halloween Cupcakes
These Ghost Halloween Cupcakes will be the hit of your Halloween party! Luscious, moist chocolate cupcakes frosted with marshmallow buttercream. Who can resist that?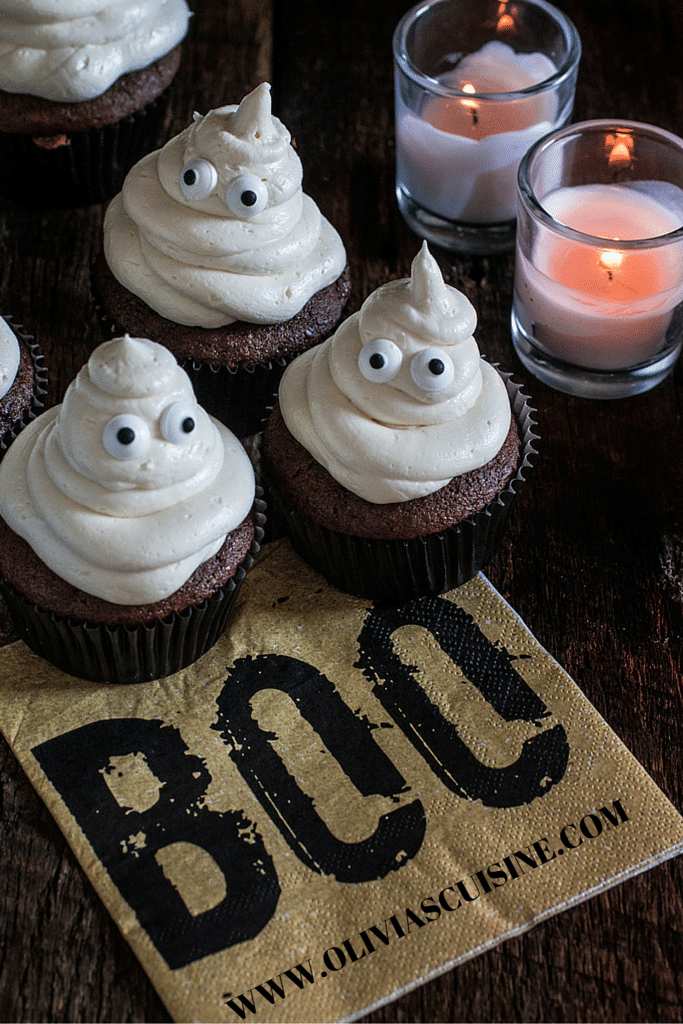 Spooky Halloween Cupcakes
I can't believe this is my first Halloween recipe this year!
I've been so crazy busy with everything that I barely had time to think of Halloween. But do not worry, I finally caught up with everything, decorated my apartment and made some delicious Halloween cupcakes to celebrate October 31st.
These Ghost Halloween Cupcakes are not only spooky, but they are so moist and chocolate-y that they will be the highlight of your Halloween celebrations!
Seriously, aren't they CUTE?
I gotta confess. I am one of those lame people that prefer "cute" over "spooky" for Halloween. I mean, don't get me wrong. I'm okay with witches, vampires, ghosts… But you probably won't see me eating the incredibly realistic brain cupcakes or wearing anything with a skull in it.
Skulls and skeletons FREAK THE HELL OUT OF ME! How weird is that? Everything related to bones, actually. It took me months of going to the chiropractor to even let him adjust my back. That cracking sound/feeling though?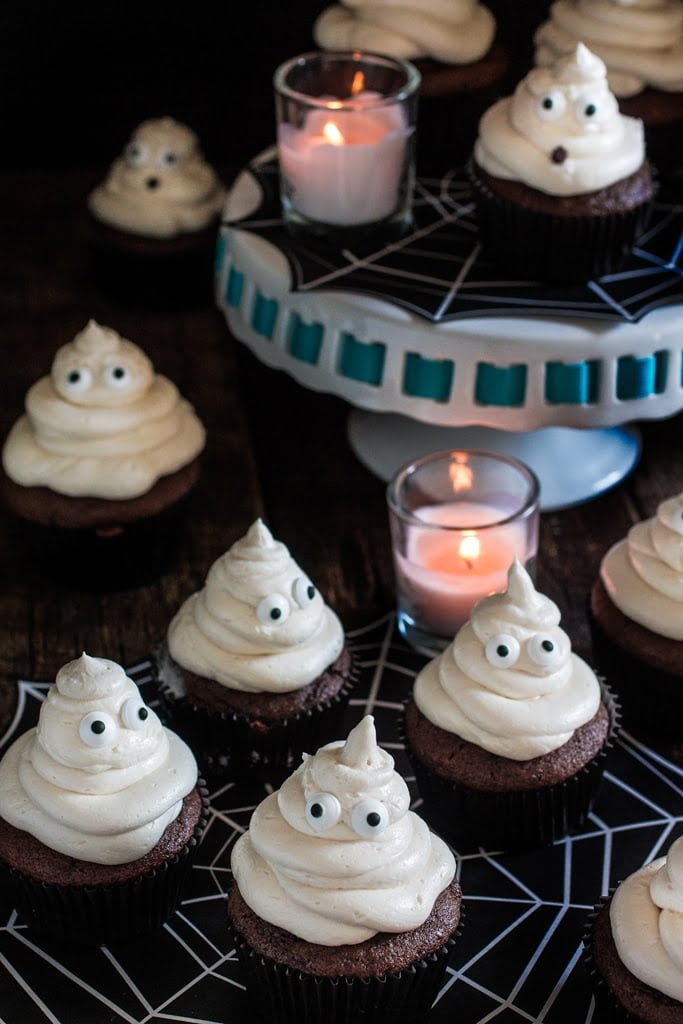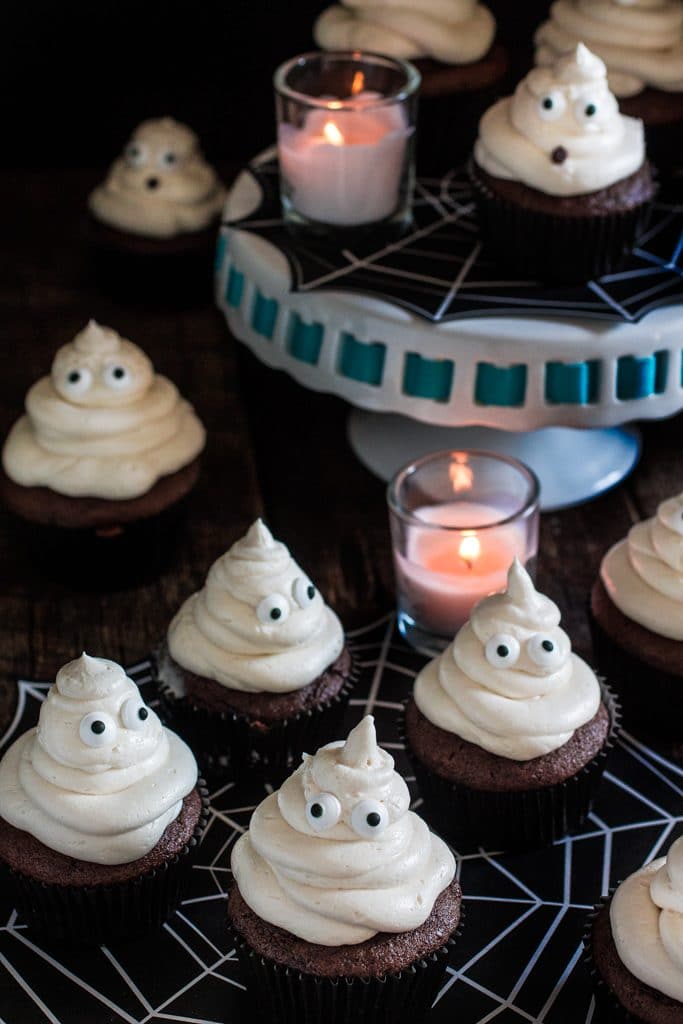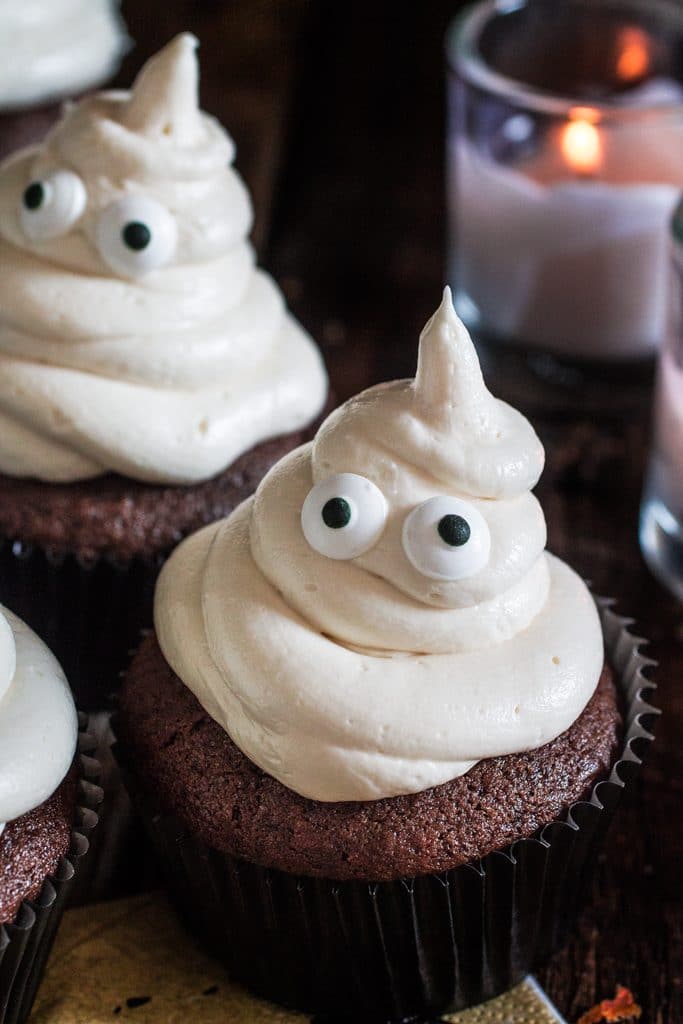 I'm sure you're wondering what these cupcakes are made of. And I made you read through my "Confessions of a Weirdo" to find out. ? What a terrible cyber friend I am, I know…
These adorable Ghost Halloweens Cupcakes are nothing more than a luscious, super moist (hint: sour cream!) chocolate cake with a marshmallow buttercream frosting.
Simply to die for! Lip-smacking marshmallow frosting all over my hair (WHAT?!?) kinda good.
Please tell me you also get frosting and crumbs all over your body when you eat a cupcake? No? It's just me then?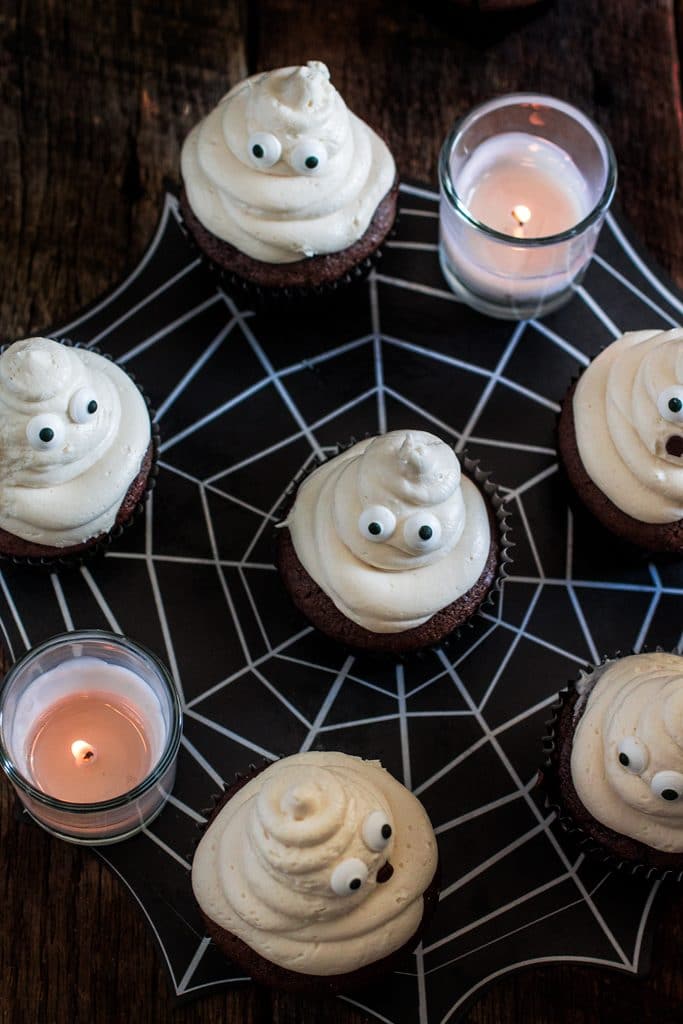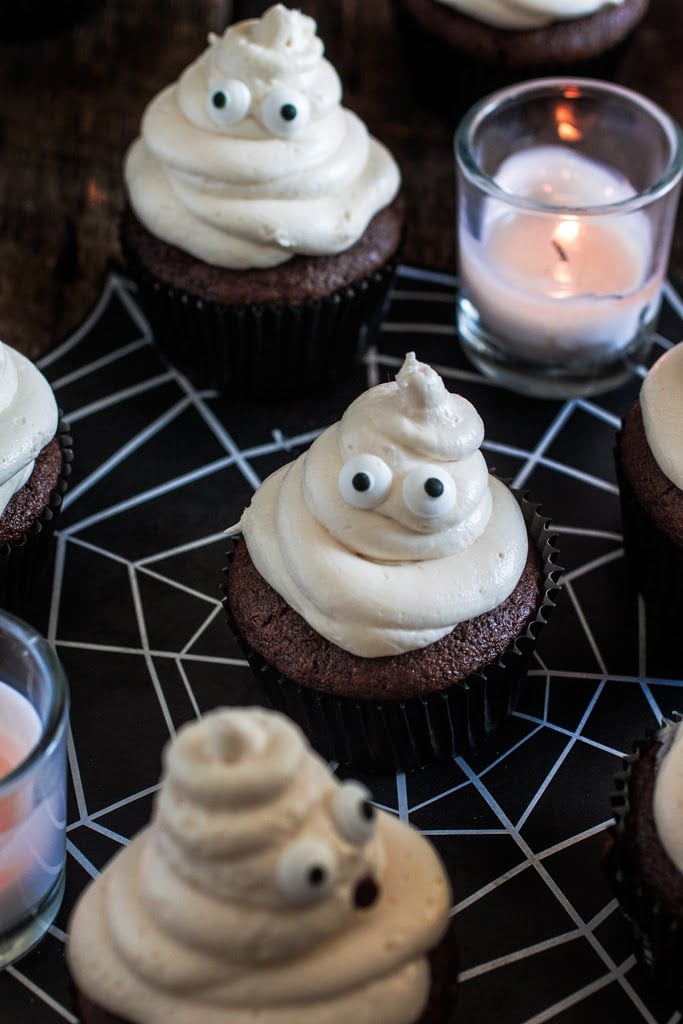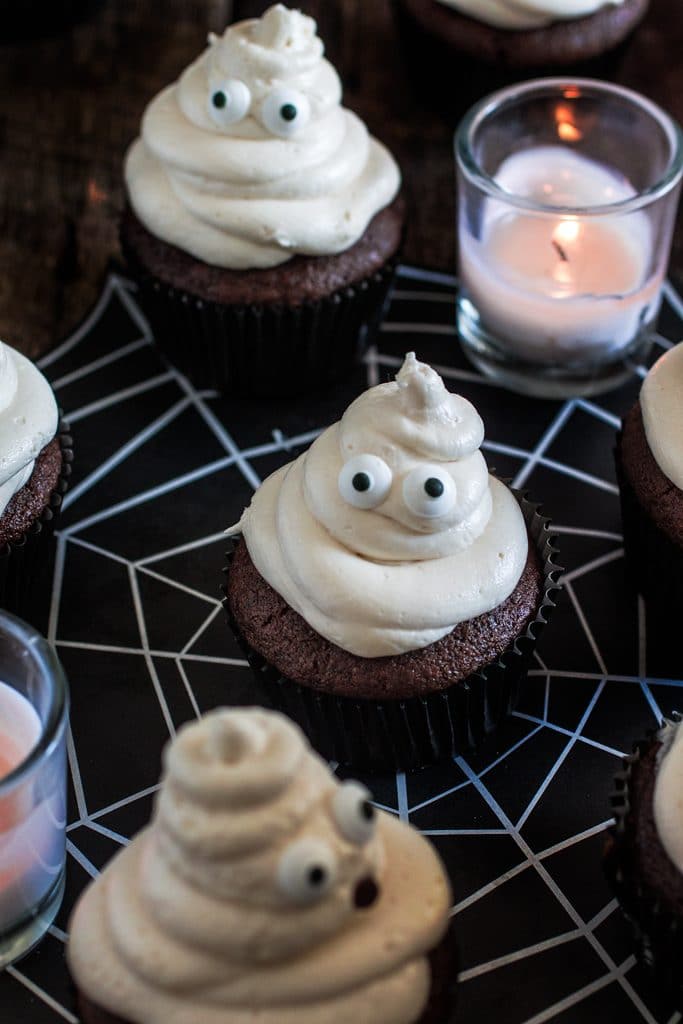 The best thing about these cupcakes is the marshmallow frosting. And I use marshmallow fluff to make life easier! (I'm a huge believer in making life easier, if you haven't noticed!)
However, I have a certain addiction to that stuff – marshmallow fluff, I mean – and am known for eating the stuff by the spoonful. To the point that my husband had to hide the container from me last time we had it in the house. Yep, it's that bad!
This time, when I sent him to the store for the ingredients and he saw "marshmallow fluff" written on the list, I had to swear I really needed it and marshmallow was the only possible way these cupcakes could even exist in the first place, and that I really, really needed a Halloween recipe on the blog, pretty please, I swear I won't eat the whole thing in one sitting.
I know what you're thinking. I can be a little dramatic… You would too, if your husband were a marshmallow tyrant.
But yours probably isn't. And you're all cleared for eating as much marshmallow as you want. So MAKE THIS!
Make it for your Halloween party, for trick or treaters or just bring some to work so you can be everyone's new favorite person!
And if you're worried your kids will be too spooked by these, just tell them I got their backs and if any ghost misbehaves, this is what happens to them: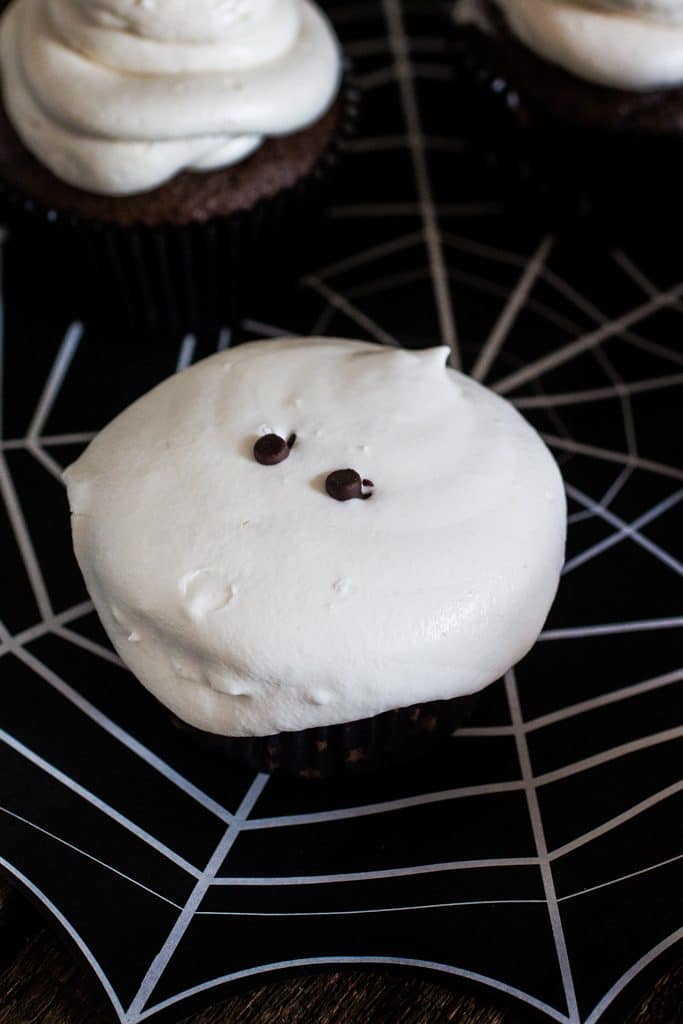 Don't fret! That picture was from one of my test batches. One that, obviously, went very wrong. That won't happen to your cupcakes!
If you follow my recipe, of course!
For the ghost's eyes, I bought some edible (hilarious) eye candies at Michaels, but you can use mini chocolate chips if you'd prefer.
You can also make a little "boooooo" mouth on some of them with the mini choc chips.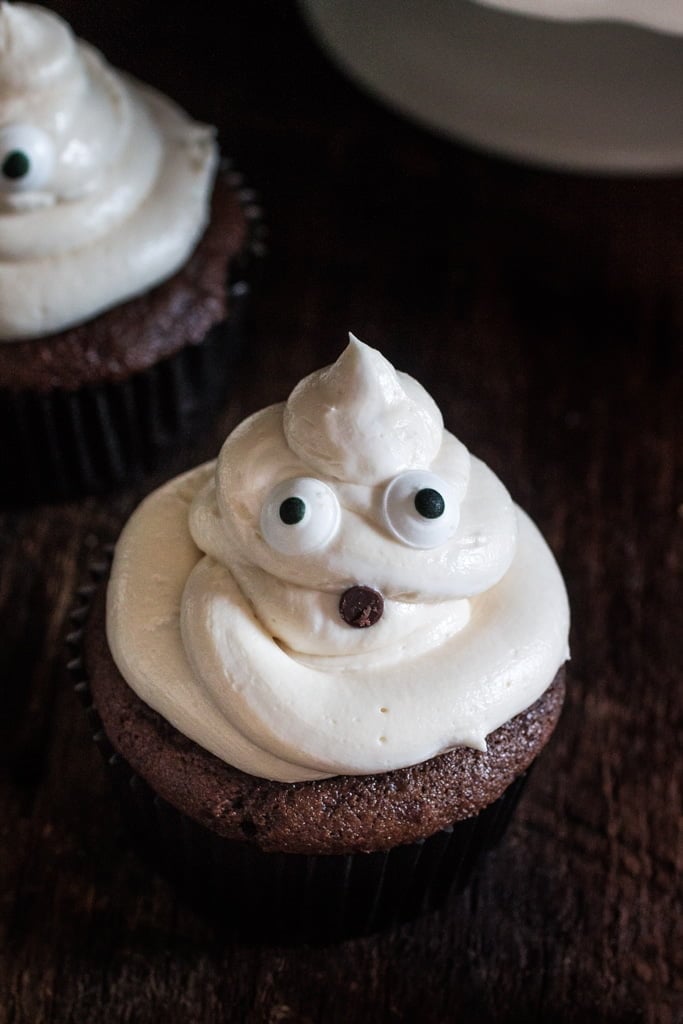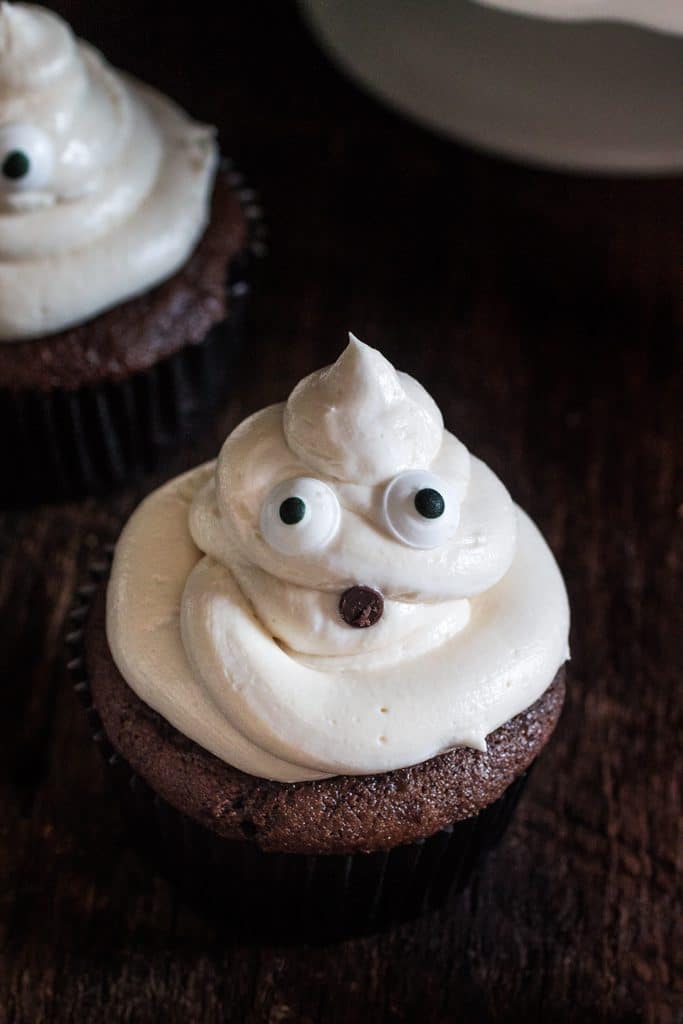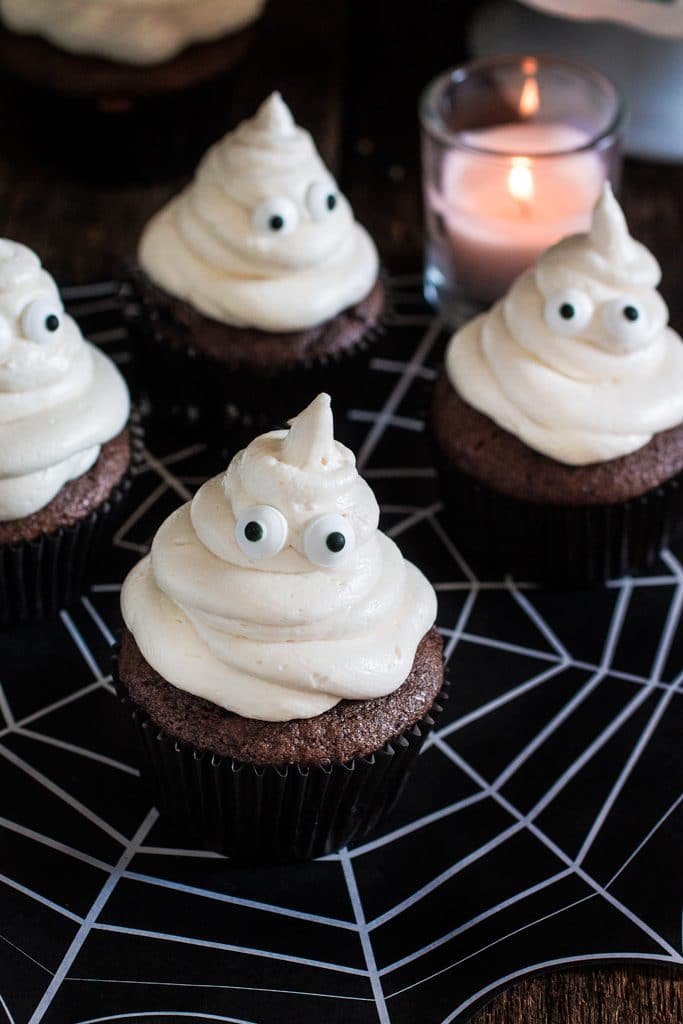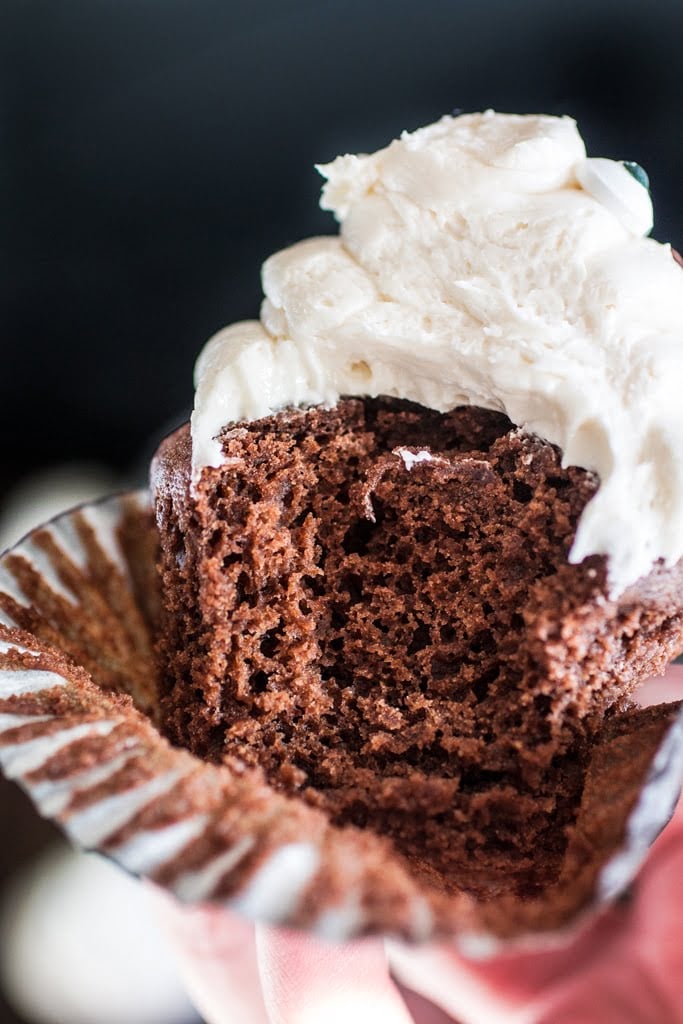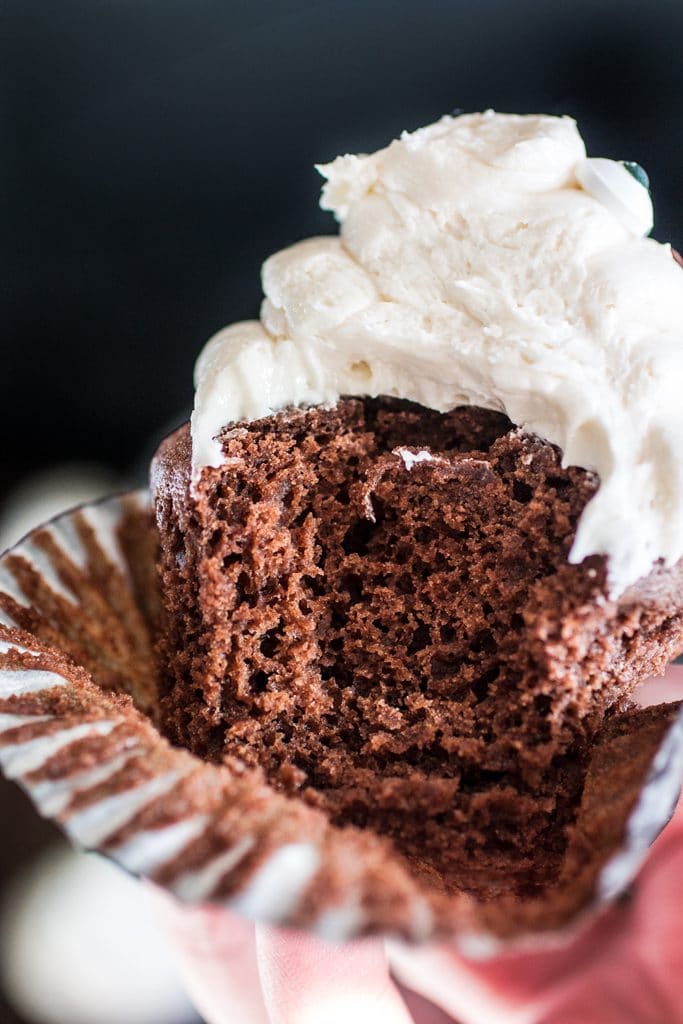 Just look at that chocolate cake! So light and moist it will be as if you're biting into a pillow.
I suppose that's the feeling you would get if you bit a ghost. Right?
But then again, what do I know? I've never even seen a ghost! Have you?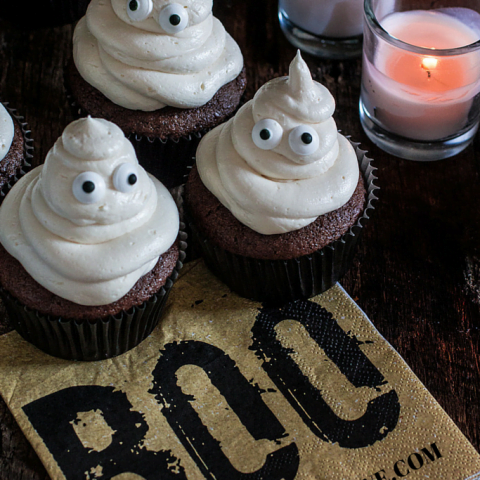 Ghost Halloween Cupcakes
Yield: 12
Prep Time: 10 minutes
Cook Time: 25 minutes
Total Time: 35 minutes
Ingredients
Chocolate Cupcakes:
1/2 cup boiling water
1/4 cup unsalted butter, softened
1 cup sugar
1/3 cup good quality cocoa powder
1 1/2 cups all purpose flour
1/2 teaspoon salt
1/2 teaspoon baking powder
1/2 teaspoon baking soda
1 large egg, beaten
1/2 cup sour cream
1 teaspoon vanilla extract
Marshmallow Buttercream Frosting:
1 1/3 cups unsalted butter, softened
8oz marshmallow fluff (about 2 cups)
1 tablespoon vanilla extract
1 teaspoon heavy cream
2 2/3 cups confectioners sugar
24 Halloween eye candies or 24 mini chocolate chips to make the "eyes". (Plus more if you wanna make little "boo" mouths!)
Instructions
Making the chocolate cupcakes:
Preheat over to 350 degrees.
Line a 12-count muffin tin with cupcake cups. Reserve.
In the bowl of a stand mixer, combine the butter, the sugar, the cocoa powder and the boiling water. Beat on low until smooth and the sugar is dissolved.
In a separate bowl, combine the flour, the salt, the baking powder and the baking soda. Reserve.
In a third bowl, beat the egg and add the sour cream and the vanilla extract. Whisk until smooth. Reserve.
With the mixer on low, add 1/2 the dry ingredients to the butter/sugar/boiling water mixture. Then, add the egg/sour cream and finish with the remaining of the flour. Mix just until the flour is incorporated. Do not overmix or your cupcakes won't be moist and pillowy!
Pour the batter into the cupcake cups, about 2/3 full.
Bake the cupcakes for 20 to 25 minutes or until a toothpick inserted in the center of a cupcake comes out clean.
Cool in the pan for 5 minutes. Remove from the pan and cool completely before frosting.
Making the frosting:
In the bowl of a stand mixer, combine the butter and the marshmallow fluff. Beat until creamy and smooth.
Add the vanilla extract and the heavy cream and beat until incorporated.
With the mixer on low, slowly add the confectioners sugar. Once incorporated, turn the speed up and beat for 1 minute, until light and fluffy. Add more powdered sugar if frosting is too thin or more cream if frosting is too thick. Add a pinch of salt if frosting is too sweet.
Frost cooled cupcakes (I used a Wilton 12 tip) and decorate with the eyes (and mouths).
Notes
The cupcakes can be make one day ahead, covered and stored at room temperature. Leftovers will keep well in the fridge, covered tightly for up to 4 days.
You can also make the frosting one day ahead. Just cover and store in the fridge until ready to use!
P.S. Wanna keep in touch? Follow me on Facebook, Twitter, Instagram or Pinterest to stay up to date with my posts! If you end up making one of my recipes, I would love to see it! Just take a photo and post it on your preferred Social Media and tag me or use the hashtag #oliviascuisine!