Brazilian Cream Doughnuts
Powdered sugar mustache, anyone?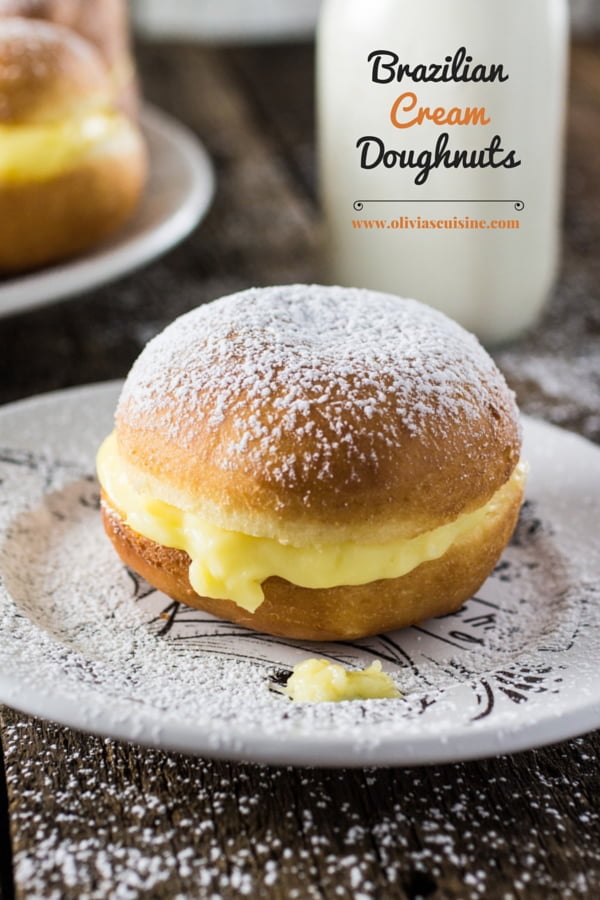 Good thing I decided to shoot those doughnuts (even though I'm not too thrilled with these pics). Because whatever post I had planned to share with you today had to be postponed and I suddenly had an editorial hole that had to be filled. (Oh the life of a food blogger…)
Life has been kinda crazy right now. Not only I've been obsessing with this apartment we saw on Sunday (that I really really REALLY wanna live in), but my dog Guinevere, back in Brazil, is not doing so great. I know she is old, but this is never easy, is it? Especially when you're a bazillion miles away…
And, as I was trying to not worry about Guiny's health while trying to get a hold of our realtor (who is really bad at communicating), I read something on Facebook that made me stop and take a breath. It said:
"Today's To Do List:
Practice kindness
Let go of what I can't control
Count my blessings
Listen to my Higher Self
Instill calmness around me
Share my light with others
Pass this on to encourage someone else"
That really inspired me and made me realize that I'm not doing most of those things – especially 2 and 5 – so I decided to start with number 7 by sharing it with you guys! Sometimes all we need is a little perspective.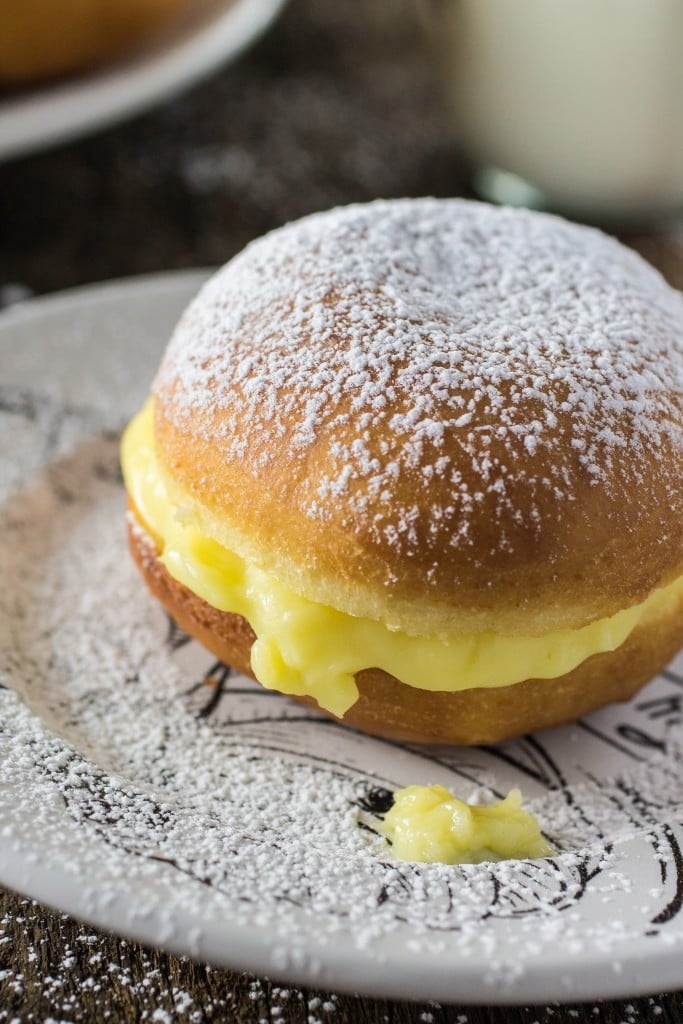 But back to doughnuts!
The name of these doughnuts in Portuguese is "Sonho", which translates to "Dream". I think it is very fitting as each bite feels like a dream. Wooow, way to be cliche, Olivia! :P
Anyway, these Brazilian Cream Doughnuts are a version of the German Berliners, probably brought by the Germans when they immigrated to Brazil. They are very popular in my country and you will find them in every padaria (bakeries).
My dad usually gets them for us on Sunday. That's his day to make breakfast! He gets up mad early, as usual, and goes out for fresh bread and some other treats. Then he sets the table and wakes everybody up to gather at the table. He is so proud of "making breakfast", even though it just means buying everything! (That's not fair, sometimes he makes homemade pão de queijo!)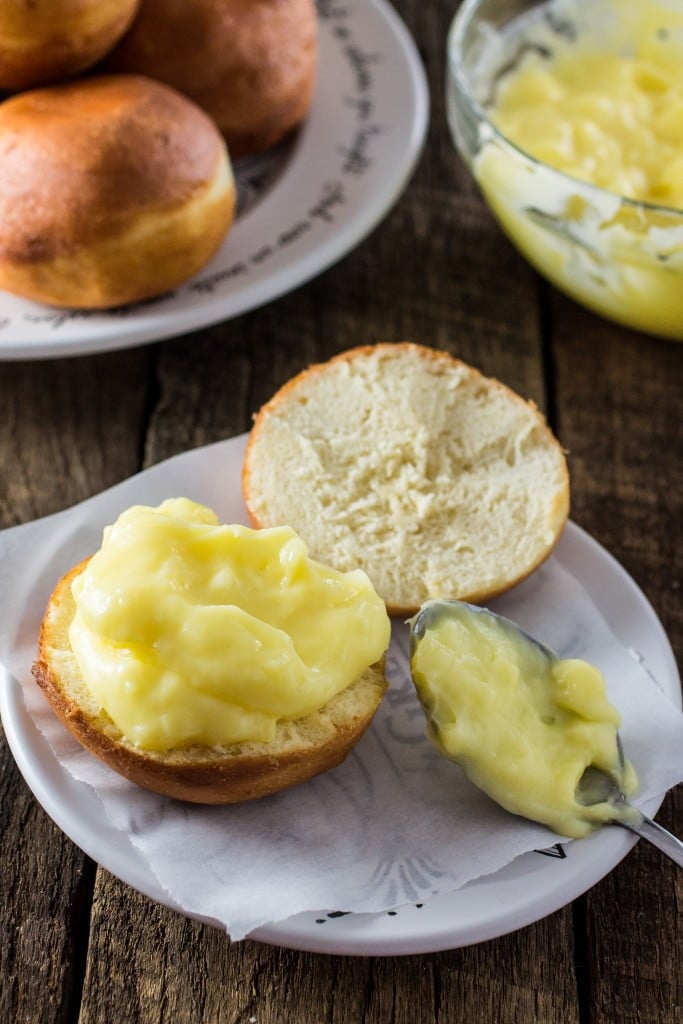 Before deciding to make these cream doughnuts – I was seriously craving them and now that I live in the U.S. it's either make it or cry, because it's not like I can go to the padaria to get it! – I had never made doughnuts before. I just had this idea that it would be incredibly difficult and complicated.
It's so easy!!! With the aid of my stand mixer, I barely had to do anything but put the ingredients in the mixer, wait for the doughnuts to rise, fry them, make the cream and fill them. I was utterly impressed. Better yet, I brought them to work and they were utterly impressed! My co-worker Bill even said: "How does a human being make something like that?". I don't know about you, but in my book being called an E.T. is one of the best compliments ever!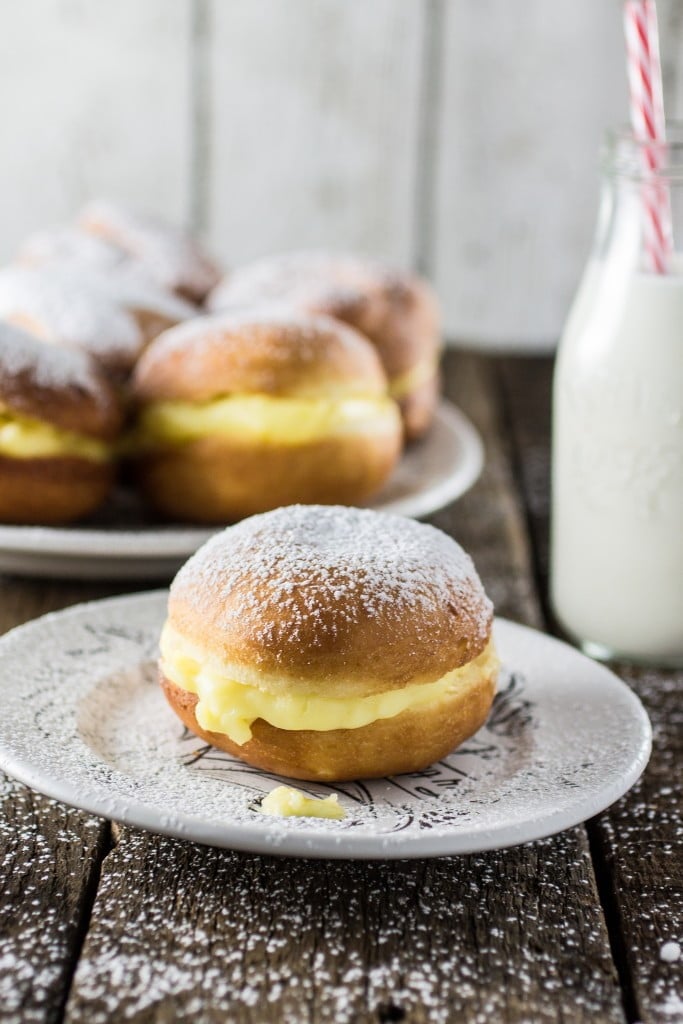 The difference between Brazilian doughnuts and regular doughnuts? They are much lighter in texture. Because of that they are perfect for breakfast, brunch or even an afternoon treat. Brazilians usually enjoy them with a cup of coffee!
Also, they might seem a little too much (although you can make them any size you'd like!) but you will see… there will be no way of stopping you from eating the whole thing!
I think these will be amazing for your Mother's Day brunch!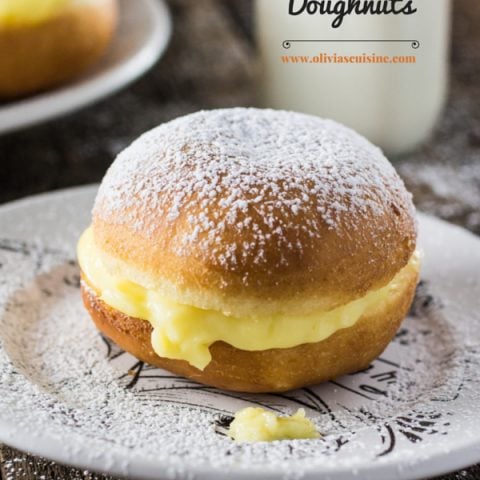 Brazilian Cream Doughnuts
Yield: 10 doughnuts
Prep Time: 1 hour 30 minutes
Cook Time: 10 minutes
Total Time: 1 hour 40 minutes
Ingredients
Dough:
1 (1/4oz) package active dry yeast
1 cup of warm milk
4 cups all purpose flour
3 tablespoons sugar
3 tablespoons butter, softened
2 egg yolks
A pinch of salt
Vegetable oil for frying
Confectioner's sugar and ground cinnamon to sprinkle on top of doughnuts
Cream:
2 cups milk
3 tablespoons corn starch
4 egg yolks
1/2 cup sugar
1 tsp vanilla extract
Lime zest (optional)
Instructions
Dough:
Pour the yeast into the milk and stir to combine. Let it sit for at least 5 minutes.
In the bowl of a stand mixer, add all dry ingredients and mix to combine.
Add the egg yolks, butter and milk/yeast and mix it on low until everything is mixed together.
Turn the speed up to medium and let the machine knead the dough for about 8 minutes or until the dough is soft and smooth.
Transfer the dough to a large bowl, cover with a towel and let it rise for 20 minutes.
Turn the dough out onto a floured board.
Gently pat it (don't use a rolling pin!) until about 1/2 inch thick.
Using a medium round cookie or biscuit cutter, cut into rounds and place them in a baking sheet dusted with flour. (You can cut your doughnuts any size you want!)
Cover with a kitchen towel and let it rise again until doubled in size, about 30 minutes.
Heat a pot of oil, over medium heat, until a candy or deep fry thermometer reads 375 degrees. If you don't have a thermometer, just toss an unlighted match into the oil when you think the oil is hot enough. If the match lights, then you can start frying your doughnuts.
Fry the doughnuts until golden brown and set them onto paper towels to absorb the extra grease.
Cut them in half and fill with the cream.
Dust some confectioner's sugar and cinnamon (optional) on the doughty and serve.
Cream:
Start by mixing the corn starch on 1/3 of the milk until dissolved.
Add the milk, the sugar, the egg yolks and the corn starched dissolved on the rest of the milk to a sauce pan and cook, over medium heat, for about 5 to 10 minutes or until thickened.
Turn the heat off and add the vanilla extract and the lime zest, if using.
Let it cool before filling the doughnuts.