Veggie Pub Sliders
Let's talk #MeatlessMonday!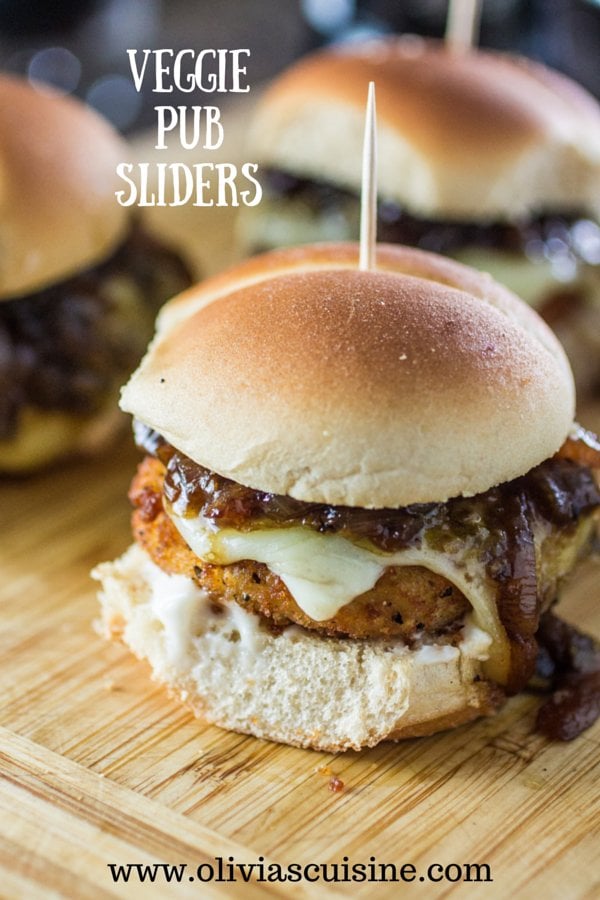 (This post was sponsored by the wonderful folks at Gardein, but all opinions are my own!)
Not all Mondays are meatless at the Mesquita-Sullivan household, but when they are, they'd better be good.
So last Monday I surprised my husband with these Veggie Pub Sliders but "forgot" to mention they were meatless. I used the Gardein Crispy Chick'n Sliders – that are made with plant protein but mimic chicken – as a base and he ate it without any clue it wasn't real chicken.
You should've seen the face of my meat-lover-macho-man husband when I told him the sliders were meat free! Priceless!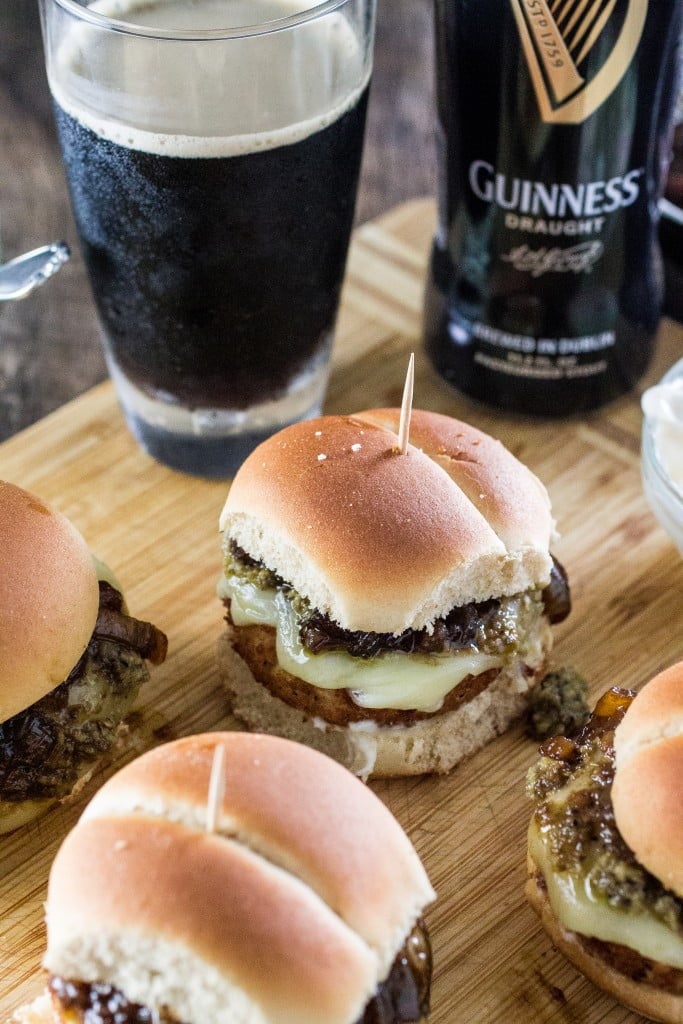 Also priceless was how Gardein saved me that day. I actually had time to take a bath and relax because I wasn't all day in the kitchen! Only a busy food blogger on a verge of a nervous breakdown knows what a gift that is! (Just kidding… I bet any woman can relate!)
I don't usually use frozen food, mostly because I like cooking with fresh ingredients, but this time it was a blessing! Not to mention the sliders don't taste like they were frozen. Not even the buns! Shockers!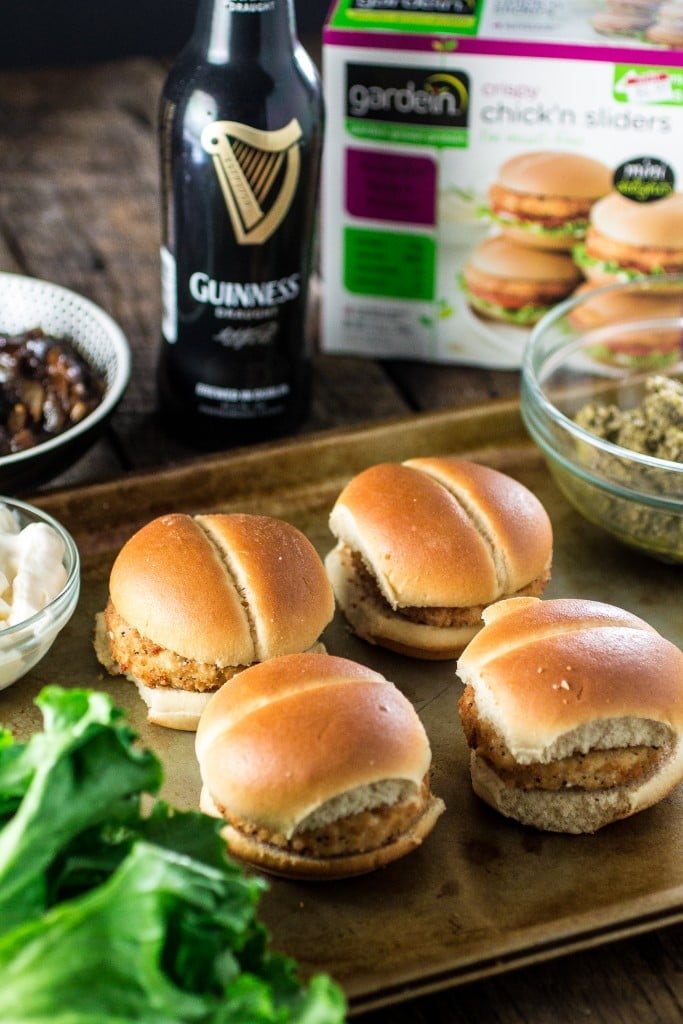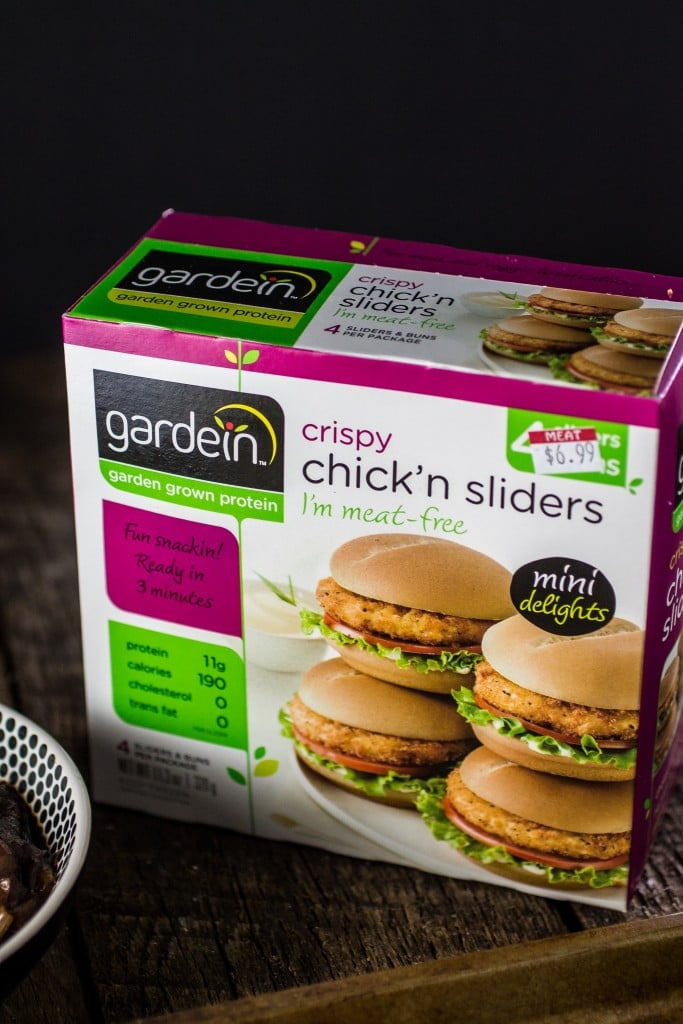 Gardein (garden + protein) is a plant protein brand offering a variety of delicious, convenient and versatile foods. It tastes good, is good for you and good for the planet. Yay, planet! The folks at Gardein create delicious, center-of-plate foods people love that deliver the taste, texture and nutrition of meat – with no cholesterol and less fat and calories. Also, their winning products are made from non-GMO soy and wheat, ancient grains and veggies. If you'd like additional information and chef inspired recipes, please visit their website here.
The Gardein Crispy Chick'n Sliders, which is the product I used to create those Veggie Pub Sliders, won the Better Homes and Gardens' Best New Product of 2014, voted on by over 70,000 consumers. In my book that means they are scoring BIG time! Oh, and did you know the sliders have 10g of protein per serving? Better than that, only if the buns were included. Oh wait… they are! ;-)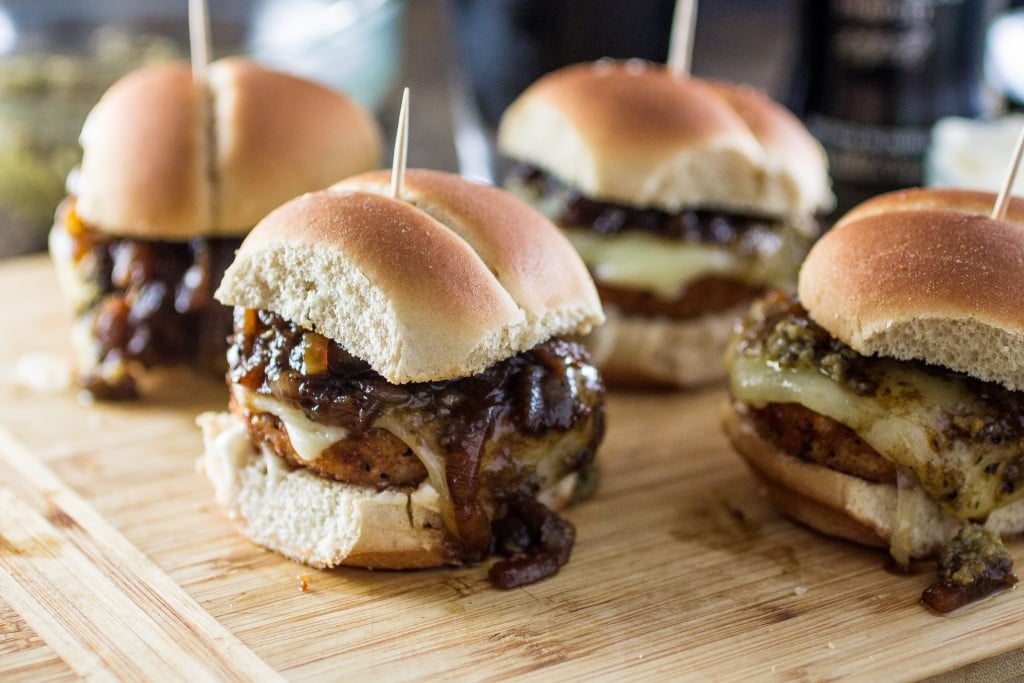 The veggie sliders are so good, they can be consumed as is. However, I wanted to pump them up a little bit and decided to give them a pub make-over.
I caramelized some onions with Guinness beer and made a vegan olive tapenade. Then I added some smoked provolone – that can be left out for a vegan version! – broiled the sliders until the cheese was melted and dinner was on the table in less than 30 minutes!
I don't know, friends, but this experiment was so successful I might start making Meatless Monday a thing in our home. I actually read that if every American ate meatless just 1 day a week for a year, it would be the equivalent of taking 1/2 million cars off the road. That alone should be enough to convince my carnivorous husband. And then I might throw in the conversation the fact that reducing meat intake just 1 day a week can have a considerable positive impact on our healths. It increases life expectancy while reducing the risk of heart disease, cancer, obesity and diabetes. I'm sold!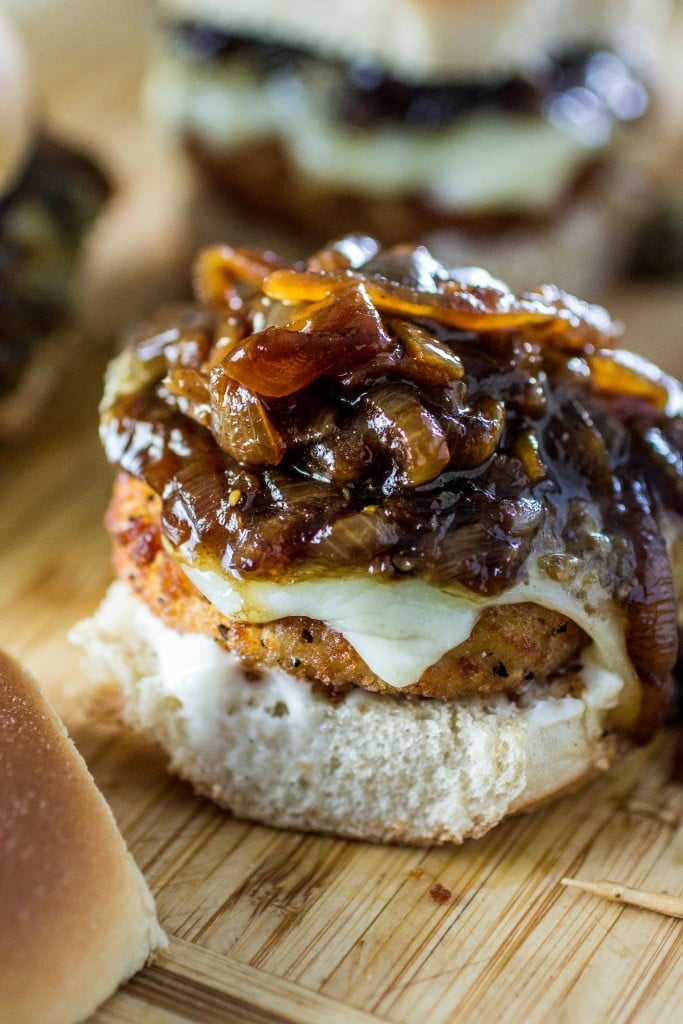 The Gardein peeps are so nice, they are giving you a $1 off coupon to encourage you to try their product!
But before you go on putting your shoes to run to the store, don't forget to print the recipe so you can get the other ingredients too! :) You will be feeling like the coolest kid in town for having a Meatless Monday night that also involve a pub style recipe with Guinness in it.
I bet your Monday nights were never this wild!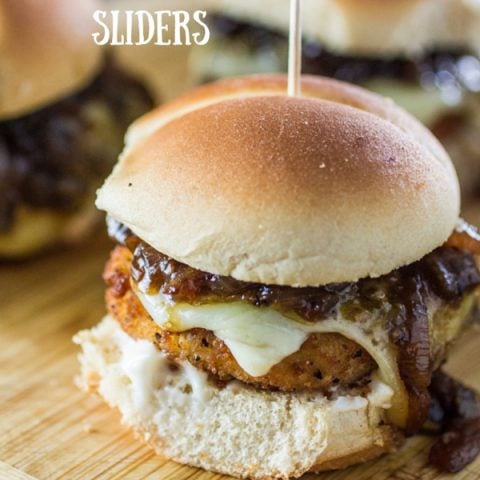 Veggie Pub Sliders
Yield: 8 sliders
Prep Time: 5 minutes
Cook Time: 20 minutes
Total Time: 25 minutes
Ingredients
Sliders:
8 tablespoons light mayo (optional)
8 slices of smoked provolone cheese (optional)
Frisée lettuce
Caramelized onions:
2 large onions, sliced
2 tablespoons olive oil
1 cup Guinness beer
1 to 2 tablespoons brown sugar
Salt and pepper to taste
Vegan Olive Tapenade:
1/2 cup kalamata olives
1/2 cup green olives
1 teaspoon capers (optional)
2 cloves garlic
2 tablespoons olive oil
1 teaspoon lemon juice
black pepper to taste
Instructions
Caramelized onions:
In a large skillet, over medium low heat, heat the olive oil and sauté the onions, stirring occasionally, until they start browning. Add the beer and the brown sugar and cook until thickened and reduced by less than half, about 20 minutes. Reserve.
Vegan Olive Tapenade:
Process the ingredients in a food processor until the desired consistency. I like mine smooth. Reserve.
Sliders:
Preheat oven to 350F degrees.
Assemble patties on a baking sheet sprayed with non stick cooking spray and bake them for 15 minutes, flipping them over halfway, until they are crispy.
During the last 3 minutes of cooking time, add the buns to the oven to toast.
Take the patties and buns out of the oven.
Turn the broil on, top the patties with the provolone cheese (if using) and pop them back in the oven until the cheese melts, about 2 minutes.
Lightly brush the bottom buns with mayo (if using) and then top with lettuce, the patties, a little olive tapenade and the caramelized onions.
Add the top buns and serve!