Blueberry Frozen Yogurt
Completely guilt-free, low fat and without any processed sugar!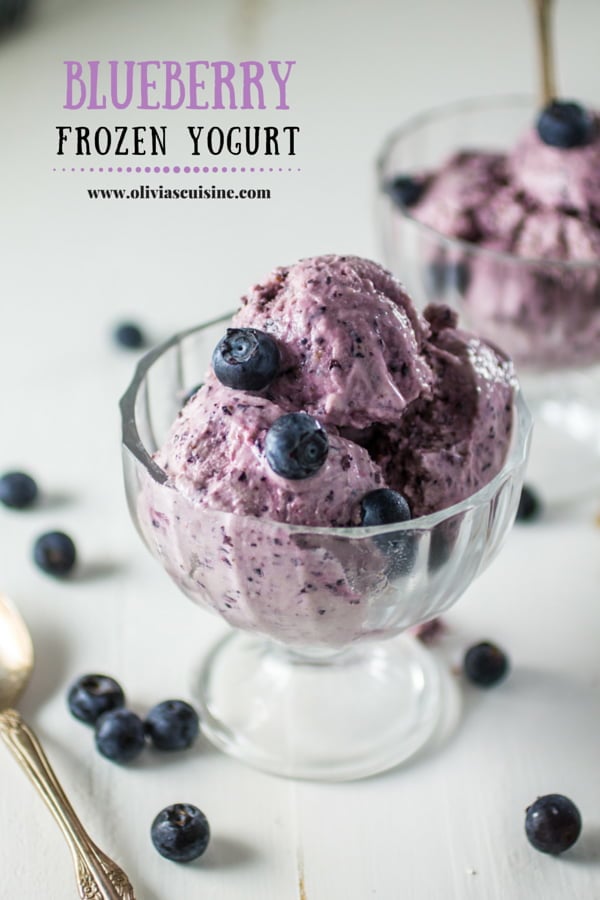 Yes, my friends, the word "guilt-free" finally appeared on this blog! Phew!
It is hard to be a food blogger that likes to post decadent dishes because that means EATING these dishes on a daily basis. But lately, with summer right around the corner, I've been craving healthier and lighter dishes. I mean, at least for those days when I'm not cooking with a lot of butter and cheese. :P
Do you also feel like that? Does the warm weather change your eating habits? I'm way more prone to eating salads and fruits now, for example. And having to wear short sleeves definitely makes me more aware of my weight. Not that I would go on a diet… I'm totally against diets! But I do start watching what I eat a little closer and I would love to lose some of that Fall/Winter weight.
And then I was given a copy of "Eat Right for Your Sight" by Jennifer Trainer Thompson and Johanna M. Seddon – with no obligation to do a review – and decided to try their recipe for Blueberry Frozen Yogurt. The weather here in NYC has jumped from Alaska winter to Rio de Janeiro summer in less than 2 months, so I'm officially declaring ice cream and frozen yogurt weather! It is time to dust off your ice cream machine, my friends! (Not that you need that to make this recipe! Yep, no ice cream machine here! It's an easy peasy recipe!)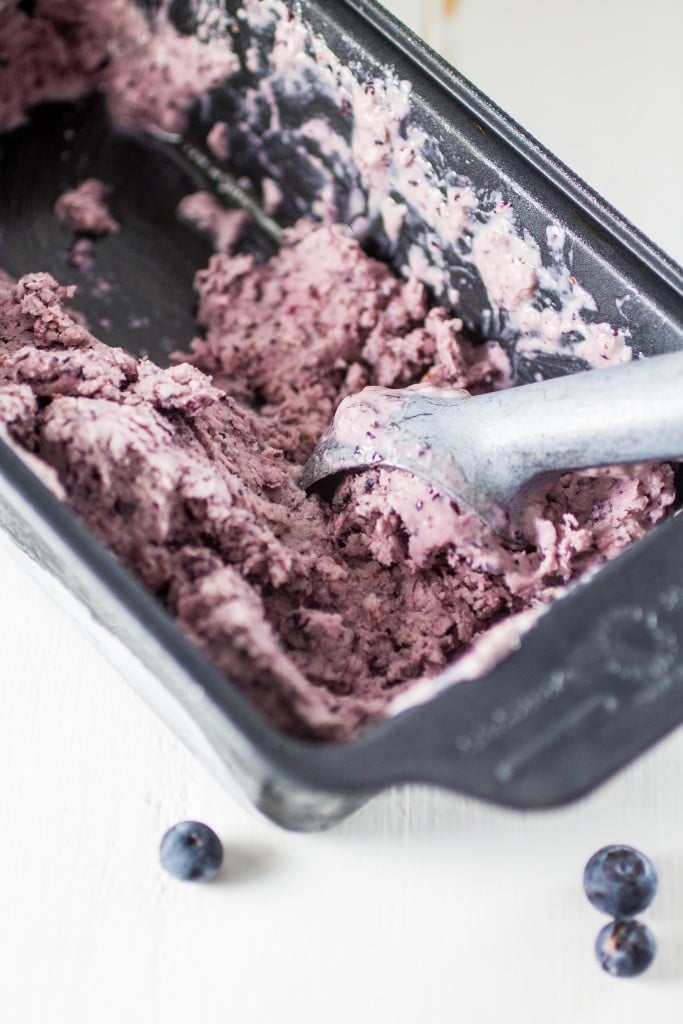 I gotta confess, before I came across this book I never thought of eating right for my eyes. I guess my eyes are not something I am aware of… Talk about taking it for granted, right? I have great vision, never needed glasses, nothing. My husband, on the other hand, is blind as a bat without his glasses.
Also, the only food I ever thought of being good for eye sight was… well, carrots… At least that's what my grandma always told me.
After reading the book, I am now aware of macular degeneration, which is an incurable disease that affects central vision and is the leading cause of blindness in people over 55 years old in the Western world. Judi Dench and Stephen King are examples of people who suffer from this condition!
"I fall all over the place like a mad, drunk lady", said Judi when she admitted to losing her eyesight earlier this year. She told the reporters that she can't even travel by herself anymore. I seriously cannot imagine how hard it must be, so I'm glad I got to do this post to support and raise awareness for this cause!
I am now more determined to pay closer attention to our poor eyes, especially my husband's (that are already bad!). It doesn't hurt to add to our lives things that are good for our sights! Especially when they are delicious like this blueberry frozen yogurt, which is packed with vitamin C, dietary fiber, manganese and antioxidants!!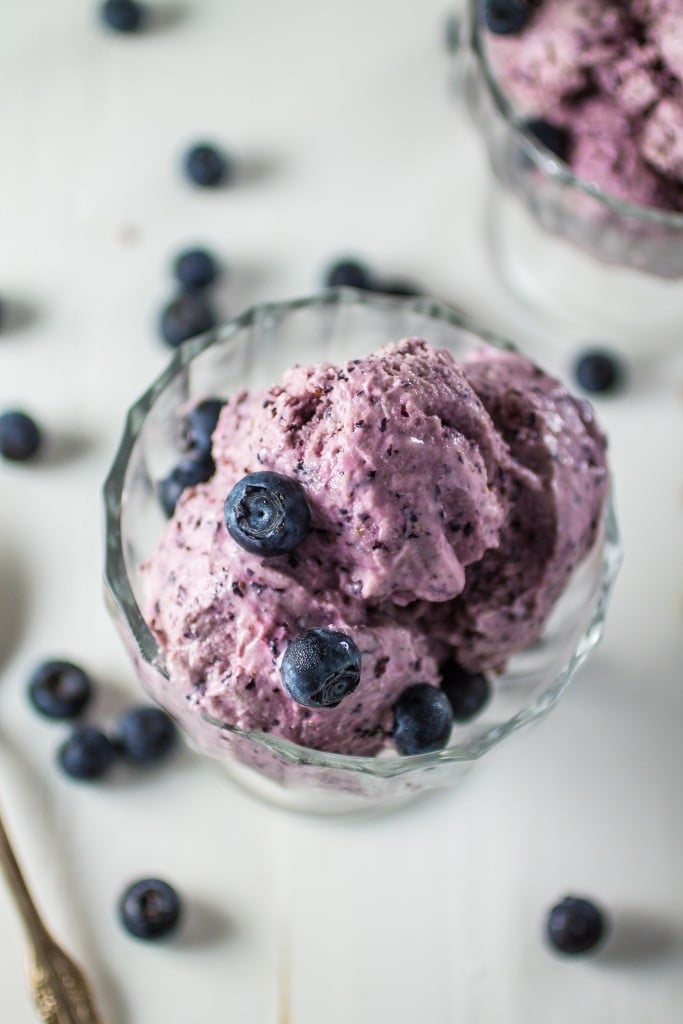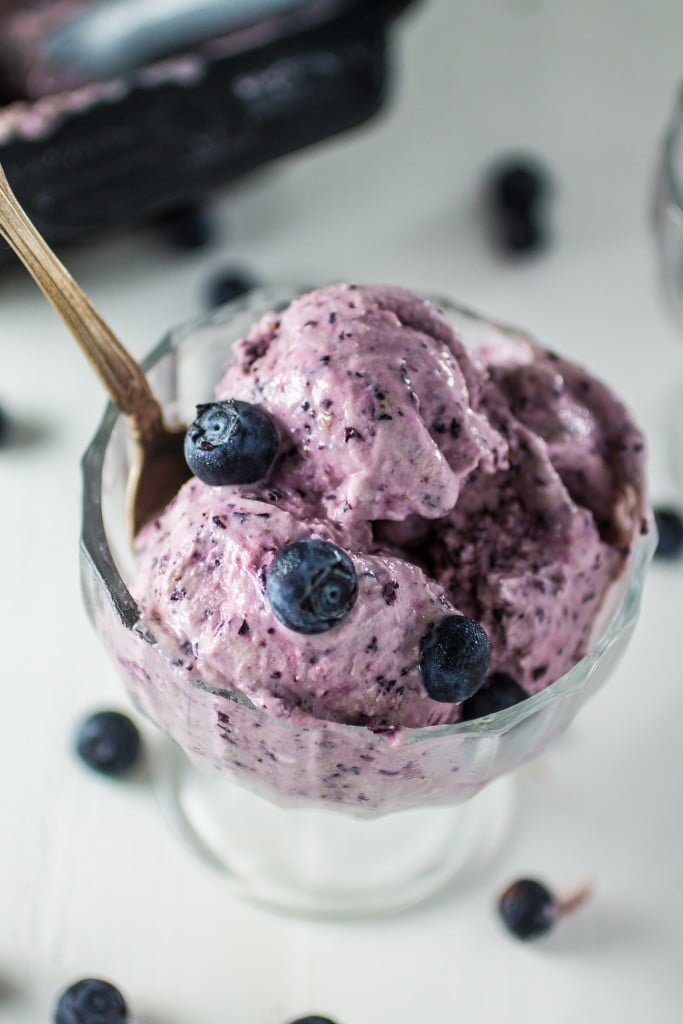 Besides blueberries, some other foods to look out for are: liver (eew! I'll pass on that one!), fish oils, egg yolks, dairy products, carrots (my grandma was right about at least one of those!), squash, broccoli, sweet potatoes, garlic, onions, apricots, leafy greens, almonds, walnuts and peanut butter. I'm happy with this list because I know my husband is into some of these foods and he drinks a ton of milk daily, which usually annoys me! Well, not anymore!
I was also browsing through the book and ended up giving the recipe for the Salmon with Peppered Balsamic Strawberries to my friend Jillian. I need to report that not only she loved it, she also took a bunch of pictures and is now completely obsessed with it… (Did I just create a monster another food blogger?).
As for the Blueberry Frozen Yogurt recipe, I slightly adapted it by substituting the sugar for raw agave nectar. It makes a nice healthy dessert for after lunch or weeknight meals, when you're trying to keep your sugar intake to a minimum. Not to mention it's good for your eyes! ;-)
"We are indeed much more than what we eat, but what we eat can nevertheless help us to be much more than what we are." – Adelle Davis
P.S. Wanna keep in touch? Follow me on
Facebook
,
Twitter
,
Instagram
or
Pinterest
to stay up to date with my posts! If you end up making one of my recipes, I would love to see it! Just take a photo and post it on your preferred Social Media and tag me or use the hashtag #oliviascuisine!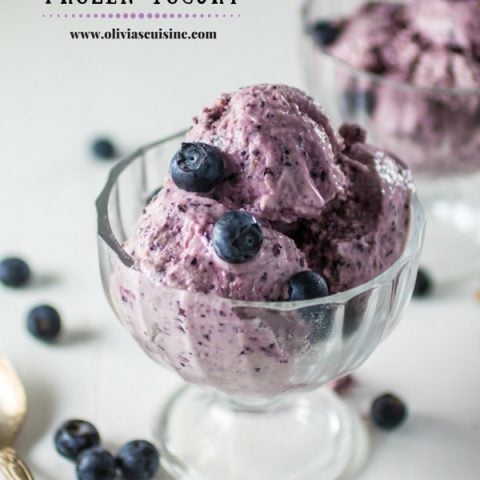 Blueberry Frozen Yogurt
Yield: 4
Prep Time: 4 hours
Total Time: 4 hours
Ingredients
3 cups fresh blueberries
2 cups low-fat greek yogurt
1/2 cup agave nectar
1/4 teaspoon pure vanilla extract
Instructions
Combine all the ingredients in the bowl of a food processor and pulse until very smooth.
Transfer to a freezer safe container (9 by 13-inch works best!) and freeze for 4 hours, stirring every hour.
When the mixture has set around the edges and is semi firm in the center, you're ready to serve.
Before serving, you can return the frozen yogurt to the food processor and pulse a few times so it softens/smoothens a bit, if you so desire!