Passion Fruit Ice Cream
This Passion Fruit Ice Cream was inspired on one of my favorite Brazilian desserts: passion fruit mousse. It is everything you need on a sunny summer day!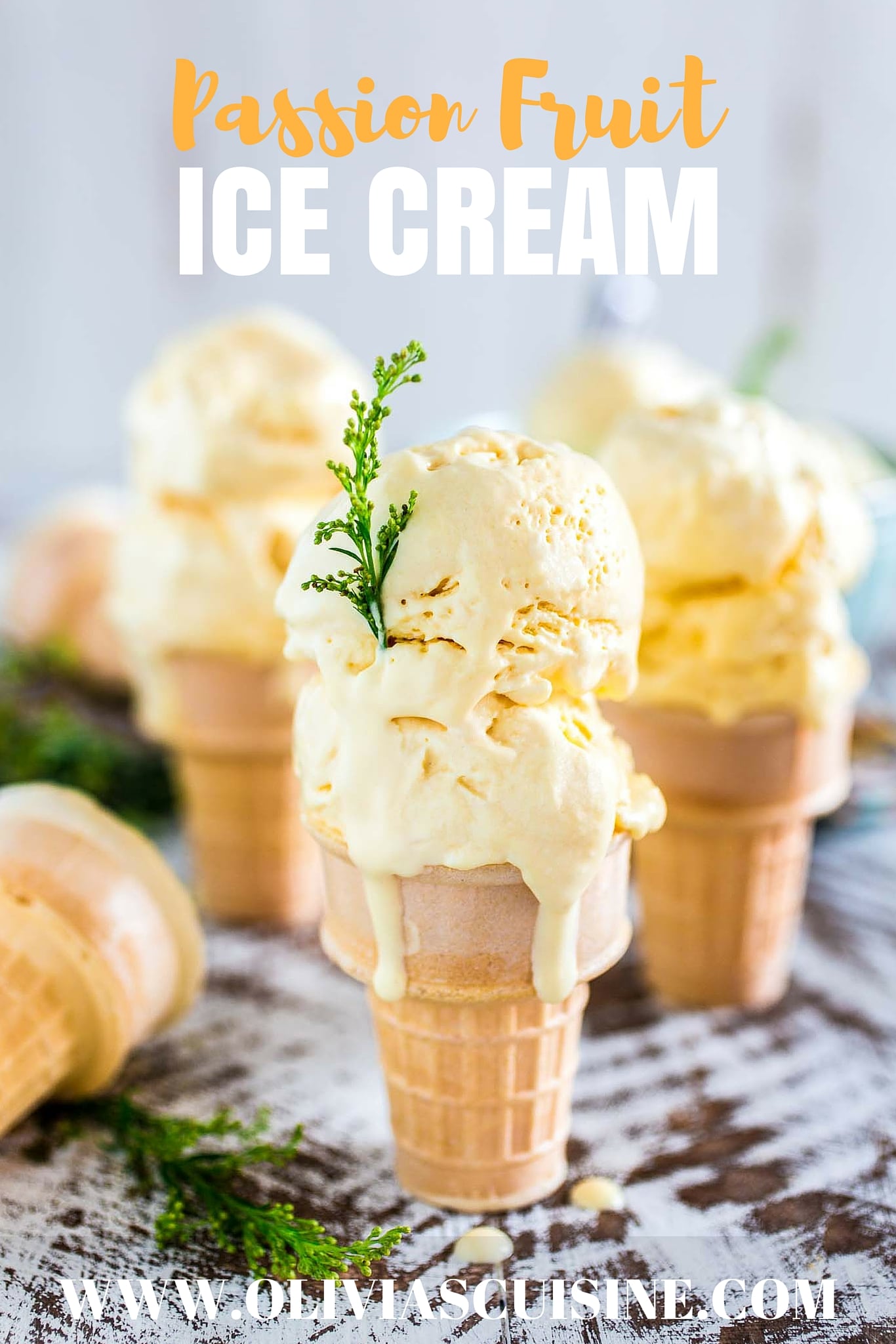 Here am I with another recipe for #IceCreamWeek! ???
I know I promised to post three recipes this week, but life happened and the last one is being pushed to next week. Please, please, forgive me! I promise it will be epic. Just like this one!
If there is one dessert I'll never say no to, it's Passion Fruit Mousse, or Mousse de Maracujá in Portuguese. It is my dessert of choice every time I go to a Brazilian restaurant here in the U.S. and there's always one in the fridge when I go home to Brazil.
So Passion Fruit Ice Cream was an obvious option when I was brainstorming ice cream flavors to post on the blog this summer!
The results don't disappoint. It is like eating a frozen version of my beloved mousse! It is sweet, tart, creamy and oh so tropical!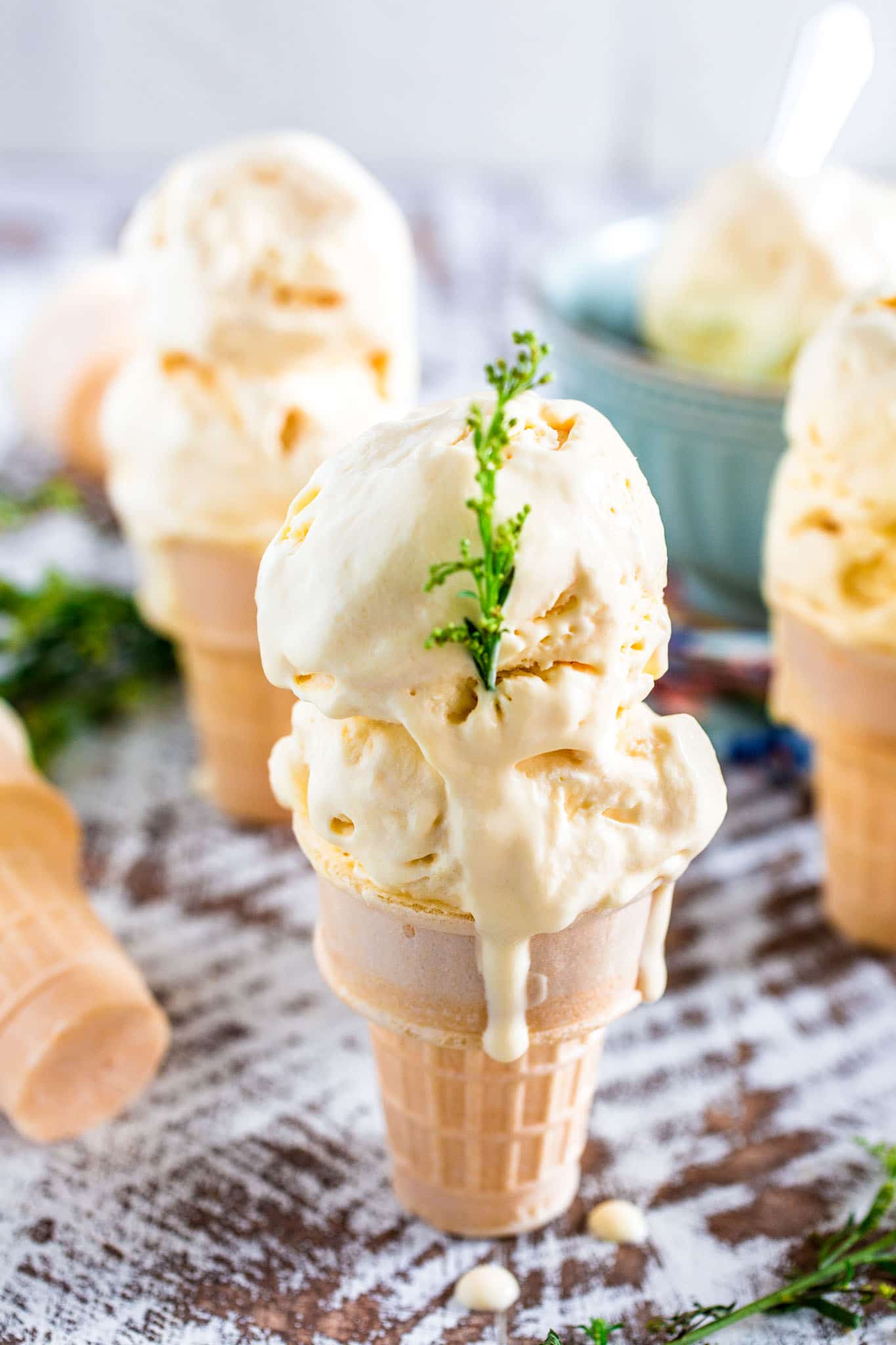 Now, one thing that is missing on my photos, is the optional sauce that I usually make from fresh passion fruit. However, I visited a few grocery stores and nobody had passion fruit.
It's not like they can blame it on being off season, because passion fruit is supposedly available all year round. But yet it is really rare to find one, at least where I live!
Add that to the things I miss from Brazil: always having fresh passion fruit. Or mostly any fruit, really! They are always in season.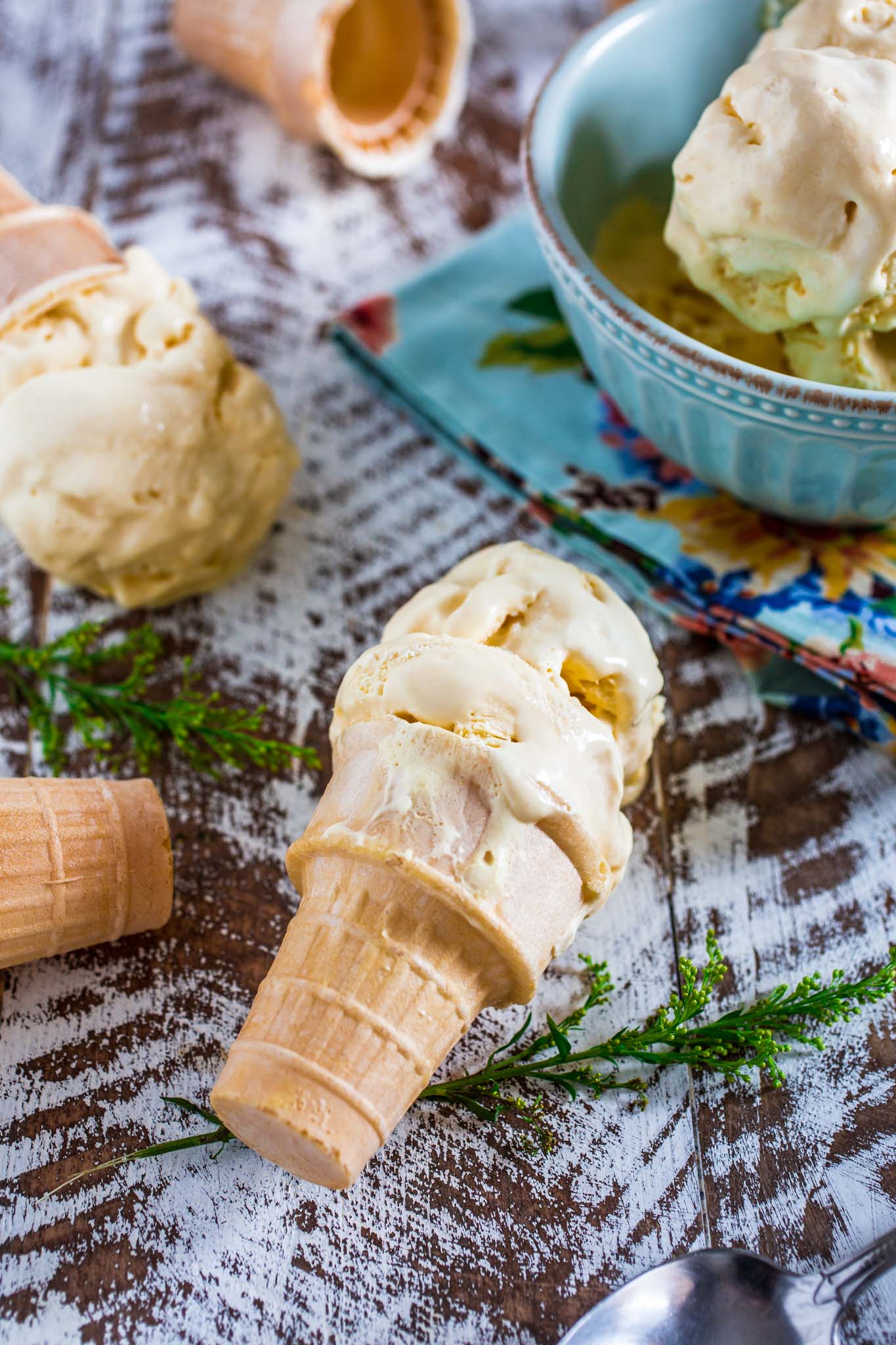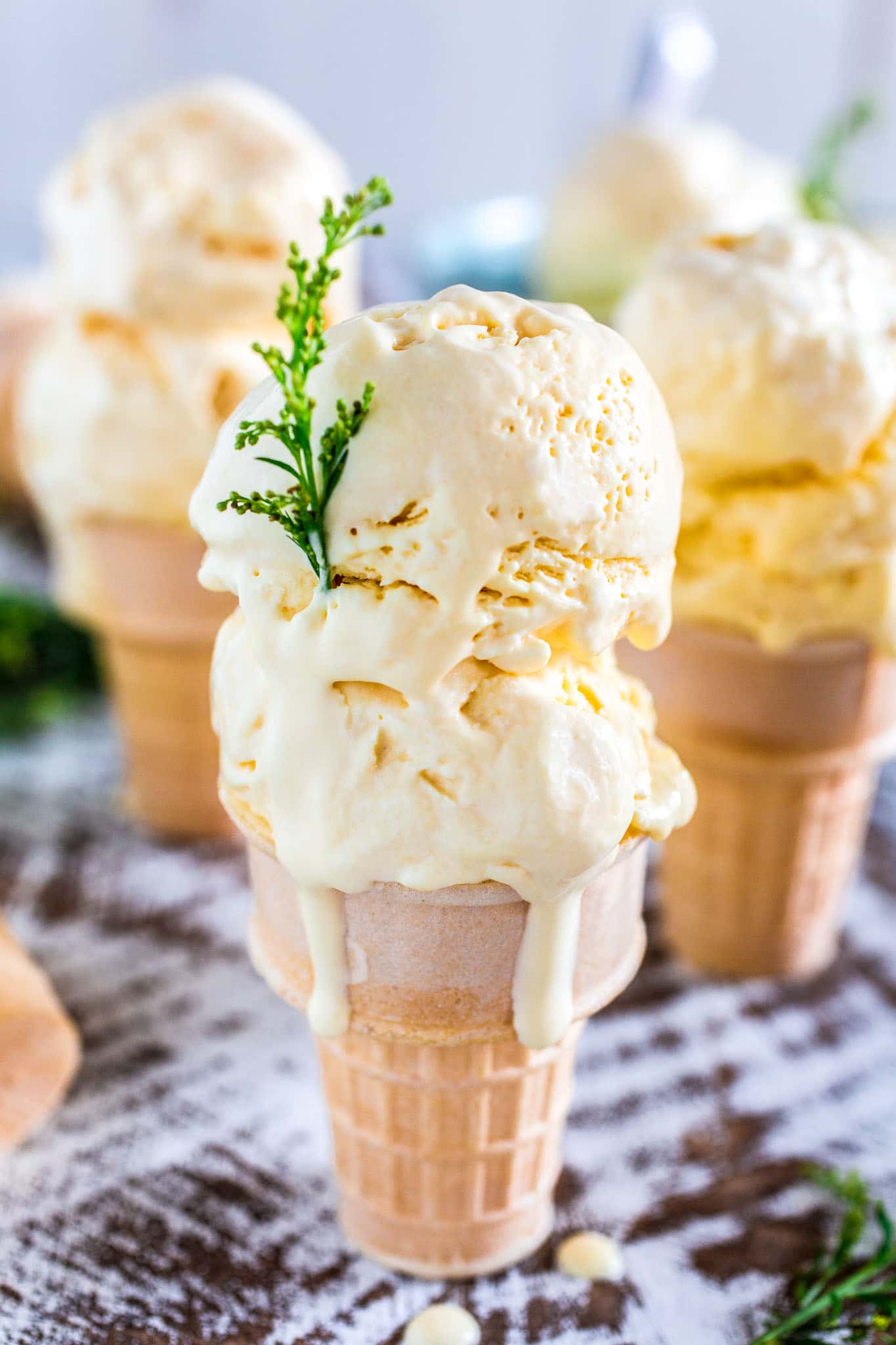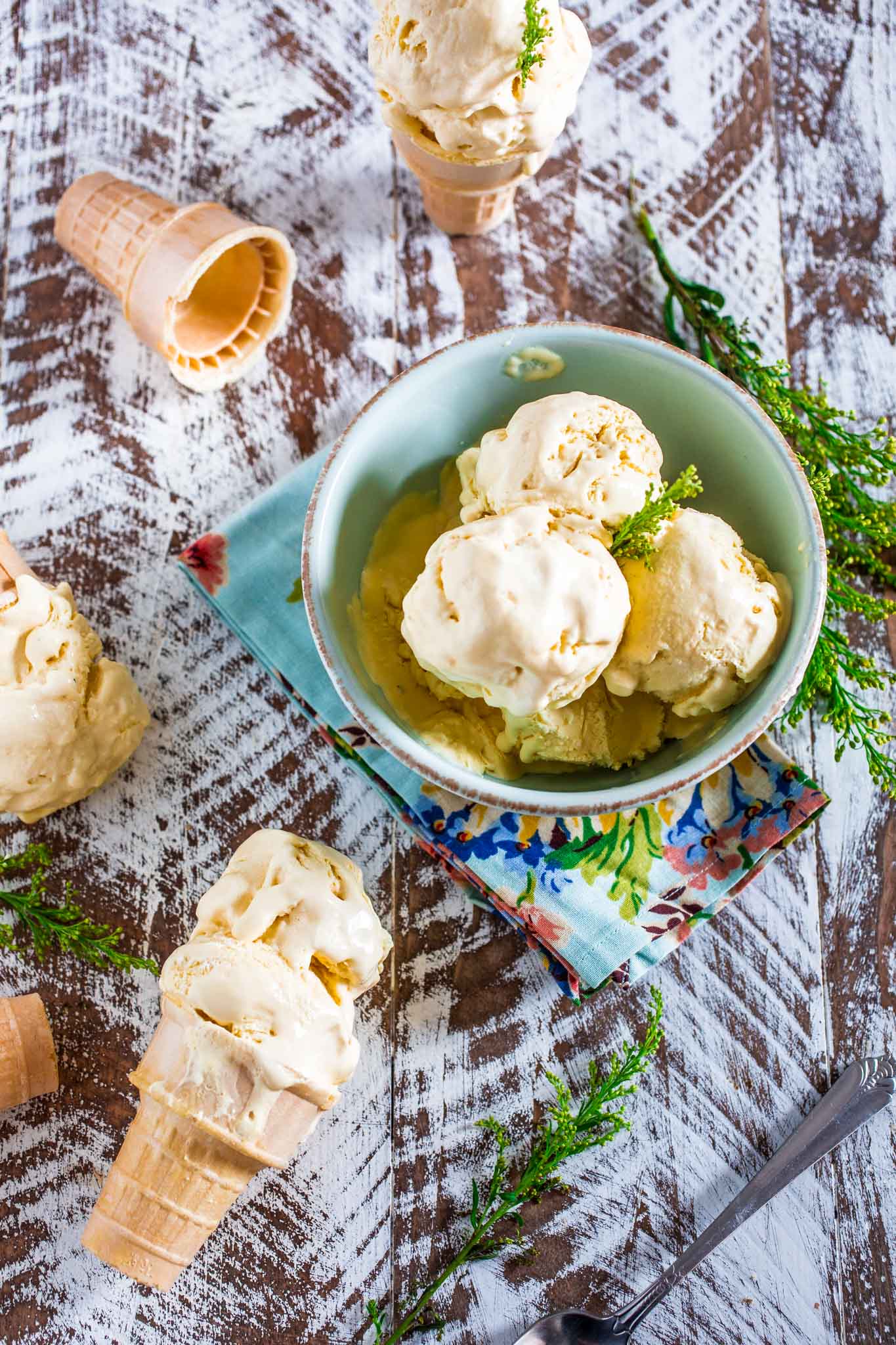 If you, like me, cannot find passion fruit, the frozen pulp is just fine to make the ice cream. Goya is one of the brands that I usually find at my supermarket.
If you're lucky and can get your hands on the real deal, make the sauce. It is delicious and looks great with the seeds (which are edible!). Not to mention, rumor has it that after eating a passion fruit, you'll fall in love with the next person your eyes fall upon! ???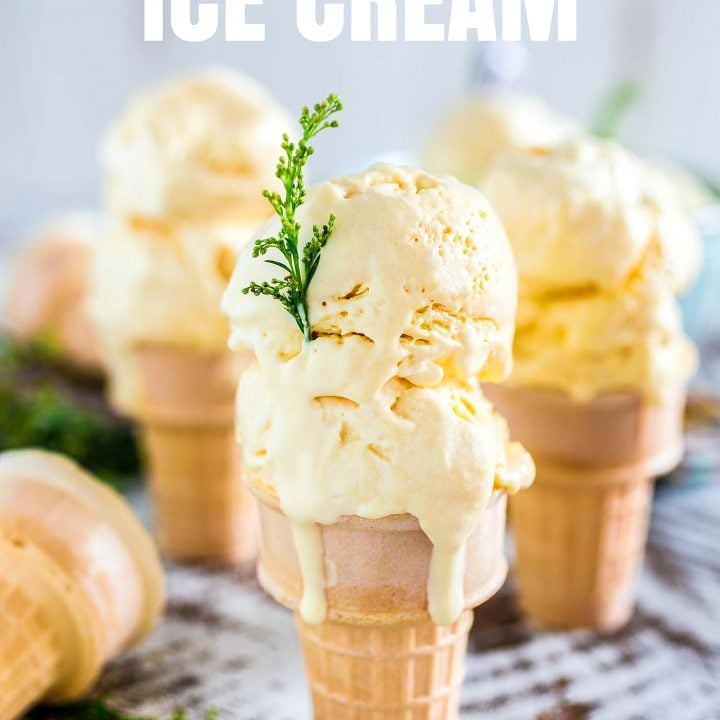 Passion Fruit Ice Cream
Yield: 1 pint
Prep Time: 5 minutes
Total Time: 5 minutes
Ingredients
Passion fruit ice cream:
1 can sweet condensed milk
14 ounces frozen passion fruit pulp, thawed (about 2 cups)
2 cups heavy cream, very cold
Passion fruit sauce: (optional)
1/3 cup fresh passion fruit pulp, with seeds
2/3 cup sugar
1 teaspoon cornstarch dissolved in 1 cup of water
A pinch of salt
Instructions
Start by putting your heavy cream in the freezer for 10 to 20 minutes, so it can be super cold!
To make the ice cream, whisk together the sweet condensed milk and the passion fruit juice. Reserve.
Using a hand or stand mixer, whip the heavy cream until it holds stiff, billowy peaks, about 3 minutes. Turn the speed to low and add the passion fruit/sweet condensed milk mixture. Mix just until combined.
Transfer the ice cream mixture to a freezer safe container and cover with a piece of wax paper, pressing it against the surface to prevent ice crystals from forming.
Freeze for at least six hours, or up to 2 weeks: The ice cream will become more firm the longer you let it freeze.
If making the sauce, drizzle over the ice cream before serving!
To make the passion fruit sauce:
In a saucepan, combine the passion fruit pulp, sugar and salt. Cook on medium low until it thickens slightly. Add the cornstarch dissolved in water and cook for a couple minutes longer, until thick. Remove from heat and let it cool to room temperature. Transfer to the fridge and chill for at least one hour before serving. It will keep in the fridge for up to a week.
Notes
This ice cream is not overly sweet and on the tart side. If you'd like it sweeter, add an extra 1/2 can of sweet condensed milk.
Don't forget to check out these other delicious ice cream recipes from #IceCreamWeek!
Monday
S'mores Ice Cream via A Cookie Named Desire
Coffee Chocolate Ripple Ice Cream via An Italian in my Kitchen
Unicorn Ice Cream via The Tip Toe Fairy
Tahini Ice Cream with Chocolate Chip Cookies via The Floating Kitchen
No Churn Honey Nut Ice Cream via Honey and Birch
Vegan Peanut Butter Chocolate Praline Crunch Ice Cream via Heart of a Baker
Peanut Butter Lovers Ice Cream via Cookie Dough and Oven Mitt
Cotton Candy Ice Cream via Homemade Hooplah
Butter Pecan Ice Cream via Zagleft
Bourbon Vanilla Bean Ice Cream via Vanilla and Bean
Mint Mojito Coffee Ice Cream via The Little Epicurean
Strawberry Banana Ice Cream via The Bitter Side of Sweet
Peanut Butter Ice Cream via Pretty Simple Sweet
Vanilla Rainbow Ice Cream via Go Go Go Gourmet
Lychee and Cherry Swirl Ice Cream via My Food Story
Brigadeiro Ice Cream via Olivia's Cuisine
Salted Pretzel Ice Cream with Chocolate and Peanut Butter via Cake Over Steak
Strawberry Black Sesame Ice Cream via Madeline Marie Blog
No Churn Caramel Chip Ice Cream via Fearless Dining
Tuesday
Horchata Ice Cream with Dulce de Lecha Swirl via A Cookie Named Desire
Strawberry Peach Ice Cream via The Tip Toe Fairy
Sweet Tea Ice Cream via Cookie Dough and Oven Mitt
Blueberry Lemon Ice Cream via The Bitterside Of Sweet
Friday
Maple Ice Cream via A Cookie Named Desire
Finding Dory Ice Cream via The Tip Toe Fairy
Passion Fruit Ice Cream via Olivia's Cuisine
No-Churn Coffee Chocolate Chunk Ice Cream via Honey and Birch
Also, the giveaway is still happening! Enter for a chance to win some awesome prizes: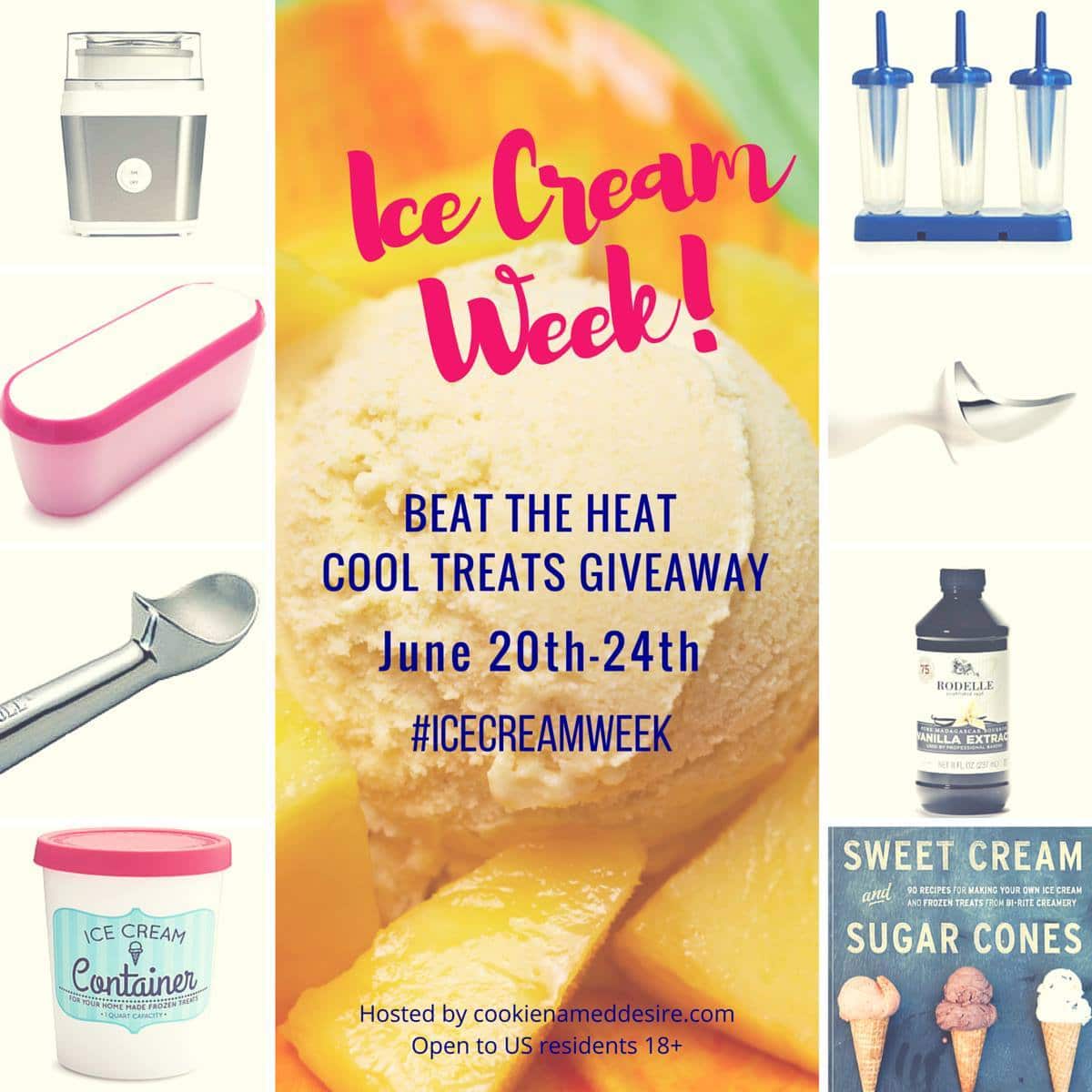 a Rafflecopter giveaway