Muhammara (Red Pepper and Walnut Dip)
Need a break from the good old hummus? Looking for a good dip that you can serve at one of your summer gatherings? The answer is: Muhammara! A Middle Eastern spread made with roasted red peppers and walnuts.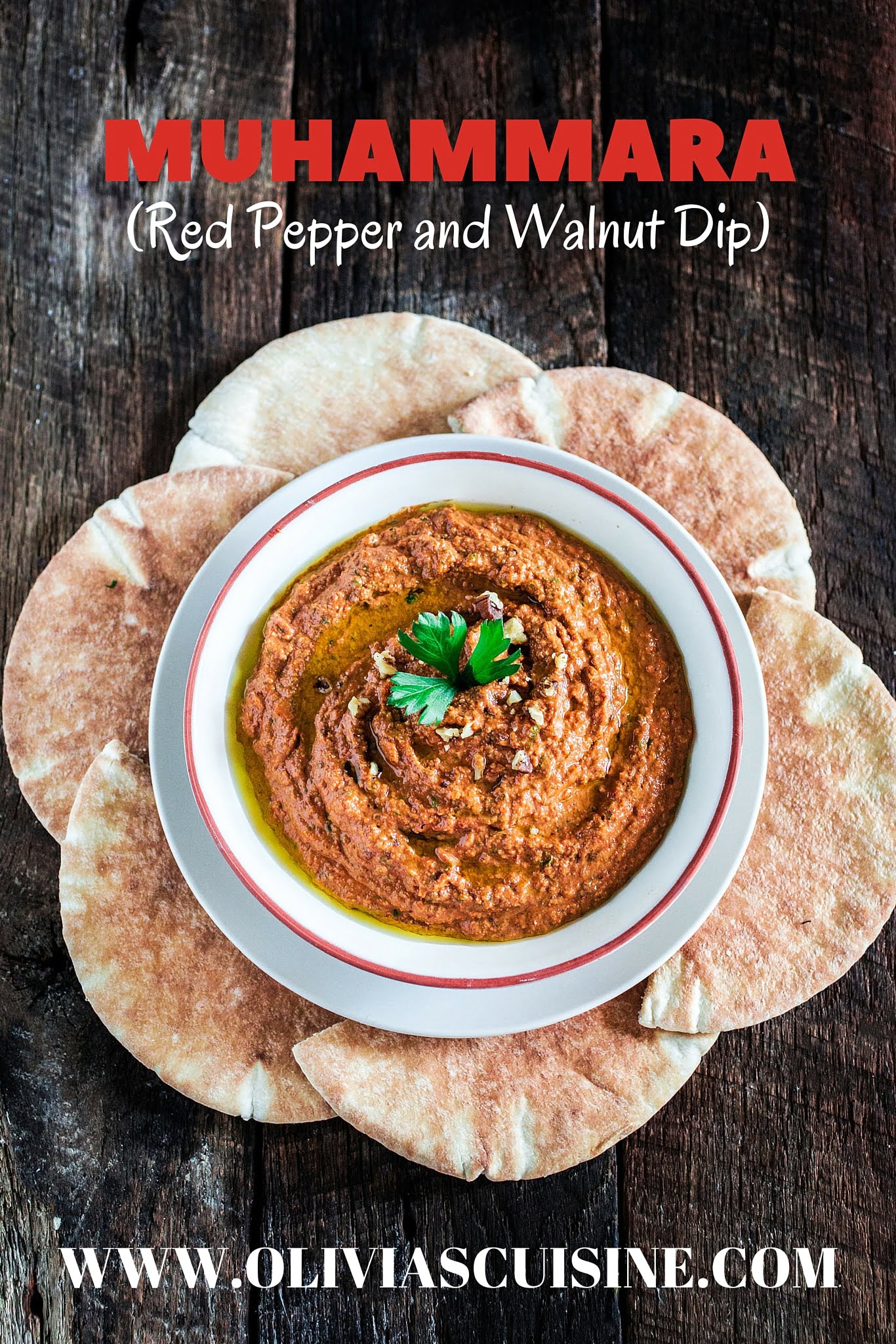 (Today's post is sponsored by the awesome folks at Mezzetta.)
It's officially summer, you guys!
And that means it's officially grilling season, picnic season and all things outside season. I mean, we've all been doing all these things since Memorial Day, but Summer Solstice – the longest day of the year – was yesterday, so we can now proclaim summer time!
We even got a rare strawberry moon with the solstice! Did you see it? I didn't! I never see those things until later in the news. Except this one time when I read beforehand that we would get a super moon, or blue moon, or whatever the trendy phenomenon was. So, even though I was tired, I waited until late and went outside and guess what? It was no big deal. Just a boring tiny moon!
Tim and I proceeded to take pictures a la Tower of Pisa style, but with me "holding the moon" in between my thumb and index finger. Ha! At least we were able to laugh at the situation.
But, anyways, it's summer. And we should throw a party to celebrate!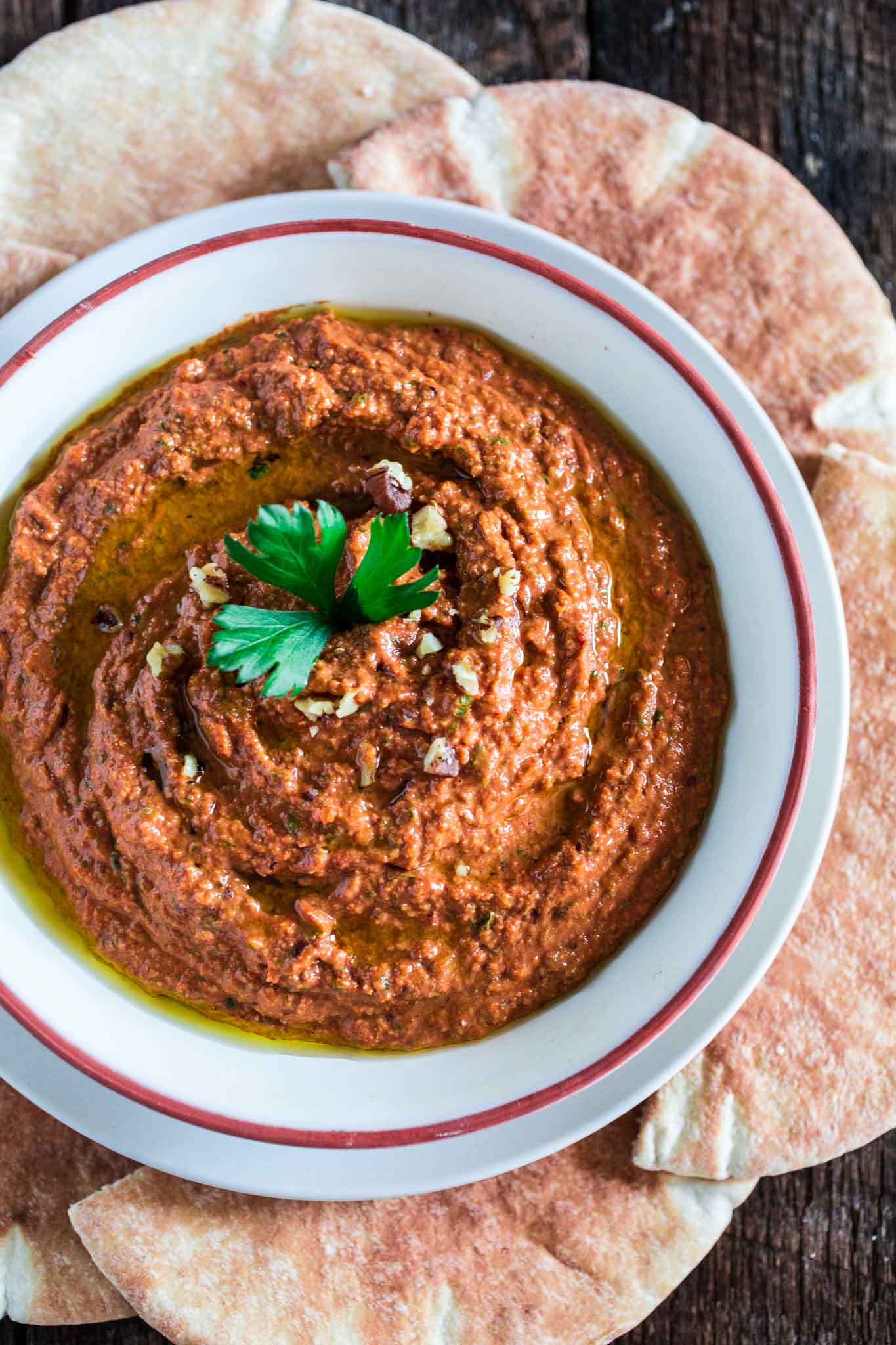 The Muhammara – a Middle Eastern dip that originated in Aleppo, Syria – is a delicious and easy option if you're looking for an appetizer to serve at your next soiree.
All you have to do is toss all the ingredients in a food processor and process until smooth! The beautiful, bright colored dip will be ready to serve in less than 5 minutes.
No more last minute frantically running up and down the store-made dips aisle of your supermarket, just to end up grabbing the same old container of hummus. Hummus is delicious, no question, but your guests might be a little tired of seeing it at every single party!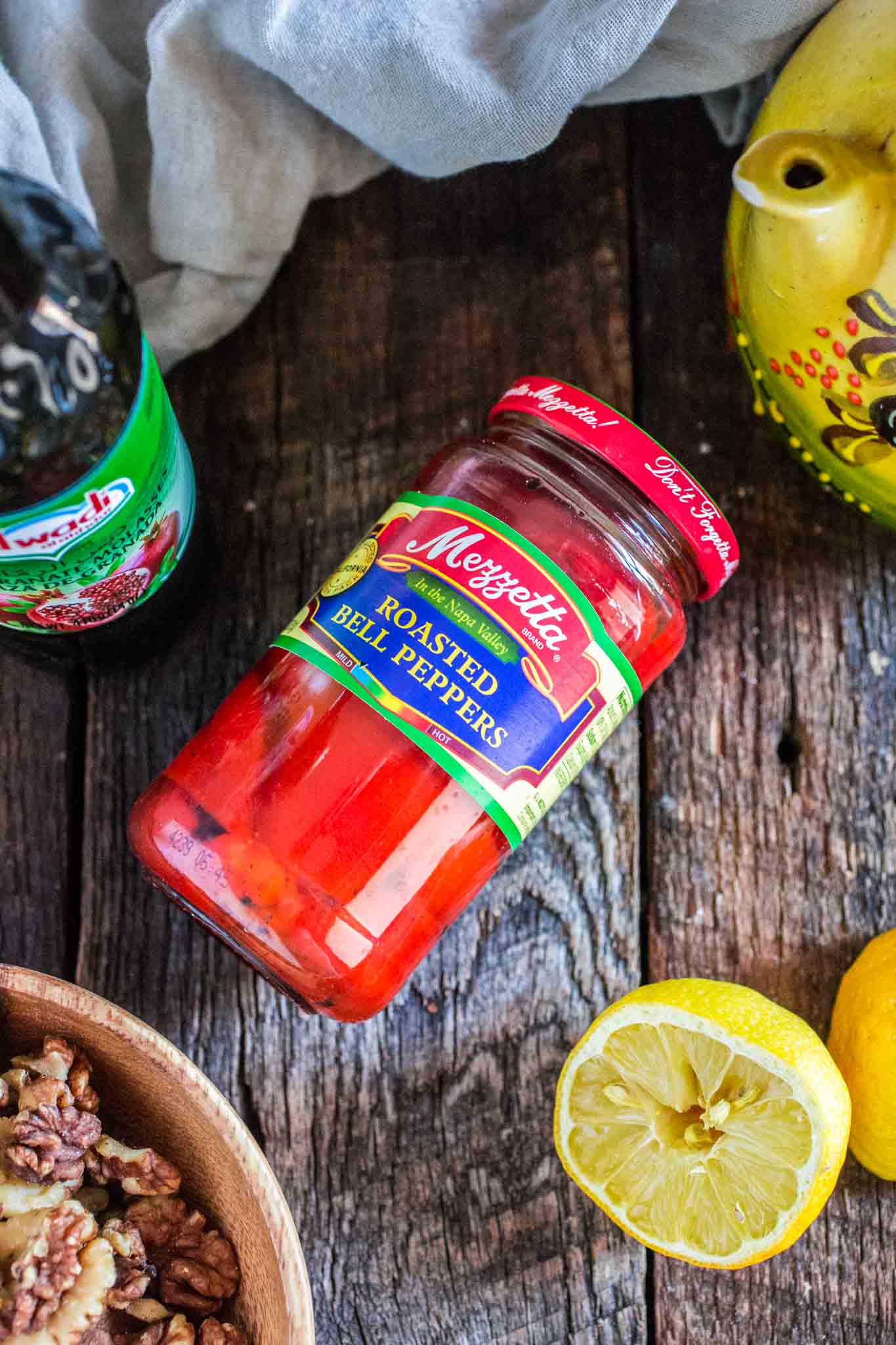 To make my life even easier, I use a jar of Roasted Bell Peppers from Mezzetta.
I don't know about you, but I am strongly avoiding turning my oven on. Summer just started, but we are seeing temperatures in the high 80s here in the East Coast! So I'm really glad Mezzetta roasted my bell peppers for me.
If you've been following my food journey for a while now, you know how much I love Mezzetta's products. I've made several recipes using not only their peppers, but also their olives and tomato sauces!
Mezzetta Peppers are the number 1 jarred peppers in the United States, harvested at the peak of ripeness from local farmers around the world, and infused with delicious flavors from their proprietary brines!
The only work you'll have to do is to open a jar. Can't get much better than that, my friend! ?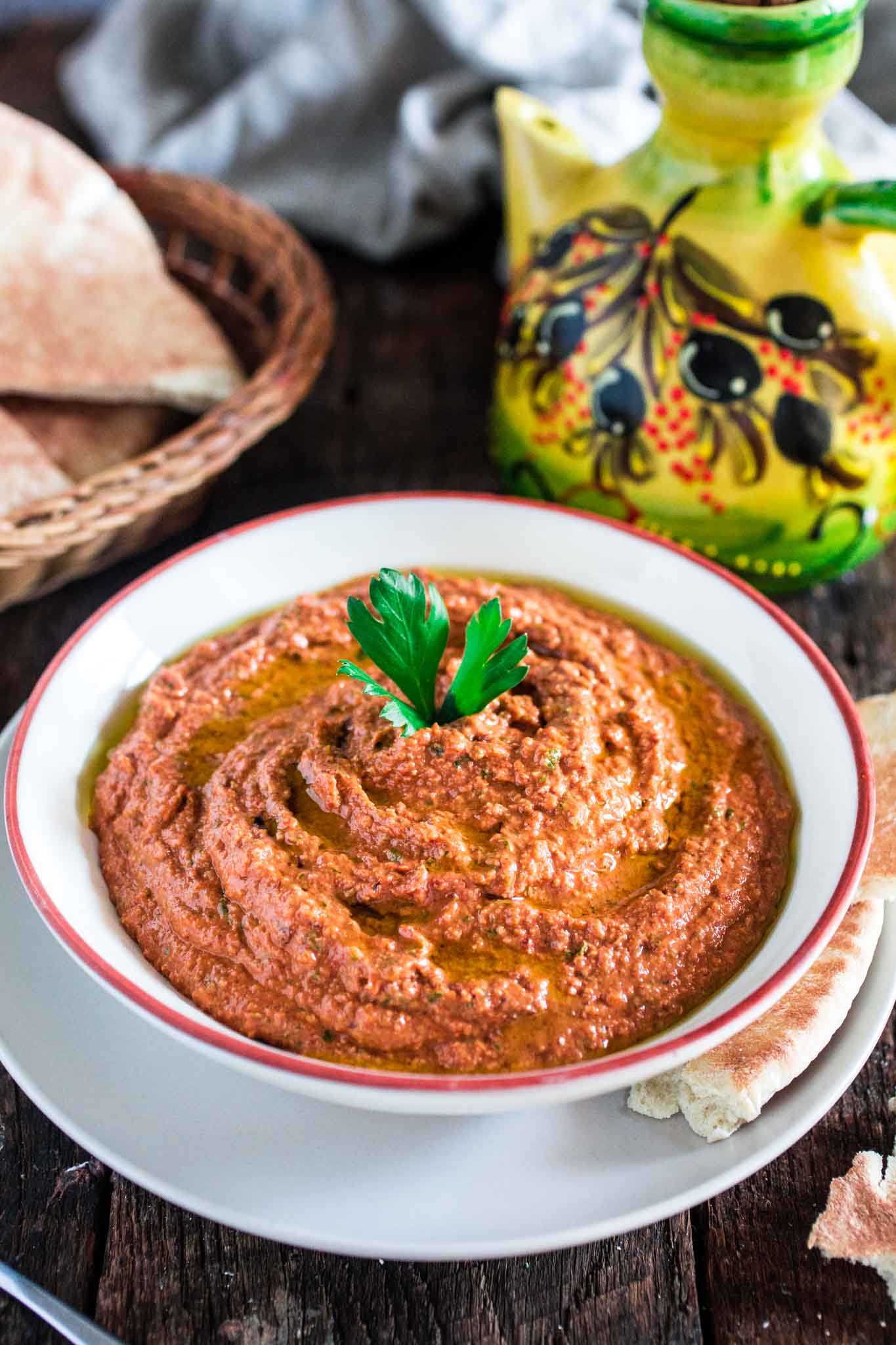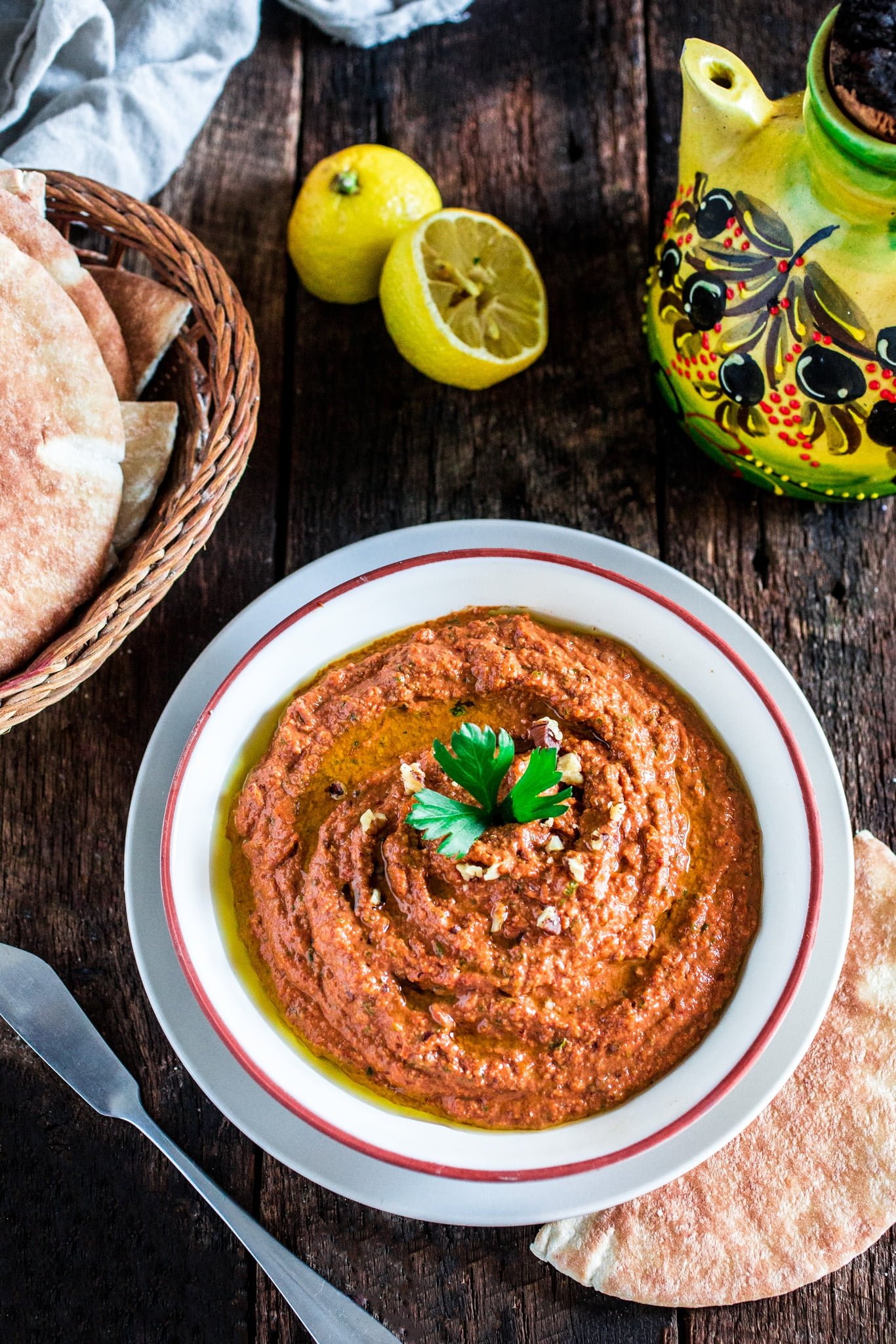 If you've read this post so far and is still trying to figure out how to say "Muhammara", don't fret, I had to Google it too! ??? It is pronounced 'mmmhamara' and means "very red".
No IPA here, just me trying to write the way I say it, by prolonging the "m" at the beginning. Got it? That's the best you'll get from me, given that I don't speak Arabic. So don't go showing this to anyone, okay? ? If you happen to speak Arabic and can help a sister out, just leave a comment below correcting my pronunciation. I love learning new things!
Also, before I offend someone, let me mention that this dip is also found in Levantine and Turkish cuisines. In western Turkey you will find it as acuka.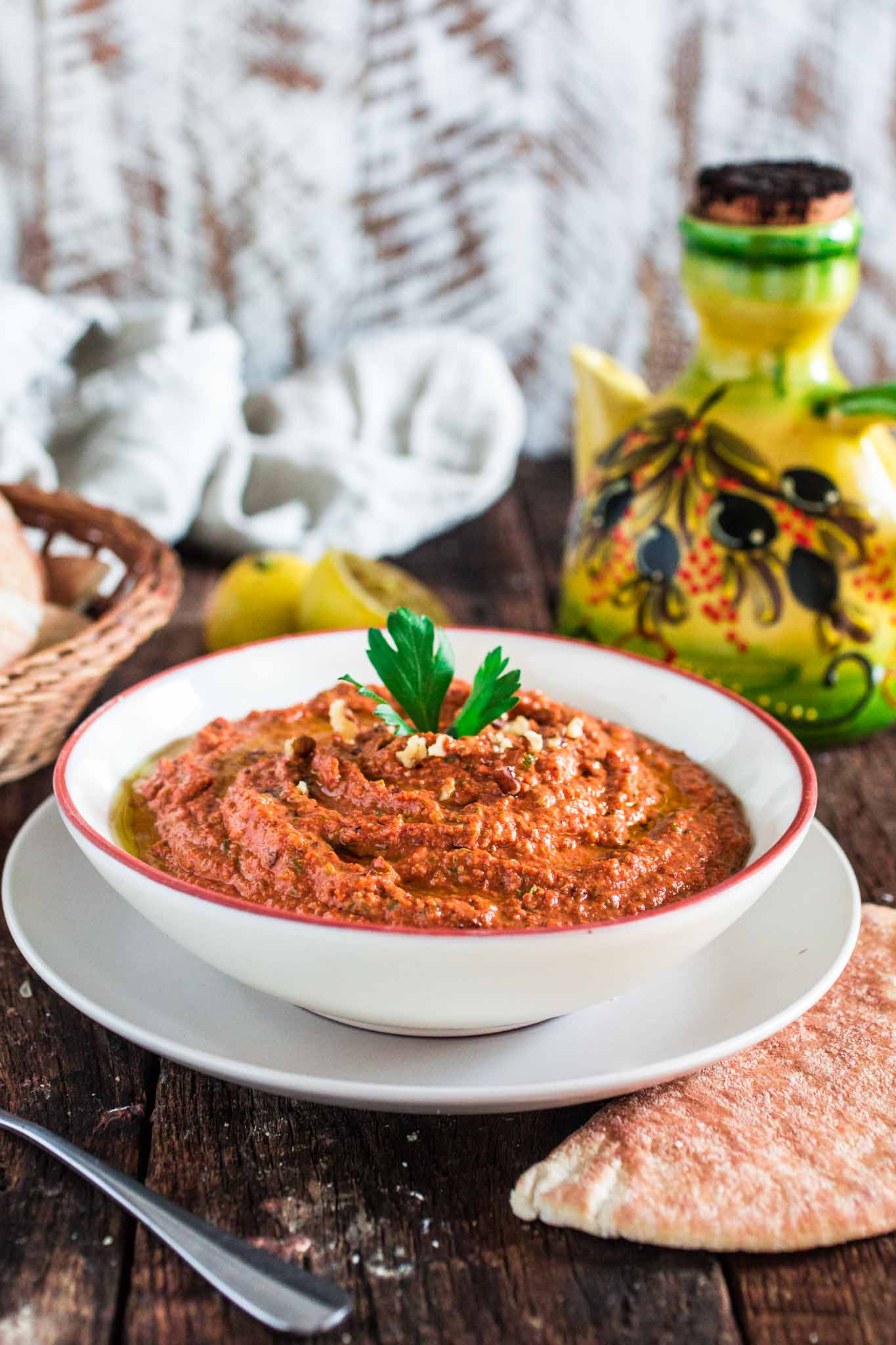 The Muhammara is very versatile in its uses: it is a great dip served with pita bread or chips but also a great spread for sandwiches and a tasty sauce or marinade for grilled chicken, fish and meat. I was even tempted to add it to my pasta!
The pomegranate molasses really makes a difference in this recipe, so I strongly urge you not to skip it. I was able to find it at Whole Foods, but if you can't find it anywhere, you can make your own!
And, finally, some good news. The folks at Mezzetta are so awesome that they are hosting a giveaway with some HOT prizes, including a Weber Grill. It runs until July 15th, 2016, so hurry and enter now.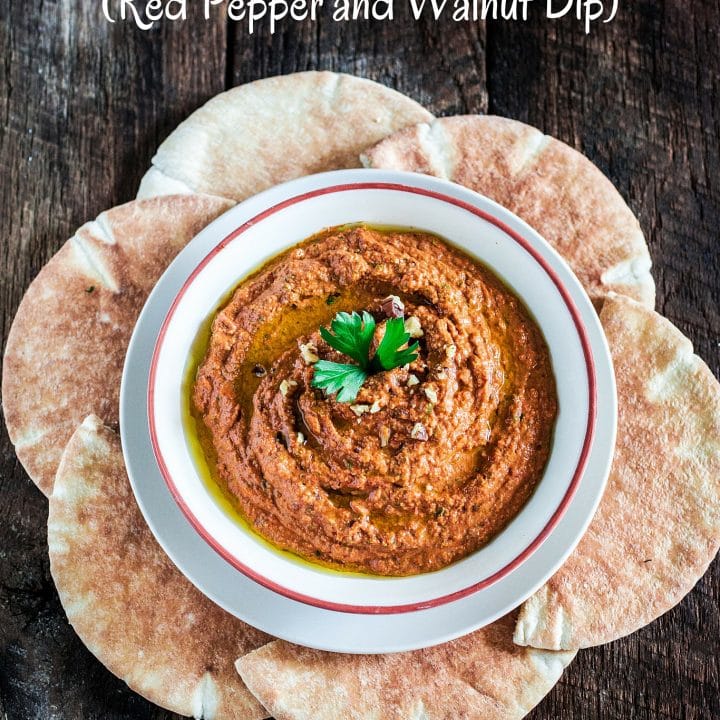 Muhammara (Red Pepper and Walnut Dip)
Yield: 2 cups
Prep Time: 5 minutes
Total Time: 5 minutes
Ingredients
1 cup roasted red peppers
1 cup walnuts, lightly toasted
1/2 cup chopped scallions
1 teaspoon freshly squeezed lemon juice
1/2 teaspoon ground cumin
1 teaspoon red pepper flakes (preferably Aleppo), or to taste
2 teaspoons pomegranate molasses ***
1/4 cup extra virgin olive oil
4 tablespoons bread crumbs
Salt, to taste
Pita bread, for serving
Instructions
Combine the peppers, walnuts, scallions, lemon juice, spices, molasses, olive oil and salt in the bowl of a food processor. Process until smooth and then add the bread crumbs, pulsing until the desired consistency. You can always add more breadcrumbs or olive oil if you want it thicker or looser.
Season for taste and fix it by adding more salt and/or red pepper flakes.
Transfer to a bowl and drizzle some more olive oil on top. If you want, you can also sprinkle some crushed walnuts over the top.
Serve with pita bread or pita chips.
Notes
If you can't find pomegranate molasses at your grocery store, here's a good recipe so you can make it at home!