Irish Soda Bread
Even if you're not Irish, this soda bread recipe is one you'll want to have in your repertoire. Easy, requires no kneading and tastes great, especially while still warm with a slab of butter!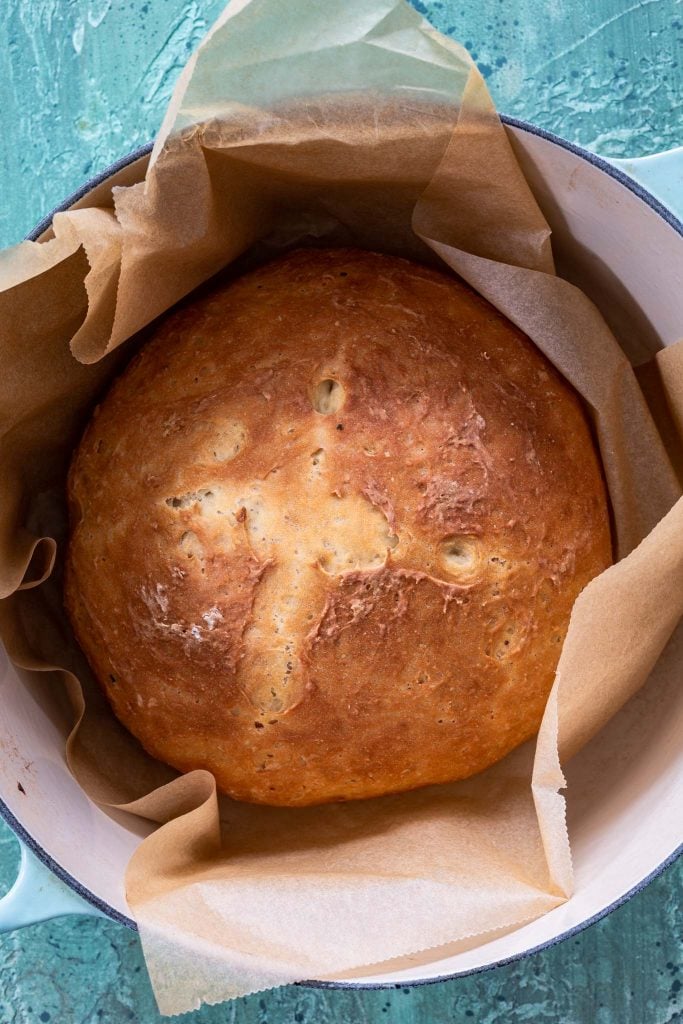 St. Patrick's Day is right around the corner and I still have a couple of Irish recipes to share with y'all!
In the spotlight today is a traditional Irish soda bread, just like it's meant to be with its signature dense and chewy texture, crunchy crust and subtle tang from the buttermilk.
My favorite way to eat it is when it's buttered while still warm, preferably with Irish butter. I've also been known for drizzling a little honey on it bread, especially if I'm having it for breakfast! This bread is also hearty enough that it's great to soak up a good beef stew, chili or soup.
Now, if you've never tried Irish soda bread before, don't eat it expecting it to taste like bread made with yeast. It's a completely different beast!
Yeast bread still has my heart, but a good soda bread recipe is great to have up your sleeve for when you want something quick but with that home baked appeal.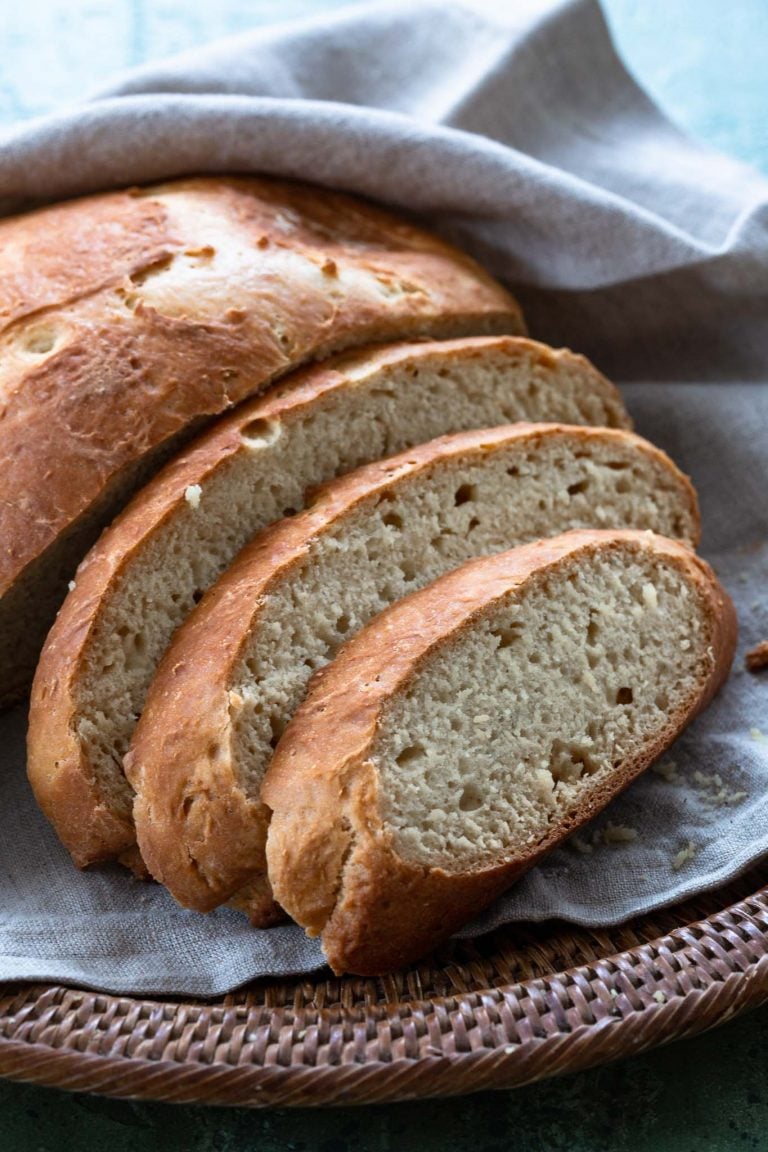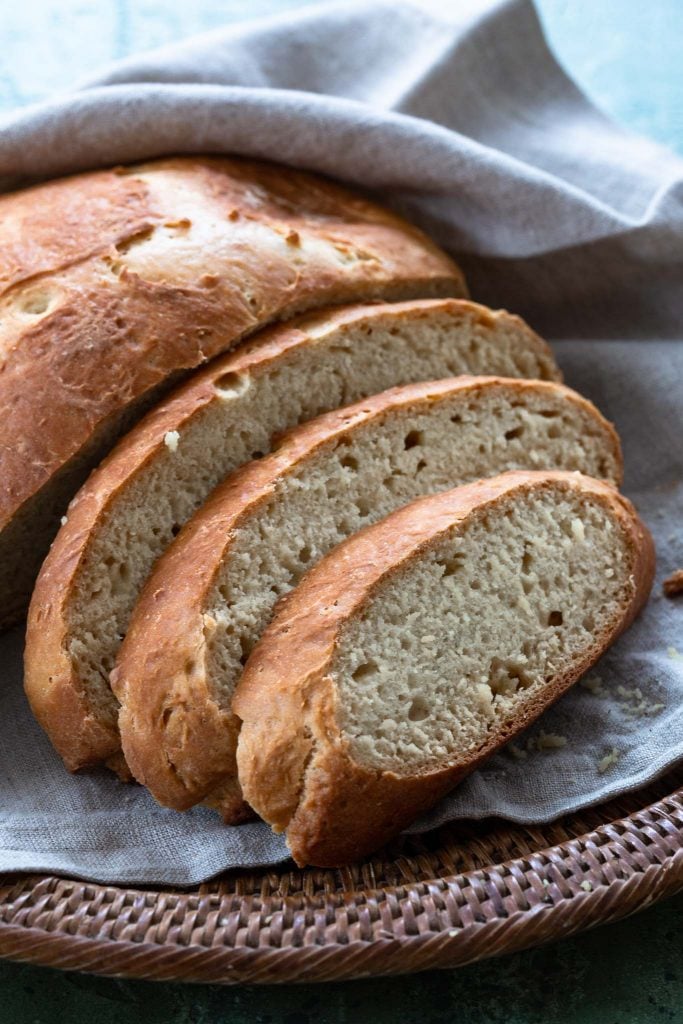 Is Irish Soda Bread really Irish?
We recently learned that corned beef like we know today wasn't really eaten in Ireland. Instead, it was the Jewish in America who introduced it to Irish Americans, who then made it famous, especially around St. Patrick's Day!
But what about soda bread?
Well, despite Irish soda bread not going as far back to the days of Saint Paddy himself, and rather only appearing in Ireland in the late 1830s, it is indeed part of the country's culinary identity and still baked at home by Irish families.
The traditional Irish soda bread recipe, not to be confused with the sweet soda bread studded with raisins that you see all over America during St Paddy's festivities, was born out of necessity.
In order to make the most of basic and inexpensive ingredients like flour, baking soda, salt, and soured milk, Irish home cooks came up with this quick and filling bread.
Before baking, a cross was traditionally cut on top of the loaf, because families believes that that would ward off the devil and protect their household.
The shape of the loaves, however, vary by region. While the South bake their soda bread in the traditional fashion – round with the cross on top – the Northerners like to divide it into four triangular shapes and cook them on a griddle!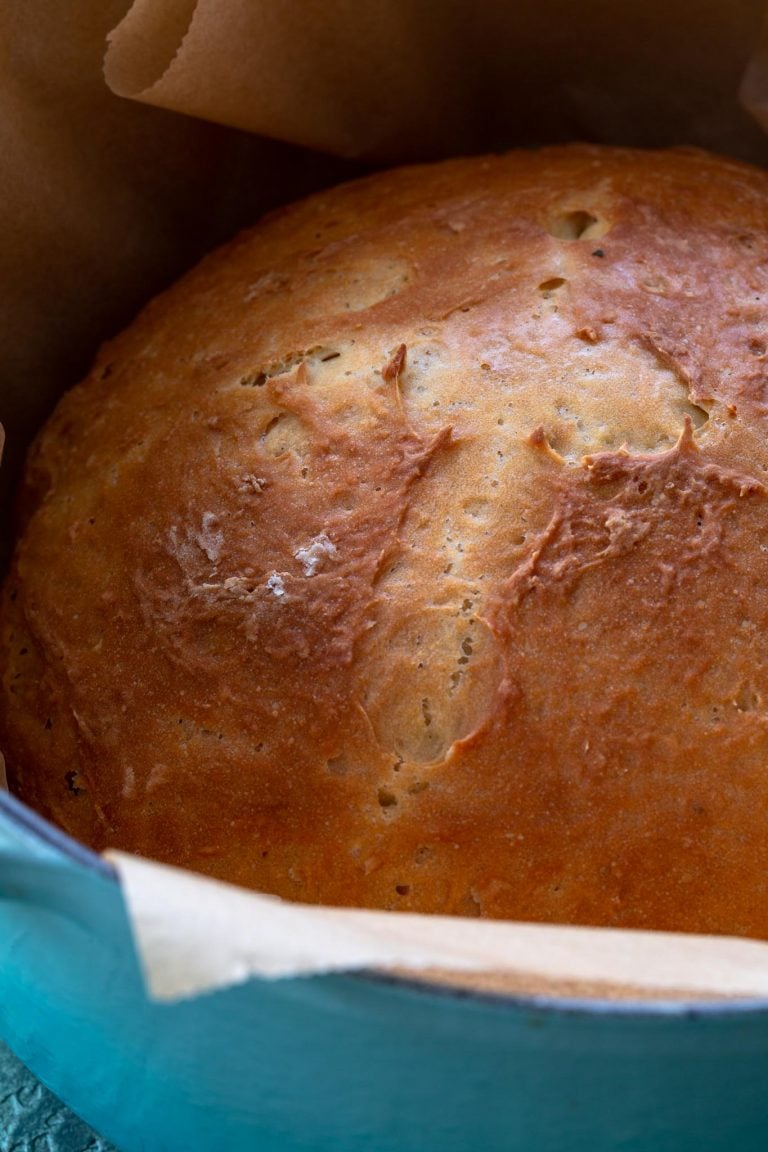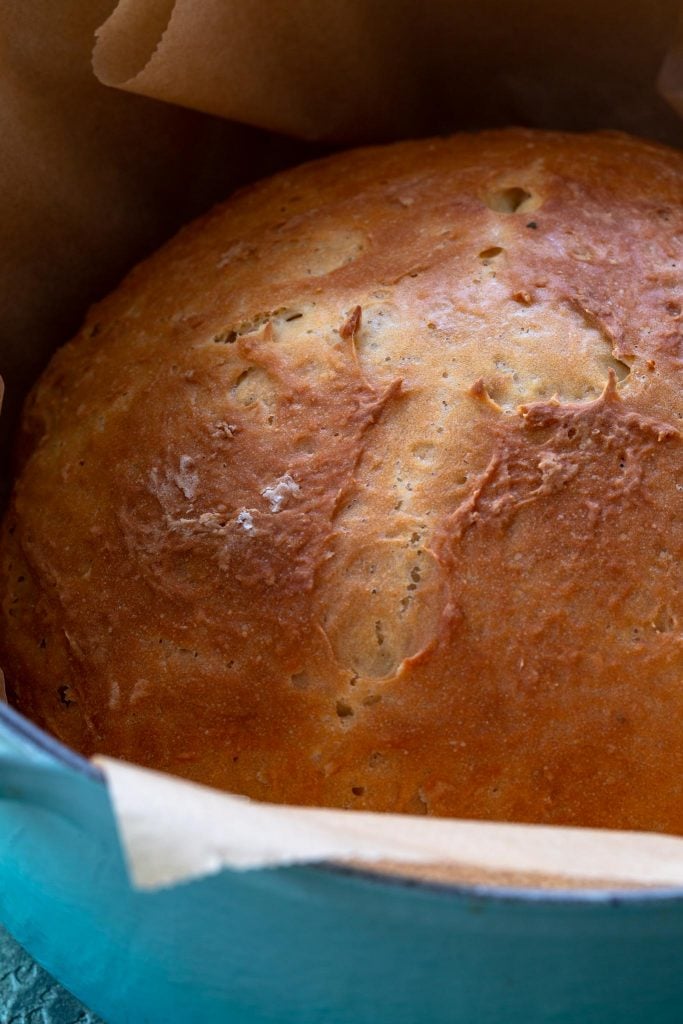 How to Make Soda Bread
The magic behind this cake lies on the reaction between acid and baking soda that results in the formation of small bubbles of carbon dioxide, which causes the dough to rise.
While sour milk was the common choice in the early day's of this bread's history, buttermilk is what is (thankfully) used today.
The "technique" is fairly simple. Just combine all the dry ingredients and then slowly add the buttermilk, mixing with your hands, until the dough comes together. A ball is shaped and baked in a dutch oven lined with parchment paper until a beautiful, golden brown loaf magically appears!
Now, while you can certainly just scrape the dough into the pan and still get a great, rustic soda bread, I like to give it just a little love for a smoother crust and an even crumb. Not kneading, per se, just a few extra folds after the dough comes together.
A few tips:
Baking soda tends to clump after a while. I highly recommend you press your baking soda through a small sieve, or breaking the lumps with your fingers, before measuring, so you don't risk biting into a unpleasant metallic lump.
Can't find buttermilk? You can make your own by adding lemon juice to regular milk (1 tablespoon per cup). Alternatively, you can use Greek yogurt thinned out with a little milk or water.
Sugar or no sugar? Traditionally, soda bread is not made with sugar. I also prefer it without it, but if you're into a sweeter loaf, you can add a couple tablespoons to 1/4 cup of sugar to this Irish soda bread recipe.
Finally, don't forget to make the cross cut in the center of your loaf with a sharp knife! It is also highly recommended that you prick the corner of each quarter with the knife. Ya know, you gotta let the fairies out! ;-)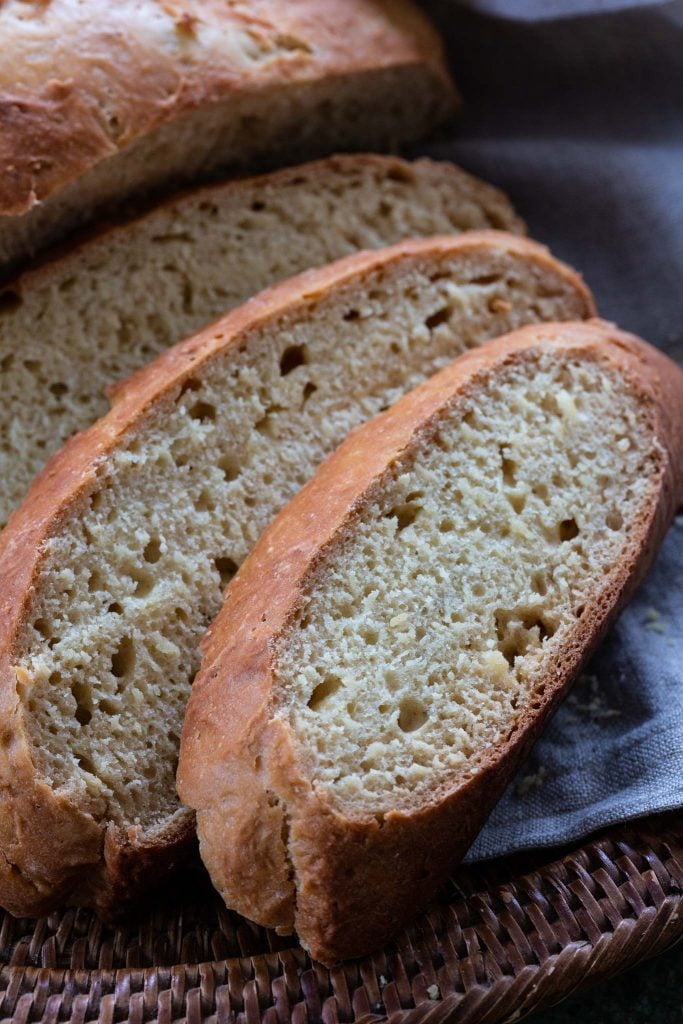 How long does soda bread last?
Soda bread does not last as long as yeast bread. I find that after a couple days at room temperature, it gets dry and hard.
However, after it's baked and cooled, this bread freezes well, for up to 3 months. Just thaw it before serving and reheat for that freshly baked feel!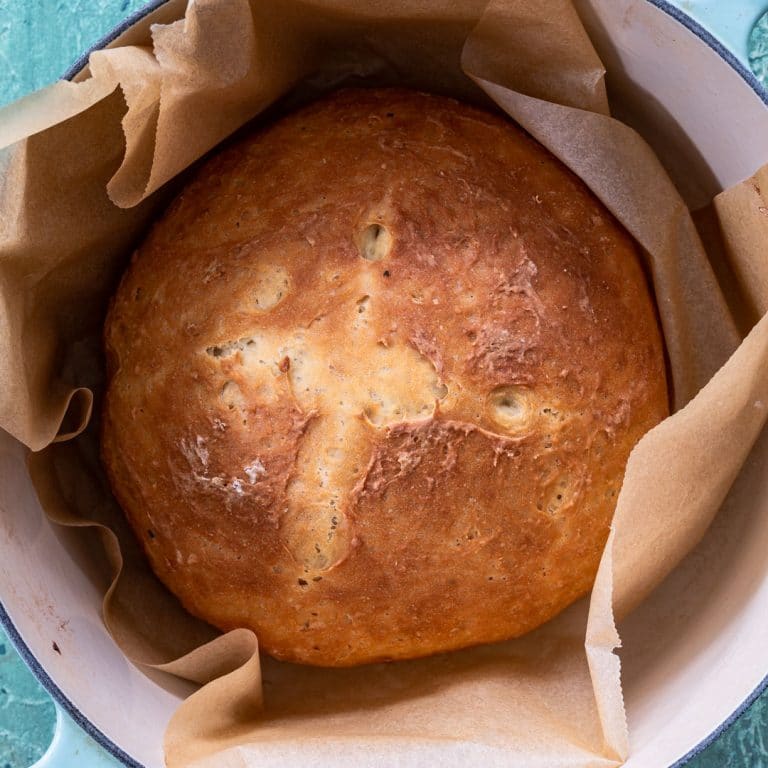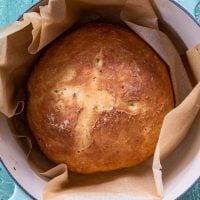 Irish Soda Bread
A traditional Irish soda bread, made with only 4 ingredients! Enjoy its signature dense and chewy texture, crunchy crust and subtle tang from the buttermilk.
Ingredients
3 1/2 cups flour
1 teaspoon baking soda
1 1/2 teaspoons salt
1 1/2 cups buttermilk
Instructions
Preheat oven to 450 degrees F, for at least 15 minutes. Cover the bottom of a large (5 qt) Dutch oven or cast iron with parchment paper (no need to trim) and reserve.

In a large bowl, combine all the dry ingredients. Gradually add the buttermilk, using your fingers to mix, until a dough comes together and you see no traces of flour or buttermilk. For a rustic loaf, stop handling as soon as the dough comes together. For a finer crumb and smoother crust, you can fold dough about 20 seconds more. Roughly shape it into a ball and transfer into prepared Dutch oven.

Using a sharp knife, score a cross into the top, cleaning the blade in between each cut.

Cover and bake until it's risen, about 45 minutes. Then, remove the lid and continue baking until golden brown, about 10 to 15 more minutes. Remove from oven and let it cool slightly in the Dutch oven. Then, transfer to a cooler rack and cool for at least 30 minutes before serving.

Serve while it's still warm, with butter, or as a side for stews and soups!
Nutrition
Calories: 174kcal
Looking for more bread recipes? Check these out: