Cheddar Boxty (Irish Potato Pancakes)
Boxty is the Irish version of potato pancakes! They are crispy on the outside, creamy on the inside and loaded with cheese. Very suitable for a hearty Irish breakfast on St. Patrick's Day!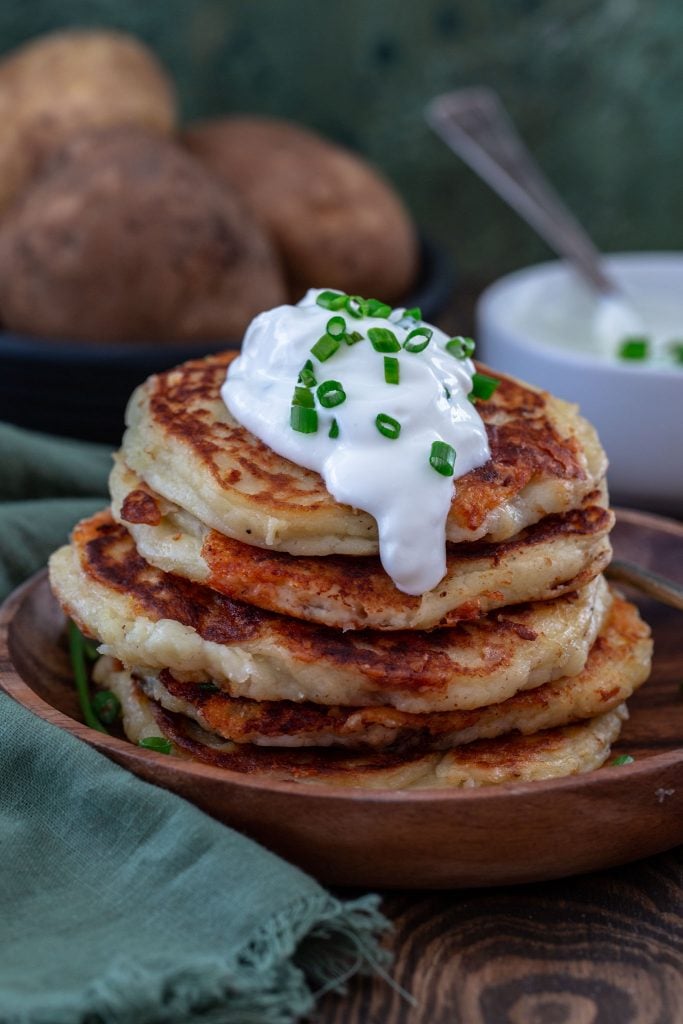 Boxty on the griddle,
Boxty in the pan,
If you can't make boxty,
You'll never get your man.
Thankfully, making boxty is easy enough that anybody can do it!
Besides, who doesn't love potato pancakes? Soft, buttery and so creamy on the inside. I could eat them every day!
But, ya know what, I think it's time to take everything up a notch. So I see your delicious potato pancakes and I raise you these ultra cheesy Cheddar Boxty!
If the empty platter (that once held these amazing cheese potato pancakes and is now resting in peace in the bottom of my sink) is any indication, I think you will love these! After all, everything tastes better with cheese, don't you agree?
You can serve these savory pancakes as a side dish – like they often do in Northern Ireland – or as a hearty breakfast.
In fact, I'm making them again tomorrow, for a special St. Patrick's Day brunch. And if you are going pub hopping, these will assist in soaking up all the beer you'll consume later in the day!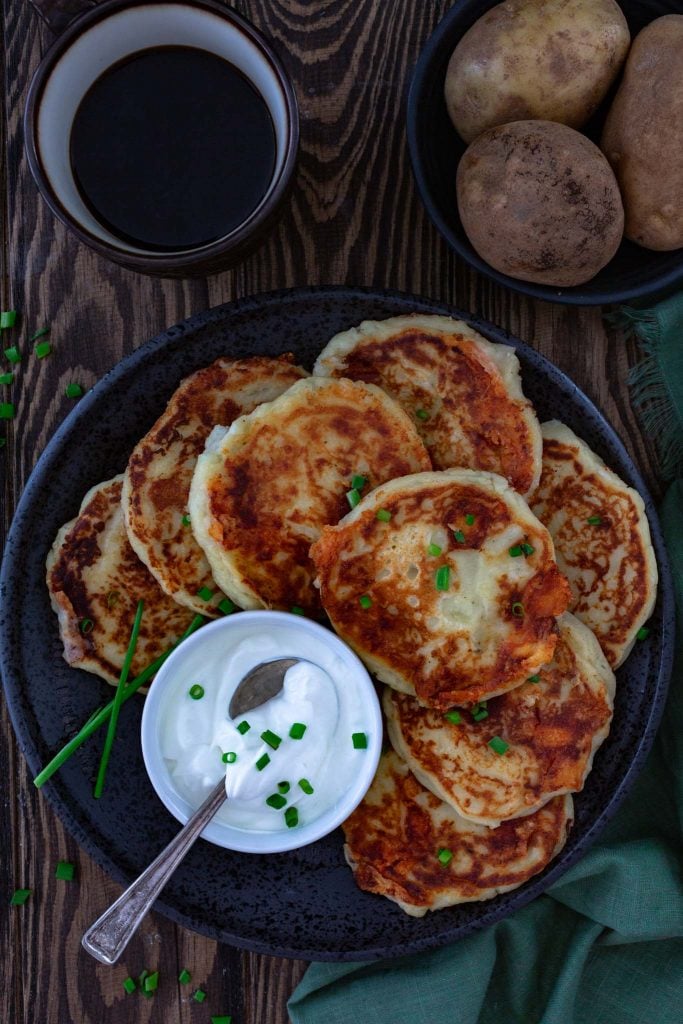 What does Boxty means?
The word Boxty comes from the Irish "Aran bocht-ti", which means "poor-house bread".
Made almost entirely of potatoes, these Irish pancakes – popular in the North part of Ireland – were a very important part of people's diets back in the days. Not only potatoes were cheap, but they were filling, so the lower classes relied completely on them to survive. Hence why you see so many popular Irish potato dishes, like colcannon and potato bread.
But then there was the Potato Famine in the mid-1800s and its devastating results. In 1845, a fungal disease known as potato blight destroyed two-thirds of Ireland's potato crop. It was one of Ireland's worst periods in history and about one million Irish people died with many others having to emigrate in order to survive.
After potatoes became available again, sometime in the late 1850s, boxty and the other potato dishes resurfaced again, and are – until this day – a staple of the Irish diet.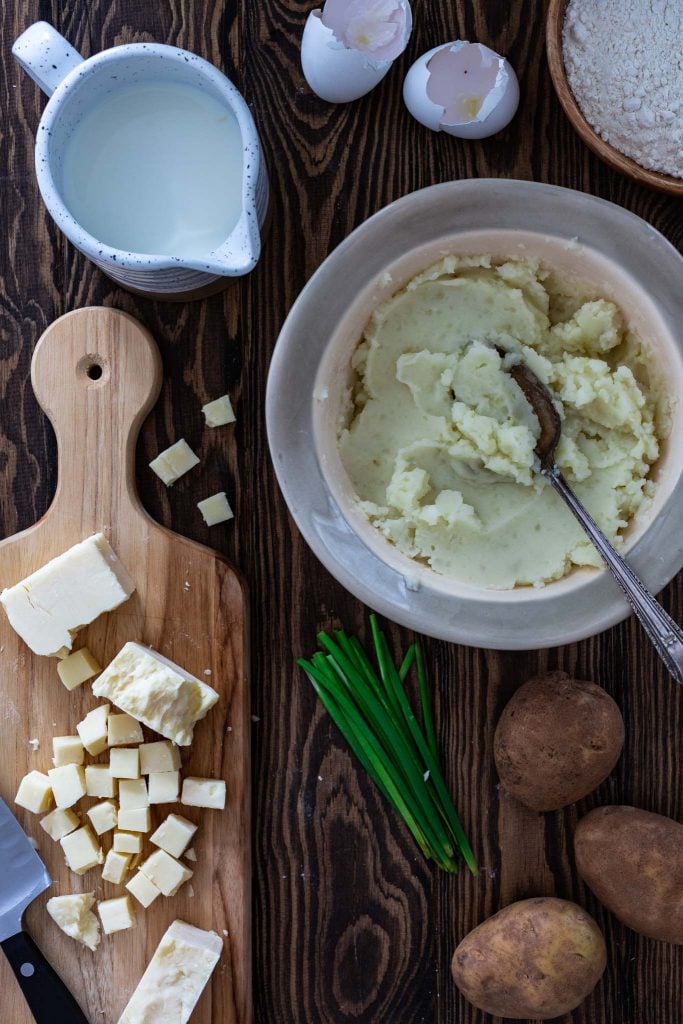 How to make potato pancakes
Making Irish potato pancakes starts with making mashed potatoes (or using leftovers, if you have them).
Many recipes will have you add grated potatoes to the mashed potatoes, making your boxty a hybrid between a pancake and a hash brown. I prefer the melt-in-your-mouth creaminess from using only mashed potatoes, so I skip the grating step.
To the mashed potatoes, we add flour, milk, an egg, chopped chives, shredded or cubed cheddar cheese, salt and pepper. The batter should be thicker than regular pancake batter, but still pourable. Remember, we want them to melt in our mouths, not go down our throats like a brick!
The pancakes are pan-fried until golden and crusty, and you might need the assistance of a spatula to nudge them every now and then, encouraging them to keep a round shape as they cook.
What are the best potatoes to make boxty?
Choose something starchy, like Russet or Idaho potatoes, or an in-between, all purpose potato, like Yukon Golds.
The goal here are fluffy, light mashed potatoes. So stay away from the waxy kinds, which are very flavorful but will result in a gummy, gluey texture.
I tend to prefer Yukon Gold, or a blend of Yukon and Russet, when making mashed potatoes to be served as is, as I love the flavor from the goldies. But I used only Russet here – got a 5 pound bag for $2 the other day (wohoo!) – and they worked perfectly. Russet potatoes absorb milk and cream like a dream!
Can I freeze Irish Pancakes?
You can freeze Boxty by arranging the cooked pancakes on a single layer on a baking sheet pan and freezing until firm. Once they are frozen, you can then transfer them to a freezer bag and return to the freezer for up to 2 months.
When ready to eat, place the frozen potato cakes on a baking sheet and bake at 400 degrees F for 15 to 20 minutes.
Cheddar Boxty (Irish Potato Pancakes)
Crispy on the outside and creamy on the inside, Boxty are Irish Potato Pancakes that can be served as a side or as a hearty breakfast.
Ingredients
2 pounds Russet or Yukon Gold potatoes, peeled and cubed
3/4 cup milk, divided
2 tablespoons butter
1 cup flour
1 large egg, lightly beaten
Salt and freshly ground pepper to taste
7 ounces Irish cheddar cheese, shredded or cubed
1/4 cup chopped chives
Olive oil for pan frying
Instructions
Place cubed potatoes in a saucepan and cover with salted water. Bring to the stove, over medium high heat, and bring to a boil. Once boiling, reduce the heat to low and simmer until tender, about 10 minutes. Drain the potatoes and transfer to a large bowl. Add 1/2 cup milk and butter, and mash until smooth.

Add the remaining milk, flour, egg, salt, pepper, cheese and chopped chives to the mashed potatoes, stirring to combine.

Preheat a large nonstick skiller, over medium heat. Add the olive oil and, once shimmering, pour about 1/4 cup of the pancake batter, using a spatula to form 3-inch circles. Cook the pancakes (working in batches) until golden brown, about 5 minutes per side. As they cook (and the cheese melts), you might need to gently nudge them with the spatula, encouraging them to keep a round form.

Serve immediately, topped with sour cream and chives.
Notes
Avoid checking the doneness of the pancakes bottoms for at least 2 minutes, or they might stick.
The pancakes can be frozen, after they are cooked, for up to 2 months. When ready to eat, place them frozen on a baking sheet and reheat in a 400 degrees F oven for 15 to 20 minutes.
Nutrition
Serving: 1pancake, Calories: 157kcal
Other Irish recipes: